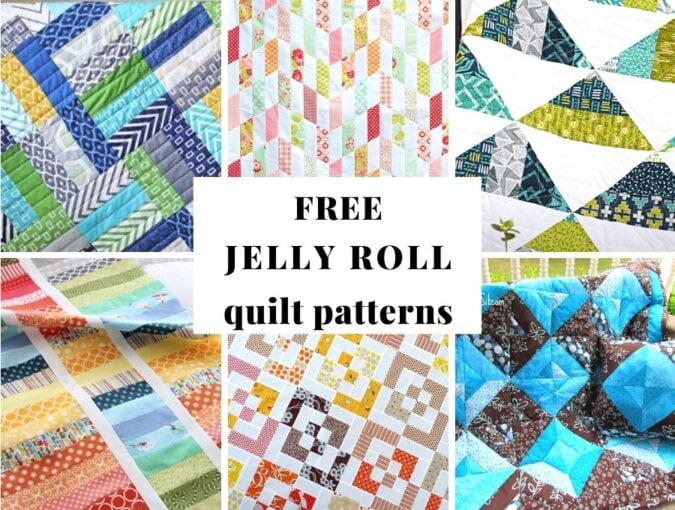 Free Jelly Roll Quilt Patterns – 25+ Ideas for Strip Quilts
Transform a pre-cut jelly roll or two into a stunning quilt! Using pre-cut strips makes sewing jelly roll quilt so much easier than the traditional way.
This collection of free jelly roll quilt patterns includes bed sized quilts, throw quilts, baby quilts, and so much more
Jelly roll quilts are easy to make and stitch together in a flash. Here are a few of my favorite free patterns to help you stitch up a storm.
Summer Jewels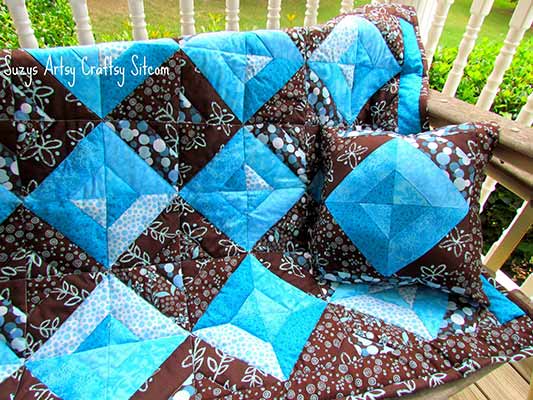 Use this jelly roll quilt pattern to make yourself a new cover for your sofa, chair, or outdoor furniture in just one afternoon. The quilt consists of rows of diamond shapes that alternate in color and contrast. The lighter diamonds have a small diamond made of four triangles in the center, and a frame made of four rectangular strips. Both the frame and the small diamond have one slightly brighter piece among the four, giving the quilt a subtly complex look.
by Suzyssitcom
Striped Chevrons Quilt
Reinvent chevron stripes in a colorful manner with this pattern that helps you make a quilt that will look beautiful in your child's room. The chevron stripes made out of jelly rolls tend to look more subtle and won't be heavy on the eyes as they sometimes can get, making them ideal for rooms that are mild in color, such as baby rooms.
Strip and Flip Baby Quilt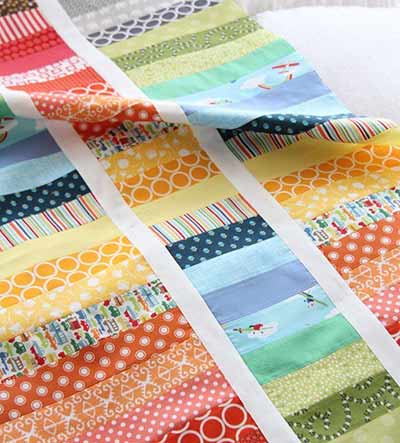 This baby quilt pattern demonstrates how rows and columns of fabric strips can form a design that's inventive and fun, despite its simplicity. The quilt consists of horizontal lines that alternate in lots of different colors, and one narrow column near the right edge of the quilt breaks the monotony and gives this pattern a bit of character. That column has a white frame around it while the middle is made of fabric strips alternating in color, set horizontally on each other.
Playing the scales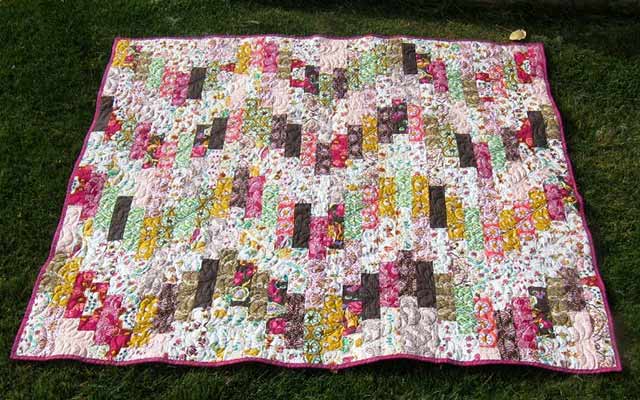 Combine the appeal of chevron stripes, jelly rolls, and piano keys into one whole with this beautiful quilt pattern. The chevron stripes are assembled from many colorful short rectangular fabric pieces joined together into long strips. Every now and then there's a black section in the colorful set, resembling contrasting piano keys.
KjR quilt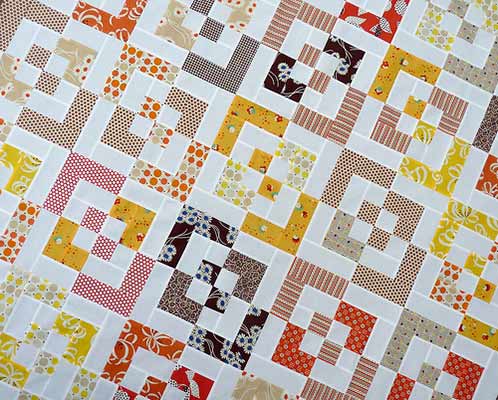 You can make this quilt with just two different fabric colors, but you can also use more if you wish. The quilt consists of small squares with two box frames around them, alternating in color, forming a large square together. That larger square is split into four squares equal in size and the pairs are swapped diagonally. These are all then stitched as regular quilt patches to make a beautiful quilt.
Cutting corners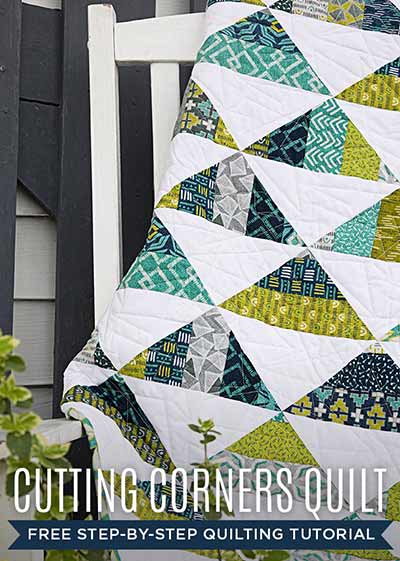 Rows of vibrant squares join into a quilt that will make you feel like it's spring regardless of the actual season outside your door. The squares are not plain squares but two triangles stitched together to form the square. You can use as many colors as you wish, just as long as you make sure that the bottom left half of each square is pure white because that's what this pattern's most prominent feature is.
jelly roll jam quilt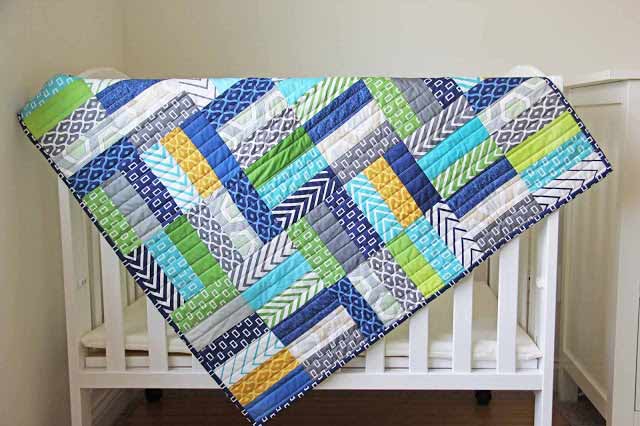 Here's a pattern that allows you to make a quilt with rows of squares made of three differently colored jelly roll strips each. The rectangles change their orientation from horizontal to vertical and vice versa after every second square, both when you look at the squares in columns and rows.
Happy Mochi Yum Yum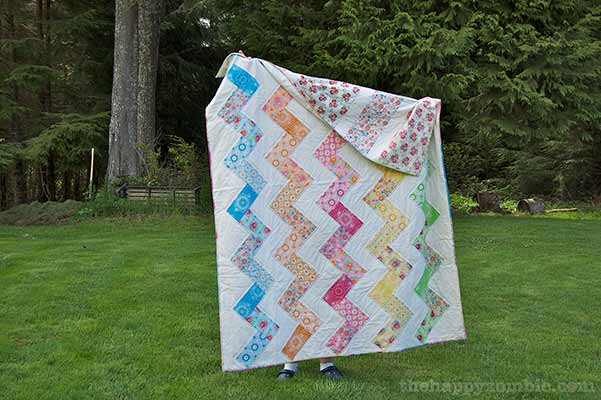 This chevron stripes quilt pattern will have you thinking of candy thanks to its fun combination of five different colors set on a pure white background. The five zig-zag stripes don't go from one edge to the other, as there's a bit of white space similar to a frame all around them, and between each other.
Modern workshop quilt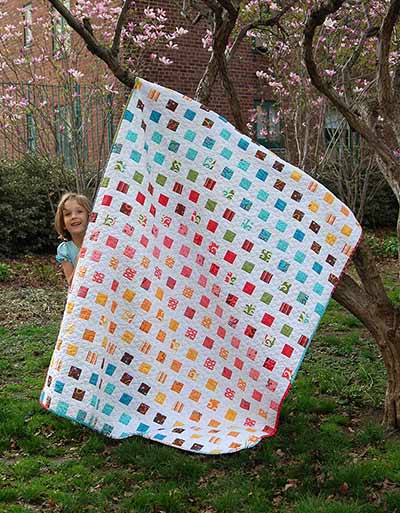 Use this modern jelly roll quilt pattern to make a quilt with a gorgeous ombre rainbow design formed by many small squares stitched together. The squares alternate between colorful and pure white in every row. The rows also alternate between pure white and multicolored ones on a vertical scale. A thin rainbow-colored frame goes around the entire quilt as a subtle yet noticeable border that completes the cheerful character of the quilt.
by Oliverands
Tropical Punch quilt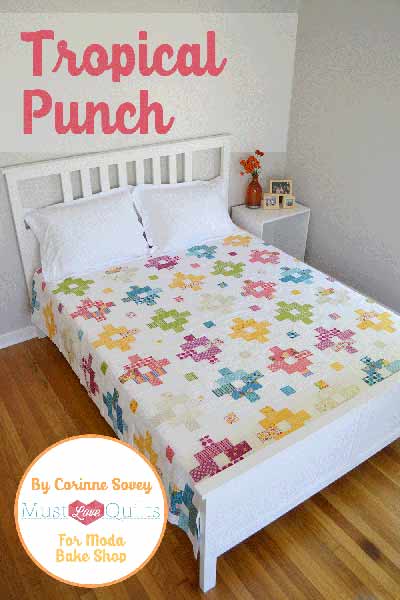 Give your bed a new set of clothing with this lovely quilt that features a new take on the classic chimney sweep quilt design. The characteristic shape is rotated to the right by 45 degrees and the central cross is substituted by a simple square in the same color as the background. These new shapes form colorful rows that are separated by rows of identical shapes in white color, with central squares in various hues.
by Modafabrics
You can also make a strip rag quilt – it's super easy.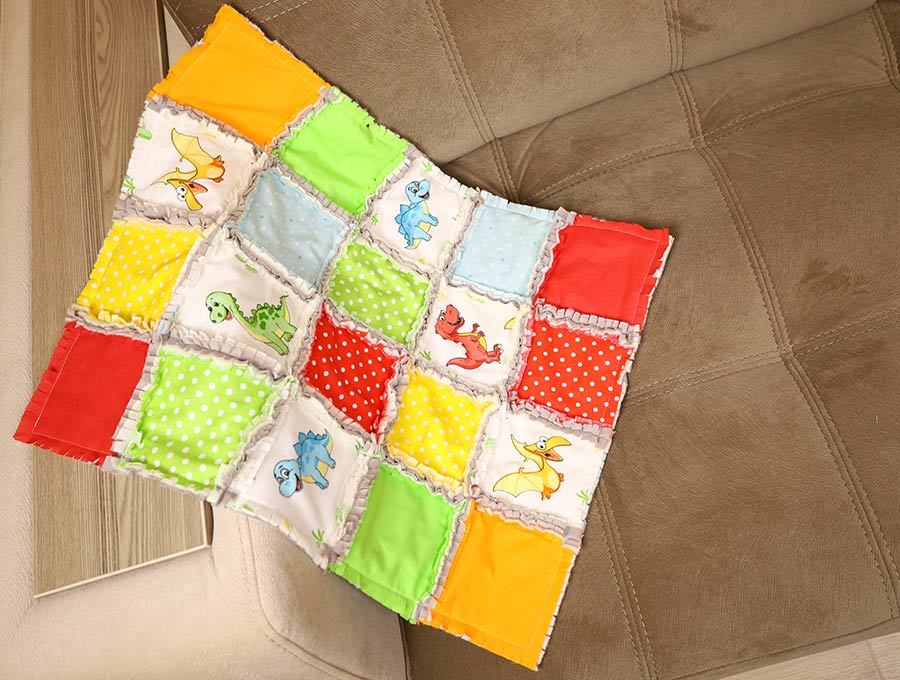 Sew square patches together into four rows of five pieces to get this baby quilt that can be a wonderful gift for anyone with kids. The interesting thing about this quilt is the ragged borders between the squares that make you think of those badass native American vests. They turn the plain patchwork quilt into a unique and creative piece of art.
Just follow the general instructions how to make a rag quilt but use strips instead of squares and rectangles.
I hope you enjoyed this roundup with these lovely jelly roll patterns for quilting. Which one is your favorite jelly roll pattern? Let me know in the comments down below
What did you think of these free jelly roll quilt patterns? They are all splendid, but you must have a favorite. Let everyone know which one it is in the comments below. And if you want to get notified when new stuff gets published on the website, go ahead and subscribe to our mailing list. Now get behind that sewing machine and start making some of these quilts!