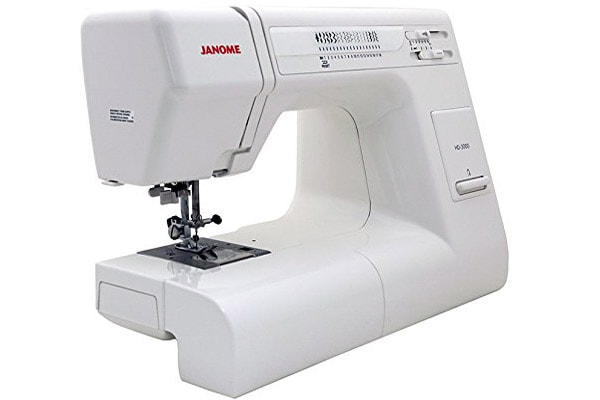 Janome HD3000 Review – Feature-Packed Powerful Workhorse
When I began sewing, my first sewing machine was one that was passed down from my mother. It was great and useful for basic sewing, but there was one problem; it was a manual machine. Time to get an upgrade, I knew exactly what I wanted.
Affordable with the right number of features.
A machine that I wouldn't outgrow too fast.
Not fancy, but definitely mechanical.
If you need an upgrade on your sewing machine, or you are a beginner and you need a machine that makes sewing easy, then you should consider the Janome HD3000heavy-duty sewing machine. Here's why.
We occasionally link to goods offered by vendors to help the reader find relevant products. Some of the links may be affiliate in nature meaning we earn a small commission if an item is purchased. Read my full disclosure here
Janome HD3000 Features
The HD3000 by Janome is a durable sewing machine and while it is mostly used by sewists, it is also perfect for a beginner. It is easy to use and has the right features to get you started on your sewing projects. Below are some of the features that make this a worthy sewing machine.
Multiple Presser Feet
The multiple presser feet will add a lot of pizzazz to your sewing projects. Some of the feet include an automatic buttonhole foot, a zig-zag foot button sewing foot, rolled hem foot, blind hem foot and over-edge foot. These different feet make it easy to give your sewing the versatility you need for your many projects.
Automatic Needle Threader
There is an automatic needle threader, which is a huge plus because it means that you will no longer need to strain your eyes before threading the needle.
The light is great for close up sewing
If you've ever had to sew without a machine light, you know how stressful it can be. The HD3000 machine for sewing comes with lighting on the machine. Now even if you are sewing at night or in a corner that does not have a lot of light, you no longer have to strain your eyes. You are covered.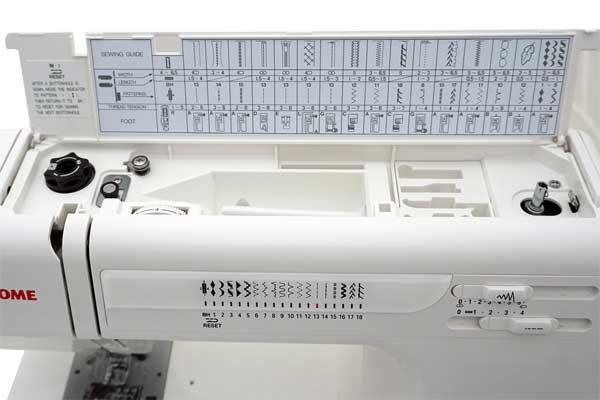 Lots of stitch options, but not too many to be confusing
With 18 built-in stitches, you have the stitches you need for your basic sewing projects, and as you advance to more complicated projects that need different types of stitches, you will not need to buy a new sewing machine. The dial also makes it easy to select the stitches, which is very useful.
Easy to Adjust Foot Presser Pressure
A simple dial makes it easy to adjust the presser foot pressure which means you can take your sewing projects to the next level with HD3000 sewing machine. It also means that you can work with different kinds of fabric, including leather.
Free Arm
The free arm feature means that you can slip a sleeve or trouser hem under the needle and sew around it easily.
Sturdy Aluminum Frame
The HD3000 has an aluminum frame which means that it is sturdy and will last long, but is not too heavy to move around. This is useful if you need to move to a different location with your sewing machine.
Very Little Noise
One of the great things about the HD3000 by Janome is how little noise it makes. This is quite useful for when you need to work late at night without waking up the entire house.
Added Accessories
The extra accessories are also an added benefit. The hard case protects the sewing machine, which increases the lifespan of the machine. Some other accessories include the packs of leather needles for sewing leather, universal needles, blind hem and a pack of bobbins.
Easy to Understand Paper Manual
It comes with a paper manual that is so easy to understand and it makes setting up a breeze. Even if you have used different sewing machines, you will definitely learn some new tricks from the HD3000 manual.
Going by the features alone, there is a lot to recommend the HD3000 sewing machine model from Janome. It is easy to use and not too fancy so there should be no complications in setting it up. Best of all, as you advance in your sewing skill, this sewing machine will continue to serve you well, which is a plus.

What Exactly Can the HD3000 Do?
The Janome HD3000 is a reliable and sturdy sewing machine that can be used for a variety of sewing projects. If you are a newbie to sewing, this is a great machine to have because it is easy to setup and pretty straightforward to use. You can get sewing within a day.
But if you are already an accomplished sewist, you will find that the HD3000 has a wide range of application and can be used in a variety of sewing projects.
Perhaps one of the outstanding capabilities of this sewing machine is the fact that it can handle different types of fabric. The HD3000 glides with ease over any type of fabric, from cotton and denim to canvas and even leather. Knit fabrics are not left out either as the stretch stitch lets you sew without stretching the fabric out of shape. This is my top pick for denim and jeans sewing machine that stays right on top of your sewing, literally and figuratively.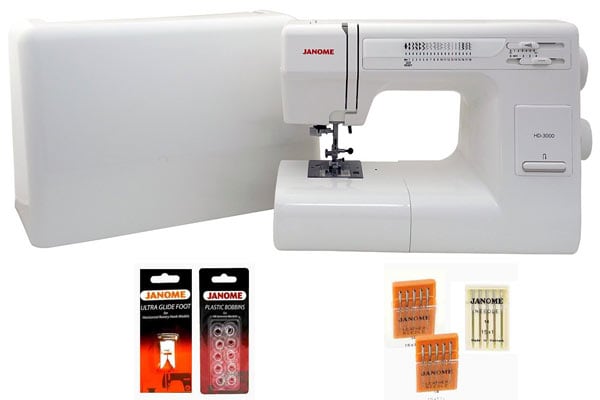 This Sewing Machine is Best for…
This is a personal sewing machine that is perfect for almost anyone, newbie and pro alike, unless what you need is a computerized machine, in which case you should definitely go for something with bells and whistles.
But if what you need is a strong, more durable sewing machine that can sew on practically any fabric, has a wide range of stitches without having too many and a long lifespan, then the HD3000 by Janome will give you an excellent experience. It is our number one sewing machine for leather you can use at home. If you do run into any problems, which is highly unlikely by the way, there is a nice warranty on the product.
Issues to Consider
There are a few issues you should consider before you go ahead and buy the Janome HD3000 sewing machine. An example is the bobbin winder, which does not wind as tightly as it could. But this is only a disadvantage if you are very particular about a tightly wound Bobbin winder. The bobbin winds quite nicely, also this is offset by the sturdiness of the sewing machine. It does not move about as you sew.
If you are used to other sewing machines, you might find that some of the dials and functions are not in familiar locations, but the sewing machine is pretty intuitive and easy to understand. Besides the HD3000 comes with a user manual that is easy to read and simple to understand.
Also, the needle on the HD3000 heavy duty sewing machine does not shift to the left. If you are used to a sewing machine that has a needle that shifts in both directions, then this might be a bit disconcerting at first. But it does shift far to the right so you can still adjust stitch width, and you quickly get used to it after a while.
Something else to keep in mind is that the HD3000 is great for a lot of sewing projects, but not so much for quilting. If you need a quilting machine, you should look elsewhere.
An Important Tip for Sewing Thick Fabric
If you are working on a really thick fabric, like leather for instance and you notice that the fabric keeps wadding up the bobbin thread, or the stitches are off somehow, then you might want to check that your needle is not damaged. Sometimes a damaged needle does not always look like it needs replacement.
You should also check that your needle and threading combination is properly paired. Also check the threading as well.
Takeaway
The HD3000 is really an outstanding machine. It is a veritable workhorse and performs very well under tough conditions. It is not computerized , which means that you can carry out basic servicing yourself. Yet it is way above anything you can get from a manual sewing machine.
The stitches alone are worth the cost of the sewing machine. There are enough stitches for practically any type of sewing you will ever do. It is true that there are other sewing machines out there with twice as many stitches, but those are stitches you will probably never use anyway.
Finally, using the Janome HD3000 machine is so easy and intuitive, which makes it a great for beginners. Unlike with most beginner machines though, you won't have to upgrade to a higher model once you become a little more advanced. It will serve you well for a very long time.
Overall, the features are exactly what you need to move your sewing along and if you eventually decide to upgrade to a more advanced machine, the HD3000 can serve as a backup machine. You can also pass it down as a gift. This is one sewing machine you will enjoy for a really long time. The long lifespan and durability of this Janome sewing machine makes it a valuable purchase that is worth the cost.