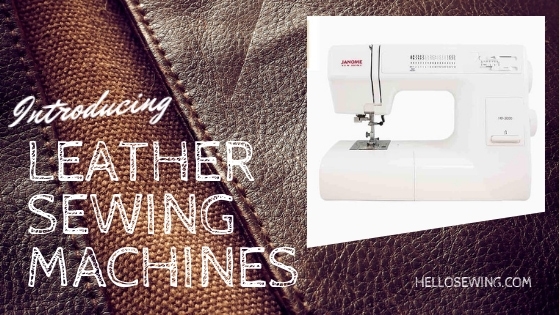 Best Sewing Machine for Leather you Can Get
Leather is a wonderful type of material because it can be used in so many ways and with so many things in mind. For examined, if you wish to create something classy and stylish, you can make a lovely leather purse or a wallet. If you want to create something slick and cool you can make an awesome leather jacket. And if you were thinking about creating something sexy and daring, you can make a beautiful short leather skirt.
Simply put, it's a surprisingly versatile type of sewing material that can be used for a wide range of projects. I mean you can even make a proper sword or axe sheath with it if you feel like it. The possibilities are almost endless.
But the question remains, how can you use leather? Can you sew with it normally like with any other fabric? Do you need a special kind of sewing machine if you want to make some leather wardrobe pieces and if so, which ones are the best?
Hold your horses fella, we'll answer all your questions precisely and thoroughly, there's no need to rush. So let's begin, shall we?
We occasionally link to goods offered by vendors to help the reader find relevant products. Some of the links may be affiliate in nature meaning we earn a small commission if an item is purchased. Read my full disclosure here
Buying guide: Best Leather Sewing Machine Considerations
Before we show you which sewing machine models are the best ones for sewing leather, we should first cover some important introductory points regarding this topic. First thing you need to keep in mind is the fact that leather has many variants as a material for sewing. Its properties can differ greatly so if you just say leather, you really didn't say much. Weight, toughness, thickness and smoothness are just some of the characteristics that are crucial in defining a type of leather.
Therefore, if a sewing machine is advertised as capable of sewing leather or if the manufacturer even released a video of it doing so, it doesn't mean that it actually can sew leather without problems. It can sew that specific type of leather, but what bout the rest? If a machine easily sews thinner and less tough projects like leather garment, it doesn't mean it will do so with something more demanding like belts or holsters and such. Also, if a machine is very powerful, you'd most likely think that it shouldn't have any problems going through even the thickest types of leather and that is true. However, if it can punch through it, it doesn't mean it can sew it well. Maybe the presser foot isn't adequate enough and it pulls the material accidentally while sewing, maybe the feed dogs aren't adequate so the material sticks or flaps accidentally, or maybe the plate isn't suitable and certain types of leather don't glide well enough.
So you see, a lot of factors determine if the sewing machine works well with leather materials and if it's capable for such projects or not. And precisely because of that, we will now try to present the top contenders for best sewing machine for leather so that you can choose a model that can fulfill your demands and provide you with the results you desire.
My Reviews of the top 5 Sewing Machines for Leather in 2019-2020
Best leather sewing machine overall: Janome HD3000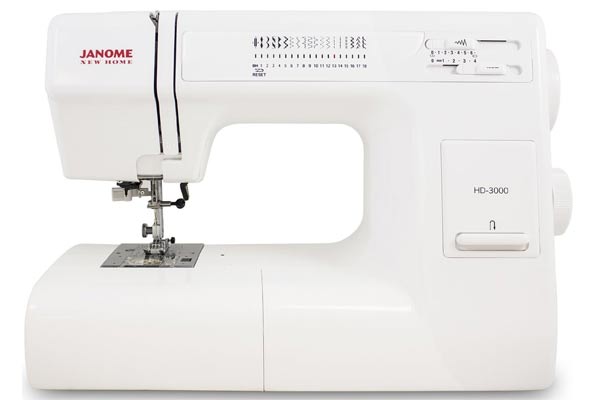 The first one on our recommended leather sewing machines list comes straight from Japan and it means business when it comes to sewing with leather. One of the top sewing machine manufacturers Janome likes to provide their customers with products that offer them exactly what they want, no less and no more.
This machine is capable of performing various sewing tasks (that's why it made it to our best sewing machine for upholstery list as well)
but its specialty certainly is leather sewing. What are its traits and specifications? Time to find out.
Overview
Janome HD3000 is a mechanical sewing machine is advertised as beginner friendly and able to sew a wide range of projects with different types of fabrics. Although that is true, this machine is in fact an expert when it comes to working with leather.
Which makes Janome HD3000 a perfect choice to put on our list here.
It can work with both thick and thin materials, has a lot of accessories specifically meant for sewing leather, and it's easy to use. But that's just a part of its specifications. So let's have a more in-depth look at them now.
18 types of stitches provide a fair amount of customization possibilities. They can be easily selected by using the stitch dial while consulting the flip up stitch panel where all of the stitch types are conveniently illustrated.
Adjustable stitch width and length. You can set these parameters up quite easily as well, since the adjustments are located on the front of the machine.
One step buttonholer makes creating buttonholes and setting up buttons a piece of cake even on leather materials.
Avoid wasting time on threading and thread cutting thanks to automatic needle threader and automatic thread cutter.
Ideal for sewing leather, presser foot can be adjusted however you desire. Lower it down when working with thin materials or raise it up when working with thick fabrics or multiple layers of fabrics. The presser foot can be also changed very easily due to the snap on system.
This sewing machine isn't the fastest one but it's still quite quick at 860 stitches per minute, allowing you to finish your work in a short amount of time.
Heavy duty frame provides stability while sewing and protection from unwanted damage from accidental hits or blows.
Free arm offers the possibility of sewing cylindrical shapes like sleeves or hats with ease.
This sewing machine comes with a lot of accessories and most of them are meant for working with leather. Two packs of special leather needles that can penetrate tough fabrics, glide presser foot that doesn't stick to material, overedge foot, buttonhole foot, blind hem foot, rolled hem foot, and a zipper foot. Other accessories include a hard cover, pack of needles, automatic buttonhole foot, small and big screwdriver and spool holder, additional spool pin, quilting bar and more.
Some Downsides
One major downside worth mentioning should be pointed out. This sewing machine isn't advertised as a great for sewing leather. On contrary, some websites even state that it isn't adequate for it and that's far from true. This is a very good choice if you need a machine capable of sewing a wide variety of leather projects but since it isn't advertised as such, you could easily miss it. Why did it end up like that, I'm not quite sure but it is as it is. Luckily for you, we're here to point that out.
Juki DDL-8700 Industrial Straight Stitch Sewing Machine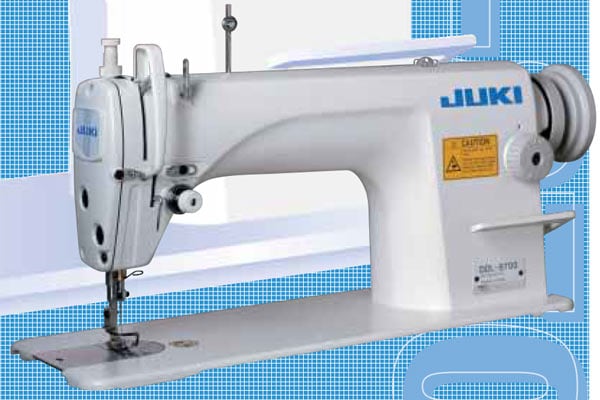 Another powerhouse in the world of sewing machine manufacturing and another one from Japan. This sewing machine is designed so that it lasts a very long time with very few malfunctions or none at all during that time.
Overview
This is an industrial leather sewing machine which means it's meant to be used for one main purpose and for one specialized sewing work which in this case is lockstitching. This model is great at sewing with thin to medium thick fabrics while working with some heavy duty thick materials isn't recommended.
Let's check out the traits of this sewing machine.
Single needle straight stitch connects pieces of fabric flawlessly. Maximum stitch length is 5 millimeter.
Wide work area comes in handy when working with large sheets of material.
The machine is designed so that vibrations and noise it makes while being used are as low as possible.
Servo motor offers you a possibility to adjust the sewing speed. Maximum speed is astounding 5500 stitches per minute, making you finish your projects in record time.
This machine possesses a self lubricating mechanism so your maintenance work is pretty much minimal.
A sewing light allows you to work at nighttime without any problems.
The machine is shipped fully assembled inside the box. There are no complimentary accessories in the original packaging but you can purchase a roller foot and with it work with thick and tough materials as well as different types of leather.
Some Downsides
Since this is an industrial sewing machine, its capabilities are somewhat limited. In other words, it can't perform tasks which aren't in the area of its expertise. However, it does its job very well when it comes to doing what it is meant to do.
Another downside is the fact that it cannot work with thick and tough materials like leather unless you purchase an additional rolling foot(check this page to find out why you need one). If you decide not to spend money on it, you will have to concentrate on thinner leather variants and forget about multiple layers or very tough fabrics.
Brother ST371HD Strong and Tough Sewing Machine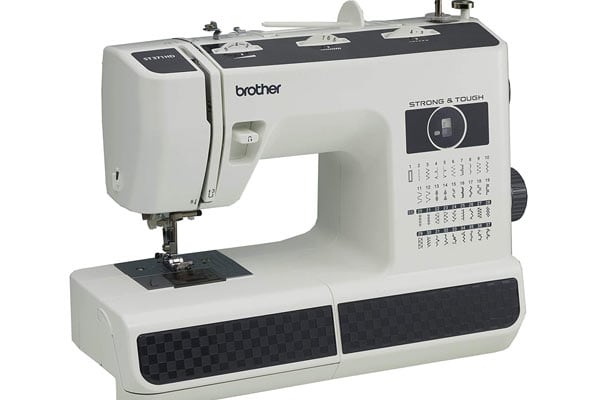 With machines that are affordable yet capable, Brother finds a lot of customers in both beginners and experienced sewing enthusiasts. These models are usually quite trustworthy and versatile with very few negative characteristics.
Overview
This heavy duty leather sewing machine is durable, trustworthy and versatile among other things, which makes it a good choice for people who like to work on a bit more demanding projects. With a wide range of functions, this model can sew both rough outdoor materials and classy delicate fashions without any problems.
What are its traits and features and what kind of work can it conduct best? Let's find out.
37 stitch types make sewing stretch stitches, blind hems, buttonholes and zipper inserting possible. All of the stitches are illustrated on the front of the machine and can be selected by using a dial to do so.
This model excels at sewing thick and heavy fabrics but it can also work with delicate fabrics like silk. With specialized presser feet like the spring action zig zag foot and nonstick foot, materials with varying thickness and different leather variants won't present an obstacle or a difficult task for this heavyweight sewing machine. The presser foot can also be lifted very high in order to sew very thick fabrics or multiple layers of fabrics. In other words, it's ideal for sewing leather.
Auto sized one step buttonholer, automatic needle threader, automatic bobbin rewinding and a jam resistant bobbin system reduce the possibility of causing any unwanted time wasting scenarios.
You can finish your projects quickly since the machine has a maximum speed of 800 stitches per minute as well as a metal needle plate which protects the threading mechanism and increases thread pick up speed.
Heavy metal frame protects this machine from damage but more importantly, offers stability and durability while sewing.
Sewing light illuminates your work area so you can work with very dark materials and at night.
A free arm makes sewing round shapes like sleeves or trousers easy and fast.
The original packaging contains a fair amount of accessories. They consist of a twin needle, a three piece needle set, four bobbins, a spring action zig zag foot and nonstick foot, a blind stitch foot, zipper insertion foot, buttonhole foot, and button sewing foot, extra spool pin, two spool caps, an Instructional DVD and a user manual.
Some Downsides
The sewing light is a bit dim and it doesn't light up the work area as good as it should. There's no push button control which means you have to use a foot control push pedal in order to operate the machine. Foot pressure cannot be adjusted however, feed dogs can be lowered in order to allow free motion sewing. Reverse lever needs to be held down for reverse stitching which may be a bit bothersome. Drop in bobbin winder is a bit complex to use, especially for beginners. Although it has multiple stitches, this machine can't do embroidery work.
Singer 4423 – excellent heavy Duty leather sewing machine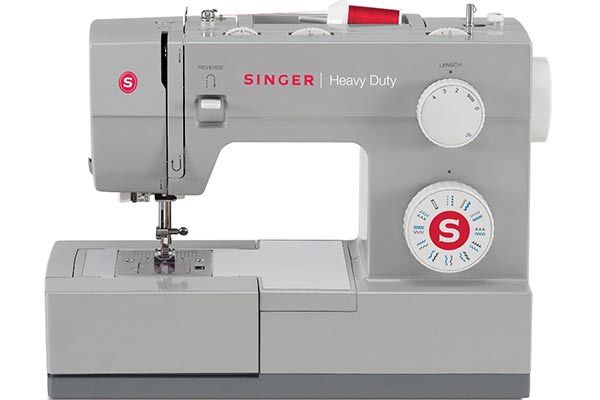 Singer is a sewing machine manufacturer with a long history behind its back. Their main trait is reliability and the fact that their sewing machines over a hundred years old still work perfectly proves that statement. They made first portable and computerized sewing machines as well as first zig zag machine.
Overview
This model is a real workhorse and it is capable of working with various kinds of materials with ease. A lot of its features make it a great choice for users who wish to sew leather projects. Reliable and beginner friendly, this machine makes for a very adequate choice when it comes to making your first leather sewing machine purchase.
This model possesses the following specifications.
23 stitch types consist of six basic, four stretch and twelve decorative stitches as well as a buttonhole stitch. An automatic one step buttonholer and adjustable stitch length further extend the customization possibilities. A stitch selection dial makes it easy for you to choose your desired stitch type.
Presser feet can be switched quickly thanks to the snap on system. Also, the presser foot pressure and height are adjustable so you can sew both very fine fabrics as well as thick or multiple layered ones.
A powerful motor and a steel bedplate make sewing leather easy, whether you're working with thick or thin leather types. On top of that, the machine's maximum stitch speed is 1100 stitches per minute which is extremely fast for a non-industrial machine. Because of this, your projects will be finished in record time.
Top drop in bobbin system allows you to change bobbins very quickly and due to the cover being transparent, you can keep track how much thread you're left with at all times thus avoiding finding yourself without a thread mid stitch.
Reinforce your stitches with automatic reverse sewing switch. Especially helpful when working with leather.
Fear not the dark, a built in light provides you with a well lit work area.
Assistant app from Singer provides beginners with instructional videos and sewing tips, quickly making them accustomed to using this machine.
All purpose foot, zipper foot, buttonhole foot, button sewing foot, seam ripper/lint brush, quilting guide, needles, bobbins, screwdriver, auxiliary spool pin, a spool pin felt and a soft dust cover are all included in the original packaging of the Singer 4423 leather sewing machine. Since the machine has an accessory tray, you can fit them inside of it for easy access.
Some Downsides
As far as flaws go, this machine really doesn't have a lot of them but we'll still point out a few of them because we want you to be well informed after all. First and most important, if you want to sew leather then you'll have to purchase some heavy duty needles. Once you've done so, you'll be able to sew through multiple layers of thick materials without any problems. Similar to this, if you wish to quilt you'll also need to purchase an additional presser foot for that.
Consew 206RB-5 Triple Feed, Heavy Duty, Single Needle leather sewing machine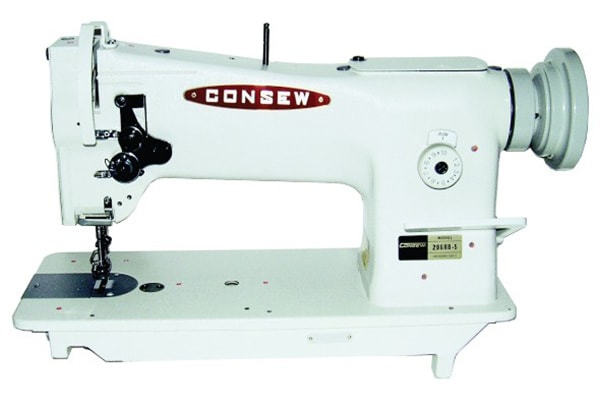 This manufacturer isn't as famous as the ones before but they still make good industrial sewing machines for heavy fabrics. They are in the business for over a century and their forte are specialized industrial machine as well as additional sewing products.
Overview
This leather sewing machine is similar to the Juki model on our list but they have their differences. This one is more suited for working with heavyweight materials and a bit more customizable than the mentioned counterpart.
Here are its specifications
Single stitches, single needle appropriate for sewing sport and camping equipment, boat and furniture upholstery, orthopedic appliances, outdoor clothing, bags and more. Extra long stitch length of 10 millimeters is perfect for such tasks.
Bobbins can be changed without removing the object being sewn which, along with a high maximum speed of 3300 stitches per minute, allow you to finish your work extremely fast.
Self lubricating mechanism makes maintenance work much easier.
Compound feed removes the possibility of uneven feeding of material while the locking stitch regulator prevents changes in stitch length caused by vibrations.
Presser foot can be adjusted to a high or low positions depending on the material you wish to work with.
Certain parts can be changed when needed and they are all interchangeable with similar Consew models.
Reverse stitching offers you a chance to reinforce your seams.
Some Downsides
Once again the downsides are obvious because this is an industrial machine. It cannot perform a wide range of tasks because it's just not meant for that. But when it comes to sewing what it's designed to sew which in this case is heavyweight materials, then it certainly does its job perfectly.
FAQ about the Best Leather Sewing Machines:
Before we wrap things up we'll briefly answer some frequently asked questions regarding sewing with leather sewing machines:
.
Can you use a home sewing machine to sew leather?
Yes you can, if it's an adequate model. As you can see for yourself, only two models on our best leather sewing machines list are industrial machines, the rest are all home sewing machines.
What kind of thread is used for leather?
To make a strong, even seam every leather sewing machine requires strong thread and the best choice is bonded nylon thread. If the leather is thin, use a thinner bonded nylon thread and if it's thick, use a thicker thread instead.
What kind of needles should I use when sewing leather?
You need specialty needles specifically designed for sewing leather to get the most out of the leather sewing machines. These special needles have a wedge shaped point so it can penetrate the material easily.
We'll give you three most important tips when it comes to sewing with leather sewing machines. First and foremost, get a good sewing machine for leather which is capable of performing such heavy-duty tasks. Second, carefully select and set up the presser foot so that it doesn't stretch out the leather nor make it stick or overlap. Third, adjust the stitch length appropriately. Too long and it won't be strong enough, too short and you'll weaken the leather with too many holes, causing it to tear along the seam at some point.
Conclusion
As we've mentioned before, getting a sewing machine good for sewing leather is a difficult task. A lot of the leather sewing machines
are advertised as capable of sewing leather even though they can sew only one type of leather, usually the thinnest. Likewise, some are advertised as inadequate for such tasks when in fact, they do the job very well.
As if that wasn't enough, having an appropriate machine doesn't make the work easy because leather is a demanding kind of material, which means you have to be well informed before commencing such projects, and very careful while conducting them.
But with these tips and hints we gave to you, you should be able to choose the most suitable one from our handpicked leather sewing machines recommendations so don't worry too much. Even if you mess up, you'll learn something new and improve your sewing skills.