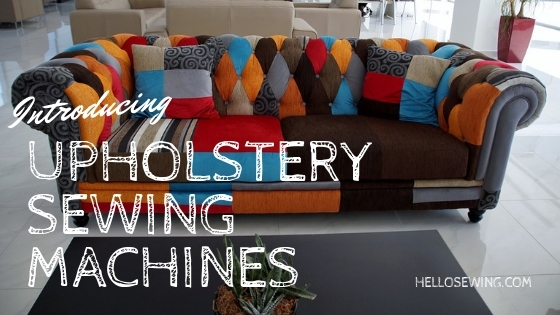 Best Sewing Machine for Upholstery (8+ Reviewed and Compared)
Furniture pieces, car seats, bicycle seats, and various decorative pieces all go through the process of upholstery in order to be finished. Upholstering or reupholstering is quite often a somewhat expensive feat and many people try to avoid it just for that reason.
But what if you decide to do it by yourself? You'll save some money and acquire a valuable and useful skill which will come in handy a bunch of times later on in life.
If you're up for that challenge and maybe even an adventure, stick around for a while because you'll learn a couple of useful tricks and find out which uphostery machines are the best suited for this kind of project.
Upholstery is quite a demanding task for a couple of reasons. First, you need a very capable and versatile upholstery sewing machine that can fulfill your needs, which are pretty vast when talking about upholstery. That's because such a machine needs to be able to work with a lot of different types of materials since upholstery isn't limited to only one or two kinds of fabric. Instead, materials ranging from natural to synthetic, leather to vinyl and more are used.
Because of this, having an adequate sewing machine for upholstery isn't going to be enough for venturing into such projects. On top of adequate tools you need a certain level of skill in order to work with all those kinds of fabrics. So to point out the bottom line, upholstery is fairly difficult because not only does it require a capable sewing machine but also a capable sewing practitioner who will conduct such a task.
We occasionally link to goods offered by vendors to help the reader find relevant products. Some of the links may be affiliate in nature meaning we earn a small commission if an item is purchased. Read my full disclosure here
Buying guide: What sewing machine do I need for upholstery
Before you go off and buy yourself an upholstery sewing machine, you should keep a few things in mind. What do you need from an upholstery machine, where should you buy it, what kind of additions are welcomed and do you have enough space in your sewing room for it? Let's go through all those questions before we move on to presenting you with some of the best upholstery sewing machine.
What projects you will use it for? As mentioned before, an upholstery machine must be capable of working with various types of fabrics that have various thickness and properties. It should also be able to sew quickly, no matter what material it sews on. Some regular sewing machines can actually perform upholstery tasks but they do so very slowly and unless you consider sewing a hobby of yours, that could prove to be a tad problematic.
New or used? Now where should you buy such a machine? If you decide to get a used one, you'll be saving quite some money. But used sewing machines do come with a risk.
Warranty: If something unexpected happens to it and it breaks down or malfunctions, you won't be able to have it repaired for free because you won't have a warranty.
Walking foot and reverse: And as far as useful additions go, you should look for a machine that has a walking foot and a reverse option because you'll be able to strengthen your edges with it and avoid any potential fraying. The work area plate should also be able to let the upholstery fabric slide easily instead of making it stick or overlap.
Size: Last thing to keep in mind is the size of your new upholstery machine. Industrial models are a bit larger than your regular sewing machines so you should have a large desk or some other type of work area where you'll be using it while sewing.
Now, let's move on to the reviews of some of the best upholstery sewing machines.
My Reviews of the Top Upholstery Sewing Machines in 2019-2020
Consew CP206R Portable Walking Foot Sewing Machine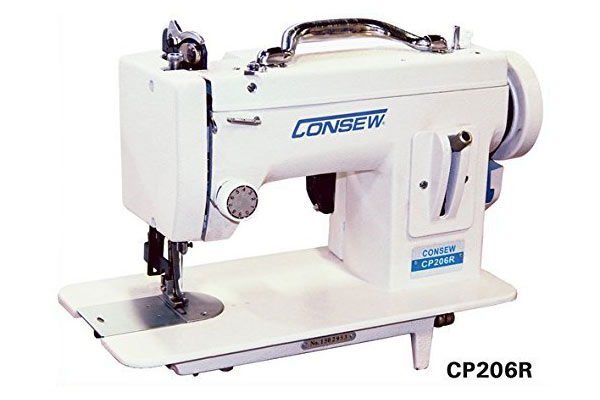 This is a real powerhouse sewing machine that's capable of sewing through almost any kind of fabric, both natural and synthetic, tough or soft, without any problems. It's also easily transported with its carrying case which means you can work on your projects anywhere and at all times.
The price tag is somewhat affordable, being about in the middle when talking about upholstery machine prices.
Let's take a look at this machine's specifications.
Single needle straight stitch for heavy duty sewing tasks.
A wide range of possibilities for sewing all kinds of materials. Leather, vinyl, canvas, auto, boat and furniture upholstery, camping equipment, outdoor clothing, orthopedic appliances and more.
Tricky fabrics won't cause you any troubles thanks to the helpful walking foot and drop feed which make unmanageable materials manageable.
Reverse sewing function allows for stitch strengthening and prevent edge fraying.
Hard plastic case lets you transport the machine easily.
Some Downsides
First downside which needs to be mentioned is the lack of zig zag stitch. This means that working with fabrics which stretch could turn out to be quite bothersome.
Another downside is the fact that this machine can't work with tougher leather types, but with only lightweight ones like suede or similar. It also can't sew through a lot of layers, only two or three maximum.
It's also somewhat slow for an industrial machine with a maximum speed of 800 stitches per minute. This would be fast enough if it were a regular home sewing machine but industrial ones should be faster than that.
And the last downside is, it doesn't have a light to illuminate your workspace. So working with darker fabric or working at nighttime could turn out to be problematic.
JUKI DU-1181 – uphostery sewing machine for industrial work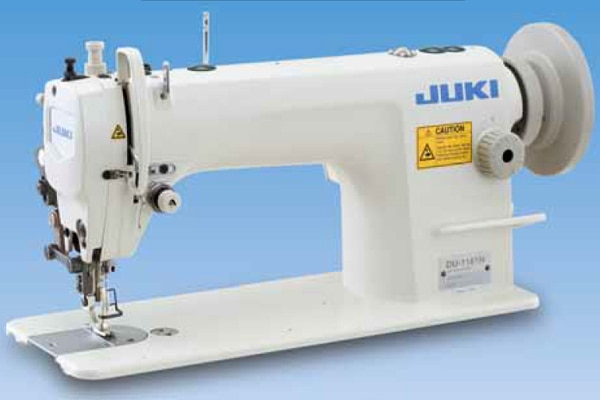 Next up we have an upholstery machine made by a proper giant in the world of sewing machine manufacturing. Japanese company Juki is among, if not the best producer of both industrial and home sewing machines.
This model is an industrial type of machine which means it's reliable, dependable and trustworthy so it will stay by your side for quite a long time. Due to its mechanics, this model makes almost no noise at all and because of that, it's a very suitable machine for use in home areas since you won't be bothering your family members.
Let's waste no time and go straight to its specifications.
Single needle straight stitch sewing meant for heavy duty tasks.
Maximum stitch length is 9 millimeters.
With a top speed of 2000 stitches per minute, you will be able to finish up your projects in a flash,
Top and bottom feed prevents any accidental slipping of bottom and top fabrics, especially when they are of different properties. In other words, you shouldn't have any troubles if the materials you're stitching together aren't exactly the same. It also has a walking foot which makes your work even easier.
Work table provides more space and allows you to sew larger sheets of fabrics more easily.
Built in light illuminates the workspace, providing you with the possibility to sew at nighttime and with darker fabrics without problems.
Some Downsides
Although this machine can sew on leather materials, if you want to do so, you will first need to add a speed reducer because everything may fly off into oblivion otherwise.
Another downside is the fact that this model has very sharp feed dogs and therefore, it can't work with thin fabrics like satin because it may rip it apart accidentally. In other words, it's meant for medium to heavyweight types of materials.
And the last downside is unfortunately, its price. This machine has a price tag above a grand and a half which makes it one of the two the most expensive ones on our list. But if we consider what it offers to its potential buyers, that price tag doesn't come as a surprise and it's probably worth that much.
REX 607Z Portable Walking-foot / Zigzag
This upholstery sewing machine offers both portability and capability. It's meant for those who consider sewing as a hobby as well as those who run a small home business and make a living from it.
Time to check out its specifications.
This machine can sew both straight stitches and zig zag stitches. In other words, it can work with heavy duty materials and some tricky ones like stretch fabrics, depending on which stitch you select.
Maximum stitch length is 6 millimeters while the needle bar stroke is 30 millimeters.
The machine is designed so that it allows for quick finishing of your projects, with the help of built in foot control and a built in motor which can work at a maximum speed of 1200 stitches per minute.
You can sew on up to four layers of fabrics like canvas or soft leather which opens up a lot of possibilities for various projects, not just upholstery ones.
Walking foot helps you with tricky materials, by making them not so tricky to work with.
Reverse sewing option comes in handy when you want to reinforce your stitches.
Built in light brightens up the workspace, allowing you to work at night and with very dark fabrics.
This machine is compact and can be set up in any room, and it can also be transported very easily.
Some Downsides
Unfortunately, this sewing machine cannot handle tougher or thicker types of fabrics. It's meant for lightweight materials only.
Another downside that should be mentioned is the overall satisfaction of the customers who purchased this machine. Perhaps it's due to the fact that this manufacturer isn't as famous as others but a fair number of people who bought it aren't happy at all. Everyone has their reasons but each one is different. Is it a marketing action by other manufacturers or is the machine actually bad, we can't tell for sure. But either way, we ought to warn you, so we did.
Janome HD3000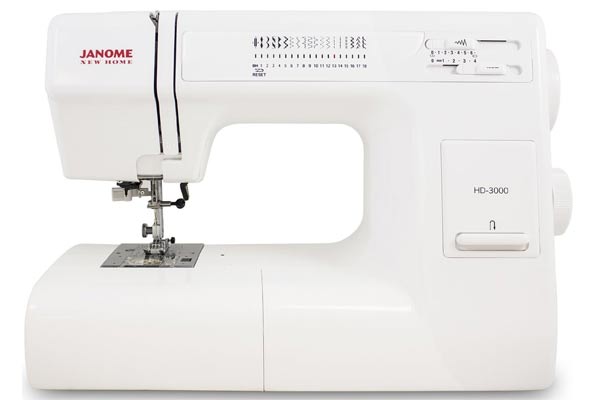 Another famous brand from Japan, Janome is up there amongst the top manufacturers or sewing machines. This machine however, is a bit different compared to the ones we've already mentioned because it's a regular sewing machine that's also capable of performing upholstery tasks and is our top choice for heavy duty sewing machine for leather you can use at home
Let's take a look at its specifications.
Metal construction with very few plastic parts offer great stability and durability while doing heavy duty sewing.
18 stitch types along with a one step buttonhole cover the needs of a wide variety of sewing tasks.
Both stitch length and width are adjustable, allowing for some customization possibilities.
Instructional guide is conveniently located beneath the top tray door, making the machine more beginner friendly.
5 piece feed dog and drop feed make sure to evenly feed the fabric and prevent slipping of materials when sewing on multiple layers of fabrics.
This machine can easily sew through even ten layers of tough fabrics like jeans and due to the extra high presser foot lift, such a task becomes extremely easy. It can also sew on very thin fabrics without any problems.
Included accessories consist of an automatic buttonhole foot, a blind hem foot, a specialized bobbin, an overedge foot, a rolled hem foot and a zig zag foot.
Free arm allows you to sew cylindrical shapes.
Reverse button lets you reinforce your stitches for extra security.
Built in light illuminates the workspace and lets you work with dark fabrics and at nighttime.
Some Downsides
If you wish to do upholstery projects with this machine then you will need to buy an additional walking foot, in order to make your work a bit easier.
Some people consider this machine as noisy, so you should keep that in mind before buying it, especially if you intend to sew in a room where your family members sleep or rest.
Since this isn't an industrial machine, upholstery tasks will require a bit more time to be finished. But even so, it does have a decent top speed of 860 stitches per minute which is actually faster than the first machine on our list. And that's an industrial model.
Singer Heavy Duty 4411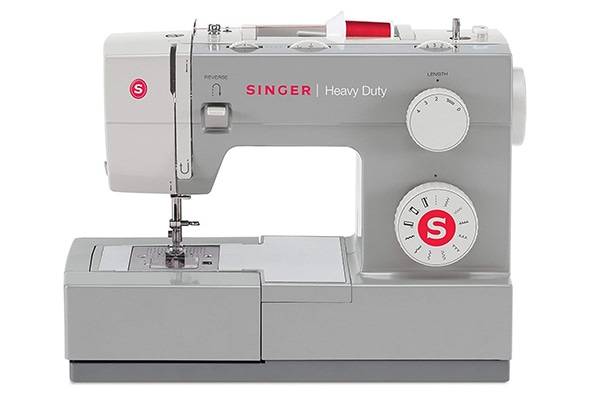 Next up our favorite upholstery sewing machines we have a hidden treasure from Singer. This sewing machine is extremely affordable, easy to use, reliable, versatile and capable altogether. It's meant to be used as a home sewing machine but it can handle upholstery work as well.
Time to check out its specifications.
11 types of stitches available of which 6 are basic, 4 are decorative and one is a buttonhole style.
Made mostly of metal, this machine offers great stability and durability.
Needle can be adjusted to three different positions, allowing you to add zippers, make some decorative additions through topstitching or cording.
Adjustable presser foot lets you sew both very lightweight fabrics as well as heavyweight ones.
Maximum sewing speed of 1100 stitches will make even some of the industrial machines blush while allowing you to finish your projects in record time.
Built in light illuminates your workspace.
Reverse stitching function offers you a chance to further reinforce your stitches.
Some Downsides
If you wish to work with a bit thicker and tougher types of leather, you'll need to purchase specialty needles and a non stick foot before attempting such a task. You'll also have to follow the instructions so you know how to set up the stitch length, width and so on.
The machine also isn't suited for sewing on extremely heavyweight fabrics. It can do so with certain additional parts but if you do those kinds of projects a lot, the machine may not last for a very long time.
Toyota Super Jeans 34 upholstery sewing machine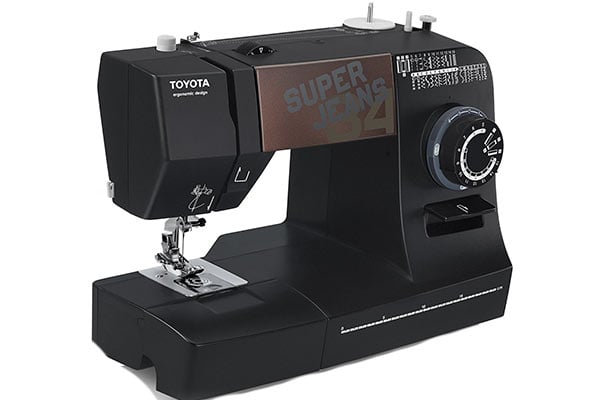 No, we won't be reviewing a car if that's what you thought. But this sewing machine is indeed manufactured by the same company, believe it or not. A heavy duty upholstery sewing machine for home use, this model can work with various kinds of fabrics and create all kinds of projects, including upholstery.
Moving on to its specifications now.
34 built in stitches consist of utility, zig zag, decorative, blind hem, stretch stitch and more. Demonstrate your creativity with a wide range of sewing possibilities.
With the help of the adjustable presser foot height, you can sew up to twelve layers of denim with ease.
Automatic needle threader saves your eyes and cuts your preparation time considerably.
Free arm lets you sew cylindrical shapes like cuffs or sleeves.
Plenty of complimentary accessories included, various feet, needles, guide, screwdriver, spool cap, felt and much more.
Some Downsides
The bobbin this machine uses is a Toyota type bobbin so it can't accept any other kinds other than that.
This is a very lightweight type of sewing machine and quite a number of buyers didn't like that fact so they returned it quickly, fearing it will break soon. Throat area is also pretty small so it can't be easily called heavy duty. It also can't sew on vinyl which is disappointing.
Last downside is the noise. This machine does make some noise while working so using it in places where people rest or sleep isn't an option.
Juki LU-1508NS Industrial Walking Foot sewing machine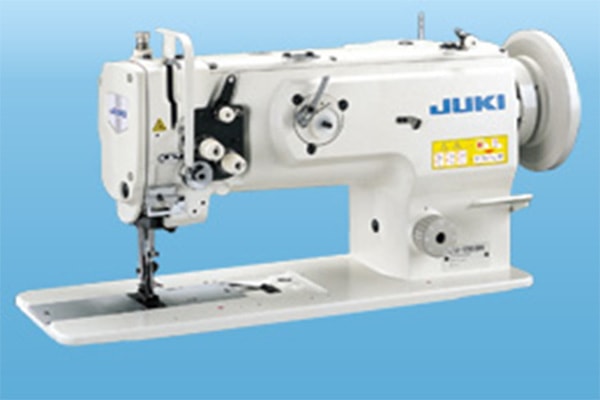 This industrial sewing machine is the most expensive one on our list with a price tag of two and a half grands. However it is also the best choice for serious upholstery practitioners that require a capable, durable and reliable machine by their side.
Let's take a look at its specifications now.
Straight stitch sewing for heavyweight tasks. Maximum stitch length is 9 millimeters.
Rectangular feed system provides adequate feeding of extra heavy materials and prevents stitch gathering.
This machine is incredibly fast with a top speed of 2500 stitches per minute which makes it the best sewing machine for heavy fabrics for those who need speed
Servo motor makes the machine extremely quiet so you don't need to worry about waking up your kids.
Some Downsides
Not much to talk about here. Obviously this machine can't do a lot of different sewing projects that require but we're talking about upholstery machines now and this machine does a great job at that.
Two downsides should be mentioned though. First one being the fact that if you want a speed reducer you'll have to buy one for over a hundred bucks. Second one is the size of the machine. It's fairly large so you can't exactly put it anywhere you'd want.
Techsew 1460 upholstery sewing machine
Another industrial sewing machine ideal for upholstery projects. Powerful, dependable and durable, this model is great for serious upholstery practitioners.
Moving on to its specifications.
Single needle straight stitch with a maximum length of 8 millimeters.
Top speed is astounding 3000 stitches per minute which means you'll wrap up your projects very quickly. The speed is also adjustable which is great when sewing tougher fabrics.
Reverse feed for reinforced stitches.
High presser foot clearance for multiple layers of fabrics.
Compound walking foot feeding mechanism feeds bulky and thick materials like leather, denim or canvas with ease.
Some Downsides
Much like the previous model we reviewed, there aren't many downsides worth mentioning here. For an upholstery machine, it's pretty great actually.
The only downside is its size. It's somewhat large so you can't put it wherever.
FAQ:
Before we bid you farewell, we'll try to answer a couple of frequently asked questions first.
Tips for sewing upholstery
We've already mentioned this a while ago but if you wish to sew upholstery then you'll need an adequate machine, needles, threads and a decent amount of skill. If you're not comfortable with sewing on different kinds of fabrics, then maybe upholstery isn't exactly going to be your cup of tea. But if you are, oh boy, we have a great video tutorial for you how to reupholster a car seat without too much hassle:
And here is a bonus: how to do the luxury French seam (Double Top Stitch) usually found on top of the line cars and boat upholstery:
What kind of thread is used for upholstery?
You should use a strong and durable thread called upholstery thread. It comes in variants of cotton, nylon, polyester and silk.
What type of needle is used to sew upholstery?
You don't want thin needles because you'll have to penetrate some tough materials. 90/14 or 100/16 size needles will do the trick with ease.
Conclusion for top 3 upholstery sewing machines roundup:
It all comes down to you actually, and your needs. If you intend to do upholstery as a hobby then those home sewing machines capable of upholstery work may be your best choice.
But if you're serious about upholstering and you want to do it professionally, then the industrial models are by far the best choice, despite their price tag.
So, what will it be?