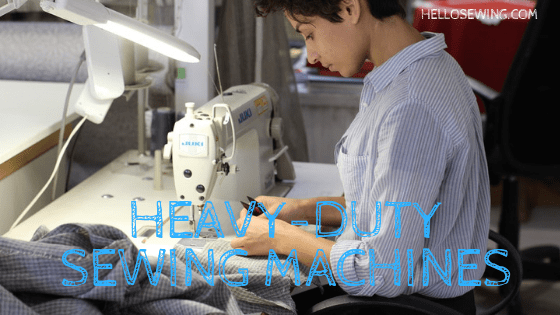 Best Heavy Duty Sewing Machine: Buying Guide and Reviews of top 6
Sewing machines are a must have in your home. After all, sewing machines do a much better job at fixing that burst seam compared to hand sewing. Not to mention the time and effort you save by letting the machine do the job for you. But when you're a sewing enthusiast, getting a heavy duty sewing machine could come a long way in helping you complete your projects.
A heavy duty sewing machine is a powerful sewing machine that works efficiently on professional and demanding sewing projects. It's not only for professional seamstresses; it's a tool that opens up so many new avenues for a sewing enthusiast. For one, you won't be restricted to the type of fabric when you take on sewing projects. A heavy duty sewing machine would make sewing through stiff materials a walk in the park. Furthermore, a good heavy duty sewing machine would be able to handle the workload you put on it, no matter how many garments you need sewing.
By the end of this article, you'll know what the best heavy duty sewing machines in 2020, their pros and cons, as well as our take on the whole thing.
We occasionally link to goods offered by vendors to help the reader find relevant products. Some of the links may be affiliate in nature meaning we earn a small commission if an item is purchased. Read my full disclosure here
Must-have features: What to look out for in the best heavy duty sewing machine
We've all had moments where we were impressed by flashy features, only to be disappointed when we use it. It's the same case for sewing machines. A lot of manufacturers put labels and advertise features on a sewing machine that promises the sun and the moon but doesn't actually do much in real life.
Most importantly, write down what you want to do with the sewing machine. Do you want to start making crafts to sell online? Or are you already an establish seamstress with too much work? Take note of these must-have features to look for when you buy a heavy duty sewing machine.
Build, Weight and Durability
Heavy duty sewing machines are naturally more durable than home-use sewing machines since they were built to withstand use and abuse. In addition, because they are built with heavier and sturdier material, a good heavy duty sewing machine requires less maintenance and upkeep.
Weight is one of the main concerns of a lot of people when they are considering which is the best heavy duty sewing machine for their needs. Sewing machines can weigh from anywhere between from 10lbs to 50lbs, depending on the weight of the motor and mechanisms in the sewing machine.
Heavy duty sewing machines are designed to handle thick and heavy fabric, so heavier weight here is a good sign. It means that the machine is made of steel components. This can be either metal internal frame, or an all-metal machine. Robust interior is great, all-metal is superb when it comes to durability. Moreover – your sewing machine might tip over or move around when you sew heavy fabrics. That's why we recommend heavier sewing machines, especially if you work commercially. On the flip side, heavier sewing machines are less portable – not something you want if you carry your machine around everywhere.
Speed and Efficiency (SPM)
Look for a strong motor that provides ample stitches per minite (SPM). While a quality home model has several hundred SPM, heavy duty models are able to work faster, typically producing 800-2,000 SPM. The bigger the number, the faster you will be able to finish your job. Higher speeds are usually associated with the clothing industry where the same pattern is used continuously on lighter weight fabrics and the fast output is a must.
Which comes to the next point which is speed control option. Variable speed control allows you to determine the right speed and keep it consistent depending on your preference or a change in fabric being worked on. Delicate and thick fabrics both require slower speed. You also want to be extra careful around corners and slow speed allows more precision for working on intricate details.
Varying stitch options
The length and type of stitch are very important in sewing. Heavier fabrics require long stitches that standard sewing machines can't provide. Asides from fabric, the best heavy duty sewing machine for you should also be able to handle different kinds of stitching so you can be more versatile with your sewing.
Adjustable presser foot
This goes without saying – a presser foot that is not adjustable limits you from working with heavier fabrics. You would be able to work on a myriad of fabrics with an adjustable presser foot.
Price and warranty
Durability comes at a price. Heavier duty models typically cost more than average sewing machines. Why? Higher quality components such as metal parts and sturdier motors are made to last and this will probably be the last machine you have to purchase!
Usually those machines average about $300 – $500, with some of the models depending on the features and specification can go over $1000. As for the warranty, you can expect anything between 2-3 years for the industrial models (those usually have shorter warranty periods as it is expected that they will be abused) to up to 25 years for the domestic models. Please check the specific model before making the your purchase.
Other nice to have features:
Larger table
Imagine having to hold your fabrics while you're sewing. How long would you last without getting tired?
A heavy duty sewing machine is meant to help you get through your workload quicker, so it doesn't make sense to buy one that would make your life more difficult. A larger sewing table would keep your project in place as you're sewing. It would also help you produce smoother and cleaner stitches since your fabric is safely laid flat.
Presser foot lift
It is extremely convenient feature – pressing the treadle with your heel raises the presser foot. It will put your productivity on steroids
My Reviews of the Best Heavy Duty Sewing Machines in 2020
Janome HD3000 (Best Overall)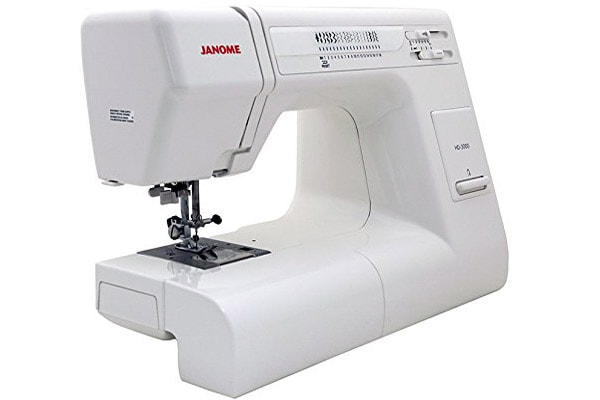 Let's first get into the technical details. The Janome HD3000 is a fuss-free machine that doesn't promise fancy features to hook you in. Here's a list of features built into the Janome HD3000.
–    Stitch selection dial
–    Snap-on presser feet
–    Free arm
–    Foot pressure adjustment
–    7-piece feed dog
–    Push-pull bobbin winder
–    Horizontal, full-rotatory hook bobbin system
–    One-step buttonhole
–    Reverse stitch lever
–    Extra high presser foot lift
–    Thread tension adjuster
–    Stitch length 4.5mm-6.5mm
Pros
Durability: It might look underrated with its plastic outer casing, but the metallic internal mechanics ensure durability. You won't have to worry about it breaking down on you while you're working. Furthermore, unlike many sewing machines in the market, you don't have to maintain it as much throughout the years.
Ease of usage: The Janome's sleek and simple exterior also translates to its ease of usage. It's quite intuitive to use as well. For example, you can adjust your stitch width and length with the two levers on the top right corner of the machine. Everything on the Janome is clearly spelled out. So, we'd recommend this for beginners or intermediate seamstresses who had outgrown their sewing machines.
Weight: Clocking in at 18.7lbs, it keeps your fabric on the table without much movement even when you're stitching in high speed.
Silence: Janome HD3000's high-speed motor is surprisingly quiet, which is great if you spend a huge amount of time sewing.

The best heavy duty sewing machine for heavy fabrics: The Janome HD3000 is able to effortlessly handle heavy fabrics like denim, leather, and even upholstery. It can also handle up to 6 layers of fabric, giving you the same neat stitches no matter how thick your quilt sandwich is.
Cons
Types of stitches: It offers 18 types of stitches, which might seem a lot considering an average heavy duty sewing machine only features 10 types of stitches. But for a person who loves to do complicated and varied stitching, 18 might not cut it.
Janome HD3000 belongs on this heavy duty sewing machine review as the best machine overall because of how well it does what it promises. For its price, you get what you pay for and more. It might not have all the bells and whistles, but it does the few things it promises exceptionally.
Juki TL2010Q (Best pick for an upgrade)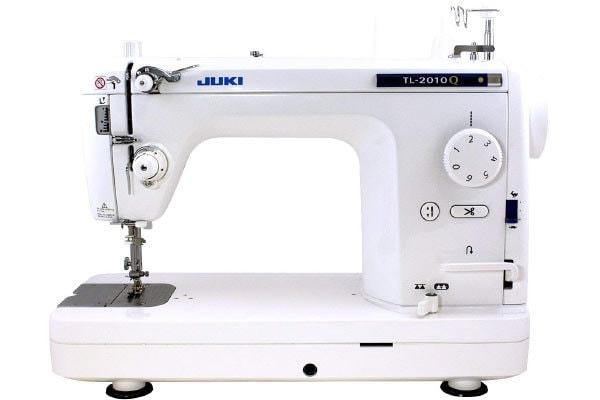 You've finally done it! You're now good enough to get some money out of your hobby with your trusty machine. But wait, with the amount of work you're getting, your sewing machine is exhausted. You know you have to say goodbye – it's time for an upgrade.
The Juki TL2010Q is not for the faint of heart, and it's definitely not for the fledgling seamstress. It takes a while to get used to its function, and you may even need to change the way you sew. For all the trouble it's worth, the Juki TL2010Q rewards you tenfold by producing professional results efficiently – things you need to make bank with sewing.
Features on the Juki TL2010Q:
–    Large work area with extension table
–    Large 8.5″ harp space and sewing bed that allow easier handling of larger projects and quilts!
–    Sewing speed up to 1,500 stitches per minute
–    Automatic bobbin winder
–    Sliding Speed Control + One Pedal foot control
–    LED lights
–    Knee lift lever
–    Automatic thread trimmer
–    Automatic threader
–    Even feed foot, 1/5 Quilting foot, and compensating presser foot
–    Stitch length 6mm
Pros
High-speed motor: We really love how fast this machine goes. For a professional seamstress, time is money. You want your heavy duty sewing machine to work as fast as possible so that you maximize your earnings. With the Juki TL2010Q, you can sew up to 1,500 stitches per minute.
Large work area: A small work area is the stuff of every quilter's nightmare. The Juki provides a large work area for you to work on. If that's not enough, it comes with an extendable table.
Knee lift lever: Stopping to raise or lower the foot manually is a pain in the butt, especially when you're in the zone. The knee lift lever helps you stay in the zone by a simple bump of your knee.
Automatic threader: Threading a needle can be very annoying, especially when your income depends on how fast you can finish your sewing tasks. Having an automatic threader do that for you is liberating, since you can now focus on more complicated tasks instead of squinting.
Beautiful stitches: Reliability is your best friend when your livelihood depends on the quality of your products. Juki TL2000Qi constantly delivers even and beautiful stitches.
Sturdiness: Juki TL2010Q is a real heavyweight machine at 25lbs. Since it's made of aluminum and metal, it's probably not going to break anytime soon. Its heavyweight ensures that it doesn't move very much despite sewing at a really high speed. Because it's so well-built, it doesn't vibrate very much either.
Cons
Steep learning curve: It's fairly easy to work on this Juki, but it does require a bit of getting used to. The manual speed control can be hard to master, while it might also take a few tries to get the automatic threader going. Nonetheless, with a bit of practice and the manual, you'll get it in no time.
Only one stitch: This is not the best heavy duty sewing machine for creative seamstresses because it only does straight stitches. It's ideal for simple projects, like making garments or basic quilts.
Not portable:  Juki TL2010Q's weight is both a blessing and a curse. Being at 38lbs means that this heavy duty home sewing machine is not something you can lug around. So, if you're looking for something portable, keep reading.
High maintenance: This Juki requires regular oiling, which is not a great point in its favor if you're looking for a fuss-free sewing machine. You might also need to clean out the bobbin once in a while since thread pieces tend to be caught in it.
The Juki TL2010Q is a mean workhorse that gives you a combination of home and industrial quality goods. It might be a tad pricey for some, but the quality and the efficiency you get from it is well worth the price.
SINGER Heavy Duty 4423 (Best budget pick)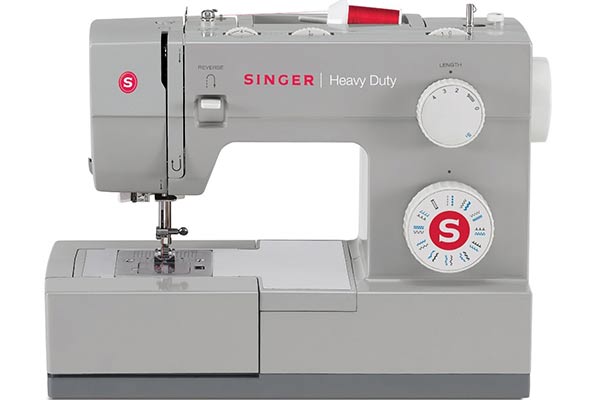 Let's be real: the price is often the main concern for anyone looking to upgrade to a heavy duty sewing machine. The SINGER Heavy Duty 4423 has the lowest price in this list, and as one of the most affordable heavy duty sewing machines in the market we also recommend it as a denim sewing machine. Although it lacks many features that a better heavy duty sewing machine would have, its competitive price point makes it a worthy contender in the market.
Here's a list of its features:
–    Strong motor
–    Drop-in bobbin with transparent view cover
–    Automatic needle threader
–    1-step fully automatic buttonhole
–    Free arm for collars, cuffs, and pant hems
–    Adjustable stitch length
–    Reverse sewing option
Pros
Easy setup and usage: SINGER Heavy Duty 4423 promises a quick and easy setup for everyone. Everything is clearly labeled. With two separate knobs to adjust stitch length and patterns, even a complete beginner can get started with their projects in no time.
Faster than other machines at its price point: Clocking in at 1,100 stitches per minute, it is lightning fast compared to other sewing machines in its price range.
Durability: Made entirely from metal and stainless steel, it can definitely take abuse and heavy use.
Portability: At 14.5lbs, it's on the lighter side of the heavy duty sewing machine spectrum. You can't carry it on you at all times, but you can definitely take it with you if you want to work on your project somewhere else.
Cons
Stitch options: The SINGER boasts 23 stitch patterns: 1 automatic buttonhole stitch, 12 decorative stitches, 6 normal stitches, and 4 stretch stitches. Even though it's enough for beginners, intermediate sewists will start feeling like it limits their creativity.
Lack of accuracy on back stitches: Although the SINGER does great straight stitches, its back stitches left a lot to be desired. Puckering can be noticed when you're doing back stitches on it, which is a big no-no.
Manual: Being manual means there's no speed control, so you'd have to take extra care in not letting your fabric slide away from you.
Loud noise: It feels great seeing your stitches zip through in front of your eyes, but loud noises from the rapid speed of your sewing machine can be awful to deal with. Unfortunately, this is one of the downfalls of the SINGER Heavy Duty 4423. If you have to work on your sewing machine for an extended period of time, the loud noises might be a nuisance to you or even people around you.
The SINGER Heavy Duty 4423 is a beast for its price – it gets the job done well and fast enough. Even though it lacked a lot of functions a heavy duty home sewing machine should have, its pros definitely outweigh its cons.
Sailrite Heavy Duty Ultrafeed LSZ-1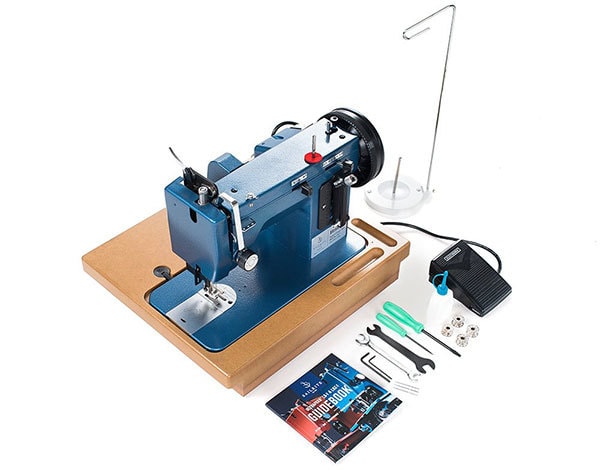 Sailrite Heavy Duty Ultrafeed LSZ-1 is specifically designed to sew through heavy fabric. It's not for the faint of heart or beginners. On the contrary, this heavy duty sewing machine for heavy fabrics wins the heart of advance seamstresses who typically work with heavy duty materials.
Features of the Sailrite Heavy Duty Ultrafeed LSZ-1:
–    Power Plus Balance Wheel
–    Posi-pin clutching system
–    ½ -inch, ¾ -inch, and 1-inch markings on the needle plate
–    Electronic variable speed 3/8 –inch high foot lift
–    Ultrafeed wooden base
–    Up to 6mm in straight stitch, up to 5mm in a zigzag stitch
Pros
Easy penetration through heavy fabrics: This is Sailrite Heavy Duty Ultrafeed LSZ-1's main claim of fame. With the Sailrite, you'll be able to sew through heavy fabrics like leather, denim, and upholstery with ease. However for a machine to earn a spot on our best heavy duty machine list, it doesn't only work with one layer. The Sailrite is able to sew through 10 layers of heavy canvas and 8 layers of the notoriously heavy dacron.
DVD Manual: The Sailrite Heavy Duty Ultrafeed LSZ-1 isn't the easiest to use, but they've obviously put thought into it by providing a couple of DVD manuals to help you get started. If you encounter an issue that's not covered by the DVDs, you can call Sailrite and they'll send you a video to help solve the issue at hand if need be.
Power Plus Balance Wheel: The Power Plus Balance Wheel has twice the power and size of a traditional flywheel. It compensates for its weak motor by providing extra torque to get your projects going.
Zigzag stitch available: The zigzag stitch on the Sailrite Heavy Duty Ultrafeed LSZ-1 opens up a lot of different opportunities to use this powerful beast.
Cons
Ease of usage: Even though the Sailrite is easy to use, to begin with, there are a couple of things that they could have done to make the experience easier. The thread has to be pushed through many holes on the machine, which may irk some users. The lack of thread cutter also makes it frustrating and strange for some seamstresses, since you now have to use a pair of scissors to manually cut the thread.
Narrow throat area: The Sailrite's narrow throat area isn't the best when you want to work on larger projects.
The Sailrite might look underwhelming without all the extra controls at first glance, but experience it and it will quickly become your best friend. Its ability to penetrate layers of thick fabric is its main strength since not many machines can do that without messing up the stitches. The steel exterior is also durable and sturdy, making it a machine that will last you a lifetime.
Brother ST371HD heavy duty sewing machine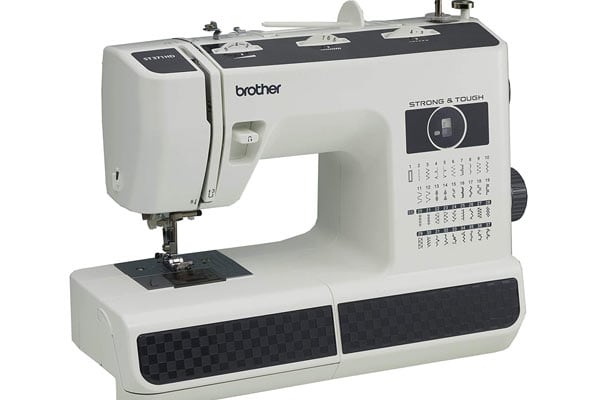 If you're looking for a personal, mechanic sewing machine that works great on home projects as well as thicker fabric, look no more. This Brother heavy duty sewing machine might look a bit basic at first glance, but its affordable price tag makes it one of the best heavy duty sewing machines in 2020.
Features of the Brother ST371HD:
–    Free arm
–    Automatic needle threader
–    Reverse sew lever
–    Tension control dial
–    Handle for portability
–    Bobbin winder
–    37 built-in stitches
–    Stitch selection dial
–    Heavyweight needles
–    Non-stick foot
–    880 stitches per minute
Pros
Portability: At 14.3lbs, the Brother ST371HD is one of the most portable heavy duty sewing machines on this list and among the leather sewing machines. It also includes a built-in handle that allows easy portability.
Strong and Tough: "Strong and Tough" is literally the tagline for Brother ST371HD, and we agree! It's able to sew through multiple layers of fabric with ease, as well as ensuring that the fabric feed is smooth with the metal needle plate. Although it might not feel as sturdy as other heavy duty sewing machines, the fact that Brother doles out a 25-year warranty might give you some peace of mind.
Automatic needle threader: This feature is great for anyone who finds needle threading a pain in the butt. Furthermore, it saves time so that you can work on more important things!
Stitch selection dial: The stitch selection dial makes it easy for you to select the stitches you want to use.
Cons
No up/down needle controls: The lack of up/down needle controls make sewing corners more difficult than it should be since you have to readjust the needle whenever you need to.
No automatic speed control: Speed control is a must for many beginners. It might be a little unnerving for beginners since you have to be extra careful not to sew too fast.
Juki DDL-8700 (Best industrial sewing machine)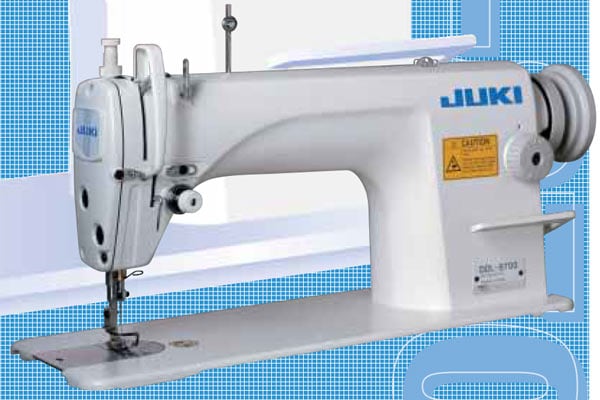 The industrious Juki DDL-8700 deserves a spot on our best heavy duty sewing machine roundup since it was designed to specifically handle light to medium-weight fabrics. This is ideal for sewists who repair or manufacture light to medium duty garments, or those who seldom work with heavy materials
Juki DDL-8700 specifications:
–    Max stitch length: 5mm
–    110-volt servo motor
–    Organ DBx1 needle
–    Auto-lubricating system
–    Adjustable RPMs for a wide range of stitch speeds
–    Generous 11-inch arm space from neck to needle
–    Up to 0.5-inch presser foot lift by knee lift
Pros
The Servo motor: The DDL-8700's innovative servo motor is what made it stand out amidst the sea of heavy duty sewing machines. This motor is super quiet for its horsepower, making it one of the best industrial sewing machines to work with for a long time. It also consumes up to 90% less energy than the traditional clutch motors.
Lightning fast: This Juki boasts a maximum stitching speed of 5,500 stitches per minute, which is the highest amount of stitches per minute on this list. It won't be long before you see your heavy workload disappearing in front of your eyes!
Hassle-free maintenance: The auto-lubricating system in the Juki makes is easy for you to maintain the sewing machine.
Cons
Fabric limitations: Since it was designed with light to mid-duty fabrics in mind, it isn't a good sewing machine for heavy or delicate fabrics as it doesn't feed them through very well. However if you use it as intended, it does fare extremely well against medium weight fabrics.
Stitch type limitation: This sewing machine only does straight stitching, which could also stifle the creativity of aspiring seamstresses. However this is an industrial beast and is not meant to cater for a ton of various stitching options. It does one thing and it does it extremely well.
Not portable: At 28lbs, the DDL-8700 is not portable. So even though you can't bring it with you everywhere you go, it's still a great machine if you like working in one particular spot.
The Juki DL-8700 might seem large and clunky in the beginning, but it would prove to be a great asset for you if you run a home manufacturing business. The limitations it has on fabric and stitch types are quickly overshadowed by its powerful and efficient motor as well as a fuss-free maintenance routine. In our opinion, this is the best heavy-duty home sewing machine for industrial purposes.
FAQs About Heavy Duty Sewing Machines:
Achieving professional results is not just about your sewing skills or the machine you have. Not only you need to use the right fabric and needle, you need to select the right thread to go with them as well! Just like a delicious recipe, the better the ingredients, the better the taste.
What tension should I use for thick fabric?
The thicker the fabric, higher the tension must be to lift the lower thread up to the middle of the layers of fabric. You will usually be alright with a 4 or 5 on medium to medium-heavy fabrics like linen and twill weaves such as drill and denim. Thick upholstery fabrics may require a higher tension setting and a longer stitch, and lighter fabrics like cotton or even sheers will require a lower tension setting.
Make sure to adjust the tension of your sewing machine every time when you change the thickness of the thread. Make a point to always check tension whenever you make a change in fabric, needle or thread!
What thread should I use?
Thread comes in different weights or thicknesses. The heavier or thicker your thread the more visible your stitches will be. Use thicker threads for sewing thicker fabrics, they will be stronger. Consider what your project will be used for and the stresses and strains on the seams before choosing a thread.
Make sure the needle you choose has an eye big enough for the thread not just to fit through but also to allow some wiggle room.
Sewing on heavy duty materials, such as canvas, leather, vinyl, or duck cloth requires very strong thread that can handle the friction at the needle when sewing at a higher speed.
What needle should I use?
The size of the needle you want should be correct for the fabric you are sewing. A thicker, heavier fabric  requires a larger needle than a lightweight sheer.  Try to use a needle where the eye is 40% larger than the thickness of the thread. You can use this as a quick reference:
Very lightweight fabrics require – 8/60 – 10/70 needle
Lightweight fabrics – require 10/70 – 12/80 needle
Medium-weight fabrics require – 14/90 – 16/100 needle
Heavyweight fabrics require 18/110 – 20/120 needle
Very Heavyweight fabrics require 21/130 – 23/160 needle
What makes a sewing machine heavy duty?
dd
How to maintain my heavy duty sewing machine properly?
Here's a quick video that shows how to do it properly:
Takeaway
Heavy duty sewing machines are great for ambitious beginners that want to take on challenging projects as well as advanced sewists who want to run a home business. They are typically sturdy, reliable, and would last through a lifetime.
Ultimately, the best heavy duty sewing machine in 2020 depends on what you need the machine to do. We recommend that you pick the heavy duty sewing machine that best fits your needs to ensure a great experience. For example:
If you are looking for balance between the features, materials it can handle, and price, the Janome HD3000 is the obvious choice!
If you need to sew lighting fast, get the Juki DL-8700. It is our industrial quality pick on the list
If you want to do upholstery repair, it makes more sense to get the Sailrite Heavy Duty Ultrafeed LSZ-1 instead of the Juki DL-8700. It is one of our favorites in the upholstery sewing machines roundup as well!
Resources:
CowboySew, How to slow down the speed of an industrial sewing machine – http://www.cowboysew.com/slow-speed-sewing-machine.htm
Patent: Presser foot lifter attachment for sewing machine – – http://www.freepatentsonline.com/5220877.html