2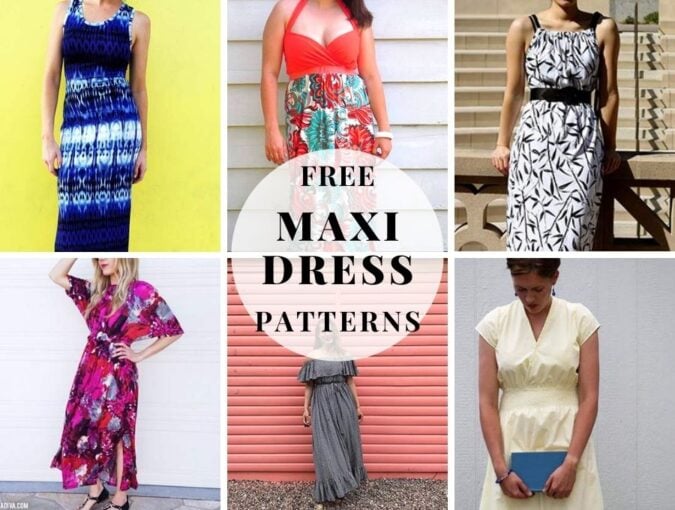 21+ Free Maxi Dress Patterns and Gorgeous Long Dress Tutorials
Turn a piece of fabric into a stylish frock with one of these free maxi dress patterns. Just check all the options – from boho to chick, from strapless to a dress with sleeves, you will find a gorgeous long dress pattern or tutorial to suit your style, body type and budget. And there is more! I've scoured the web to bring you a collection of simple maxi dress patterns and amazing dress sewing tutorials for all seasons – whether you want to sew a maxi dress for summer or winter, spring or fall, you will find it here.
20+ Free Patterns for Maxi Dresses
3 seams caftan – super easy long dress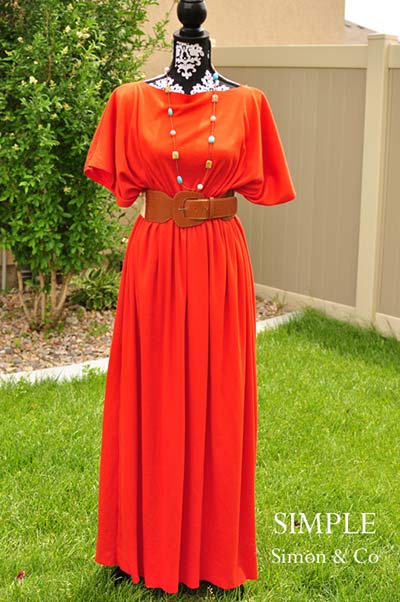 Simplicity at its finest, the caftan dress! Even though this piece of clothing takes only three seams to finish, it's just as classy as other, way more complex kinds of long dresses. Make it with a gathered waist or skip that step and just wear it with an adequate belt instead, it's your call!
T-shirt maxi dress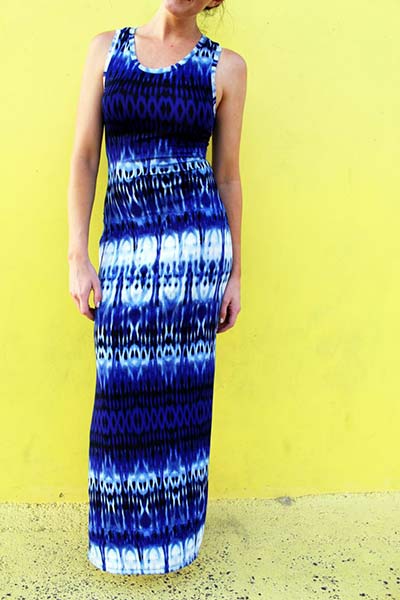 Make a comfortable dress in a matter of minutes with this easy step by step tutorial.
Upcycle a T-shirt you don't like into a gorgeous dress that you'll love and wear often. Not only is this a great sustainable project, but it's also easy and doesn't take long to complete. In just one afternoon, you'll get a stylish tank top dress with elegant side slits that will dazzle everyone who sees it.
The easiest maxi dress ever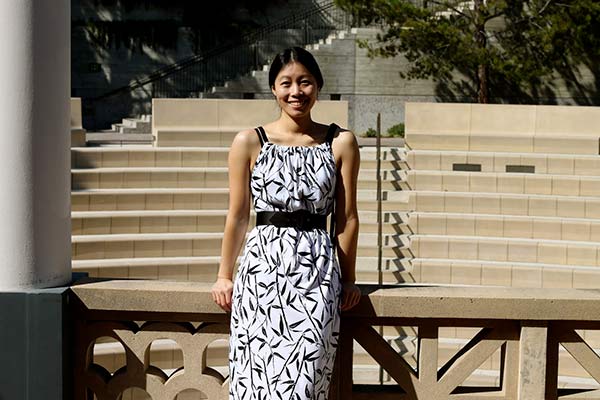 Whip yourself up this attractive and refreshing maxi dress for the summer even if you're a beginner at sewing with the help of this neat pattern. The thin shoulder straps and the adjustable waist guarantee comfort without sacrificing style. If you want a dress that'll make you look tall, don't miss out on this one.
Boho maxi dress tutorial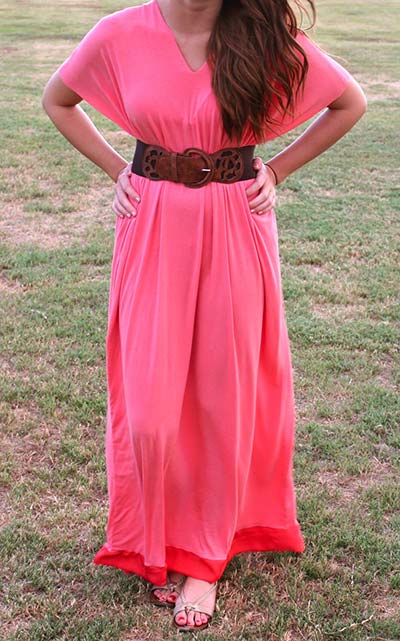 This boho maxi dress combines casual with stylish to provide you with a wonderful, versatile piece of clothing you'll enjoy wearing during summer. The wide sleeves, a V-neck, and the gathered waist on this one will make you fall in love with it at first sight.
DIY maxi dress with ruffled skirt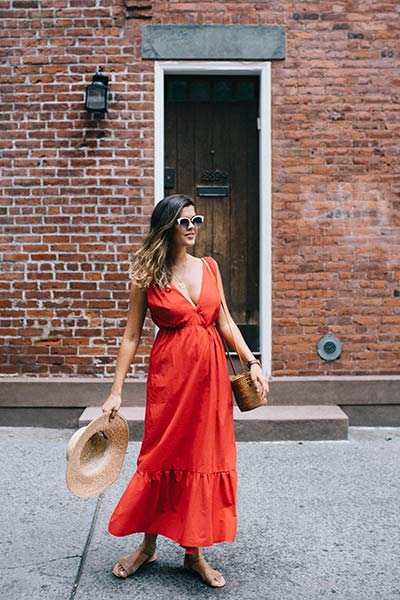 Here's a dress pattern that's attractive and classy enough to make people turn around when you pass them by. The flattering deep V-neck and kimono-style shoulder straps will emphasize your attributes elegantly and fashionably. The ruffled skirt section is just a cherry on top of this delicious dessert of a maxi dress.
Chick boatneck long dress with sleeves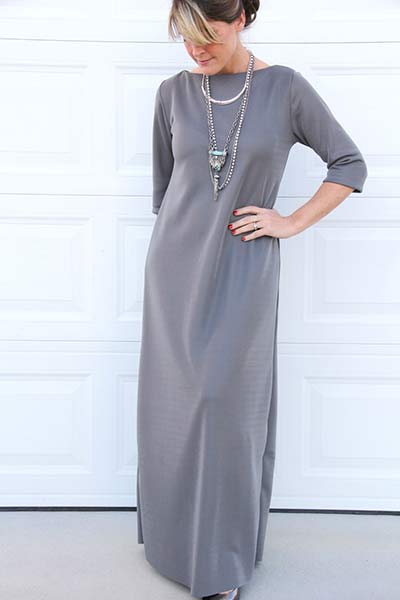 If you're looking for a dress that you can wear during all seasons, this one is a perfect choice. It's a 3/4 sleeves dress with a slightly wider but high neckline and a shape that will give you a wonderful silhouette look. Not only is it versatile, but it's also elegant and comfortable. What more would you want from a dress?
by MeSewCrazy
Beautiful dress with wide straps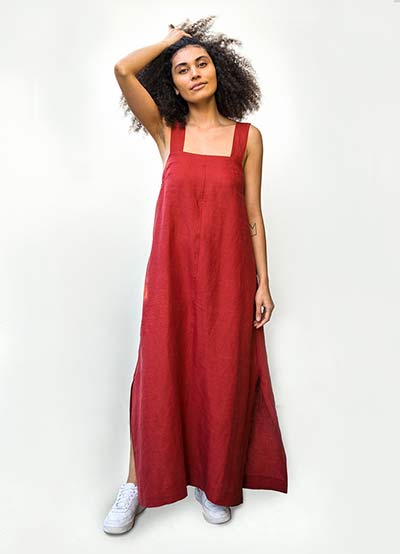 Everyone needs a playful stylish dress in their summer wardrobe. This summer dress with wide shoulder straps and a gathered back can easily become your favorite piece of clothing as soon as you finish it. The knee-high side slits add a touch of class to it while the pockets bring a dose of practicality, making this dress even more appealing.
Halter maxi dress with ruffles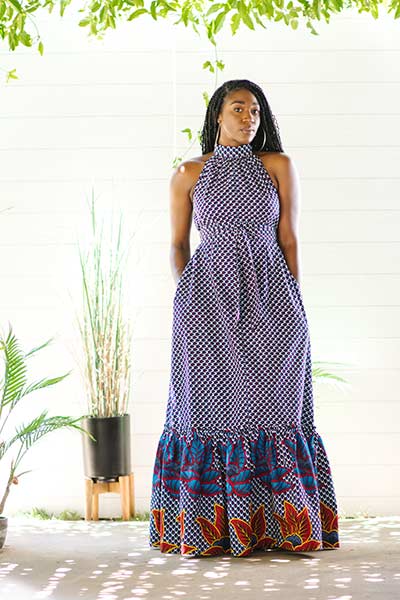 Make yourself feel like an African princess with this beautiful maxi dress. The halterneck is its greatest asset but it also boasts a gorgeous ruffled bottom section, handy deep pockets, and a lovely waist strap. You'll feel comfortable and gracious wearing it.
by MontoyaMayo
Halter neck maxi dress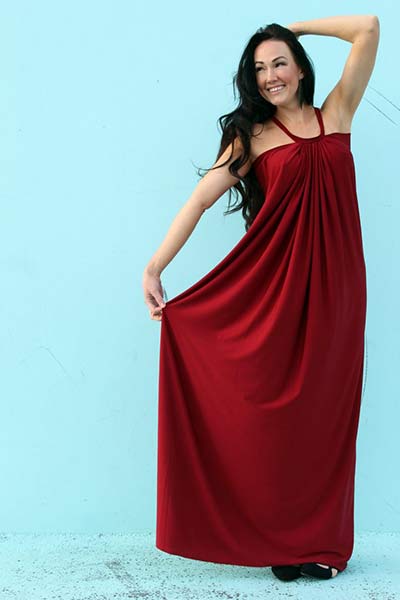 Another halterneck style maxi dress, but completely different from the previous one. This one features a thin halterneck and an exposed top section of the back. With a gathered central section just under the halters, it looks quite elegant even though it is simple to sew.
Turn a t-shirt into a maternity dress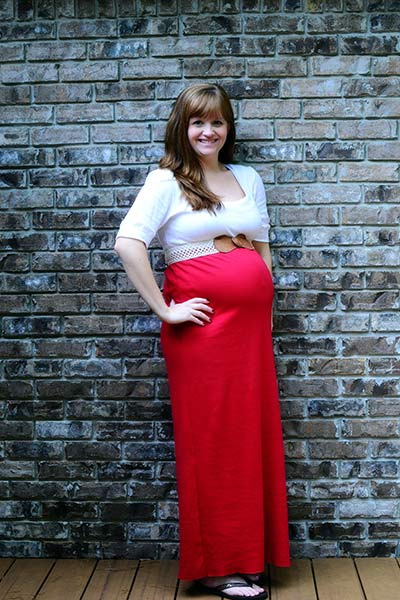 All of you expecting mommies who love sewing will be thrilled by this pattern. It's a comfortable, pretty maternity dress just for you. The best part about it is that it allows you to repurpose a T-shirt and transform it into a maxi dress!
Refashion a t-shirt into a girl's maxi dress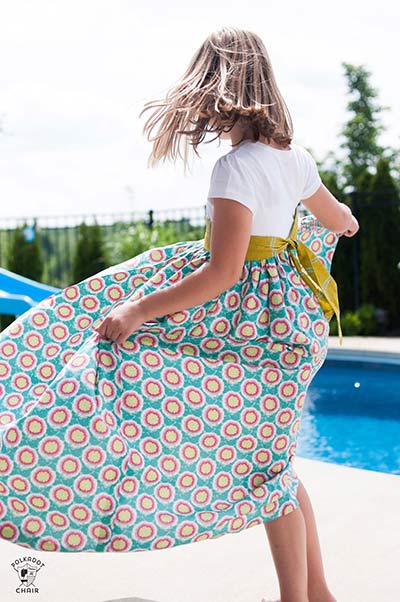 Got another T-shirt you don't use? Great, let's upcycle it into an adorable girl's maxi dress! Your princess will enjoy wearing it because it looks beautiful and feels comfortable. Add a wider waist strap to the dress to make the transition between the top and bottom sections more fashionable.
A-line knit maxi dress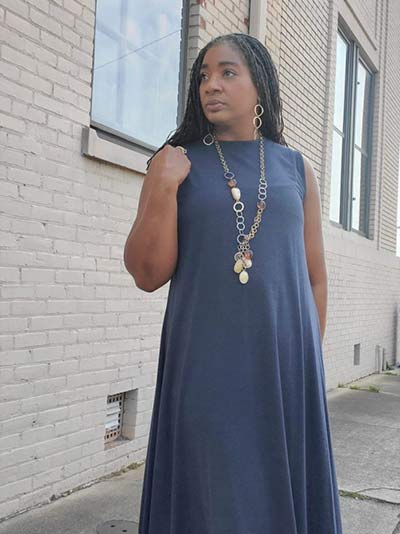 Knit dresses feel so refreshing on your body during those hot days, so you should have at least one in your summer wardrobe. This A-line dress is wonderful in its simplicity. You can sew it quickly and wear it to almost any occasion with style.
by SewZaiZay
Summer caftan – cute long dress with sleeves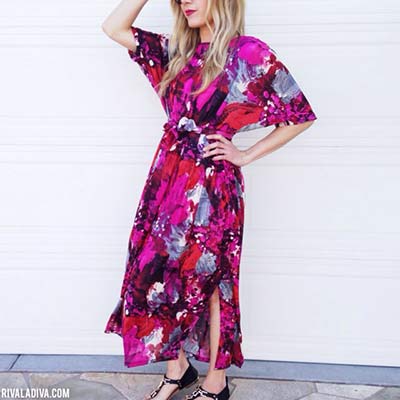 Here's a breezy and comfortable caftan-style summer dress. The long sleeves and knee-high side slits are its main features, along with a characteristic flowy appearance. Feel free to add a waist strap of your choice to the dress to complete the look.
by RivaLaDiva
Off the shoulders maxi dress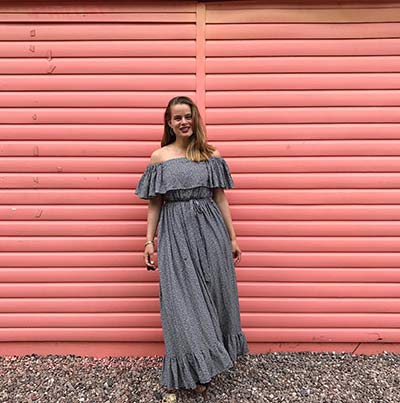 Are you ready for a fiesta? Here's a dress that will bring back those Latin soap opera memories to life. The off-the-shoulder style combined with ruffles and gathered fabric split into multiple segments gives this dress a special charisma. Make it with darker fabric if you want to go for class and elegance or with bright colors if you want a fiery and lively look.
by ByHandLondon
Peasant maxi dress with long sleeves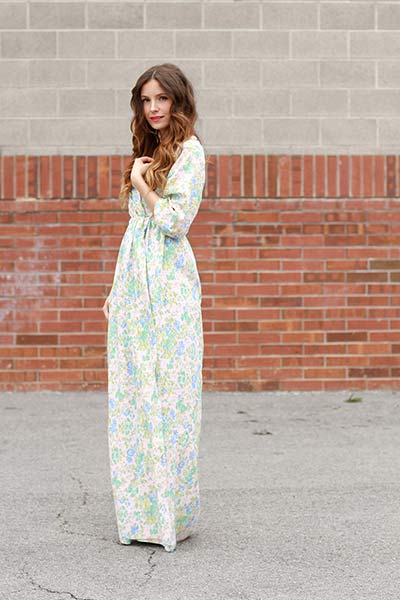 Make yourself a lovely wrap-style peasant dress in no time with this pattern. The long sleeves and the kimono-like overlapped look give it a specific appeal that's hard to resist. Sewing it is extremely easy, you just make the top and bottom sections and join them!
Gathered v-neck long dress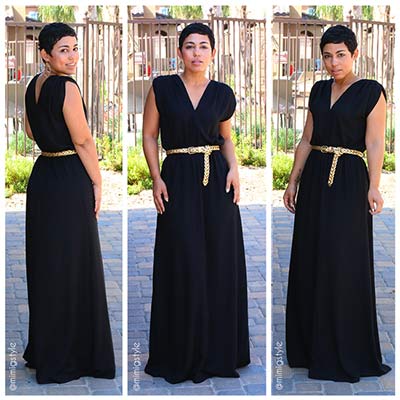 Want a versatile maxi dress pattern? Here it is, a sleeveless, gathered V-neck dress with a back slit that's adjustable! You can make the sleeves longer, make the dress shorter, or skip the fabric gathering if you prefer it that way.
by MimiG for LowPriceFabric
Tube top maxi dress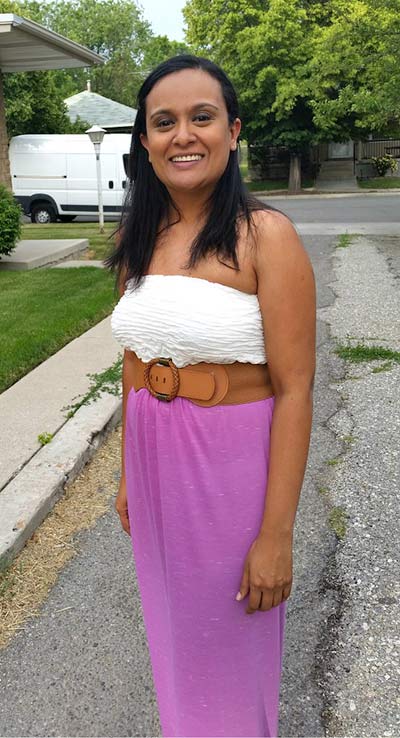 Let those shoulders get some natural tan with this tube maxi dress pattern! It shouldn't take you more than forty minutes to finish this one. You'll get a lovely sleeveless dress in two colors that is ideal for those hot summer days.
Turn a vintage sheet into a wrap front dress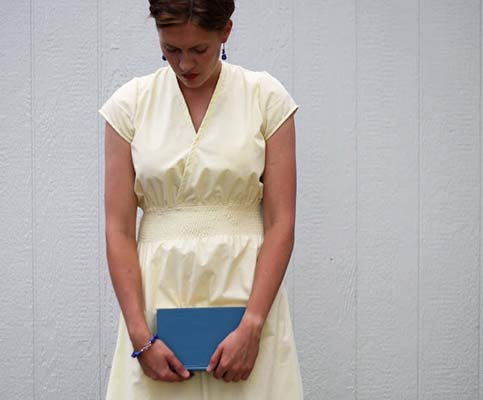 If you have some sheets with bold prints or some vintage fabric on hand, you can sew this one. Put a piece of vintage to good use by making this gorgeous wrap front maxi skirt from it! The adorable flutter sleeves, pulled waist, and wrap front make this dress look like it's meant for a fairytale princess
Plus size maxi dress pattern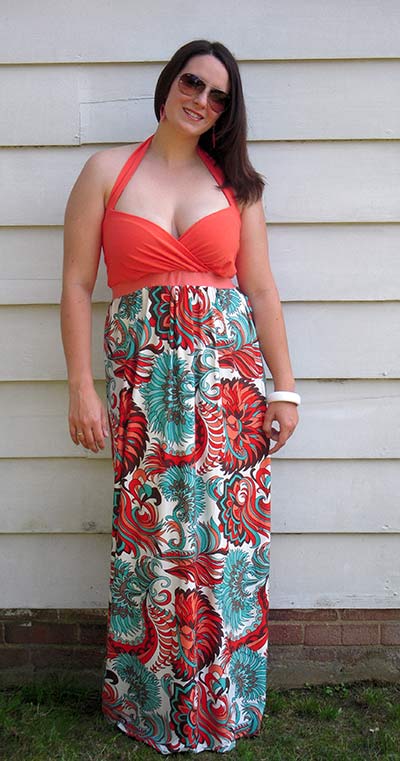 We saved the best for last, a dress for all the beautiful ladies who have a hard time finding their size of dresses in stores. Here's a plus-size cabana maxi dress that will dazzle everyone who sees it. A flattering halterneck wrap front that emphasizes your attributes and a colorful gathered section below the waist will make those jaws fall when you walk by.
What did you think of our list of free maxi dress patterns? Which is your favorite long dress pattern? Share your opinions with everyone in the comments section, we enjoy hearing your thoughts! When you finish leaving your comment, subscribe to our mailing list so that you can stay up to date with all our new projects!
RELATED: