4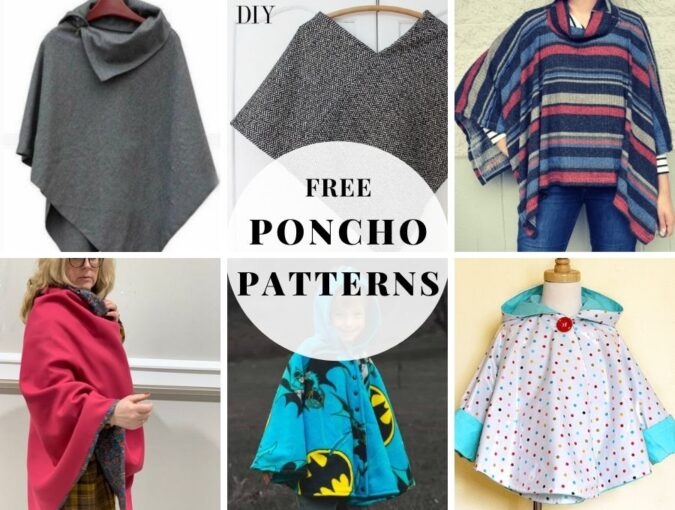 20+ Easy Poncho Sewing Patterns for Women, Men and Kids
Sew up a warm and cozy ponchos to keep you and the kids protected from the chill. I've rounded up the best free poncho sewing patterns and tutorials I could find to help you pick the right one for you. We have poncho patterns for the whole family – women, kids and men. The best of all is that it is super simple and easy to sew, especially if you pick fabric that does not fray *wink*
20+ Poncho sewing patterns for everyone in the family
Easy cowl neck poncho with free pattern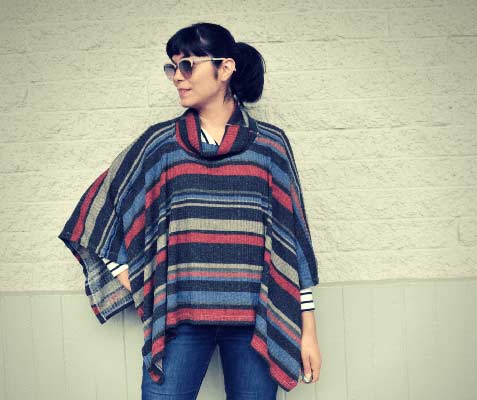 We'll start this list with a basic pattern that has a tiny addition that turns it into a not-so-basic design, the cowl neck poncho. It's a rectangular poncho that is easy and quick to sew and will look good in an outfit combination with almost anything. The thing that makes it different from plain ponchos is the beautiful cowl collar, a nice feature that gives this clothing piece an extra touch of style.
Wool poncho out of 2 rectangles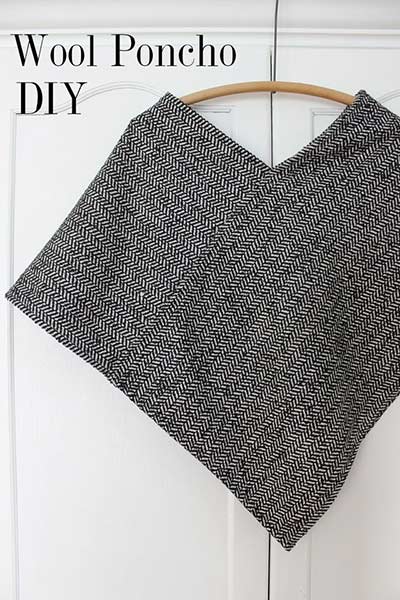 If you thought the previous pattern was easy, this one will stun you because it's even easier, it's the wool poncho. All you have to do is cut two rectangles, overlap them so they form a V letter shape, stitch them together, and you're done! This is a great pattern for creative gifts or just a quick little treat for yourself because it takes extremely little time to finish.
by Smileandwave
Assymetric poncho sewing pattern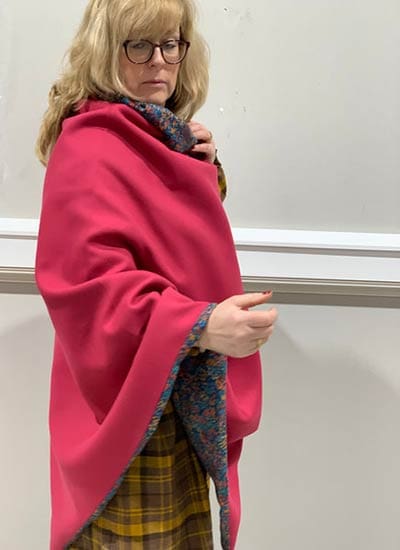 The next pattern is the asymmetric poncho! This one is a bit more complex because it has a lining, but it's still easy to make. The different colors of the lining and the face give it a cheery and stylish look, while the asymmetric shape pronounces its uniqueness. One side, or sleeve if we can call it that, is longer than the other, hence the asymmetric shape. The shorter side has a row of vertical buttons as a nice decorative touch.
by Fabworks
Poncho with built in collar
Here comes a pattern for all who love collars on their ponchos, it's a poncho with a built-in collar. This is another project that's simple and short, you can finish it in about ten minutes or so. The trick is to cut out the collar on a rectangular poncho and make the edges frayed. That's all, with only that much you'll have a fine autumn poncho as a new addition to your wardrobe.
by SewVeryEasy on YT
Simple poncho out of scarf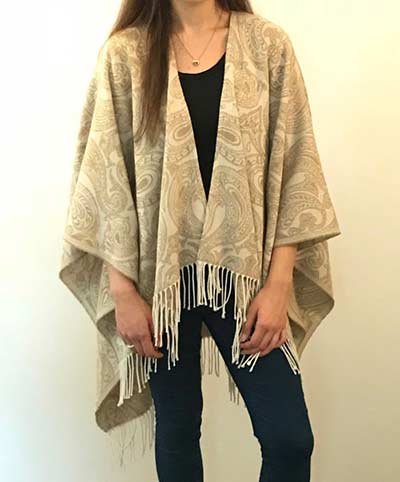 It's time for an upcycling project with this scarf poncho pattern. Now you can turn that scarf you haven't been wearing much into a brand new piece of clothing, an open poncho! If your scarf has frayed endings, make sure to keep them on the bottom for a more authentic look. You can also make a couple of pockets on the outer side of the poncho, but that's completely optional.
Cape poncho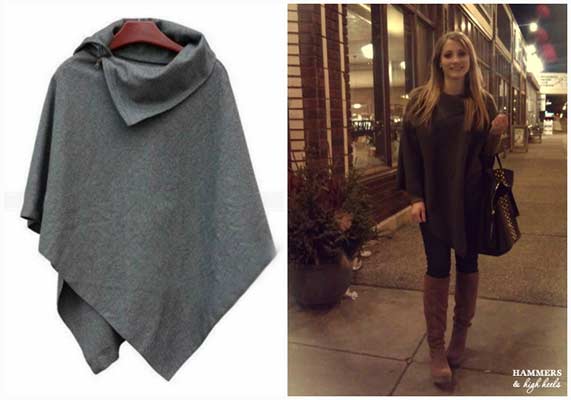 Ponchos are great choices for classy outfit combinations, as this cape poncho pattern demonstrates. This one has a triangular bottom edge and covers about three-quarters of your arm length. The flipped collar gives it an additional dash of class, so you can wear it as a suitable alternative for coats, blazers, or jackets to both casual and formal events.
Fleece cape/poncho
We're staying in the cape poncho category for another pattern, the fleece cape poncho. This is a poncho that has a flat bottom edge with frayed endings and it covers the entire length of your arms. Much like the previous one, it's open as well, but it has a neat tie at the top that you can keep undone or tie up, depending on how you prefer to wear the poncho.
Beach poncho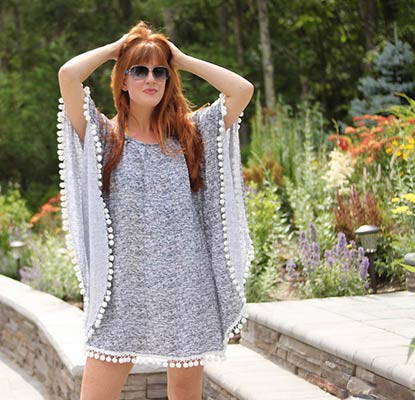 When you're at the beach, you want a light cover that won't warm you up but will still cover your attributes elegantly when you're out of the water. This beach poncho is ideal for that! It's made of round fabric pieces so it has slightly curved edges all around. It's long enough to reach your mid-thighs and it covers your arms to the elbows. The edges have decorative pom-pom balls that make the whole thing so adorable.
by Gina-michele
Crop poncho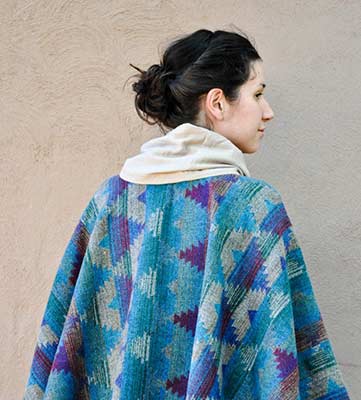 Here comes a warm, comfy poncho for those cold days of the year,  the crop poncho. This one will make you feel like you're covered with a nice blanket in your bed! It's rectangular in shape, covering your arms all the way to the hands, with a bottom hem that reaches over your waist. The nice feature of this poncho is its cowl collar that you can make from the same fabric as the body, or use a different one to create that stylish contrasting look.
by Lollyjane
Wool blanket coat/cape/poncho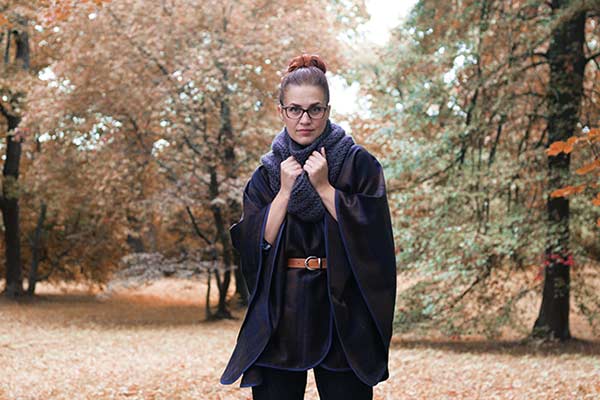 Get ready for another winter and fall poncho because here's the coat cape poncho pattern! Much like the previous one, it's cozy and warm, but it's different in a few aspects. The collar is regular and the poncho is a wrap-style variant. The corners at the opening are curved a bright bias tape goes all around the edges of the entire thing. This poncho is meant to be worn with a belt that will keep it closed, but you can also wear it open if you prefer it that way.
Hooded rain poncho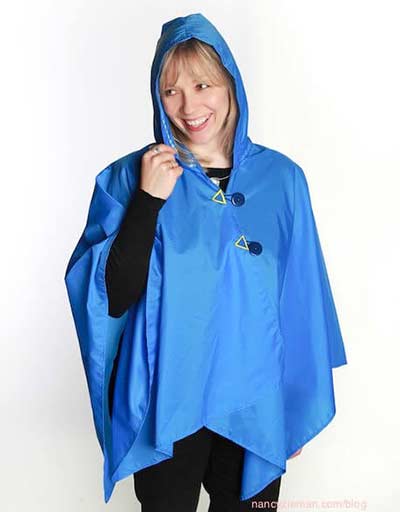 There's nothing better for keeping you dry in the rain than a poncho raincoat! No wonder why marines all have them just in case. This one is shorter than those military ones, reaching just below your waistline, but it does the job perfectly. It's a rectangular wrap-style poncho with curved edges and a hood. It also has two buttons and two elastic loops that keep it nice and closed so that you won't get wet.
by Nancyzieman
Kids ponchos
Superhero poncho
Surprise your kid with a poncho that looks exactly like their favorite superhero cape! The cape is curved, made out of a round piece of fabric, so that it would have a better-looking drop, just like the real ones. It's open on the front, with a nice strap that has an elastic loop to pull over the button on its opposite side and keep it from falling off from the little hero's back. You can cut out a design of the superhero logo and stitch it onto the back for a more authentic look or just keep it in one color.
Bath towel poncho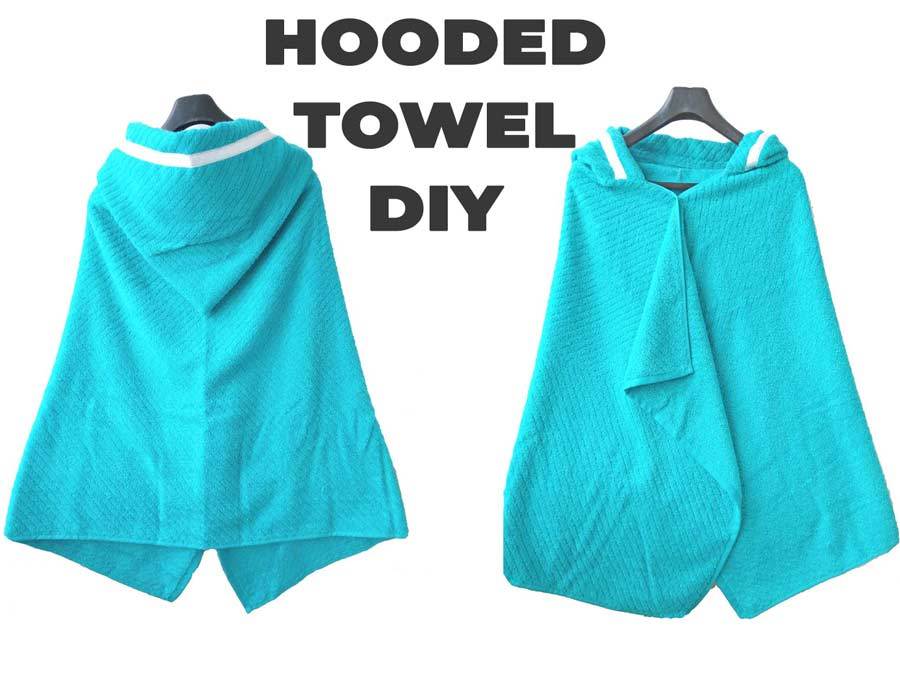 A bathrobe that's also a towel for drying? That's exactly what this towel poncho is about, a fusion of the two! It's originally for kids, but you can go ahead and make it for yourself as well. It's rectangular since you make it out of a bath towel, and it has a hood that can help you dry your hair faster. Put it on and just shake around and you'll be dry before you know it!
by Hellosewing (That's us!)
Camp poncho for kids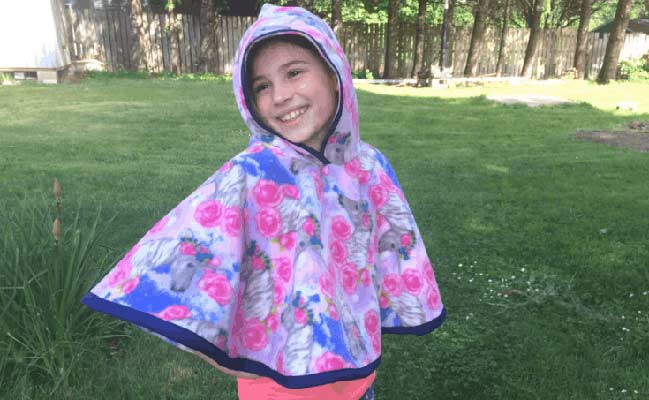 Make sure your kids are nice and warm outdoors with this awesome camp poncho! This one is round, long enough to cover your kid's arms up to the wrists, and has a cozy hood. Kids love wearing it when camping because it makes them feel like they're tucked in their beds, covered with a soft blanket.
Riding hood poncho
size: 6mos-8yr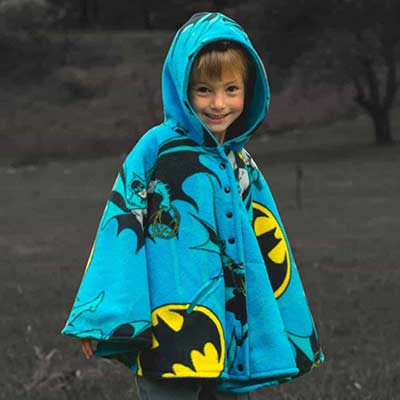 Here's a poncho for the tiny ones up to eight years old, the riding hood poncho. This pattern is similar to the previous one, with a few notable differences. The first is that it has a lining, so it's adequate for snowy days as well. The second is that it has a vertical row of snap fasteners or a regular old zipper in the middle so it can be worn closed or open.
Kids beach towel poncho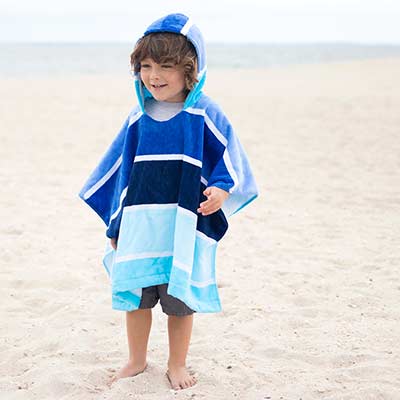 It's time for another towel poncho! This time, it's for the beach! Much like the first towel poncho, this one also has a hood and is rectangular in shape. The only difference is the way you put it together. This poncho doesn't have a seam along the middle because you don't sew the ends together to make an opening for the head but instead you just cut out a semicircle on its fold.
by Gina-michele
Fleece lined hooded car seat poncho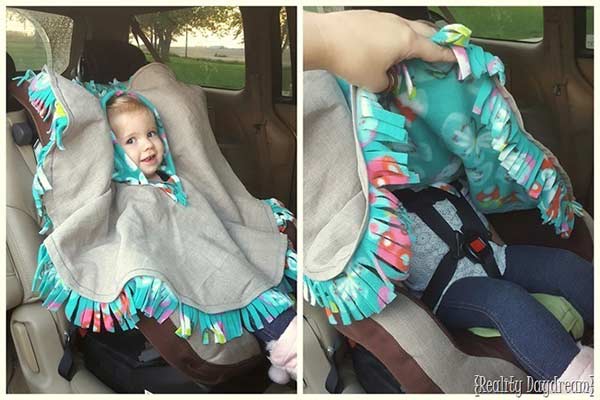 The last pattern in this kids section is the cutest one as well, the car seat poncho! It's round in shape and has a nice little hood. The main body is different in color compared to the bottom hem and the hood, giving the poncho a fun character. The bottom hem has fringes all around, adding to the cuteness of the whole thing. Your kid can wear it normally, and when it's time for them to get into the car seat, just lift the poncho to cover the seat and make a tiny adorable warm tent for them.
Circle raincoat poncho
This kids rain poncho is simply adorable!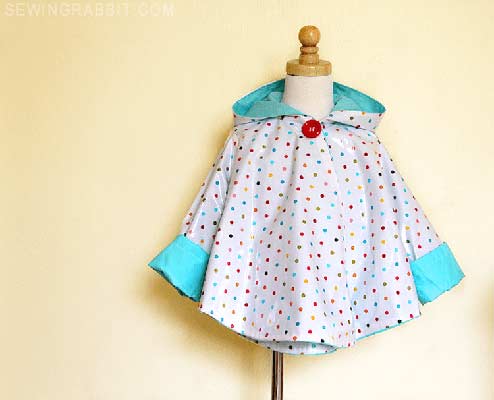 Thought that was the last kids' poncho didn't you? Fooled you, this raincoat poncho is the real last one! It's absolutely adorable, with the main body in one color, and the cuffs, hood, as well as lining in a different, contrasting color. The poncho is open, but it has a button and a loop that can keep it closed when the rain gets serious. You can even sew an optional addition that allows the poncho to transform into a bag!
by Mesewcrazy
Men's ponchos tutorials and patterns
Super Easy DIY Cowboy Poncho
Let's not forget the guys, they also like ponchos. The first one is this cool cowboy poncho any man would wear with delight. It's rectangular, with frayed bottom edges, and without the sleeves. Well, no poncho has sleeves, it's just that this one doesn't cover arms at all. It's a proper wild west outfit!
Poncho from a wool blanket
The second poncho we have prepared for the big boys is this upcycling poncho. All you need is a wool blanket and some ten minutes or so. This poncho is also rectangular, but unlike the previous one, it covers your entire arms and doesn't have a frayed bottom edge.
Those were all of the poncho patterns we picked out for you. Which one did you like the most? Make sure to tell us how your creations turned out, we love hearing from you, so feel free to use the comment section below. If you want to stay up-to-date with our new tutorials and projects, don't forget to subscribe to our mailing list. Enjoy your new ponchos!