1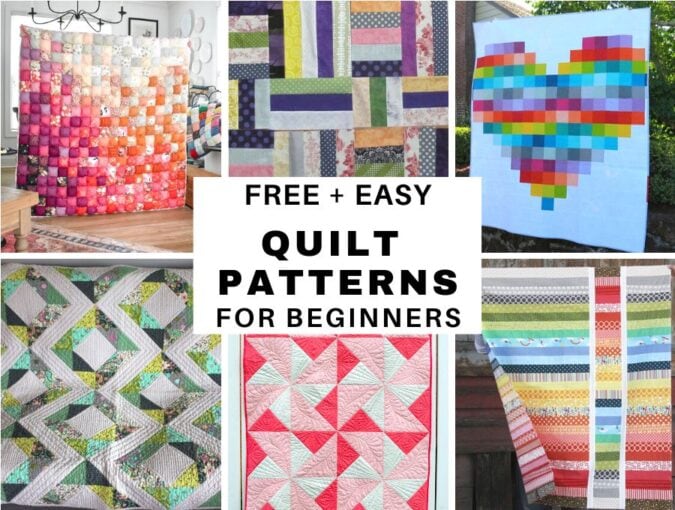 25+ Free Easy Quilt Patterns for Beginners
If you are looking for easy and free quilt pattern for beginners, look no further. This wonderful selection of simple quilt patterns is everything you need to get started. All the tutorials contain step by step instructions, in an easy to digest format full of pictures.
If you wonder what is the good quilt pattern for a beginner quilter, just browse below to find your answer. From basic squares to a bit more elaborated hexagon and puff quilts, we have more than 25 free quilting patterns for beginners. No matter whether you are looking for your first ever quilt that you'll cherish forever or you are eyeing a quick weekend projects to keep your hands busy, you will find it among these quilt patterns.
Quilt patterns for beginners
Arrows Aweigh quilt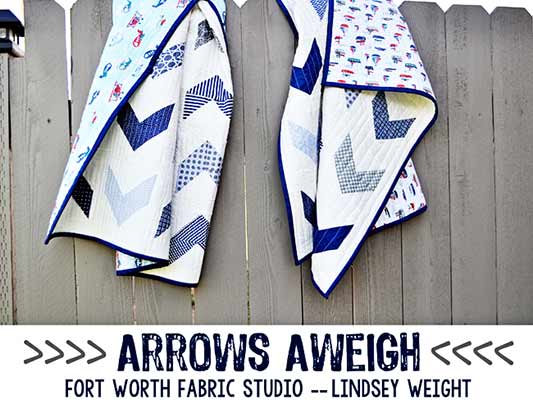 This pattern shows how a simple white background with interesting arrow shapes in different hues of blue set in five columns so that the first, last, and middle ones have the arrows pointing up, while the remaining two have their arrows pointing down, can create a lovely quilt you'd love to have around.
Jelly Roll Jam Shortcut Quilt Pattern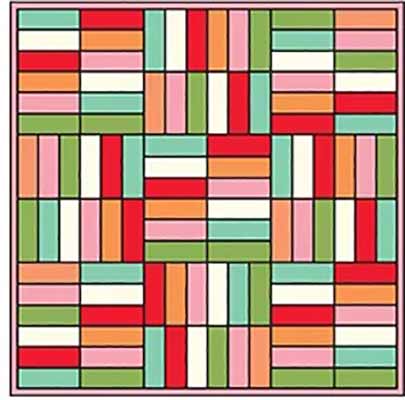 Jelly roll quilts like the one we have here that features a checkered design consisting of colorful squares set to alternate between vertical and horizontal orientation are always fun to make and to have around as decorations, more so when you don't even need jelly roll fabric to whip them up, as is the case with this pattern.
Classic quilt pattern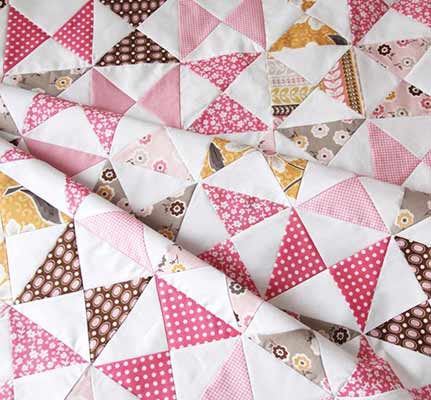 Not many things can beat good old classic designs like the one on this quilt that has rows of squares made up of four triangles in different colors, with two of them in white color and the other two in a contrasting hue of your choice, arranged to form hourglass shapes that alternate in orientation.
Hexagon quilt pattern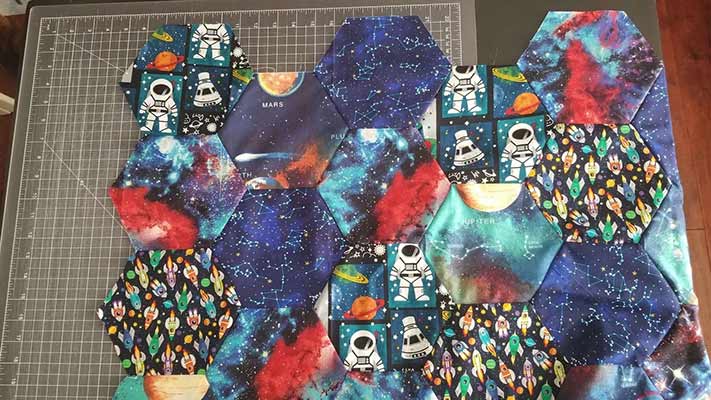 Here's a hexagon quilt that will present a real breath of fresh air for all of you quilting enthusiasts who are tired of squares on your quilts, featuring a honeycomb look with a fabric of your preference, and individual hexagon pieces as large as you want them to be.
by Quiltdom
Fresh diamonds quilt pattern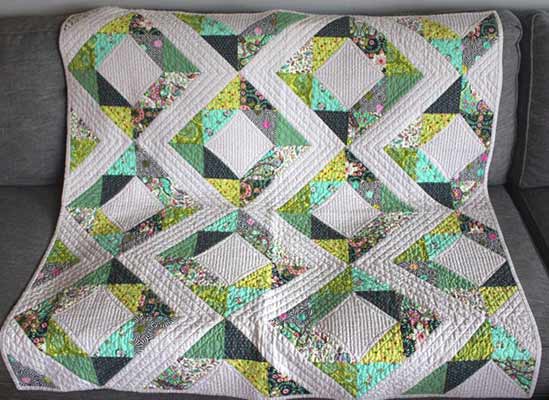 Combine white fabric strips with colorful patchwork in similar hues to get a beautiful quilt that has a vibrant background and diamond shapes with white borders and a white square in their centers on top, all set in four columns so that the diamond next to each other are slightly offset vertically.
Four patch quilt pattern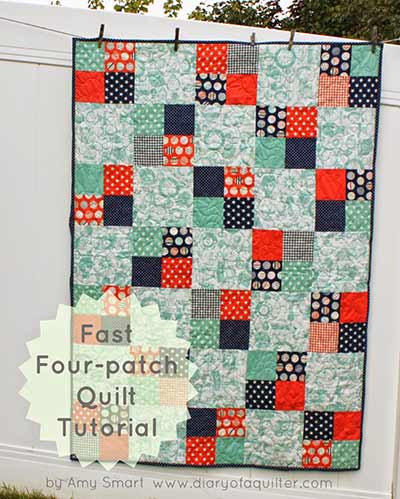 It's all about squares with this pattern that will make you cut up a bunch of tiny squares, half of which will be colorful, and the other half monochrome, which you will later join to form bigger squares made of four small ones, then arrange them in a 5 x 7 grid so they alternate in a contrasting manner and produce a gorgeous, cheerful quilt.
Strip and flip baby quilt pattern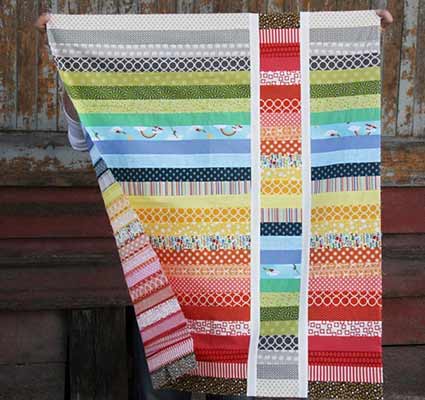 Reinvent the rainbow in the form of a baby quilt that has horizontal stripes in the rainbow spectrum, arranged in a gradient manner, complete with a wide strap near one edge of the quilt that has white borders and a core in opposite colors compared to the main body around it.
Pixel heart quilt pattern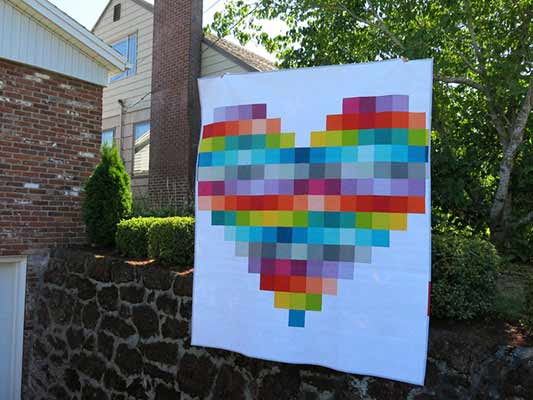 Here comes a quilt even your kid will like because it draws inspiration from the gaming world, with its blank white background and a big heart in the middle, made of many small colorful squares that form a pixelated heart shape and create an illusion of a blurry appearance when looked at from a distance. This might just be my favorite free quilt pattern for beginners – I'd love to make it soon!
Quickest quilt pattern – a baby rag quilt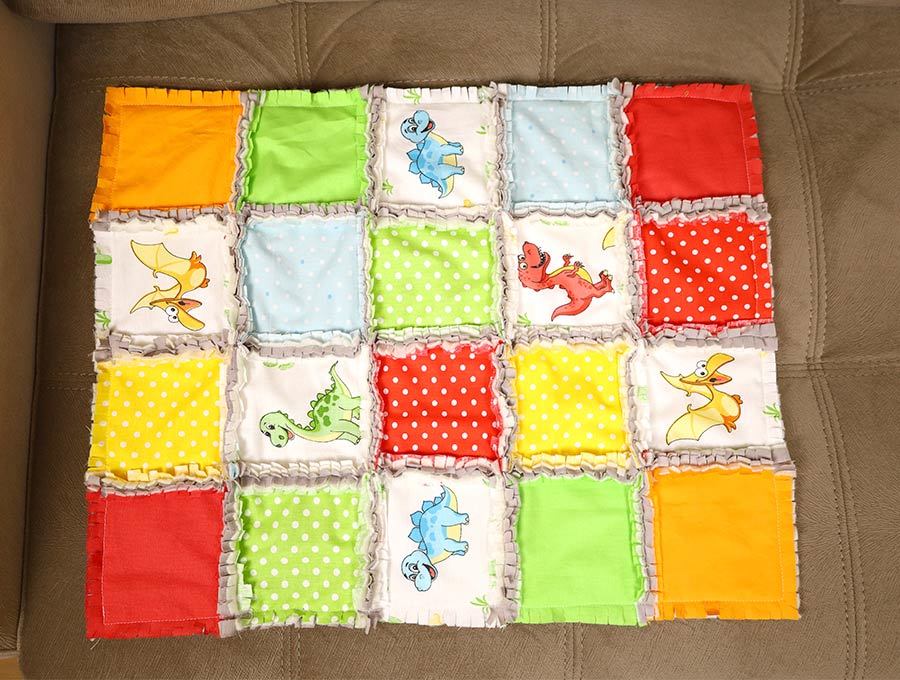 Transfer that special charm of ragged jeans onto a baby quilt with the help of this pattern that will allow you to make a rectangular quilt in a 5 x 4 grid shape made of square patches in various colors, with interesting ragged borders that slightly protrude between the squares.
by Hellosewing (THAT'S ME!)
Punch lines quilt pattern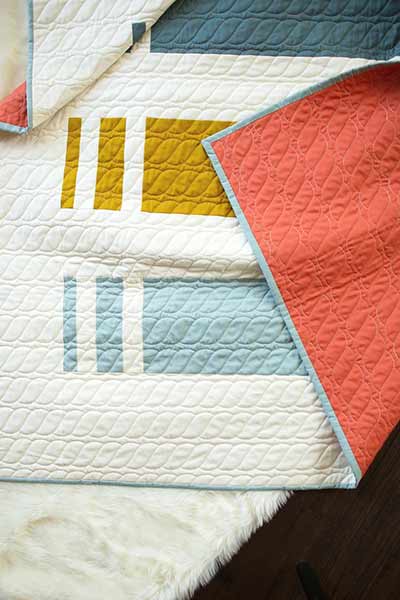 Minimalism at its finest, that is how you can describe this creative quilt that features a white background with four wide horizontal lines in contrasting colors set above one other, each one with an interesting beginning made of two upright white thin strips at their left sides.
Mod charms quilt pattern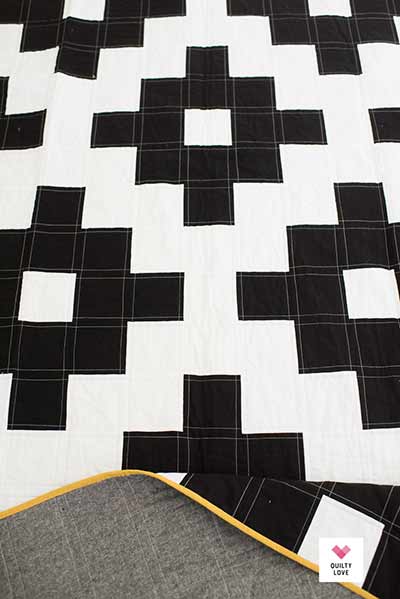 Mod charms have a specific appeal to them and every quilter should give them a go at least once, especially if the pattern they'll use is this one that provides you with a few customization options like the choice to make it in two tones or have it as colorful as you'd like, with a bright, or dark background.
by Quiltylove
Rail fence quilt pattern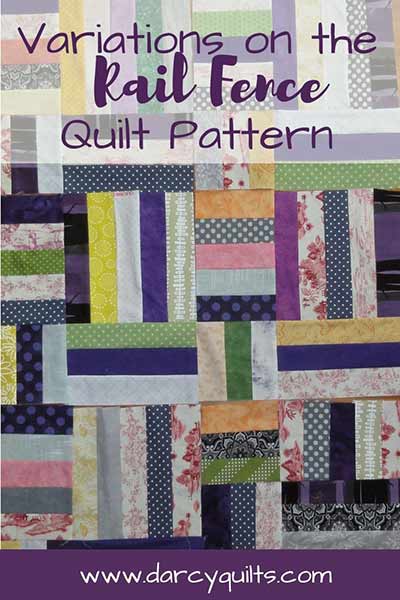 To make this gorgeous quilt, all you have to do is cut up a lot of narrow fabric strips in different colors, then join them in pairs of four to form squares you'll set next to each other in a 6 x 5 grid so they alternate in orientation, and voila!
by Darcyquilts
Ombre puff quilt pattern and video tutorial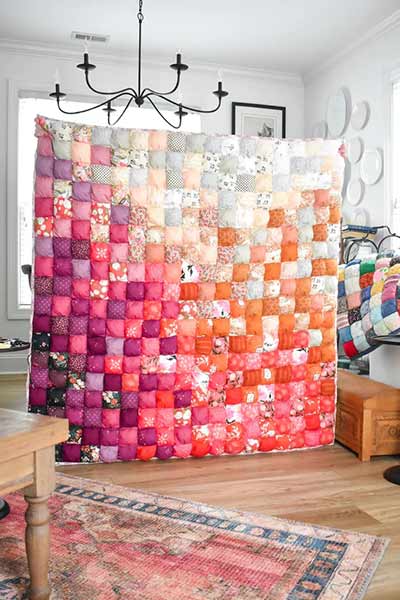 A puffy quilt like the one we have here is ideal to use for picnics because it's comfortable and looks adorable, with its vibrant thick squares that have extra stuffing and come in many colors that become paler towards the top edge of the quilt, achieving an ombre effect.
Pinwheel dreams baby quilt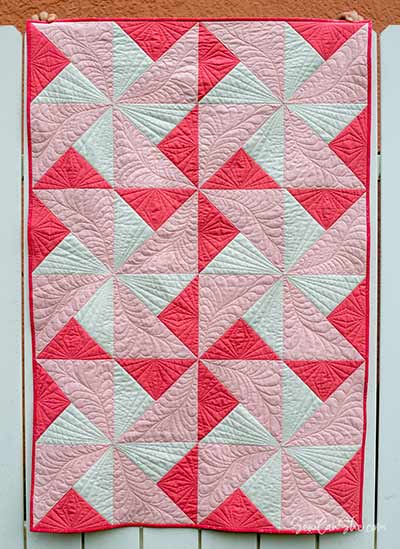 This baby quilt will have you remember those miniature windmills we all used to play with when we were kids since it has two vertical columns with three such windmills in each column, all of them made of carefully arranged triangles in three contrasting colors.
by Sewcanshe
Summertime herringbone quilt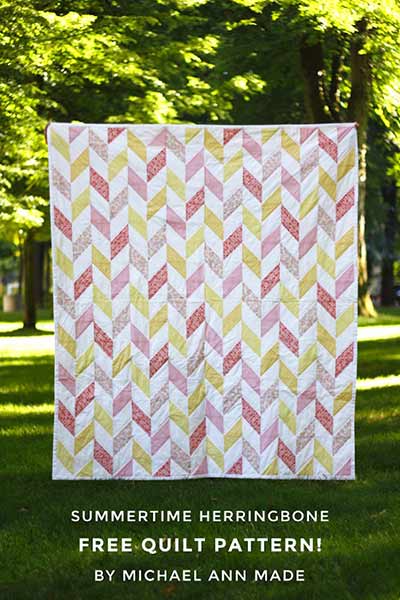 Herringbone design doesn't look great on hardwood floors only, just check out this quilt that utilizes diagonally cut strips of fabric in multiple colors, stitched to each other at an angle to create the appearance of that characteristic braid-like look of a herringbone.
Rainbow remix quilt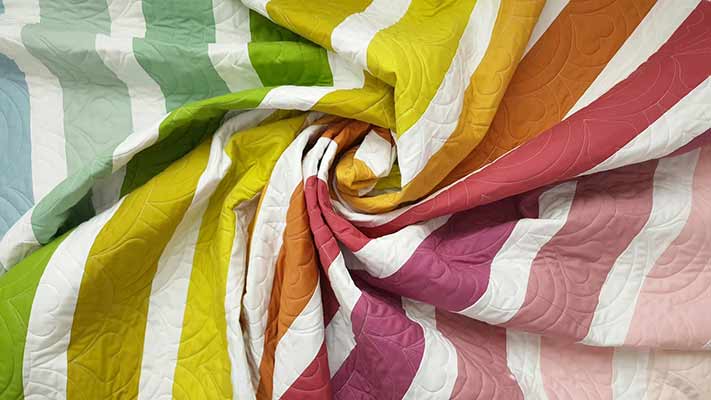 One rainbow can make your day a whole lot better, so be sure to give this pattern a go, as it will get you a magnificent rainbow-colored quilt that has barely visible borders between the colors, making it look like the real deal. The pattern includes a matching pillowcase as well, meaning it's a two-for-one thing we all love so much.
by Woodberryway
Color explosion quilt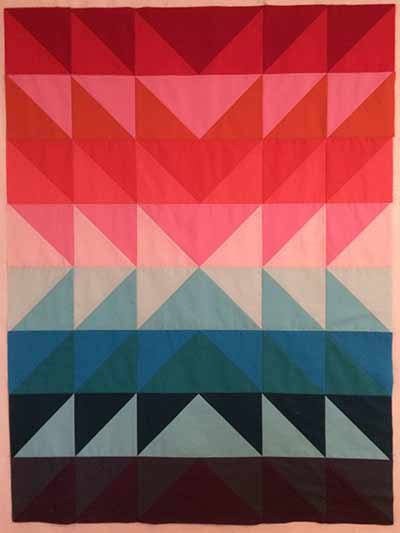 All of you who love looking through a kaleidoscope will be intrigued and maybe even captivated by this pattern because it recreates that kind of color scheme with arrows that point towards the center of the quilt from each of the four edges and achieve the rainbow spectrum in a gradient manner from the top-down.
Posies quilt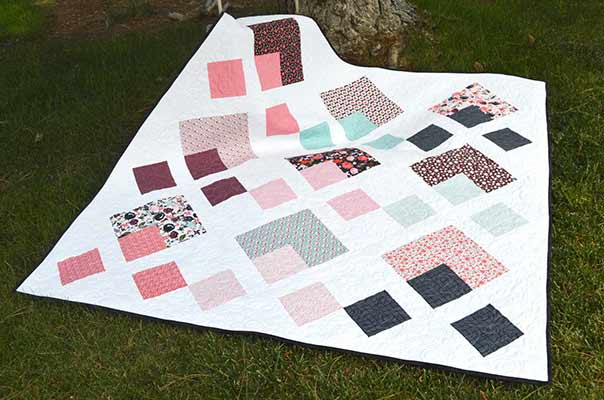 Here's a quilt that shows how you can create a minimalistic representation of posies that sit on a white background and consist of one large diamond shape with a colored bottom corner, and two small diamonds below it, just like a posy with some flowers hanging over the joined stems.
Plus quilt pattern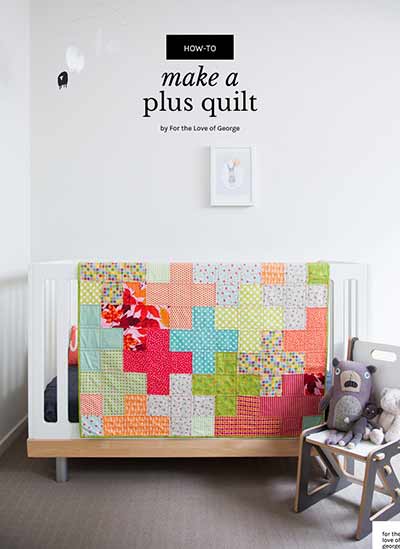 It's time to take a break from quilting triangles, stripes, and squares with something a bit different like this quilt that has many plus signs in various colors stitched together into a rectangular quilt that will invite nothing but positivity and good thoughts, making it ideal as a lovely cover for a baby crib.
Squares baby quilt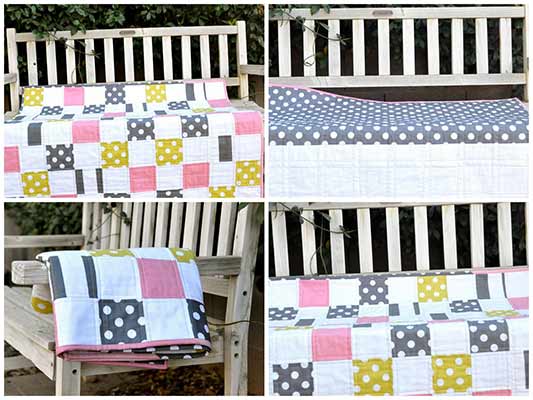 Make the perfect gift for a baby with a pattern that will let you create a splendid quilt with a checkered face that has white squares and multicolored polka dot squares, and a back that has one wide and one narrow polka dot strip, with a wide white strip between the two.
Simple sixteen Christmas quilt pattern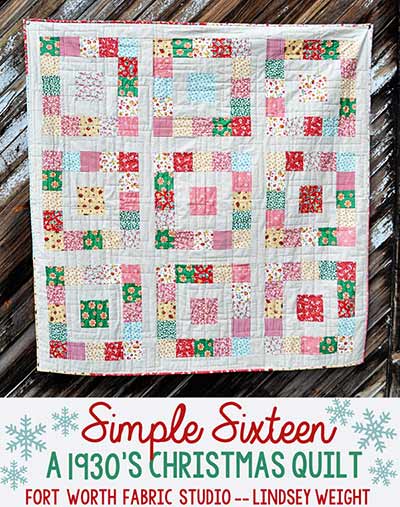 It's beginning to look a lot like Christmas, says the song and so does this quilt that features a 3 x 3 grid of squares that are made up of tiny, colorful squares joined together, complete with a small rectangular frame inside that has a miniature colored square in its center.
Charm pack baby quilt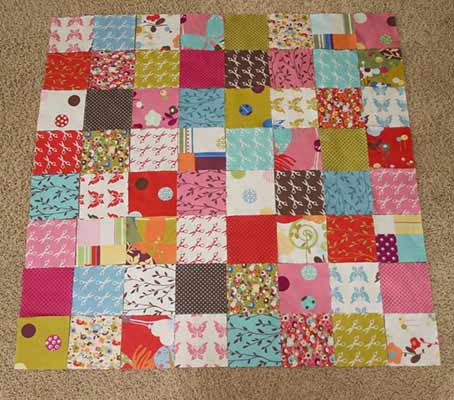 For all of you who like to use charm packs to make quilts, comes a pattern that helps you whip up a quick one as you set the squares in all kinds of colors next to each other in an 8 x 8 grid and then finish the whole thing with a neat wide frame in the color of your choice.
Solitaire quilt pattern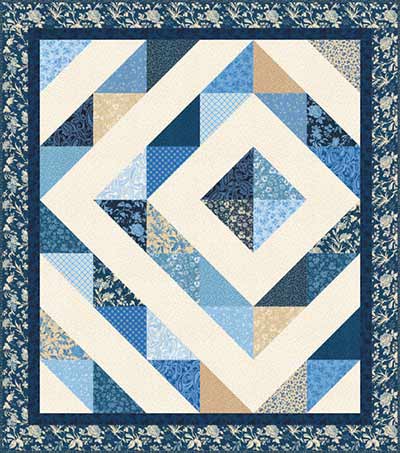 Here we free quilt pattern for beginners that shows how a basic quilt made of many squares joined together can become special with an addition of just a couple of wide, white fabric strips that are set to form concentric diamond shapes, slightly offset towards one side of the quilt.
Broken dishes quilt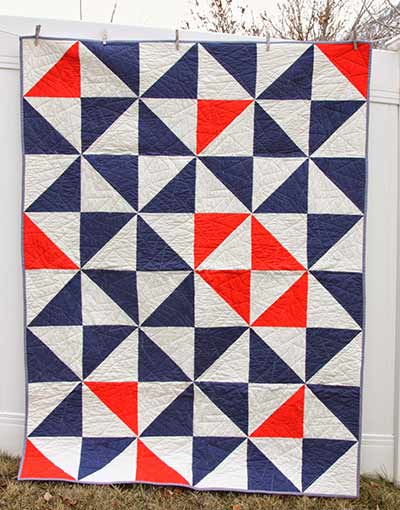 Picture many white and blue hourglass motifs oriented diagonally and stitched to each other to form a rectangular quilt, but some of the triangles that create the hourglasses are red instead of blue, giving the whole thing a random yet creative and unique appeal.
I hope you liked these free beginner quilt patterns that I rounded up for you! Whether you want to surprise someone with a unique gift or you just want to treat yourself to a new quilt, you now have a lot of fresh new patterns to choose from. Please pop in the comments below and let me know which one you would love to make. I would love to make the pixel heart. What about you?Remember to subscribe to the mailing list and get updates about new posts as soon as they're online. Enjoy your quilting sessions!