2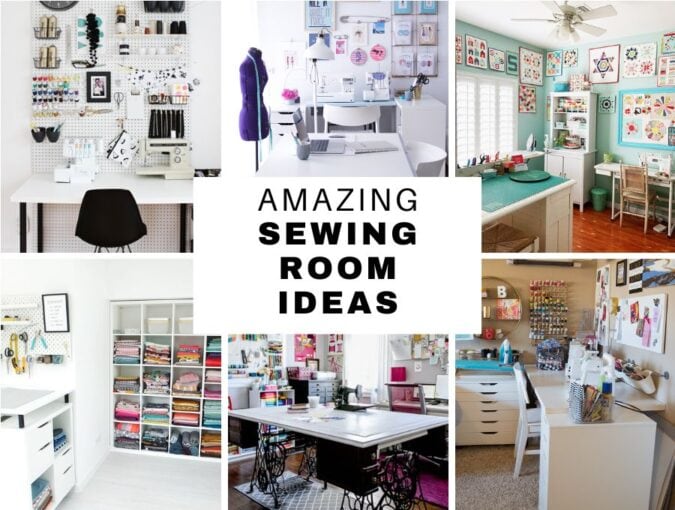 Sewing Room Ideas – Functional and Pretty to Boost Productivity
My husband and I are currently renovating our home, and hopefully I will have a beautifully organized space at last. Over the years I accumulated a large stash of fabrics (blush) and notions, finding good storage solutions along the way, but I wanted to keep everything in one room (and not just under the sofa, in our bedroom wardrobe and all over the house.
Amazing Sewing Room Ideas that Boost Productivity and Style
A comfortable work environment includes a sturdy table, good lighting, an easy-to-use sewing machine, good organization of supplies, and a comfortable chair
Sewing room idea 1 – Order in the sewing room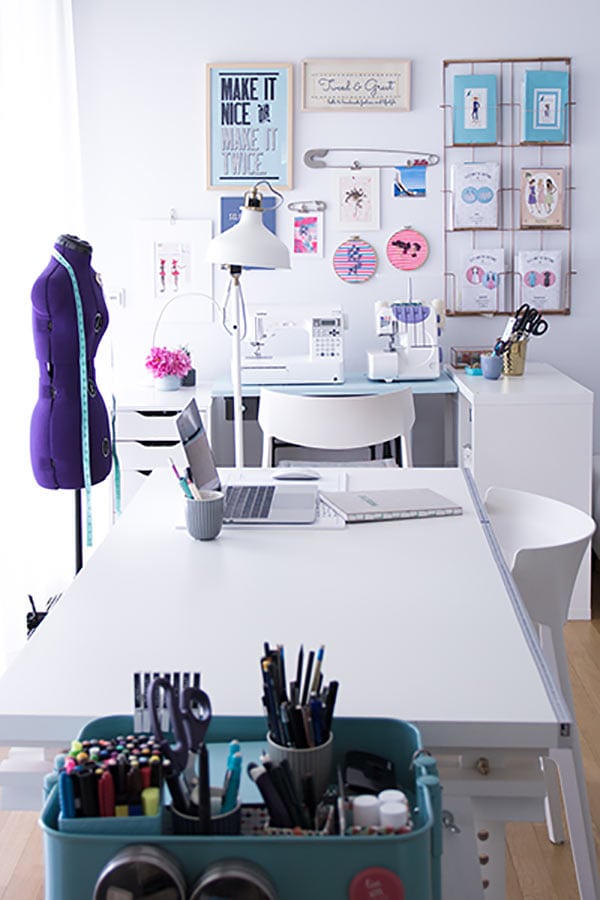 Your sewing area needs just a bit of organization of tools and materials to improve your efficiency, says this idea that suggests you first store all your sharp metal tools in small containers and cushions, then put them in your sewing table drawers, place the threads and spools in the second set of drawers so they stay upright and you'll be able to grab them swiftly, split your patterns into folders with visible tags, then put those folders into boxes like those secret files in movies. All your fabrics should go into large Tupperware boxes with tags, while your strips and bias tapes can go into smaller plastic containers.
Small sewing room idea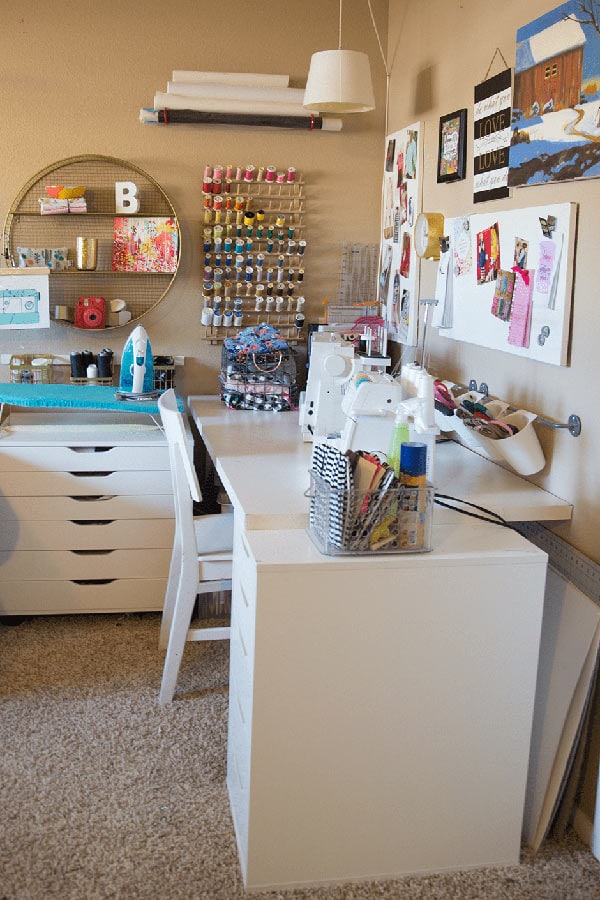 Room corners can become great sewing areas even though the space is tight, because you can use a corner table for the machine, fill its drawers with small stuff like pins, tapes, zippers, and such, then set a small desk with drawers next to it and fill it with fabrics and patterns, mount some buckets on the walls and keep scissors, shears, and similar there, and even hang a pin board on the wall so you can attach pictures of design ideas to it as inspiration.
Sewing room with open storage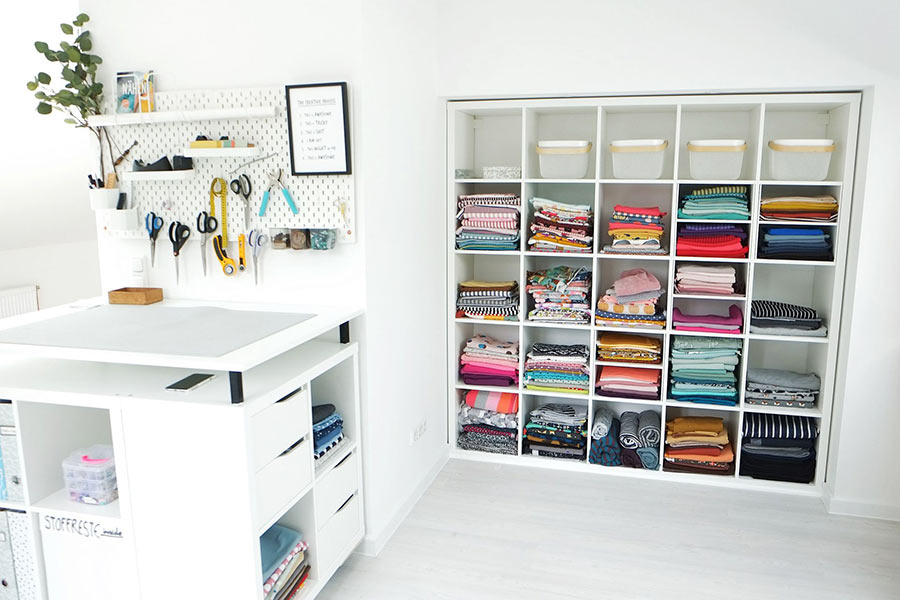 One great way you can organize your sewing area if it's spacy is to use a large shelf that covers an entire wall and have square sections, then fill those sections with fabrics and your works in progress, set a smaller shelf on a different, fill it with all of the remaining essentials, and top it all off with a sewing machine desk that will keep the small tools like needles and threads in its drawers, while you hang scissors and rotary cutters onto the hangers on the wall behind it.
by Lybstes
Sewing room with a large cutting and sewing table
The easiest way to work with fabric both when you need to cut it and when you need to sew it is on a giant table with no obstructions on it, and that's what this idea suggests, place a large table in the center of the sewing room, leave some space around it for you to move quickly, and get some drawers and small shelves to keep your materials, as well as a wall-mounted holder for the shears and such.
Sewing room corner in the bedroom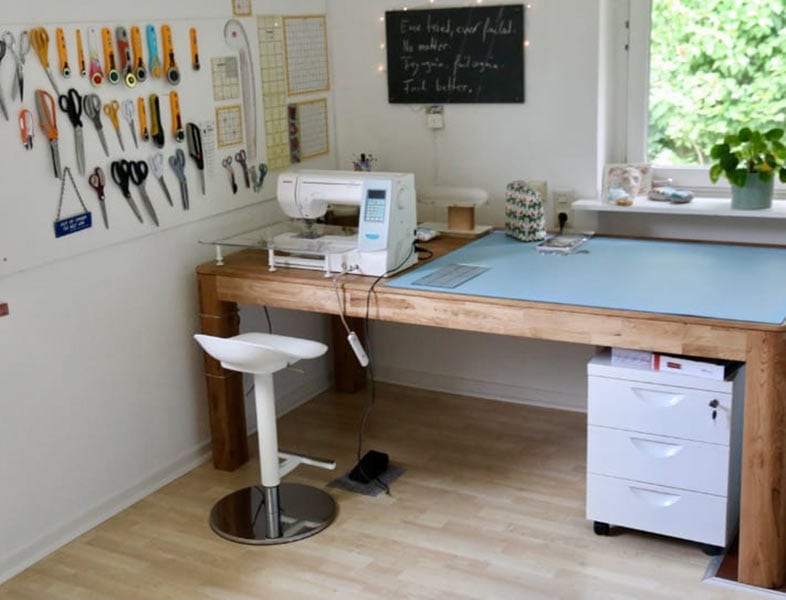 If you can't dedicate an entire room to your sewing, that's alright, a corner in your bedroom will suffice if you follow these suggestions and place a wide desk in it, with a sewing machine on one side, a spread-out cutting mat ready for action on the other, some plastic drawers filled with needles, threads, spools, and such under the desk, cutting and measuring tools hung on the wall, and a small section of your closet dedicated to fabrics in boxes.
by Sewsimple
Sewing and crafting room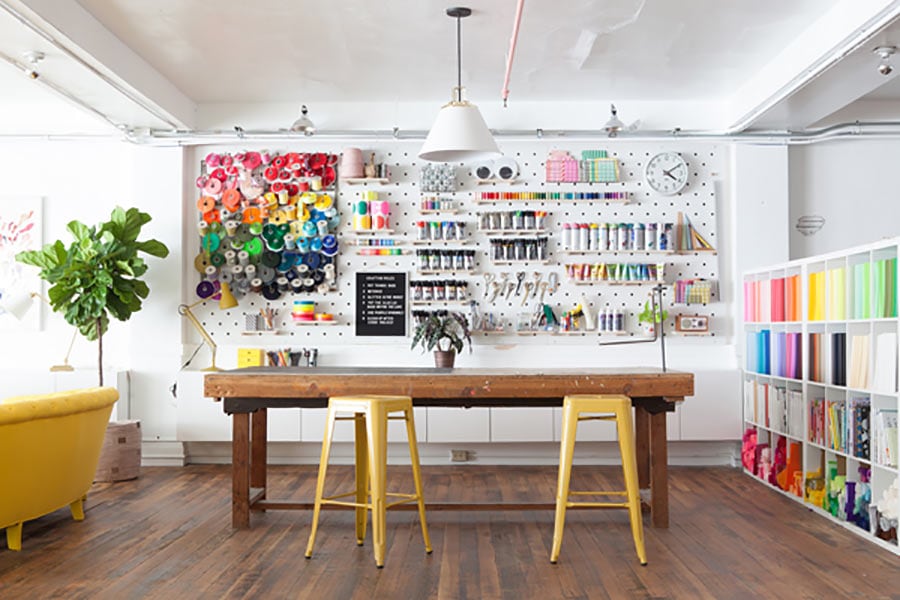 This room concept is for those of you who have the fortune to use an entire room for crafts, with an entire wall with numerous individual shelves and hooks that can store anything from scissors and threads to fabric paint and decorations, a large and high table in the center of the room, and a big shelf with square sections next to the wall, with fabrics, patterns, and various materials inside its sections.
by Ohhappyday
Quilting room idea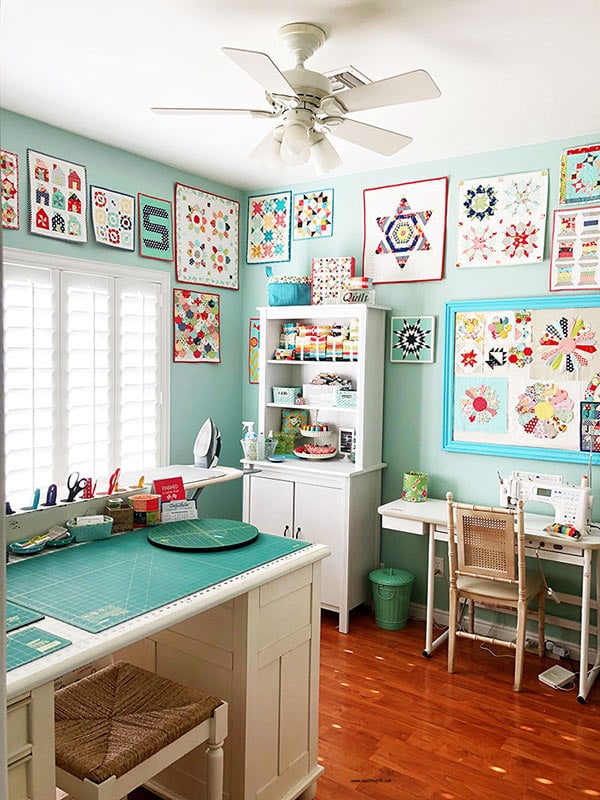 Here's one for the quilters, an idea suggesting that your quilting room should have a table for the machine, the largest one you could fit in your workspace, then set up a bunch of shelves to hold your materials, label all of the containers and bins clearly, keep your most important tools easily accessible, and to do regular maintenance so you can get rid of any unnecessary items that use up space.
Large sewing room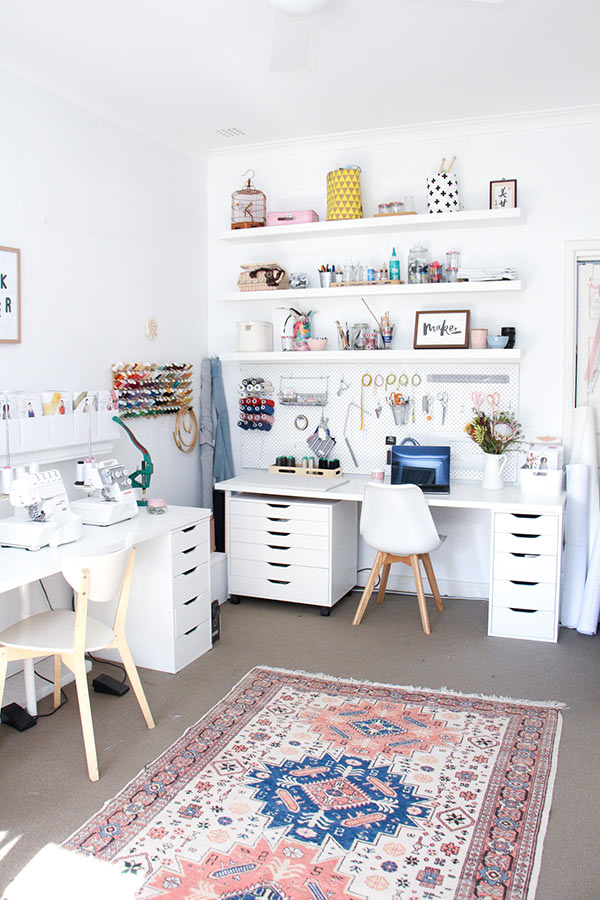 Modern sewists need modern, large sewing rooms like this one that has two tables next to each other, one of them with your computer on it and the other with your machine, an additional third table adjacent to the first two, all three with drawers that keep various sewing items in them, and multiple solo shelves and boxes that hold materials mounted on the walls, together with hooks for patterns and tools.
by Megannielsen
Sewing room with cutting island with lots of storage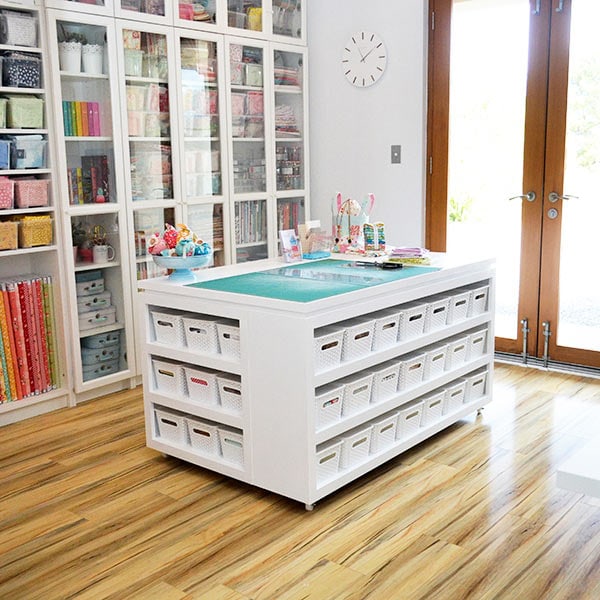 Islands aren't practical only for kitchens, as you can see in this sewing room idea where a custom island ideal for cutting, ironing, and storing, with shelves inside that hold containers filled with sewing items sits in the middle of the room, next to two tables for the sewing machine and the computer, as well as a big closet with glass doors that have fabrics, patterns, and other materials in it.
Vintage sewing room studio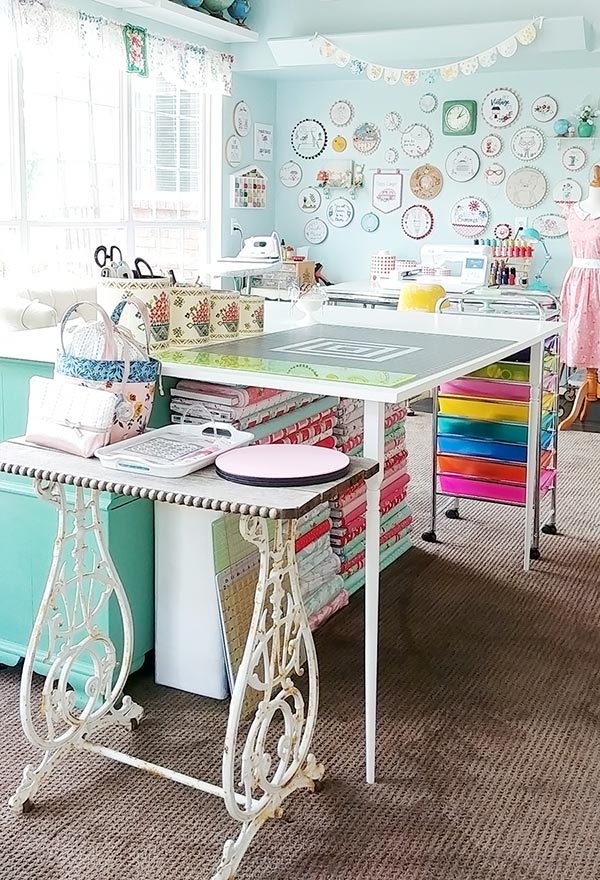 Here's an idea that will show you how to turn your sewing room into a tailor studio from the Victorian Era, with a sofa that your friends can sit on and keep you company as you work, a big cutting table in the room center, rustic cupboards and modern standing shelves that can hold your fabrics and patterns in binders, an antique table with drawers wide enough to hold both your computer and your sewing machine, and decorative pieces like buntings and embroidered patches or tapestries.
by Flamingotoes
Black and white sewing room studio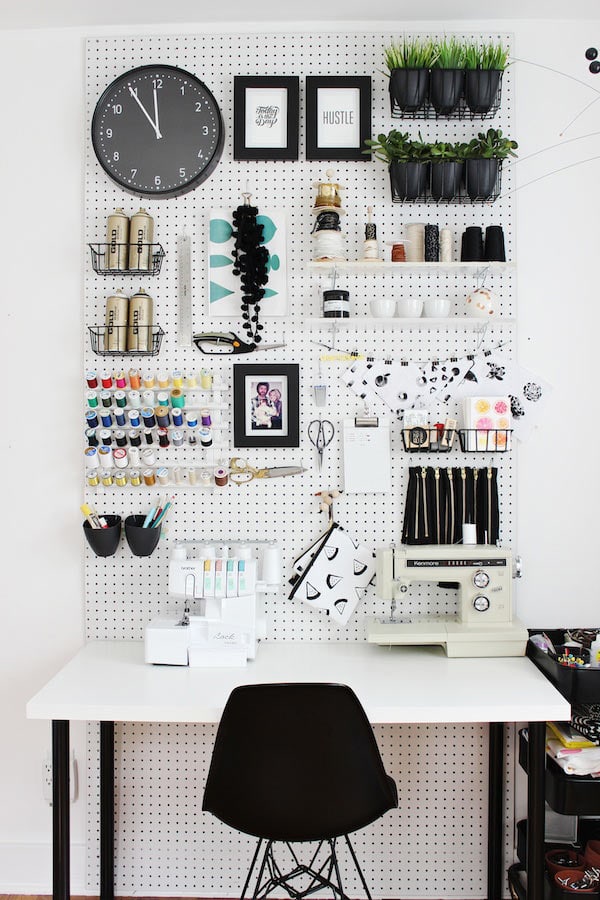 Let your uniqueness show through your sewing room in the tones of black and white as you set one white table with a black chair next to the wall, then place your sewing machine and cutting mat on it, mount a pegboard onto the same wall and hang you cutting tools, spools, threads, buttons, zippers, tapes, and decorations of your choice on it, put another white table with drawers and an additional black separate set of drawers for the patterns near the window, set the computer on it and the room will be ready for action!
Large sewing studio with cutting station island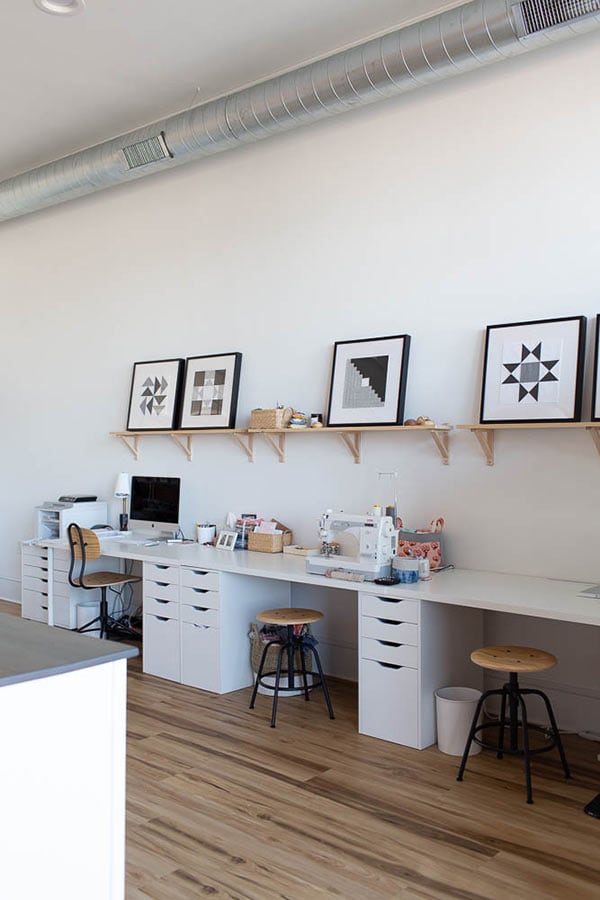 This idea is for the professionals who have their studios, as it suggests them to place a cutting island with drawers in the studio center, storage closets and an ironing table on one wall, three tables on the opposite wall, with sewing machines and a computer on them, a standing bookshelf with square sections that can hold various containers and will divide the room in two so you can put two chairs and a coffee table in the smaller area for the customers, and a couple of solo shelves on the walls above the tables.
by Noodle-head
Sewing room ideas on a budget
With the prices on the rise, it makes perfect sense to keep an eye on the budget when planning your sewing room.
Don't pay the full price
You can get a lot of furniture or storage items on thrift stores or from a local facebook marketplace. Another idea is to use ikea storage solutions (I love them). I used Alex drawer unit with Linnmon tabletop (current version is called Lagkapten) to keep most essentials nearby as I sew and cut
Reuse things you already have around
Use coffee cups to hold sewing tools
Use jars to store buttons
Kitchen sponges can be pin cushions
Bathroom towel rack can hold ribbons and fabric
Filing cabinet for fabric storage
Discard unused stuff
I know it sounds harsh, but listen. It costs nothing to get rid of stuff just lying around. It clears up more space you can use
Rearrange existing furniture
It costs nothing, but can make a world of a difference. Make sure you leave yourself lots of walking and working space
The sewing room ideas you just saw will help you set up your workspace so it draws the best out of you and allows you to make full use of your imagination and sewing skills. You'll be more efficient and your work will become way better in quality, regardless if you're a veteran or a fresh beginner. The best part about these room setups is that they aren't suitable just for sewing enthusiasts, but any kind of crafts enthusiasts, from knitting to scrapbooking, because they can all utilize the storage and decoration methods seen here to improve their overall performance and become more organized. Remember, with organization comes empowerment.
Want more of these sewing tips? Check out the next article in the series: Sewing room organization