20+ Vintage Apron Patterns – Free, Cute and Easy to Sew
Travel back in time with these gorgeous vintage apron patterns. Dressing up in a retro apron will definitely make the chores, baking, cooking and cleaning much more enjoyable. Browse through these lovely and completely free vintage apron sewing patterns to choose the one you will make for yourself or for a gift. You will find designs with ruffles, gingham, large floral prints, or a sweetheart neckline – which are typical for retro and vintage-style aprons. No matter whether you are looking for a full or a half retro apron pattern, you will find it here. Enjoy!
Spring apron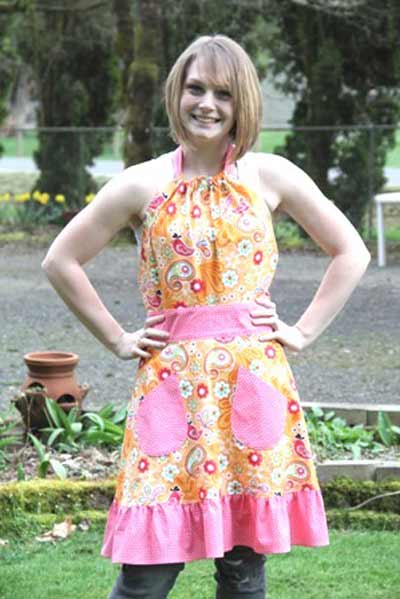 The beautiful apron we have here yells adorable with its twin-toned look consisting of the neck strap, waistband, two front pockets, and a ruffled bottom hem in one color, whereas the base behind those parts is in a different, but also just as bright color.
by Craftystaci
How to make a vintage apron without a pattern
This apron is much like the famous French maid outfit, featuring a rectangular neckline with shoulder straps that are long enough to tie at the back in the height of the waist, a skirt bottom section with a ruffled bottom hem, and triangular front pockets, all in the beautiful combination of black and white spotted fabric.
Frilly vintage style apron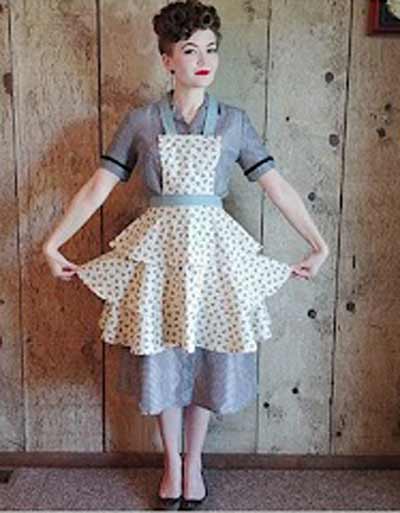 Here's an apron that has a neck strap, a narrow rectangular cover at the chest to keep the cooking juices from messing up your blouse, a waist strap matching the neck one, and a three-segment flared and gathered skirt section that reaches your knees.
by Rebeccapage
Easy vintage half apron with pockets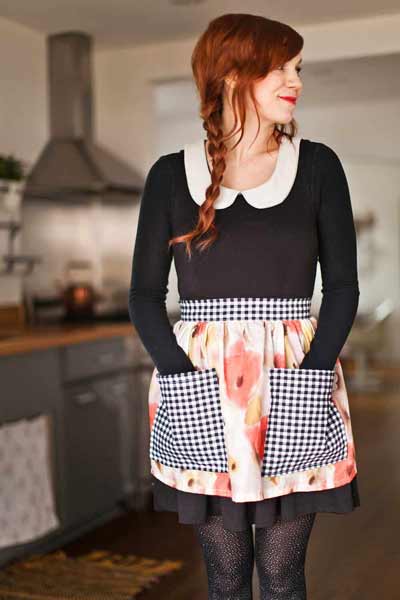 Those of you who prefer half-aprons will like this one with two big rectangular front pockets, a matching waist strap, and a slightly flared bottom hem that is achieved with gathering at the waist.
Smock-Style Cobbler Apron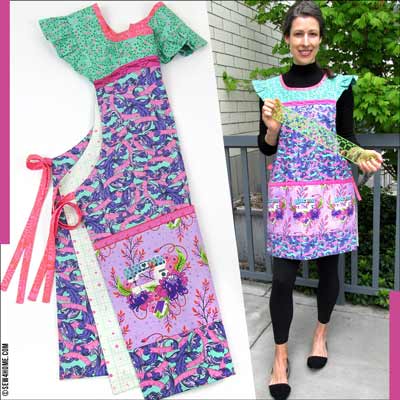 Here comes something a bit different, an apron that resembles a poncho since you pull it on over your head, has a round neckline, short flutter sleeves, a front pocket as wide as the apron, and ties on the sides at the height of your hips.
by Sew4home
Linen bistro style apron with side pocket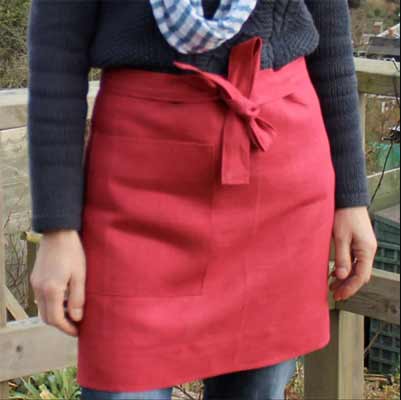 Make yourself feel like a chef at a modern and classy restaurant with this apron that you tie around your waist at the front so it covers the area below it up to your knees, has side pockets that are almost invisible, and boasts a straight and simple, tight look.
by Helenround
Retro ric rac apron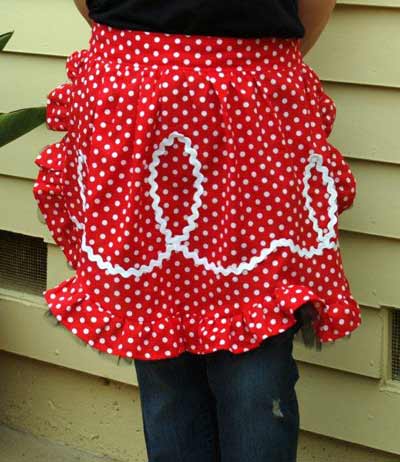 You can work around the kitchen and look adorable doing it with the help of this gorgeous apron that covers the front of your thighs, ties around the waist, has an embroidered spiral at the front, and has a rounded hem with a ruffled decorative band all around that gives it a cheerful charm.
by Flamingotoes
Vintage styled apron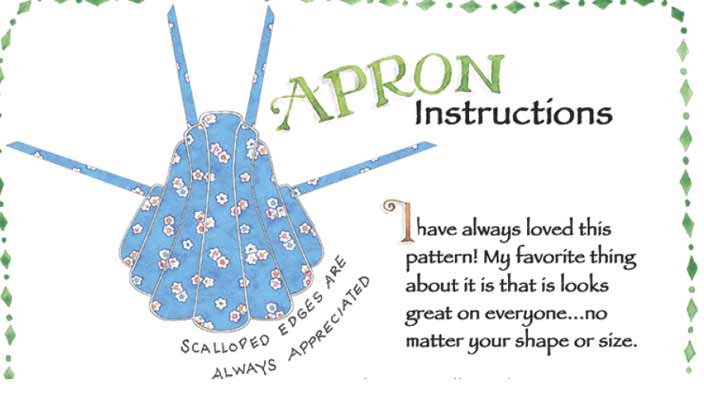 Retro fashion hardly ever loses its appeal, so it's no wonder this apron would be a delight to wear for any lady who is a master of the kitchen, with its lovely shape that resembles scallops since it has a narrow rounded top and a flared wavy bottom, and the thin straps around the neck and the waist.
by Susanbranch
Colorful vintage handkerchief apron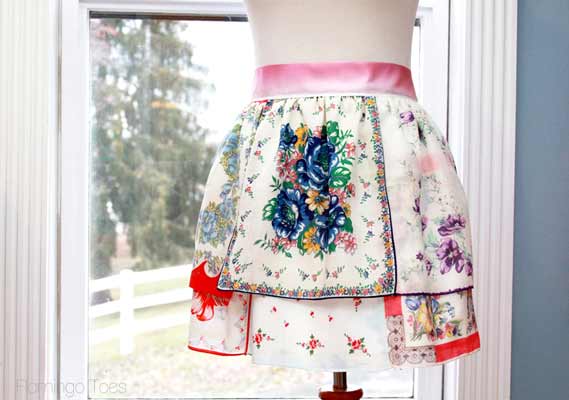 This pattern will teach you how to combine multiple beautiful vintage handkerchiefs to create a dazzling half-apron that has multiple layers, a contrasting waistband, ties that you tie behind your waist, and a bottom hem that goes above your knees.
by Flamingotoes
One-yard apron with ric rac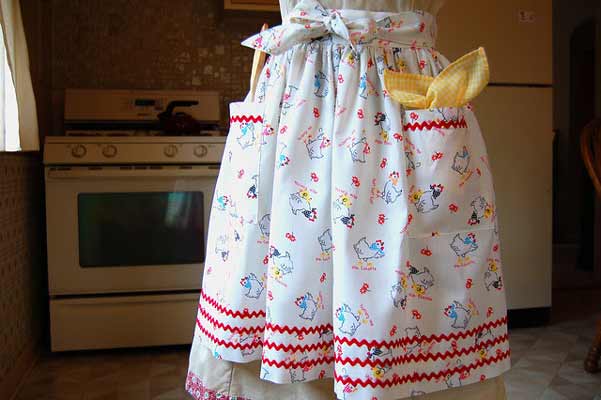 Get a feel of how it was when girls got to learn how to sew aprons in school back in the fifties as you make this half-apron that has a wide waistband with ties you wrap together at the front, deep side pockets decorated with zig-zag embroidery stitches, and a straight bottom hem decorated with two parallel zig-zag lines matching the pocket ones.
by Sewsitall
Retro sweetheart neckline apron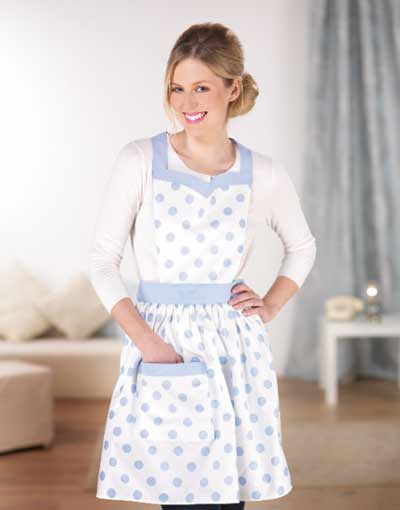 Bring the sweet sixties back into your kitchen as you whip up this lovely apron that has a straight top hem with the neckline and the straps in matching color, straps that go over your shoulders, then across each other, down to the waist strap in matching color, and a solo front pocket on the right decorated with a band at the opening that matches the straps.
by Sewmag
Vintage style sweetheart apron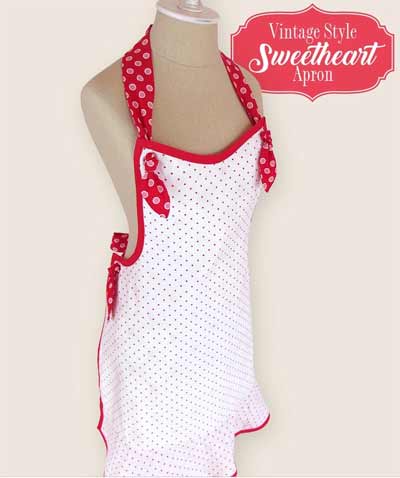 An apron can be highly attractive and daring, check out this one that features a deep, slightly curved neckline, a thin bandana threaded through holes near the shoulders with knots at its ends to secure it in place, ties at the waist you tie behind the back, and a bright red bias finish around the edges.
by Sew4home
Vintage half apron with ruffles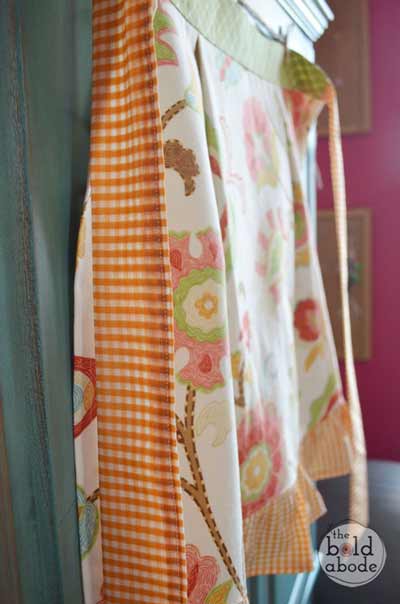 Here comes a pattern that combines speed with quality in the form of a dashing half-apron that has a strap at the waist that ties behind the back, a few pleats at the front that give the skirt section a better look, and a bottom hem with ruffles in a contrasting fabric.
by Theboldabode
Victorian/Edwardian Kitchen Apron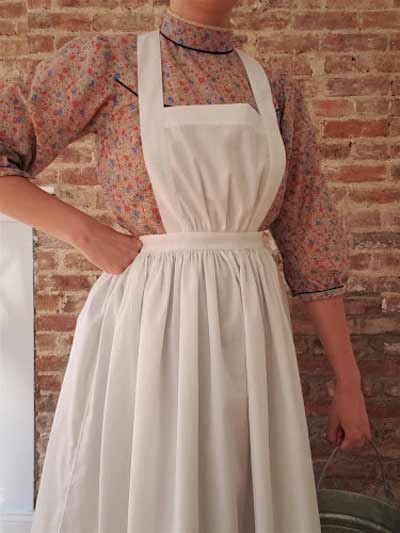 Heavy-duty kitchen projects like cake baking or Thanksgiving dinner got nothing on you if you put on this apron of an old-school farm housewife, with a long bottom section that covers your sides as well a top part that protects your chest from cooking splashes, and shoulder straps that cross each other at the back and join the tie at the waist to keep the apron secure no matter how you move.
Ruffle pinafore
Victorian Era aprons look as awesome as they sound, at least this one does, with a high top section that has a curved neckline, gorgeous ruffles along the sides on both the front and the back, shoulder straps that go over your head and stay in place thanks to small ties at your mid-back, a waistband you tie behind the back, and a long skirt section that covers your front, sides, and most of your back.
Vintage kids apron from a dishtowel (NO-sew)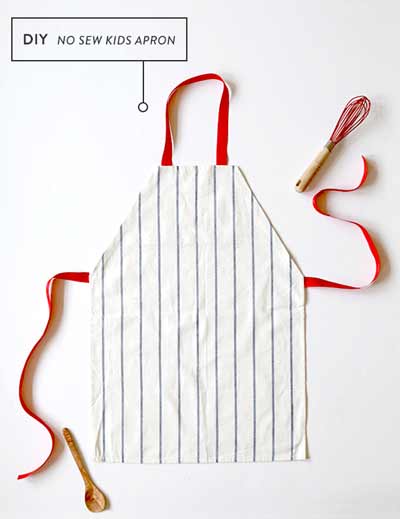 Kids who love to help around the kitchen deserve appropriate protective clothing, so if you have a mini chef, make this adorable mini apron out of a kitchen towel with a neck strap and waist ties at the back for them and have joined cooking sessions together!
by Sayyes
Vintage apron dresses
Luana apron dress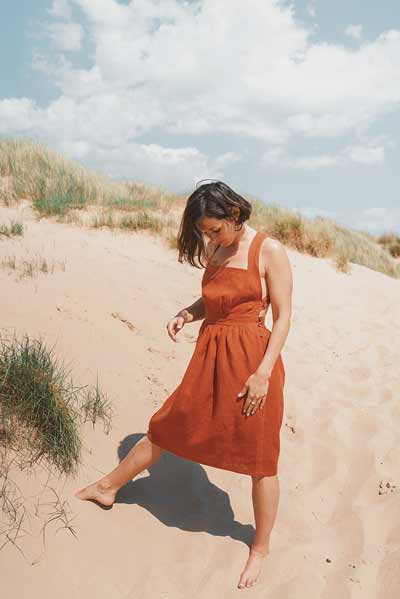 Are you ready to bake a cake or to go on a date, no one will know for sure when you put on this apron dress that features a lovely deep square neckline, shoulder straps that cross at the back and connect to the front just above the waist, an elasticated waistband, and a pleated bottom section that reaches just below your knees.
Pleated pinafore dress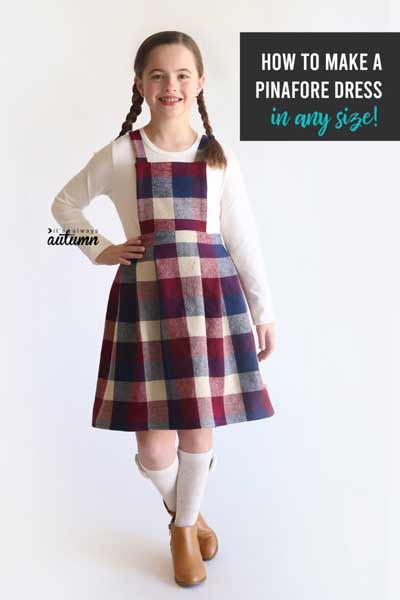 Here's a dress apron that comes in adult and kid sizes so you and your girl can have matching pairs, with a narrow rectangular chest piece, shoulder straps that form an X mark over your back and connect to the dress at the waist, an elasticated waistband, and a pleated skirt section that flares a bit and ends above your knees.
Muslin apron dress for kids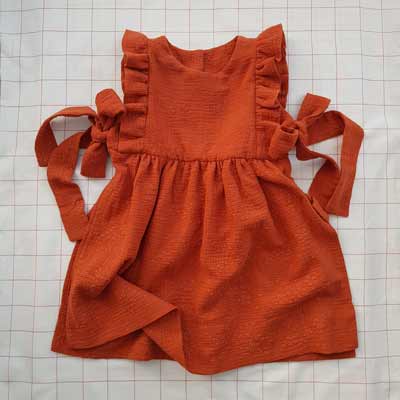 Make your little princess a hundred times more adorable with this apron dress that has a V-neck style cut at the front and back neckline, ties on the sides of the dress, over-the-head shoulder straps, and lovely ruffles around the arm holes, complete with gathered waistline that makes the skirt part a bit flared.
by Diy-hemmers
Regardless of which of these you decide to make, you will be happy with the results, but don't let that stop you from coming back here and telling everyone how your project turned out in the comments. Remember to check out our other articles and subscribe to our mailing list so you can stay up-to-date with fresh stuff. Have a fun and stylish cooking session with your new apron!
RELATED:
FREE apron patterns for everyone in the family