2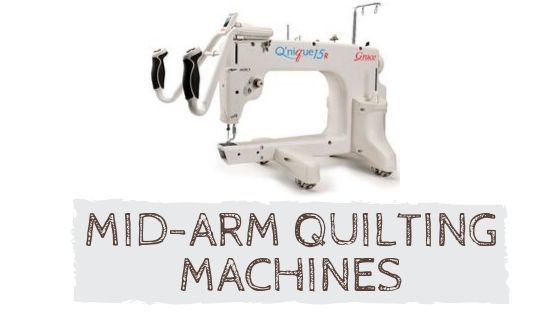 Best Mid Arm and Sit Down Quilting Machines
Depending on the complexity and the type of quilting you want to do, you can use three different types of machines to complete a project. Regular sewing machine with free motion quilting abilities, mid arm quilting machines, and long-arm quilting machines. Each type demands a certain skill level from the user, sewing machines with free motion quilting are the least demanding while long arm quilting requires a true professional to handle them. Mid arm quilting is halfway between the two, as an activity for intermediate to professional quilters.
Mid arm quilting machines are larger than your regular home quilting sewing machine, they have a wider space between the needle and the back of the head, much larger work area, and are generally bigger. They offer more possibilities to their user, some that are way beyond home sewing machine's capabilities. Making entire quilts from scratch is their strongest point and basic purpose, much like long arm models. Likewise, they also allow you to use a pantograph to stitch out various designs on a quilt.
We occasionally link to goods offered by vendors to help the reader find relevant products. Some of the links may be affiliate in nature meaning we earn a small commission if an item is purchased. Read my full disclosure here
The biggest difference between long arm and mid arm quilting machines is their size, and the method in which they are used. Long arm models are very large and they take up an entire room. These machines are used together with big quilting frames that allow you to create king size quilts. You walk back and forth around the frame to have better control over your work. That is why pretty much no one but professional quilters who make a living by quilting buy them. Mid arm models provide almost as much as the affordable long arm quilting machines, but are smaller, and a bit less expensive. Their work area is much larger than that of a regular sewing machine especially if you use a frame, but even with that, it's still smaller than the long arm version. Mid arm machines are usually used while sitting. You move the fabric underneath it, as opposed to long arm models which you move the machine over a fixed fabric.
In other words, if you have the quilting skills, and you need a more capable machine than your home sewing model, mid arm quilting machine is the right choice for you. They will allow you to create an entire quilt, but won't take up half of your house.
Here are some of the best sit down and mid arm quilting machines you can find on the market. They all meet the demands of intermediate quilters, but some do certain tasks better than others. See which one suits your needs the best and decide if you're ready to buy it or not.
Reviews of the Best Mid Arm Quilting Machines in 2020
Q'nique Quilter 15R
No products found.
Maximum stitch speed of 1800 stitches per minute is regulated automatically so that you don't end up with skipped or duplicated stitches if you move the head at the wrong speed. You will be as efficient as possible at any speed you choose.
Ergonomical and practical design of the handles ensures your hand feel comfortable during long quilting sessions and that you have quick access to basic functions. Each handle has three control buttons on its upper side, allowing you to change some settings without going to the LCD screen and interrupt your work.
A fifteen inch wide throat is large enough for doing bigger projects, queen or even king size quilts, of course with the adequate quilting frame. Large bobbins with automatic winding come in handy for bigger projects. You won't have to change them as often since they can hold more thread.
Although it has an integrated lighting, this machine doesn't really illuminate your work area enough. You will have to purchase an additional light stand from Grace, or set up your own if you want to keep your eyes healthy.
Using a pantograph is not exactly possible with the basic version of this machine. You will need to buy a laser stylus and rear handles if you like tracing patterns this way. An additional software for the computer on the machine will also help you with that, but unfortunately, it needs to be purchased separately.
One of the biggest issues a quilter could have with their machine is the tension setting. This model allows you to easily adjust it, but it is far from automatic, so you may have to struggle with it a bit until you get it right.
Juki TL2200QVP with Grace Virtuosso King frame
Juki TL2200QVP with Grace Virtuosso King frame mid arm quilting machine
If you want to do some real quilting then you should do it right, with a serious machine from a famous manufacturer. Juki is a well known powerhouse in the world of sewing machine manufacturing which means that most if not all of their machines are pretty much a safe choice.
This bad boy is also one of their better products, because it offers its potential customers exactly what they need.
Let's take a look at its specifications.
This model is initially a sit down type, but it is designed so that it can be transformed into a regular long arm machine up to 12 feet height. If you have been blessed with a height fitting of a basketball player, your back won't suffer as much as it would with most of the other models in this category on the market.
The frame in question is big enough to allow you to sew quilts that can cover king size beds easily. In other words , you can create quilts of any size, from smaller, decorative ones, to full size usable quilts.
Juki knows what professional quilters need so they made sure this machine offers at least that much. More often than not, quilters have to set up a special lighting above their machine so that their work area and pantographs are well illuminated. This model makes things a lot simpler with its extremely bright four LED above the needle and six more positioned so that they illuminate your stitching area.
Maximum speed at which this sit down quilting machine operates is astonishing 2200 stitches per minute. Fortunately, stitch regulation ensures your stitches will be perfect at any speed, so you can freely push the pedal to the max and then slow down. No skipped or duplicated stitches will appear. Just select your desired stitch mode and the machine will take care of the stitch length.
Reaching down beneath the rollers to trim the thread is a real bother, especially when you're about half way done and all three rollers have around the same amount of fabric on them. Luckily, Juki TL2200 has an automatic thread cutter, which means you don't have to reach under to cut the thread.
Some projects like king size quilts require you to use around six to seven bobbins in order to complete them. Winding them all up one by one takes a considerable amount of time, which decreases your productivity. With an automatic bobbin winding this machine boasts, you won't have to waste as much time.
If you prefer using a pantograph, then you'll surely love the laser guide on this machine. It helps you to precisely follow a pattern that sits underneath the plastic cover while quilting. But you will need to purchase additional rear handles if you want to quilt like this.
Handles are made to provide comfort for the user while they're working with the machine. Left handle is equipped with needle up or down control buttons while the right handle buttons take care of starting or stopping the machine. You can also adjust the handles vertically and horizontally so that you can grasp them properly.
Some additional features must be purchased because they don't come with the machine itself. Quilt Motion software and tension setting tool are just some of these accessories every professional quilter would like to have in their possession.
Tin Lizzie 18 sit down
Tin Lizzie 18 sit down quilting machine
If you want to enjoy quilting with a sit down quilting machine for intermediate practitioners but you don't have enough space in your home for most mid arm models, take a look at this interesting machine. At a quick glance it seems like a regular sewing machine, but it is definitely a mid arm model for quilting. With a wide throat space and a large table area, you can easily sew quilts that you would on any other mid arm machine. The best part about it is its compact size and practical design which gives you enough room for work while requiring just a bit more space you'd give to a normal sewing machine.
Let's take a look at its specifications and what it offers to quilters.
With its eighteen inch wide throat this machine technically fits in the long arm category, since most mid arm models reach only to about fifteen inches or so. Creating queen size quilts shouldn't present an issue for a quilter with this machine in their arsenal.
Initially, the table that comes with this machine isn't much larger than most sewing machine tables. But it is in fact, collapsible. If you extend it, you can double its size in order to lay an entire quilt on it.
Even though it's pretty small, this machine can reach admirable speeds. Maximum work speed it can achieve is 3000 stitches per minute, faster than most industrial sewing machines. But unfortunately, it doesn't have stitch regulation, which means you will have to be careful so that you don't end up with skipped or bulked stitches.
The manufacturer of this machine approached the lighting problem in an interesting way. Instead of mounting fixed lights that illuminate only one area in one way, they made a flexible lamp instead. You just position it so that it lights up the section of the quilt you need to see well. Put it closer or further away from the work area to decrease or increase illumination.
With large bobbins that wind up automatically, automatic oiling hook, and fairly simple threading mechanism, this machine shortens your preparation time. This is very useful for small business owners or quilters who take customer requests because it allows them to quickly start a new project once they finish the current one.
One downside that can turn away some potential customers is the noise this machine produces. It is very powerful and it can penetrate denim easily, but that power requires a strong motor and such a motor is usually loud. The machine is also quite heavy so don't expect you'll be moving it around your home often. It also doesn't allow for a pantograph use, but that shouldn't come a surprise with a mid arm quilting machine.
Takeaway and the top 3 picks
In case you still don't have a clear idea what are the strongest points of these mid arm quilting machines, here is a brief recap of each model.
Q'nique is a miniature version of regular long arm machines. You can set it up to be a sit down machine and move the fabric underneath it, or you can mount it on a frame and use it as a long arm model.
Juki is the second fastest on our list, but it has stitch regulation unlike the fastest model we reviewed which means your stitches won't get deformed if you go at full speed. Its lighting is extremely effective and it practically illuminates your entire quilt. You can mount it on a tall frame and trace pantographs with the integrated laser.
Tin Lizzie offers you everything you need from a mid arm machine, but it saves you space. Extend its table to get a larger work area. It is the fastest on our list but it doesn't have stitch regulation so you need to be careful while stitching at high speed.
The rest is up to you. You just need to consider what you need the most from a mid arm quilting machine and select an appropriate model. Hopefully, this article will help you make that choice.