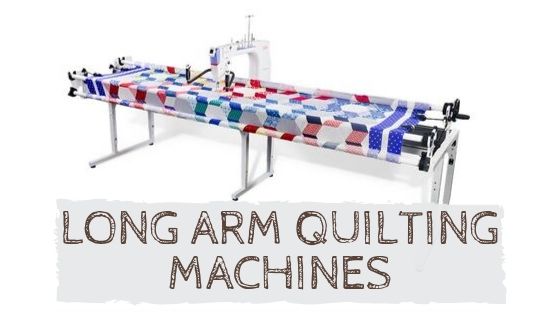 Best Long Arm Quilting Machines
If you consider yourself a serious quilter and you're ready to up your quilting game to the highest level, it's probably time for you to get a long arm quilting machine. These machines are pretty large and quite expensive, but they are definitely worth the extra space and cash you need for them.
A couple of important features make these machines the preferred choice for professional quilters. First and foremost, they allow the user to complete quilting projects from start to end. This means they can sew together quilt tops, quilt batting and quilt backing with this machine. Since these machines do only one type of work, which is quilting, they excel at it and with them you can finish up to four large quilts a day by yourself. Their sheer size allows you to work on a king size quilt with great overview of your work and easy access to any area of the quilt.
Their design is quite simple yet very effective. Three roller bars that are placed horizontally are used to hold the layers of a quilt, the top, the bottom and the batting. You secure the fabrics to the rollers with pins or you snap them on. Some quilters like to sew on a leader which has a zipper attached to it and then lightly stitch the fabric to a different zipper on the roller so that they can quickly connect or disconnect the two. Two rollers help you align the layers on each other to stitch them together. A large, movable sewing head on a long arm is used for stitching. The third roller grabs the quilt you sewn together and moves it out of the way.
As you can see, it is designed so that a user can be as efficient and productive as possible and create many quilts in short time. In other words, this machine is only for professionals who have regular paying customers that come with quilting requests on a daily basis. If you're just an enthusiast, long arm quilting machine is not for you – you'd better have a look at our selection of mid arm quilting machines. They cost a considerable amount of money and require a lot of space, pretty much an entire room.
However, you possess the skills of an intermediate quilter and enough room in your house, as well as room in your budget, long arm quilting machine might be just for you.
Now let's take a look at the best long arm quilting machines we picked out for you.
We occasionally link to goods offered by vendors to help the reader find relevant products. Some of the links may be affiliate in nature meaning we earn a small commission if an item is purchased. Read my full disclosure here
Reviws of the Best Long Arm Quilting Machines in 2020
Grace Q'nique 21 with Continuum Frame
No products found.
A hopping foot keeps the multiple layers steady while you sew over them. This prevents the appearance of deformations and distortions of the quilt. Sometimes the batting can get bulked up or fluffy which can ruin your stitch and force you to regress back to fix it.
Automatic threading and bobbin winding shortens the amount of time you need to spend on preparatory work. It also lowers the need to interrupt your quilting down to a minimum.
Very wide throat space of 21 inches gives the user a great overview of their current work and progress. This comes in very handy when you have to create precise patterns which require a lot of precision.
At a maximum speed of 1800 stitches per minute this machine can complete entire quilts very quickly. Automatic stitch regulation that's available on three out of four stitch modes ensures that your stitches stay consistent even when you switch back an forth from high to low stitching speed.
Hard working quilters don't have to worry about getting blisters from the machine's handles after long quilting sessions. Ergonomic design and adjustable handle positions provide comfortable use of the machine for prolonged time periods. Each handle has three control buttons that allow you to adjust different settings as you quilt. Now you don't have to stop working to use the LCD screen, you can just use those buttons.
Unfortunately the LED light which illuminates the needle area isn't bright enough so you will need to set up additional lightning above the machine to have a better view of your stitching patterns and the pantograph.
The frame in this combo is height adjustable so you should be able to set it up to your needs. You can lower it and sit on a chair to reduce fatigue, or you can raise it up and keep it high so that you don't have to hunch over, whatever suits you better.
Channel lock on the frame helps you to stitch precisely when moving horizontally or vertically by locking the movement of the sewing head on one axis.
Roller bars are operated manually by turning the wheel to rotate them. You will have to buy the leader cloths separately because they don't come with the frame. It might be best to just sew your own and save some money, consider that if you buy this frame.
The legs of this frame are adjustable, each one individually. If the floor in your quilting room isn't exactly leveled, you can still set the frame up so that it is leveled and stable.
Tension settings are often the most annoying nuisance professional quilters have to deal with. This machine unfortunately doesn't have an automatic tension setting, which means you will have to buy that handy little tool for tension adjusting and use it to keep everything in check.
Handi Quilter Avante
Handi Quilter Avante long arm quilting machine
If you hate adjusting the tension settings and prefer your quilting machine to ease that process for you, this model should pique your interests. But tension mechanism isn't the only good thing about this machine because it also offers a few features most other models require you to purchase as an additional accessory or an upgrade.
Let's see its specifications.
Special tension technology called Easy Set Tension comes very close to fully automatic settings. Once you set up the tension adequately, the display indicates the values of the set up. You can them save that value and next time when you use the same thread you'll be able to select the saved record. This will save you a considerable amount of time you'd otherwise spend on finding the ideal setting.
No additional accessories required for tracing over a pantograph. With a secondary display on the back, rear handles, and an adjustable integrated laser pointer, you can easily move the machine head from both ends to follow a pattern on your pantograph.
Maximum speed of 1800 stitches per minute won't pose a risk for your quilts. Speed regulation will prevent stitch skipping or duplicating that would ruin your project. Choose one of two stitch regulation modes, precise or cruise.
This manufacturer knows just how important it is for a quilter to see their project clearly. LED lights are located on the handle and around the needle so that your work area stays well illuminated no matter how your body is positioned as you quilt.
Two basic feet come with the machine, ruler and open toe, which is enough for both performance and decorative stitches. Set the machine to stitch 4 to 22 stitches per square inch, depending on the strength you desire from a stitch. Four basting stitch options come in handy for creating stitches that are intended to be ripped soon. Sewing on a zipper to attach your fabrics to the ruler cloths is just one possibility for testing out these modes.
The computer on this machine has a few useful functions like timers, alarms, low bobbin alerts, stitch counters and more. You can organize your work easily by using one of two touchscreens on the machine head.
The system which runs on this machine's computer supports three different languages other than English. French, German and Spanish speakers can use it in their native language.
King Quilter II
No products found.
Let's see what kind of specifications this machine boasts.
Stitch fast, sturdy, and high quality stitches on your quilts with this model. Maximum speed of 2200 stitches per minute and a stitch regulation which ensures even stitches on any speed allow you to quickly wrap up your projects and move on to new ones swiftly. It can stitch from four to twenty two stitches per square inch, just choose your setting and it will stay true no matter how fast you go.
Two stitch modes available, cruise and precision and four different basting modes provide you with plenty customization possibilities. Try out the basting modes by sewing your quilting fabrics to zipper leaders. This will help you speed up your production process because you can quickly detach the fabric from the leader by ripping the basting stitch.
Front handlebars are ergonomically designed, adjustable and customizable. They provide comfort for your hands even after hours of quilting. Left handle is equipped with with speed down button as well as needle up or down positioning button. Right handle also has two buttons, one for powering the machine on or off and the other for increasing the speed.
Use the computer and its useful features with the help of a touchscreen above the handlebars. Quilt alarm, stitch count and project managing are just some of the functions it offers.
You can get a few optional accessories to upgrade this machine. Ten or twelve foot three bar frame for king size quilts, rear handlebars and a laser pointer for tracing over pantographs, and a ruler base will further expand your quilting possibilities.
Very bright lighting illuminates your workspace very well, so you don't need any additional set up to see the patterns properly.
Manufacturer gives a one year warranty on the entire machine and up to eight years on certain parts. Your investment will be safe for at least that much, but probably much longer.
It's unfortunate that you must buy additional accessories for pantographing, but that isn't a rare occurrence with other manufacturers either.
Takeaway and the top 3 picks
All of the machines we just reviewed are high quality models meant for quilting professionals. But each one has that one thing which separates them from the others, so let's briefly note what that is.
Grace is the way to go if you need a wide throat space and you prefer a frame that has adjustable height. 21 inch wide throat space gives you a great overview of your work, even with king size quilts.
Handi will help you avoid being bothered by poor tension settings and it comes fully equipped for tracing over pantographs. German, French, Spanish and of course English interface selection makes it especially desired by European customers.
King Quilter offers high speed stitching possibilities that stay true to your desired setting. Great lighting saves you some hassle and money because you don't have to get an additional light stand.
So, which one will it be? I hope this article will help you make that choice.