3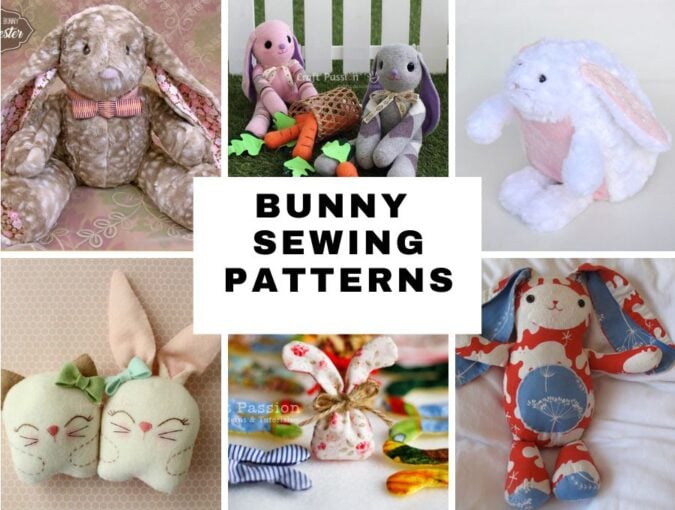 33+ Bunny Sewing Patterns [FREE]
Sew your own soft toy with one of these adorable and FREE bunny sewing patterns. Most are easy-peasy, with step by step instructions and printable pdf patterns and templates. You will even find rabbit templates you can sew entirely by hand – these mini bunny patterns are great for kids who learn to sew, too!
Simple bunny silhouette pattern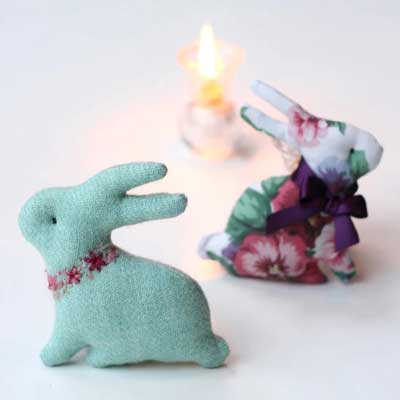 Spend your free afternoon creatively and use up the fabric scraps you have leftover as you sew this lovely small plush in the shape of a sitting bunny that has two separate ears, a bead eye on his tiny face, the characteristic stumpy bunny tail, separate front legs with bent hind ones, and an optional neck decoration of your choice such as a bow or a necklace-like lace strip.
by Twigandtale
Easy felt bunny sewing pattern
Minimalistic plush toys are fun to sew and can act as a great introductory project for beginner sewists, but they also look adorable, just check out this miniature bunny that has joined upward ears, bent hind legs with barely separated front ones, and a final touch in the form of a bow tied around its neck.
by Mollyandmama
Floppy eared bunny sewing pattern free

If your kid desperately wants a pet bunny but you have a strong reason why they can't get it, here comes a pattern that could solve that issue because it will help you make a soft, beautiful toy bunny that is much like a sitting teddy bear, but with a bunny face and nose, adorable bunny paws with those cushion-like things on the legs, long hanging ears, and a small bow-tie around its neck.
by Sew4home
Floppy eared sock bunny sewing pattern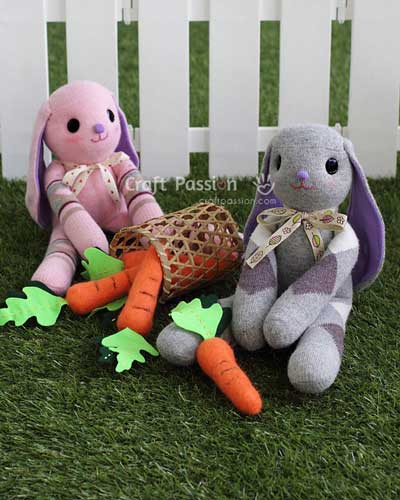 Socks can become extremely cute, as long as you have a bit of will, skill, and a pattern like the one we have here, featuring a teddy bear kind of plush bunny in a sitting position, with soft rounded arms and legs, floppy ears, and a sweet little head that has bead eyes, a tiny nose, an embroidered smile, and optional cheek blush.
by Craftpassion
free long eared bunny sewing patern
Here's a wonderful stuffed sitting bunny that you can use as a neat room decoration or surprise your little one with, with the main features in the form of long floppy ears that are almost as long as its entire body, wide bunny feet on the legs complete with contrasting soles, short arms, a face with bead eyes and a small nose, and a classy gentleman's bow-tie on its neck.
pattern: Themasquerade
Squishable minky bunny pattern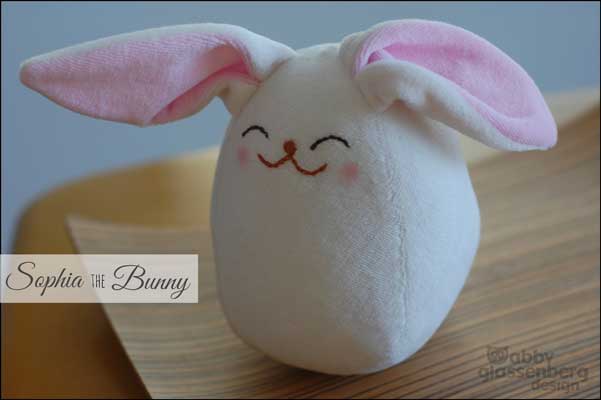 This unique and interesting take on a fluffy bunny will have you smiling as soon as you lay your eyes on it since it's just a soft ball with detailed bunny ears and an irresistible face that has a smile, blush cheeks, squinting eyes, and a tiny pink bunny nose, all screaming at you to hug and squeeze the adorable plush ball.
by Whileshenaps
Little felt bunnies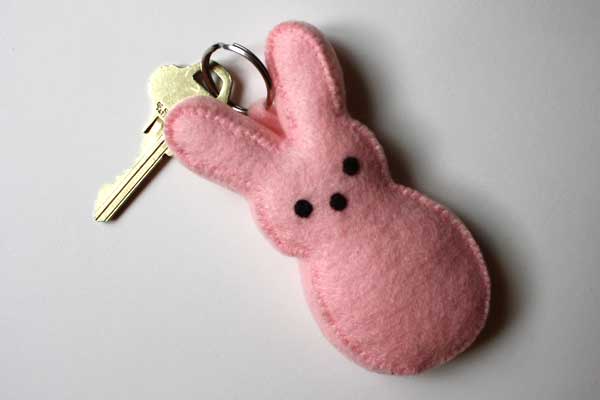 Put those fabric scraps to good use as you utilize this bunny sewing pattern to create a bunch of creative small keychain decorations in the shape of miniature bunnies with upward ears, dot nose and eyes, and a slightly round belly with no legs, then give them out to your friends as a thoughtful gift they'll use for sure.
Darling stuffed bunny pattern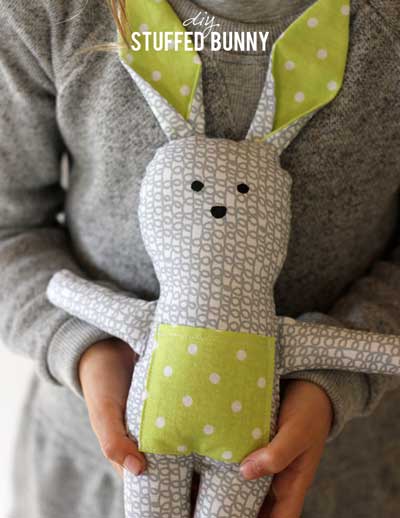 Parents of children who love to hug something soft as they sleep, this one is for you, a bunny with a slightly elongated body, arms stretched out to the sides, extended legs, a face with felt eyes and nose, upward ears with contrasting fabric interior, and a contrasting fabric pocket at its belly that can keep some of your kid's small treasures safe for them.
by Aliceandlois
Cunny bunny pattern
Make some room, a chubby guy is incoming, and he will capture your heart with his plump, almost cubical body, tiny stumpy arms at his sides, similar legs at his bottom, long upward and spread ears with contrasting fabric interior, and grumpy face with bead eyes, nose, and a frowning lip.
Pattern: Fluffmonger
Classic soft woolen bunny template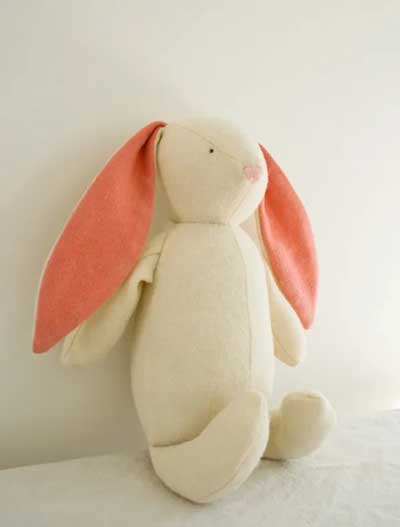 For those of you who prefer a bit more classic designs for plush toys, here comes a sitting bunny that has a long stuffed body, arms that aren't fully stuffed, legs similar to those of Bugs Bunny, a nicely shaped head with dot eyes and a pink felt nose, as well as those essential bunny ears that are floppy in this case and, with pink felt inner side.
by Purlsoho
Easy bunny pillow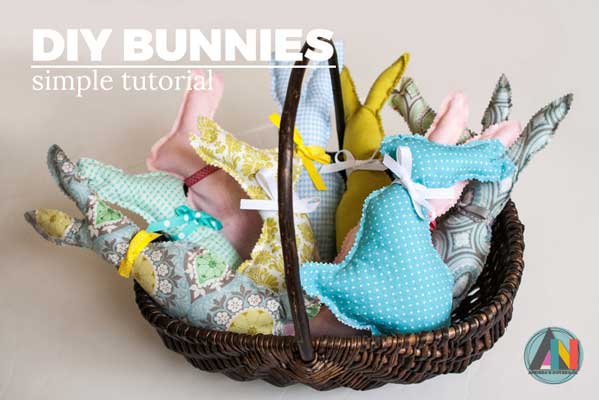 When Easter comes around you don't get to spend much time sewing so you need a quick and easy project like this one where you use fabrics in various colors to sew a few small decorations in the shape of a sitting bunny profile silhouette featuring joined ears and joined legs and tail, with an optional ribbon bow decoration you can place on the bunny's neck.
Snuggle bunny free sewing pattern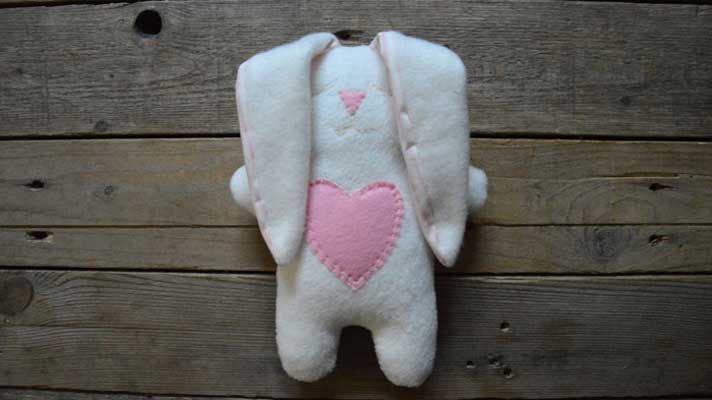 Give your little one a soft friend who will help them sleep soundly with this pattern that allows you to make a little bunny with closed eyes, a pink bunny nose, a miniature mouth, long ears that cover most of its face, as well as a lovely pink heart on its belly.
Felt bunny silhouette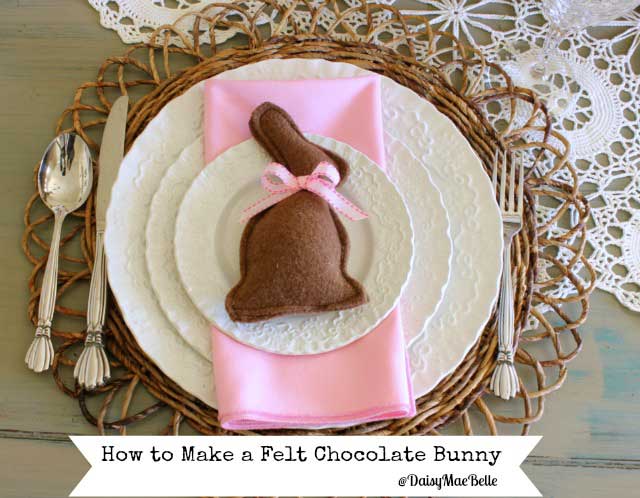 Don't throw away that old sweater just yet, you can instead repurpose it and create a bunch of minimalistic hand-sized sitting bunnies that look like the 2D version of the well-known chocolate bunny and can act as inventive decorations you can place all over the house when it's Easter time.
Bunny lovey pattern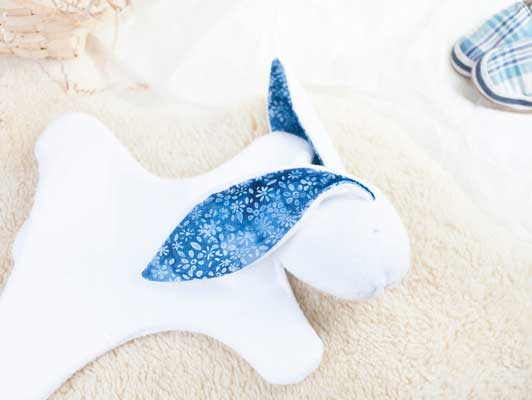 Bet you never saw something as cute and as unique as this little guy, a bunny that has a mostly flat body with spread-out arms and legs, a stuffed round head with barely noticeable eyes, and the unavoidable bunny ears that flap around and have a contrasting yet mild colored fabric interior.
by Unlikelynest
Velveteen rabbit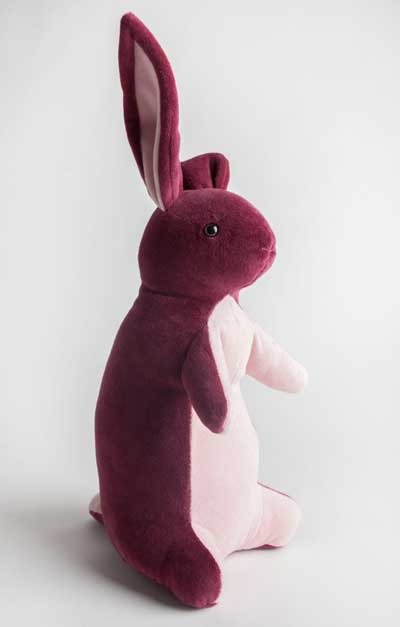 Whip up a rabbit that will take you right back to your childhood as it makes you want to hug and keep it close by thanks to its charming face with bead eyes and a stitched nose, one upright ear, and one that's folded down in half, a round tail, a body positioned so the bunny sits on its bum, and a contrasting belly, ear interior, and tail underside.
by Craftworld
Snuggle bunny and kitty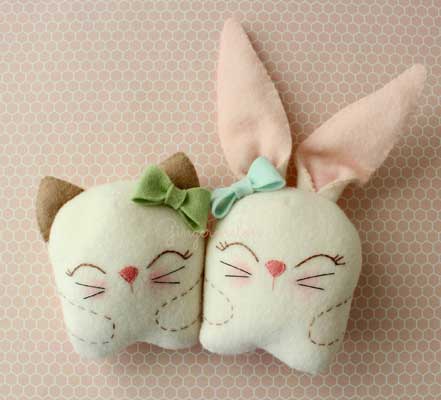 Here comes a pattern that will show you how to sew a small plush toy with a curved top and two pointy corners that represent legs at its bottom, an embroidered face with squinting eyes, a pair of whiskers, a triangular nose, blushing cheeks, embroidered hands on its belly, a decorative ribbon bow on its forehead, and two different ear options, cat or bunny ears.
Bunny plush – free pattern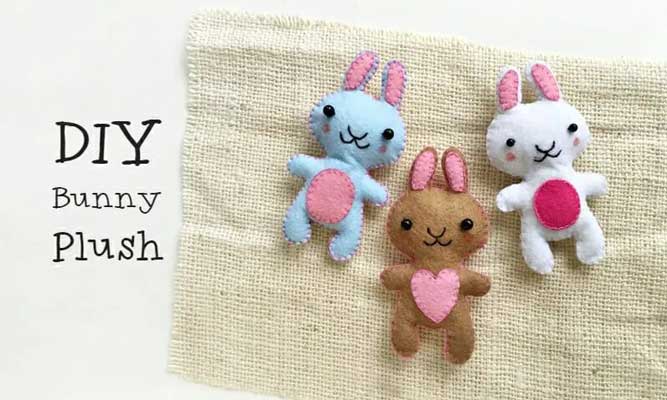 Cheerful, easy to make, and absolutely adorable, that's how you can describe this small bunny that has a body with short, extended arms and legs, a large head with bead eyes, embroidered mouth and nose, red cheeks, and upward ears with pink fabric that represents the interior, as well as a pink heart or circle stitched onto the bunny's belly as a final touch.
Stuffed bunny doll – Bertie the Bunny
Grab that colorful cotton fabric you have laying around and get ready to turn it into a classy plush bunny that has a nicely shaped head with a pink snout and black bead eyes, upright bunny ears, differently colored belly and feet soles, and the coolest bit, detailed hind legs and slightly bent arms attached to the body with inventive button joints that allow you to rotate the limbs and easily set the bunny into standing or sitting positions.
by Sewmag
How to make a bunny doll
Dress-up dolls don't have to be blonde girls anymore, they can also be animals, just take a look at this bunny that has a long and slim body, thin arms that go a tad away from the body, straight slim legs, pretty head with bead eyes, pink nose, and bunny ears with contrasting inner sides, a doll perfect for dressing up and sewing tiny clothes like dresses and skirts for the bunny girl to wear.
Simple bunny sewing template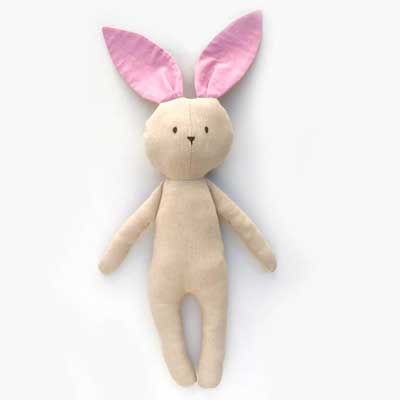 Here's a simple bunny that's easy to sew and great for your kid to drag around with them or hug tightly as they sleep, featuring a soft body with legs that are a part of the body, shoulder seams that let the arms move a bit, a round head with tiny embroidered eyes and nose, and the ever so important rabbit feature, upward ears with pink fabric on their inner sides.
by Mindymakes
Stuffed rabbit template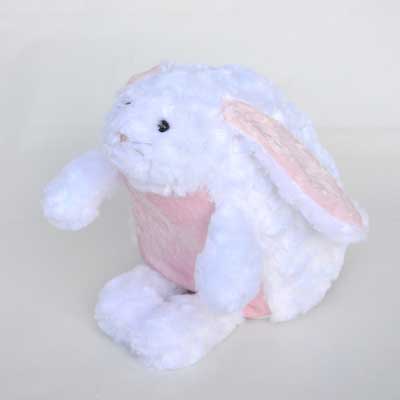 This fluffy rabbit is made for lots of hugs, with its chubby body and a head that looks up much like a real bunny, as well as bead eyes, a pink nose, floppy ears with pink fabric on the inside, a puffed up tail, short front and hind legs, and a pink belly.
by Ikatbag
Mini bunny doll with long ears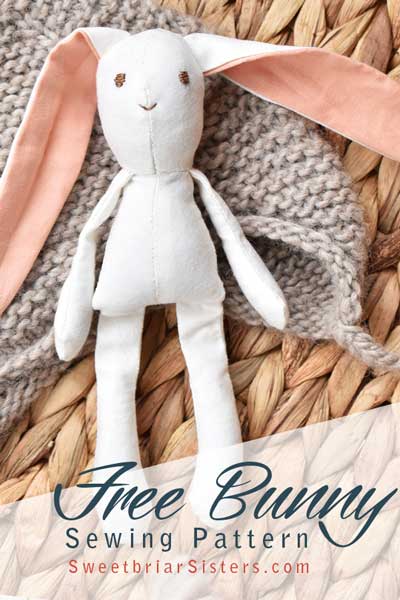 Floppy bunny here, but this guy is floppy all around, not just the ears, he has a triangular body, long arms and legs that aren't stuffed a lot so that they can flap around, a firm head with simple felt eyes and an embroidered smile, and thin two-toned ears that are about as long as the entire plushie.
Easy stuffed easter bunny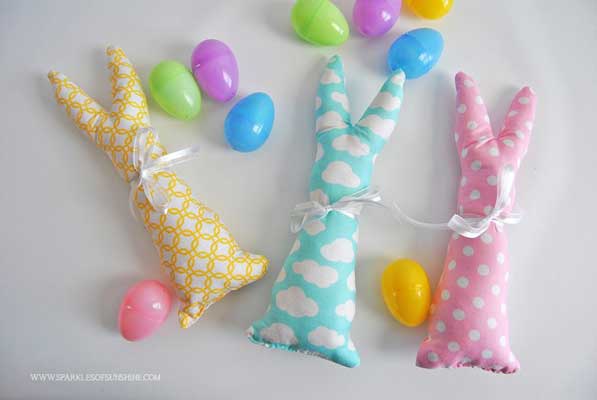 Easter decorations have never been easier to make, thanks to this pattern that will help you make a bunch of minimalistic bunnies that look like an upward triangular with rabbit ears at its top, and a bulge just below them that represents a head, complete with a neat bow tied under the head.
Linen bunny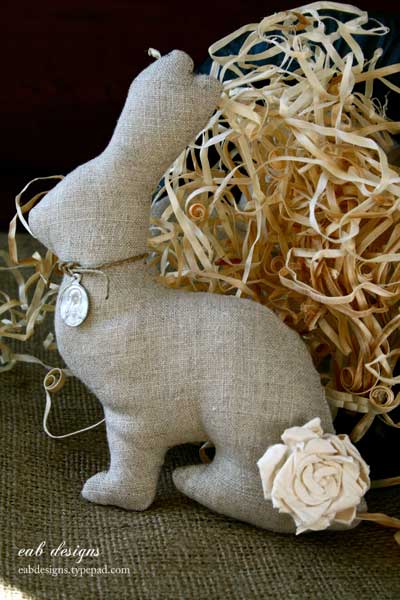 Picture a drawing of a rabbit sitting, looked at from a side and you'll know precisely how this linen one looks, with joined ears and separate front and hind legs, and optional decorations like a necklace or a ribbon tied around its neck, or maybe a fabric rose as its puffy tail.
by Eabdesigns
Super easy easter bunnies template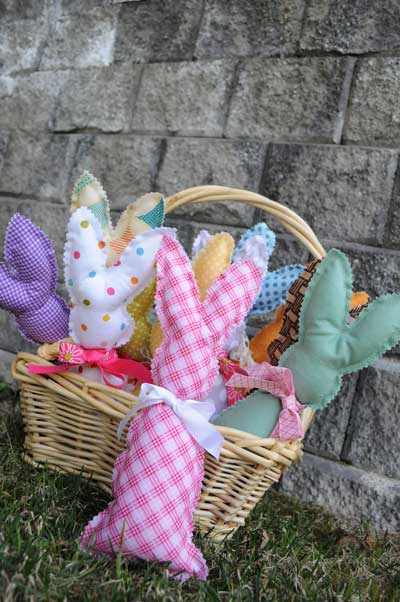 Turn those leftover fabric scraps into little Easter decorations in triangular shapes with bunny ears on top and a minimalistic head with a bow around the neck, then place them all over your home to spread the spirit of the holiday and make the mood cheerful and bright.
Bunny sachets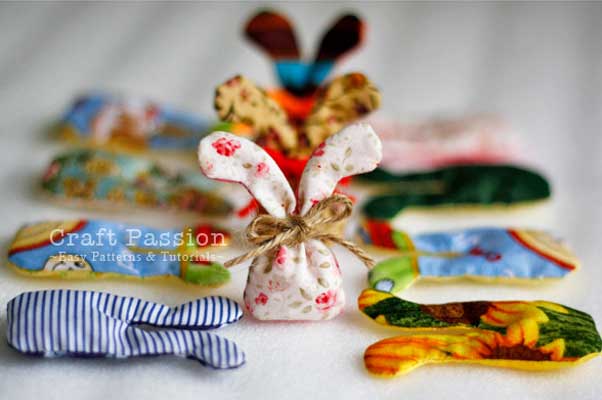 This pattern shows you how to transform small bits of fabric into extremely useful bunny-shaped satchels that are about as big as a golf ball and can be used for loads of things, like a creative container for lavender in your wardrobe, moisture-collecting beads, charcoal that will keep your shoes odorless and much more.
by Craftpassion
Jack the rabbit softie with free pattern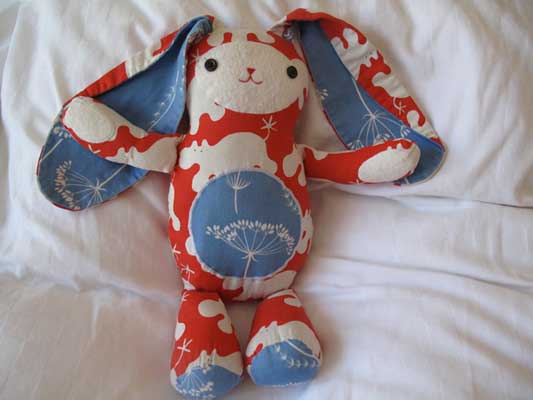 Meet Jack, a joyous plush bunny who has a tad rounded body with legs that can move enough for him to sit or stand, arms spread out ready for a hug, a felt face with eyes, nose, and mouth, long floppy ears, and contrasting fabric on his belly, feet soles, and ear insides.
Bunny wrapped in a blanket pattern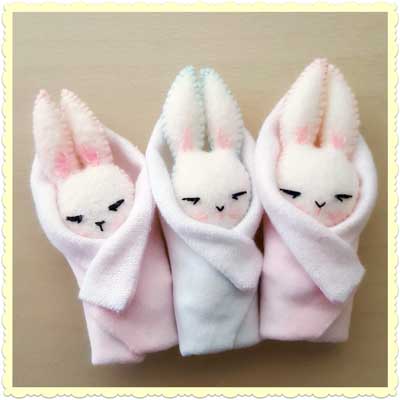 Quiet now, these bunny babies are sleeping and looking adorable doing it, wrapped up like a cute burrito in their blankets, with just their heads peeking out, with straight bunny ears, embroidered closed eyes, and a tiny nose, as well as blushing cheeks and pink color at the base of their ears that represents the ear interior.
Bunny doll – Betty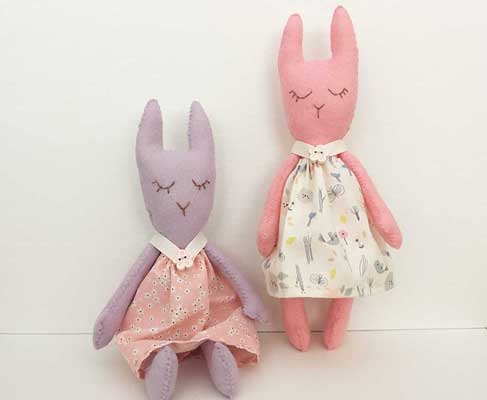 Here we have Betty, she's a bunny lady with a slim body, long delicate arms and legs, a head with upright ears in a U later shape, and a face with beautiful embroidered closed eyes, a nose, and a small mouth, and she loves changing clothes so be sure to sew lots of dresses for her!
Free bunny softie pattern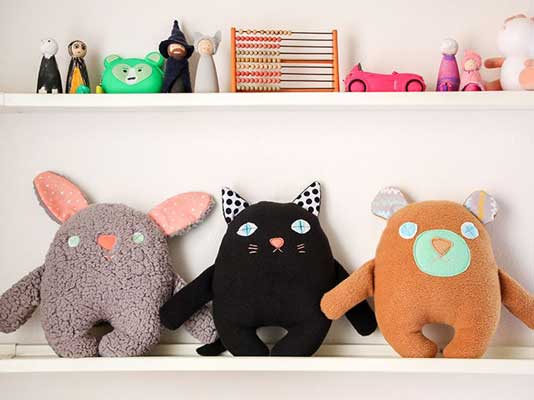 This pattern is a treat because it comes in three slightly different options that will allow you to make a plush cat, bear, or bunny, with a rounded body that has short legs at the bottom and long arms at the sides, ears with a front side made of different fabric, a tail at the back, and an embroidered face with a nose, mouth, and eyes.
by Mypoppet
Mini bunny softie
Adorable alert, be wary, this tiny baby bunny is too cute with its small body that has a bean-shaped bottom half, a little head with embroidered eyes and nose, two soft bunny ears on top, and an optional wrap that you can snuggle the plushie into and make it look like it's a real miniature bunny baby.
pattern: Sweetbriarsisters
Be it Easter or not, you can go ahead and have fun as you sew some of these lovely bunny sewing patterns and make adorable stuffed bunnies. Some of them are for kids, and some are for adults who like creative home decorations, so there's something for everyone among these patterns. When you finish sewing the ones you like, come back and tell us how they turned out in the comments. Remember to subscribe and you'll get notified when new posts like this one go online. Enjoy your new bunny pals!