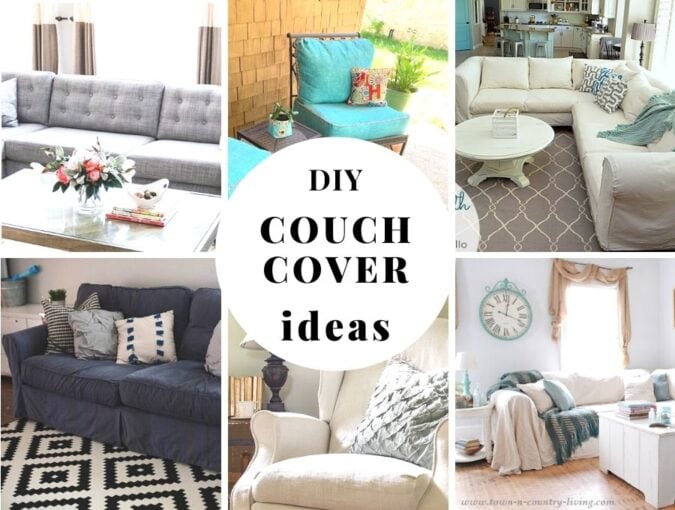 DIY Couch Cover Ideas – Easy Sofa Slipcovers You Can Make
Refresh the look of your couch, loveseat, armchair or sofa with these easy couch cover tutorials and ideas. I scoured the internet to bring you the easiest and FREE couch cover tutorials. No matter whether you sew or you have no idea how to hold a needle, you will be able to whip these up easily. Click the links below each image to get to the tutorials!
Easy Sofa Slipcovers you can Sew
DIY sofa slipcover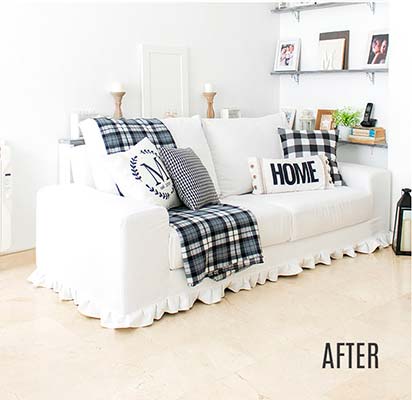 This project will help you give your sofa a fresh look and make it seem as if you just brought it from the store. The cover is made of three parts, one for the base with the armrests, one for the back cushions, and one for the seating cushions.
tutorial by Thecraftingnook
DIY Recliner slipcover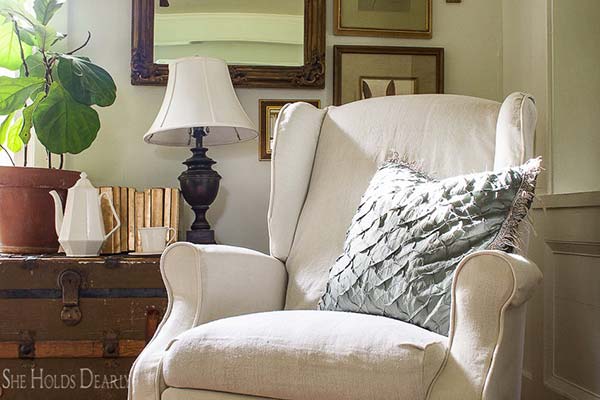 Breathe new life into your old recliner with this lovely DIY slipcover! The cover is made of several parts that combine into a whole. Those parts are covers for footrests, arms, the backrest, and the seat cushion for your recliner. The design is simple, yet classy and luxurious, so it can turn a plain recliner into a brand new piece of furniture quite easily.
Sectional couch cover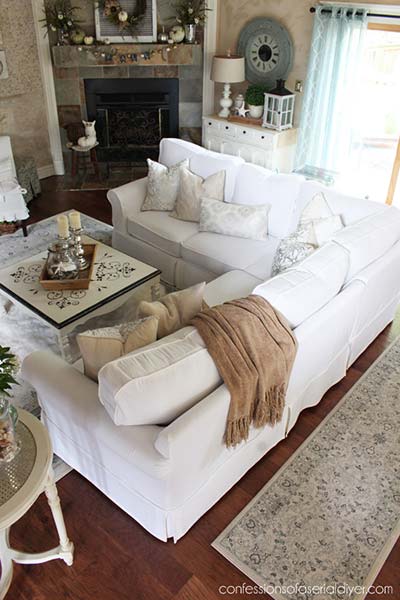 Next up is the DIY couch cover for sectional couches. It is made of two parts, the main body part that covers the frame, and the covers for the cushions. The slipcover is simple but elegant, with beautiful piping that goes around the front edges of the armrests as the only notable decoration.
Slipcovers for Sofas with Attached Cushions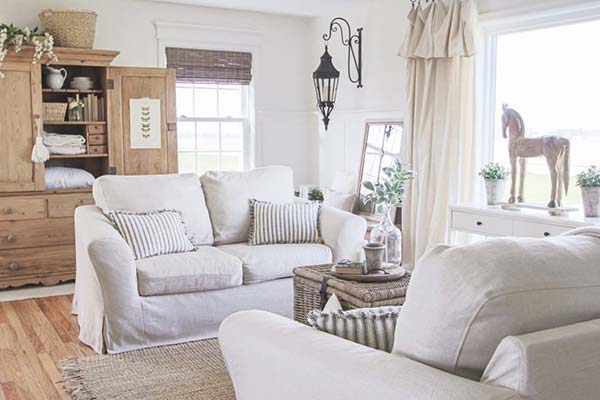 Make a DIY sofa slipcover for those tricky sofas that have attached seating cushions. It might seem like far too great of a challenge but it's the opposite. All you have to do is cut off the cushions, sew the cover for the frame, then sew the cover for the cushions and you're done! Your sofa will have a new outfit just like that.
Slipcover with piping
This lovely DIY slipcover has a neat piping around the armrests and a stylish pleated bottom edge around the chair that makes it seem as if the chair has a cute dress! Even though this cover fits your chair snuggly, it's also extremely easy to remove so you can swiftly wash it when necessary.
DIY Armchair Slipcover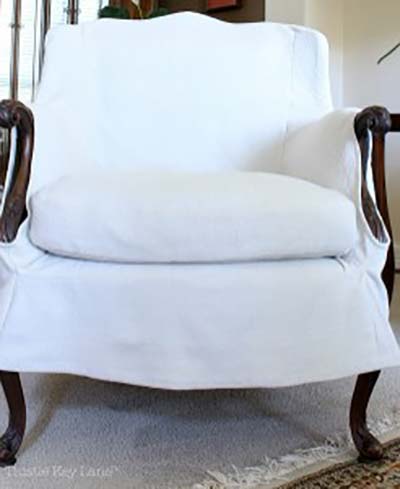 We all know how bothersome it can be to clean stains on armchairs and that's why we've prepared this practical armchair slipcover project for you! With this bad boy covering your chair, you'll have no trouble keeping that piece of furniture clean as a whistle. It covers the chair with a tight fit at the backrest and has a short skirt all around the chair at the bottom.
DIY Drop Cloth Sectional Slip Cover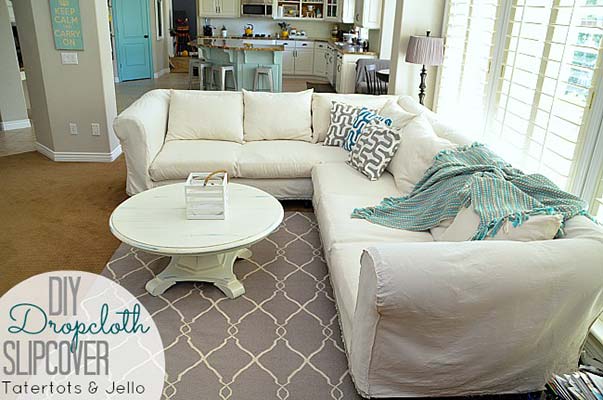 This sectional couch cover pattern that looks beautiful and elegant. It consists of two parts, the frame cover, and the cushions covers. It has piping around the armrests' edges and a creative fringed section all around the short skirt at the bottom. For best results use a dropcloth, the pattern is meant for that kind of fabric.
DIY Slipcovers with Piping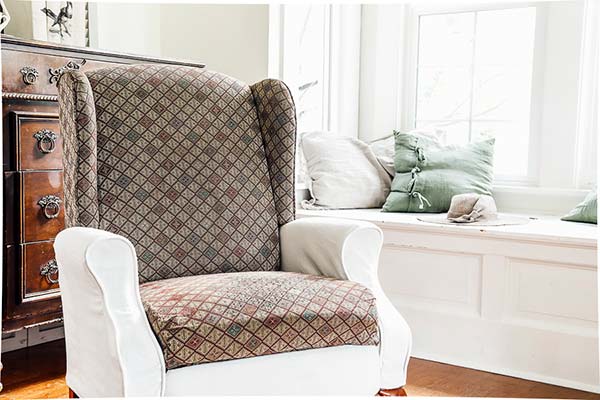 Now it's time for something a bit different, the piping armchair cover. Unlike the covers we've had so far on this list, it doesn't cover the entire piece of furniture. Instead, it goes only over the armrests and the base under the seating cushion. The backrest and the cushion are left uncovered, which, together with the piping on the armrests, give the chair fun and creative appeal that's hard to resist.
Easy tufting sofa cushions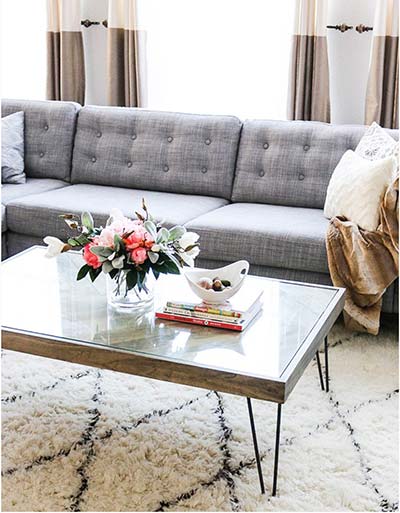 We're going back to DIY couch covers again with a cushion transformation pattern. This project won't help you make a cover for your couch but it will help you turn those couch cushions into little works of art. You'll learn how to add two horizontal rows of four buttons to each cushion. And just like that, your couch will give off that classy chesterfield vibe.
New cover for kids chair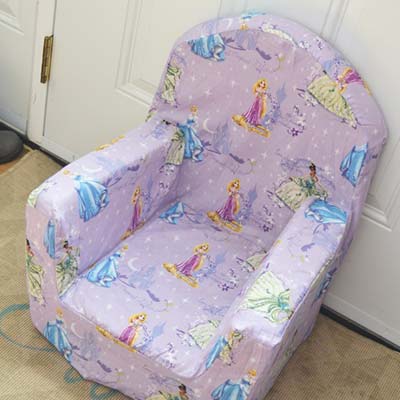 Kids are adorable and fun but they are also the most efficient stain creators in the universe. That's why it's reasonable to make a slipcover for their little chairs and thwart their stain production cunningly. This cover will fit that plush chair of theirs perfectly. Then, when the cover gets dirty, take it off, wash it, and it'll be clean again before you know it!
by Thediymommy
Turn Ikea curtains into velvet slipcover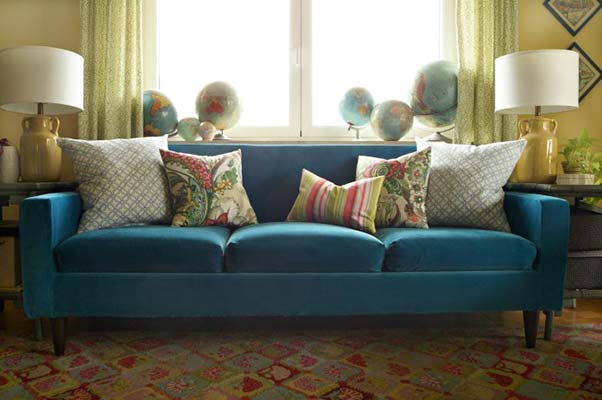 Who says upcycled products can't be elegant? If there's such a person, they're wrong, and this DIY sofa cover proves that. It's made of repurposed velvet curtains and it looks wonderful. This is a set consisting of a sofa base cover and covers for all of the cushions on the sofa.
Puppy couch cover
If you have a dog in your house, you know all too well how practical a couch cover can be. Here's one that's ideal for households with four-legged members of the family. It's a cover for the couch seat that will allow you to easily maintain the couch and keep it nice and clean. The bonus perk it brings is its design because the cover is reversible!
by Robbrestyle
Protecting arms and backs of the couch from pet nails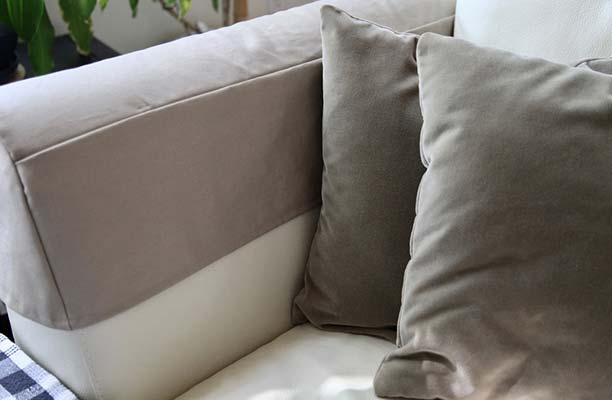 We didn't forget the cat lovers' households, don't worry! Here's a couch slipcover for all you feline owners, a fitted cover! To prevent the little rascals from tearing up the couch, this cover has hidden pads inside the backrest and the armrests sections. Now your cats can stay on the couch without you worrying if they'll ruin it, everyone's happy!
by Faunamade
DIY cushion covers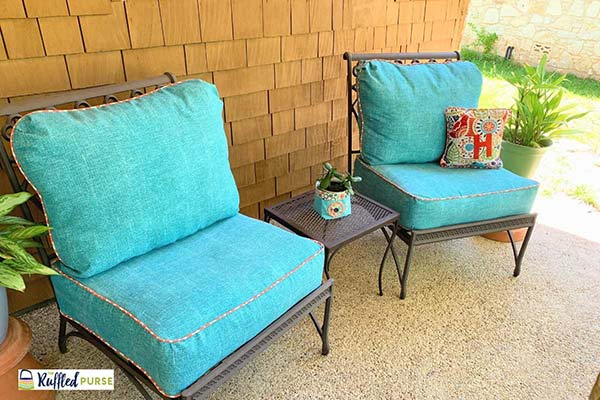 Outdoor furniture with cushions is much easier to maintain with neat cushion covers. This pattern has gorgeous piping all around the top edge that's in contrasting color from the main fabric, giving the cover a cheerful character that will liven up your mornings and evenings on the porch.
No-Sew Sofa Covers
Now you're about to learn how to make a sofa cover easy and quick without a sewing machine!
No sew drop cloth slipcover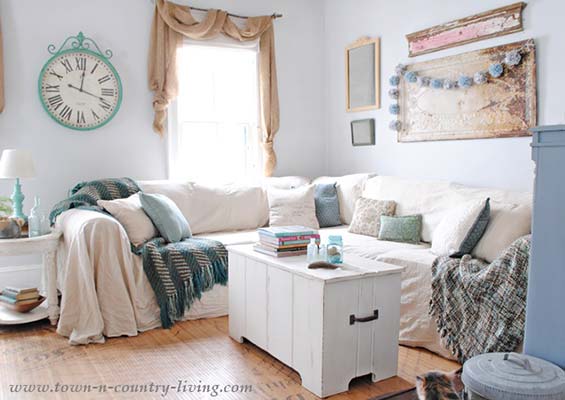 The first no sew couch cover on our list is also the simplest one. This dropcloth cover is like a large, thick bedsheet that you put over the entire couch and let it fit loosely, draping on the floor at the armrests. It's ideal for homes with pets since it's so easy to take off and wash when needed.
no sew couch cover using a stapler
The next no sew slipcover is for your living room chair, and it's almost as easy to sew as the previous one. This cover requires a bit of stapling, but there's no need for firing up your sewing machine. The cover has a tight fit and even piping around the armrests, together with a beautiful triangular flap at the front of the chair.
Refresh the look – dying slipcovers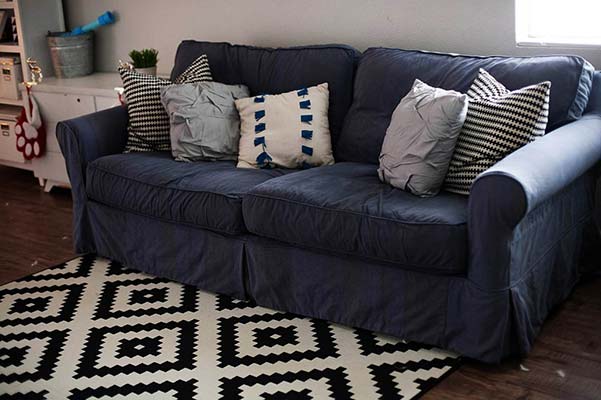 The project that will wrap up our list is this DIY loveseat cover. It's not a pattern like the rest on this list though. It's a dyeing project! Yup, it shows you how to take the covers you already have and dye them into a different color. It's a clever way to freshen up your couch without sewing or buying new covers, and it takes so little time. It's hard to resist giving this project a try.
We hope you liked our couch cover patterns list! Do you already have your favorite slipcover? When you try out making some of them, come back here and let us know how they turned out in the comments. And don't forget to subscribe to our mailing list to stay informed about our upcoming posts that you might like.
Other ways to refresh your home:
Make curtains to spruce up the look of your home – learn how to sew your own curtains with this easy DIY
DIY throw pillows – make any of these adorable cushions to change the look of your room in a whim
Make a HEART pillow – it adds a nice decorative touch to a room no matter if it's the couch, a chair or the bed