3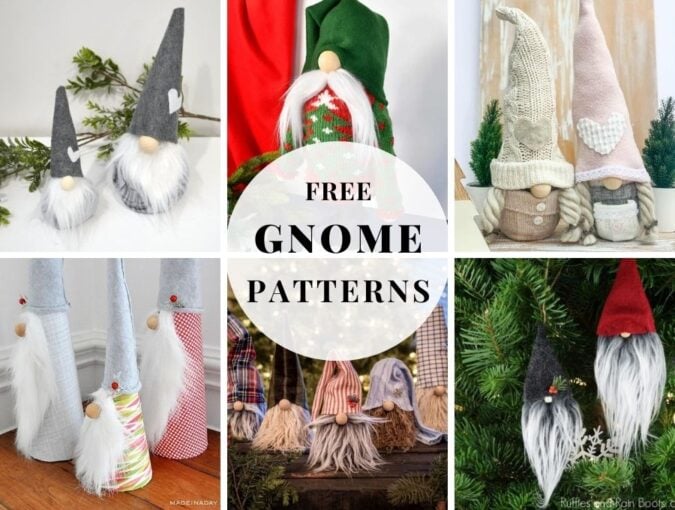 Free Gnome Patterns for Cute Christmas Gnomes
DIY a tomte, nisse, or Scandinavian gnome in no time at all with the help of these 12+ free gnome patterns! Nisse and Tomte are very similar characters. These cute gnomes are usually called nisse in Norway and Denmark and Tomte in Sweden. Both are solitary, mischievous domestic sprites responsible for the protection and welfare of the farm and its buildings. They are super cute home décor that I wanted to make so.. I scoured the Internet to bring you the best (and easiest) free gnome patterns to add to your holiday or Christmas décor. With more than twelve gnome patterns, there is something for everyone – no sew sock gnomes, gnome sewing patterns, a gnome quilting block and couple of ornaments and tree topper. Lets dive in!
12+ Free Gnome Patterns to Sew (and 3 NO-SEW!)
Browse this free roundup of gnome patterns and tutorials – as always if you want to get the actual tutorial click the link under the image!
Standing sock gnome pattern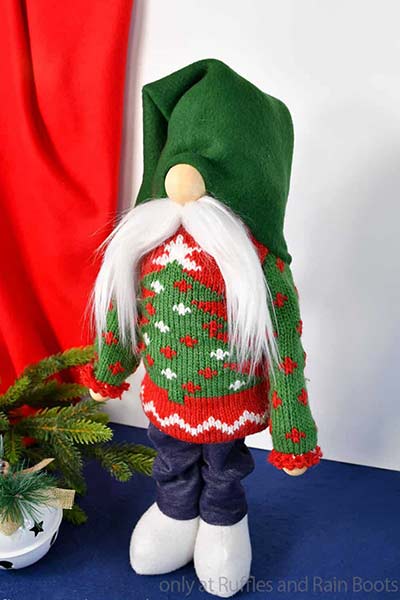 The first gnome on our list is an adorable standing gnome. You can make it from an old sock and a bit of old denim as the main materials. The gnome has the characteristic hat which covers its face so that the long mustaches and the nose peek out from underneath. Get a wine bottle cover sweater for the gnome to make it even lovelier.
DIY your own Tomte or Nisse  these scandinavian gnomes are very similar. The difference is just the name. Its nisse in Denmark and Norway, but Tomte in Sweden. No matter how you decide to call your new gnome, this tutorial will show you how to make it
The neat one is this Scandinavian gnome that can fit in the palm of your hand. It has both a long beard and handsome mustaches, together with the long pointy hat and a tiny nose. Unlike the previous one, it has no legs but instead appears as if it's sitting down.
by OhSoHygge on YT
No Sew Christmas Gnomes
If you want to make a gnome but you can't sew, this tutorial is just for you!
Turn an old sock into a wonderful gnome with this no-sew gnome pattern. All you need to make this little guy is a bit of glue, some beans or rice, and some fur, together with an old sock. This one doesn't have legs nor a pure white beard so it has a different look, a bit like a Viking gnome!
Easy Christmas Gnomes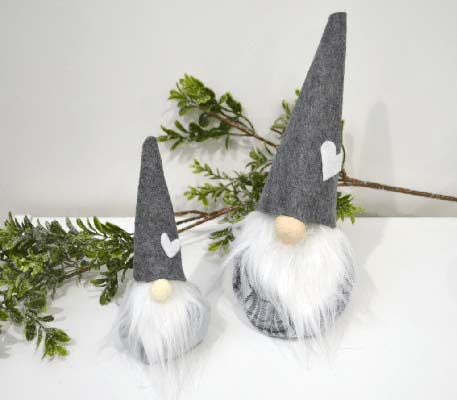 The easiest way to make a rice base gnome is shown here. And the little hearts on their felt hats just melt my heart.
Here's a gnome that has that classic appearance that we all love. Its beard isn't as long, but it covers the gnome body just like it does with the other kinds. The hat it wears is a bit higher and it has an adorable decorative heart stitched onto its side.
Christmas gnome ornaments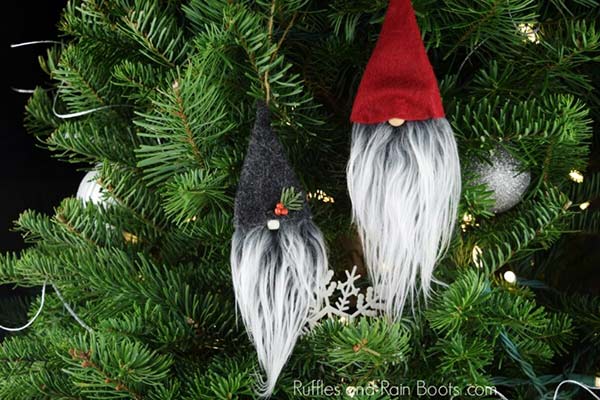 Gnomes make great decorative pieces, so it's natural to hang them onto the Christmas tree as ornaments, as this Christmas tree gnome shows. It's a miniature gnome head with a long gray beard and a hanging loop on its hat. Set it onto your tree to make it more magical!
Girl sock gnomes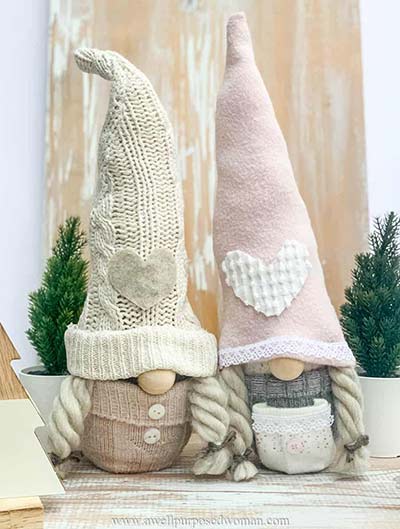 Gnomes are neat, but girl gnomes are absolutely adorable! This girl gnome pattern allows you to make a gnome that doesn't have a beard, but two cute braids of hair instead, as well as the characteristic pointy hat, and a tiny nose. This girl gnome wears a miniature sweater with buttons and has a heart stitched onto its hat.
Gnome tree toppler (Dollar tree craft)
Another no-sew gnome on our list, the tree topper gnome! This project takes less than five minutes to finish yet it produces a beautiful result. Glue some fur onto any tree topper you have, attach a nose to it, add some decorations to the hat, and you'll get a brand new gnome before you know it!
by Sarah Nenni-Daher on YT
Holiday gnomes with foam cones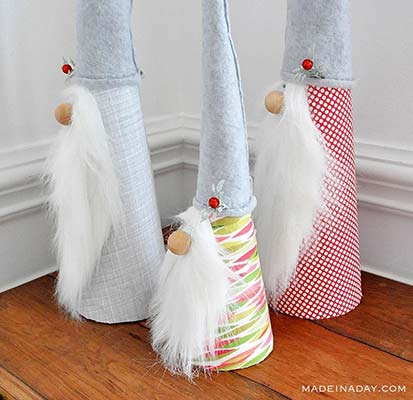 Most of the gnomes on the list so far were miniature, now here's one that's a bit bigger, the cone gnome! This gnome is cone-shaped and about as large as your forearm, so it's a nice decoration for your room corners and shelves. Its appearance is a lot like all the other gnomes but a big difference here is that this guy has cute little eyes that aren't covered by the hat!
by Madeinaday
Easy DIY gnome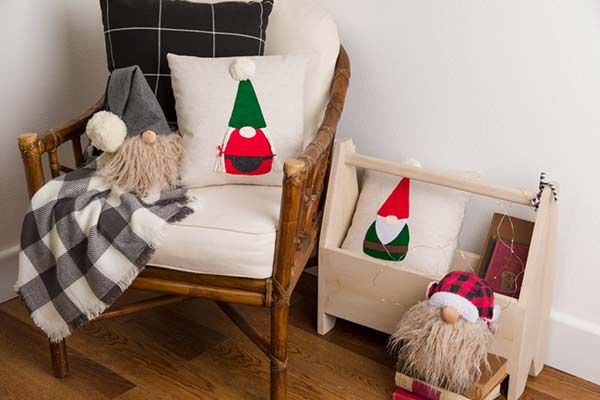 Fill up an old sock with rice, add the nose, beard, and a hat, and you'll have this easy DIY gnome finished! The hat this gnome wears isn't straight and pointy, but more like Santa's hat, complete with the pom-pom at its tip. Try out different material combinations for the beard and the hat to see which one you like the most!
by Kippiathome
Gnome quilt block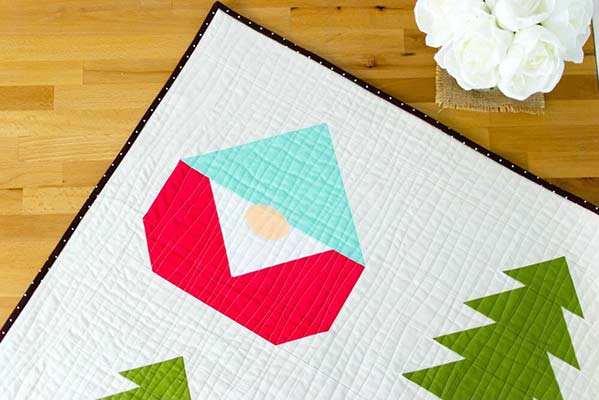 Last but not least is a treat for the quilting enthusiasts, a quilt block gnome! This little guy is a bit flatter than his friends we previously mentioned since it's a quilt block, but it looks lovely nonetheless. You get it by stitching a few rectangles and triangles together and adding an applique nose to it at the end.
by SewCanShe
I hope you enjoyed my collection of cute gnome sewing patterns and no-sew sock gnome tutorials. It's your turn now  which is your favorite? Which gnome pattern you are going to try first? Let us know in the comments section, we'd love to know! Now go and make some gnomes for your friends and family. By the time you finish all these projects, you'll have a gnome army at your command!
MORE NORDIC INSPIRED DECOR: