4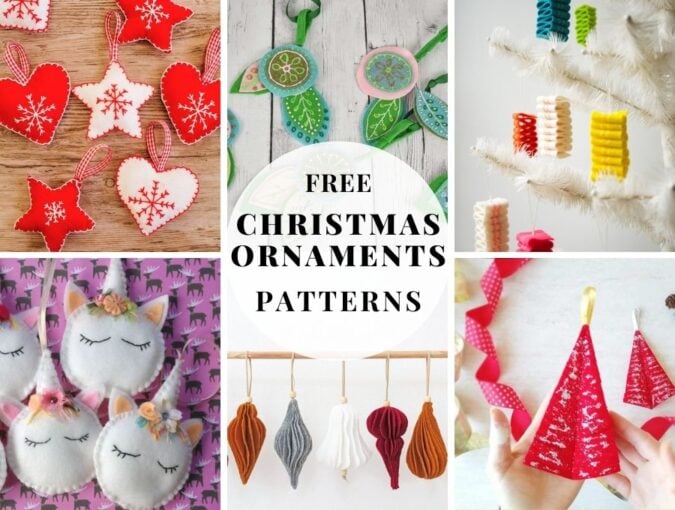 15+ DIY Felt Christmas Ornaments for Unique and Memorable Holidays
Fill your home with joy this Christmas with those adorable DIY felt Christmas ornaments. Turn your scraps of felt into gorgeous felt Christmas decorations. I scoured the web and pinterest to bring you the best and free felt ornaments patterns you can whip up quickly. Most of these are so easy, that you can get the kids involved and spend some wonderful time together crafting and laughing.
15+ Original Felt Ornaments You Can Make for Christmas
Easy Christmas tree ornament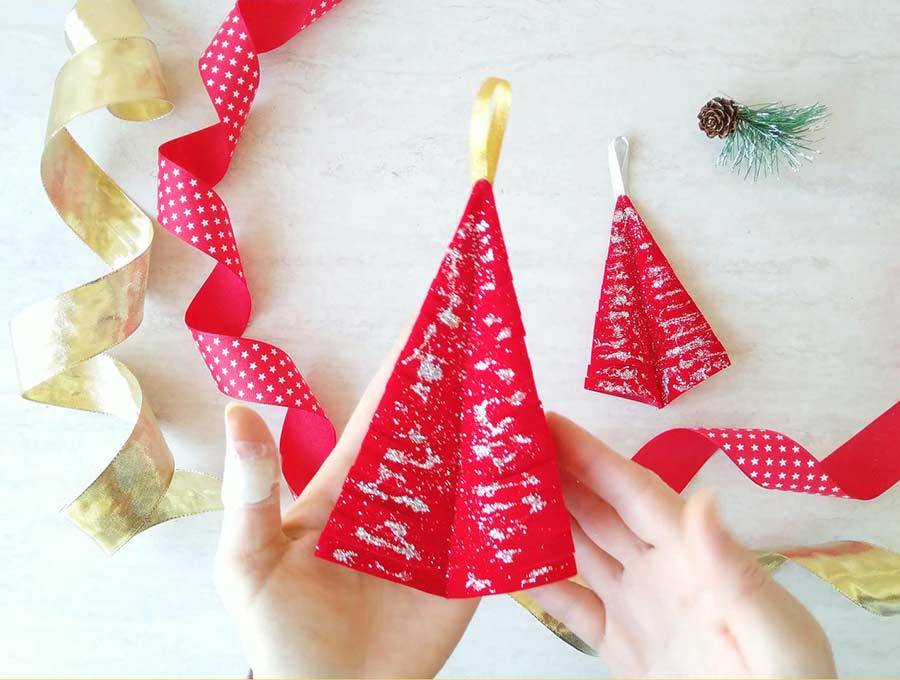 Give your Christmas tree a bit of character with these sewn miniature versions of itself! This project is especially handy if you have small kids because this ornament won't break if they pull it off the tree. You can make it in a few minutes with a bit of felt, ribbon, and some glitter if you want it to sparkle.
Felt Christmas Tree by HelloSewing
Ribbon candy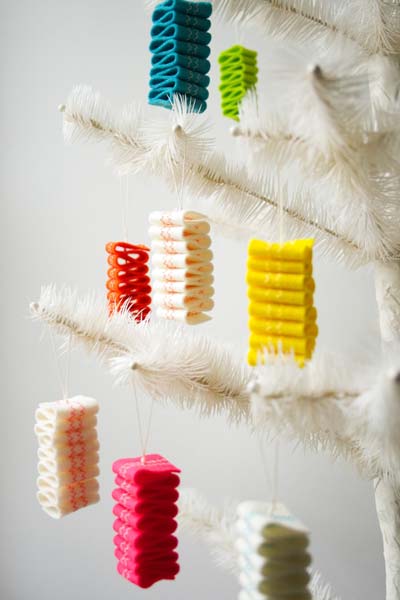 The downside to candy Christmas tree decorations is that "someone" eats them way too fast and they become ugly empty like that. These ribbon candy decorations are the solution for that because no one can eat them! You just fold the felt a bunch of times, do some stitching, and they're ready to go onto the tree.
by PurlSoho
Gnome
Add a bit of magic to your tree with this adorable gnome ornament. Gnomes are said to be nature spirits that live underground, often interacting with humans in either helpful or mischievous ways. This is one of those projects that are extremely simple with an amazing result. You don't need to sew anything here, you can use a hot glue gun to join the pieces. Shape the beard, set the nose, form the hat, and put them all together to finish the gnome!
by Sarah Nenni-Daher on YT
MORE GNOMES: Cute gnome sewing patterns
Easy felt ornaments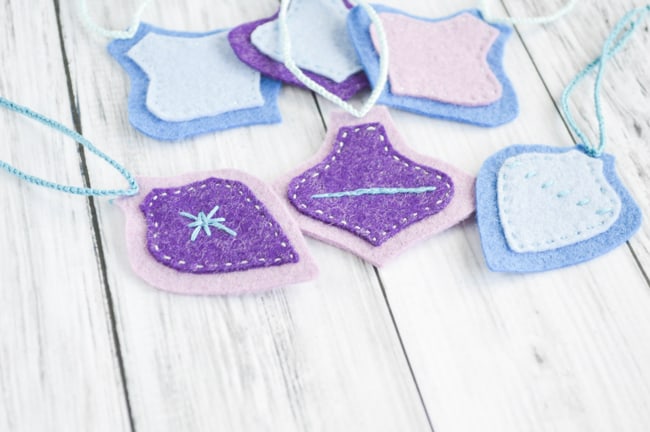 Here's a set of multicolor, multilayer felt Christmas tree decorations. They come in a couple of spade-like shapes and with printable patterns that will make the process even faster and simpler. You're not bound to these shapes though, feel free to customize them or decorate them in any way you like!
by natashalh
Twisted felt ornaments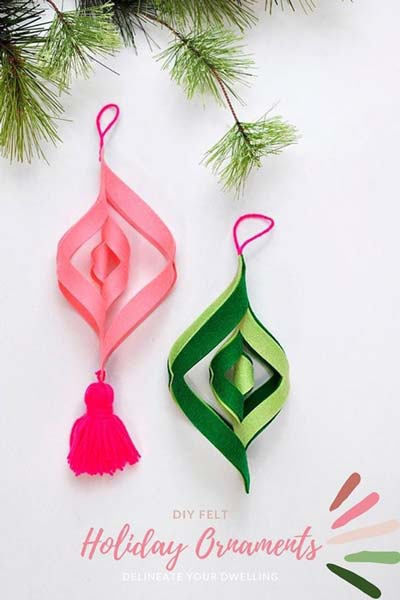 If you like cutting up vegetables in spiral shapes and using them as dish decorations, this project will pique your interest. These spiral felt ornaments look a lot like that and make a wonderful addition to your Christmas tree! A bit of folding, cutting, and gluing is all you have to do to get these lovely vibrant twisted tree decorations.
Nordic Christmas decorations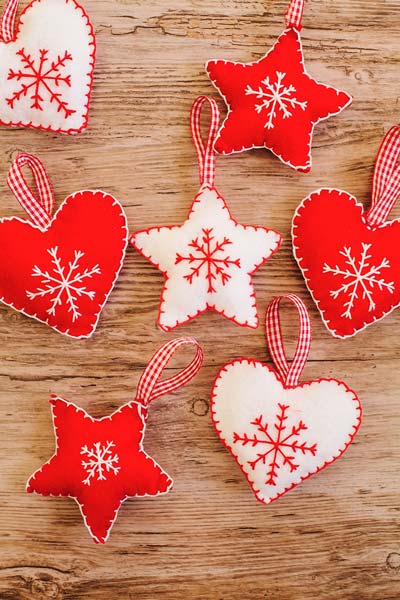 Here are some cute Nordic-style heart and star-shaped ornaments you'll enjoy making and looking at during the holidays. This project is just a bit more demanding than the previous ones because it requires some hand embroidery work, but the end product is worth it so be sure to give it a shot!
Modern felt ornaments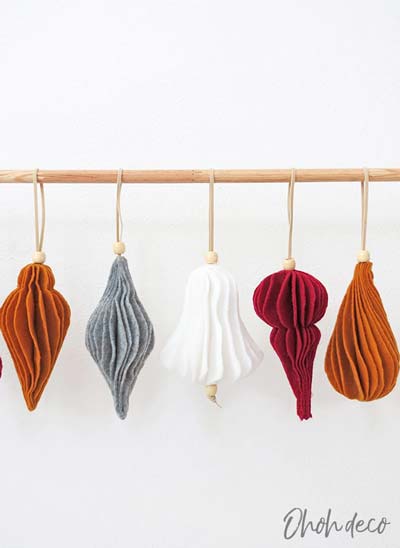 Another felt Christmas tree ornament project on our list and another one that takes around ten minutes to finish. Choose your preferred shape, cut a bunch of identical pieces, handstitch them together, and you'll have your new multilayer felt tree decorations that will last you far more than one holiday season.
by OhOhDeco
Floral felt ornaments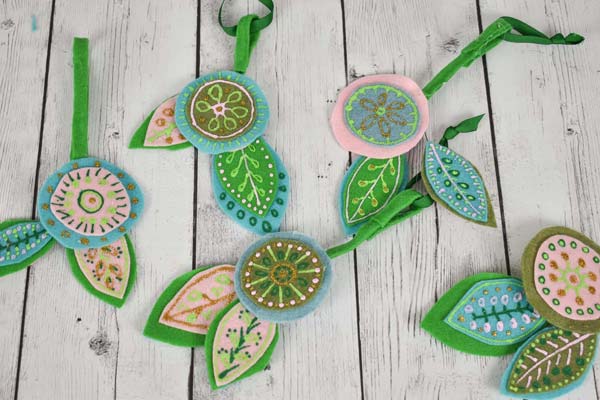 Give your Christmas tree a neat transformation and have it give off that summer vibe with these leafy decorative pieces! Get a bright-colored piece of felt, cut it up according to the pattern, and add the finishing details with some fabric paint to complete these unique tree decorations.
Owl ornaments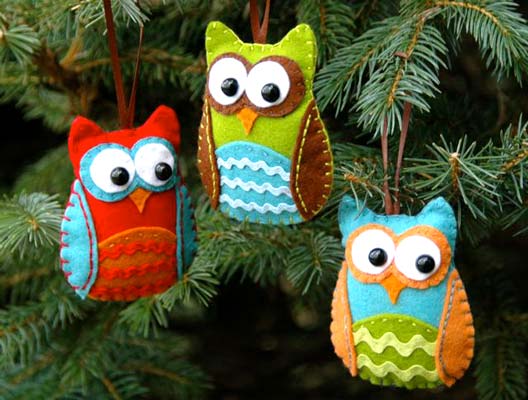 Add a bit of adorable wildlife to your Christmas tree with these owl ornaments. The colorful little owls with wide eyes, tiny wings, and fluffy stomachs will liven up the tree in an instant! Kids love them too since they're basically small plush toys with hanging loops.
by JuicyBits
Mistletoe ornament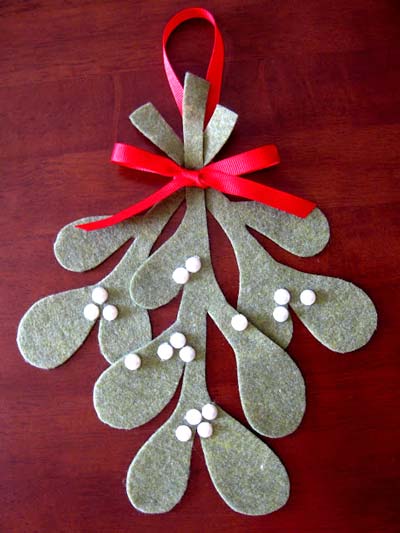 Let those kisses rain down with this mistletoe decoration! Why would you buy a real one when you can sew your own that'll last for years? Cut the shape from felt, sew or glue on a hanging loop with a ribbon and the mistletoe will be ready to spread the love!
Felt flower ball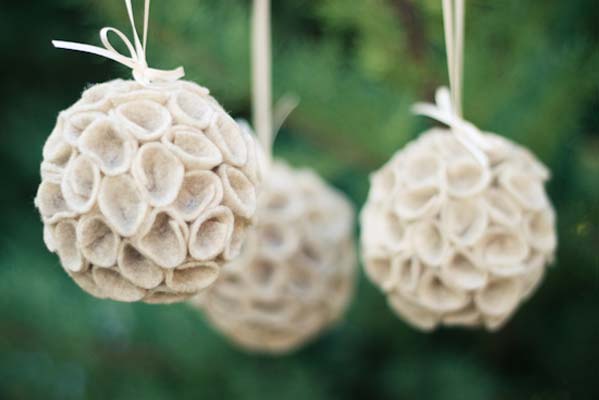 For all of you who like the traditional ball-shaped tree ornaments comes this felt flower ball. It's a foam ball with miniature bowl shapes all over it that looks a lot like the regular tree decorations. But unlike them, these can't break no matter what you do.
Wolf ornament or softie pattern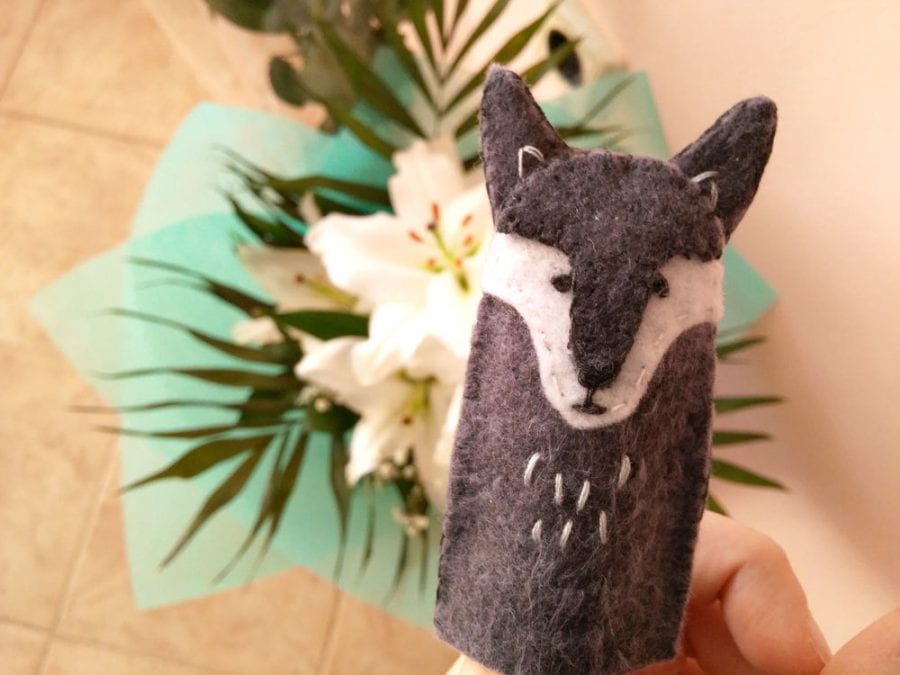 Woodland softies ornaments are always welcome as decorations in my book, more so if they're as cute as these wolves! They are actually finger puppets but as it turns out, they are perfect for decorating your Christmas tree as well! The tiny ears, adorable face, and embroidered fur are way too cute to pass on.
Wolf felt softie or ornament by HelloSewing
MORE: How to make felt animals – 15 + tutorials and projects you can make
Felt Deer and fox Christmas ornaments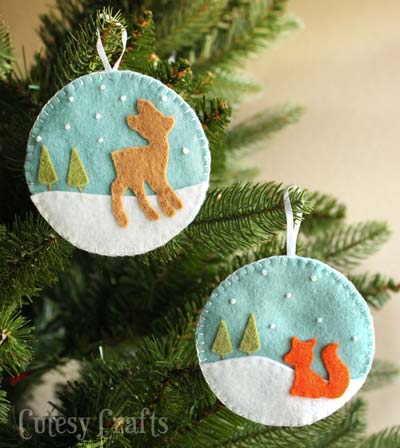 Decorate your Christmas tree with a couple of ornaments that depict that lovely winter scenery. These round felt decorations with snowy winter landscapes and animals will warm your heart as soon as you lay your eyes on them. They come in two variants, one with a deer and the other with a fox standing in the snow.
by CutesyCrafts
DIY Embroidered Felt Letter Ornaments
Write out your wishes or blessings in the form of felt letters and hang them onto your Christmas tree for Santa to see! These letters are easy to make and look beautiful, and they'll give your tree a special kind of character that will evoke a wonderful feeling of closeness between the members of your household.
Felt unicorns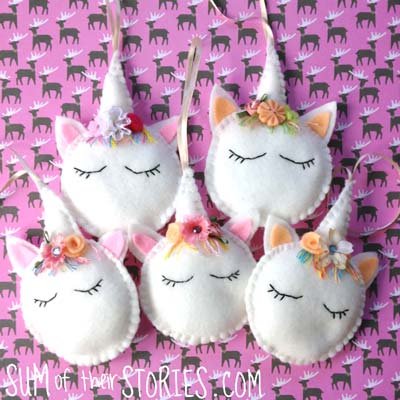 Last but not least on our list is the most magical of all, a unicorn ornament! This round unicorn face with closed eyes, a horn, and adorable flowers under the horn will surely be the most captivating decoration on your Christmas tree. Who knows, maybe it'll bring you some magic too!
So here you have them, unique and adorable, these DIY felt Christmas ornaments are sure to make your home decor unique.
I hope you like our list of Christmas tree ornaments you can make on your own. With these tutorials at your side, you won't need to buy tree decorations at all from here on out. Which felt ornament pattern are you planning to get and make first? When you're done making the ones you like, come back and let us know how they turned out in the comments below! And don't forget to subscribe to our mailing list to stay up to date with our newest articles.
RELATED: