2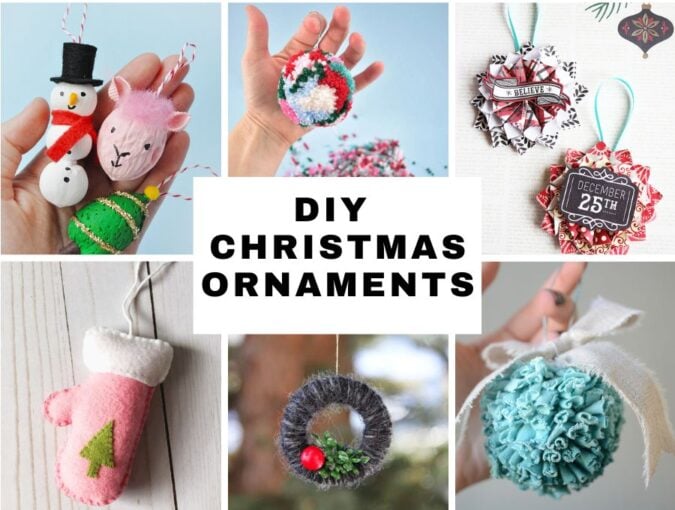 50+ DIY Christmas Ornaments for an Unique Personalized Tree
I love adding at least a couple of new ornaments to our tree each year. I love making some DIY ornaments – these unique handmade ornaments are a real conversation starter and are made to impress your guests. Crafting or sewing handmade ornaments is a really fun activity everyone in the family can enjoy. From toddlers to teens and adults, everyone can take part in the crafting experience. All you need to do is pick a few ornaments you'd like to make, gather your supplies and set aside some time for the activity. No matter whether you are a novice crafter or have many crafting hours under your below, you will find DIY Christmas ornament ideas for you. You can get even the pets involved and make the paw salt dough paw print together. They also make great little neighbor or teacher gifts.
Quilt As You Go Scrappy Christmas Ornaments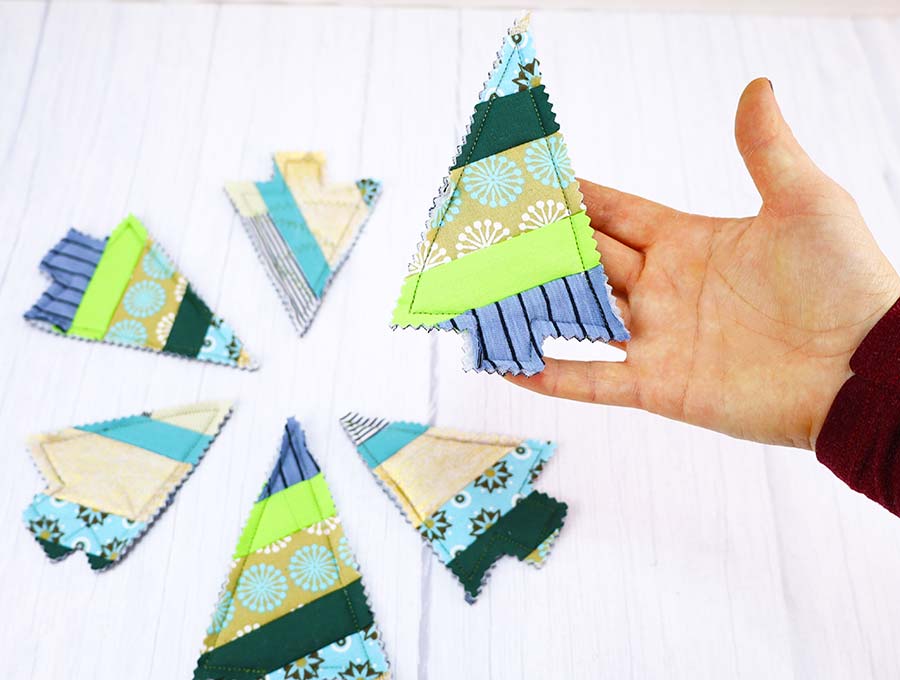 If you are looking for some easy Christmas ornaments to make and get rid of your fabric scraps, these are just for you!
Take a break from using your quilting skills to make beautiful covers and enjoy a bit of a change with this pattern that will show you how to make quilted miniature Christmas trees that have a body in the characteristic triangular shape, are made of six differently colored strips stitched together diagonally, have serrated edges, and a useful loop that lets you hang up this ornament onto the real Christmas tree.
Scrappy mini tree Christmas ornaments by HelloSewing
Christmas Angel Ornament out of BUTTONS
If you have a lot of buttons in different sizes, some thread, and a bit of ribbon, you have all you need to make this lovely angel decoration by just threading the buttons on top of each other so the bigger ones are on the bottom and the smaller ones are on the top, tie the thread above the topmost button, and tie a bright ribbon around the angel to form the wings, and the creative minimalistic decoration can go straight onto the Christmas tree!
Kaleidoscope Star Quilted Christmas Ornament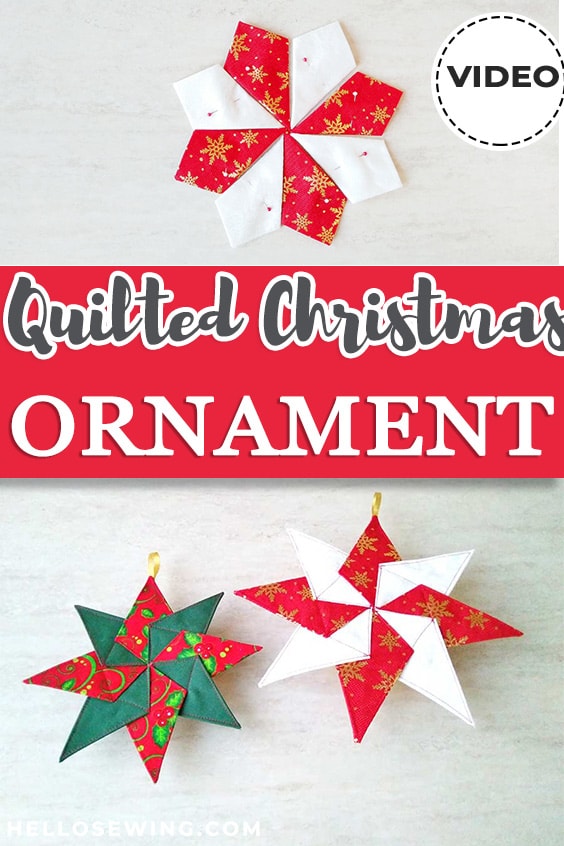 Here's a neat pattern that combines the charm of kaleidoscopic color designs and the fun shape of an eight-pronged star to form a bright and colorful Christmas decoration that looks as if you took two four-pronged stars in different colors, stacked them on top of each other, then twisted them towards the opposite sides, mixing their colors and creating a beautiful result in the process.
Kaleidoscope star quilted Christmas ornament pattern by HelloSewing
Christmas Tree Napkins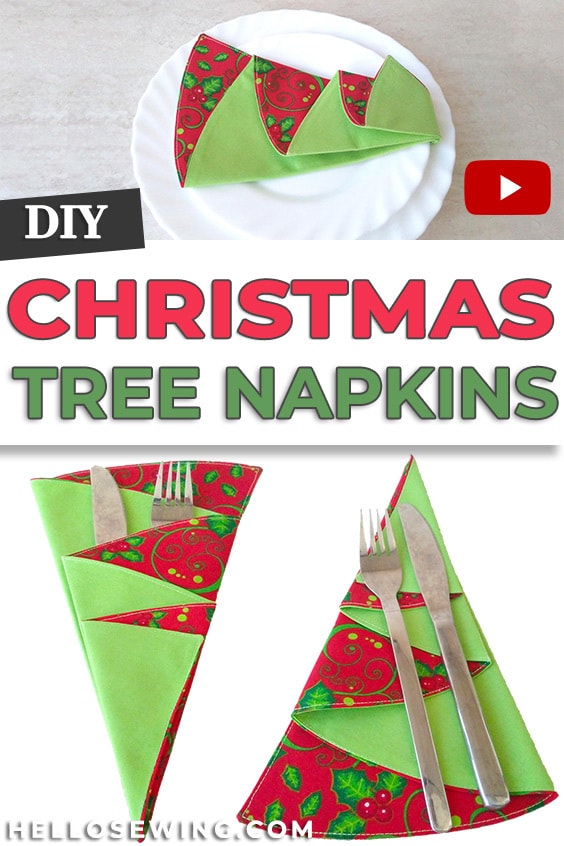 Make sure your dinner table gives off an adequate vibe during the holidays with this irresistible Christmas tree napkin pattern that will allow you to whip up napkins in the well-known red and white jolly colors, shaped like a real tree, with folds that act as pockets for the spoons, forks, and knives to fit into.
Christmas tree napkins tutorial w/pattern by HelloSewing
Paper Christmas ornament ideas
5 Christmas ornament ideas that you make your tree look great. Great project to make with the kids too!
You probably know how to make some basic paper decorations, but you most likely haven't yet made some awesome ones like these five creative paper decorations, one that looks a bit like those Italian treats called cannoli, one angel shape with wings and a pleated bottom section, a fun ball made of a bunch of circles that intersect each other at the middle, a twinkling star with eight points, and a beautiful miniature present box complete with a bow tied around it.
Mini Christmas stocking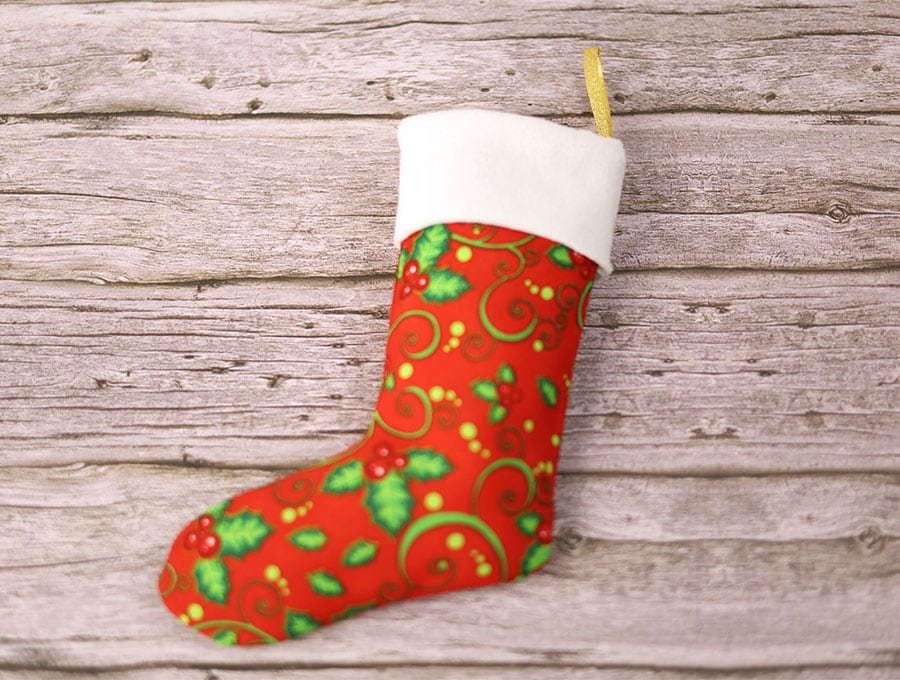 No Christmas is complete without the famous stockings for Santa to fill with presents, so here comes a pattern that will help you make such stocking socks in two different sizes, both with wide cuffs and a hanging loop as the main feature, one small size that's ideal for us adults because it can store small gifts like coupons, and a giant kind for the kids that can hold a bunch of candies.
Mini Christmas stocking tutorial and pattern by HelloSewing
How to Make a Froebel Star – Danish Christmas Star Ornament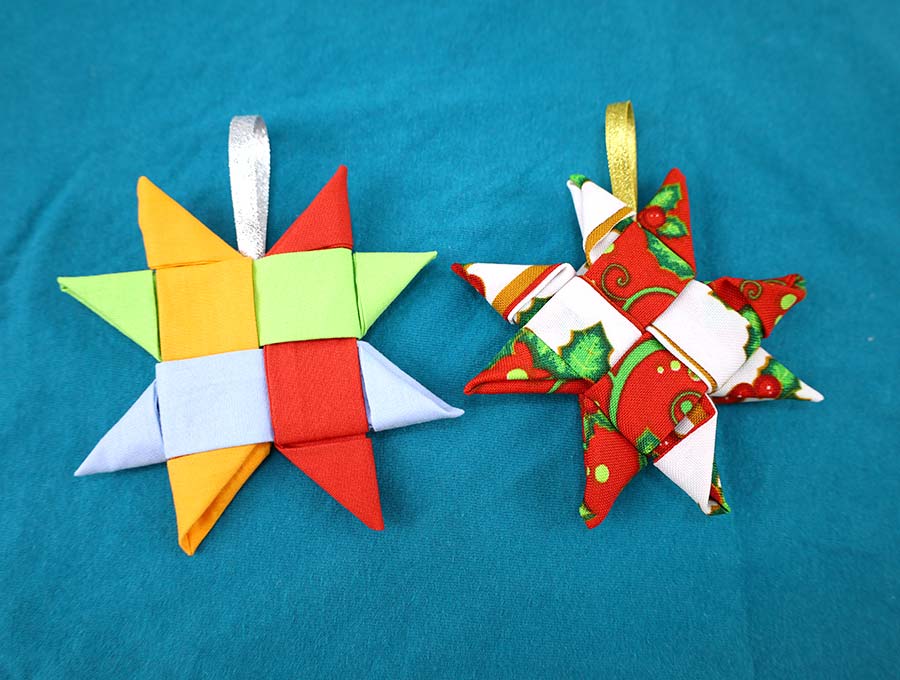 Cute and very easy Scandinavian-inspired DIY Christmas ornaments. You can make them out of paper too!
Include your kid in this project because it feels a bit like origami and is just as fun, since you turn simple strips of fabric, all in different colors, into a creative Froebel star as you fold the strips over and under each other until you get the shape of a unique star with eight triangular prongs.
Froebel star – Scandinavian ornament by HelloSewing
Christmas Ornament Fabric Coasters
You know about the regular Christmas tree ball decorations, but get ready to see something extraordinary because here comes the mentioned old-school decoration, only made from fabric, with a colorful flat body made of a few different stacked pieces of fabric stitched together, a yellow top section, and a matching golden ribbon loop for hanging the fabric ornament.
DIY No-sew Christmas Tree Ornament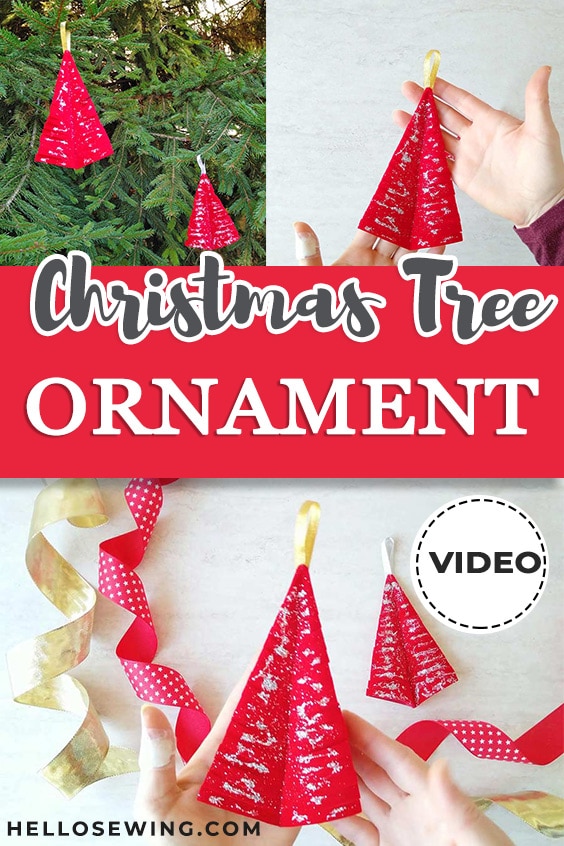 For all of you who are either away from your sewing machine or in a hurry without much time but in the need of a Christmas tree ornament, this pattern is here for your rescue, as it will show you how to quickly and easily put together a fun triangular fabric Christmas tree decoration that you can further embellish with a bit of glitter, on hang it as it is and basque at its minimalistic beauty.
Easy Christmas tree ornament by HelloSewing
Folded Fabric Ornament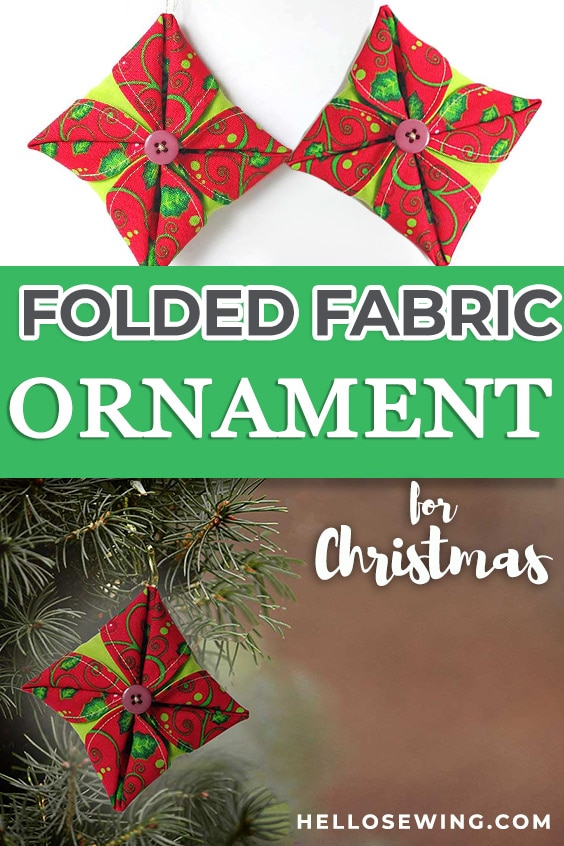 If you are looking for really unique home made Christmas ornaments ideas, look no further. You can insert a picture on the back, or give them as gifts!
Here's a beginner-friendly project that will make you stitch together pieces of red and green fabrics, turn them into a shape that looks much like an arrowhead that has four wings, then flip those wings back to get a colorful square, add a button and a loop, and get yourself a creative new little thing to hang on the Christmas tree.
Folded fabric Christmas ornament tutorial and pattern by HelloSewing
Macrame Christmas ornament
This is a true 2 in 1 project. Christmas ornament that can be used as a keychain during the rest of the year. Give these unique DIY Christmas ornaments as gifts and the lucky receivers will use them time and again!
For this minimalistic, yet beautiful and practical project, all you need is a keychain ring, a bit of rope, and your goodwill to tie bits of that rope together over the ring until you get a neat decoration that gives off vibes of forests and nature, and can turn into a regular keychain after the holidays!
Gnome terra cotta pots ornaments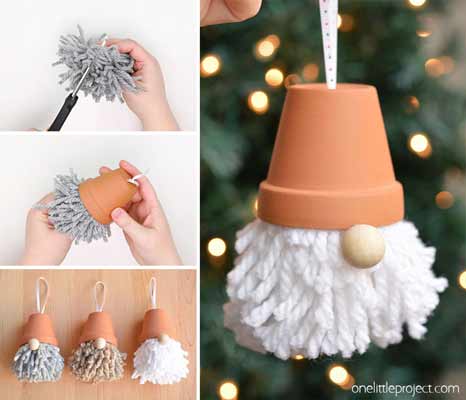 Gnomes are fun to make in any form, and this tree ornament kind is no exception to that rule, with a hat made of a miniature clay pot, a nose peeking from beneath it made of a small wooden ball, and the characteristic beard made of a thick yarn in the color of your choice.
Avocado Toast Ornaments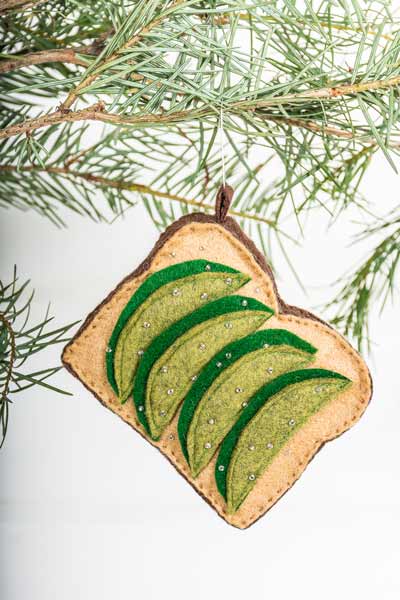 Bet none of your friends or family have this kind of fun decoration hanging on their Christmas tree, it's a fabric version of a piece of toast, with the crust and four slices of avocado sitting on top of the bread, arranged one after the other.
by Diyinpdx
Cat Embroidery Hoop Ornaments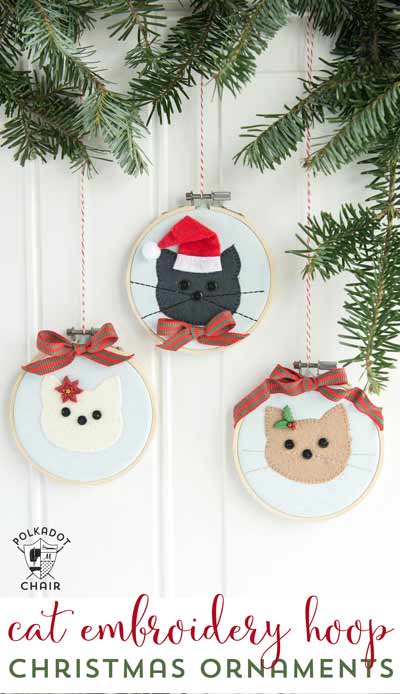 Cat lovers please hold it together and do your best to prevent your hearts from bursting once you see this adorable embroidery hoop that has a depiction of a cat face with optional long whiskers, a bow tie, or holiday hairpins, with a hanging loop so you can place it on the jolly tree in your house.
Paper covered ornaments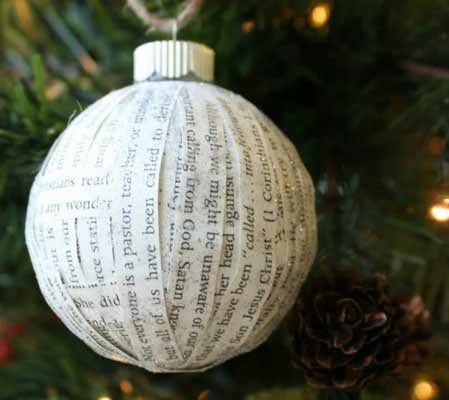 Breathe new life into plain old ornament balls with a dash of creativity and the instructions on this neat pattern that will show you how a bit of paper from old books or newspapers, a glue stick, some twine, a sprinkle of glitter, and a tad of your time can transform old ornaments into something new and beautiful.
Tiny felt mitten ornaments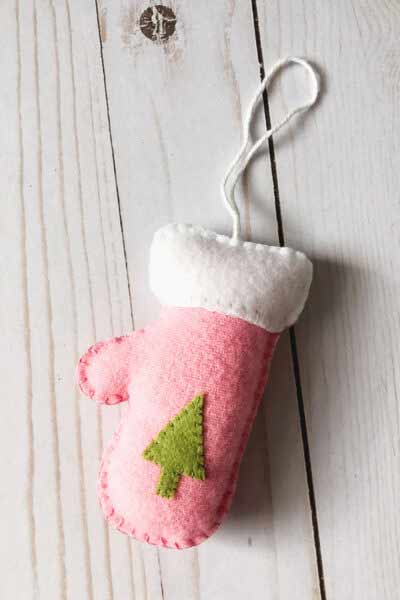 Surprise your friends or family members who love to bake with a small but thoughtful gift, a pair of miniature mittens that they can hang on the Christmas tree, featuring a stuffed main body in the color of your choice with a white cuff, and a decorative Froebel star or a Christmas tree design over it.
Painted nuts ornaments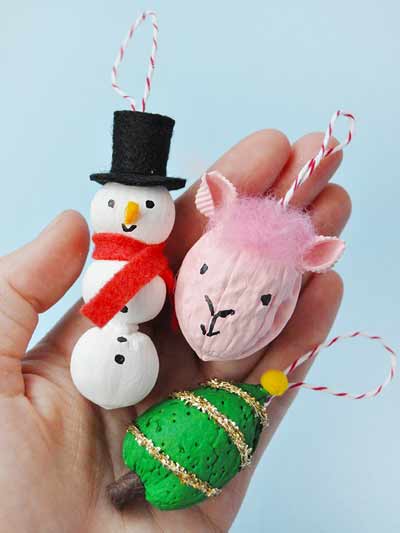 Anything can become a work of art with a bit of creativity, just take a look at these Christmas tree decorations that you can make from nuts in shells, a bit of paint, wool, pasta, felt, and a few other things to get yourself a happy snowman with a top hat and a scarf, a chubby small Christmas tree, or a little lamb head with a fancy hairdo!
Rudolf the reindeer ornaments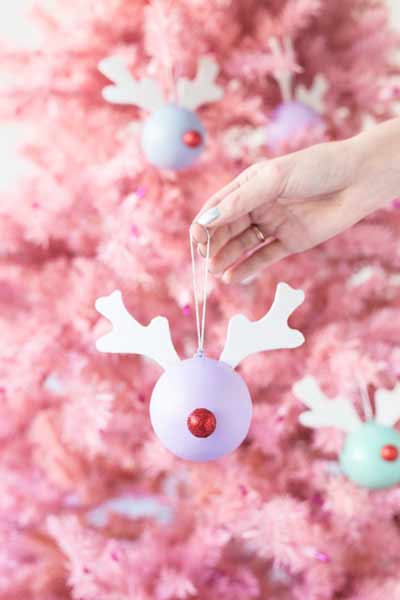 When you get the chance to make a Rudolph the reindeer ornament, the only question that can come after that is how, and this pattern answers that for you as it shows you how to use old ball ornaments, some red beads, a bit of cardboard, and glue to whip up a minimalistic but on-point Rudolph ornament!
by Studiodiy
Multi colored pom pom ornaments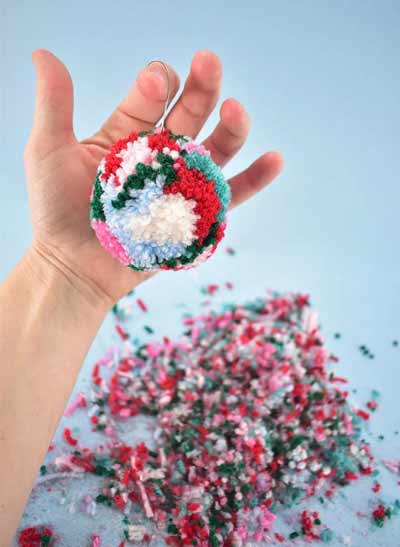 This project idea will teach you how to make beautiful, soft, fluffy balls big enough to fit in your hand that have a bunch of colors in them and can act as splendid hanging decorations out of some excess yarn you have left over from your crochet or knitting sessions.
Gold marble Christmas ornaments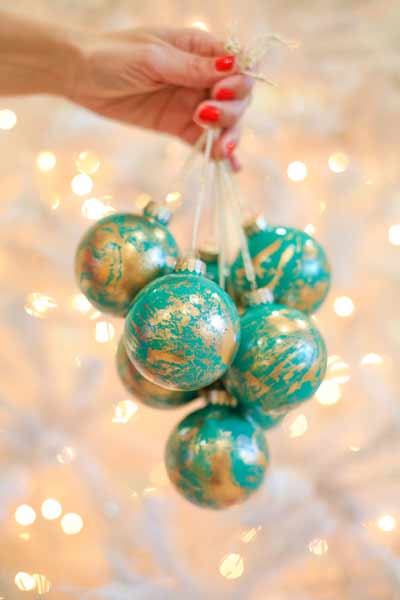 There's something regal In the combination of green and golden, and if you ever had the desire to own ornaments in such colors, this pattern should pique your interest because it shows you how to dye transparent spheres properly and turn them green, with golden waves all over.
by Lovelyindeed
DIY Wood Bead Snowflake Ornament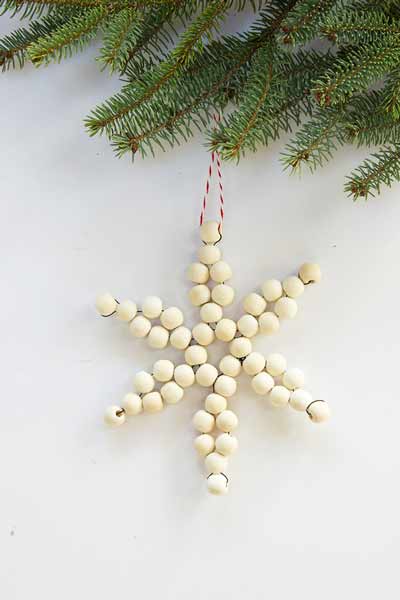 Get ready for snow in your living room because here come these awesome large snowflakes that look just like the real ones under a microscope, thanks to their base that is made of sturdy wire and little wooden beads threaded onto them, altogether creating the lovely star shape with six ends, like a big snowflake!
by Aliceandlois
Rolled Paper Ornaments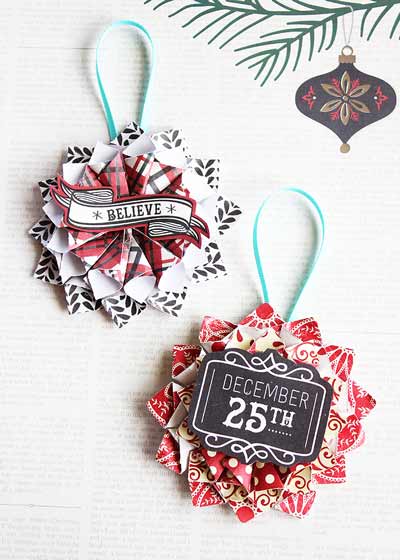 Grab a few pieces of colorful paper and cut them up into equal squares, then follow the instructions in this tutorial to fold, arrange, and join together those pieces adequately and before you know it, you'll end up with a gorgeous hanging ornament in the shape of a flower or a twinkling star, with a central decoration of your choice.
Leather Tassel Ornaments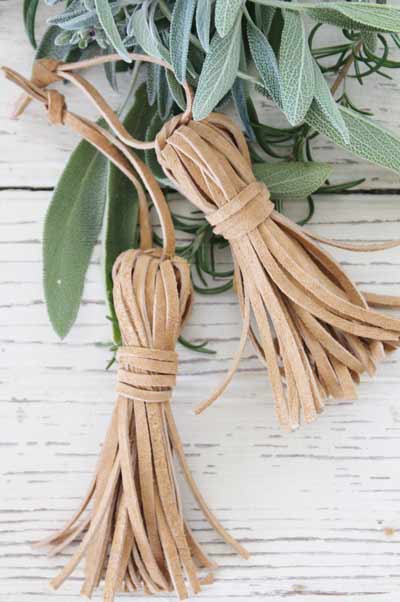 This pattern is one of those extremely simple yet equally useful kinds since it helps you turn narrow strips of leather into pretty tassels that you can hang on the Christmas tree during holidays, or on your keys, curtains, and even purses on all other days instead.
Farmhouse Fabric Ornaments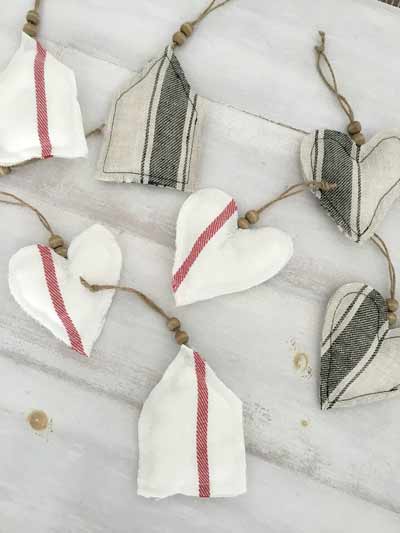 Fabric Christmas tree ornaments are amazing because they last much longer than the fragile traditional ones, and because you get to make them and have fun along the way, so consider giving these neat heart-shaped and elongated pentagon-shaped little things with contrasting vertical stripes on their sides a go when you feel up for a quick sewing session.
Beaded Candy Cane Ornament
Candy cane decorations are one of the most famous parts of the holiday season, and with this tutorial at your disposal, they're super easy to make, since all you have to do is take a red pipe cleaner and thread white and red beads on it, then add the finishing touch in the form of a ribbon tie, and your candy cane will be ready but don't try to eat it, despite how good it looks!
Paper lantern ornaments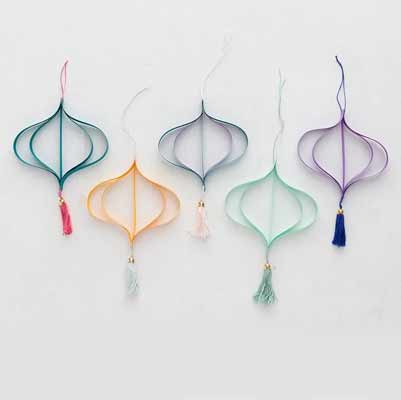 Here's a clever idea for a simple tree ornament that is made of thin paper strips stacked and joined together at their short ends, then stretched out so they form an ellipse resembling an onion, and decorated with a tassel end on the bottom, as well as a hanging loop on its top.
by Brit
Acorn cap ornament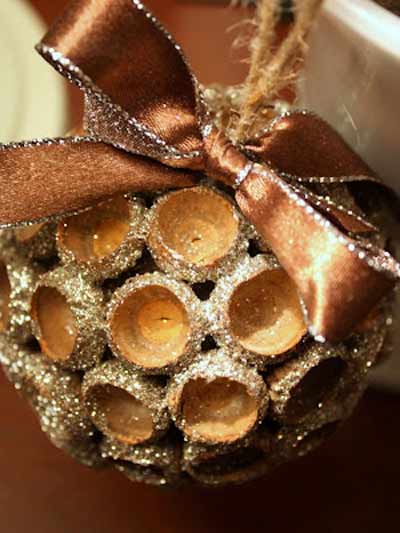 Those of you who are lucky enough to live near a large oak, check this out, it's an ornament you can make with a bunch of acorn hats, a styrofoam ball, a bit of glue, and glitter, joined together to create a fun and lovely sparkling ball that will make your holiday tree even better looking.
Paw Print Salt Dough Ornaments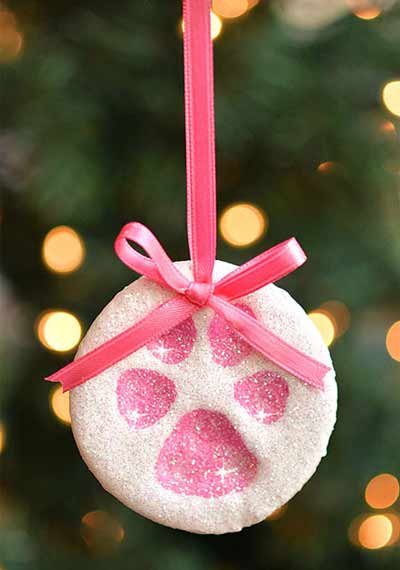 Get your four-legged family members into the holiday decorating action with this fun idea that shows you how to make small cookies with their paw prints on them that you can color and sprinkle with some glitter, then hang onto the Christmas tree as a cute ornament!
Recycled t-shirt pom poms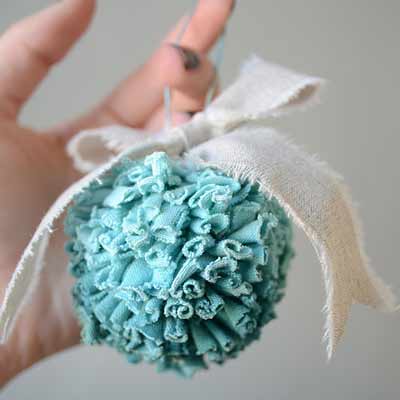 Yes, you can and should act environmentally friendly during the holiday season, says this tutorial that will teach you how to cut up your old t-shirt and transform it into a pom-pom ball that has a wide, upcycled ribbon on its top and will look beautiful wherever you hang it in your home.
by Skiptomylou OR check the site on WEBARCHIVE
Shower Curtain Ring Wreaths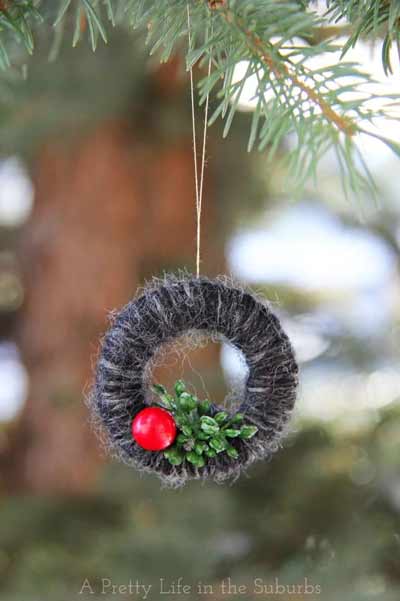 Don't throw out those curtain rings just yet, they can become brilliant decorations if you tightly wrap some thread, yarn, or fabric strips around them and embellish them with beads, old broches, or any other kind of decorations, then use the upcycled ornaments for years to come!
All these patterns and projects should help you crank up that holiday spirit in your household, but the best part about them is that they're super easy and fun, so you can go ahead and make them together with your family members with hot cocoa to boost your productivity! And feel free to subscribe to stay up-to-date with new projects and tutorials like these. Have a wonderful Christmas and an amazing New Year!
Are you going to make your own Christmas ornaments this year? Add unique and personalized touch to your decorations with homemade Christmas ornaments. Which one of the list above you are going to try first. Pop in the comments below and let me know!
RELATED: