5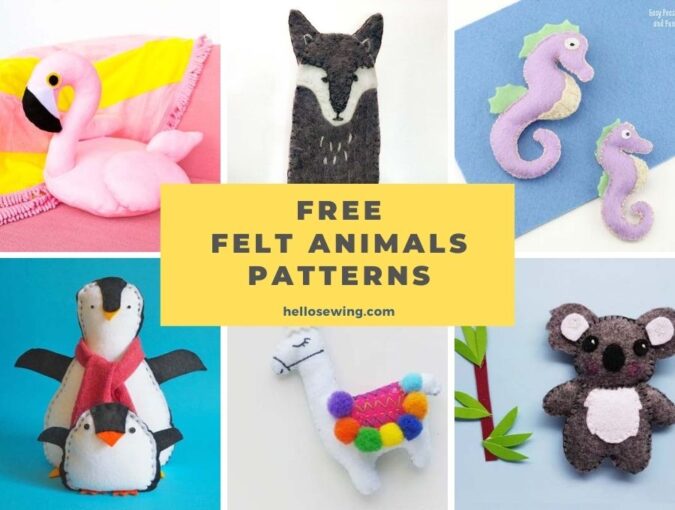 25+ Free Felt Animal Patterns – Easy and Cute Felt Animals
All of us who enjoy sewing and love doing it as much as possible know how many perks this hobby brings to the table. One of those benefits is being able to give your kids awesome, one-of-a-kind toys you made yourself. Like cute felt animals!
But as you know, to make those toys, you'll need a few cute felt animal patterns that can make the process a lot simpler and faster.
To help you make a bunch of unique and cute felt toys for your kids, we have prepared a list of the best cute and free felt animal patterns. Choose one, more, or all of them, and sew as many felties as you'd like!
25+ Free felt animal patterns
Felt Finger Puppets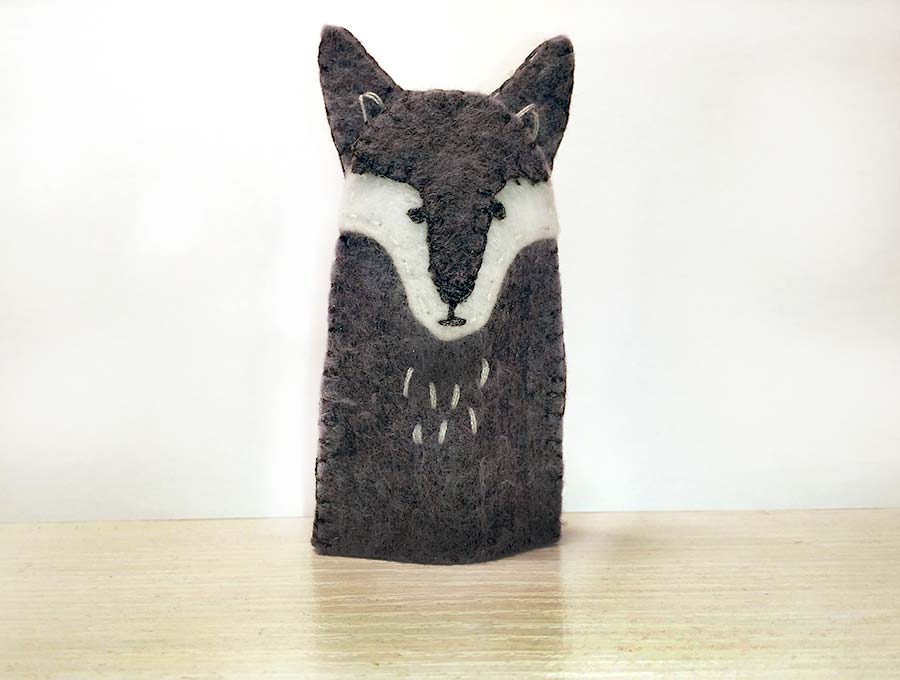 When it comes to making felt animals, you can't find anything simpler than these finger puppets. But despite their simplicity, these puppets are fun, creative, and cute just as much as any other felt animal that's a lot more complex to make.
Just sew up the finger sleeve, add some details, and your puppets will be ready in around fifteen minutes.
Source: hellosewing
Flamingo Felt Pillow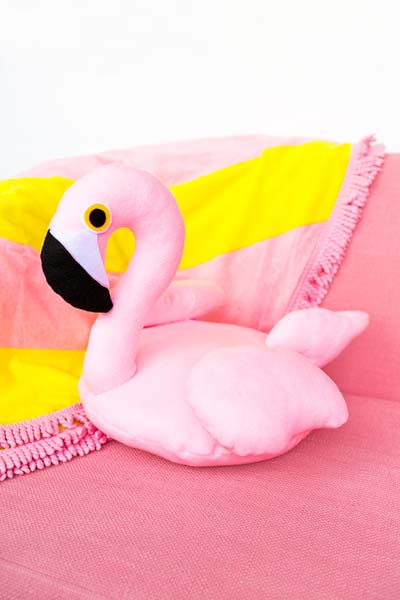 Do you know those pool flamingos that everyone loves? Well, this is the small, pillow version of that and it's crazy cute and fun. Your kid can sleep on it, play with it, or have it sit in the corner of their bed as a decoration.
Download the pattern and use it to cut out the fabric. After that, sew the bits together, fill the body and neck and the flamingo will be ready to take off!
Source: awwsam
Felt Elephant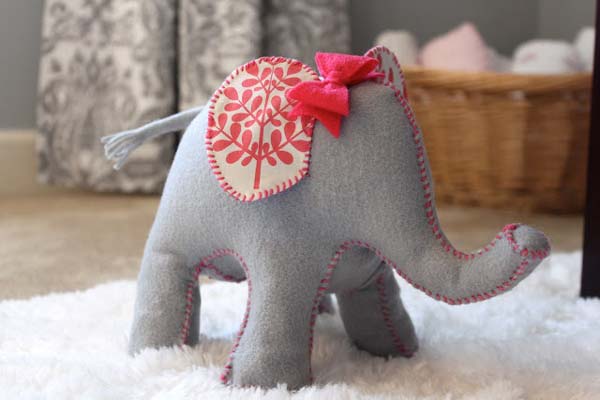 This felt animal is a bit different because it's actually a doorstop. But since it's in the shape of a toy elephant and it's so interesting and original, we had to put it on the list!
Sew up this cute elephant by following the instructions and I guarantee your kid will love the result!
Source: CreateStufio
Felt Koala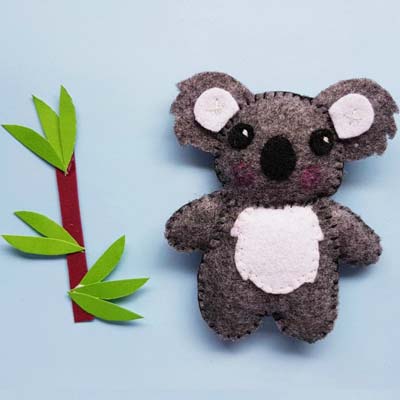 Koalas have that cute face and body that make everyone love them. And seeing them hang on a tree is even cuter.
This felt koala on a tree is small and easy to make, you can sew it by hand in minutes. That makes it a good choice for your kid's first project if they want and are ready to learn how to sew.
Source: frugalmomeh
Felt Seahorse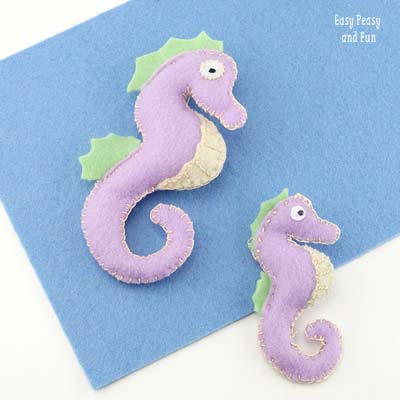 If your kid loves those neat seahorses, they'll fall in love with this felt seahorse. It's so simple but so perfect, there's no need to add or subtract anything from it.
Once again, no need to use a sewing machine, a needle and a thread will do.
Source: Easypeasyandfun
Felt Mouse pattern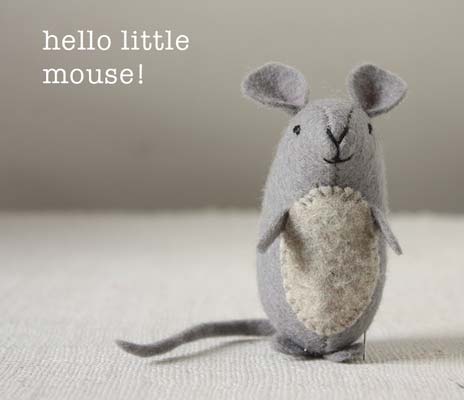 Standing mice? How cute is that! Don't make just one of these, please, they need company so they're not lonely!
A miniature design like this one is best made by hand and a needle.
Source: AnnWood Handmade
Felt Ladybug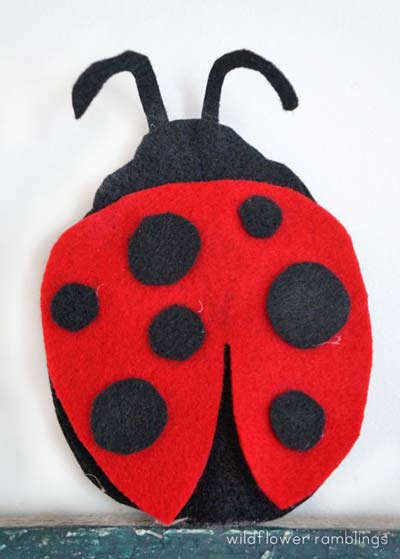 If your little one loves ladybugs, you must give this project a go. It's simple enough to sew by hand and finish in less than ten minutes.
Print the pattern or make it according to the instructions and use it as a guide for cutting out the fabric. Then just sew up the parts and you're done!
Source: wildflowerramblings
Felt Mermaid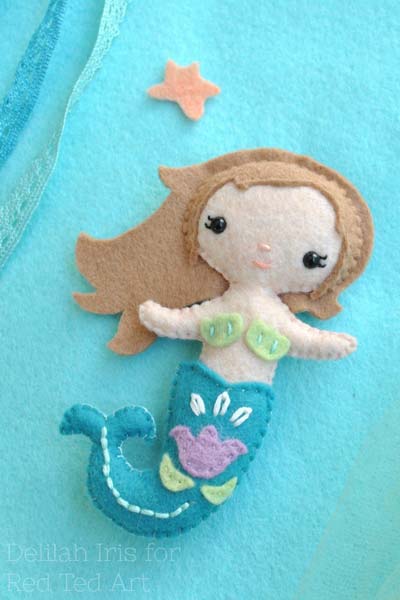 Yes, you're right, mermaids aren't exactly animals. But this little felt mermaid is so adorable, it would be a shame not to put it on this list with cute felt animals patterns!
When you finish sewing this felt mermaid and see how lively it looks, you'll wonder where her lobster and fish friends are!
Source: redtedart
Felt Flying Squirrel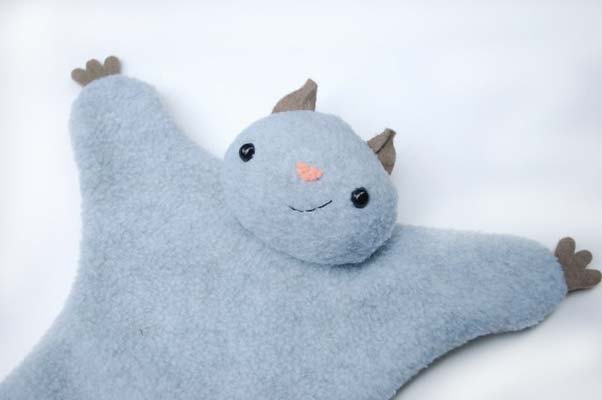 Regular squirrels are cute and all, but flying squirrels are all that plus they're ten times cooler! With their soft, wide body that asks for a hug, they'll capture the heart of your kid the moment they see it.
You don't need to fire up your trusty sewing machine for this felt animal tutorial, a simple needle, and a thread will suffice, it's that simple.
Source: WildOlive 
Felt Sloth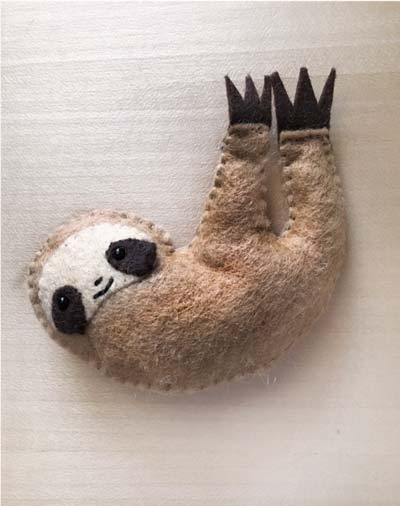 Sloths are like living jokes in the best possible way. And even the people who don't like them much must agree that baby sloths are ridiculously adorable.
This little felt sloth proves that. It's small and cuddly, and it's the perfect gift for kids. You can sew it by hand in about fifteen minutes.
Source: Americanfeltandcraft.
Felt Llama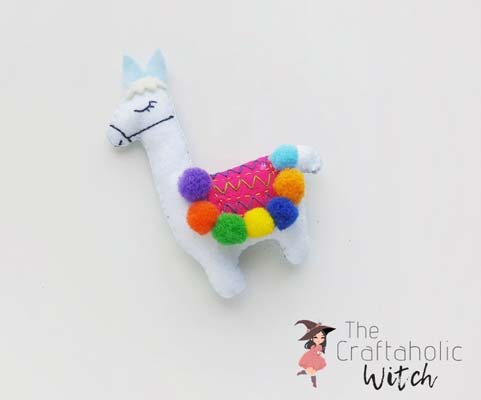 Llamas are cute and beautiful, but they have a bad temper. This one is well-behaved though, so you can be sure it won't spit on you!
Sew it with a needle and a thread in about ten to fifteen minutes.
Source: Thecraftaholicwitch
Felt Among us plushie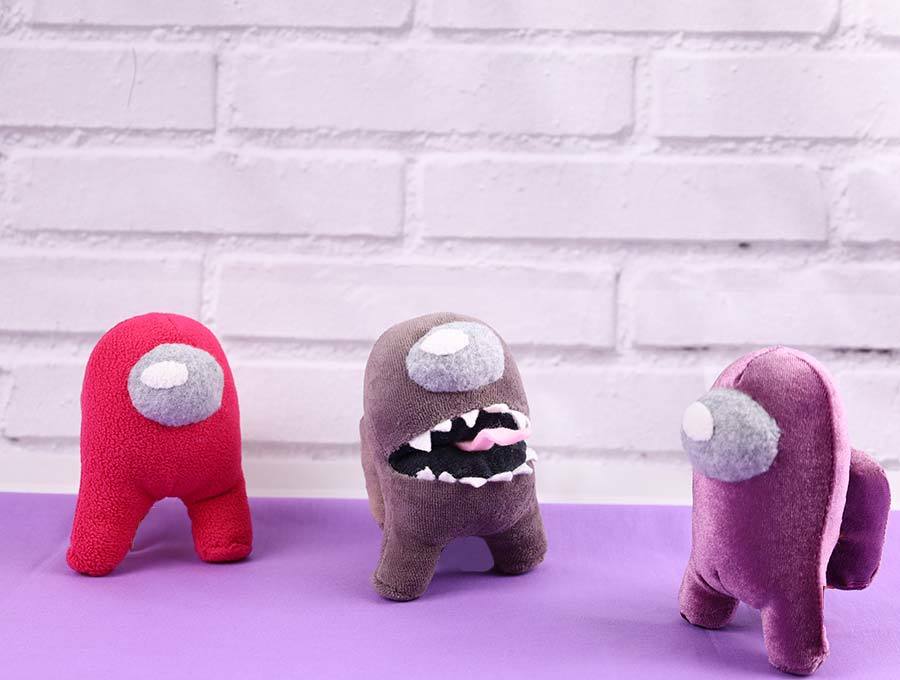 Do you have a teen gamer at home? This among us plushie is perfect for him or her! Pick the color together and whip up a cute feltie character today
Source: HelloSewing
Felt Turtles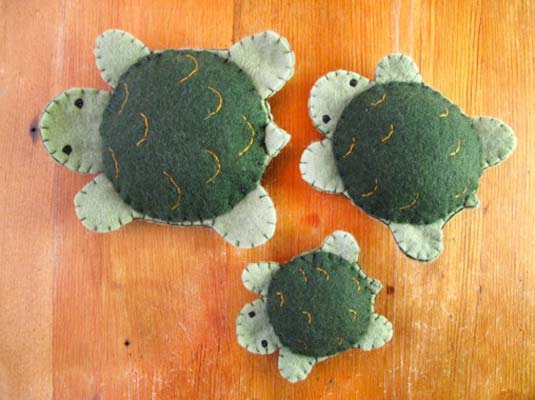 Turtles don't need to be ninjas to be awesome. These little turtles are an example of that rule. Their small, cute bodies will make you and your kid feel like you're in the forest right now!
Whip them up with a needle and a thread in about ten minutes or so.
Source: Yourdiyfamily
Felt Penguins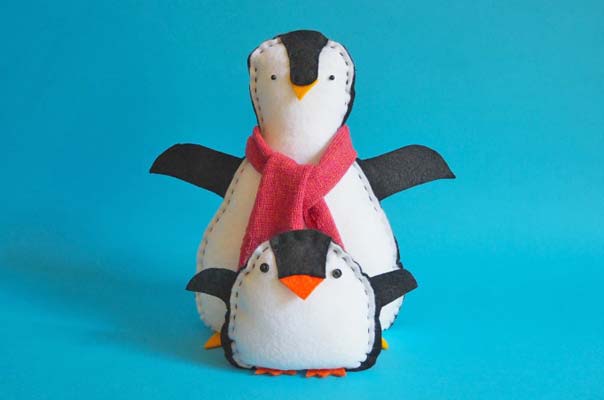 This project is a bit different than the rest on our list because it comes in two sizes. So you can make two toys at once! Momma penguin and a baby penguin!
Just like most felt stuffed animal patterns on our list, you can make this one by hand too.
Source: sewasoftie.com
Felt Teddy Bear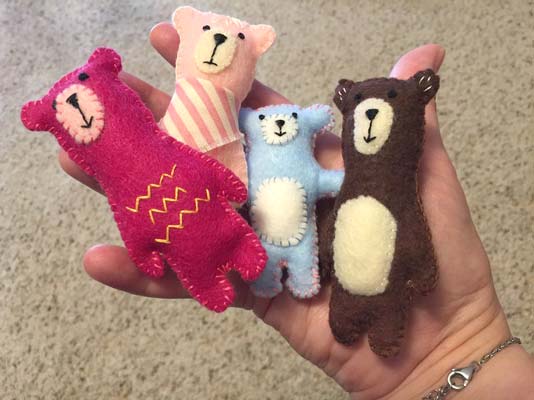 Miniature toys are often the kids' favorite, so it's not uncommon to see them love a small teddy bear more than a giant one. These lovely teddy bears combine cute and miniature in a wonderful way, and they're great for both small children and those a tad older.
Cut out the fabric pieces according to the pattern, join them, stuff the bear, decorate, and you're done!
Source: allmomdoes
Other cute diy felt animals (PAID patterns):
These are not free, but are so cute that I decided to include them here for you to enjoy:
Felt Sea Otter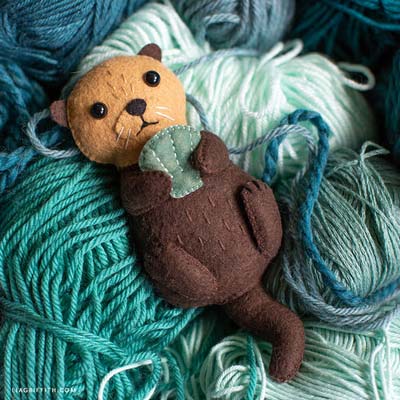 This little otter swims on its back. It even carries a small rock with it for opening clams, so smart!
Better use a needle and a thread to sew this one as it's pretty small.
Source: Lia Griffith
Felt Giraffe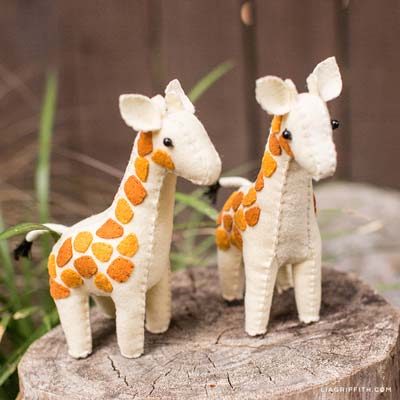 When I was a kid, I loved giraffes, and to be honest, I still do! Boy, I wish I had a felt giraffe like this one back in the days. It's not big, but the shape and the details on it make it wonderful.
This is another one of the free felt animal patterns for hand sewing, so it's adequate for beginners that want to surprise their kids with a new unique toy.
Source: liagriffith
Felt Cat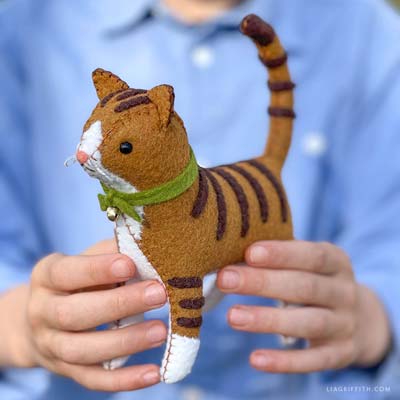 If you and your kid like cats but don't like cleaning up after them, here's your answer. Felt cat toy!
Small and cute, this cat will make a great new companion for your child. You can make it by hand in under twenty minutes.
Source: liagriffith
Felt Dolphins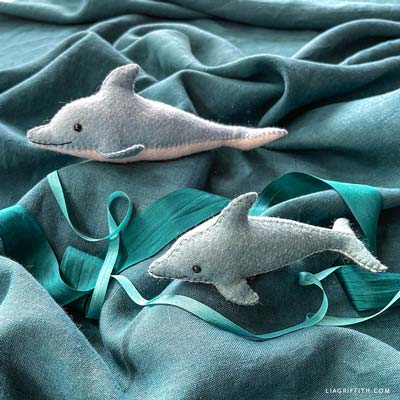 You don't have to go to an exotic island to let your kid play with dolphins. You can make a bunch of dolphins for them to play with instead!
You won't need a plane ticket for this playdate with dolphins either, a simple needle and a thread will do.
Source: liagriffith
Felt Wolf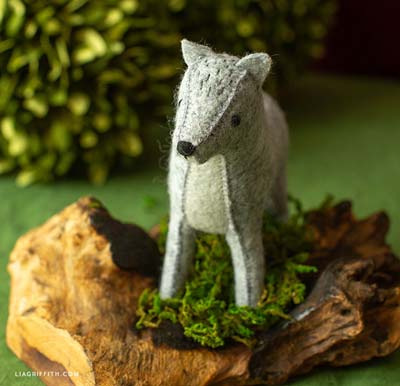 Wolves are big and scary, but this one is the exact opposite. This felt animal is easy to make but despite that, looks amazing.
Besides the free downloadable pattern, you'll need just the basic sewing supplies, some stuffing, and your felt wolf will be ready to howl before you know it.
Source: Liagriffith
Felt Dolphins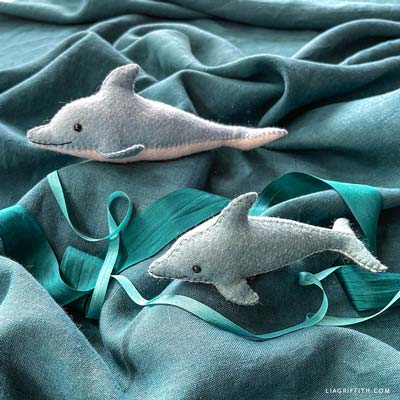 You don't have to go to an exotic island to let your kid play with dolphins. You can make a bunch of dolphins for them to play with instead!
You won't need a plane ticket for this playdate with dolphins either, a simple needle and a thread will do.
Source: liagriffith
Hope you enjoyed this diy felt animals list. Pin it for later: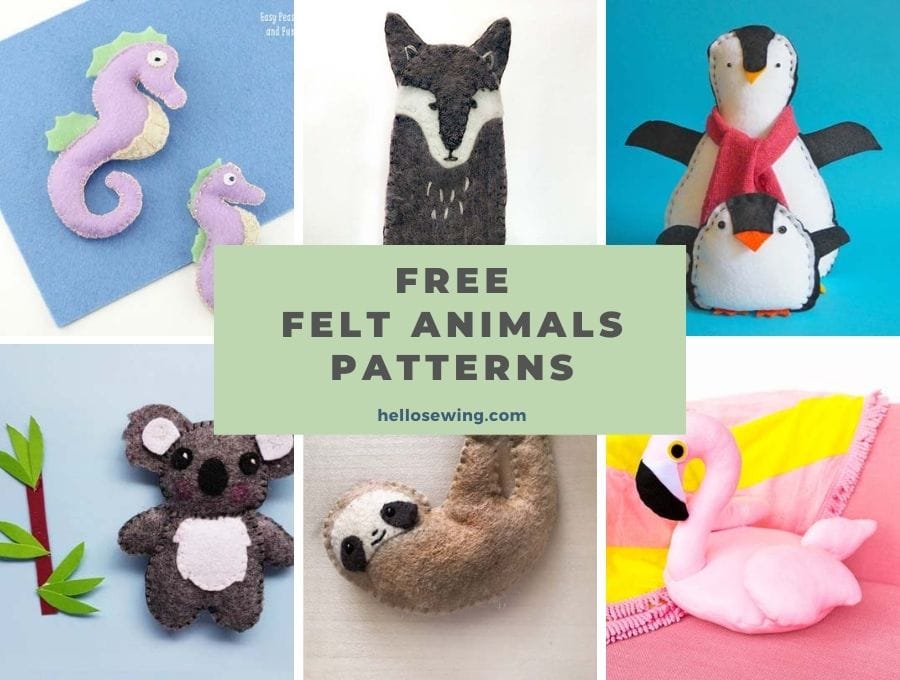 What do you think of our felt animal patterns list? Which ones would you like to make? Already made one – how did it turn out? Let us know in the comment section below. And be sure to subscribe to our email list to get the newest updates as soon as they're out! Have fun making these lovely toys!
RELATED: