7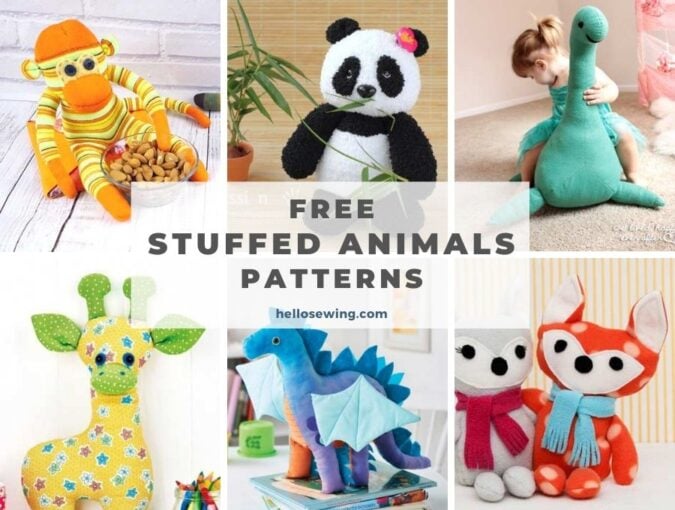 30+ Free Stuffed Animal Patterns – The Best and CUTEST Plushies
If you have always wanted to know how to make a stuffed animal then you need to check out our free stuffed animal patterns. There are so many animals to make, from cute dogs, to elephants, ocean creatures, and woodland animals like foxes and bunnies. Then there are toys based on movies and games – like the amazing dragons and AMONG Us crewmate. We have collated 30 patterns here that we hope will fulfil your creativity and inspire the children you create them for, to indulge in imaginative play, rather than just sitting in front of a screen.
30+ Free stuffed animal patterns
Sock Monkeys pattern
These are incredibly appealing with their bright stripy bodies and limbs. You can add Velcro to hands and feet so they can hang upside down, clasp the kiddie's back packs, and be hung on a bedpost. They are quite adorable with their button eyes and cheeky faces. For kids under 3 years of age swap out the button eyes for embroidered ones to avoid any choking hazard.
Sock monkey pattern via HelloSewing
Unicorn plush pattern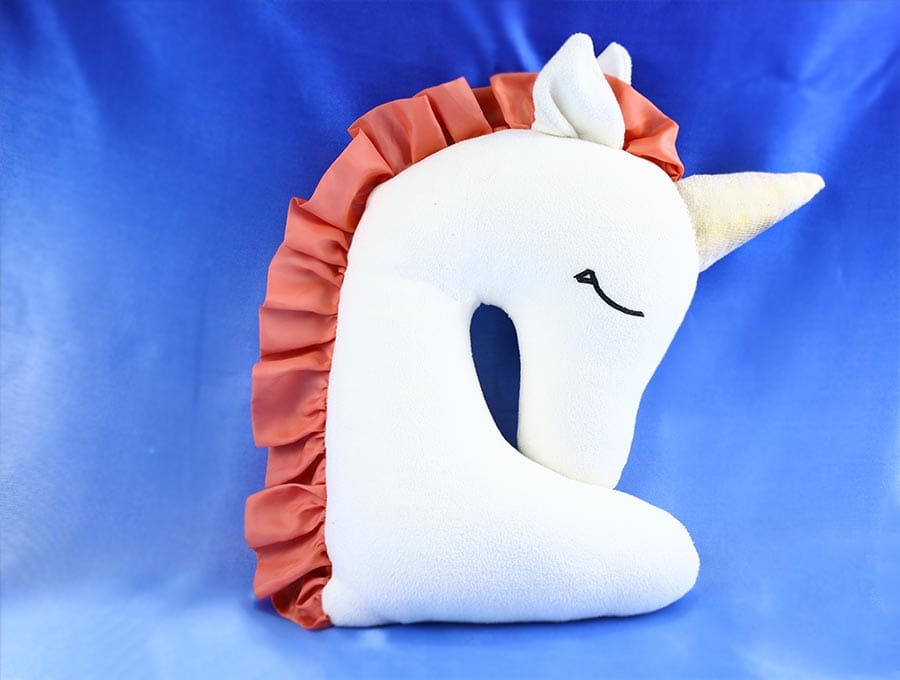 Unicorn sewing pattern via HelloSewing
Dragon pattern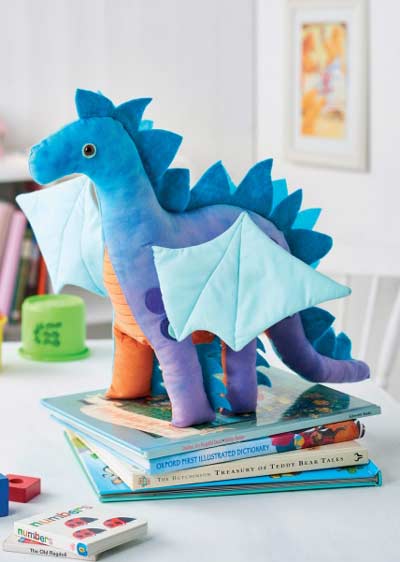 Once the kids are into the feel-good dragon movies, this toy is going to be a must-have with its beautiful blue green colors, stuck on felt spots, wings and felt spines along his back. It not difficult, but will take a little effort. You can also make the toy in pink for girls, add sequins – and call it Nigella.
via SewMag
Fabric turtles pattern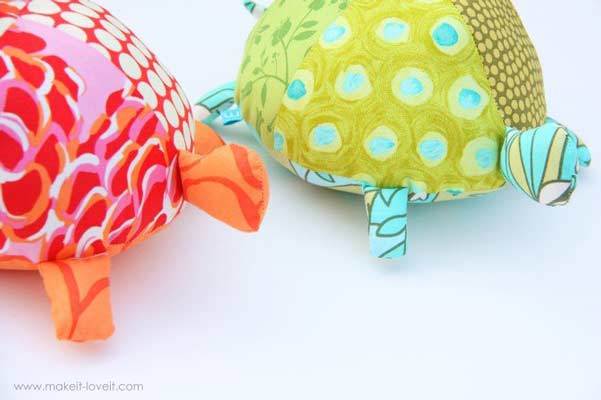 Small kids will love these cute fabric turtles – they are relatively easy to make, and have nothing that babies can choke on. Use up the tiny left-over pieces from projects and make a little family of turtles for toddlers to enjoy. Use a machine washable stuffing and toss them in the wash when you need to – babies love to suck on the turtle's feet.
via MakeitLoveit
Sock Panda pattern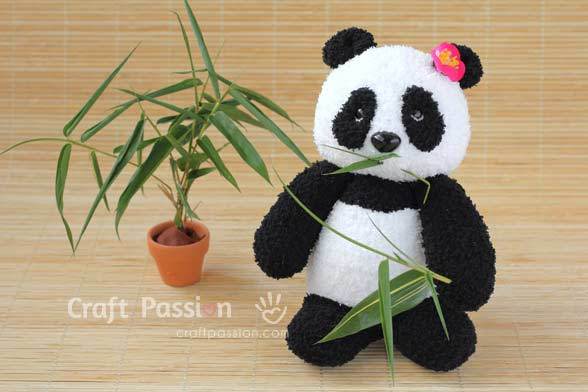 Make two adorable black and white furries out of two pairs of socks.
via Craftpassion
Nessie the Loch Ness Monster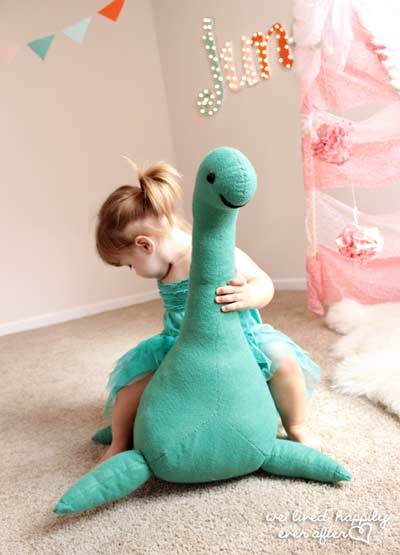 This is a large toy the kids will be able to jump on and 'ride' so will require a reasonable amount of fabric, stuffing, and place to store it. Of course, you can scale down the pattern to a smaller Nessie, with her bright black eyes and wide smile. Just be sure to stuff the long neck really well so it stands up straight.
AMONG Us Crewmate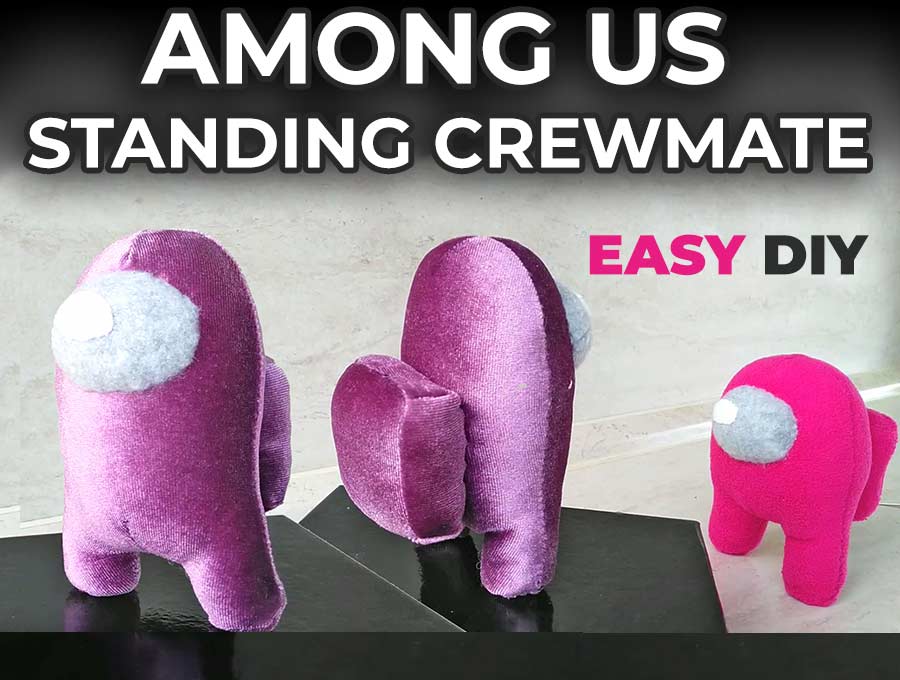 Never thought your teen may be asking for a plushie? Well, the AMONG Us game may just have them asking for a crewmate – so here's the pattern. The game characters are in bright colors – so start saving those plushie bits. It's a cool way to connect with your teen and learn more about the game that's absorbing their interest.
via HelloSewing
Wallace the whale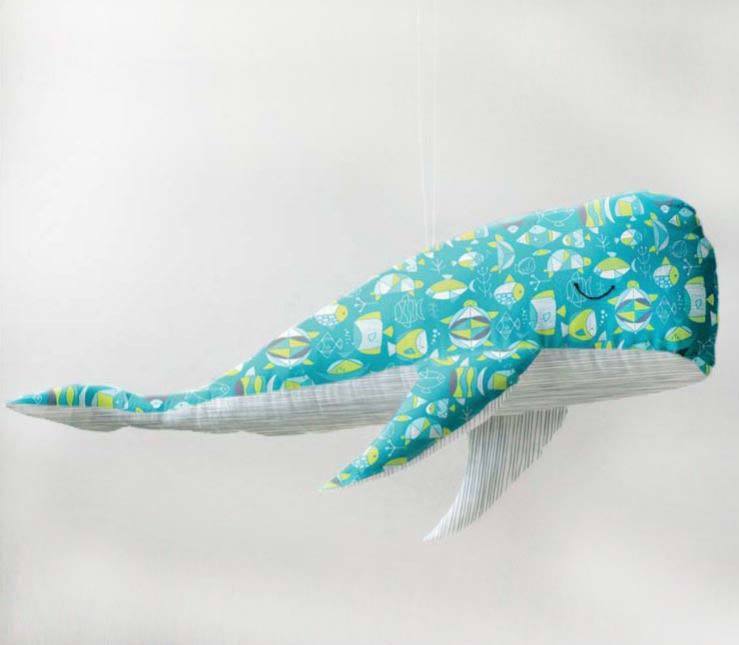 As children become more educated about ocean creatures so the demand is rising for cuddly whales and this pattern does not disappoint – in fact Wallace is so cuddly he can be taken to bed and can also act as a pillow when a child is relaxing on the couch.  He is simple to make, using leftover fabric and has an embroidered eye.
via AllFreeSewing
Squeakers the Otter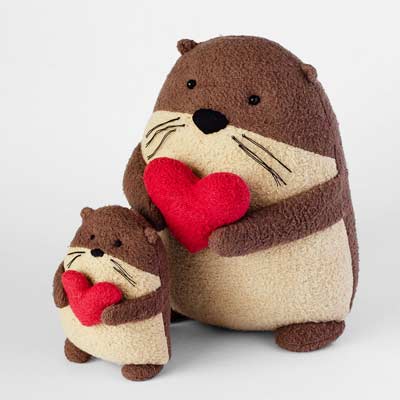 We've all seen those cute posts with otters lying on their backs in the water holding a stone on their tummies. Well, Squeakers holds a tiny red heart. He is just adorable, from his tiny otter ears to his embroidered whiskers and light colored tummy. The printable pattern comes in a full size and a miniature, and is fairly easy.
via Fluffmonger
Night Fury plush toy pattern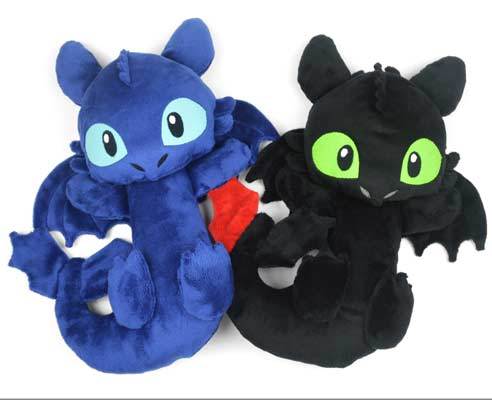 While we are on dragons I could not pass up sharing the 'Twilight Fury'. It does have quite a few small pieces and the creator gives it a 5/10 difficulty rating, but it's got so much character! It's going to have kids who love dragons such a thrill to receive this plushie.
via CholyNight
Mer-Kitty plush pattern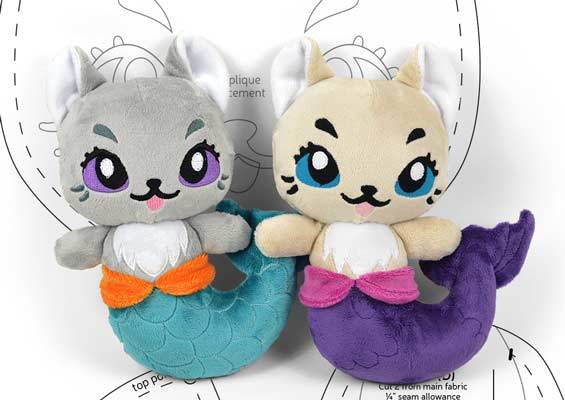 A mermaid tail and a kitten face with the hugest cutest eyes, make this plushie totally lovable.  The pattern comes with free embroidery files for the face and the tail scales but you can use felt pieces instead for the face or hand embroider if you don't have a machine that does embroidery. This may take a bit of effort but is a total winner.
via CholyNight
Alpaca with embroidered saddle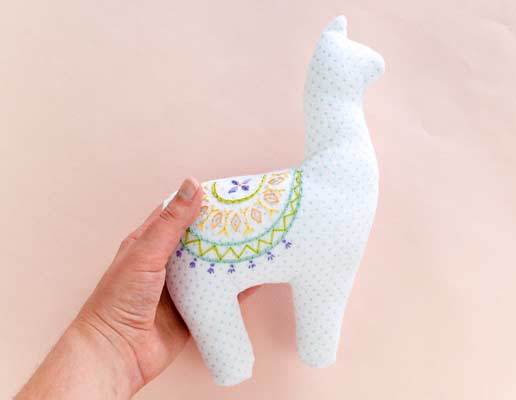 Alpacas are llamas smaller cuddlier cousins, and this very easy pattern makes a cute soft toy, embellished with an embroidered saddle.  Do not let the embroidery put you off trying the pattern as you can paint on the design instead. I did some small alpacas as Christmas tree ornaments in white felt, used red felt for the saddle, outlined with silver beads, and gave the alpacas green ear tassels.
via WildOlive
Bunny pillow with the longest softest fur
It is a toy or a pillow? Actually both. The kids won't be able to stop stroking the super long faux fur used for this pillow toy. The sleeping bunny has an easy to embroider face with a tiny red heart nose and the longest floppiest ears ever.
via SwoodsonSays
Reversible Octopus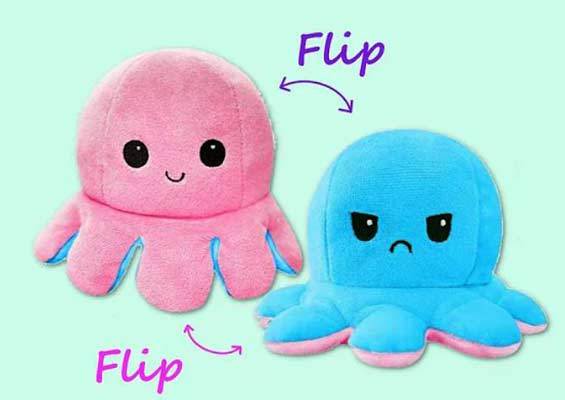 The octopus is cut out of fleece fabric. From this video you see how to measure and cut the octopus pattern which you can hand stitch or machine stitch. You can oalso make a finishing hat for the little boy octopus, or a bow for the pink girl octopus. A fun project to complete with kids, using up leftovers. The eyes were bought, but you can make button or felt eyes.
via Issas World
Mama Kangaroo and joey
The 11-inch stuffed kangaroo is for 'avid beginner' or intermediate sewists, and takes around 4 hours from start to finish. It is well worth the effort to make the adorable duo, with the joey fitting into the mama kangaroo's pouch. The mama is made from a plain cotton sock while the joey is made from felt. Some printed fabric is used for the ears and pouch, making this a great project to use scraps and recycled material to make a 'new' toy.
via Craftpassion
Sloth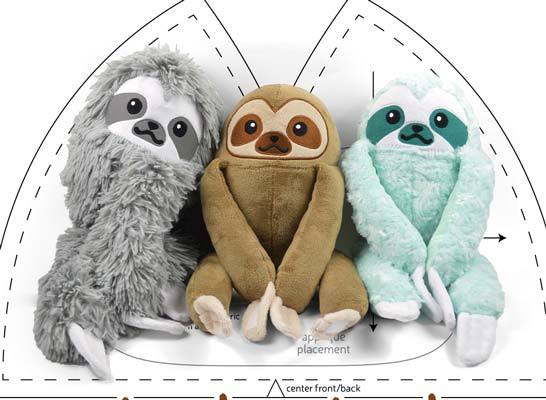 Thanks to social media the antics of baby sloths are now well-known. This particular sloth can be made in various fabrics, but one with a slight stretch is advisable, and personally I prefer the longer faux fur as it just looks more 'sloth-like'. With Velcro added to the 'claws' the sloth is able to hang upside down. The large eyes and wide smile make this a happy looking kid companion.
via CholyNight
Cuddly Sheep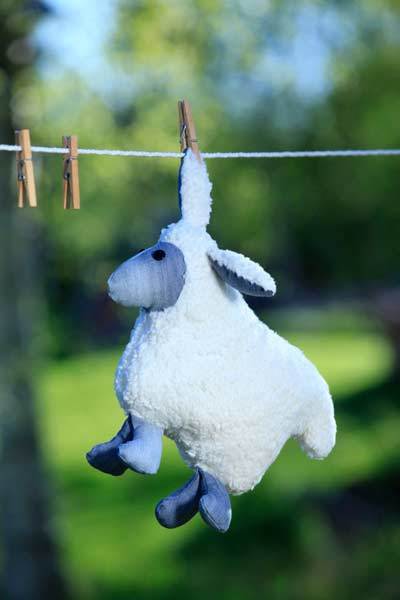 We head back to the farmyard with this cuddy sheep who's bound to become a favorite bed-time companion. With a soft white fur fabric body, and denim offcuts for the feet and nose, this sheep is an easy project to complete in an hour or so. The pattern comes in two sizes, is fully washable, and can also serve as a travel pillow for little ones.
via BerninaBlog
Plushie sheep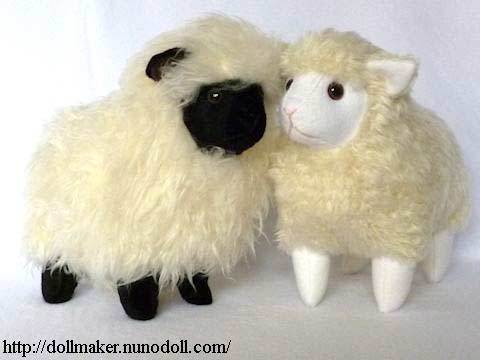 If you prefer a sheep that will stand on its feet, unlike the Cuddly sheep in the previous pattern, then this pattern is for you, as this plushie sheep stands squarely on its sturdy legs. There is the choice of a black-faced or a white-faced sheep – or make them both! No wire is involved in the legs – just firm stuffing.
Teddy Bear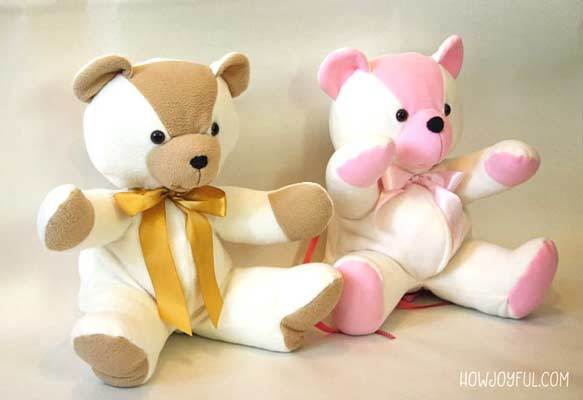 No collection of soft toys is complete without a teddy bear pattern. This one with his cute shaped face and contrasting pads on the paws is a winner. It is quite complicated with lots of pattern pieces but it's not overly difficult. The effort will be well worth it when you see the look on kids' faces. The commercially bought eyes can be replaced with felt eyes if you are gifting the bear to a baby.
via HowJoyful
Swamp fun, bean bag frog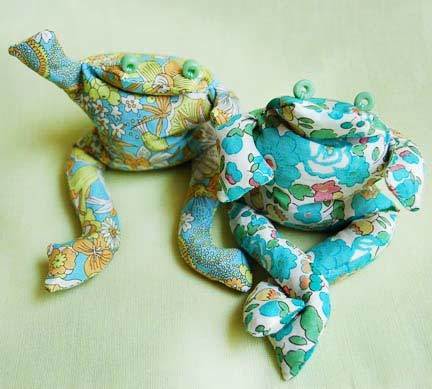 Tossing around the frog bean bag helps with coordination for youngsters. Just don't leave it out in the rain! If you need to clean the frog bean bag you can take off the covering and store the stuffing separately until the cover is dry. I made an inner cover and the exterior fabric one slightly larger so it slipped over and could be easily removed for washing.
via PurlSoho
Squirrel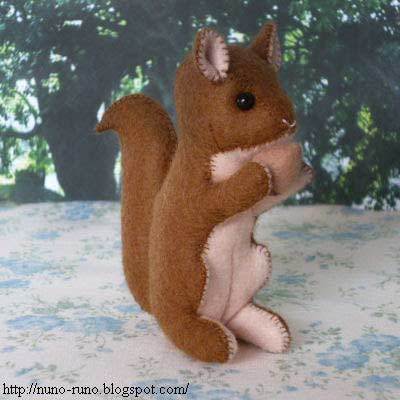 This adorable 7-inch-high squirrel with his white underside and fluffy tail is a great gift. I would use a long pile fur fabric for the tail though. Made from felt the body can be hand stitched on the right side, so there is no need for turning, or you can add seam allowances, machine stitch and turn if you prefer use a fur fabric. The pattern calls for wire in the legs.
via NunoRuno
Fox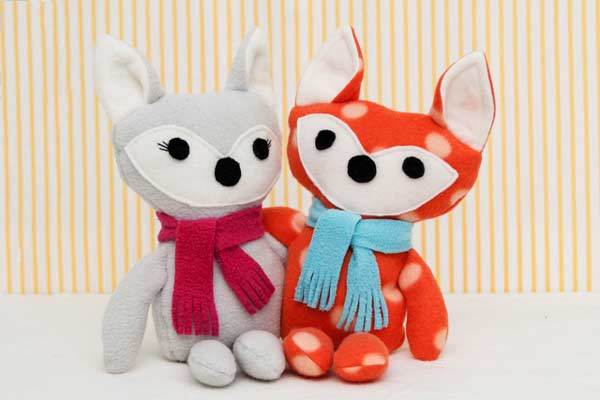 This 15-inch fox made from snuggly fleece fabric has so much character. If you can find a russet fleece it will be a perfect contrast to the white felt face of the fox. This is a popular pattern and some people have experienced problems downloading the pattern – it is suggested that the Google Chrome browser is used, as it doesn't seem to download with all browsers.
Seahorse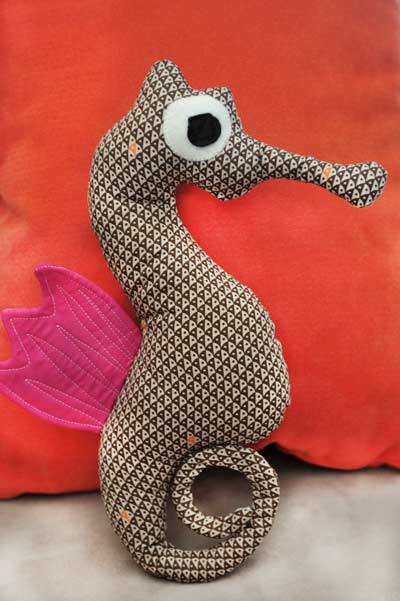 The seahorse with its curly tail and large eyes has plenty of charm. If I were making this I would choose green or blue fabric… but it's up to you. The tail is really curly and might take some patience in stuffing it, but otherwise it is an easy toy to make and would be suitable for a baby as the eyes are felt and not button type eyes.
via LiaSpace
Flamingo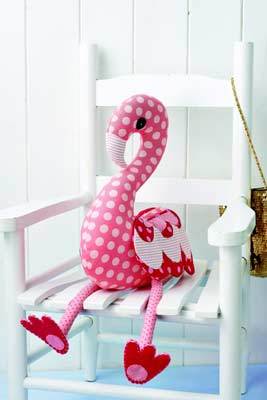 Make a classy flaming stuffed animal with this easy and free sewing pattern
via SewMag
Giraffe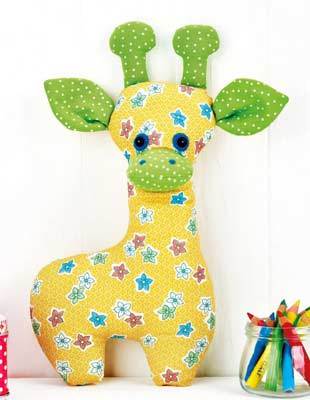 The cute giraffe has a long neck and short legs, yet there is no wire used in the legs or neck – just very firm stuffing. You can use pre-made eyes, fabric paint, or fabric paint pens are used to give this giraffe its unique hide pattern.
via Crafts beautiful
Christmas Mouse
Made from plush felt this mouse is a cute present for a child to receive under the Christmas tree. The creator of the pattern notes that simply by changing the ear shape the pattern can also work as a bunny. Finished with a tinkling bell, and some tartan ribbon, the toy can also be used as a Christmas ornament.
via AllCrafts
Moose
While we are on the Christmas theme, why not make this gorgeous little moose with his heavy antlers? The body is made from a plush felt, but a shaggy fur fabric can also be used. The antlers are a smoother felt. Finished off with a scarf and a white star, he is all ready for some play time fun. The instructions are very easy to follow and well explained.
via AllCraftsBlog
Scotty Dog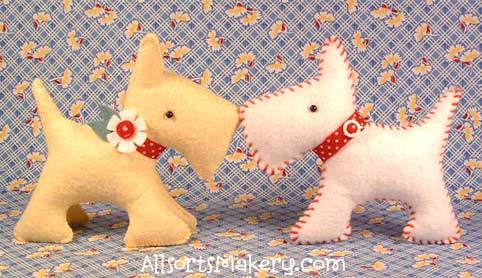 A collection of soft toy patterns isn't complete without at least one dog pattern and the Scotty dog is a favorite with its stocky body and hairy face. The one in the pattern is made using felt, but if you enlarge the pattern a bit when you print and add a seam allowance you could sew this from black plush fabric and finish him off with a tartan ribbon.
via AllSorts
Reindeer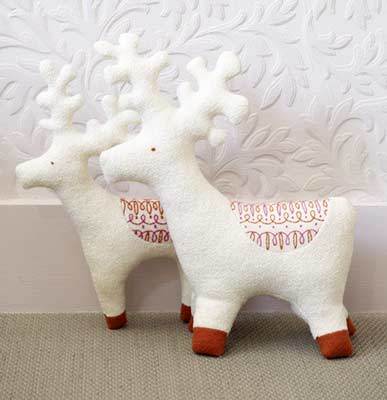 The creator of this pattern warns against scaling down the pattern too much as turning out the antlers could become problematic. A way to get around this is to make the reindeer from brown or white felt and stitch by hand on the outside. Make a few of these stuffed toys as they make great pre-Christmas presents, and each could have the name of one of Santa's reindeer. Scale down the pattern to make them into pretty ornaments for the Christmas tree. Or make a very large one as a Christmas décor feature in silver white plush.
via CutoutandKeep
Elephant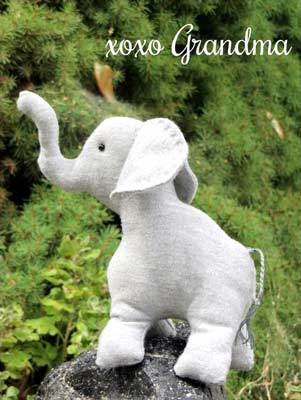 The standing elephant with his lifted trunk is totally adorable. It is easy to make, so suited to someone beginning with stuffed toys.
It could be given for babies if you don't put on the commercially available eyes but embroider eyes instead, and will be equally charming made from fur fabric or a bright print.
via Xoxo, Grandma
Nutmeg the Rabbit
Nutmeg, the rabbit doll with raffia whiskers, will take a bit of work to put together, but it is not difficult and will be well worth the effort. Dressed in a pinafore and with a head band, this toy will become a little girl's constant companion. You can make various pinafores and headbands in bright colors so the child can dress up her toy as her heart desires.
via KuninFelt
Shiba Cube Plush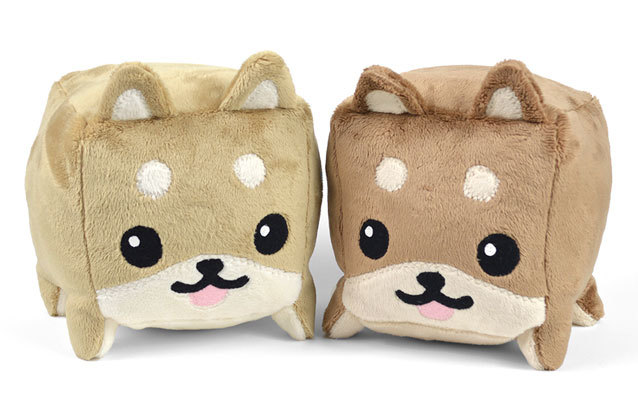 Designed for little fingers this plush toy just has the cutest face. It's super easy to make and super soft in a plush fabric. Basically, it's a square with tiny ears and paws and a big smiley face.  The pattern comes with embroidery files for the face, but don't despair if you don't have that type of sewing machine – you can easily create the look using felt pieces hot glued into place, or by hand embroidering the face, or using commercially bought eyes and nose.
via CholyKnight
Dolphin plushie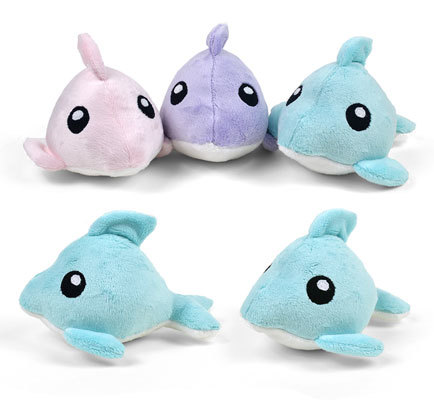 So, you've heard of the pink dolphins of the Amazon – well here is a pattern you can happily make in pink – or blue or purple if the fancy takes you and gift to a child who loves the ocean and its creatures. It is relatively easy to make and would suit baby fingers.
via CholyKnight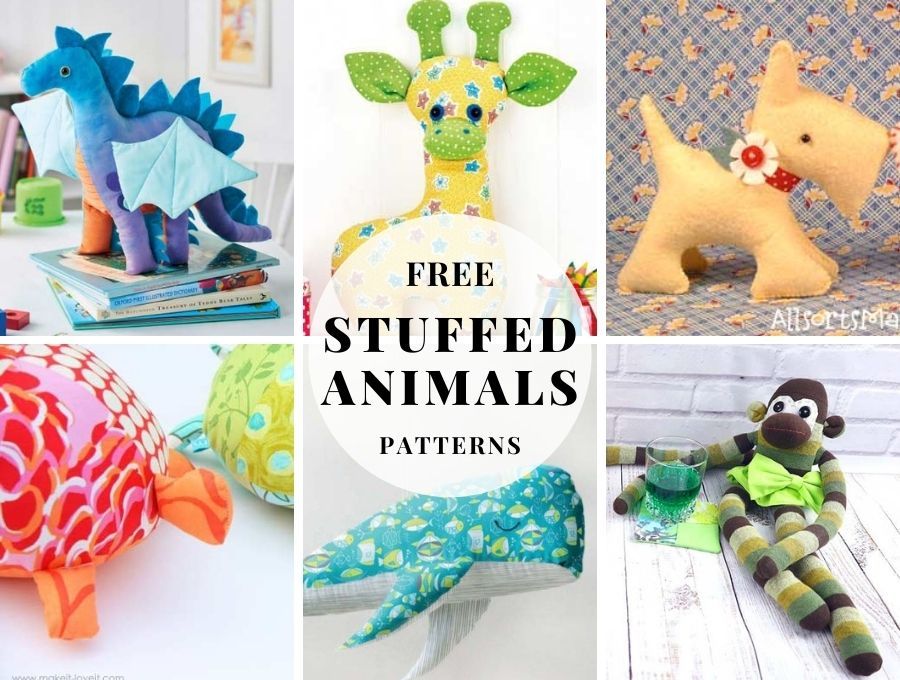 I hope this collection of free stuffed animal sewing patterns has inspired you to sew stuffed animals. They make delightful presents, and are super special when created with a particular child in mind rather than just buying one more commercially made toy. The free plushie patterns come with detailed instructions guiding you through the process. Use up the scraps you have lying around to make these free stuffed animal sewing patterns because when you make toys yourself you have the control over what stuffing you use, and can source sustainably produced fabric and stuffing material. If there are particular patterns you are looking for, and if you want to learn more about sewing then please subscribe and we'll help you on your creative journey.
RELATED TOYS PATTERNS: