6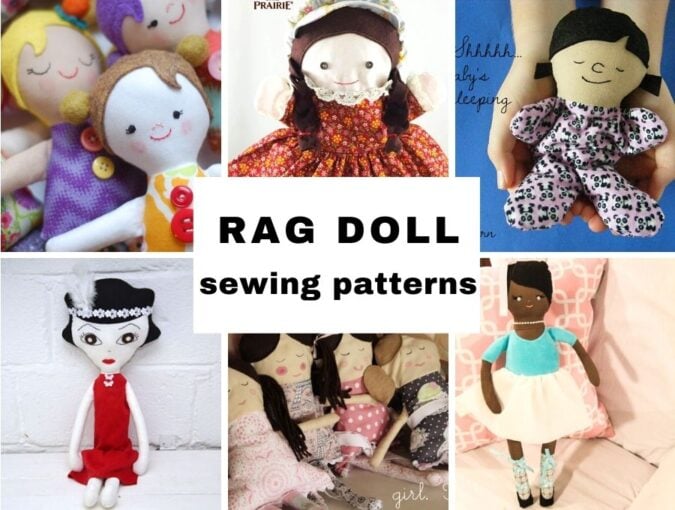 10+ Free Rag Doll Patterns to Sew Today
These sweet dolls are made from fabric and can be either hand or machine sewn. The fabric doll patterns featured below are designed with different features and options to help you create your very own personalized doll.
Josephine rag doll pattern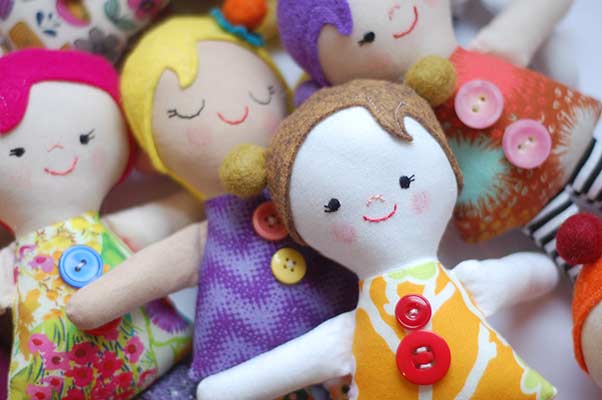 Surprise your daughter with a new adorable doll with a triangular body that has two vertical buttons on her belly, straight arms and legs, and a cute head with eyes, a gentle smile, and blushing cheeks. The touch that completes her lovely look is the colorful space buns hairstyle and a strand of hair that hangs over her forehead.
by Whileshenaps
Superhero doll pattern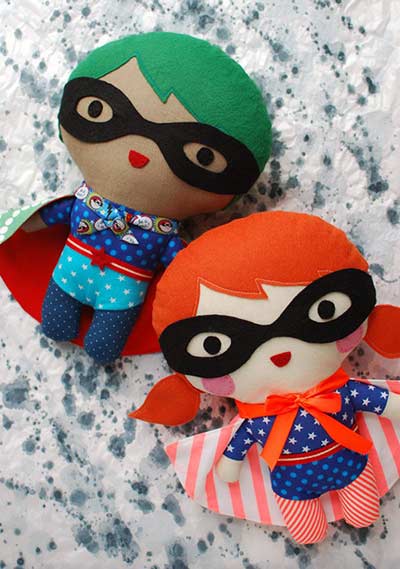 It's time to save the world with the best superheroes out there, the fearless plush heroes who wear the appropriate costumes and capes on their tiny bodies set in a superhero pose, have big heads with felt hair, charming eyes, and little lips, and the most important hero accessory, the face mask! These dolls come as boys and girls, the difference being in their hairstyles and red cheeks that are exclusive to ladies.
by Tutsplus
Itty bitty sleepy baby doll free pattern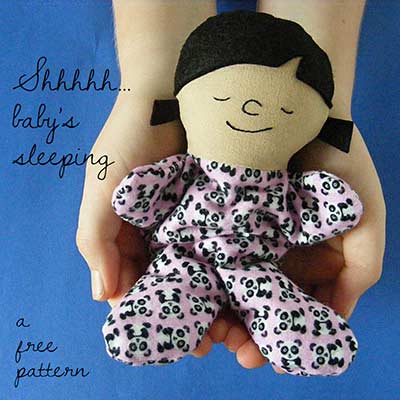 Quiet please, the baby doll is sleeping as you can see by her closed eyes, spread out legs and arms, and the pajamas she's wearing. The doll is stuffed with plastic pellets, rice, or beans, has pretty bangs and pigtails, and a head filled with fiberfill. It's fun to hold because of its small size and interesting texture.
Free ballerina rag doll pattern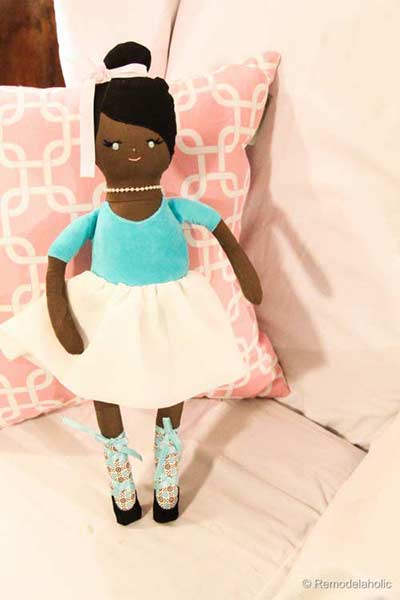 Here comes the next prima ballerina, look at her gorgeous green eyes, lush eyelashes, pink lips and nose, a pearl necklace, and a bun with a ribbon in it. She's wearing a short sleeves scoop neck top, a classy tutu, and the characteristic ballet shoes with long socks and ribbons tied over them
Hand puppet rag doll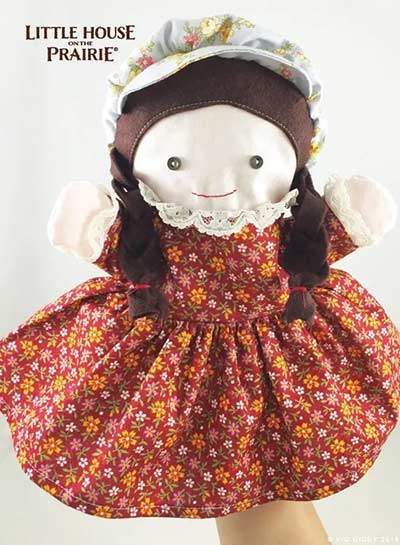 The main actress of the hand puppet theater is here, she wears a long flared dress with sleeves covering her short arms and a fabric village girl hat. She has a twin braid, a wide and kind smile, and two small buttons for her eyes. Use her help to convince your kid to eat her veggies during her next performance, she's great at that!
Betty rag doll pattern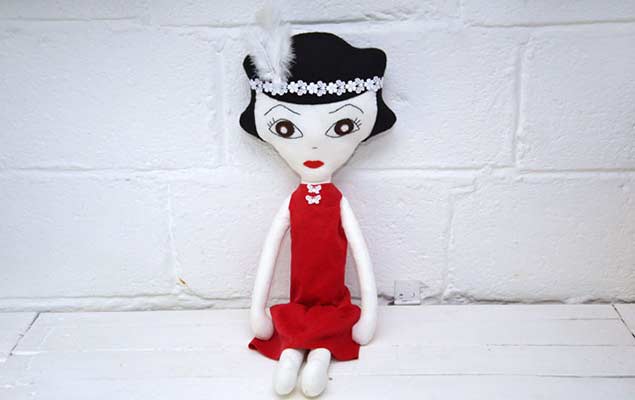 Here comes an elegant lady from the 1920s that's almost 30 inches tall, has a short wavy hair with a floral circlet and a feather on it, beautiful large eyes on her big head, long legs and arms, and a sleeveless maxi dress that features decorative bows below the neckline.
Easy rag doll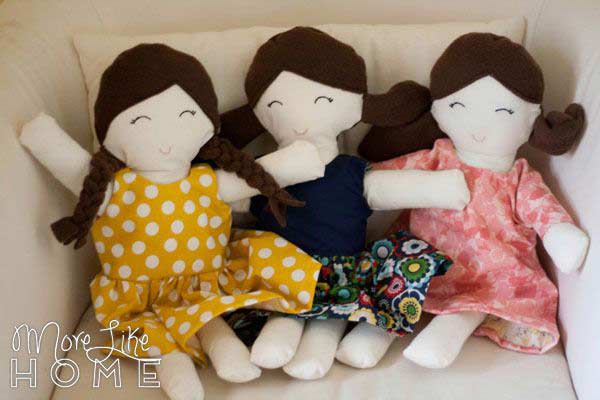 These adorable little rag doll girls look the best in a bunch, when you see a couple of them together, with their parted hair and twin braids, smiling closed eyes and lips, and sleeveless or long-sleeved dresses, your heart will just melt away from the cuteness. The girls are just as well-made as their store-bought cousins, but a lot more economic and fun because you get to make them on your own!
by Morelikehome
Muslin cloth doll with a printable pattern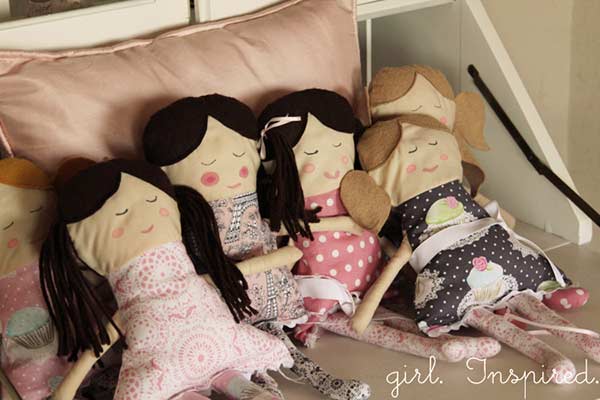 Give your mini-me a friend who will bring her sweet dreams at night, a doll girl that has a triangular body representing a sleeveless dress, long, thin arms, and legs in socks, and an angel face on her round head with parted hair and two ponytails, closed eyes with eyelashes, blushing cheeks, and a warm smile.
paid rag doll patterns
Kit, Chloe & Louise doll pattern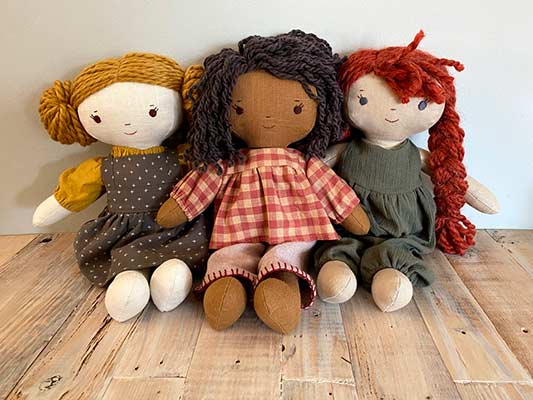 The most charming rag dolls you'll see are here, big enough to fit a small crib, with detailed clothes like dresses, pajamas, and overalls, three different hairstyles, and cute faces featuring round eyes and lush eyelashes, thin eyebrows, tiny noses, and little irresistible smiles. The hair is made of yarn and the available styles are twin braids, loose long hair, and Princess Leia buns.
Sparkle starlet soft doll pattern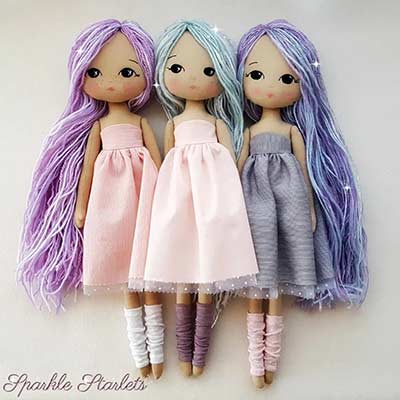 Girls who love anime go crazy over these dolls that have Barbie body figures, wide detailed eyes with catch light, mouths consisting of upper and lower lips, tiny noses, freckles, and faint blushing cheeks. You can even choose to make the eyes look to the side or straight ahead. The hair is made of yarn and comes in short and long options. The clothing for these girls is extremely creative, ranging between all kinds of dresses, tops, skirts, leg warmers,  and even miniature underwear.
Which one of these free rag doll patterns is your favorite? You can now open your toy store, that's how many amazing rag doll patterns you have at your disposal! Be sure to try as many of them as you can, you'll have fun along the way and figure out which one is your favorite. But before you start with that, remember to subscribe to our mailing list to stay up-to-date with our latest posts. Now get to doll-making and enjoy yourself!
If you made one of these, drop a comment down below or tag me on social media.
RELATED: