9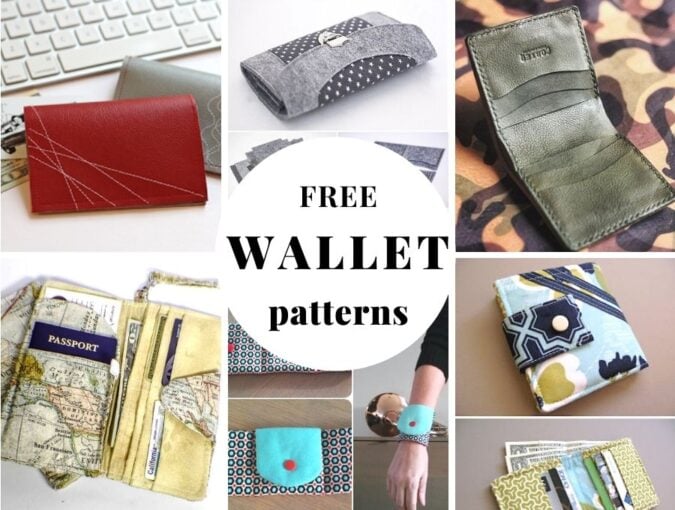 15+ Free Wallet Sewing Patterns to Sew for Men, Women and Kids
Simple and functional, these free wallet patterns have lots of pockets to be able to hold what you need. All of these wallet sewing patterns are easy to make and scrap-friendly. Browse through the wallet sewing patterns collection below and sew a cloth wallet or leather wallet today.
Free Wallet Patterns to Sew for Men, Women and Kids
Accordion fabric wallet pattern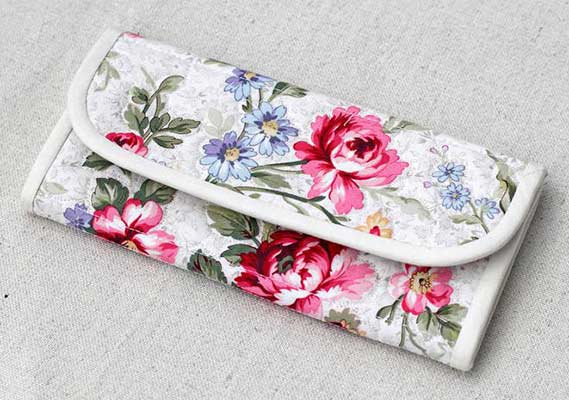 This wallet represents a combination of classy and casual in the form of an envelope purse. It has a triple folded body, an interior with three pockets, and a one-button closure at the middle. The top flap has curved bottom edges and the entire wallet has a bias edge all around.
Large clutch wallet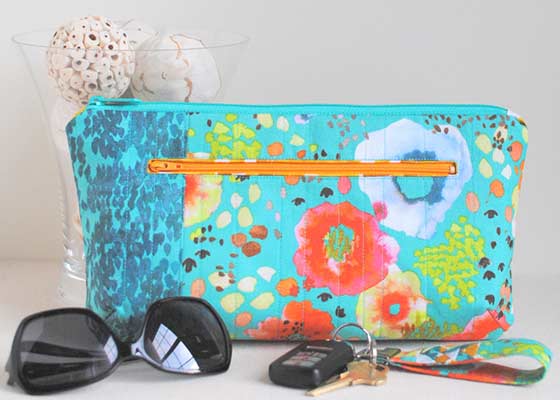 Here's a fun wallet that demonstrates your joyful spirit with its shape and vibrant colors. It's a large clutch purse with a zipper as a closure for the main pocket and an additional pocket at the outside of the wallet. All corners are clipped, giving the purse a nice curved body that's comfortable to hold.
Men's bi-fold leather wallet pattern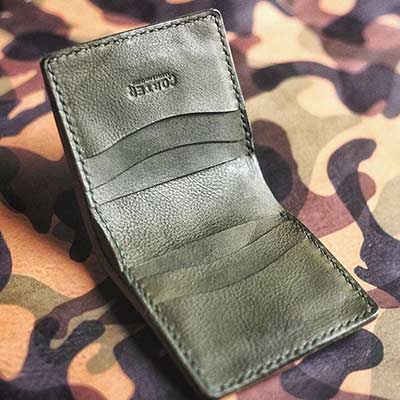 Surprise your important gentleman with a buttonless luxurious folded leather wallet with the help of this pattern. The wallet has a large main pocket that folds up horizontally and multiple card pockets on each interior side of the fold. It also has two pockets behind those card slots for those cash stashes you hide from yourself just in case.
by Weaverleathersupply (free printable pattern -PDF)
Women's leather zipper wallet
This is a classic zip around wallet, and making it out of leather eliminates the need of lining.
If you like purses, this wallet is a good choice for you because it's just like a miniature purse with two large main pockets and three smaller ones in each of those pockets. The wallet is shaped like a smartphone case, with two curved corners on one of its long edges. A zipper goes around three sides of the wallet, keeping it securely closed when you're not using it.
Get the free pattern here: Women's leather zipper wallet pattern 
Mini wallet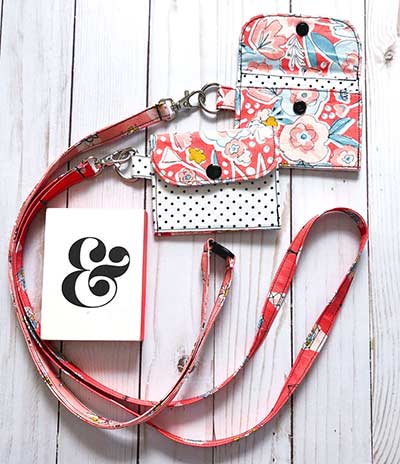 Miniature wallets do their job just as well as big ones, as this pattern that has only two pockets shows. It's enough to keep some change and a decent amount of cash, even though it's half the size of an average phone. There are three closure options for you to choose from, snaps, velcro, or a button and elastic combination.
Easy-peasy Basic wallet tutorial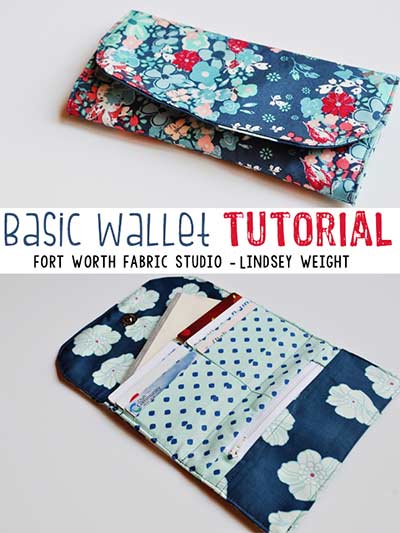 The basic wallet here is rectangular, with curved corners on one and a snaps closure. It folds in three equal sections when closed and has one small zippered pocket for change, one large pocket for cash, and two sets of card slots on the interior.
Basic boy wallet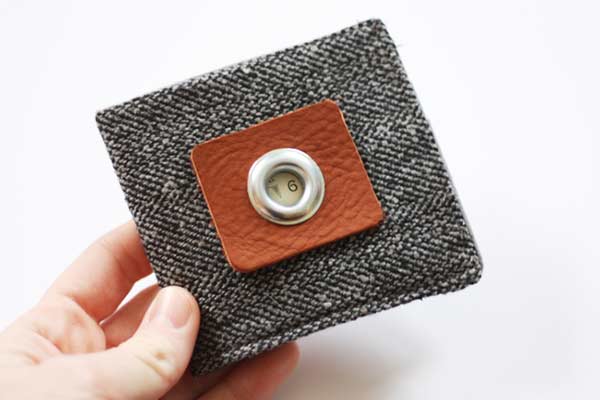 Your son's first wallet should be a classy one, like this folded wallet with rivets as decoration. It's a basic men's wallet that folds in half when closed, has one large main pocket, and a couple of smaller pockets for their credit cards because kids nowadays start their stock exchange businesses early on as we all know. Or they could use those slots for smaller bills or something.
by Noodle-head
Coin purse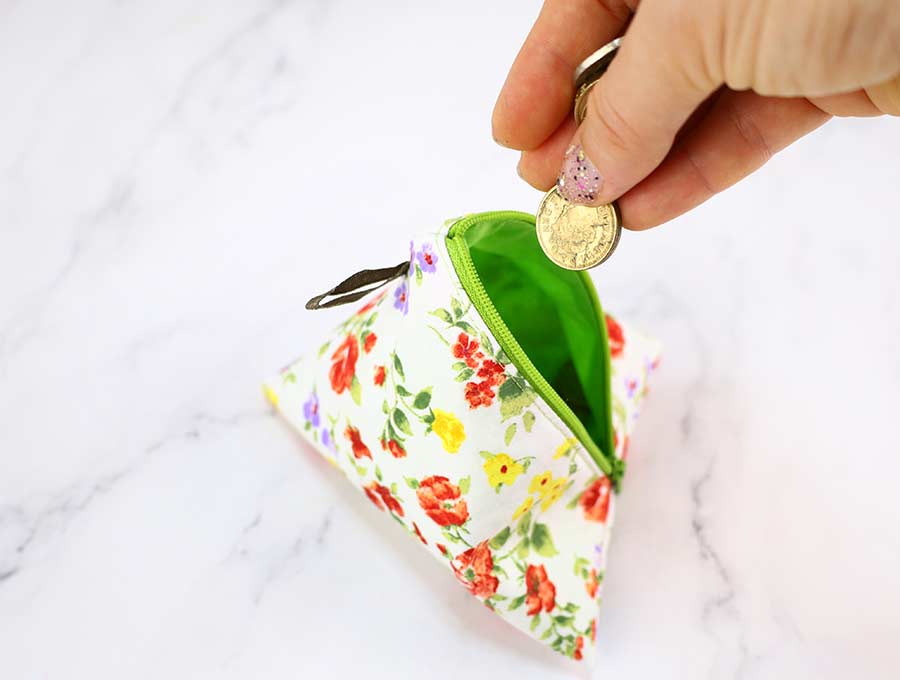 The coin purse you can make with this pattern is great for keeping not just coins but also your chapstick, credit card, keys, or earphones. It's in the shape of a pyramid that has a zipper on its wide side and a lined interior. Make one for yourself and your daughter because it's appealing to both kids and adults!
by Hellosewing
Easy felt wallet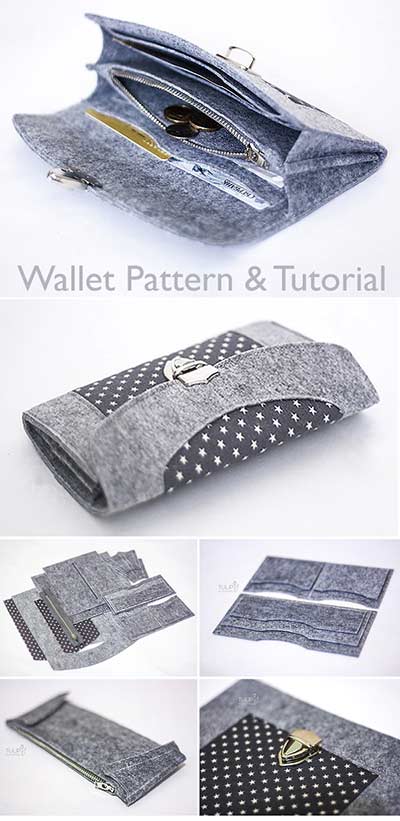 For all you clutch purse fans out there comes a treat, this wallet that looks a lot like your beloved purse, with two large main pockets and a zippered one between them. The wallet has a metal clasp to keep it securely closed on the outside, and several card pockets on each side of the interior.
by Handmadiya
Passport wallet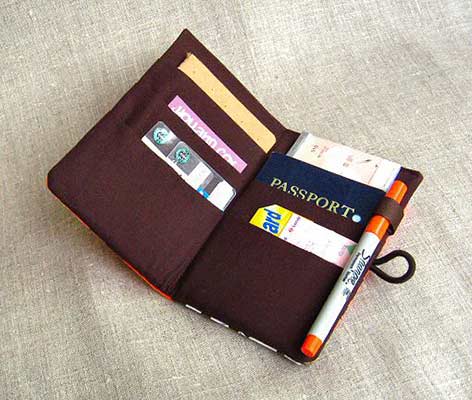 When you travel, you want your money and passport safe and sound in a wallet like this one that has multiple upright pockets and even a pen holder. It folds in half and stays closed like that thanks to the button and elastic closure. It's just slightly bigger than the passport so it's practical to keep close and within your sight at all times.
by Hollandcox
Passport wallet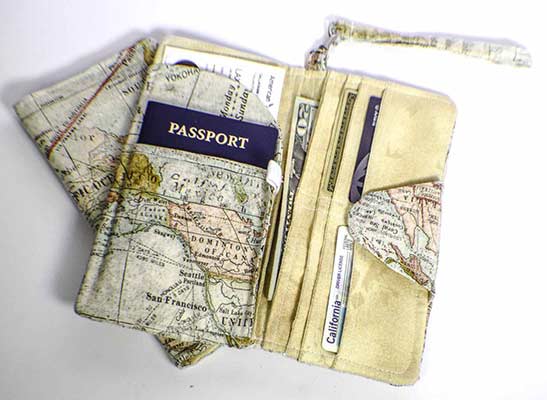 In case you want a fancier passport wallet, this pattern might suit you better, with a vertical pocket for the passport on one side of the fold and horizontal pockets for cash, cards, and change on the other. The passport pocket is a tad shorter than the passport and has a curved edge so you can quickly check if it's still in there. The wallet also has a tab with snaps to keep it closed and a strap to keep it secured to your bag or pocket.
Vaccine card wallet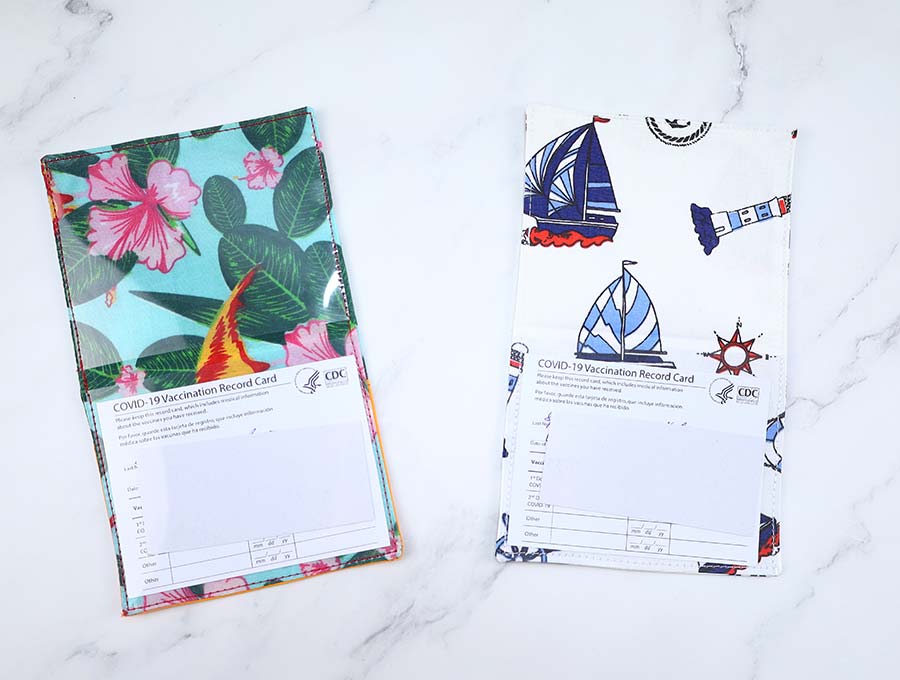 Keep your vaccination certificate on display to get in objects like theaters and sports halls swiftly with this useful vaccination card holder that has a transparent pocket. It will protect your certificate from moisture or tearing thanks to the plastic that covers it on one side, and fabric that covers the other. You can also make it so that it holds two cards if you tend to go everywhere with your significant other.
by Hellosewing
Vinyl or leather minimalist wallet pattern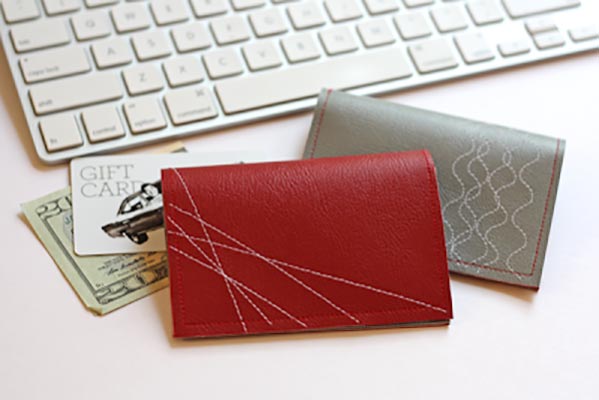 Less is more, says this wallet pattern boldly with its minimalistic two-pocket design. The leather folding wallet has no buttons or snaps on the outside, but it does have some decorative stitches. The only features on the interior are the two deep pockets, one on each side of the fold, both facing the central fold. Its subtle design can fit just as many things as ordinary wallets though, so don't be fooled and think it's inferior in any way.
Wristlet wallet pattern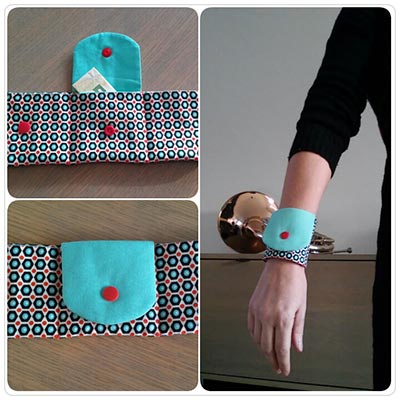 Inventive patterns like this wristband wallet with a button-up tab can be a great gift for your close ones who are always on the go. The great thing about it is the fact that it doesn't require pockets like normal wallets, meaning you can sport it while you jog or ride a bicycle in clothing with no pockets. You don't have to use it for money either, as it can hold other things like gum, keys, headphones, and many similar sized everyday items.
by JustmadebyMie (Translated from Dutch)
Cell phone wallet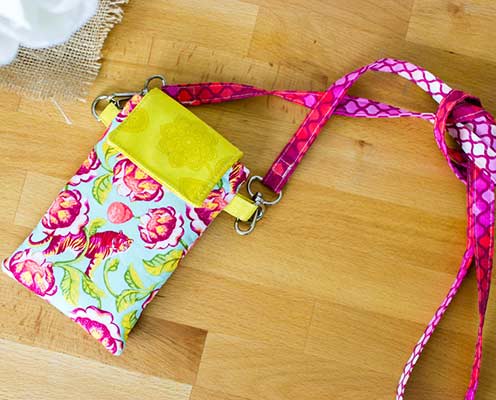 Make sure your phone and money are safe and sound together in this handy phone wallet that you can wear around your neck or tie to your bag or jeans. The wallet has a magnetic cover that goes over the phone and card pockets, preventing both from falling out by accident even if the wallet hangs upside-down. There's also a small zippered pocket at the front that you can use for change or to store headphones.
by Sewcanshe
Unisex Bi-fold wallet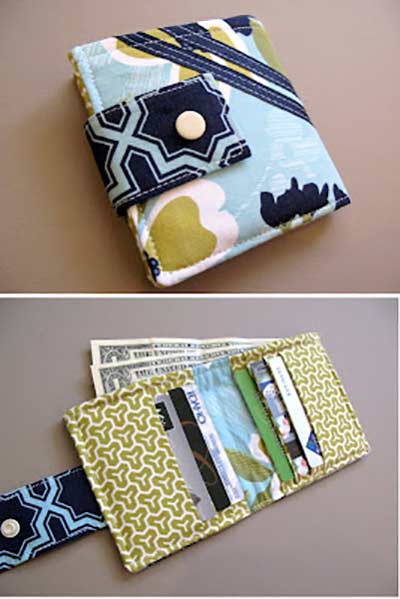 If you carry a lot of cards in your wallet, you might like this pattern that guarantees none of them will slide out no matter what, thanks to the position of the pockets that hold them. The wallet folds in half like most of its counterparts, but unlike them, it has card pockets that are positioned parallel to the short edges of the whole thing. It also has one large pocket going across the length of the wallet, and a snap-on flap that keeps it closed tight while it's in your pocket or purse.
by Modestmaven
Men's leather wallet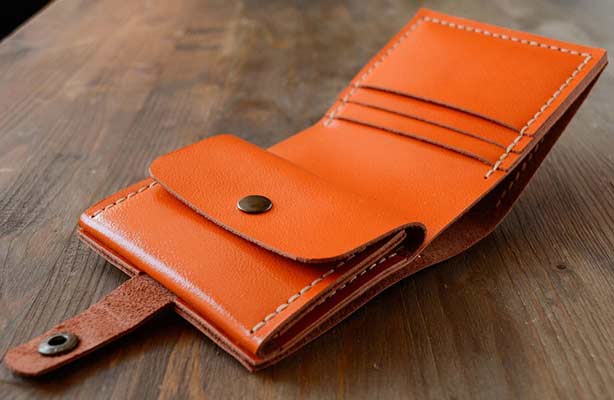 This elegant gentleman's leather wallet with a snap-on closure and a snap-on inner pocket makes a perfect present for the important man in your life. The snap-on pocket is great for storing change because it won't let anything fall out of it even if the wallet is open. Just like that pocket, the card slots are also facing towards the center fold so that they can't fall out as long as the wallet is closed.
by Handmadiya
Did you like the list with free wallet patterns? Which wallet pattern did you find the most appealing and the most creative? Were there some that you hated? Share your thoughts with everyone in the comment section, your feedback means a lot! Remember, you can always subscribe to our mailing list if you'd like to know when new tutorials and patterns get published on the website. Have fun with your new wallets, may they be full and fat for a long time!
RELATED: