3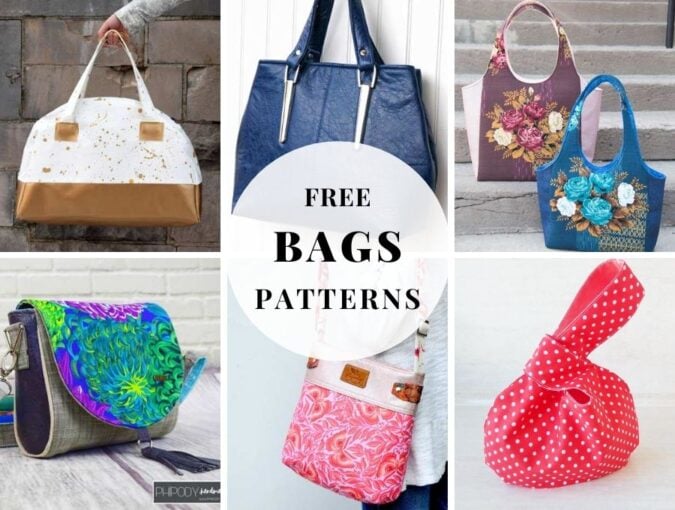 25+ Free Bag Sewing Patterns YOU Can Sew
Craft your own tote bags, hand bags and other fabric bags using these free bag sewing patterns. A girl can never have too many bags, especially when they're as stylish as these! Here is the ultimate collection of my all-time favorite bag patterns just for you. These DIY bags and purses patterns include a range of styles to choose from. From a quick clutch you can sew in just 10 minutes to sophisticated beautiful handbags, there will be a bag for everyone. You'll love sewing them all!
My Favorite Bags sewing patterns from other designers
Handbag pattern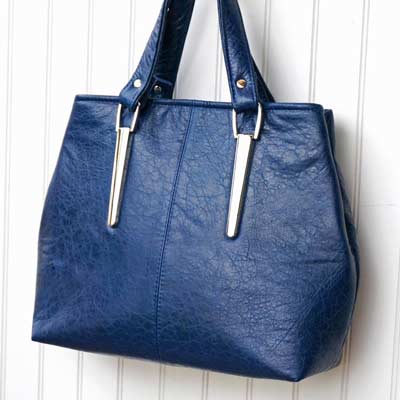 The pilot project that'll kick off your bag sewing adventure should be something in the classic category, like this handbag pattern. It's a common handbag with lining and basic straps, features a recessed zipper and is big enough for your everyday necessities to fit in. The simple nature of this handbag doesn't take away from its style, it's casual enough for everyday use, yet elegant enough for special occasions as well.
By EmmalineBags
Reversible box tote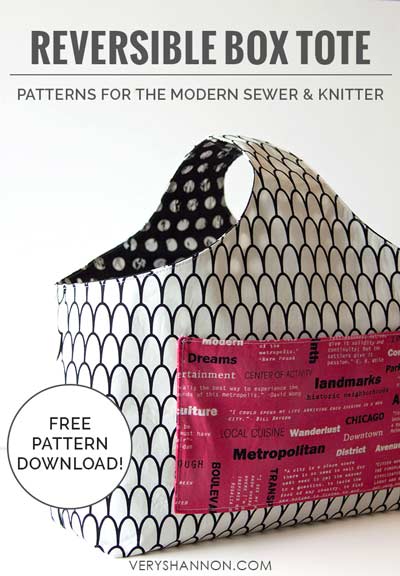 Here's something completely different from what you are used to when it comes to bags. It's a reversible box tote bag. Think tote bag that has a boxed shape with a flat bottom and a central strap. The strap is very creatively designed here, instead of sewing it on, you cut the fabric so that the strap is a part of the bag from the start. It's a large tote that holds a lot of stuff.
By VeryShannon
Clydebank tote bag pattern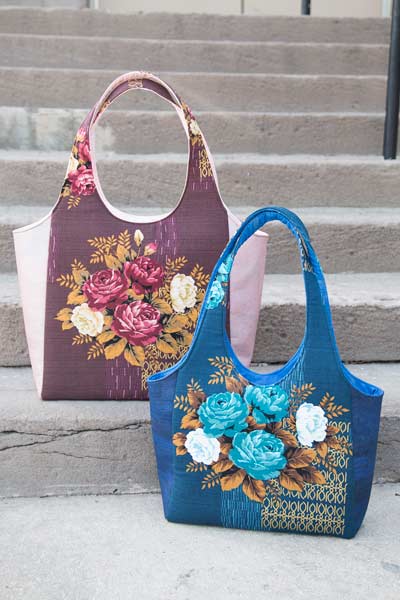 This pattern is similar to the previous one, with a few differences. The flat bottom is narrower, the straps are different, and the bag isn't as boxy. It also isn't reversible. But it has a zipper unlike its counterpart, which makes it more suitable for carrying items that need to be secured inside the bag, and the straps are shaped so that you can wear the bag on your shoulder.
by Sewsweetness
Saddle bag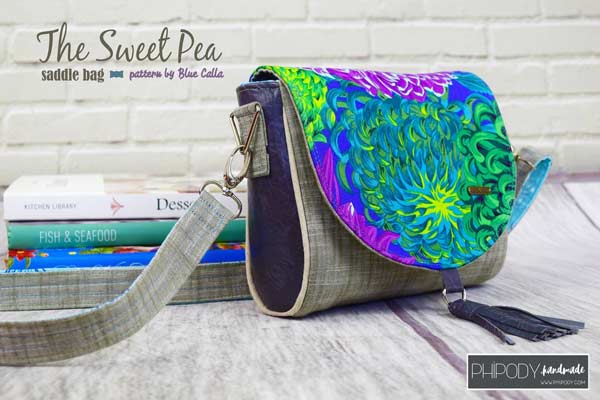 Need a stylish bag to carry across the shoulder? This saddle bag might be just what you were looking for. It's medium size, with a flap closure and a long shoulder strap. It has one pocket with a zipper on the inside for your valuables like a wallet or phone. The optional decorative touches on the exterior give you a lot of customization room.
Plaid crossbody bag out of kitchen towel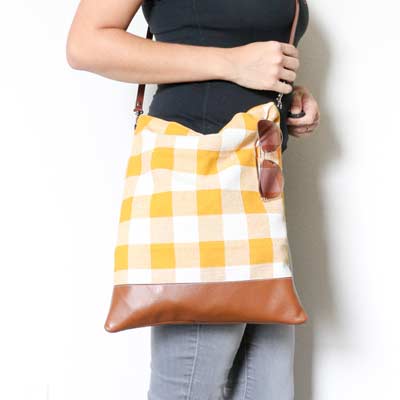 Sustainable projects are always welcome if you ask sewing enthusiasts, so here comes one from that category. It's a beautiful crossbody bag that you can make out of a towel! Medium size with a decorative faux leather bottom and a long shoulder strap out of the same fabric. Ideal for all kinds of occasions!
Crossbody bag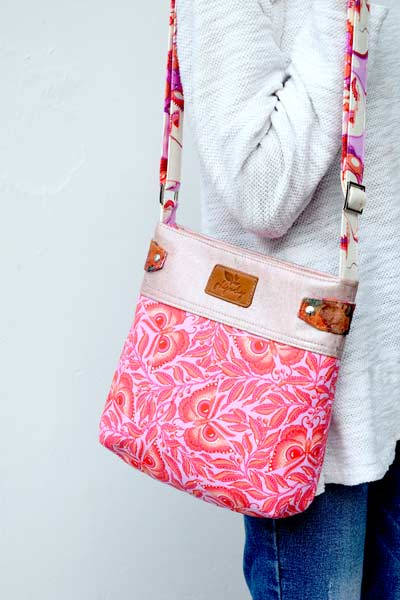 We're still in the crossbody bags category with this adorable tower bag. It's similar to the previous one but it's not made out of a towel and doesn't have a leather bottom. Another difference is the zipper it has, which helps the bag keep your items safely inside. Use two contrasting fabrics for a more fashionable look!
by sewsweetness
Cargo duffle bag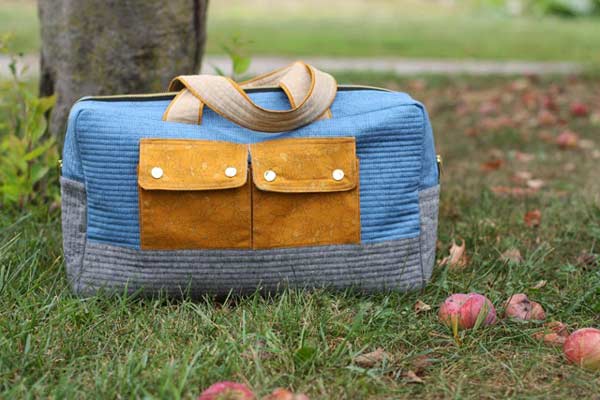 Make yourself an ideal bag for travel with this duffle bag pattern! The lovely rectangular zipper bag with a flat bottom and short straps can fit your travel wardrobe easily and keep it nice and wrinkle-free. The outer pockets with buttons are a handy addition for the items you need easy access to. If you are into functional bags, this one is definitely for you!
by NoodleHead
Reversible hobo bag pattern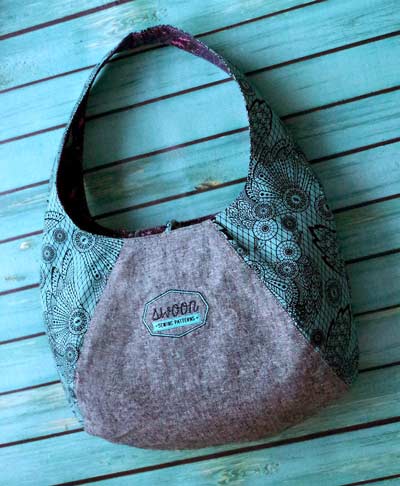 Hobo bags are like extra classy tote bags that you can wear every day and on special occasions alike. Here's a hobo bag pattern that will provide you with two bags in one. Since it's reversible, sewing one will count as if you have sewn two at the same time! This bag is medium size, with round straps that aren't sewn on but are a part of the main body, which adds a special stylish twist to it.
Weekender duffle bag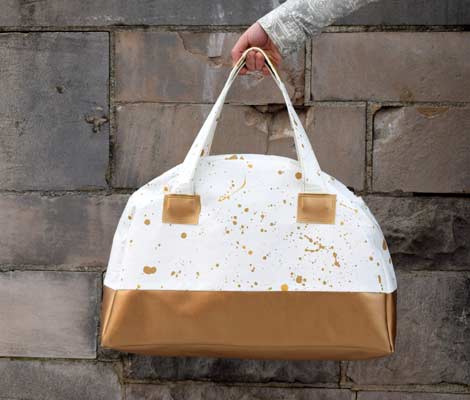 Another duffle bag on our list is this weekender duffle bag. Unlike the previous duffle bag we mentioned, this one isn't as wide and has a slightly curved top section. It's a bit deeper as well, so it can fit stuff like water bottles or even volleyball with ease. Perfect bag for the weekend trips to the beach!
by Fabric.com
Messenger bag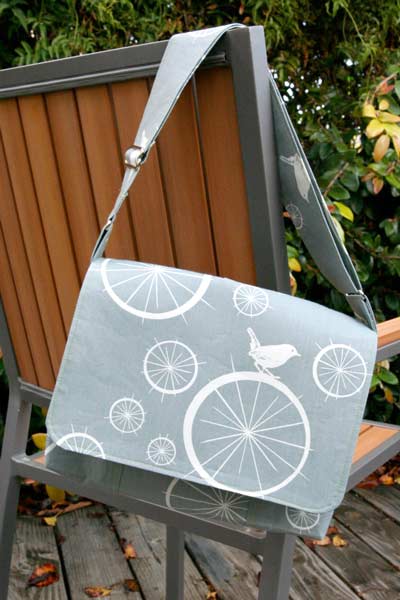 Messenger bags are a wonderful combination of practical and stylish, especially this one. It's big enough to fit your tablet or books and compact enough to not be a bother to carry. With a flap cover and an over-the-shoulder strap, along with a couple of inner pockets, it will capture your heart with its simple, fashionable, and handy design.
by Aleah of NotimetoSew
Messenger bag with zip closure
One messenger bag isn't enough, so here comes another one. This one is different in one aspect, and that's the closure. It also features a cover flap, but for additional security, it has a zipper as well. You won't have to worry about anything falling out from it! The inner pocket has a zipper too, so you can even use it to store your valuables like a wallet.
by Corinne of HeartofMary
Free sewing patterns for bags by HelloSewing
Japanese knot bag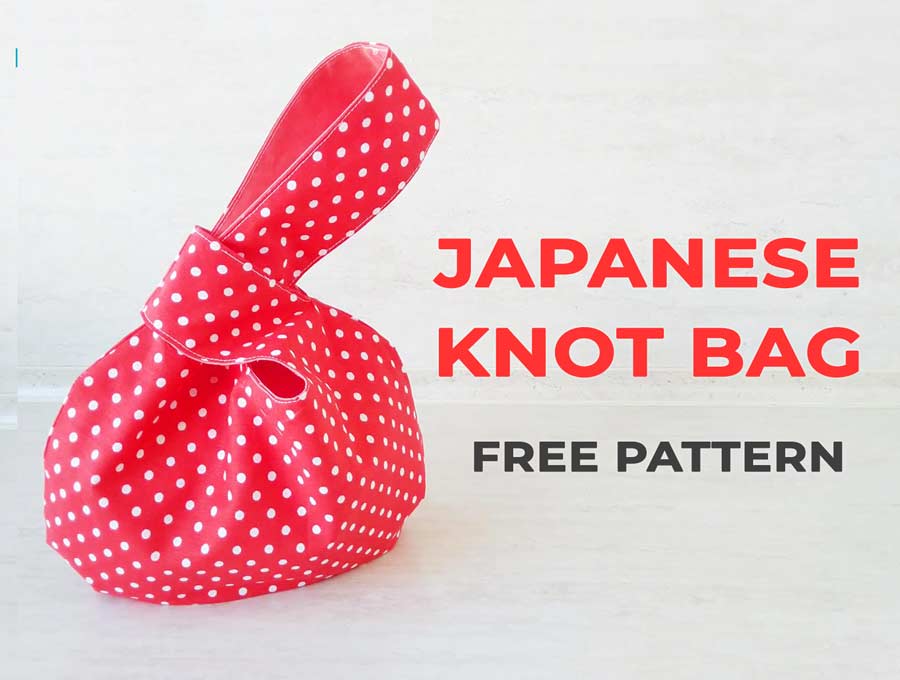 Shopping for groceries, picnic events, and casual trips to the beach? Sure, this Japanese knot bag can handle them all. A unique twist on the tote bag, this interesting knot bag features one short and one long handle that you run through each other as you carry the bag. This keeps the contents safely inside, while also raising the style of the bag itself.
by HelloSewing
Origami Bento Bag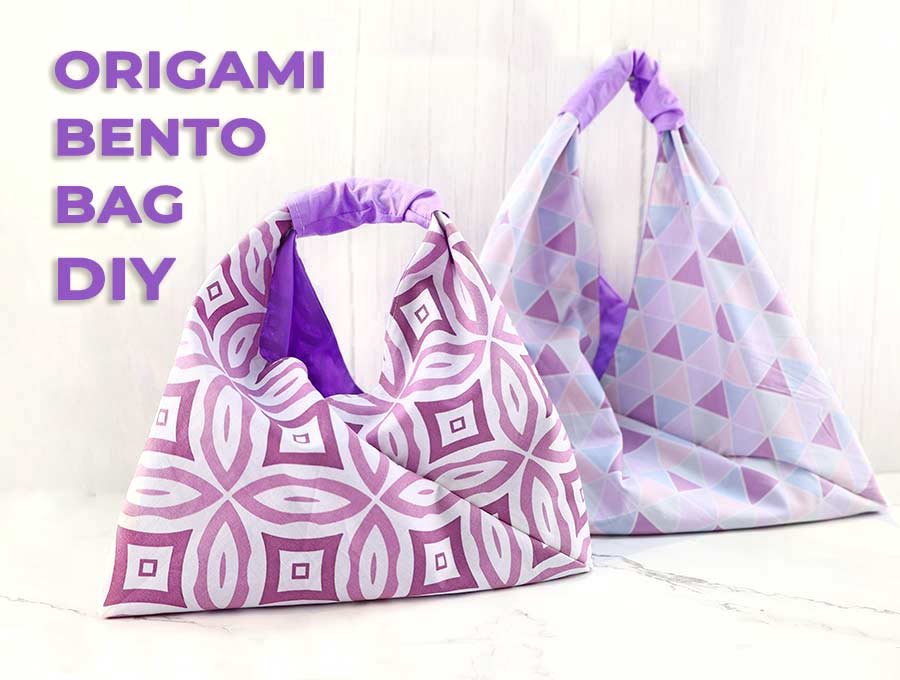 Here's one more of those fun Japanese patterns, the origami bento bag! It's a bag worth using your favorite fabrics on! It's like a casual hobo bag, but with a twisted strap and a wide flat bottom. The idea behind it is to use it for carrying ready-to-eat meals laying flat inside the bag so that they don't spill. But you can use it for anything you like as surprisingly it has plenty of room inside!! If you have an idea to sew a bag using fat quarters, well – this one is for you
by HelloSewing
Hobo shoulder bag
This shoulder bag is super useful and lightweight. Great for quick run to the store as all you need is your wallet, phone and keys. It doubles as shopping bag and it holds quite a lot. At the same time it conveniently folds to a very small square. You can enlarge the pattern to make a really large tote bag if you want and it sews up really quick! Try it out today – just get the free pdf pattern and get sewing! The step by step free tutorial is super easy to follow and if you are a visual person, there is a special treat for you – a video tutorial
by HelloSewing
Round drawstring makeup bag (opens flat!)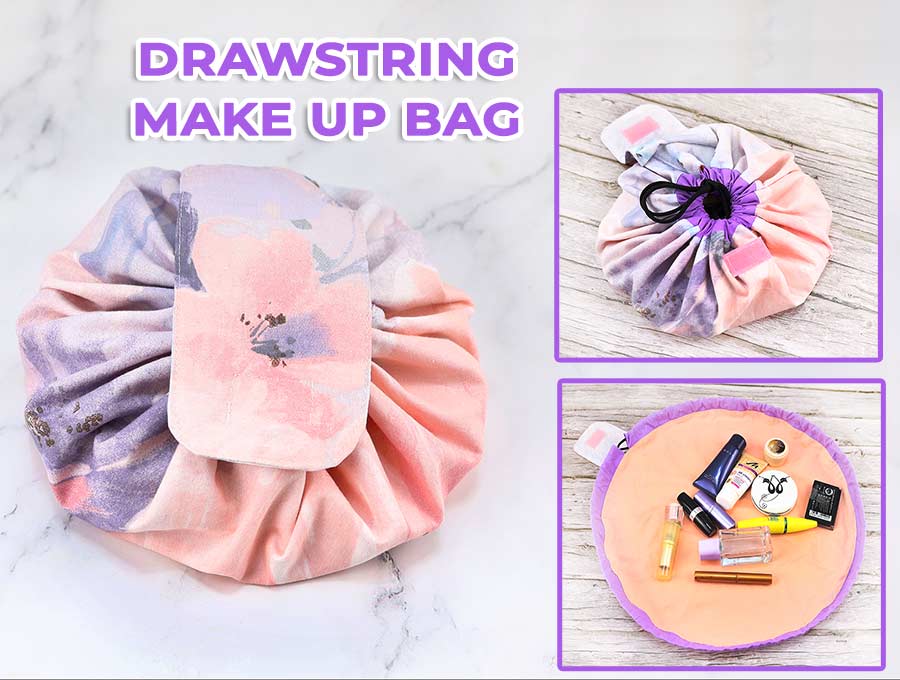 Forget about those expensive makeup briefcases or whatever they're called, this drawstring bag is the real deal! It's shaped like a regular small drawstring bag with a flap cover, and that's exactly its best trait. Thanks to it, you can just set it onto a table, open it up, and your makeup will be laying flat on it, all nicely divided and up for grabs. No more fumbling through the bag to find what you need! Get the free pattern and make you own bags today
by HelloSewing
Reusable shopping bag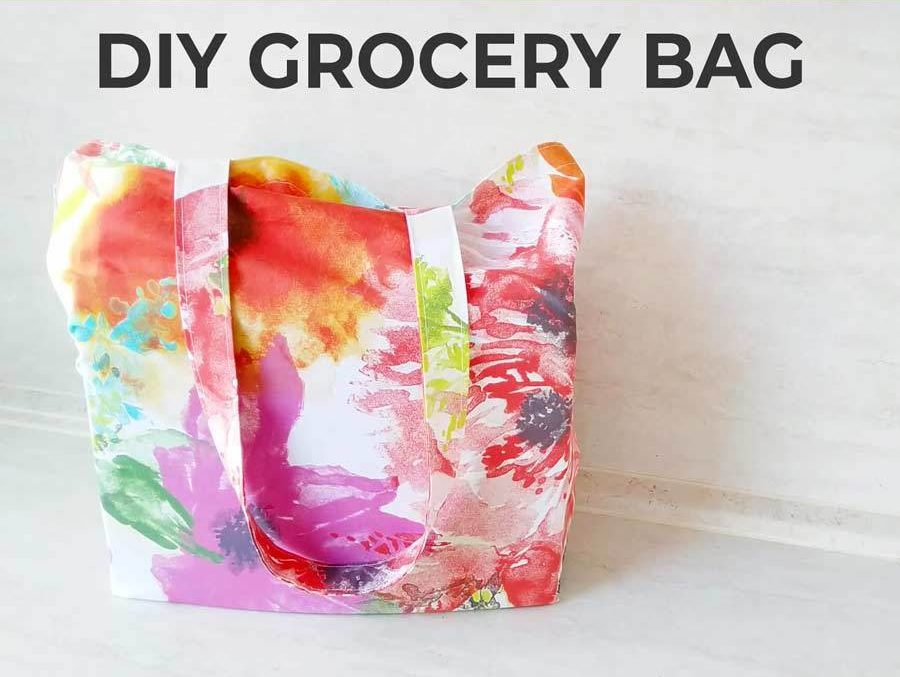 Get ready for a grocery shopping spree with a brand new grocery bag. Reusable grocery bags are all the rage right now. This casual colorful bag is extremely simple and easy to sew, which makes it ideal for switching over to reusable options instead of those plastic or paper bags. The deep body and wide straps are all you need from a grocery bag.
by HelloSewing
Reusable produce bags in 3 sizes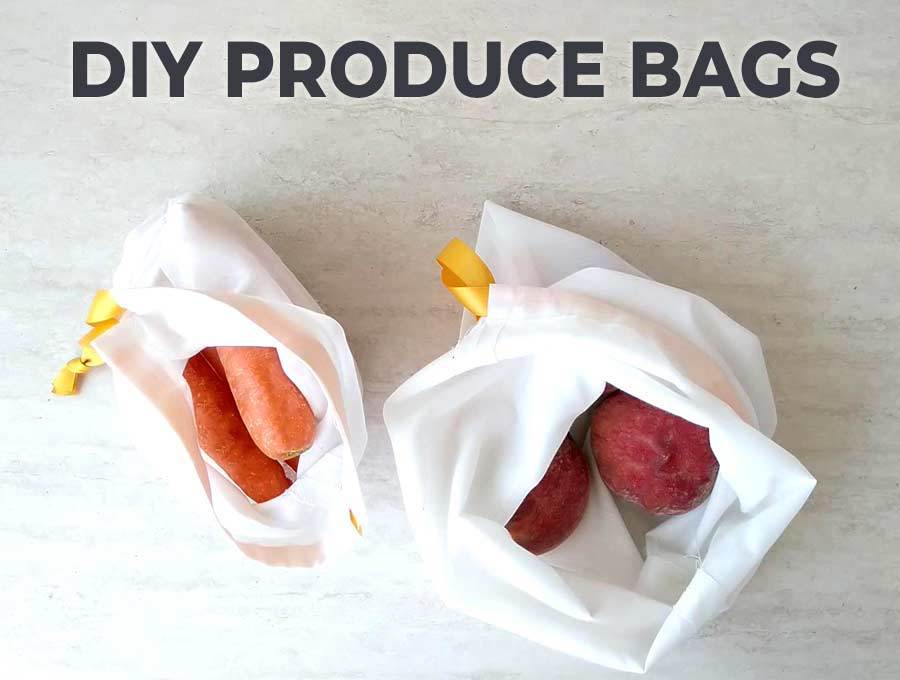 With a grocery bag already in your arsenal, you should also make yourself a few of the produce bags to complete the set. You don't want those onions and apples to rub against each other after all. These produce bags are plain as they should be, with drawstrings for closing them as the only notable feature.
by HelloSewing
Evening clutch out of placemat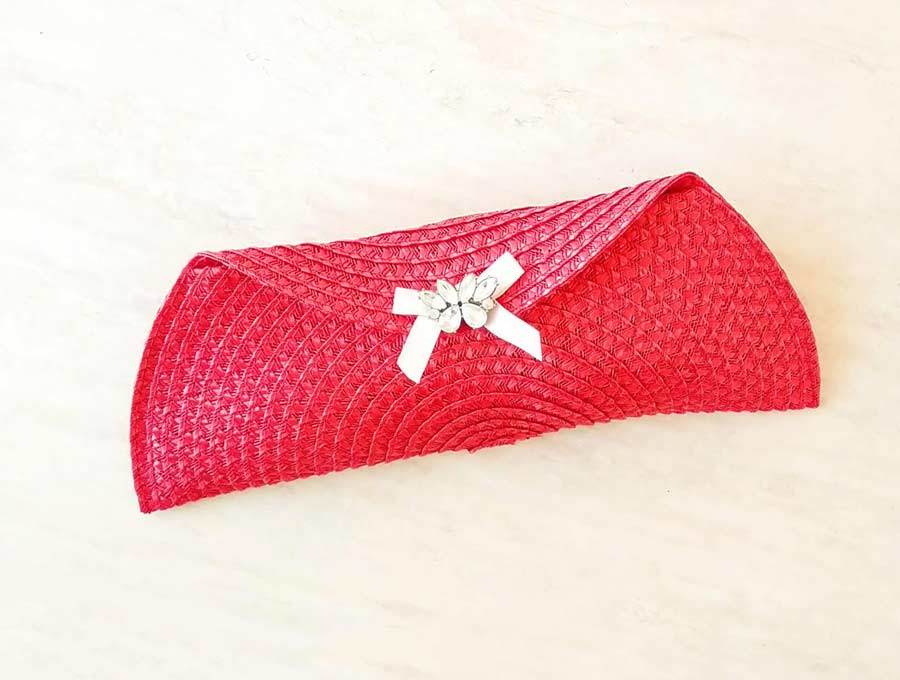 Who says you can't make something elegant by upcycling? This clutch purse proves them wrong! It's made out of a placemat, but no one will notice that once it's finished. The neat thing about this project is that you don't even need to sew anything if you don't want to. Just use glue and a magnetic snap and your clutch will be ready in no time!
by HelloSewing
Envelope laptop bag in any size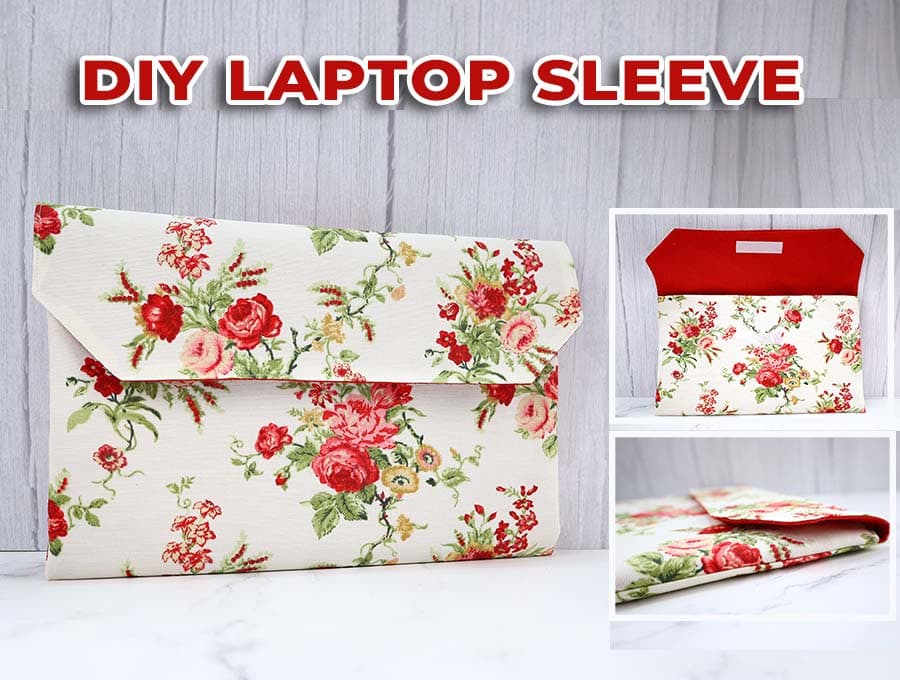 Keep your laptop protected from scratches and water spills with this fashionable envelope bag. It's a sleeve-style bag with a flap cover that stays in place thanks to velcro, keeping your laptop secure inside the bag. The contrast between the lining and the outer fabric adds a special touch to the whole thing. This is a great gift idea and you can add an adjustable strap if you want to.
by HelloSewing
Triangle coin purse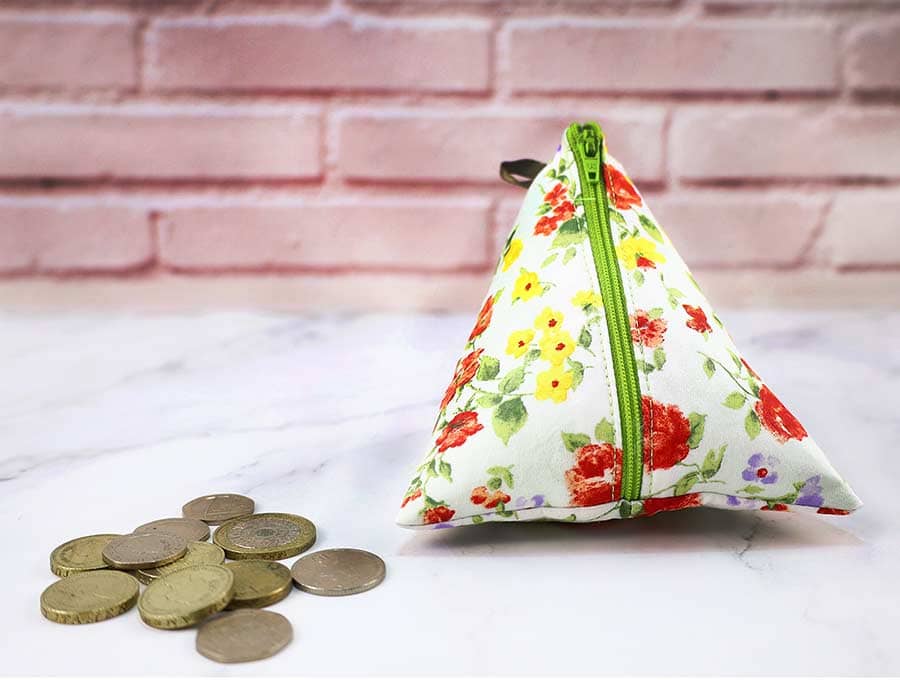 Small coin purses are adorable in any form, but this triangle one is especially lovely. It's shaped like a three-sided pyramid with a vertical zipper on one side. The small dimensions of it don't allow a lot to fit in, yet it does great in storing earphones, lipstick, coins, and anything else of the same size. If you need a smaller sized bag to grab on the go, this cute bag might be the one for you!
by HelloSewing
Drawstring backpack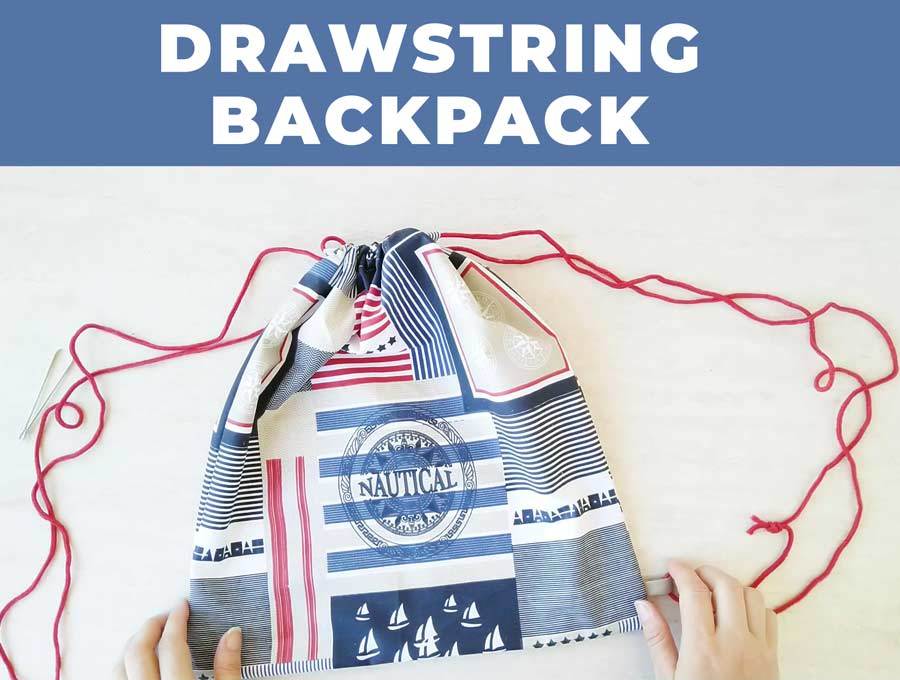 Need a bag for anything and everything? Here's a drawstring backpack that'll do the trick splendidly! This simple bag is handy because you can sport it for all kinds of occasions, from trips to the beach, over gym sessions, to sleepovers, it's the jack of all trades in the world of bags! This small bag sews up in little time so you have no reason not to get started.
by HelloSewing
Plastic bags dispenser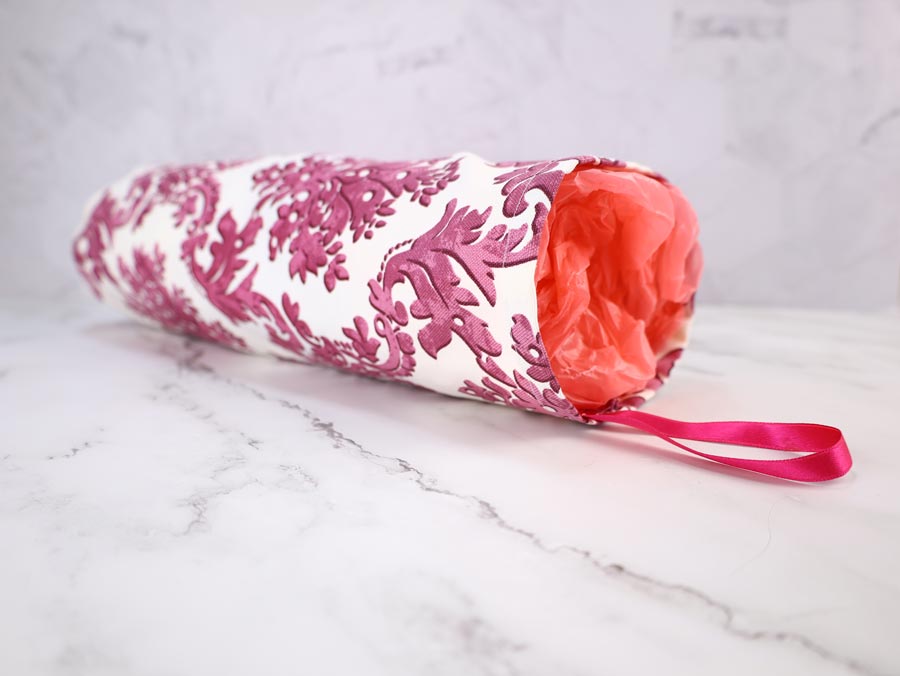 Keep those plastic bags you use in the kitchen in check with this neat dispenser bag. It's a modified grocery bag pattern that can store plastic bags, and dispense them at one end individually, just like a package of wet wipes! No more drawers that are full of disposable bags for you! Incredibly easy-to-make bags dispenser
by HelloSewing
Easy peasy lunch bag sewing pattern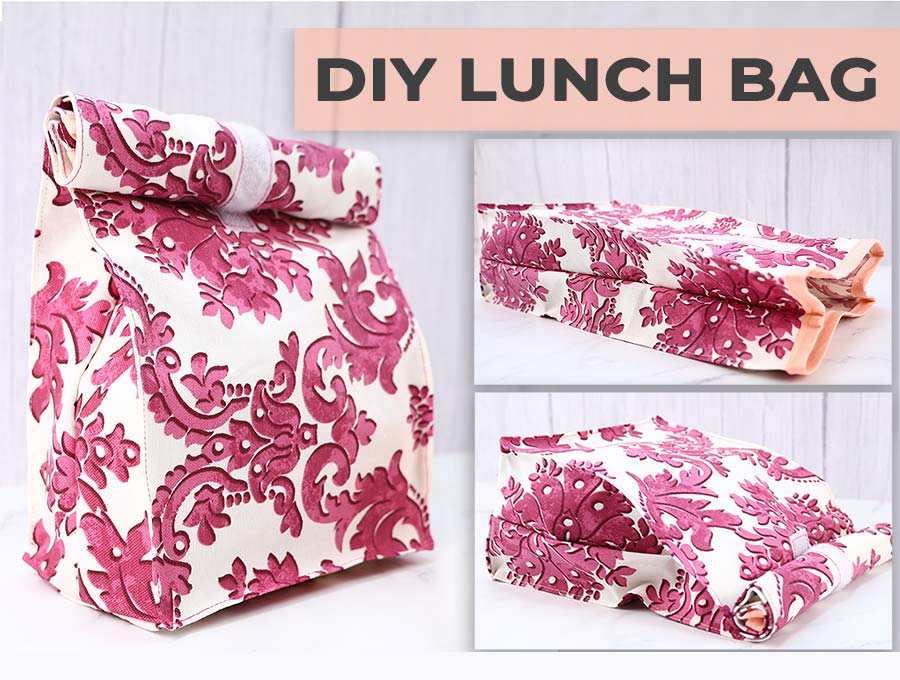 Kids aren't the only ones who need lunch bags, we adults want some too! Here's a lunch bag pattern that will keep your sandwich or snacks safe and fresh until that lunch break time comes. It has a flat bottom and a roll-up cover, with velcro that will keep the food inside even if you drop the bag accidentally. It sews up in a flash – all you need to cut is a few rectangles, so no cutting and taping an endless amount of pattern pieces. Yay!
by HelloSewing
Dice bag pattern with round bottom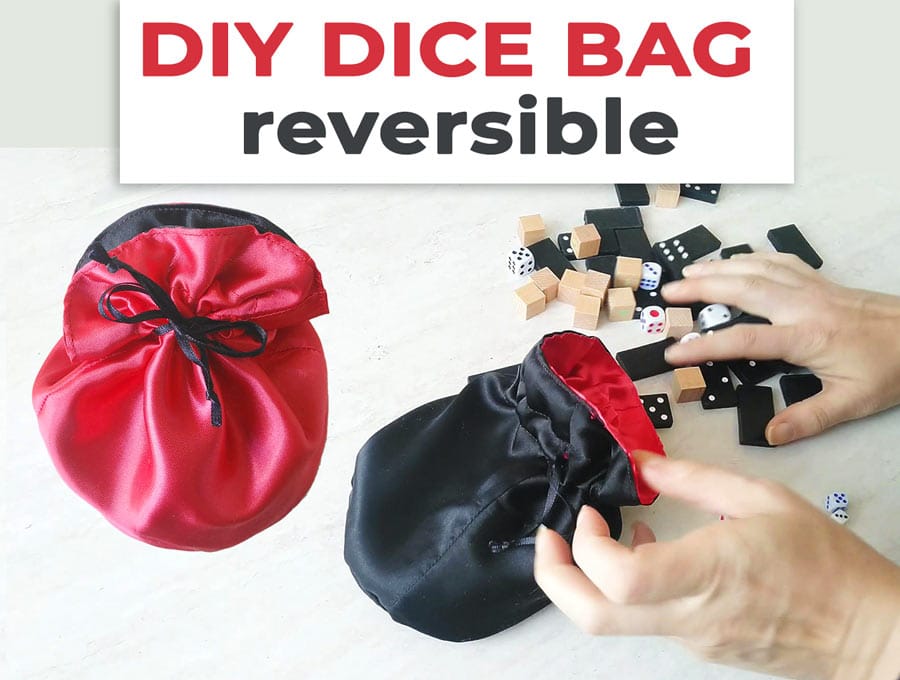 Become the top dog of game nights with this awesome dice pouch! This neat little pouch with drawstring closure can keep your dices safe and sound for those D&D sessions or friendly games of Yahtzee. The best thing about it is that you can roll the dice inside it instead of risking them falling off the table and into oblivion. It's a reversible bag pattern, so no ugly visible seams inside! Make it today and your friends will envy your little bag
by HelloSewing
Face mask carry pouch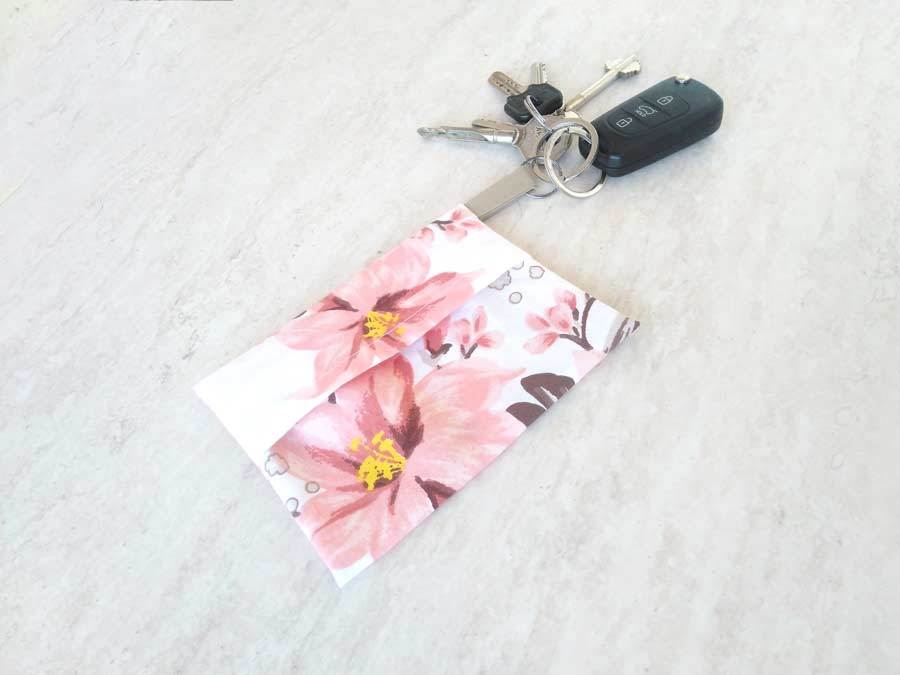 Stay safe and responsible with a mask at you at all times with the help of this face mask pouch. It will keep your reusable mask clean and dry when you're not wearing it, ready for when you need to put it on. Thanks to the keychain loop, you'll never forget it at home because you'll grab it together with the house keys.
by HelloSewing  
Do you like my collection of bag patterns to sew? Pin it for later: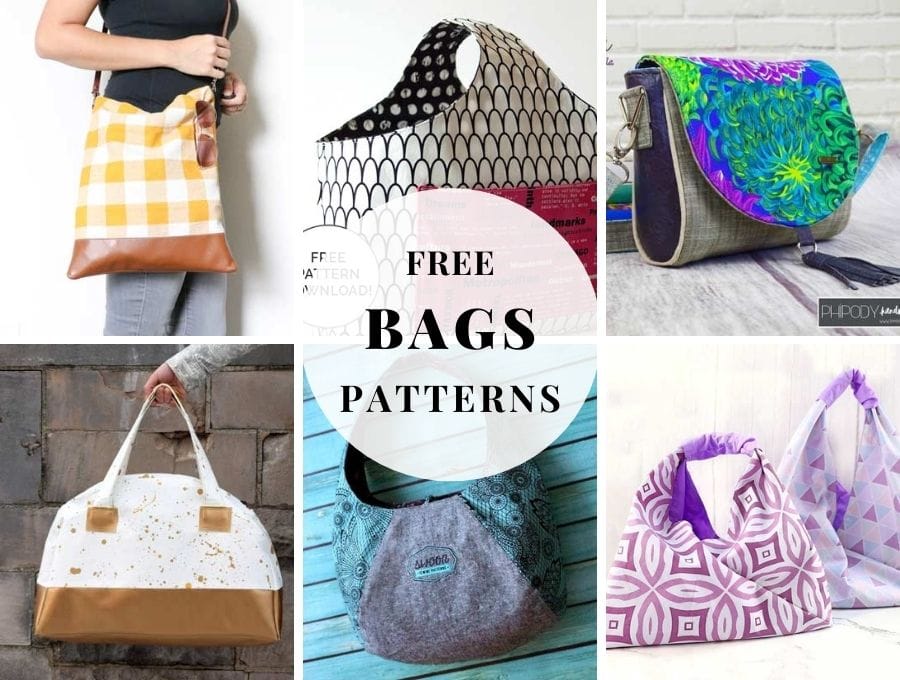 Those were all the free bag patterns to print and sew that we have prepared for you this time. We hope you found these templates and step by step tutorials useful and that you were able to easily make the ones you like the most. So dust off your sewing machine, pick few of these free bag patterns to sew and get sewing! If you want to get notified when we publish articles such as this one, just fill out the subscription form and put yourself on our mailing list and we'll let you know as soon as we post new tutorials and projects.
RELATED: