16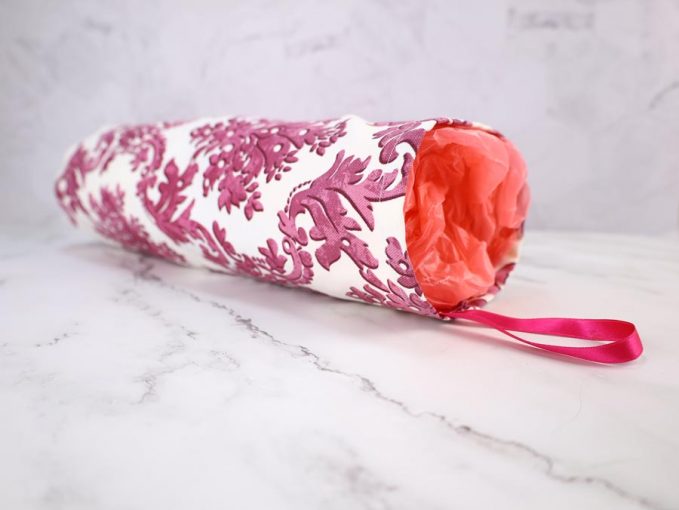 Easy DIY Plastic Bag Holder (VIDEO + FREE pattern)
The plastic bag holder is not a new idea BUT sewing your own using our grocery bag holder pattern, means you can coordinate your neat little DIY plastic bag holder to your kitchen color scheme and make it look super smart. Just think of sleek black or grey fabric, or a pop of red for a sophisticated kitchen, a natural hessian type bag if you are into the country-look, or ocean colors in keeping with the beach-house look. We're into saving our planet from plastic, so most of us dutifully keep grocery bags to repurpose, but they certainly can get untidy when stuffed into a drawer or in a cupboard.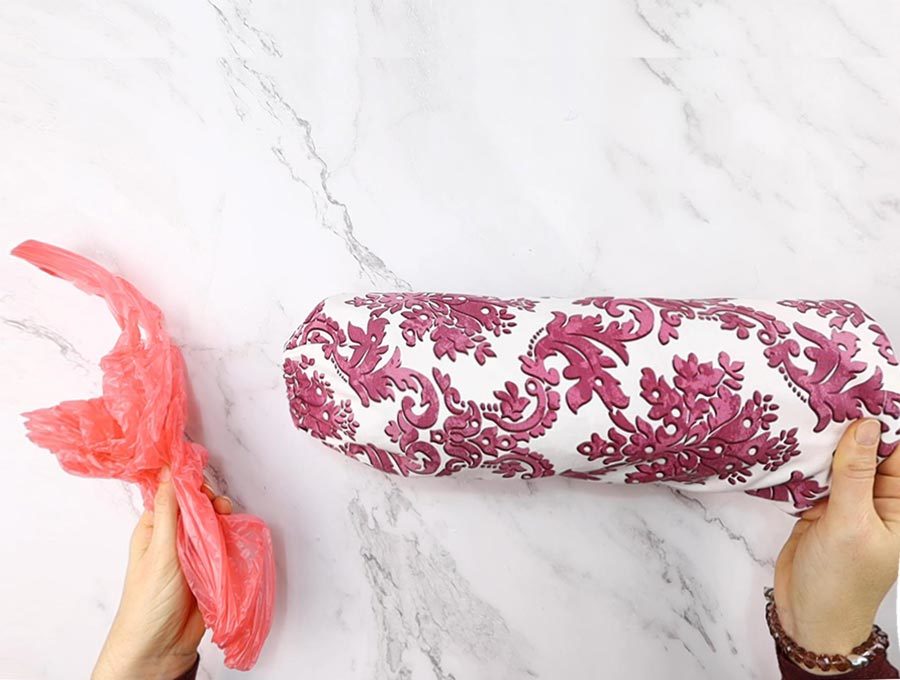 The fabric plastic bag dispenser hangs up neatly in the kitchen, and you can even make one for the garage, to enable you to grab a bag or two when heading out grocery shopping. I moved recently and could only pack certain items. One of the first things that drove me insane in my new place was the lack of a DIY plastic bag holder as I rummaged around in the cupboard under the sink for bags which seemed to unfold all on their own and get mixed up with packets of dog food and extra rolls of paper towel. It was time to get organised  so as soon as my  sewing machine arrived, I started on the grocery bag holder pattern included here. It's really easy and once you have it hanging up it will be one more step to getting organized. The fabric plastic bag dispenser takes loads of plastic bags and holds them neatly so you can pull out one at a time from the bottom instead of a volcano of bags erupting from a cupboard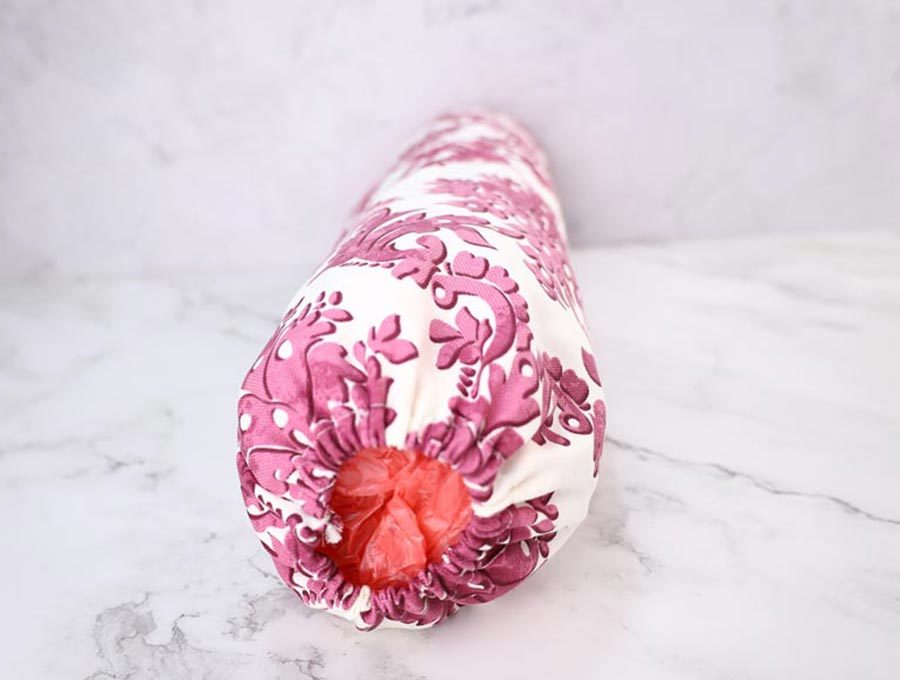 The cloth plastic bag holder only takes 10 minutes to make and is made from a home décor fabric for the best results as you need a firm opaque fabric to hold those unruly bags in place, ready to be neatly dispensed. You certainly don't want a see-through fabric or one that is so thick your machine needle will have difficulty getting through it.
We occasionally link to goods offered by vendors to help the reader find relevant products. Some of the links may be affiliate meaning we earn a small commission if an item is purchased.
How to make a grocery bag dispenser
Supplies and tools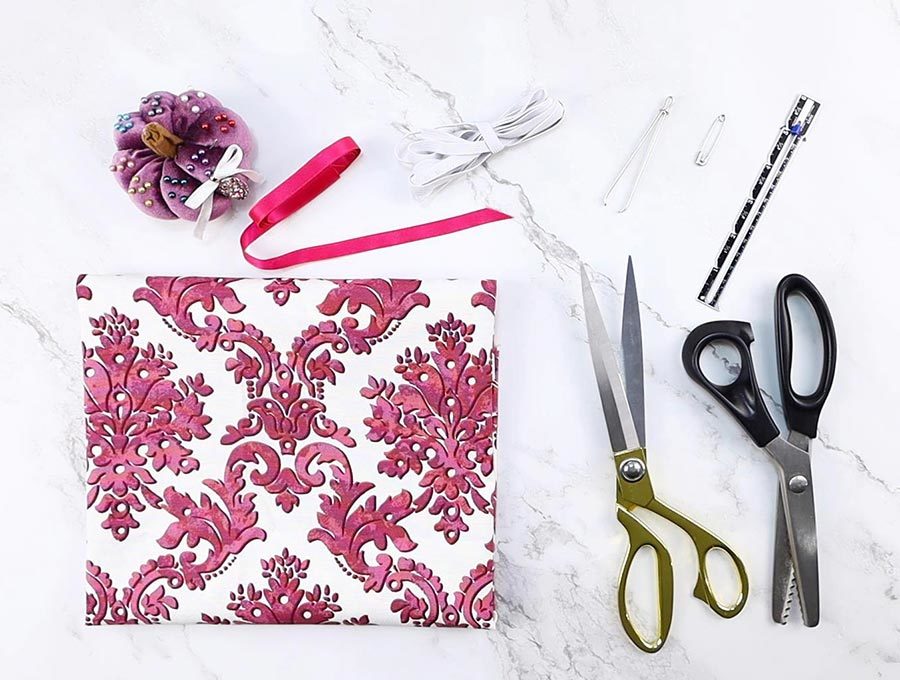 Follow us for free patterns & tutorials!
How To Sew a Plastic Bag Holder
Watch the diy plastic bag holder  video first and then follow the written step by step instructions below.
Please enjoy and don't forget to Like and SUBSCRIBE over on YouTube to be kept up to date with new videos as they come out.
Plastic Bag Dispenser VIDEO TUTORIAL
DIY GROCERY BAG DISPENSER INSTRUCTIONS:
STEP 1: Cut the fabric, elastic and ribbon
Cut the fabric or use a fat quarter piece 18 x 22-inch piece of fabric (metric size 45.7 x 55.9 cm).
Cut one piece of ribbon and one piece of elastic 9 inches (23cm) long each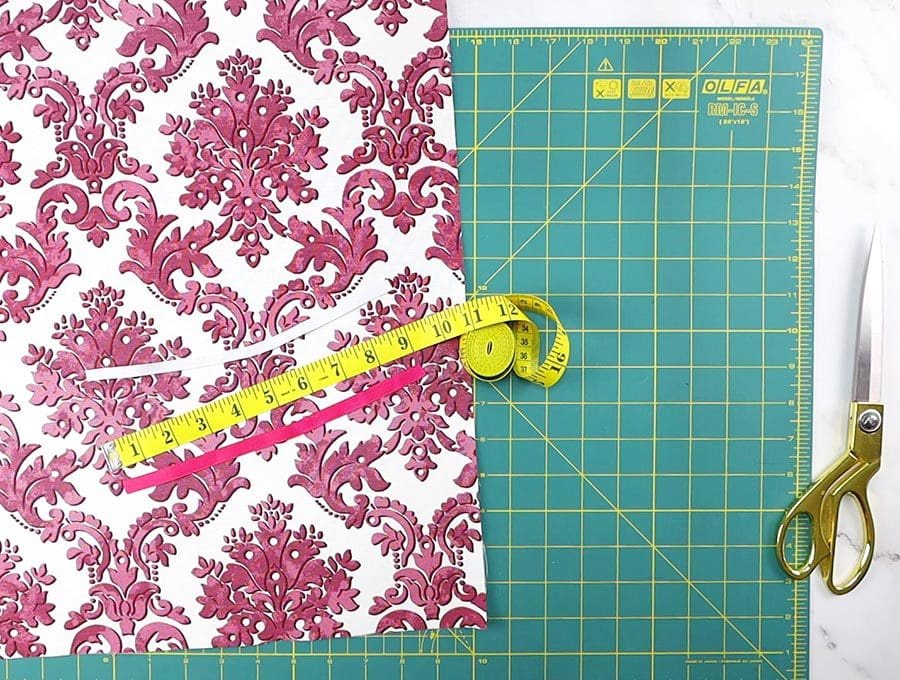 STEP 2: Fold over twice top and bottom edges
Take your piece of fabric and fold over ½ an inch (1.2 cm) on both of the short sides and pin into place
Press flat with your iron and remove pins.
Fold over those short sides once again with another ½ inch (1.2 cm) seam and press again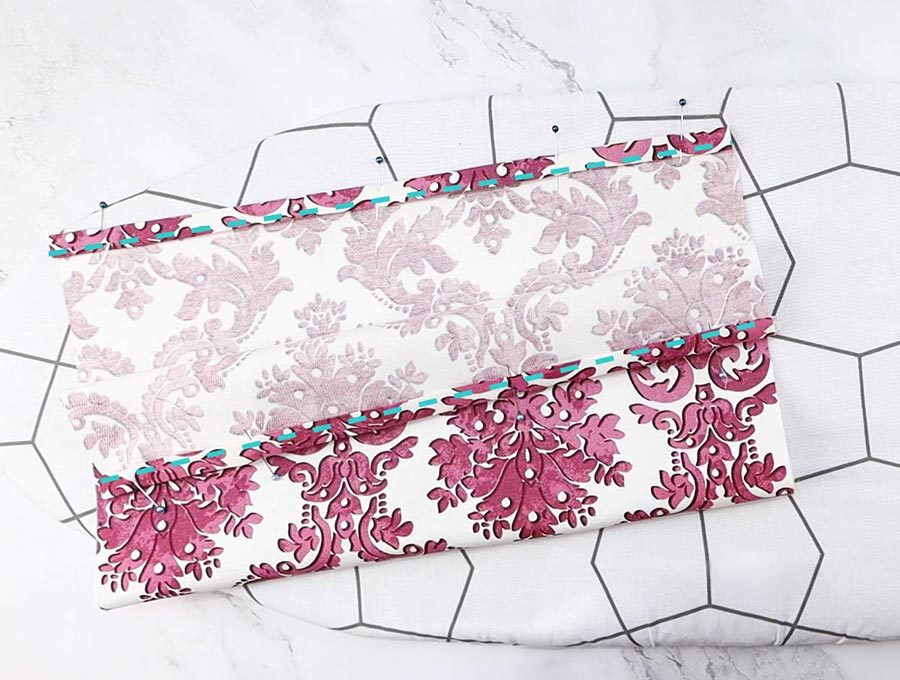 STEP 3: Sew
Stitch along the edge of the seams at both ends to create a casing.
STEP 4: Insert the elastic
If you have a fabric with a pattern on it, like birds for instance, make sure they are the right way up and choose the lower end of the fabric to make your elastic casing (you don't want upside down birds!)
If your fabric is plain or doesn't have a marked 'this way up' type of pattern then any end seam will do for you to insert your elastic either using a bodkin (pictured below) or a safety pin.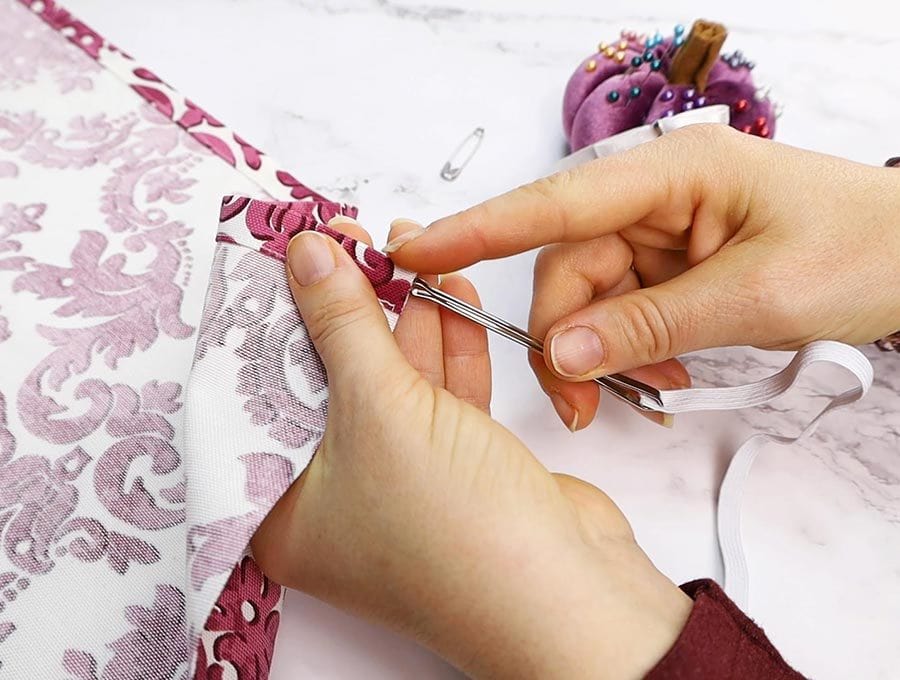 STEP 5: Stitch both sides of the elastic casing
Once elastic is inserted and the end of the elastic is level with the start of the seam, stitch it into place with your machine.
Now pull the elastic through to the end using the safety pin, and pin the end into place before removing the safety pin.
Stitch elastic into place. You will now have a gathered/ruffled seam at the bottom which is where you will pull out the plastic bags from the dispenser once it is finished.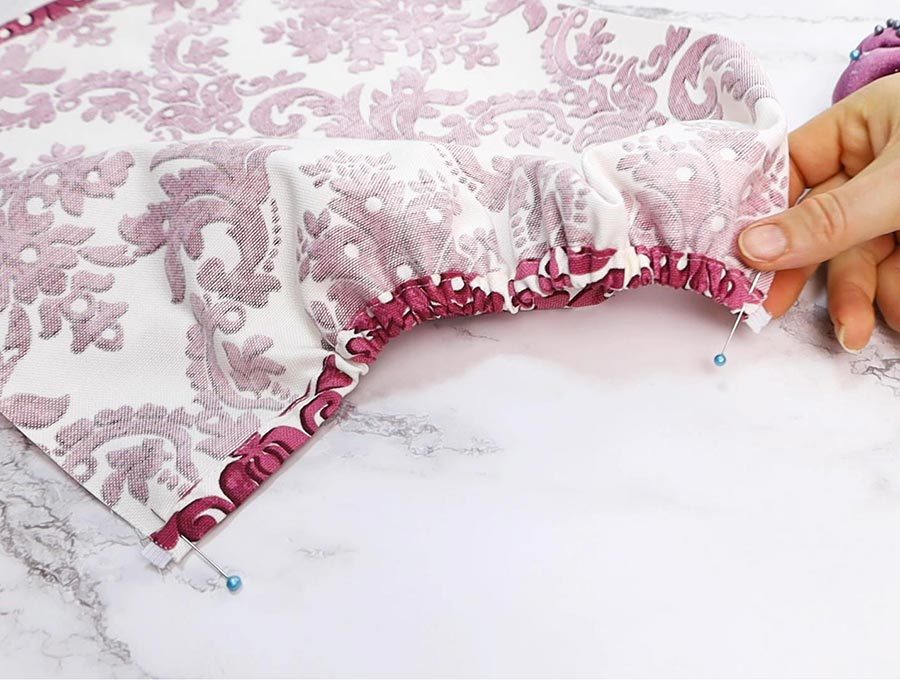 STEP 6: Fold and pin the long side
With the right sides of the fabric facing each other pin the side seams along the length of the fabric, taking care with pinning the gathered end to make sure the pieces lie flat.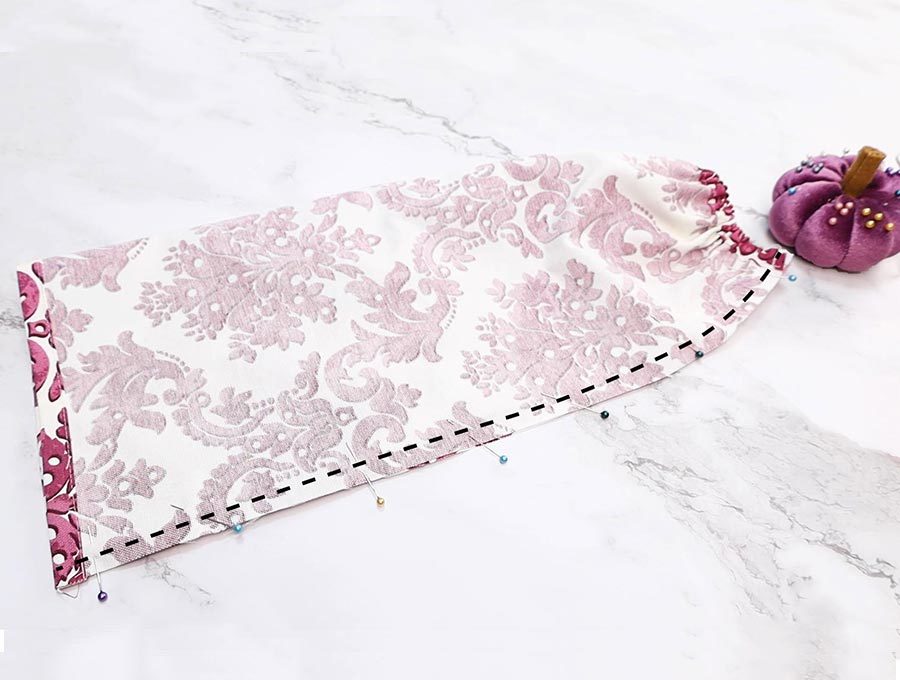 STEP 7: Stitch the long side
Stitch down the length with a ½ inch (12mm) seam. If you have an overlocker, then overlock the raw edges. If not do a second row ¼ inch(6mm) for the raw edges for strength, or use pinking shears on the seam edges to prevent fraying.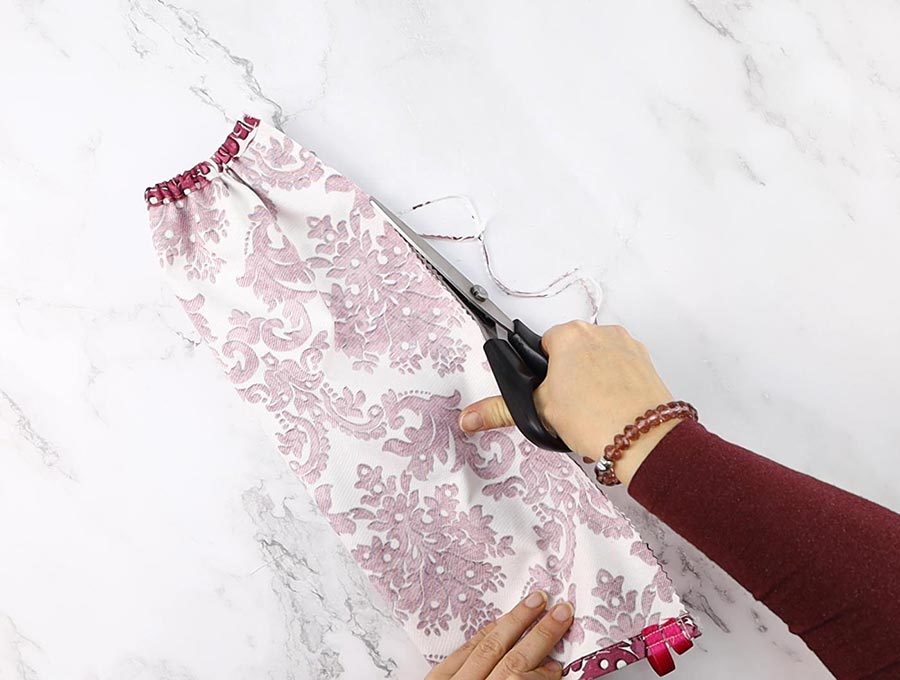 STEP 8: Pin ribbon to the top edge
Fold the piece of ribbon, used to hang the bag, in half, and pin into place either over the seam where the sides join, or close to the edge where they join at the opposite end to the gathered end.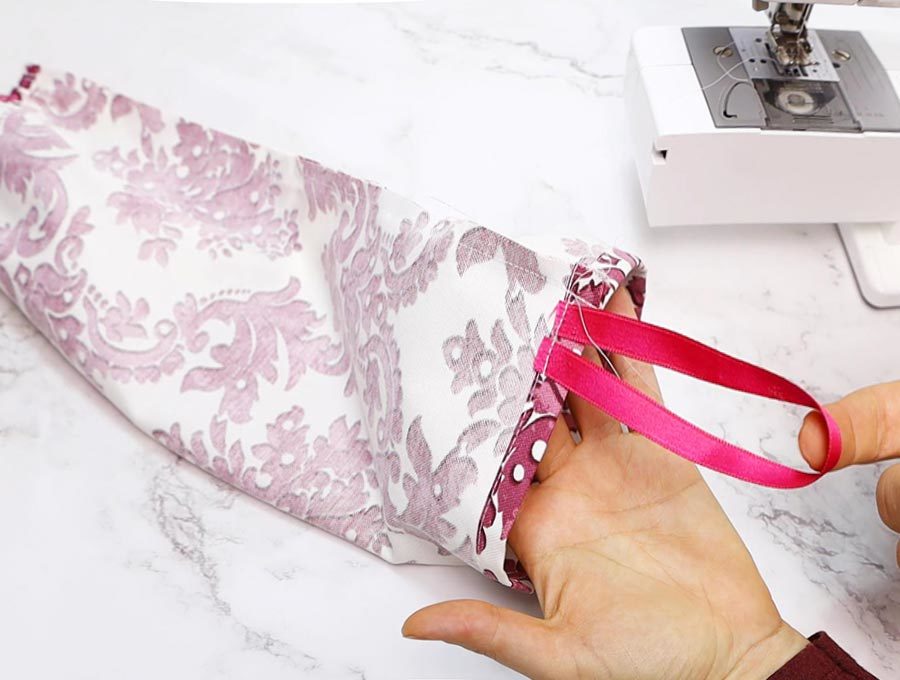 STEP 9: Stitch the hanging loop
Stitch the ribbon into place, going back and forth three times for strength, in line with the seam you stitched, taking care not to catch the fabric underneath – you need an open top into which you can stuff the plastic bags.
STEP 10: Turn the grocery bag dispenser inside out
Turn the cylinder you have created the right way out. You're done!
The DIY plastic bag holder is ready to hang and use. Your kitchen will be more organized and you'll be doing your bit for the planet by reusing plastic bags rather than binning them. Yay!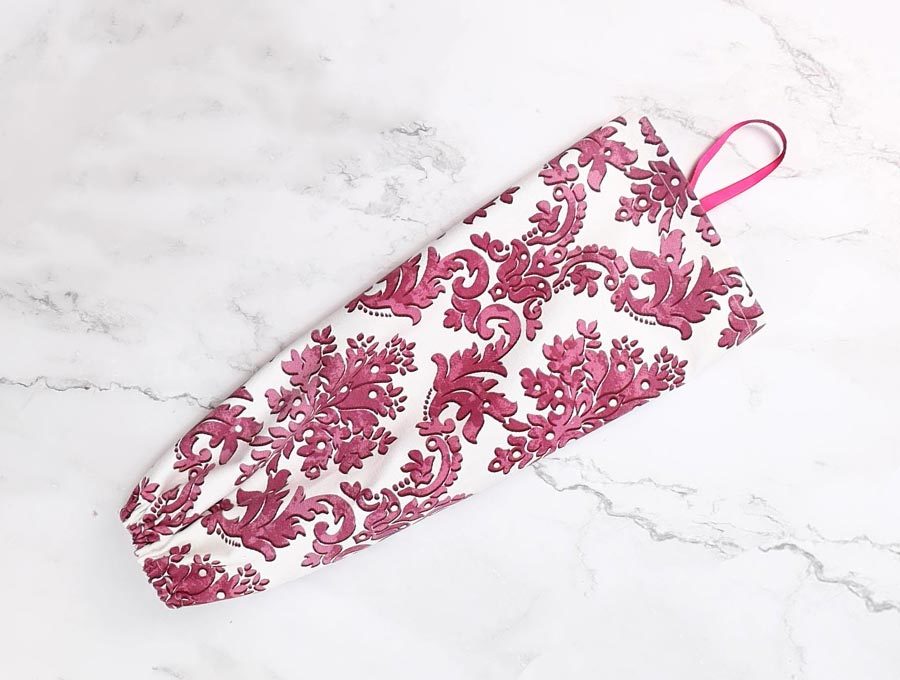 Now you can start making fabric plastic bag holders for your friends and family members – taking care that the fabric colors coordinate with their kitchens. We would love to see how yours looks. Share photos of your DIY plastic bag holder on Pinterest and social media so everyone can see what you created. And don't keep a good thing to yourself – share the grocery bag holder pattern supplied here, so other can DIY their plastic bag holders.
Wanna be friends? Click HERE and follow me on Pinterest
RELATED: