6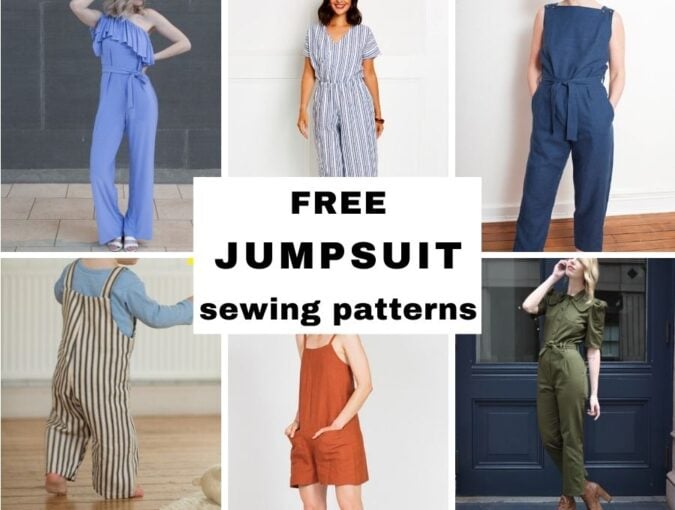 25+ Free Jumpsuit Sewing Patterns (Rompers, Overalls, Dungarees and Playsuits)
Jumpsuits and rompers are all the rage right now! Even though I am not completely sold on the one-piece clothing aspect, plenty of people rock jumpsuits and rompers and look really comfy and stylish. So I decided to bring you a collection of Timeless Jumpsuits for stylish women and cute children – from timeless to vintage, from comfortable one-pieces to formal models. Among other things you will find options such as elasticated waist, sashes, gathers, wrap front, zippered sides and so on if you are up for a small sewing challenge. Browse all the jumpsuit sewing patterns below to see which one is the right for you (or your kid)!
As always to get the pattern or tutorial, click through the link under each image. Happy stitching!
Free Overalls and Jumpsuit Patterns to Sew
Luna jumpsuit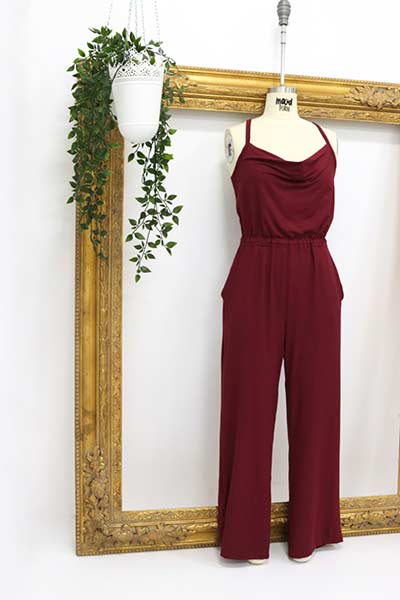 For all the fans of spaghetti strap tops and wide-leg culottes come this pattern that combines the two into a beautiful jumpsuit. The bodice has a triangular neckline at the front and a low back that leaves most of your back exposed, as well as a ribbon that connects the straps so they don't slide off your shoulders easily. The bottom is full-length with flared legs and a gathered waistline.
by Mood fabrics
Valley jumpsuit
Sizes 32-45 (B cup) and 46-68 (D cup)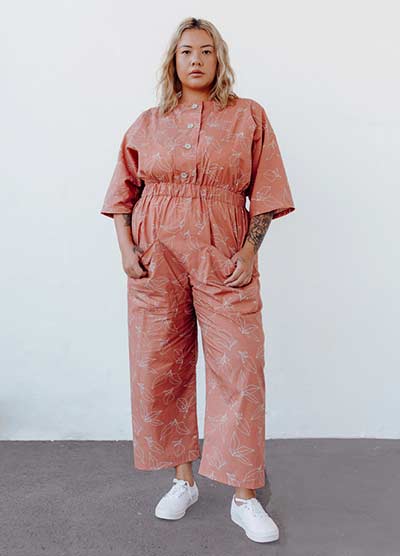 Use this pattern to make yourself fun and stylish overalls that have a button-up closure at the front and a back slit near the neck for extra comfort and arm movement range. The sleeves are 3/4 length while the legs reach down to your ankles. The jumpsuit has a high and narrow neckline, an elastic waistband, and practical pockets.
Morina Jumpsuit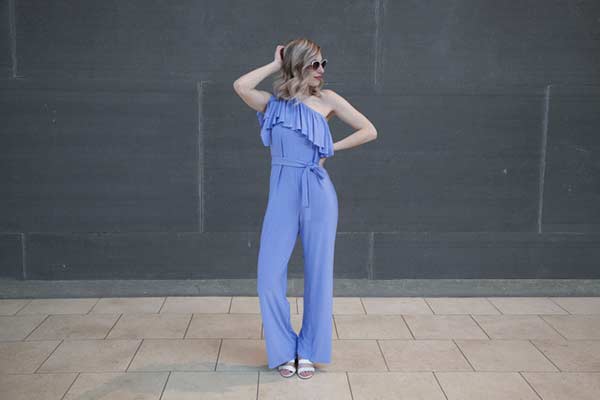 Get ready for a walk on the runway with this elegant and fashionable jumpsuit that features a sleeveless bodice that goes over just one shoulder, long and loose legs, and a ruffled flap that hangs off the neckline. The seam that joins the bodice to the bottom is hidden thanks to the stylish fabric belt that covers it.
by Moodfabrics
British sewing bee jumpsuit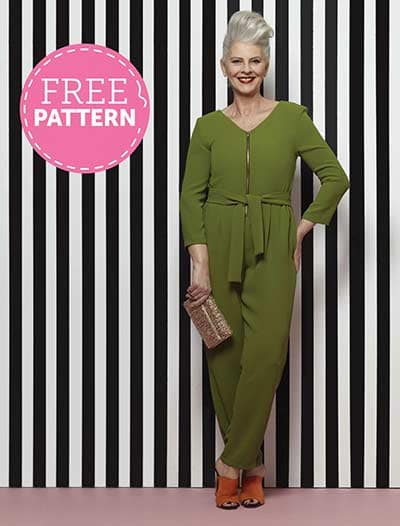 Basic but quite stylish is the best description for this jumpsuit with long pants and sleeves, as well as a practical zipper closure at the front. The neckline is a decent V-neck style that's not too deep when you pull the zipper up. The jumpsuit also has a fabric belt you tie at the front as a decoration.
by Craftworld
Forrest jumpsuit
Sizes: 2-30
Recommended fabric: heavyweight linen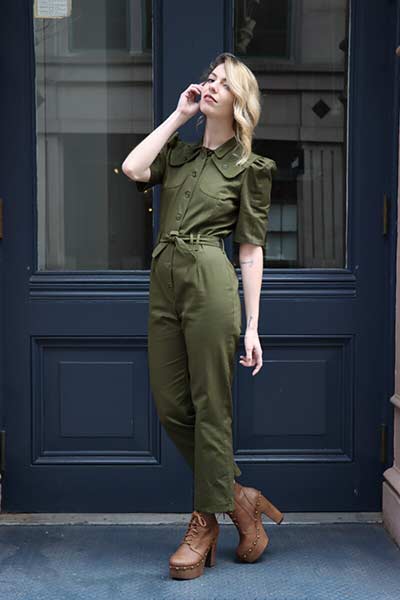 If you like that look of a jungle explorer, this jumpsuit will most likely intrigue you with its short puff sleeves, a beautiful collar, and interesting patch pockets set at an angle just below the collar. The front button-up closure covers the entire length of the suit, going from the neckline down to the cross point.
by Moodfabrics
Stylish jumpsuit
sizes: A to K
recommended fabric: chambray, cotton or linen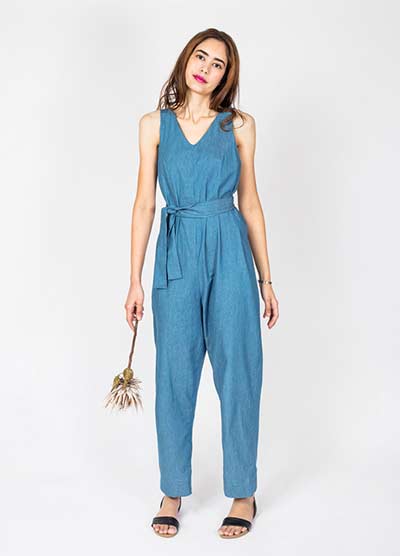 Here's a lovely jumpsuit that's ideal for spring or even summer due to its comfortable and breezy shape with shoulder strap sleeves that have wide armholes, a V-neck at the front and a matching back, and long but spicy pants. The drop shoulder bodice has a zipper at the back and a cute fabric sash at the waist that you can tie at the back or on one side.
Oversized dungaree overall – draft your own pattern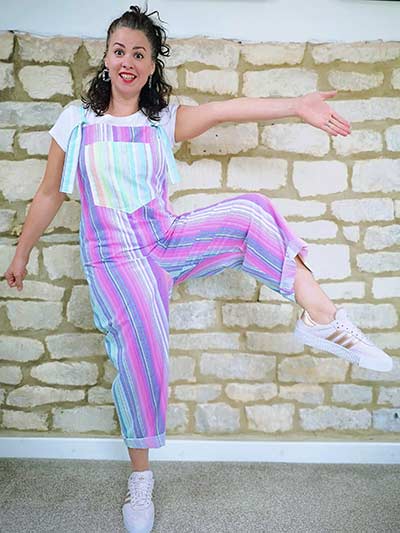 Turn yourself into the most fashionable handyman in the world with this Dungaree pattern that features long pants, a straight neckline, and those characteristic overalls shoulder straps. The straps are loose so you tie them together once you put on the suit. You don't have to untie them after that though because you can take the Dungaree off and put it back on even when they're tied.
All at sea jumpsuit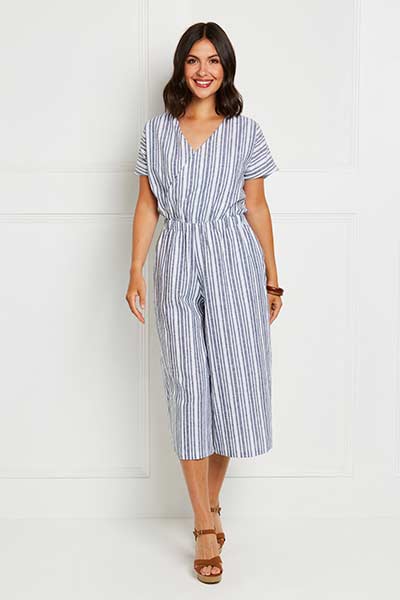 Enrich your wardrobe with a chic jumpsuit that has 3/4 length pants, short sleeves, and a creative wrap front that has that oriental charm that's hard to resist. The bodice and the refreshing wide pants are connected with an elastic waistband that's barely noticeable if you use a colorful fabric or a striped kind.
by Craftworld – you need to register  on their website (it's free) to get the pattern
Palm jumpsuit
Sizes: 2-30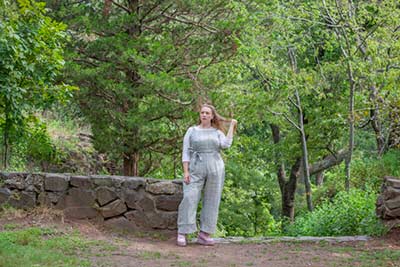 Here's a Dungaree jumpsuit that will make you look great during transitional periods thanks to its flared long legs with cuffs, a neat fabric belt that conceals the high waist seam, and narrow shoulder straps. The neckline is straight and relatively high, unlike the much lower back, reaching to your armpit height. The suit also has a practical side zipper that allows you to put it on and take it off more easily.
by Mood fabrics
Meadow jumpsuit with wrap front
Sizes: 2-30
Fabrics: ponte, foil knits or a stretch suiting!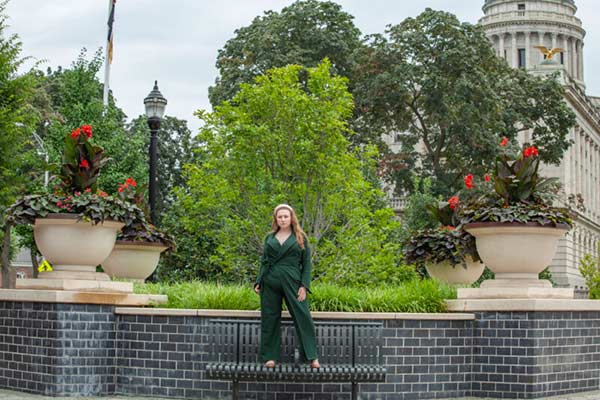 This pattern is something quite special because it combines some elements of Renaissance dresses, modern trendy coats, and blazers, due to its long sleeves overlapped at the ends, a wrap closure with a belt, and a gorgeous notched collar with lapels. Another interesting feature is the wrap section that extends to the ankle, providing a creative cover on just one leg, like a medieval shoulder cape, just on your waist instead of the shoulder.
by Moodfabrics
Dana linen jumpsuit
Sizes: 0/2 to 12/14, 16/18 to 28/30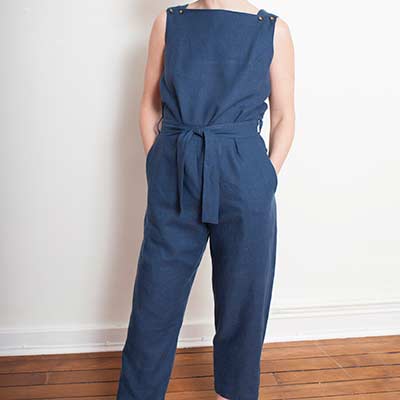 Sometimes you need an outfit you can jump into fast and wear on almost any occasion, like this sleeveless jumpsuit that has long pant legs, a fabric waist sash, and nice large handy pockets, pun intended. There's a set of two parallel buttons on each shoulder strap that allow you to disconnect the straps if necessary. The neckline is straight and high, while the back is also straight but much lower, reaching to your armpits.
Celine — Pull On Jumpsuit Pattern
Sizes: 0/2 to 12/14, 16/18 to 28/30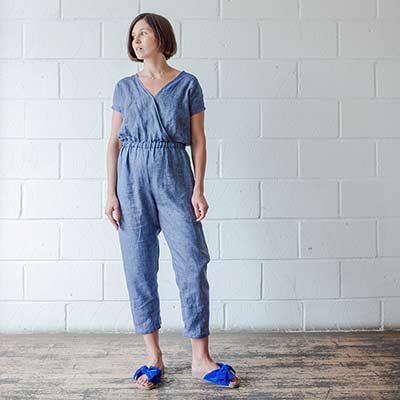 Set yourself up for a comfortable spring or the end of the summer with this casual jumpsuit that has short sleeves, a wrap-style bodice, long pant legs, deep side pockets, and an elastic waistband. The suit has no additional closures with zippers or buttons, but the bodice can be unwrapped enough to give enough room to easily get in and out of the outfit.
Poplar overall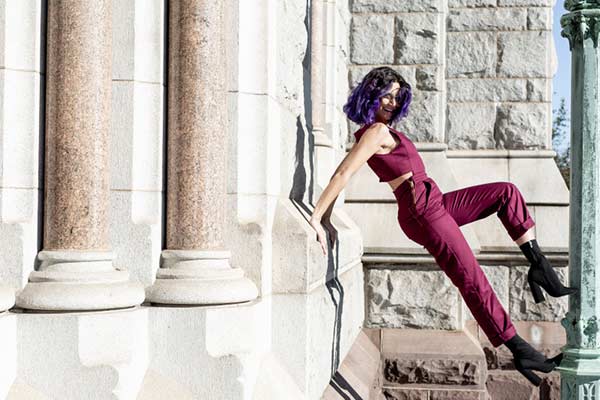 Dazzle all who lay their eyes on you wearing this chic jumpsuit that seems as if it's not one clothing piece but two, a sleeveless top with a deep straight neckline and beautiful pants with front and side pockets. The two are connected only at the belly, leaving a gap between them at the sides and the back. The top has a zipper at the back that goes along its entire length and the bottom has one side zipper, meaning you can put the suit on in seconds.
by Moodfabrics
Strapless playsuit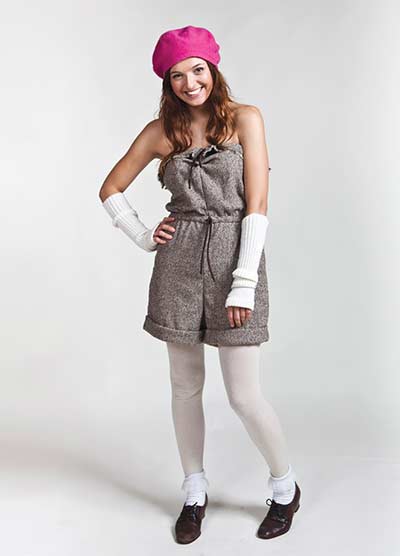 Tube top fans will love this pattern that features a sleeveless, strapless bodice and pant legs that reach above your knees. There's a drawstring at the waist and another one at the top edge of the bodice that you can tighten or loosen as you wish. The top edge of the bodice is folded down and frayed a bit like a subtle yet effective decoration design.
Short playsuit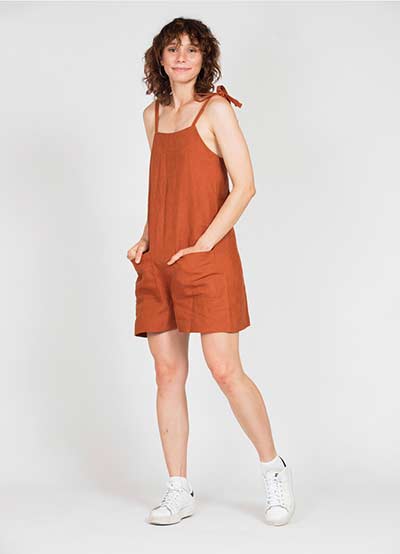 Hop into a cozy and breezy summer jumpsuit that has thin shoulder straps, short pant legs that go to your mid-thighs, and cute front pockets that can store your essentials. Each strap is made of two fabric strips tied together at the shoulder. The deep straight neckline that starts above your armpits and the back that has its top half open will keep you from overheating even during hot and sunny summer days.
Cloe — Linen Jumpsuit Pattern with back zipper
Flaunt your feminine figure with a jumpsuit that features sleeves reaching just below the elbows, legs that go to your mid-calves, zipper closure at the back, and a classy fabric belt with curved triangular ends. The neckline is high but quite wide, leaving your shoulders half exposed. The sleeves have ends that tie into adorable bows that match with the belt and complete the look of the outfit splendidly.
Linen work overall
Sizes: US6-8 (UK10-12)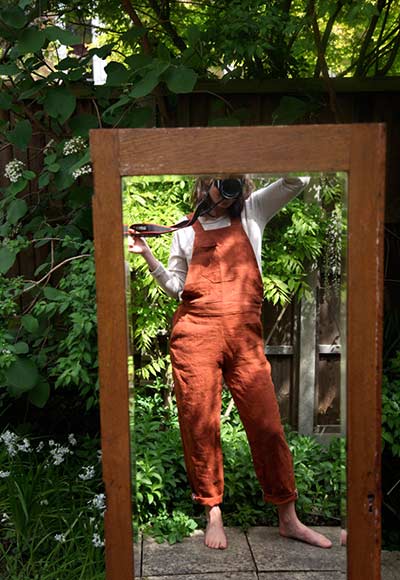 Make yourself a jumpsuit you can wear when you want to do some physical work in style with the help of this pattern for overalls that have an exposed back, shoulder straps, a belly pocket, and long pants. The front narrows down from the waist to the top, where a straight neckline sits at the armpit height. The shoulder straps on the exposed back meet at the middle of the waistline so they don't slide off your shoulders while you wear the suit.
Kids jumpsuit and romper patterns
Unisex romper suit
Size: 9-12 months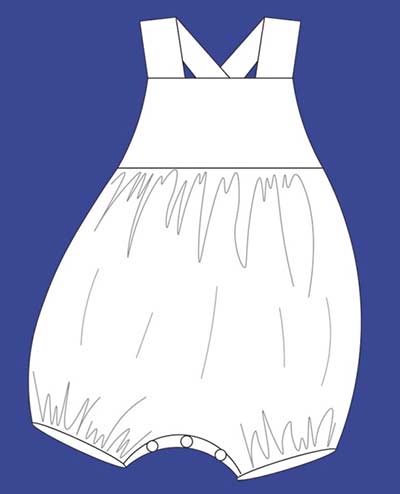 Give your baby a new, practical, comfortable romper suit with shorts bottom, an integrated bib, and shoulder straps that cross over each other at the back. The straps have snaps for quick changing in and out of the suit, while the bottom inner sides of the shorts have them as well, for easy diaper replacement.
Toddler Jumpsuit pattern
Size: 2T-3T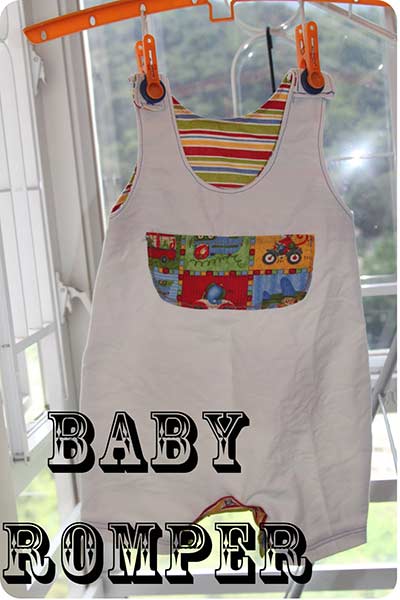 For slightly older toddlers comes this adorable jumpsuit with shoulder straps that secure to the front with buttons, a button-up waistband, and short pant legs. The front of the jumpsuit has a bib pocket that's just perfect for your kid to stuff rocks or bugs into, bet you'll enjoy getting those out of there.
Adorable Kids' Dungarees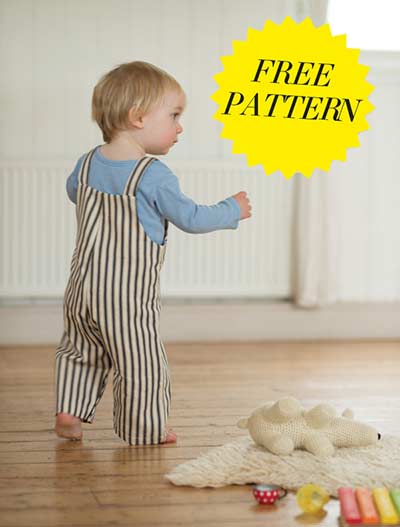 If you prefer your kid to have a jumpsuit with long pants, this one is the right choice for you, with its loose shape and thin shoulder straps, as well as large armholes that will let the tiny human wearing it flap their arms around as much as they like with nothing getting in the way of that wonderful fun.
by Craftworld – you need to register  on their website (it's free) to get the pattern
You and your little bundle of joy are now officially set with enough jumpsuit sewing patterns for the next few seasons! Do you already have a favorite romper or jumpsuit? Let us know in the comment section which of the free romper patterns and from the free jumpsuit patterns are your favorite. After that be sure to subscribe to our mailing list so you can stay up-to-date with new posts like this one. Enjoy your new jumpsuits!
RELATED:
20+ T-shirt patterns to complete the look
30+ Free Plus Size Sewing Patterns for Women and Men