4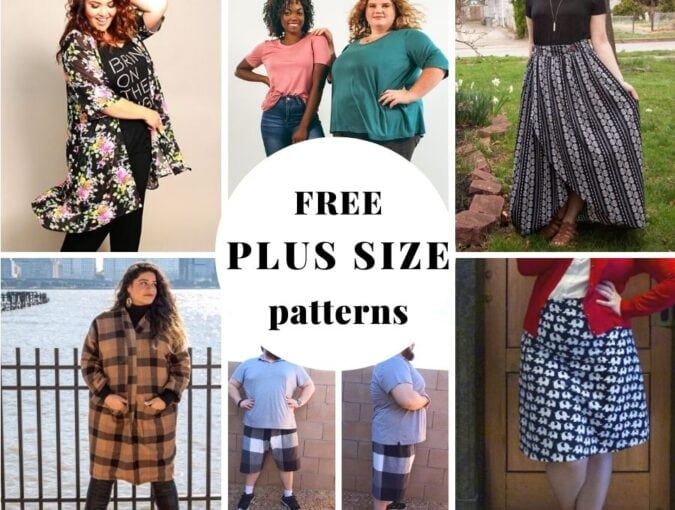 30+ Free Plus Size Sewing Patterns for Women and Men
Check out these gorgeous plus size sewing patterns for beginners and advanced sewists – some styles are up to 5XL! The styles are designed for fuller figures to create well-fitting garments. From tops and dresses, to shorts and pants and everything in between. Scroll down for Unisex and MENs patterns (shirt, sweatshirt, hoodie, undershirt, trousers).
All patterns are free, but as always you need to click through the link below the image and get the pattern at its designer's site. Some of the patterns may require you to get a code for the freebie or go through the checkout process even though it is listed for $0.
Plus size sewing patterns for women [Free]
You will find more than 25 plus size womens patterns below for tops, skirts, dresses, leggings, coats, pants, short and many more!
Classic relaxed fit top
Size: up to size 26
Enrich your wardrobe with a new, casual yet stylish top that you'll wear on those warm spring and summer days. This pattern comes in three slightly different options. The first is a short sleeve shirt that reaches your waist. The second variant is longer, reaching over your waist, with side slits, and without sleeves. The third option is a combination of the first two, a sleeveless top that reaches your waist.
by Seamwork
Women's top with 3/4-length sleeves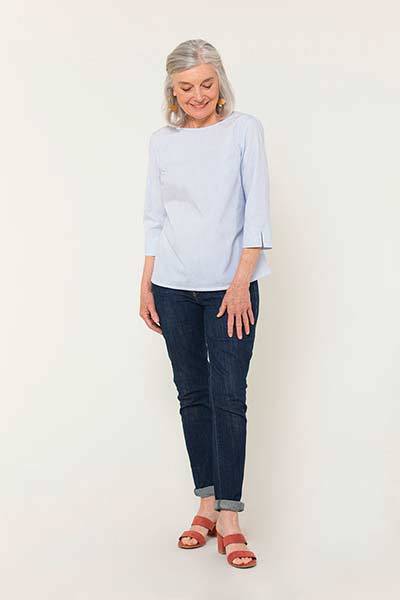 You can never have too many long-sleeved shirts with this crazy weather that changes so often. This pattern is ideal for those transitional periods that last longer each year because it's breezy, but not too much. The top has 3/4 sleeves with slits on the cuffs and a partially open back that closes with a tie ribbon behind the back.
by Seamwork
Skirt pattern from existing skirt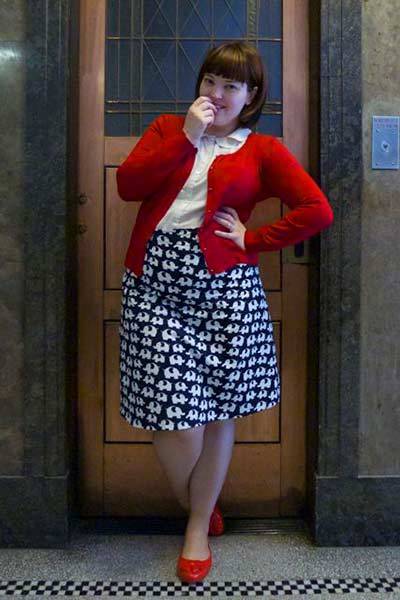 Everyone has that skirt they would love to clone, just in different fabric or colors. With this pattern, you can do that! The pattern helps you duplicate a skirt in no time, with only the usual sewing essentials. In this particular case, the cloned skirt was a knee-high A-line skirt with a waistband and a zipper at the back.
Knit peasant dress
Size: ANY – the tutorial shows you how to trace your own top to make the pattern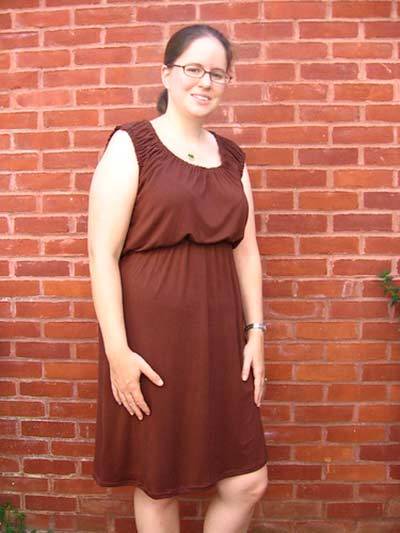 Here's another cloning pattern, but this time, the clothing piece is a peasant dress. Use a peasant dress you own for tracing out the shape and then make some alterations or improvements to make the dress different from the original. This specific dress features a high pulled waistline, gathered neckline, and wide tank top sleeves that are also gathered around the outer edge.
Simple knit A-line skirt with two waistband options
Size: up to 54" hips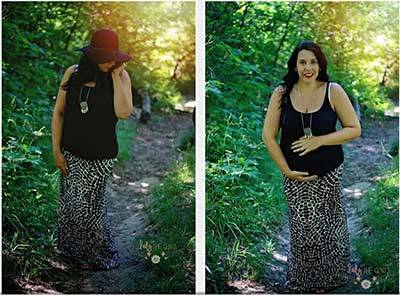 Sometimes you want your pattern to be customizable and provide you with a few different options, just like this one. This skirt comes in a few variations, so you can make multiple skirts with one pattern, depending on your choice for the length and the waistband style. Choose a folded waistband or a normal one, and maxi or knee-high length.
Kimono Cardigan
Size: up to size 26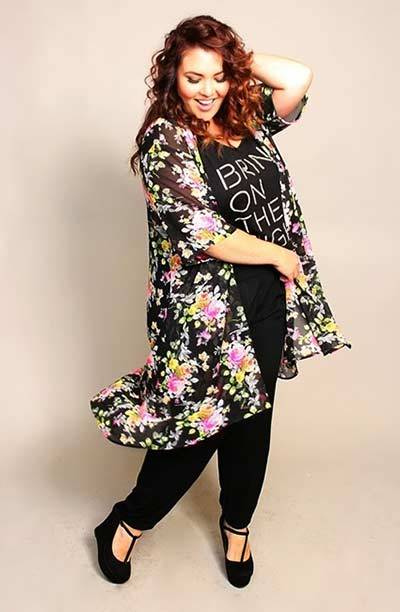 Modern kimono-style tops are getting more and more popular because they're so comfortable and stylish, any lady would love to have one. With this pattern, you can make it in a plus size easy and fast. The cardigan has rectangular loose sleeves and a straight bottom hem, meaning it's meant to be worn open and not wrapped.
RELATED: My easy kimono cardigan tutorial
Work pants (paid)
Sizes: XXS – 4XL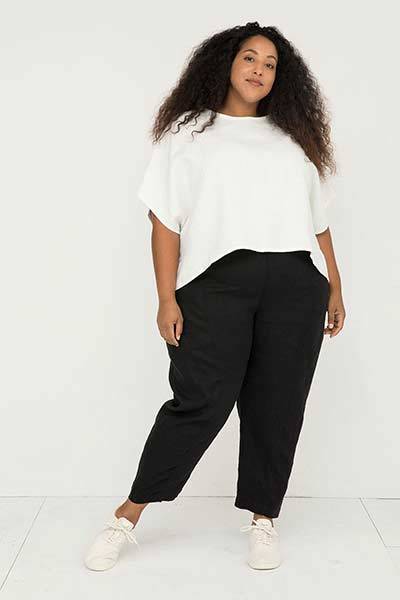 Comfortable plus-size working pants are so hard to find in stores, but making one of them with this pattern is far from difficult. These pants are ideal for leisure time, casual events, and those busy days when you need a comfortable bottom that won't get in the way while you do house chores, pick up the kids from school, and sew simultaneously. They have a snug waistband, large side pockets, and a fit that's precisely between baggy and tight.
by Elizabethsuzannstudio (no longer free)
Pants: Wide leg culottes
Sizes: 0/2 to 28/30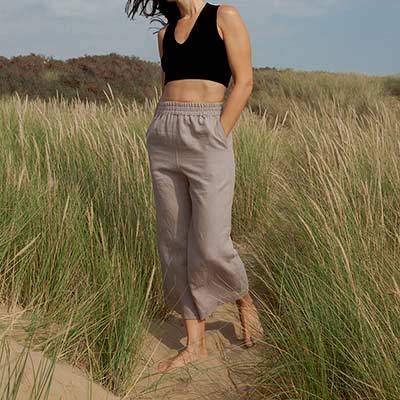 Wide and loose pants are often considered plain and far from fashionable, but these wide-leg culottes are strongly denying that opinion. They are breezy and refreshing to wear while being beautiful and chic at the same time. Their main features are wide pant legs, a comfortable waistband, and practical pockets.
Party dress
Sizes: XXS-5XL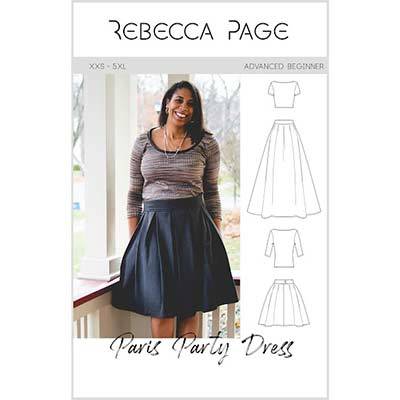 A party dress will make you feel cute and feminine the second you put it on, so every woman should have at least one of them in their wardrobe. This dress comes in two different bodice and skirt options. Choose between a short or long-sleeved top section, and knee-high or maxi skirt length. The two are joined together with a pretty, wide band at the waist.
by Rebeccapage
Open front Vest pattern
Sizes: XXS – 3XL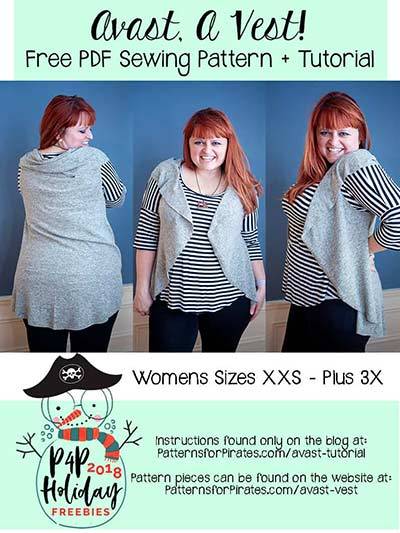 This open-front vest makes a great finishing touch to a lot of outfit combinations, so you should add one to your wardrobe with this pattern. The vest has a beautiful high-low hem and a creative shawl collar that makes it seem as if the vest has short cap sleeves even though it is technically sleeveless.
RELATED: MORE vests patterns for the whole family
Flutter-By Tank Top Pattern
Sizes: 6 to 26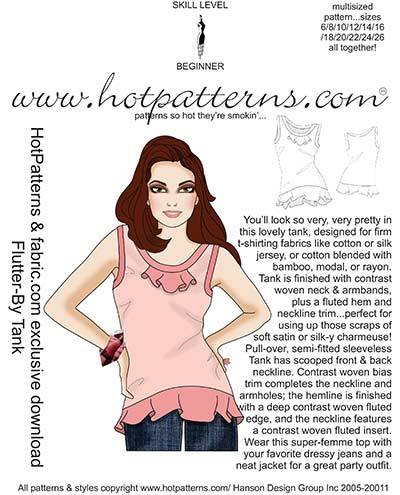 The most comfortable summer top can be more than a plain tank top, as this pattern proves with its scooped neckline, fluffy trim on the neckline, and a gorgeous flutter bottom hemI Not only does it look great, but this pattern also provides you with the means of using up all those fabric scraps in a creative way.
by Fabric.com
Trendy tank top for women
Sizes: 00 – 24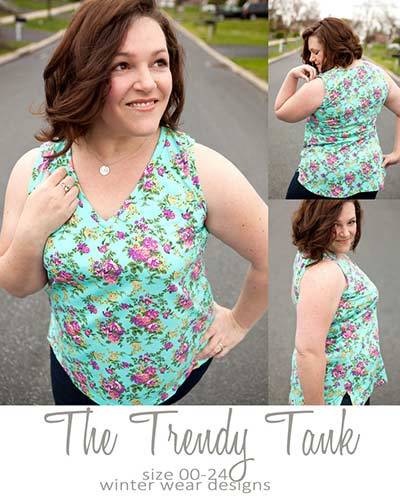 This tank top has a V-neck, subtle neck and armbands, and a short slit on both sides to allow more movement at the hips. The prominent feature of this pattern is the difference between the front and back bottom hem, with the front one being curved and the back one straight.
Free with code from their facebook group.
Details here: Winterweardesigns
Women's Coat
Sizes: 2 to 30, up to 63" hip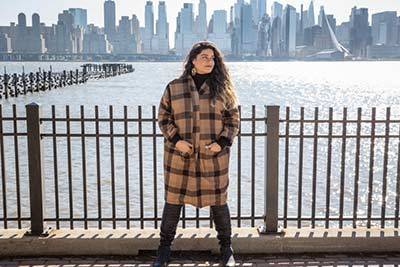 Get ready for fall and winter on time with this lovely overcoat pattern that is simple to sew because all parts are relatively straight, except for the round collar. The coat has two large pockets on the front that are great for warming up your hands when it's windy outside. This is an open coat, but you can wear it closed easily by using a belt to tie it up.
by Moodfabrics
Classic tight fit leggings pattern
Sizes: XXS to 5XL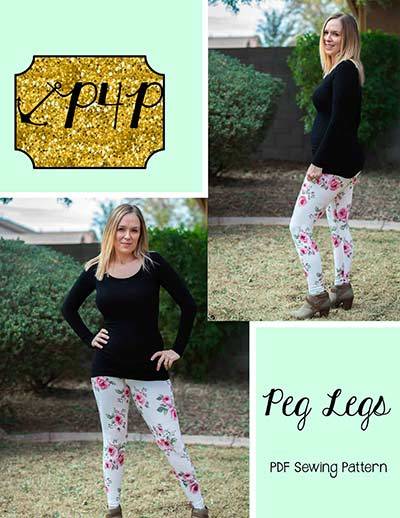 Leggings are practical and comfortable so it's no wonder they're gaining in popularity by the day. You can make yourself a new pair in no time with this neat pattern that comes in four different lengths, ankle, bike, mid, and shorts. There are also two options for the waistline height, medium and high. Make one of each for every occasion, from yoga to cycling!
Dolman style top pattern
Sizes: 00 to 26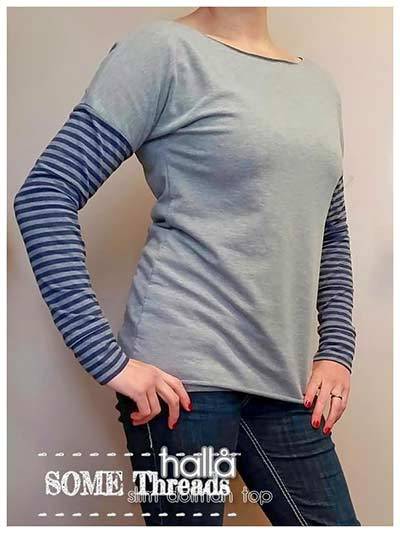 There are a couple of variations in this dolman style top, as you can choose between two different sleeve lengths, shirt lengths, and two types of bottom edge finish. Try out different combinations to get your ideal shirt, make a long-sleeved tunic-length top with a hemmed bottom or a short-sleeved regular-length top with a band at the bottom, or something in the middle, the possibilities are vast!
Free with code from their facebook group.
Details here: Hallapatterns
Jumpsuit pattern
Sizes: Up to size K (60" hips)
There's a special charm in stylish jumpsuits that's hard to resist, and there's no real reason to resist it in the first place, so here comes a pattern for one. This suit has tank top sleeves, a deep V-neck both at the front and the back, and a cute sash to tie around the waist. It's one of the most comfortable pieces you can wear in summer, don't miss out on it!
Maxi skirt pattern
Sizes: 0-26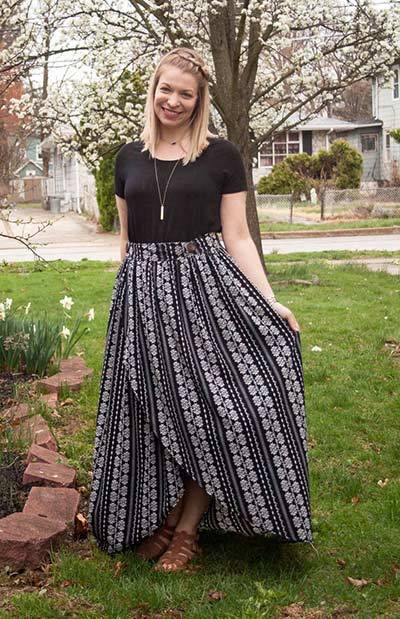 This maxi dress pattern will bring out your feminine side splendidly with its gorgeous overlapped shape that resembles an upside-down tulip head. You can complete this dress with a sash or a ribbon tie at the waist below the button on the waistband.  There's a matching bonnet pattern that goes together with this dress as a bonus.
Woman's shirt
Women's sizes: 14-36, up to 67" hip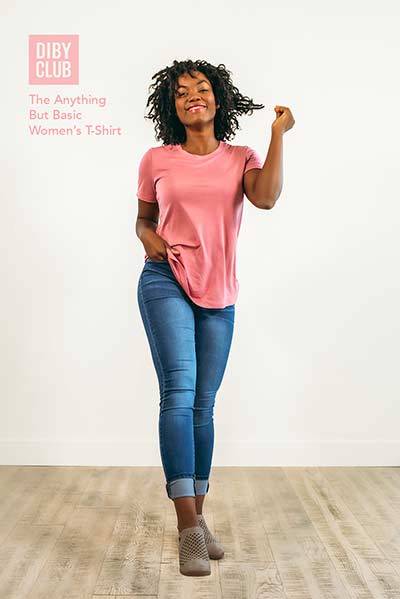 Make yourself the ideal shirt with this pattern that offers you multiple choices of sleeve lengths and neckline types. The shirt sleeves come in 3/4, elbow, long, and short lengths. As far as neckline goes, you can opt for a high crew neck, a normal crew neck, and a scoop neck. Feel free to combine different options to get the perfect shirt for yourself.
Pencil skirt
Sizes: XXS – 3XL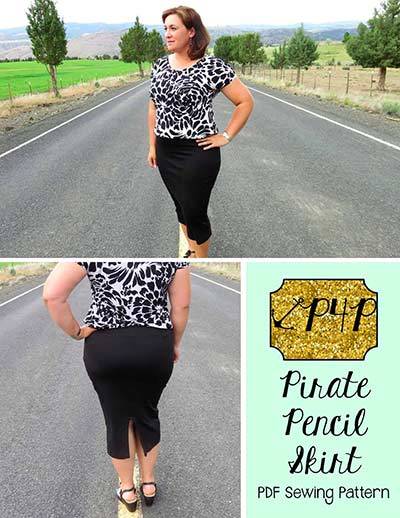 Here's a pencil skirt that will flatter your attributes stylishly in three different lengths and two waist heights. You can make this dress with a high or a medium height waist, as well as above the knee, below the knee, or midi length. There's also an optional walking vent you can incorporate if you wish.
Pleated summer dress
Sizes: Up to size K, 54" hip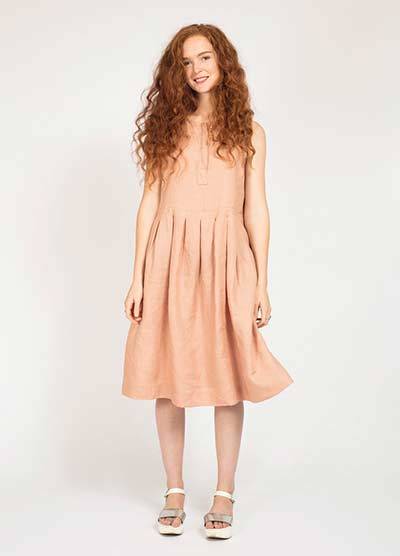 Enjoy feeling breezy in the summer with this gorgeous dress that has an adorable pleated skirt and a tank top bodice. The dress is long enough to just cover your knees while the neckline is high, with a button-up opening that reaches to about the middle of the bodice.
Playsuit pattern
Up to size K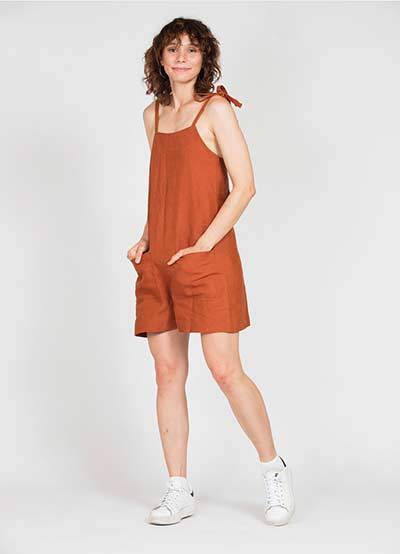 Relieve your childhood memories of having fun at the park with this playwriting that has a spaghetti shoulder strap bodice and a shorts bottom. The straps tie up at the shoulders and the shorts have practical front pockets. You can wear this suit over a T-shirt or skip out on the shirt if it's an especially hot day outside.
Women's tank top
sizes: 2 – 22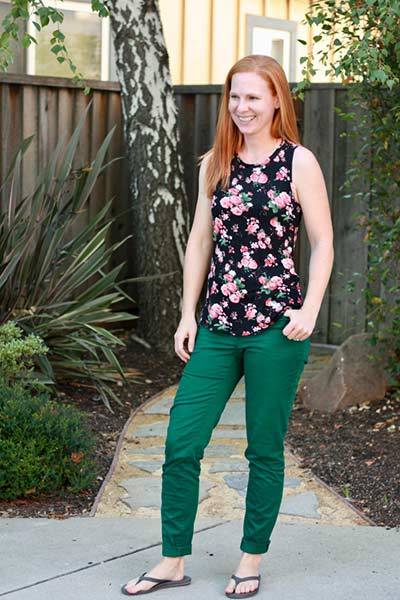 Here's a tank top pattern that looks great on young and mature ladies alike thanks to its beautiful retro look. The top has a high neckline and center back seam that makes it easy and fast to sew. It's loose at the hips to make you feel comfortable wearing it and has a flared bottom hem that adds a dash of cuteness to the whole thing.
Breezy Tunic
Sizes: 2-30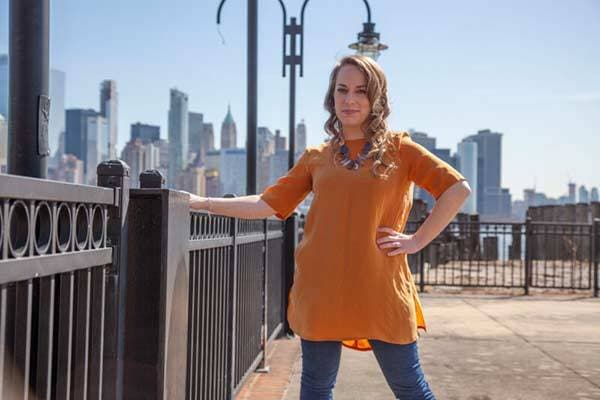 Fashion yourself a lovely tunic you can wear on most occasions and dazzle everyone along the way with this pattern that features a loose fit, flared sleeves, and a scooped back. A special addition to this tunic is the vertical slit that goes along the back. The slit has two ribbons that keep it completely closed or slightly open, depending on your preference.
by Moodfabrics
RELATED: More easy TUNIC patterns
Jumpsuit
Sizes: 2-30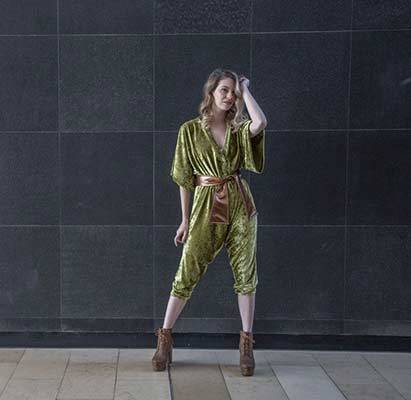 Jumpsuits can be classy and a bit luxurious, as this pattern demonstrates. It has a comfortable kimono-style bodice that features a deep V-neck formed by a wrap closure with lapels. The sleeves are extremely wide and reach to the elbows. The bottom section consists of pants that go just over the knees and a belt that you tie up at the waist.
by Moodfabrics
UNISEX: Pajama bottoms – shorts or pants
Three lengths available: shorts, knee length or pants length
Sizes: XXS – 3XL, hips up to 58"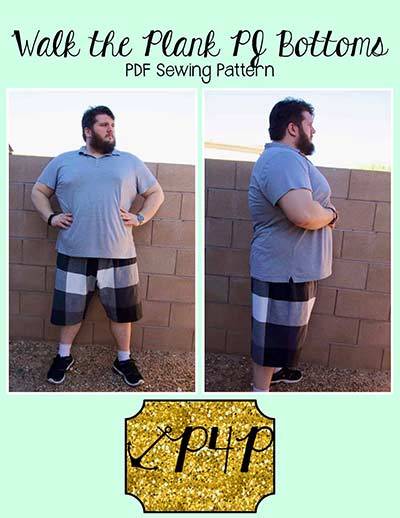 Make sure your nights are far from uncomfortable with this unisex pajama pattern that comes in three variations. Go with short, medium, or long length and whip up these pajamas for your entire family in a matter of minutes. The pajamas have an elastic waistband and no side seams which means they feel wonderful to wear and sleep in.
UNISEX: Classic sweatshirt
Sizes: XXS – 3XL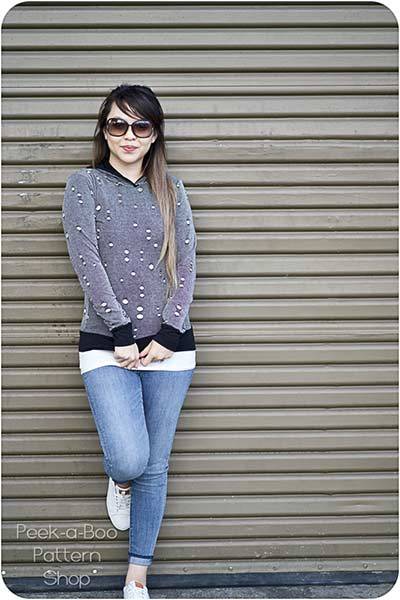 Jog, exercise, or just hang around leisurely with this casual sweatshirt that's customizable in two aspects. One is the hood, meaning you can make the sweatshirt with or without it. The second is also optional but highly recommended if you ask me because it's the characteristic practical giant front pocket we all love on sweatshirts.
Free with coupon from their facebook group or newsletter.
See here for more details: Peekaboopatternshop
FREE plus size MEN's patterns
Men's undershirt
Sizes: XXS – 2XL
Guys go through their undershirts as it they're made of cotton candy, so this undershirt pattern comes in handy for all the wives making sure their boys don't find themselves with nothing to wear under their shirt. This one is as plain as they come because guys don't need anything fancy. You can choose to add a chest pocket or skip out on it.
by Threadtheory
Men's shirt
Sizes: 3XS – 4XL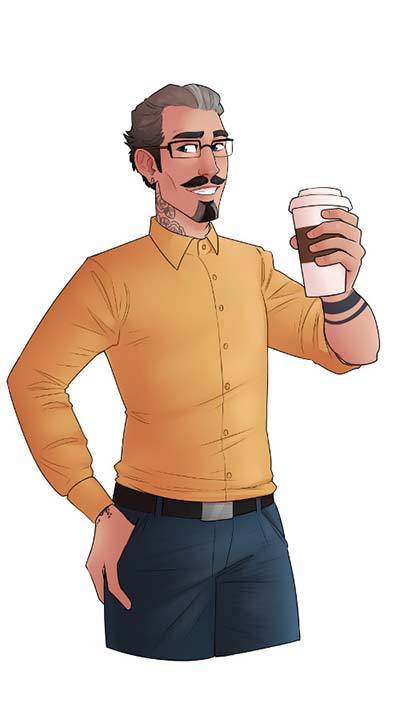 After an undershirt, comes the shirt with this pattern that's also quite basic yet exactly what the guys need from a shirt. It's a button-up shirt that has a collar and French cuffs. They can wear it with a suit for formal events or as a normal top for more casual occasions.
by Freesewing
Men's hoodie
Sizes: 3XS – 4XL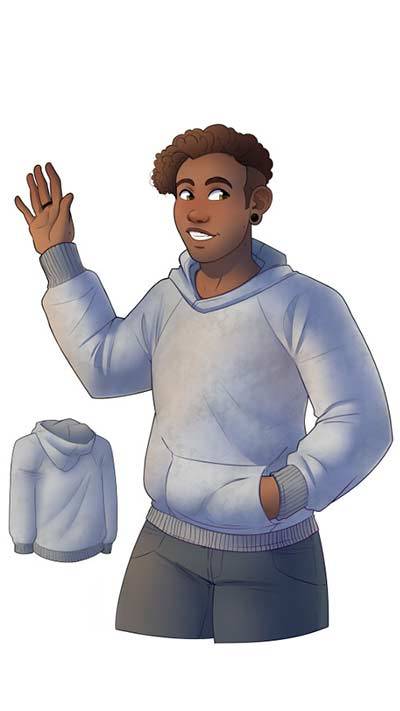 Guys love sweatshirts like this one, with a hood, a big front pocket at the stomach, and raglan sleeves. This pattern also features an elastic band at the bottom hem and elastic cuffs that keep the sleeves from lifting up even during a workout or a game of basketball at the local outdoor court.
by Freesewing
Classic trouser pattern for men
Sizes: 3XS – 4XL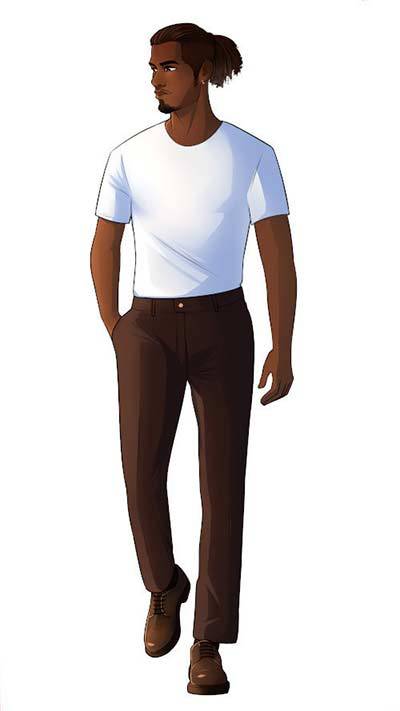 These classic men's pants are versatile and far more comfortable than jeans so your man will love wearing them. They have a pleat on each pant leg for extra room and comfort, two back pockets, a zipper fly, and a button-up waistband that doesn't require a belt to stay in place, but you can add loops if your gentleman prefers it.
by Freesewing
I hope you enjoyed this list of free printable plus size sewing patterns for women and men. Drop by in the comments below and tell me which one you are going to sew first. I'd love to see what you sew!
Now you have enough free printable plus size sewing patterns to make new and unique pieces of clothing for all your family members. They'll love your gift so don't shy away from surprising them! If you have some ideas for improving certain patterns, let us know in the comments below. And don't forget to subscribe to our mailing list and receive notifications when new content appears on the website.
MORE Clothing Patterns You Seriously Need:
Your friends will be begging to know where you bought THIS top
Make this ridiculously EASY poncho – just 2 seams!
Baby dress patterns – because your little princess deserves the best!