2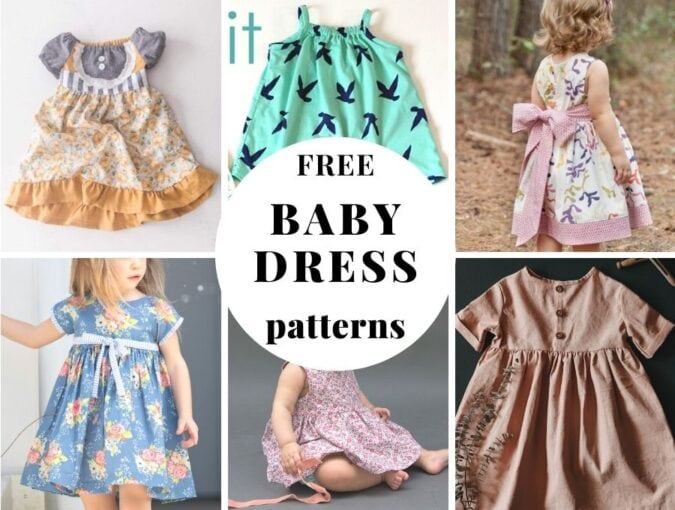 15+ Free Baby Dress Patterns Anyone Can Make
There is something so cute in sewing tiny baby dresses. It's my #1 choice for a handmade gift as this is a cool and practical item that will help the expecting family welcome their bundle of joy. Here is my handpick list of adorable and easy baby dress patterns. All of these can be easily sewn by almost anyone, as any mistakes can be easily covered by ruffles, embroidery or even fun colored trim. Whip up a quick and easy spring baby dress or make an adorable breezy summer dress for your own baby or grandbaby or to give as a gift.
This roundup contains some of the loveliest free patterns for baby dresses, so to get each pattern follow the link under it's image and description.
Must-sew baby girl dresses patterns:
Easy baby girl dress sewing pattern
Sizes: newborn to 12m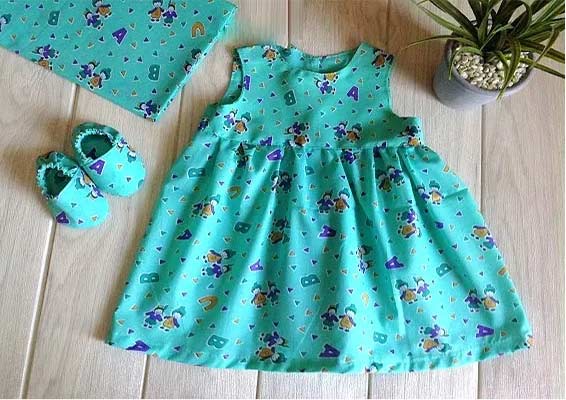 The first pattern on the list is an adorable easy baby girl dress. This cute little dress is a splendid choice for summer days because it's breezy and comfortable, and it won't bother the miniature princess wearing it in the slightest. The dress is sleeveless, with a high waist that's gathered a bit so that the bottom forms a nice bell shape. If you feel up to it, you can sew a matching diaper cover or tiny shoes.
Get it here: Sewcraftyme
Baby dress with fully lined bodice
0-3m size is free to newsletter subscribers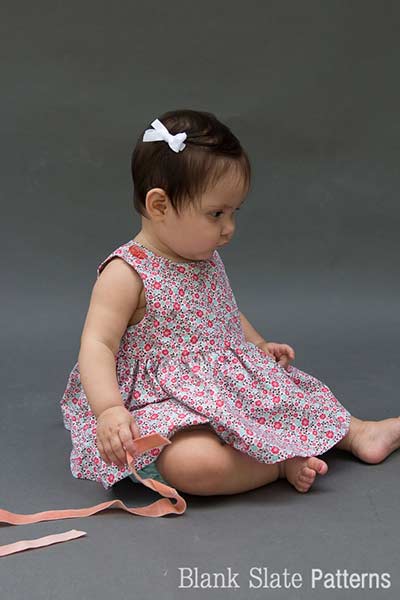 This next baby dress pattern is similar to the first one, with a few slight differences. It's also a sleeveless dress with a high, gathered waist. Unlike the previous one, this dress has a fully lined bodice. Another difference is in the shoulder straps, they are straight and have cute flowers stitched onto their top side.
Tutorial by Mellysews
Pillowcase dress
Sizes: 6m+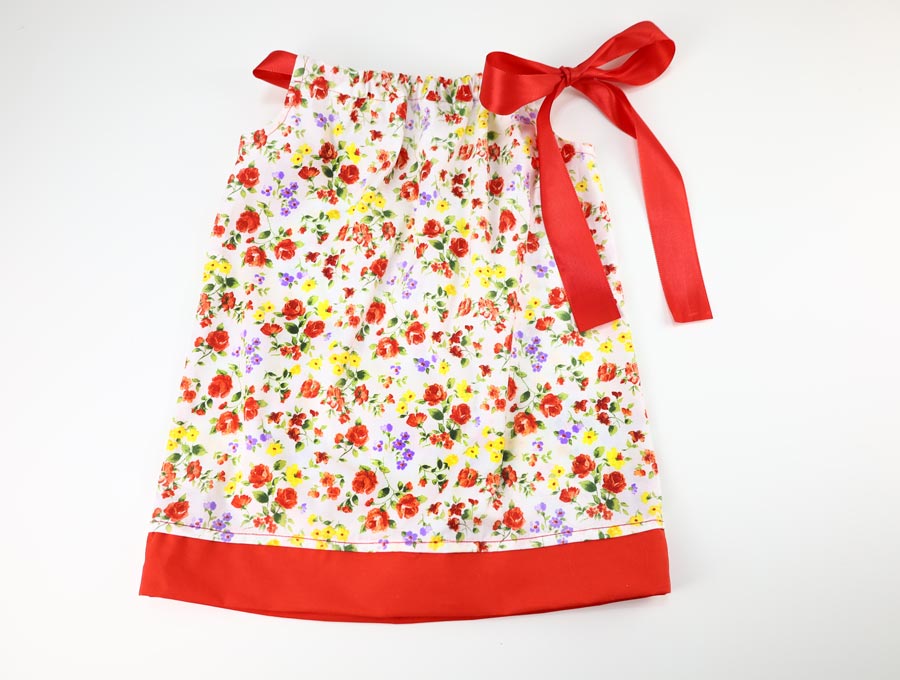 Turn a regular pillowcase into a lovely new baby dress with this neat pattern! This dress has a gathered neckline and no sleeves, with a wide band along the bottom hem. It comes in two variants, with a ribbon bow on one shoulder, and ribbons on both shoulders.
Get it here: Pillowcase dress by HelloSewing
Chloe spring staple dress with vintage vibes
Sizes: 0-3m – 18-24m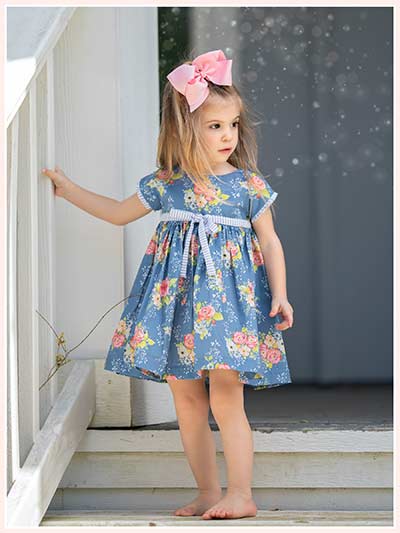 Here comes a special free baby dress pattern that offers you a lot of different choices, it's the Chloe spring staple dress! It's as if multiple baby dresses patterns were joined together so that you can choose the parts you prefer and make a dress completely to your taste. Decide whether you want ruffle or plain sleeves, back buttoning or none at all, sash or no sash, and a few other possibilities available to you in this fun multifunctional pattern.
Features and options:
Dolman Sleeve Style Bodice (easy for beginners)
Back Sash, Front Sash Tie or NO sash Options
1/2 Back functional Button Closure
Plain Sleeves or Ruffle Sleeves Options
Standard Dress Length
1″ Deep Vintage Hem
Get it here: Vintagelittlelady
Baby party dress
Sizes: 6months+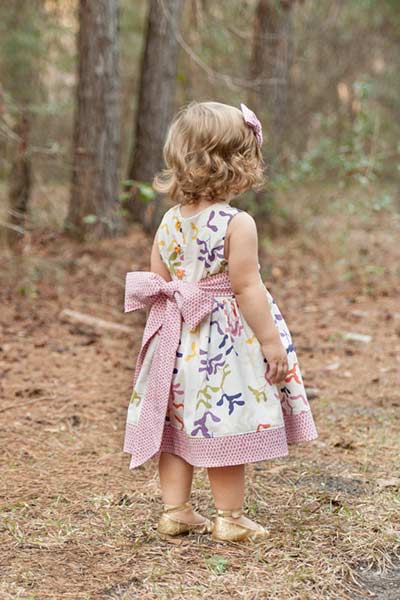 Get your little princess ready for a party with this adorable party dress pattern! This is a sleeveless high waist dress that has a lined bodice with loop buttons as closures. The waist is encased and looks best with a wide bow sash tied over it. The bottom hem of this dress is decorated with a wide band in matching color as the sash.
Get it here: Thecottagemama
Baby dress with peter pan collar
Sizes: 6m – 3T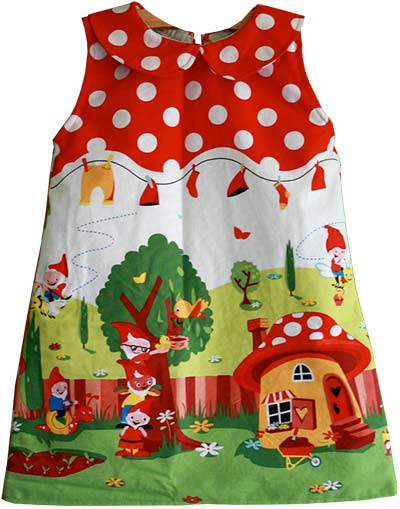 Here's a pattern for all those little girls that don't want to grow up, it's the Peter Pan collar dress! As the name implies, its most prominent feature is the specific rounded collar. The dress is bell-shaped with no sleeves and a zipper at the back opening.
Get it here: Smalldreamfactory
Baby and toddler peasant dress
Sizes: 6-12m, 2T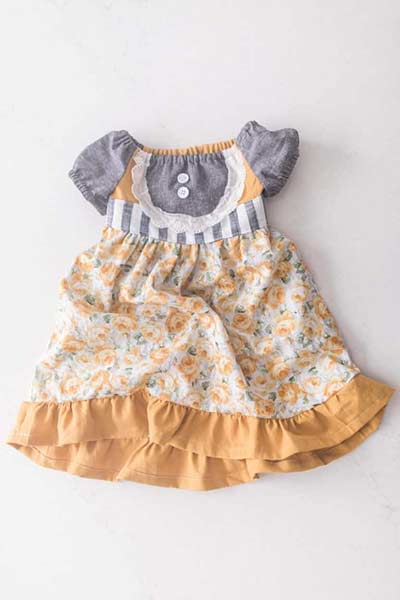 Who says farm girls aren't cute? This peasant dress proves them wrong! It has a beautiful wide ruffled skirt, puffy sleeves, and a band that covers the stitch between the bodice and the skirt. It also has a lovely curved decorative lace under the neckline and two buttons set vertically just above the lace.
Get it here: Farmhouseonboone
Sizes: newborn to 3T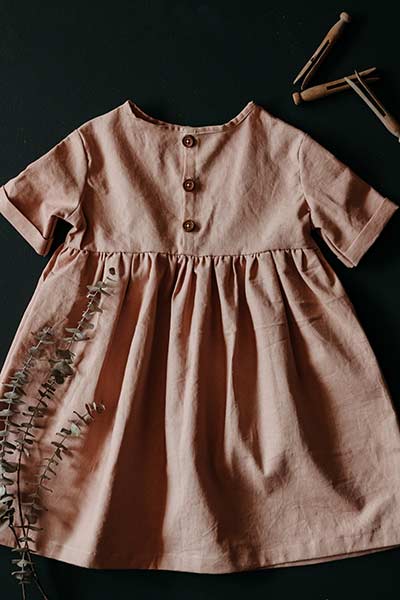 Baby linen dress with front buttons is up next. This dress also has a gathered high waist like most of the patterns on our list so far. You can choose among four different sleeve lengths, ranging from sleeveless to long. The three buttons at the front closure give the dress extra practicality and a nice look.
Tiered ruffle baby dress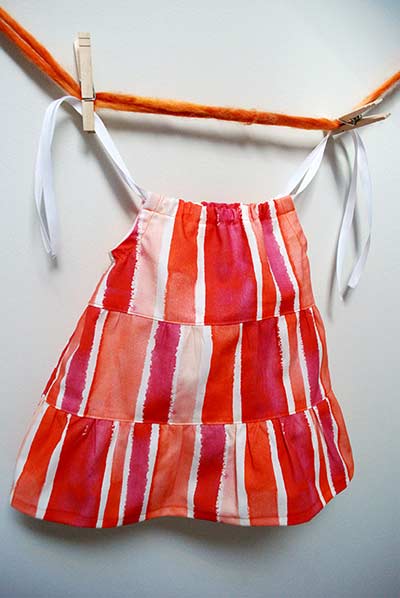 Now it's time for a pillowcase dress with a twist, it's the tiered ruffle baby dress! You sew it by joining three, wide fabric straps with their wide edges together and gathering the stitches between them. Then just add the ribbons for the shoulder straps, do some finishing work, and that's it!
Baby sundress with border print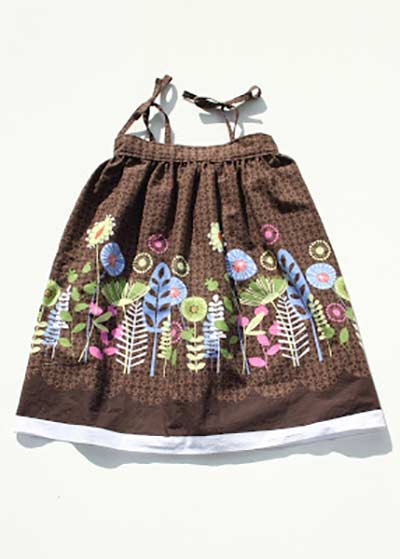 Make your baby a cute and breezy summer dress with this sundress pattern! For this specific pattern, it would be best if you used a fabric with a border, as it makes your work even shorter. The dress is made of a fabric tube that has a gathered chest band attached to it, and thin shoulder straps stitched onto the band.
Get it here: Lilblueboo
Baby dress with pockets
Sizes 0-3m are free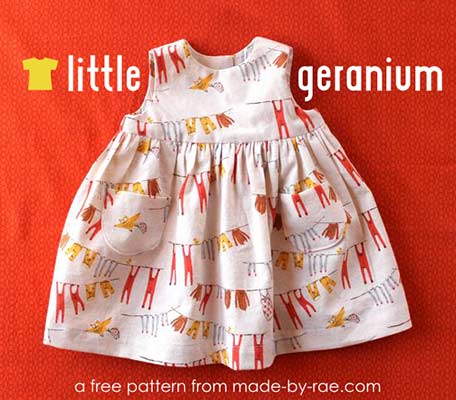 Here's another bell-shaped dress that's adorable and easy to sew, the baby dress with pockets. This newborn dress pattern is easy to whip up, features cute gathering on the waist and two front pockets. This dress features a scoop neck bodice, no sleeves, and a high waist that's gathered. The special additions to this dress are the two front pockets that can store all that important stuff babies like to hang on to and carry everywhere.
Get it here: Made-by-rae
Tiny baby tank dress for knit fabrics
Sizes: 6-12 Months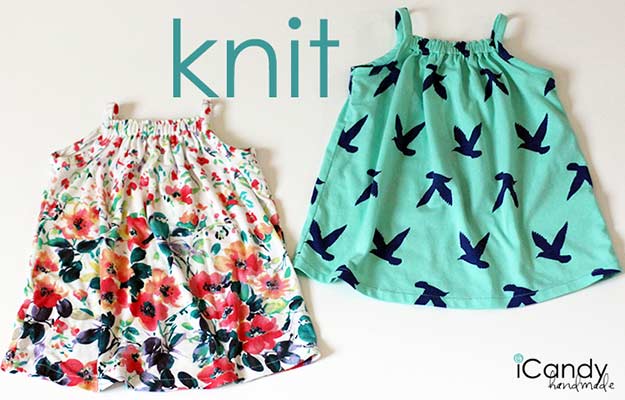 The last pattern on our list is a fun summer dress for knit fabrics, the tiny baby tank dress. This is the simplest project on our list. All you need to do to make it is to sew a fabric tube with the shoulders cut out in a slight curve, make a casing at the top and insert an elastic in it, and stitch thin curved shoulder straps onto the shoulder openings.  After that, it's ready for action!
Get it here: Icandy-handmade
I hope you enjoyed this collection of baby girl dresses patterns. Which is your favorite newborn or infant dress pattern? Let me know in the comments down below.
Now that you have all these baby girl dresses patterns at your disposal, you can sew adorable dresses for your little angel, or give them out to your close ones as lovely thoughtful gifts! If you enjoyed this article and would like to stay up-to-date with similar ones we'll publish in the future, subscribe to our mailing list. And don't forget to share your thoughts about this article with us in the comment section!
MORE Easy and Quick Sews for Babies:
Fabric bows – sews up in 2 minutes flat!
Make a tutu – babies and toddlers look soo adorable in tutus. Picture perfect! Plus, you can whip up one for older girls, too!
Easy turban headband – you can whip up one for you too. It's great for bad hair days