1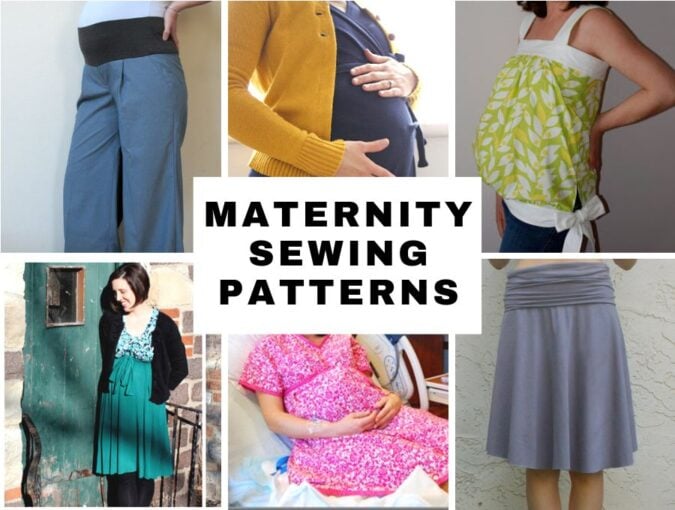 30+ Maternity Sewing Patterns (FREE) – Dresses, Tops and Pants, and Everything You Might Need
Pregnancy means trying to stay comfortable and cute at all times. However, finding comfy items that can be dressed up and down might be a challenge the choice is limited. Searching for maternity sewing patterns is also a lot of hassle, so I decided to gather the best (and FREE) maternity patterns at one place – everything from maternity dresses patterns, maternity shorts and pants as well as maternity tops patterns. We have some accessories you might find useful like the belly band (a heaven-sent) and a maternity hospital gown to keep you comfy at the hospital. Most of the maternity friendly patterns I assembled here are something you will wear during the pregnancy and then AFTER it, because, come on, it's challenging to find the time to sew with a new human being around.
How to modify patterns for maternity use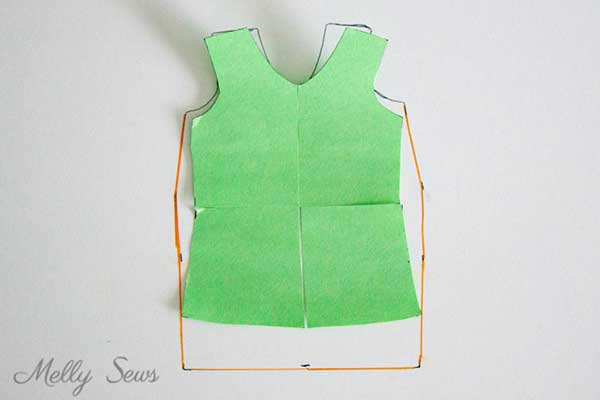 Pregnant sewing enthusiasts don't need special patterns that are designed for future moms only, at least not if they have this handy project at their disposal because it will help them turn any top pattern, they own into a pattern that is suitable for women in a blessed state.
by Mellysews
DIY Maternity Jeans, Pants and shorts tutorials
How To Add Maternity Band to Jeans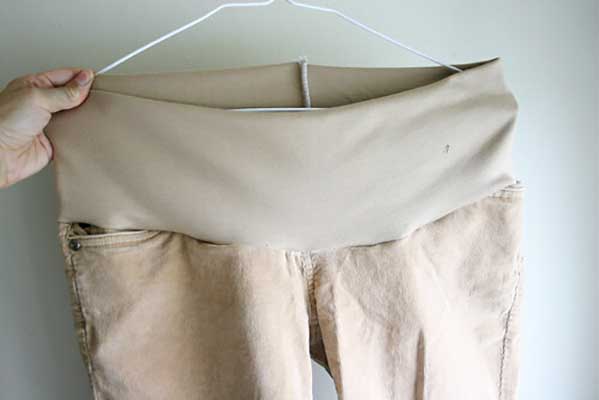 That favorite pair of pants you have doesn't have to leave your wardrobe just because you're carrying a beautiful baby in your belly, it just needs one major alteration in the form of an appropriate waistband that you can perform with this tutorial, and you will be able to wear it again!
by Grosgrainfab
How to convert any pants into maternity pants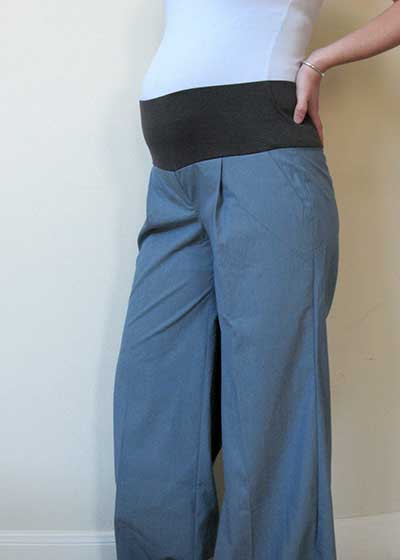 Don't spend money on new pants and save them for the baby instead with this handy project that allows you to turn all of the pants in your wardrobe into maternity pants you will be able to use from the first to the last day of your journey to becoming a mom.
by Modestmaven
Maternity dresses and skirts patterns
DIY maternity dress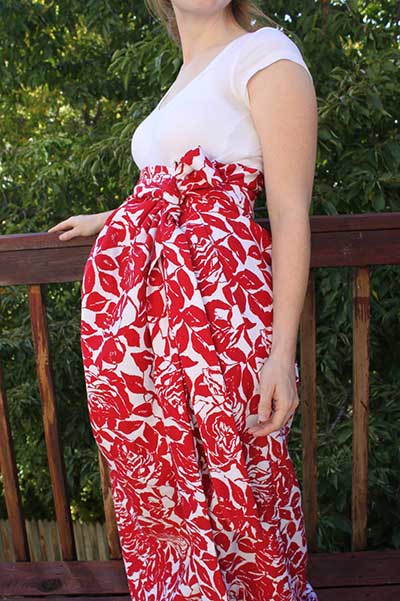 Create an adorable and comfortable maternity dress out of an old T-shirt and a bit of matching or contrasting fabric that you join together at the waist and then add the finishing touch in the form of waist ties, or go with the optional knit fabric band at the waist instead.
Ultra Convertible Skirt and Dress Combo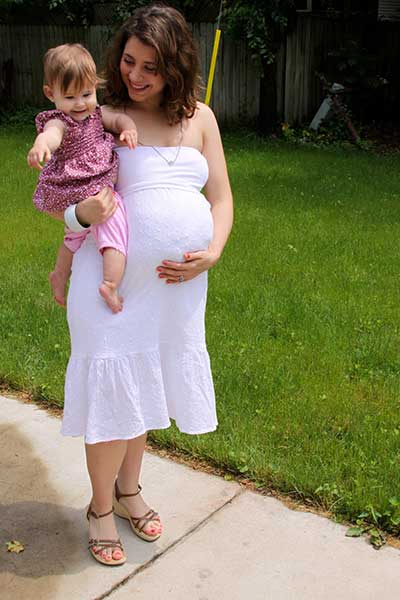 Combine a two-tier skirt with a stretchy tank top and you will get this beautiful maternity dress that you can wear with its straps over your shoulders, or folded down so you get a tube-top dress that is extremely practical when it's nursing time.
Empire waist maternity dress pattern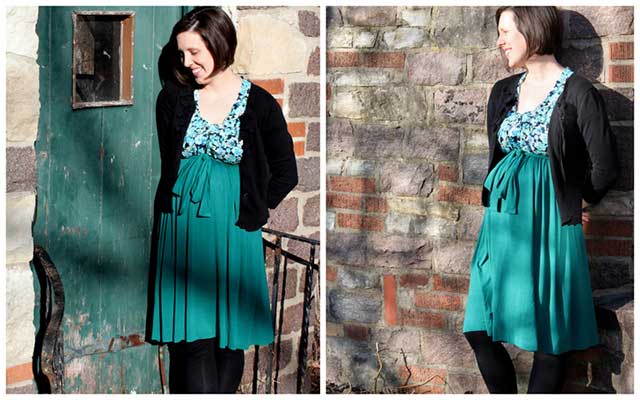 Use this maternity dress pattern to whip yourself up a gorgeous and comfortable dress that has a bodice with a crew cut neckline and shoulder straps, as well as a cute skirt section that is gathered at the waist and has a fabric belt you tie on one side.
by Versusmag
DIY yoga skirt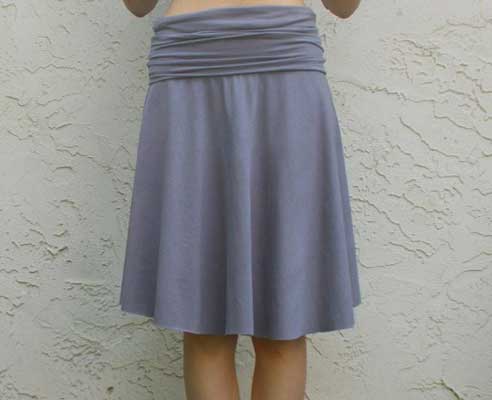 For all of you gals and future mommies who enjoy wearing clothes that are snug yet comfortable like yoga pants, here comes a fun new twist on your plain old skirt pattern, it's the yoga skirt that features an elastic-fitted waistband and has a knee-high bottom hem that is slightly wavy as if it were gathered.
Trapeze Maternity dress sewing pattern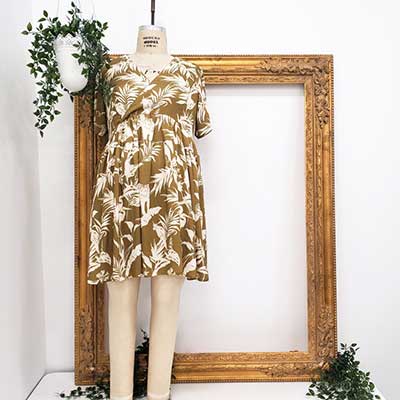 sizes US 2- 30
Just because you are in a blessed state and have that cute belly doesn't mean you can't wear classy and stylish dresses, says this pattern that will help you sew a wonderful dress with a wrap bodice and short sleeves, and a mid-calf length skirt section that is gathered at the waist.
by Moodfabrics
Boho kimono maternity dress pattern
The special charm and unique chic that kimonos have are hard to resist and there's no need to do that, not when you have this lovely pattern with interesting short sleeves that have a vertical slit going from the shoulders down, a wrap-style bodice, and a bottom hem that covers your knees.
pattern: Sewinlove
Maternity mini skirt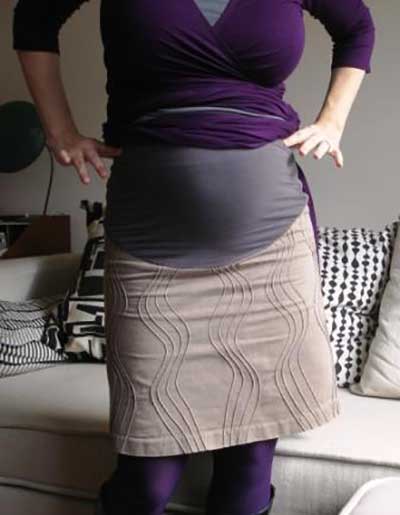 Don't store away that favorite skirt of yours just yet, you can still wear it with your pregnancy tummy with a few adjustments that you will find in this pattern and when you follow them to the end, your skirt will fit you like a glove again.
by Georgeina
Off shoulder maternity dress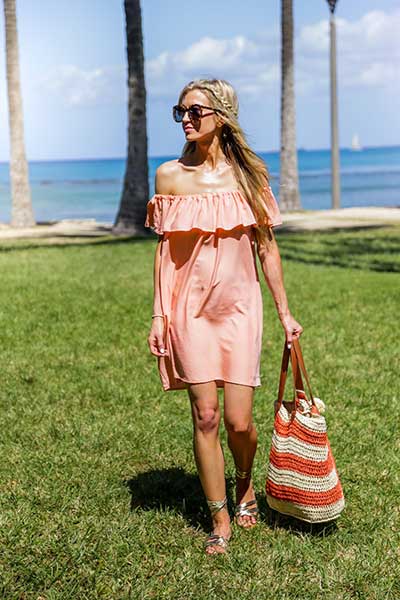 Here's a great dress that you can wear before, during, and after your pregnancy, featuring a light fabric body with a tube-top upper section that has a fashionable gathered flap long enough to cover your chest, and a straight bottom hem that reaches above your knees, making the dress breezy and ideal for the hot weather season.
by Leannebarlow
2-in1 Knit wrap nursing or maternity dress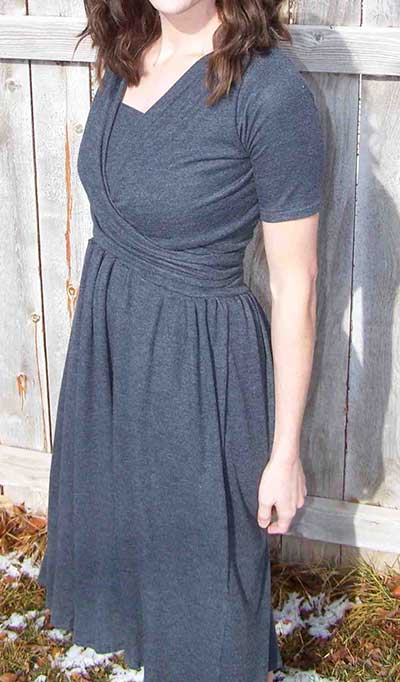 Enrich your wardrobe with a luxurious dress that has a beautiful wrap-style short sleeves bodice with a rectangular neckline adequate for nursing because you can easily slide it off one shoulder when necessary and a skirt with a gathered waistline and a bottom hem that covers your knees.
Knit flounce maternity dress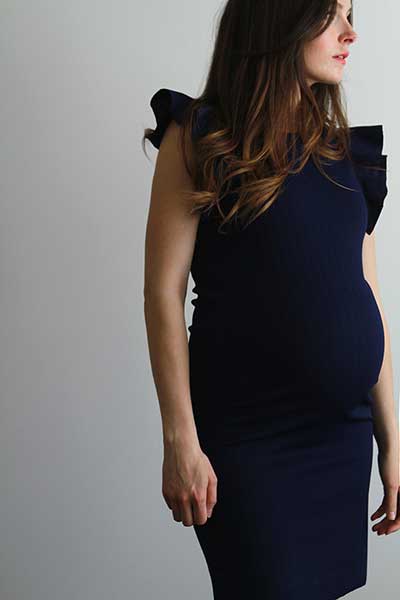 You can forget about the worries you may have gotten when you had to go to an elegant dinner but had nothing appropriate to wear, thanks to this marvelous mini-dress with flounce sleeves and a tight but comfortable fit that will make you look like a million dollars.
Maternity maxi dress

Here we have a lovely maxi-dress that is like a godsend for all future moms because you can wear it to all kinds of occasions, both formal and casual, as it's comfortable and looks amazing, with a V-neck, short sleeves, and splendid decorative lace strips on the shoulders, complete with a matching waist tie.
Maternity tops patterns
Kimono top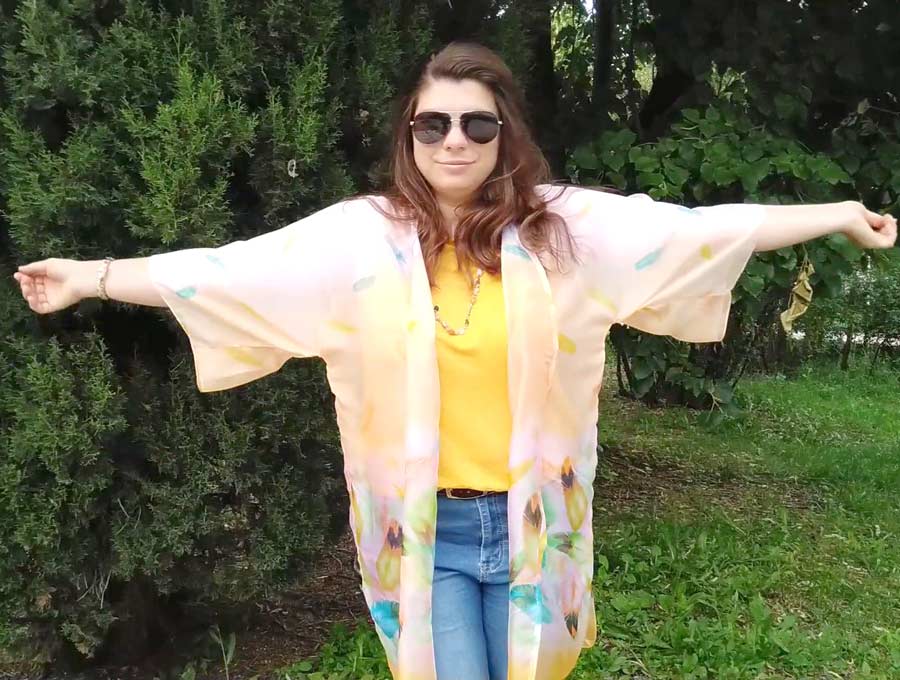 Be it as a cover-up for the days you spend at the beach or a fashionable alternative to a light jacket on a summer evening date, this kimono with straight 3/4 sleeves and an open front with a straight bottom hem, all made out of a large scarf can do it all with ease, making it a valuable addition to your summer and spring wardrobes.
by Hellosewing
Criss-cross maternity top
Use your own t-shirt to make this gorgeous and comfy top. Make your own maternity shirt using an existing shirt and quickly drafting your own template from there.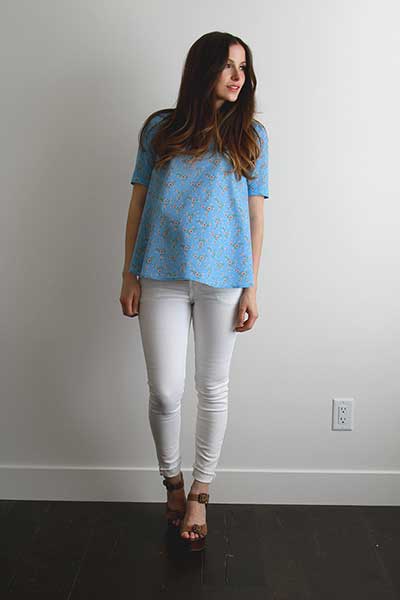 Your plain old T-shirt can become a creative top if you have this pattern around, as it shows you how to make a T-shirt that has a high neckline, a loose shape, and a unique overlapping slit design at the back that looks much like a tulip flower.
Quick and easy maternity shirt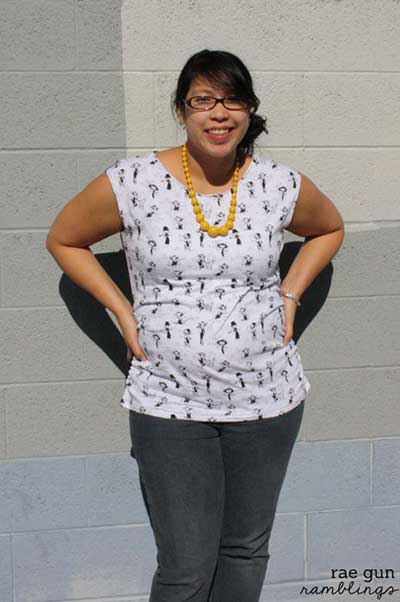 This top is one of those that you can wear around the house, but also outside on casual events, since it's comfortable, simple, and looks nice, with its wide curved neckline, and stretchy tummy section that makes it great for future moms, and sleeves that are about halfway between cap sleeves and shoulder straps.
DIY maternity top with a bow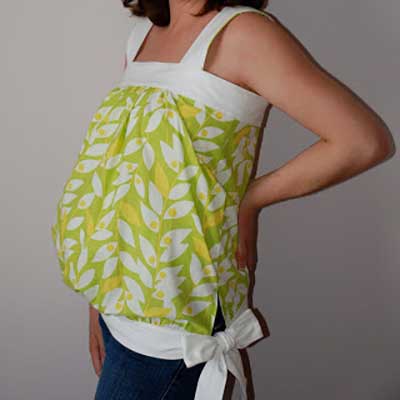 You're about to look adorable thanks to this top that has a rectangular neckline and narrow shoulder straps that you can make in contrasting fabric from the main body as a decoration, a flared bottom hem, and two optional additions, a gathered stitch under the bosom, and a side slit with fabric ties at the bottom hem.
by Made-by-rae
Simple asymmetrical top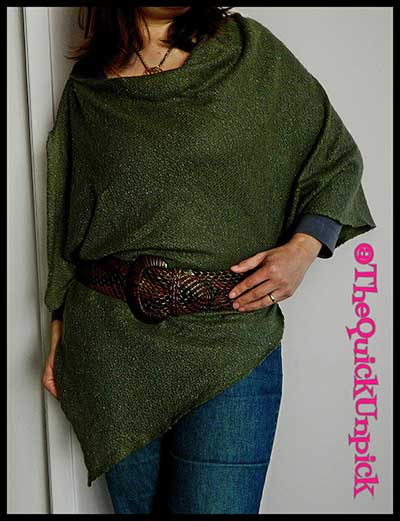 Reinvent the poncho as a stylish and practical top that has a loose fit, a wide neckline, tunic-style sleeves, and a bottom hem that becomes diagonal when you put the top on, then wear it anywhere at any time, since it can act both as a regular top and as a jacket substitute.
Oversized hi-low maternity sweater tutorial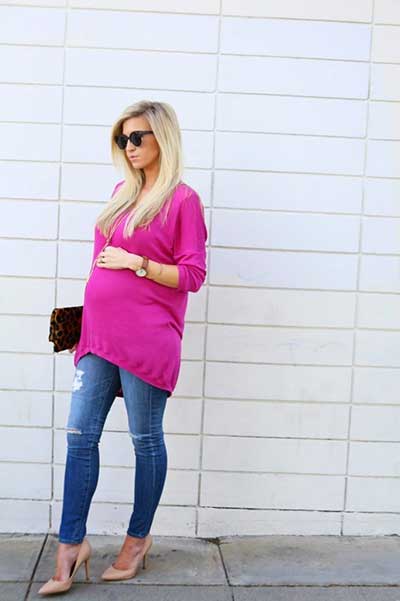 Be it autumn, winter, or early spring, this wonderful sweater will have your back since you can wear it almost all year round, with its long sleeves, crew cut neckline, and the most notable feature, the elasticated bottom high-low bottom hem that gives the garment a special, fashionable appeal.
by Leannebarlow
Refashion a small sweater into maternity cardigan

If you have a sweater that can't fit over your pregnancy tummy, worry not, this pattern will help you turn it into a gorgeous cardigan with an open front that has two buttons at the top that you can button up or leave unbuttoned and wear the cardigan open.
by Deliacreates
Miscellaneous and maternity accessories patterns
DIY maternity hospital gown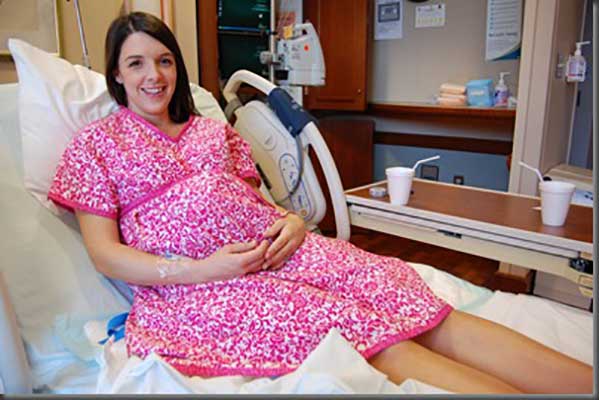 When the day comes and the baby is ready to join your family, there's no need for you to wear the gowns they have at the hospital, not when you can sew this comfortable one yourself, with short sleeves, a V-neck, and adorable decorative bias tape around all openings, as well as below your bosom.
by Fixfab
Hospital gown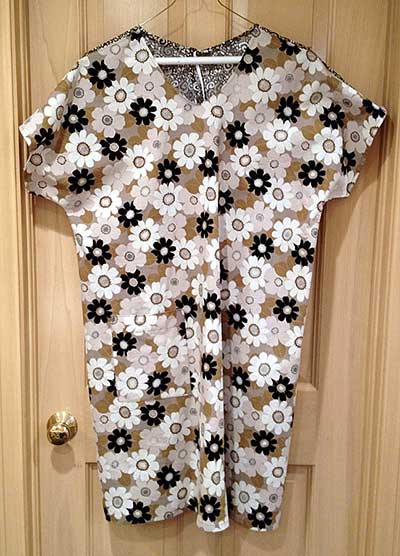 After your baby comes into this world, you'll have to stay in the hospital for a few days, and during that time it's best to wear a practical gown like this one that has short sleeves, a button-up open front you can make with ties instead of buttons, and even a front pocket that comes in handy for your phone, tissues, or other small essentials you want by your side.
Beach cover up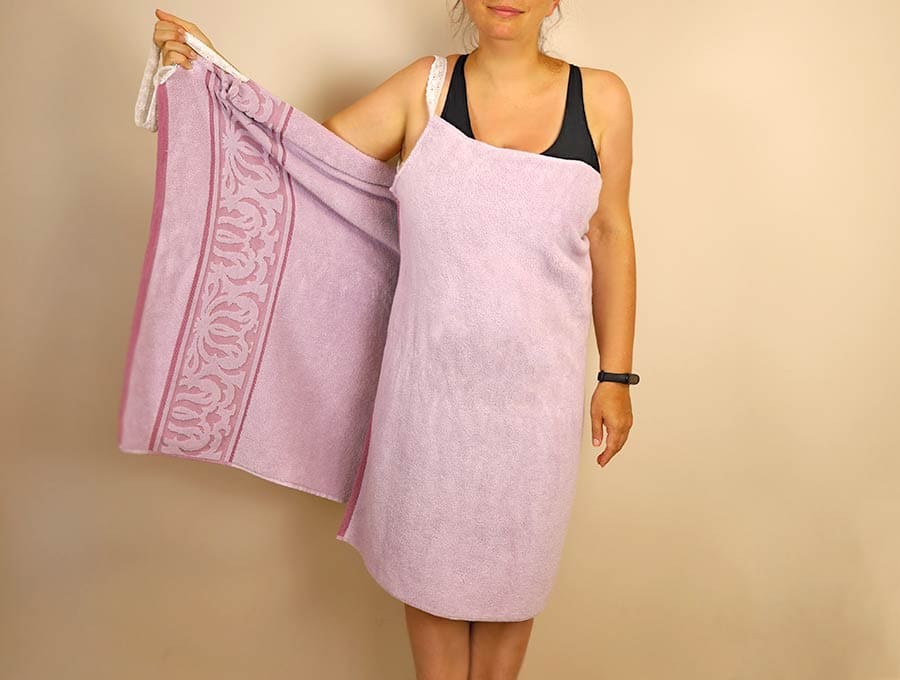 Enjoy your day at the beach properly with a cover made out of a towel that you place over one shoulder, then wrap around your body and place over the other shoulder, and keep yourself dry and safe from the sea breeze when you get out of the water.
by Hellosewing
DIY belly band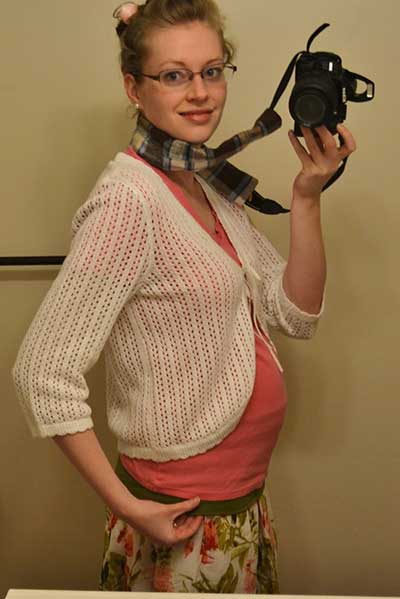 Belly bands are a must-have for most future moms because they are useful in the early pregnancy and after the baby is born, but they cost a fortune for some reason, so forget about buying them and use this pattern to sew them for a whole lot cheaper instead, and wear your regular clothes longer with ease!
Maternity or nursing sleep bra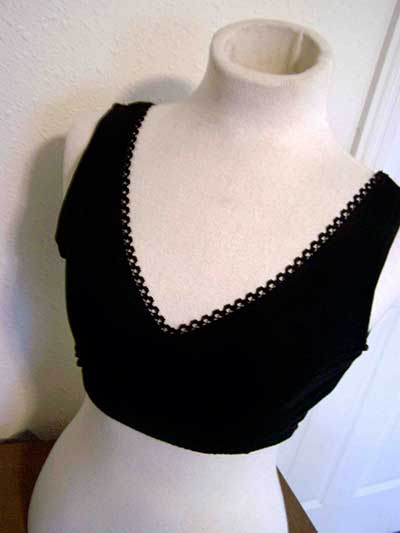 It's hard to find a bra that won't cause you discomfort while you're in the blessed state, but it's relatively easy to make one if you have this pattern that will help you sew a comfortable knit fabric nursing bra ideal as a pajamas alternative, with elastic around the edges and no wires to hurt you.
Regardless of your sewing skill level, all these maternity sewing patterns should be easy to use and will give you plenty of useful clothing pieces for your entire pregnancy and the period afterward. You'll look classy and stylish, but also save up a decent amount of money that you can use for the little bundle of joy. Enjoy your new maternity clothes and have fun being a mom!