5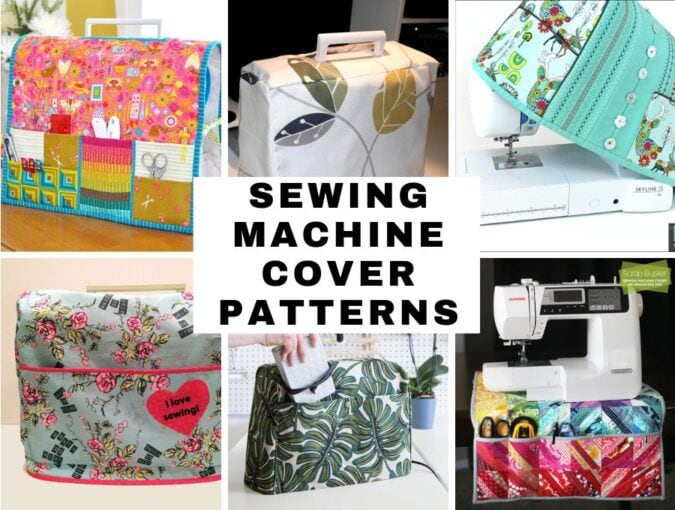 15+ Free Sewing Machine Cover Patterns and Ideas
It's very important to cover your sewing machine when you are not using it. We create so much dust with our fabric and thread when we are sewing, that we don't really need any extra everyday dust into our trusty sewing machine (or serger). It's super simple to make a cover, so go ahead and whip up one. A handmade cover is a million times better than a plastic cover. Not only it protects your machine from dust but it's such an eye candy. If you are keen to make your own, just check out this collection of free sewing machine cover patterns and pick the one to make today.
Please note that there is not a template that suits all machines a brand makes. There is no juki sewing machine cover pattern or brother sewing machine cover pattern simply because of the sheer variety of machines each brand has. If you feel lazy or prefer the simplest option, go for a cover with ties. However I believe it's best to make a custom sewing machine cover according to the measurements of your sewing machine. It's involves some simple math but everything is shown step by step, so don't worry So without further ado
Free sewing machine cover patterns
Simple Sewing machine cover pattern with handle slot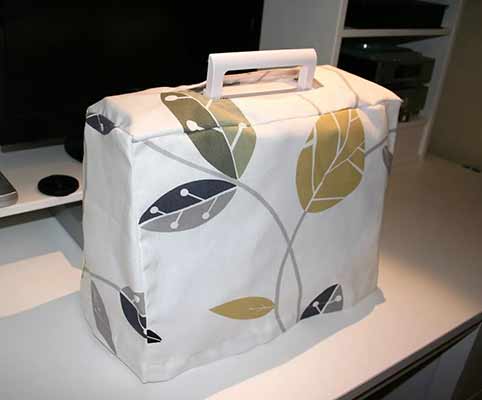 You don't want your precious sewing machine to get scratched when you're taking it with you somewhere, and this case can take care of that for you since it covers the entirety of the machine, and it has a gap for the handle to go through, so you can easily carry your most important tool and not worry if something will get spilled on it or damage its exterior.
by Wagdoll
Sewing machine cover and mat with pockets and handle slot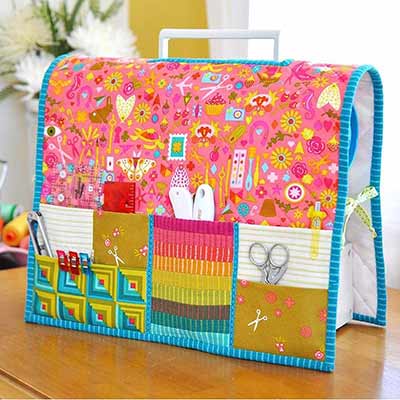 Here's a multifunctional cover that will keep your trinkets next to the sewing machine thanks to the pockets it has and stop the dust or accidental coffee splashes from getting to your mechanic pal when you're not sitting in front of it. But here's a twist, the cover is a mat as well, so when that sewing o clock hits, you can take it off and put it to good use.
by Lillyella
Custom Sewing Machine Cover
This cover pattern is adequate for both large and regular size machines and will keep them both dust-free no matter how long you let them rest, thanks to its fairly hard, boxy shape with no gaps other than the opening at the bottom for the machine to go through. The cover has tubing edges and a cute exterior made of three differently colored fabrics.
Made to measure sewing machine cover with binding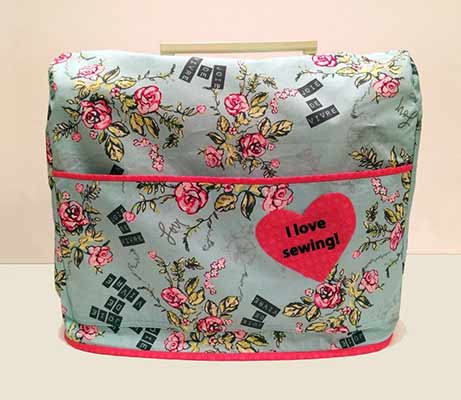 If you like to keep your sewing essentials next to the sewing machine, this cover could be what you need, since it has a large and deep pocket at its front, decorated with a contrasting bias binding on its opening, together with a matching binding at the bottom edge, a rounded top edge and closed sides, complete with a gap for the top handle.
Serger or sewing machine cover pattern pdf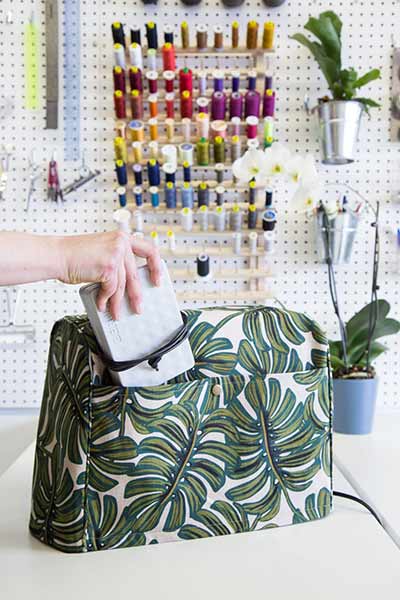 This bad boy is somewhere between a hard and light cover that will keep your machine safe and sound from dust and any other bothers stylishly, with a large front pocket that has a big snap or a button on the middle of its top edge and a subtle tubing around the side edges as a fine decorative touch.
Easy quilted sewing machine cover pattern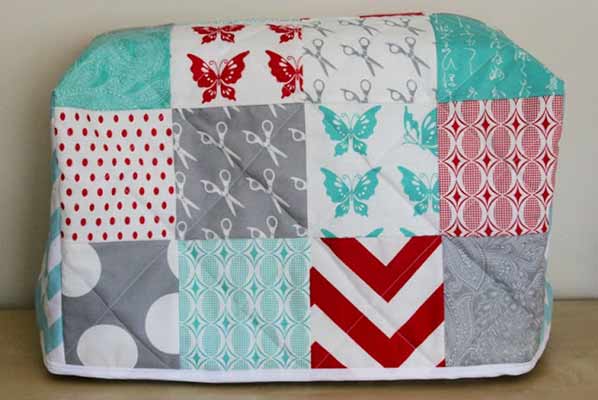 Quilters, this one is for you, it's a cover you can make utilizing your quilting skills to get a beautiful cover with colorful square patches in rows of four that cover the front, back, and the top of the machine, as well as two rectangular patches at the sides, with a thin bias tape finish around the opening at the bottom.
by Sewdelicious
Sewing machine dust cover with pocket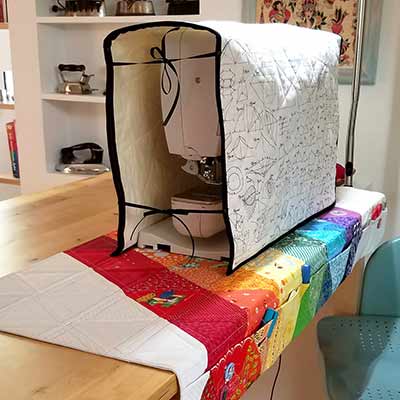 Those of you who prefer simple covers that have open sides and require less fabric will probably like this one, it's a large rectangle with a binding finish around the edges, a pocket for some of your sewing essentials, and two ribbons on each side so you can tie it in place when you place it on the machine.
by Weallsew
Step by step video to make a custom cover for your sewing machine
Here comes a cover that will fit your machine perfectly and make it look chic and cute while it keeps it protected from the dust, with its rounded rectangle top edge, closed sides, a shallow pocket split into two sections that can fit your needles or thread scissors, and a cute binding around the bottom edge and the opening on the two-compartment pocket.
The simplest cover for a machine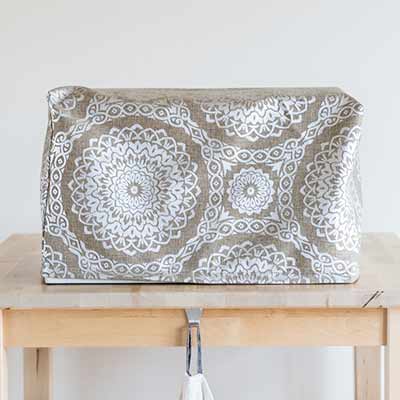 Whip up a fast and simple cover for your sewing machine that features a boxy shape that has an opening at the bottom, with no decorations or pockets, nor tubing and binding, meaning you will be able to sew it in under twenty minutes, making it ideal for those situations when you realize your old cover is done for and you're traveling on a holiday tomorrow so you require protection for the machine in a jiffy.
Reversible sewing machine cover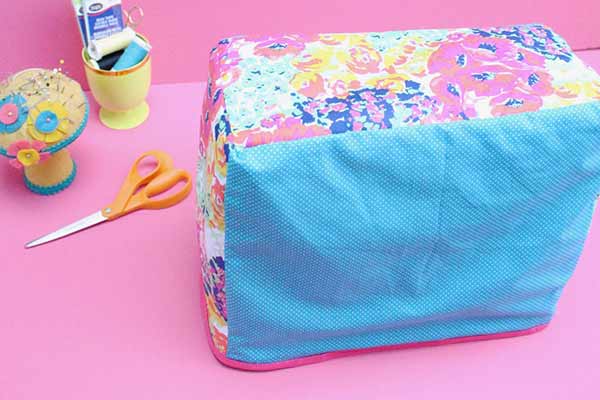 You'll never get tired of your sewing machine cover again with this little guy around, a boxy cover that has a contrasting bias binding finish around the opening, a body made of two differently colored fabrics arranged so the matching fabrics cover the front and the back while contrasting ones make the sides. The cover is reversible as well, so if you want to give your machine a new outfit, just turn this one inside out!
by Weallsew
Free pattern sewing machine cover with decorative stitches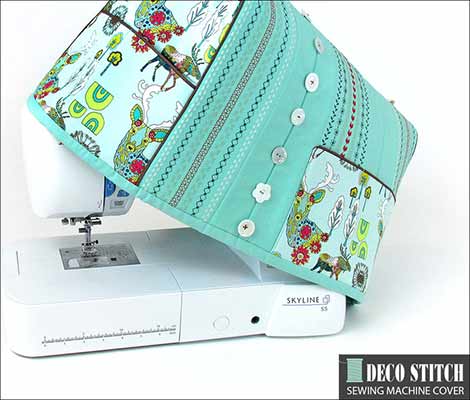 No need to make your cover plain if you like a bit of zaz on your stuff, take a look at this pattern, it features a colorful design with vertical decorative stitches going over the front and the back, a small pocket at the bottom-right corner of the front of the cover, and additional pockets at the sides, complete with a handle opening and two fabric loops at the top that come in handy when you're taking the cover off the machine.
by Sew4home
Paid sewing machine cover ideas
Simplicity sewing machine cover
Simplicity Sewing Pattern Machine Organizer
This pattern is worth every dime, simply because it is beautiful and extremely handy, when you use it as a cover it takes a form of a hardcover that has tubing around the edges, side and front pockets, and a beautiful, colorful appearance. When you take it off, you can open it up and put it under your machine as a mat, then put those interior pockets to good use and keep your necessities inside.
by Simplicity.
Scrap Buster Sewing Machine Cover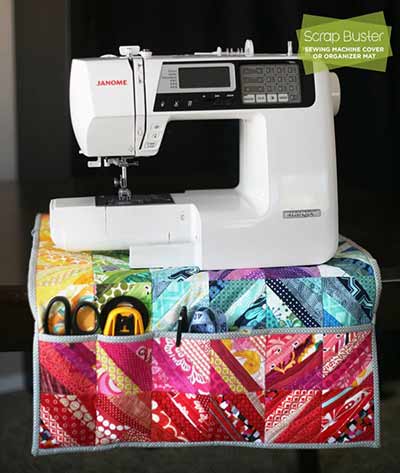 This one is as flamboyant as covers can get, thanks to its body made of patches in rainbow colors arranged in a gradient manner as a real rainbow, but it's also super practical because it's a mat and a cover in one, fitted with a shallow pocket split into six small pockets able to hold scissors, thread, needles and such. When you use it as a cover, it leaves the sides open but tied together with ribbons so that the cover stays securely on the machine.
by Pileofabric
Your sewing machines can take a breather now because they'll be safe from dust at all times when they're resting, thanks to all these sewing machine cover patterns at your disposal. Did you enjoy this list or do you think it could be even better? Let us know in the comment section, we appreciate your feedback! Have fun sewing your new sewing machine covers!
RELATED Sewing room upgrades:
Triangular pattern weights – hold your patterns in place with these cute pattern weights
Pumpkin pincushion – Bright and colorful as can be, these fabric pumpkins won't take long to make
Fabrics bins – organize your sewing room with these convenient fabric baskets
Pyramid phone holder – watch your fave sewing videos, hands-free!