1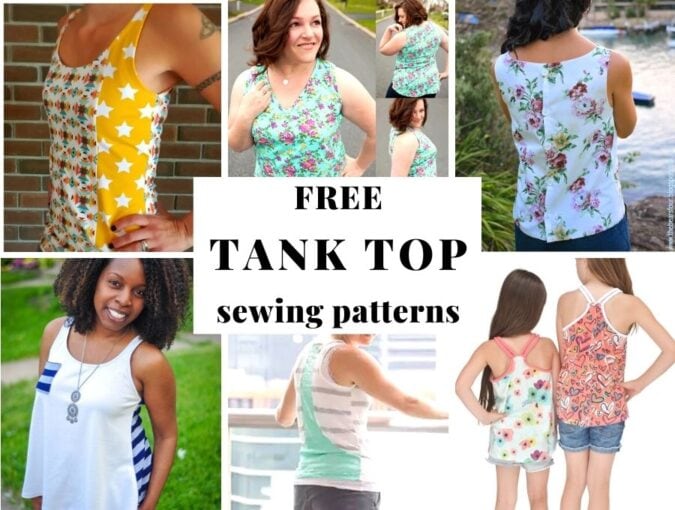 20+ Free Tank Top Sewing Patterns for Women and Kids
Want to make yourself a top that feels like a second skin? Use one of these gorgeous and oh-so-easy and FREE tank top pattern to whip up one in a whim! Scroll down to see them all and find the kids tank top pattern at the bottom of the article.
As always to get the free pattern from this roundup hop on to it's designer's site (linked under the image) and grab it from there.
20+ Free Tank Top Patterns for Women and Kids
Key west tank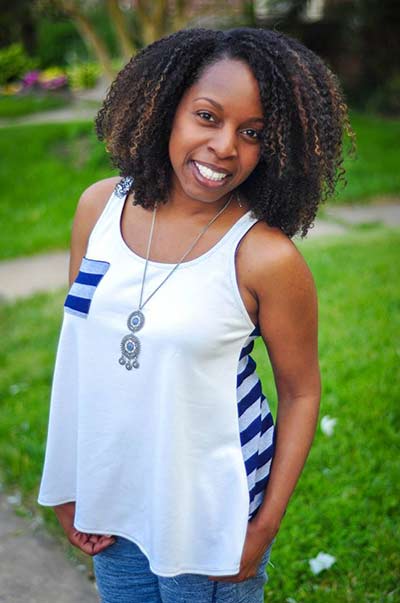 Feel comfortable and breezy without sacrificing style with this cute tank top that comes in two variants, with and without a bias band finish around the neck and sleeves. The top has a flutter bottom hem and an optional chest pocket. As far as length goes, you can choose from a short or a regular top length.
Sizes: xx-small, x-small, small, medium, large, xl, 2x, 3x.
Trendy tank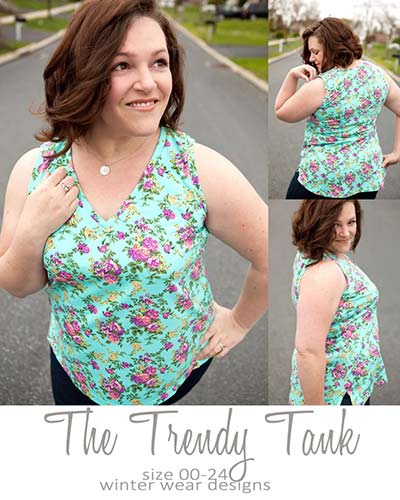 Here's a tank top pattern that's ideal for summer and hot spring days and will look great on you with its nice subtle V-neck, bias binding neck and sleeves finish, and a fun optional high-low bottom hem. The back hem of the tank top comes in two options, a straight one, and a slightly pointy so-called tail hem.
Size 00- 24
Free with a coupon from her FB group
Make a tank top from existing one
Use an old tank top as a pattern to make this beautiful top that can act both as a daring dress and a regular tank top. This top is much like a basic one, with a curved neckline and a straight bottom hem. The only notable feature is its length, it reaches to your mid-thighs, just like a short mini skirt.
Racerback tank top
Sizes: XS-XXL
Create a beautiful stylish tank top with curved sleeves that form a curved X mark together with the neckline on your back. The most interesting thing about this top is the colorful pattern at the back. There's a differently colored line going from the bottom to the top along the middle. It's as wide as the top at the bottom, but it narrows down to one-third of the top width for most of its length, forming a reverse funnel shape.
Women's swanky tank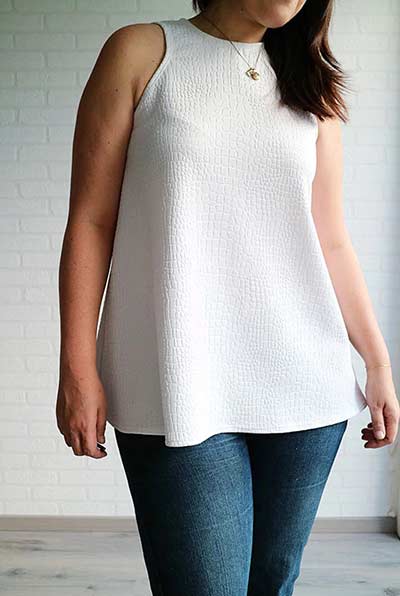 Sew a tank top that you can wear under a light jacket or by itself, thanks to its subtly elegant yet casual look with a barely noticeable flutter drop and not-so-regular shoulder straps. They seem plain but they mildly curve to the inside to expose your shoulders more. The neckline is high and rounded, much like those of luxurious evening dresses.
sizes:
Stardust tank top
This multiple-choice tank top pattern allows you to make a bunch of different tops, depending on your desired sleeve length and preferred design. You can choose from long, short, and shoulder straps sleeve lengths. There are three designs you can incorporate, a star shape, a vertical contrasting panel between the side and the front of the top, and two vertical panels that split the top front into three upright sections. There's also an optional pocket and colored cuffs for the long-sleeved variant.
Sizes: sizes 00 – 30
Free with code from their group
Boatneck tank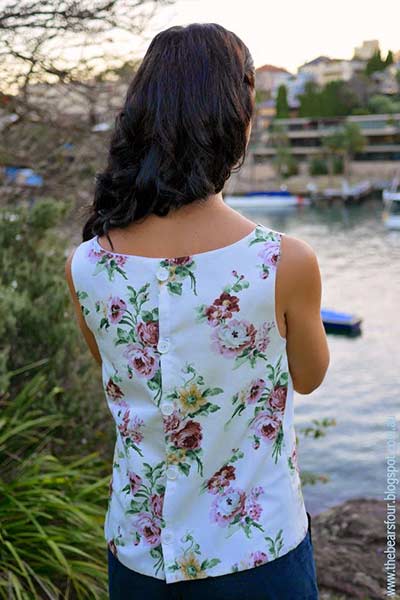 If you love different and inventive tank tops, this one that has an unexpected button-up back could pique your interests. It features a wide but shallow curved neckline and a straight bottom hem, and shoulder straps that seem like they're straight but are curved to the inside just a tad.
size: AU12
by Thebearsfour
Flowy tank top
Enrich your wardrobe with a relaxed and fun tank top you can wear around the house and outside, due to its comfortable but stylish appeal with a deep scoop neck, over-the-hip length, and a yoke that has a triangular bottom edge. The top also appears as if the section below the yoke flutters a little.
Size: M
by Siloandsage
Lago tank top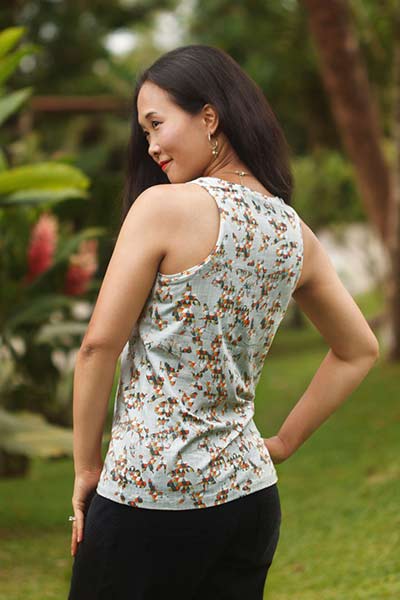 For those particularly hot days, you need a refreshing top like this one, with thin shoulder straps that go close to your neck, thus exposing your shoulders to keep you from overheating in the summer. This tank top pattern has a scooped neckline is deep at the front, while the back is high, going almost to your neck.
Sizes: 00 – 20
Durango top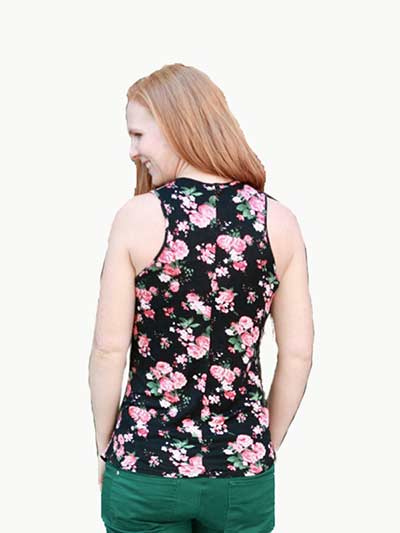 Here's a tank top pattern that will help you make a tank top with a high neckline and high-cut shoulders that you'll love wearing because it's so comfortable. The waist and the hips are loose while the shoulders and the bust are fitted to give it a beautiful shape. The bottom hem goes over your hips and spreads out a little wider than the rest of the top.
Sizes: 2 – 22
Halter neck top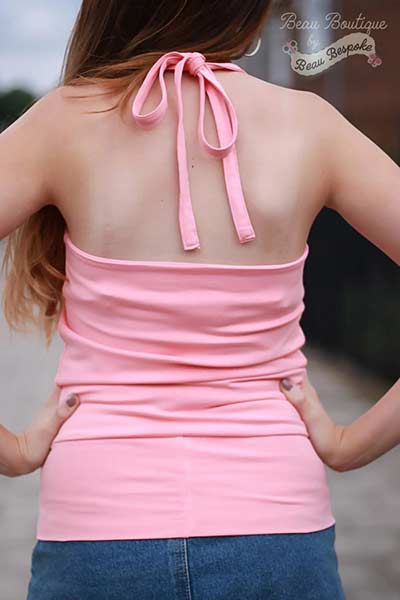 Halter tops are so adorable and stylish, as this one proves, with its top third of the back bare and straight front shoulder straps you tie behind the neck. When you tie the straps the neckline is narrow but deep, forming a curved V-neck. The top comes in kids' size as well so you and your little girl can wear matching outfits!
sizes XXS – 4XL
by Ellieandmac
Kids tank top patterns
Happy Girls tank top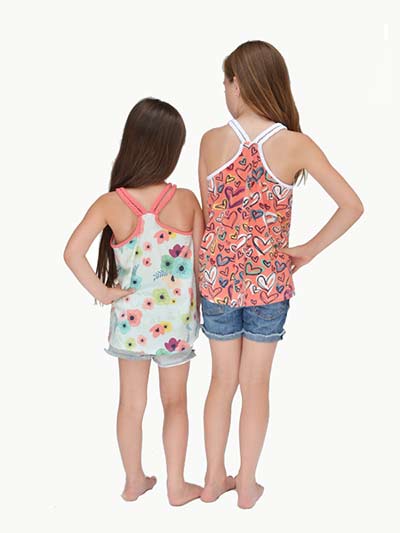 Kids love clothes that are comfortable and don't get in the way of their playing, like this summer tank top with shoulder straps that are made from fabric on the front and from a double drawstring at the back, where they form an X mark and leave the shoulders exposed and free. The neckline is curved and has a bias binding finish, just like the straps.
Sizes 2 – 14
Toddler tank top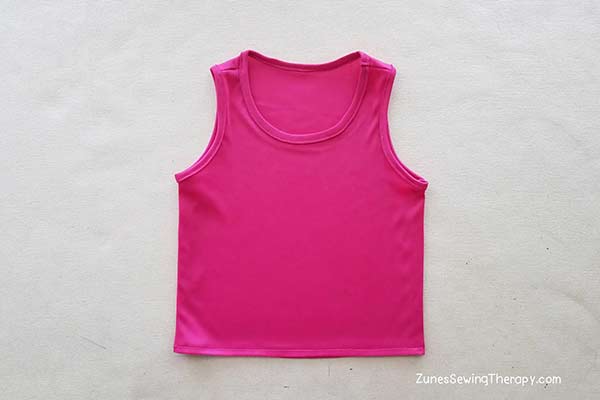 Toddlers go through their tops like the wind through a net, so having a pattern like this one that allows you to quickly make a simple tank top could be a lifesaver. It's a plain top with a scoop neckline and a back that's slightly higher, as well as high-cut shoulders and a straight bottom hem.
Sizes 2T-5T
video tutorial:
For all of you parents of boys and girls comes a unisex tank top that has a curved neckline and a high back with a bias tape finish. The shoulder straps are high cut and also finished with a nice, colorful bias binding. Make a bunch of these for your kids and they'll be set for the summer.
Basic kids tank top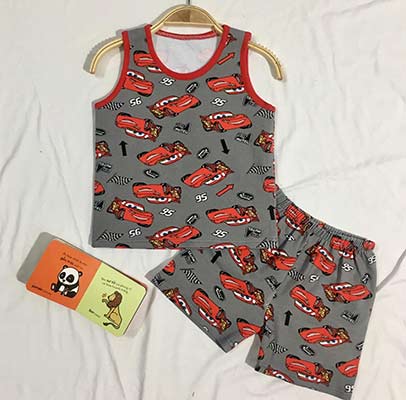 Unisex (boys or girls tank)
Both your kids and you will have enough tank tops to last at least one summer with all these patterns at your disposal. You probably have a personal favorite already, so feel free to tell us which one it is in the comments. Enjoy the summer and have fun sewing!
Sizes 90-150 (based on height of the child)
by Tianascloset
Which tank top sewing pattern caught your eye? I'll be stitching the first one today 🙂 What about you? Hop in the comments down below and let me know.
Stitched one of these? Let me know your thoughts and tag me on social media ( @hellosewing1 on instagram and @hellosewing on Facebook) so I can see your creations
RELATED: Tops You Seriously Need
More Women's tops ideas!
Tunic patterns roundup – stylish, fun and quick to sew tunics!