3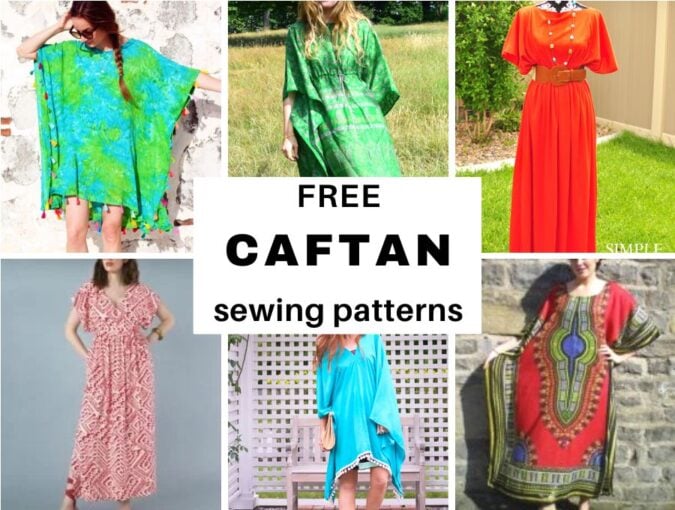 Free Caftan Sewing Patterns – Lovely Kaftans You Can Sew
Nothing says summer elegance as well as a breezy caftan. In this roundup you will find lovely caftan sewing patterns for this warm weather staple that will suit almost everyone. From easy caftan patterns to more elaborate and stylish kaftan models, we have them all. Even a couple of unisex kaftans suitable for MEN. You will find versions with round neckline or deep V neckline, short dolman sleeves or dramatically wide and long sleeves, gathered models or roomy bodice with or without optional waist time for figure-skimming skimming silhouette. The forgiving kaftan patterns let you play with the length of the kaftan for even more options. Check them out below
15+ Free Caftan Patterns You Can Sew in a Flash
Basic Caftan pattern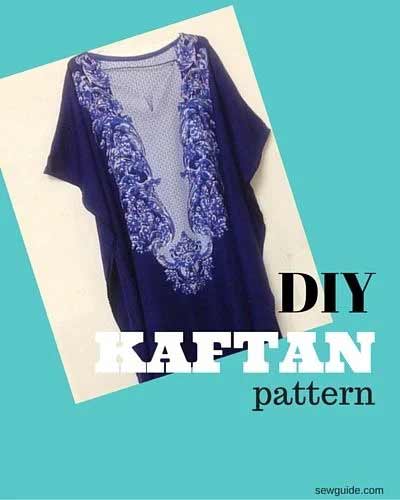 Here's a beautiful and free caftan pattern adequate for any summer occasion, with a stylish waistband you can adjust to be tight or loose as much as you want, a pretty neckline with a bias binding finish, and a bottom hem that comes in four different variations, straight, triangular, curved, or cut at an angle.
by Sewguide
Easy 3-seam kaftan tutorial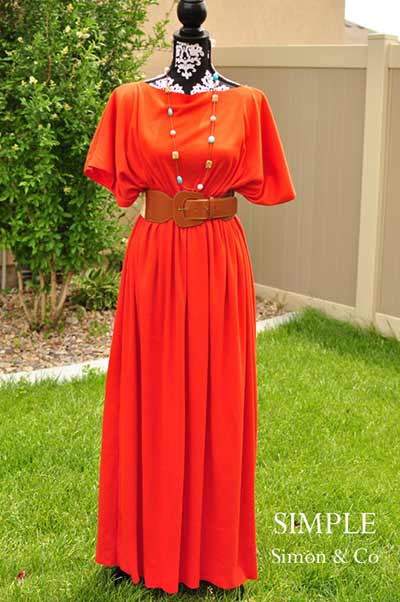 This outfit states that simplicity is the key to style, as it demonstrates a sense of fashion and comfort combined into a long kaftan with a wide but relatively high neckline, an elastic high waist that creates a gathered skirt section, and characteristic sleeves that reach to your elbows with just three seams.
Modern Kaftan pattern
Loose fitting caftan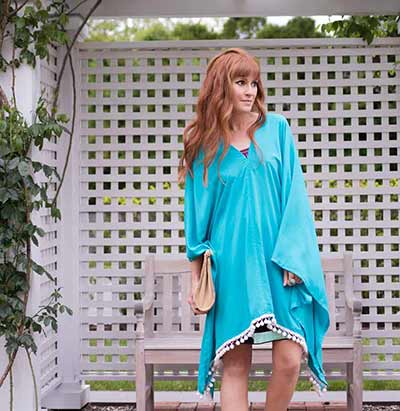 Get ready to be the cutest person on the beach with a kaftan that has a V-neck-style neckline, a straight bottom hem that forms the two fabric tails at the hips specific to this kind of garment, has an adorable pom-pom finish on the bottom edge, covers your entire arms and your legs up to the knees.
by Gina-michele
Unisex kaftan pattern (for men, women and kids)
Those of you who prefer to have a few options available in a pattern will probably like this kaftan with a neckline that's curved but transforms into a V-neck and has a bias binding finish, because it allows you to make it short or long, with or without ribbons on the neckline, and an optional contrasting lining.
DIY kaftan no pattern needed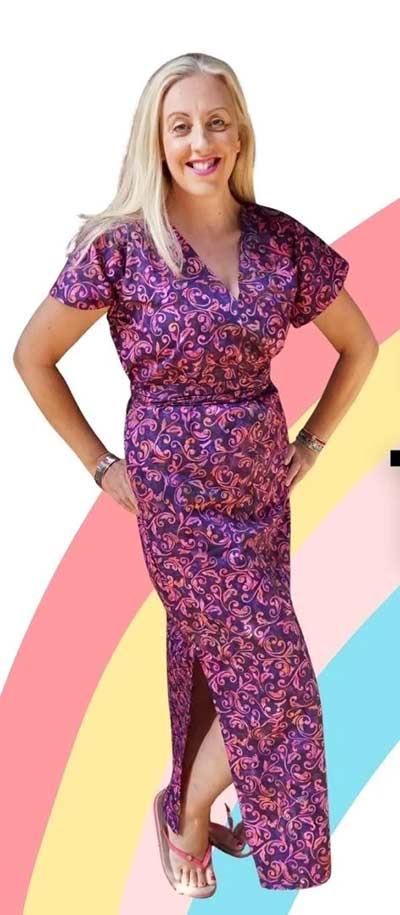 Look chic and feel breezy and comfortable with a kaftan that covers your hands to your elbows, has a deep V-neck, an elastic waistband, and a bottom section that reaches to your ankles and features a classy slit on one side, like the ones you see on luxurious evening dresses.
Summer caftan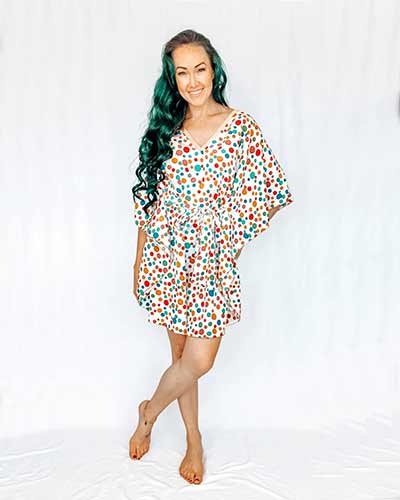 Whip yourself up a beautiful swimsuit cover thanks to this fun and simple pattern that allows you to sew a kaftan that reaches to your knees at the bottom and to your elbows at the top, has a lovely triangular neckline with a bias finish, and a cute fabric belt around the waist that you tie up to achieve that proper kaftan look.
Caftan maxi dress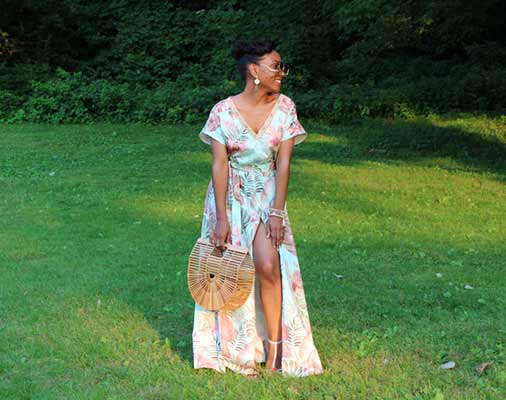 When you're on a vacation or when it's a special occasion and it's summertime, you need a light yet elegant outfit like this kaftan with lovely wide elbow-length sleeves, a triangular neckline with a wide band on its edges, a stylish fabric belt, and a slit bottom section that will reveal your gorgeous legs just the right amount.
by Moodfabrics
Easy kaftan with waist bow tie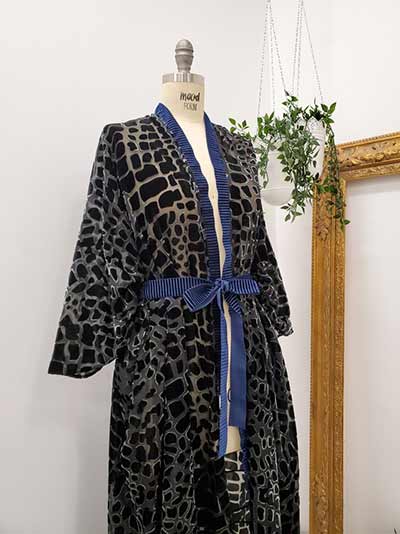 Switch things up a bit with a long kaftan that is open and as such, ideal for those days at the beach, with its lovely binding finish at the front and around the neck that goes to the waist, where you tie up a fabric belt made of matching fabric.
by Moodfabrics
Ultimate maxi caftan pattern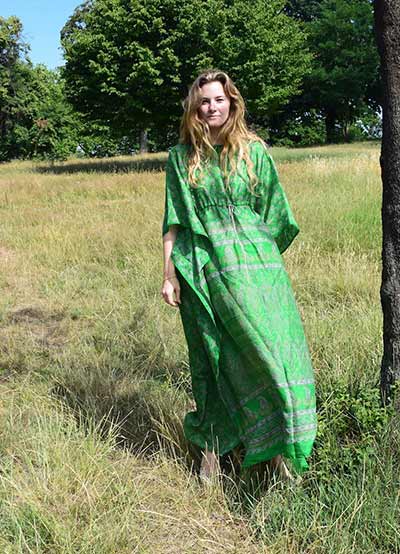 Here's a pattern for your new favorite outfit for evening dates in the summer, a kaftan that has a high curved neckline, an interior waistband that gathers the fabric and makes the skirt section wavy, complete with a cute drawstring, a long skirt section, and a top section that will cover your arms to the elbows.
by Byhandlondon
Easy summer kaftan dress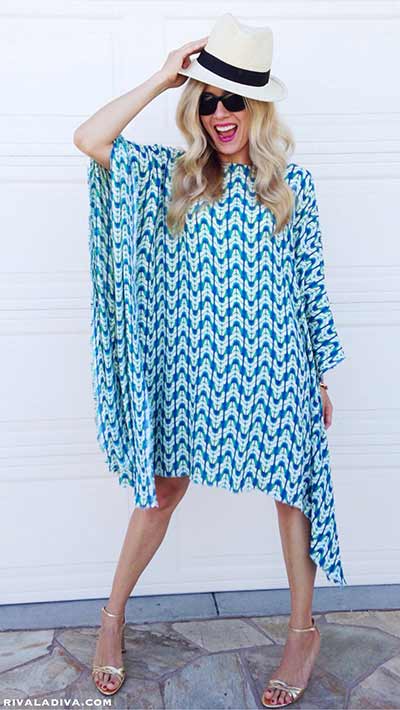 For all those occasions when you realize you have nothing adequate to wear so you must whip up something stylish, comes this simple but beautiful kaftan with a straight bottom hem that comes to your mid-calves and has those two fabric tails at the sides, and a high rounded neckline that you'll be able to sew in under half an hour.
by Rivaladiva
Super simple kaftan pattern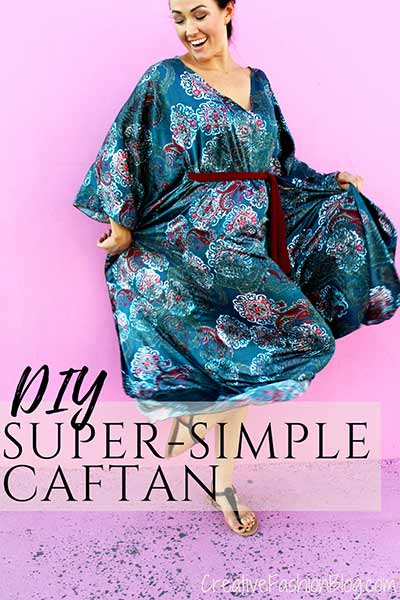 From going out with your friends to fun times at the beach, this kaftan can do everything because it's refreshing to wear and it's stylish, thanks to its wide triangular neckline with a wide binding finish, a thin contrasting fabric sash at the waist, a bottom hem that goes to your feet, and arm openings that cover your arms to the wrists.
Kaftan with side slits
If you want to be extra comfortable, you can bet on this pattern for kaftan as it has side slits and figure-forming waist tie.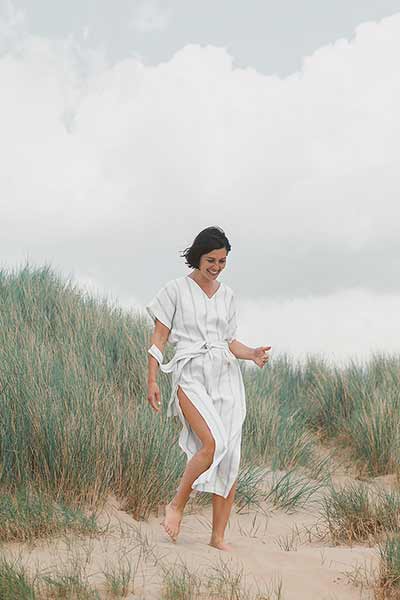 This kaftan is a bit different than most, as it is almost a long and lightweight poncho since it has side slits along most of its length below the waist, where sits a fabric belt that covers the waistband. The sleeves are short and closed under the arms, much like those on T-shirts.
Long unisex caftan – Men's Kaftan patterns
You and the man in your life can now wear matching outfits at the beach because this long kaftan with a triangular neckline with a wide band around its edges, wide, hemmed armholes, and a bottom hem that comes in two options, curved or straight, is unisex and equally stylish when worn by men and women.
Long traditional and feminine kaftan sewing pattern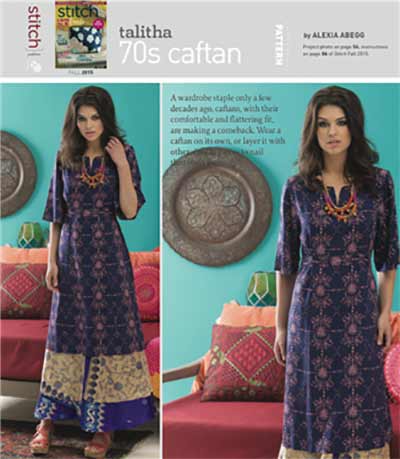 Here's a pretty and classy kaftan pattern that is perfect for slightly more formal occasions in the summer, featuring a scoop neckline that turns into a V-neck at the middle and has a bias finish, a long and straight skirt section, a fitted waist that flatters your figure, and sleeves that reach to your elbows.
by Sewdaily
Beach-inspired pattern for caftan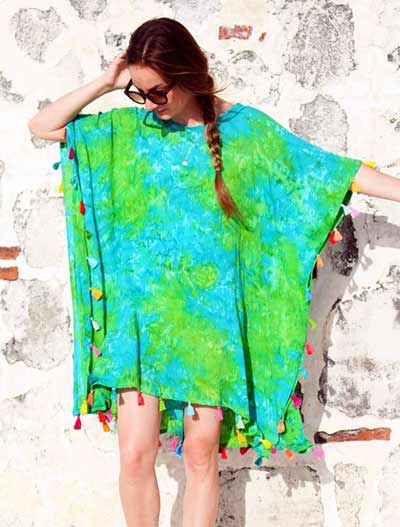 Turn a rectangular piece of fabric into a fun outfit in a flash with this free kaftan pattern that will help you get a kaftan with a rounded neckline finished with bias tape, sleeves that are wide and breezy and reach to your elbows, and a straight bottom hem that comes to your mid-thighs and has a bunch of adorable tassels attached along its entire length.
by Weallsew
I hope you loved my collection of free kaftan patterns as much as I do. Which one is your favorite? Did you make one of these caftans? Which one? Drop in the comments down below and let us know!
At the beach or in restaurants, at home or on a vacation, for leisure or party time, now you have enough kaftan patterns for all these occasions! Did you already spot your favorite? If not, you'll find it when you give a few of them a go and see which one turned out the best. Don't forget to subscribe to the mailing list so you can get notifications when new fun stuff comes out on this website. Have a wonderful summer with your new kaftans!
Sew easy breeze summer staples in a flash
Stylish Tunic patterns – fun and easy to sew
TUTU: Tulle skirt for little princesses (Super easy + no sew)