3
23+ Free Summer Dress Patterns for Women and Kids
If your wardrobe needs some cute summer dresses (mine certainly does!), check out my handpicked collection of summer dress patterns for women that you can sew in an afternoon or two! Most of these sewing patterns are beginner-friendly and the best of all – are completely FREE. Dive into this cool roundup of quick and easy patterns for summer dresses and pick the one that suits your style and body best. From beck dresses to comfortable casual dresses and even a few formal picks, I'm sure you'll find a dress for you (or your mini me).
As always to get the template or tutorial, just click through the link under the image! Happy stitching!
Women's summer dress patterns
Faux wrap dress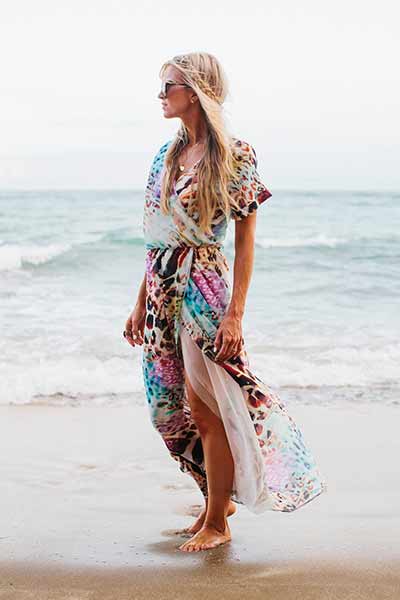 Demonstrate your style and elegance even on hot summer days with this gorgeous long dress that has a high elastic waistband, a wrap-style bodice with short sleeves, and a slit that starts at the waist. You can make this dress with an inner layer of fabric to give it a more volant look.
Make your own pattern using your measurements
by Leannebarlow
Frayed denim sundress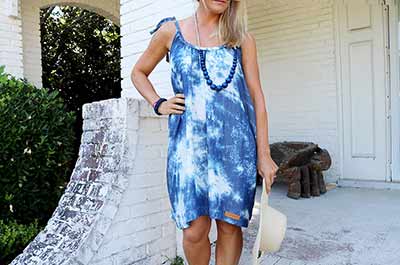 Learn how to make a sundress using a t-shirt that fits well. Denim dresses are chic, just look at the one we have here, with a bottom hem that reaches above your knees, a beautiful drop shape, a scoop neckline, and spaghetti shoulder straps that are loose at the shoulders, allowing you to tie them as you wish. One notable thing about the neckline is its frayed edge finish that adds that fun denim rebel character to the garment.
by Mesewcrazy
Tie Dye Cap Sleeve Tiered Dress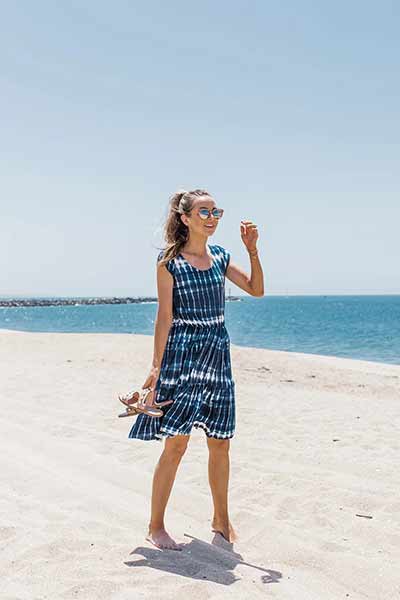 Flaunt your girly charm in a chic way by wearing a dress that has short, capped sleeves, a scoop neckline with a biased edge, an elastic waistband positioned fairly high, and a tiered skirt section that goes to your knees. The skirt consists of two flared tiers that subtly resemble the famous fiesta dresses.
by Merricksart
Off shoulder dress with ruffles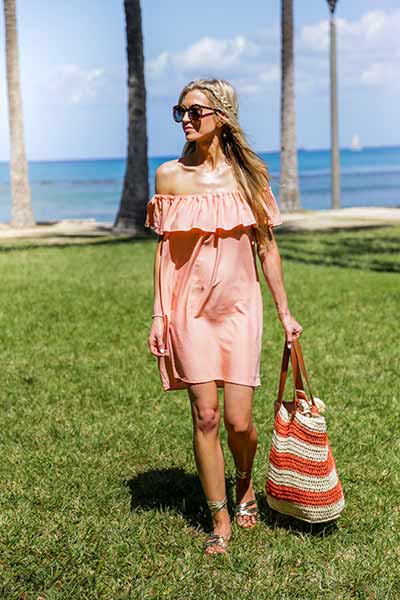 Make your own off shoulder dress pattern using your measurements. Yes, you can wear a gorgeous dress in summer and not get shoulder tan lines along the way, thanks to this pattern that will help you make a mid-thigh length dress that has a straight bottom hem and an off-the-shoulder top section with a beautiful, gathered flap long enough to cover your chest.
by Leannebarlow
Make a t-shirt dress
Casual but chic, comfortable but feminine, this dress could be described as a T-shirt that has a high neckline and is connected to a mid-calf length skirt with a gathered waist between them that gives the bottom a cute, slightly ruffled look, and a more breezy shape that's ideal for hot and sunny weather.
Trapeze tank dress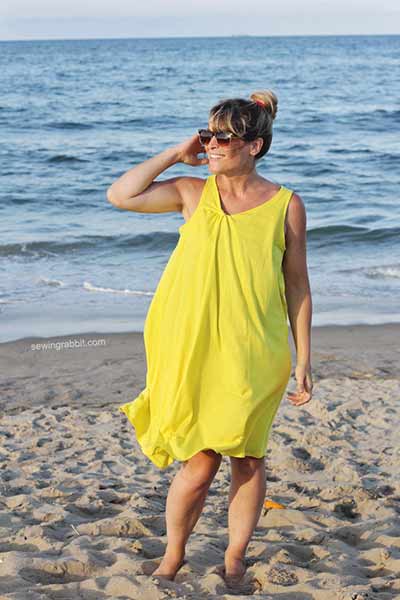 Fashion yourself a dress that's an adequate outfit for leisure time at home, trips to the beach, or strolls around the neighborhood with your family, thanks to its simple rectangular shape with a straight bottom hem that barely covers your knees, a scoop neckline, and thin shoulder straps.
Sizes: XS – XXL
Pattern: PDF downloadable pattern
Pleated beach dress pattern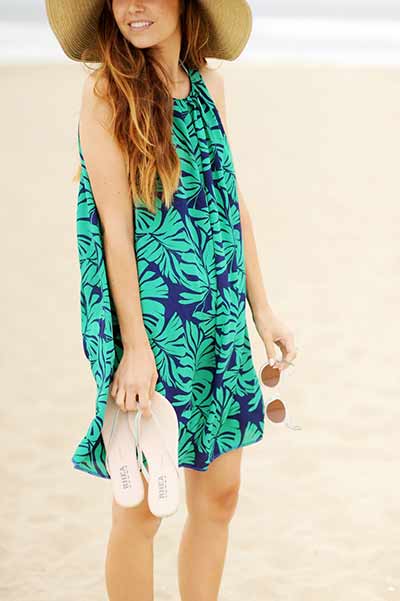 Make the ideal beach dress to wear over your bathing suit in the form of this cute over-the-knee length dress that has a shallow scoop neckline, thin shoulder straps, and a few pleats stitched along the neckline curve at the front and the back of the dress that creates a wavy drop.
Use a tank top or a sleeveless dress as a pattern
by Merricksart
Pleated summer dress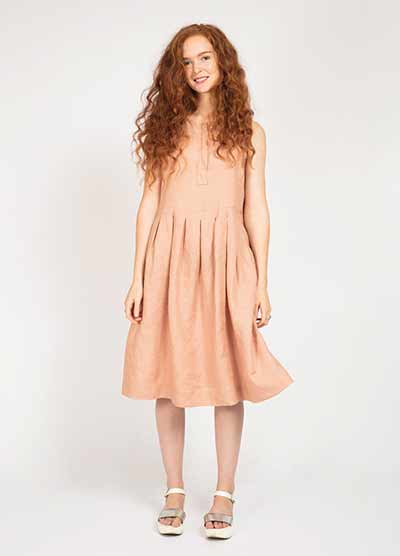 It's time to look adorable and feel refreshing even on particularly hot summer days thanks to its knee-high length, a sleeveless bodice that has a button-up closure at the front with a high neckline, and a wonderful skirt with pleats that are stitched at the waist and go down to the bottom hem.
Sleeveless summer dress pattern – Bardon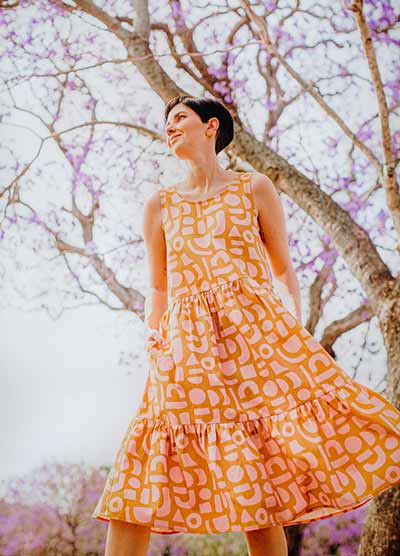 Let everyone who sees you know what a cheerful personality you have with the help of this fun dress that has a deep scoop neckline, a matching back, narrow shoulder straps, and a skirt section that has a tiered and flared shape long enough to cover your knees. Both tiered sections are slightly gathered to give the dress a faint but sufficient flamboyant appeal.
Hi-low summer dress pattern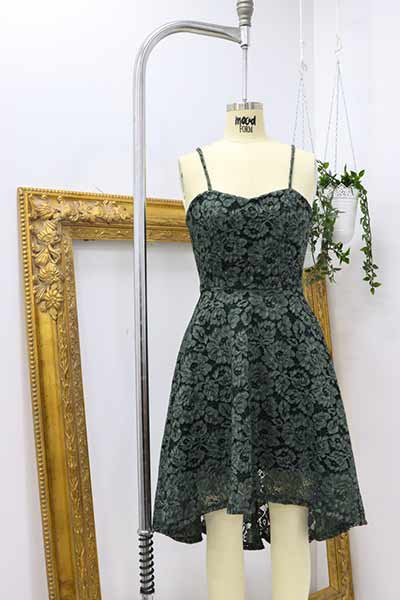 Flaunt your feminine attributes with this elegant yet attractive dress that features a gathered high-low bottom hem that goes over your knees, a fitted waist, and a gorgeous sweetheart bodice with spaghetti shoulder straps. You can choose to make a zipper at the back or to leave it out and use a stretchy fabric instead.
by Moodfabrics
Free sundress pattern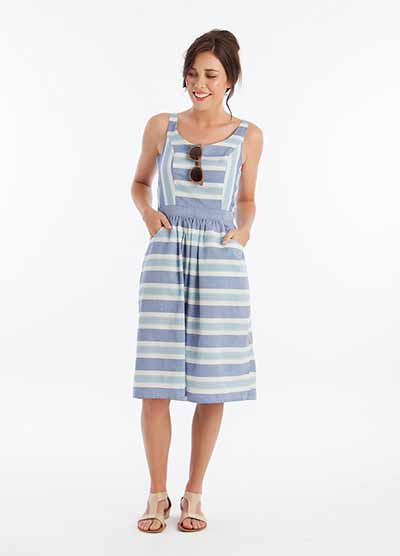 Here's a dress you can wear anywhere and feel, as well as look great due to its breezy and chic nature, with shoulder straps, a deep scoop neckline, a wide band at the waist, and a gathered skirt that goes to your knees. Another notable thing about the dress is the pair of pockets at the front of the skirt that come in handy for carrying your phone.
Flirty paper pieced dress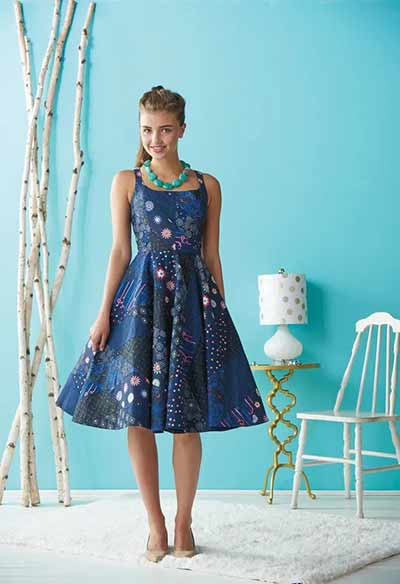 The dresses of the '50s and '60s have a special charm that's hard to resist, so don't even try to do that and just make this one instead, with its square neckline and narrow shoulder straps, a fitted bodice, and a beautiful, gathered circle skirt with a knee-high bottom hem to complete the retro look.
by Sewdaily
Halter sundress pattern – AVA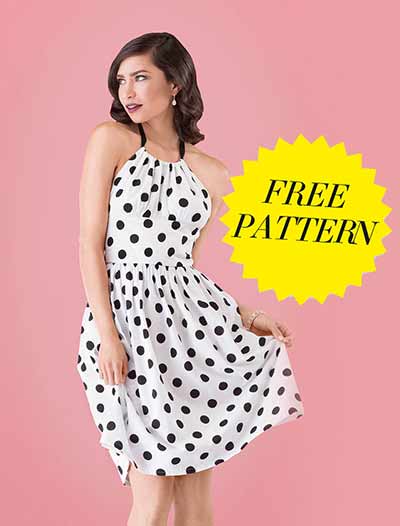 Vintage summer dresses are the epitome of feminine cuteness, just check out the one we have here, it has a  gorgeous halter bodice with a medium-depth rounded neckline, a subtle waistband, a long zipper closure at the back that starts at the waist and ends at the skirt middle, as well as a flared, slightly gathered, above-the-knee skirt.
The pattern is free to get after a quick registration at their website
by Craftworld
Patriotic sundress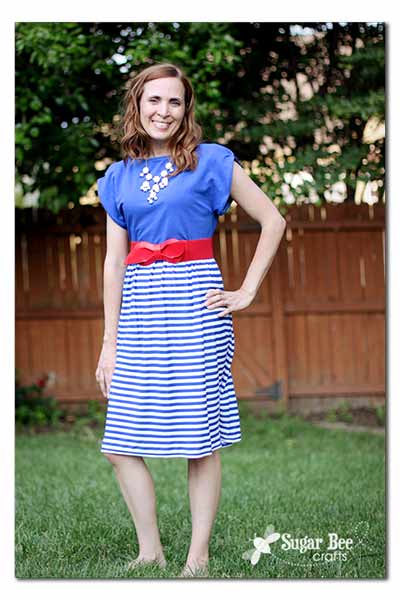 Simple and quick to sew, but beautiful and comfortable, that's what this dress is all about, with a bodice that features a high neckline and a bit altered dolman sleeves, a waistband you can conceal with a belt of your choice, and a straight skirt just long enough to cover your knees.
Romantic ruffle maxi dress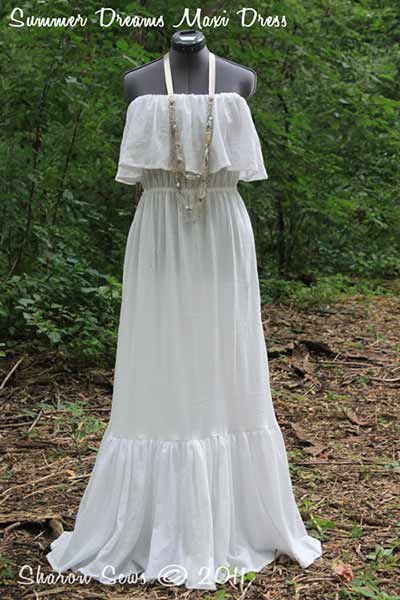 Get ready to look like the fair elf lady Galadriel's equally dazzling sister with an appropriate dress that has an over-the-shoulders bodice with a creative elastic around your neck similar to a halter-style strap, a ruffled flap that goes almost to the waist, a fitted waistband, and a flared maxi skirt with an additional gathered tier at the bottom.
by Sharonsews
Scarves to maxi dress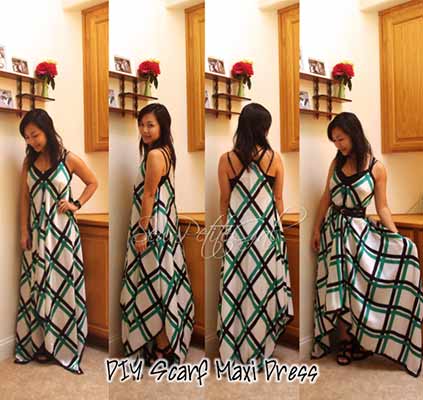 Transform three scarves into one magnificent dress that features a bodice fitted at the bust with spaghetti straps, a triangular neckline, a back that tapers into an upward triangle, and a lovely handkerchief maxi skirt. Wear it with a belt if you want a more fitted look, or without one for extra comfort and breeze.
by Sewpetitegal
Easy t-shirt summer dress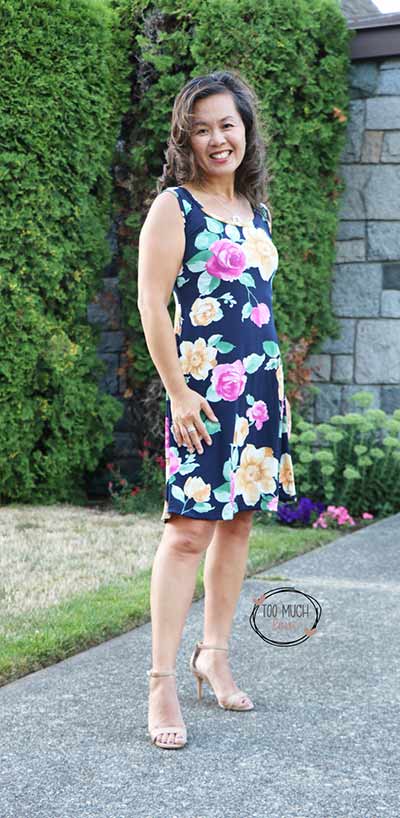 If you are looking for easy summer dress patterns, this one is for you! It's as easy as it could be!
If you need to whip up a good-looking summer dress in a hurry, here's a pattern for you, with a scoop neckline and medium-width shoulder straps, a basic rectangular overall shape, and a skirt with a bottom hem that goes above your knees. Feel free to wear it to any occasion, it's appropriate for all events during hot weather.
by Toomuchlove
Vintage Gathered Bust Slip Dress
Let's go retro in style with a dress that has a deep V-neck and a matching back, narrow shoulder straps, a gathered bust, a waistband complete with a ribbon that allows you to tighten or loosen it, and a skirt reaching to your mid-calves. This pattern produces quite different results with different fabrics so go ahead and experiment in that aspect.
Kids and toddlers patterns for summer dresses
Pillowcase dress for kids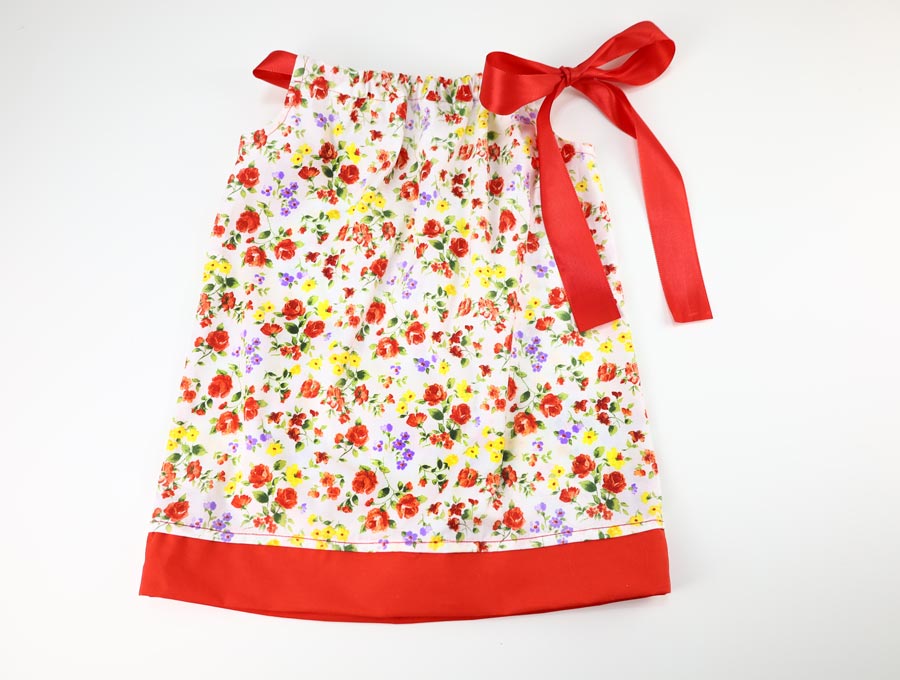 Turn a pillowcase into a cute new dress for your little girl, featuring a gathered neckline with a casing for the shoulder straps made of one ribbon piece, a slightly flared body, and an optional wide band at the bottom hem. You can make the straps so they tie on one shoulder or both of them.
Sizes: 2-12 y
Girls pillowcase dress pattern by Hellosewing
Tropish dress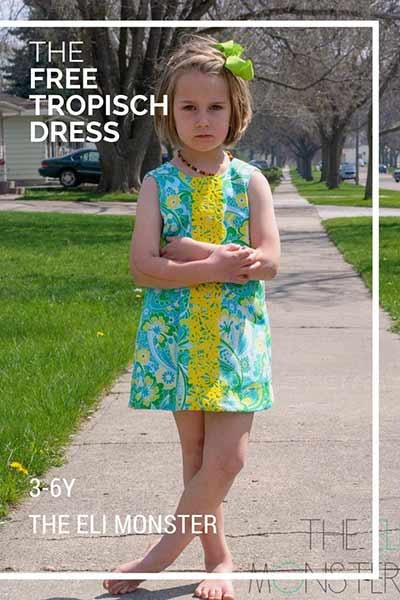 Shirt dresses are the ideal choice of summer garment for your little princess due to their comfortable and breezy characteristics, which is why you should sew this one that has a tank top bodice and a bit flared skirt with a bottom hem above the knees. Your girl can wear it solo, or with a contrasting shirt underneath on less casual occasions.
size: 3-6y
Cecilia dress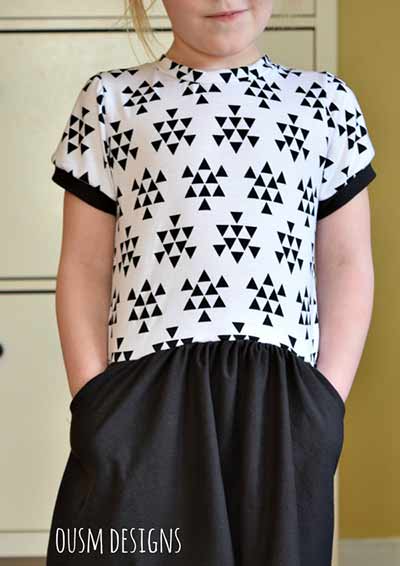 Here we have a cute and practical dress with short sleeves that have elastic bands at their ends, a high neckline, a contrasting skirt above the knees that's gathered at the waist, and two side pockets that kids love because they can stash candies there. For the best effect, match the colors of the sleeve bands and the skirt.
Rainbow dress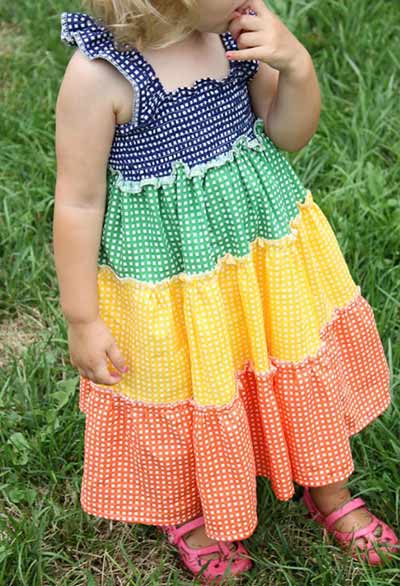 Not many things are more adorable than turning your little girl into a beautiful rainbow with a dress that has a bodice with shoulder straps that are slightly wavy thanks to the elastic that is stitched to their inner edges, and a tiered skirt consisting of gathered sections in the colors of the rainbow!
by Made-by-rae
I hope you enjoyed these free summer dress patterns as much as I did when making this roundup. Which summer dress sewing pattern is your favorite? Pop down in the comments and let me know. Don't forget to subscribe to the mailing list if you want to know as soon as new stuff comes out on our website. Have a stylish and comfortable summer with your new dresses!
If you liked this handpicked list, make sure to pin it or share it with your sewing friends. Up until next time!
RELATED: Get your wardrobe summer-ready
Bucket hat sewing pattern in 3 sizes
Swimsuit sewing patterns – Want to try your hand at sewing swimwear? It's not so difficult as you might thing
How to make a kimono cardigan out of a scarf?