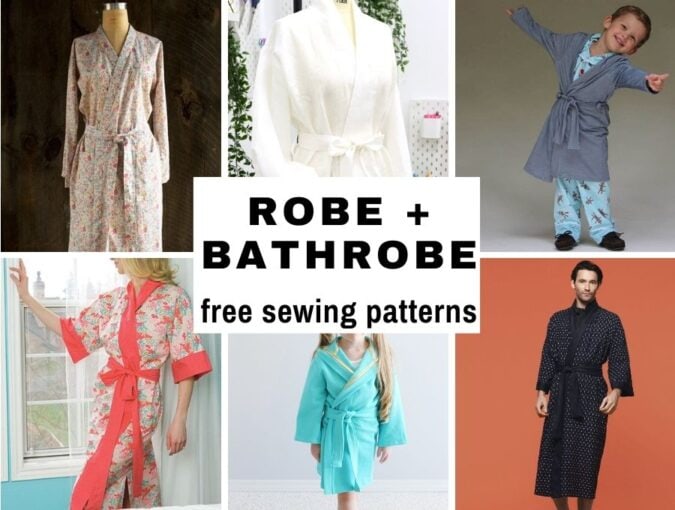 Free Robe Patterns and Tutorials // Dressing Gowns and Bathrobes
Say hello to one of these gorgeous robes. Choose from a variety of robe patterns – long or short, with a hood or a neck band, standard or wide sleeves, a fitted or relaxed silhouette, with or without a fabric belt. This is the perfect transeasonal, multipurpose staple. Use it for lounging at home, layering over your swimsuit, or as a layer over your top and jeans, or simply as bathrobe. The choice is yours!
The best thing is that these are ridiculously easy to sew and would make a lovely gift for someone special!
Men and Women Robe Patterns to Sew Today
Long robe pattern for women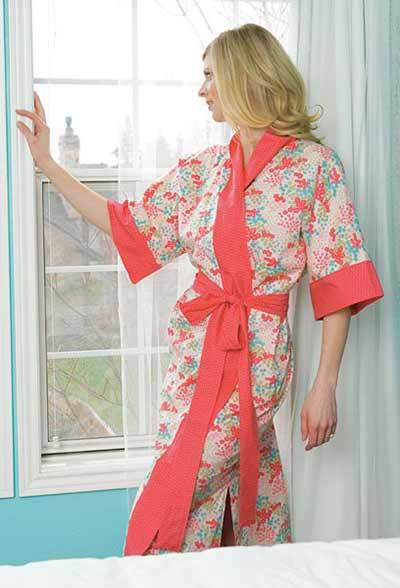 Enjoy your leisure time in style with a long robe that has wide, elbow-length sleeves, a slit at the middle of the bottom on the back, and a matching wide and long fabric belt. The front hem, including the section around your neck has a decorative wide band along its entire length, with matching cuffs on the sleeves.
Size: Upto 58-1/2″ long, S-M hip up to 42″, L-XL hip up to 55″
Womens robe pattern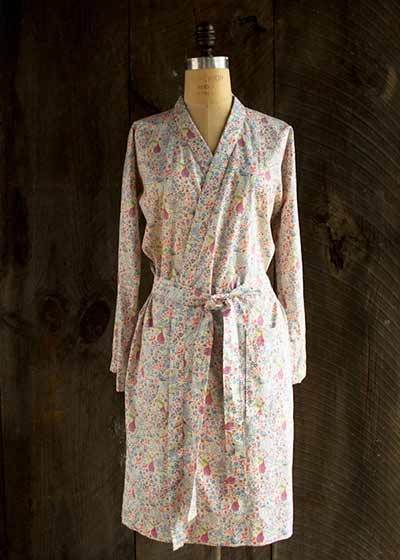 During hot summer days, you want to feel comfortable and breezy inside your home with an outfit like this robe that comes in two lengths, above and below knees, has long sleeves, a thin fabric belt, and a classy bias binding finish edge at the front hem. The robe also has two deep rectangular pockets at the thighs that come in handy for stuff like the TV remote, your smartphone, and such.
Sizes: US 0-2 up to 14, EU XSmall to Xlarge
by Purlsoho
Hooded robe pattern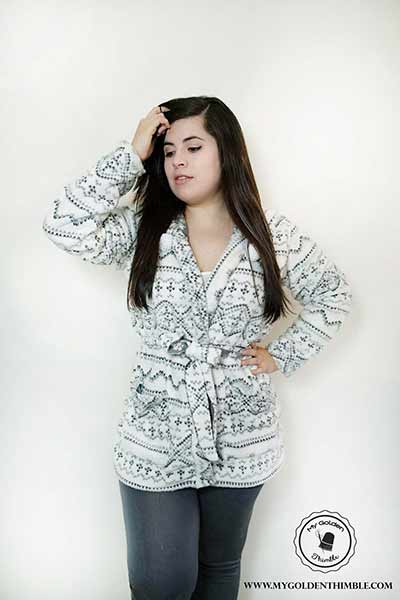 When you want to get a bit warmer in your house but don't feel like cranking up the heat, your best option would be to put on a robe like the one we have here, cozy, soft, reaching up to your hips, with a bias edge at the front hem, a matching fabric belt, two front pockets, and a cute hood that you can snuggle in while you watch your favorite TV show.
Womens robe sewing pattern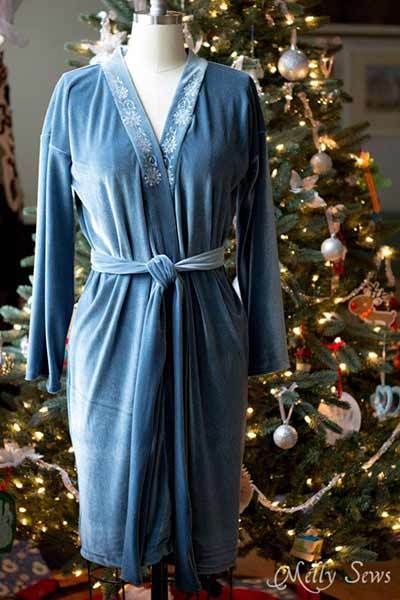 Make yourself a classy fitted robe that's lightweight, reaches to your knees, has long sleeves, belt loops, a fabric belt, two front pockets on your thighs, and a narrow band around the front hem, including the collar that has an optional decorative embroidery pattern. The interesting thing about this robe is the way you make the sleeves. Instead of attaching them to a sleeveless bodice, you stitch them to a bodice that has short, T-shirt-style sleeves.
by Mellysews
Free bathrobe sewing pattern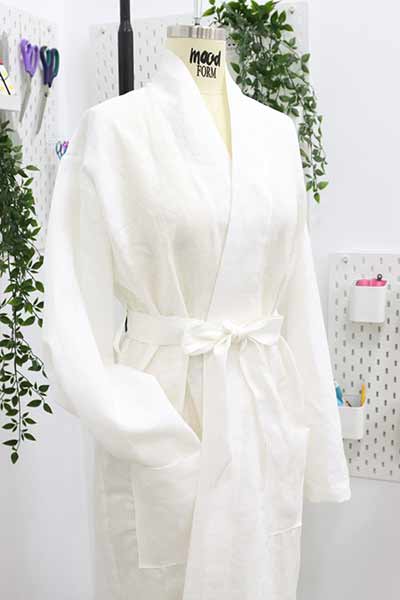 Sometimes you just want to relax at home as if you were in a spa, and for such occasions you'd want an adequate robe like the one we have here, made from thin and light fabric, reaching down to your mid-calves, with binding around the front opening and the neck, matching cuffs, two belt loops, as well as a thin fabric belt, and two rectangular pockets at the front, below the waistline.
by Moodfabrics
Simple robe sewing pattern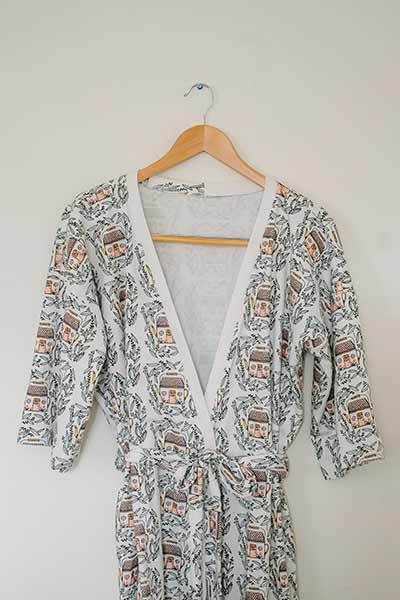 Wrap yourself up in something comfortable and relax after a hard day at work with this robe that has cropped sleeves without cuffs, a bottom hem that reaches just over your knees, a narrow binding around the neck and down the front opening to the waist, a fabric belt, and optional loops to keep it in place.
by Spoonflower
Girl robe pattern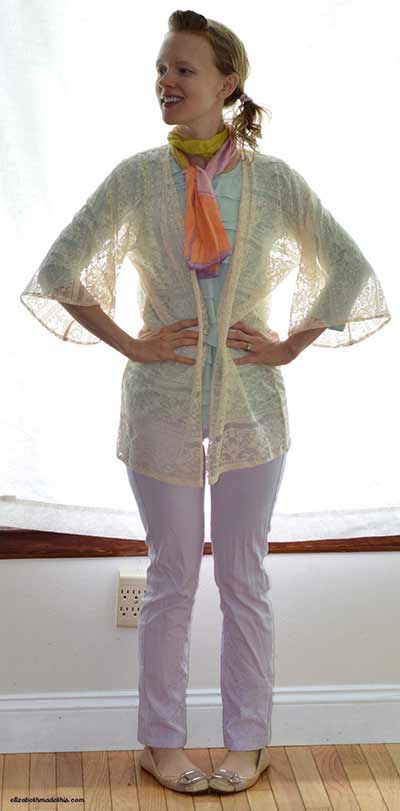 Treat yourself with a bit of luxury in the form of an elegant see-through robe made of lace, with wide rectangular 3/4 length sleeves, thinly hemmed edges around the sleeves, the neck, and the bottom that reaches just over your hips. You can wear this piece around the house, and out on dates or for casual meetings.
Easy robe coat (without a pattern)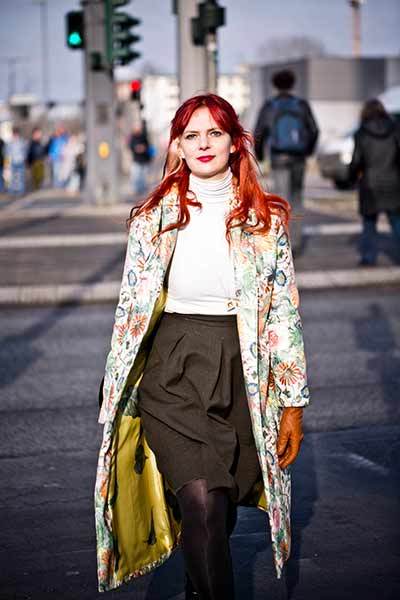 Here's a two in one pattern that allows you to make a light winter coat or a regular robe, depending on whether you opt for sewing the lining to this garment that reaches to your mid-calves, has long sleeves, a beautiful shawl collar, and a wide binding finish at the front opening. The coat also has two snaps to keep it closed, but you can leave them out and use a regular belt if you prefer.
Easy diy robe pattern for a kimono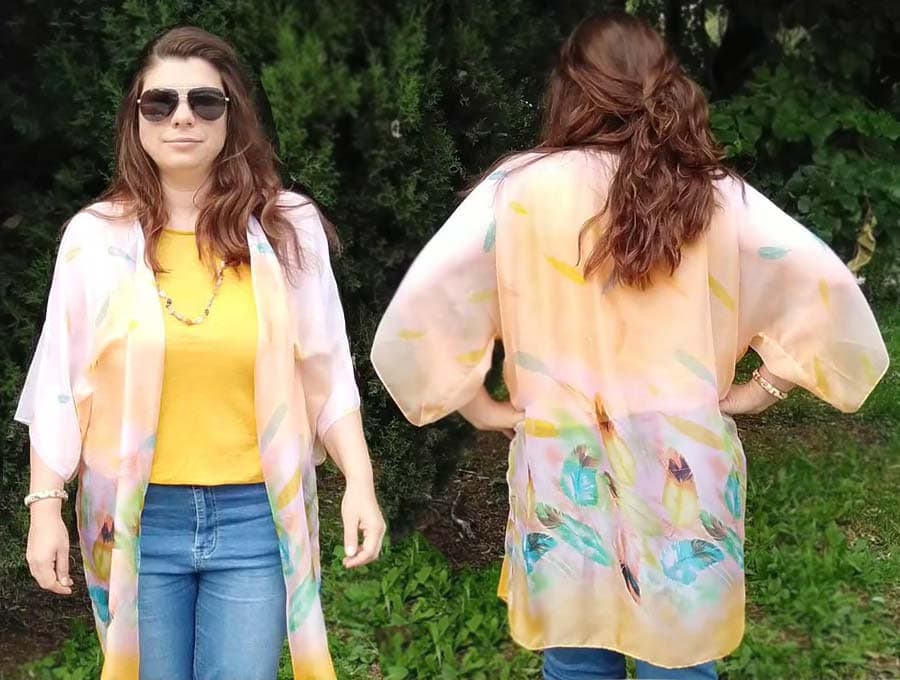 A modern take on the famous traditional Japanese clothing piece, this knee-length kimono is the ideal choice as a top layer for everything from trips to the beach, over leisure time at home, to outings with friends, thanks to its stylish appeal with 3/4 length sleeves, a double-folded front hem, and that characteristic T letter rectangular shape kimonos are known for.
by Hellosewing (THAT'S ME!)
Zip front robe sewing pattern (paid)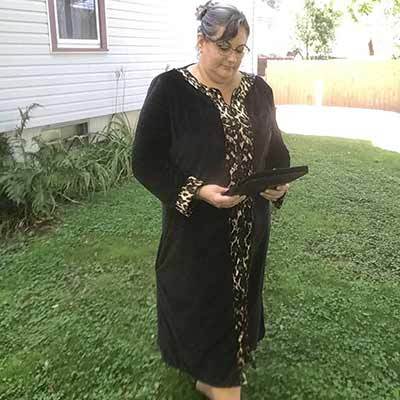 Make your winter evenings at home warmer and more comfortable with a long robe made of napp fabric that has long sleeves, a neckline and a front hem from contrasting fabric, matching cuffs, and a practical zipper that will keep you snuggled and tucked into the soft blanket alternative.
Basic robe pattern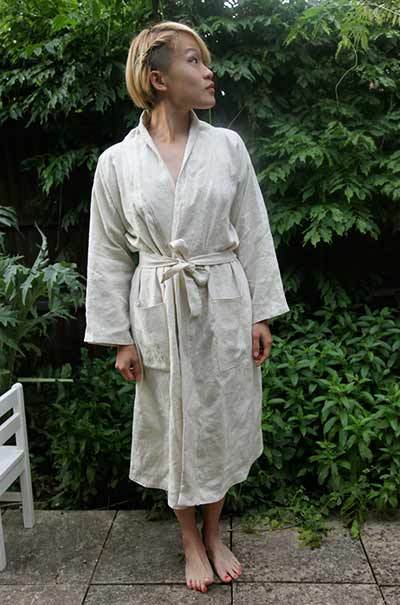 This robe can easily become your favorite piece of clothing to wear around the house during summer because it's comfortable, breezy, and looks chic, with its long medium width sleeves, a fancy shawl collar, a thin fabric belt, and two useful front pockets that can hold all your leisure essentials like remotes or candy.
Mens bathrobe pattern (dressing gown)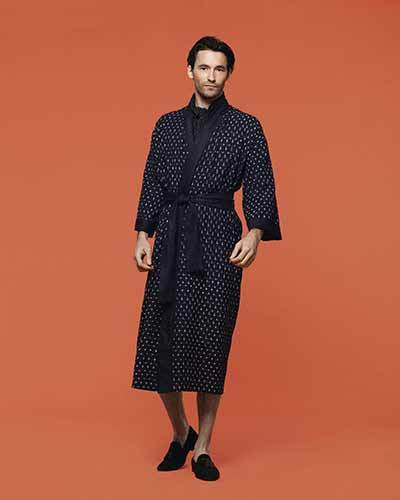 Be careful when you give this robe to the important man in your life because he could easily end up wearing it at all times, but no one could blame him since the robe looks splendid and has that gentleman attire appeal, with its long sleeves, a bottom hem that reaches to the mid-calves, a wide fabric sash to tie around the waist, and an elegant wide neckband. This is a unisex pattern so feel free to make one for yourself as well.
by Craftworld
Bridal wrap robe pattern
Here's a robe that will have you feeling attractive and stunning as soon as you put it on, thanks to its feminine, enticing look, with a bottom hem that reaches above your knees, has a decorative wavy lace band, its wide kimono-style 3/4 length sleeves, and a matching belt that goes through fabric loops. For the best result, use silk or satin as the main fabric.
Children's bathrobe patterns
Hooded robe pattern for kids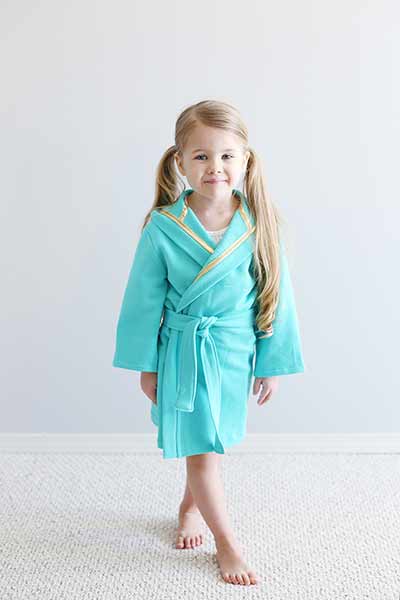 You can't wear a robe and expect your kid not to want one too, so go ahead and make them this lovely knee-length robe with long sleeves, a matching fabric belt with loops to hold it, and a hood to keep their heads warm after bath time. The most adorable feature of the robe is the thin contrasting decorative ribbon stitched around the collar and the hood interior rim that looks gorgeous.
Size: 3/4T (+/-1 size if you add or remove length as needed)
by Sewmuchado
Child fleece robe pattern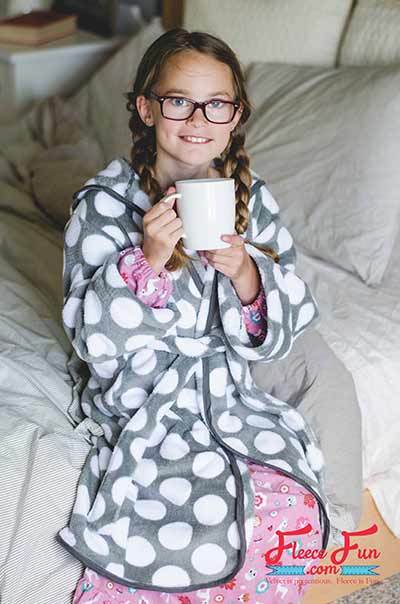 Make sure that your small one is warm during those chilly winter mornings by having them wear this fleece robe that reaches to their knees, has long sleeves, a matching belt that's stitched to the robe at the back, and a cozy hood. The corners between the front and bottom hem are curved, while the entire length of the front and back hem, as well as the hood edge, have a decorative bias tape finish.
by Fleecefun
Boys sleepy rope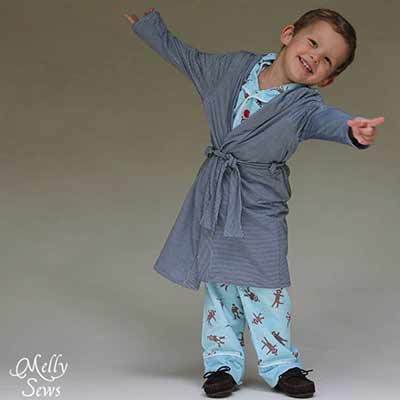 Give your little guy a miniature gentleman's robe he'll love wearing during the winter or fall because it's comfortable, has long, loose sleeves, a bottom hem that reaches over the knees, and a matching belt with adequate loops to hold it. The cuffs are double-folded and the front hem, as well as the bottom hem, have a wide bias tape stitched along their entire lengths.
Sizes: 18m/2T, 3T/4T, 5/6 and 7/8
by Mellysews
Easy robe pattern
This pattern is paid, but you can watch the video for free to see the method of construction
This adorable winter robe will swiftly become your kid's favorite clothing to wear inside the house, thanks to its cozy, lined interior, a soft hood, long sleeves, and a belt that's stitched to the robe back. A contrasting binding decorates the front and bottom hems, and the edges of the belt, adding more color to the garment and making it more cheerful.
Harry Potter robe costume
Get your child ready for Hogwarts with an appropriate robe for their quidditch matches that features an extremely loose fit, reaches to their feet, has those characteristic wide flared sleeves, a hood about three times the size of a normal one, and the unforgettable Gryffindor insignia, as well as the name letters at the back. The robe is lined with a contrasting fabric and has optional decorative double parallel lines on the sleeves, going from the shoulder to the cuff. Oh, and it comes in adult size too!
Kids linen bathrobe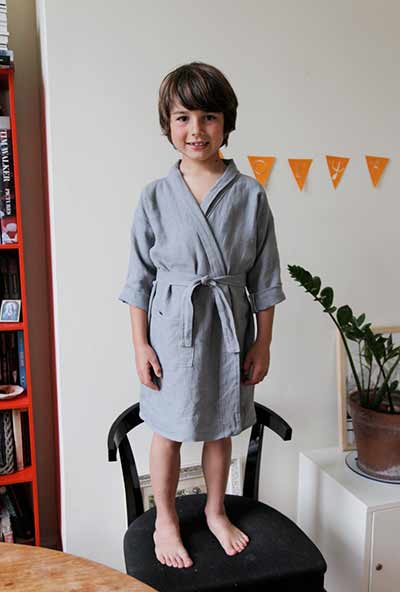 Make a linen robe for your child to let them feel breezy and refreshed, with its knee-high bottom hem, 3/4 length sleeves, a sash to tie around the waist, and two front pockets to keep their most valued toys at their side at all times. The robe also has a lovely collar with a wide band stitched to it that goes down to the waist.
Size 3-7 year old kids robe pattern
Now that you have enough robe patterns for your entire family, you can all enjoy your leisure time in style and comfort both in the winter and the summer. Come back here once you make a few of them and let us know which one is your favorite in the comments section. And be sure to subscribe to our mailing list so you don't miss out on more projects and patterns like these. Have fun wearing your new comfortable robes!
RELATED:
20+ Camisole sewing patterns – from easy to intricate and everything in between
Round drawstring bag – great for travel, make-up, jewellery, hair accessories, crayons or small toys as it opens flat
DIY sleep mask – Wake up rested and rejuvenated. You deserve it!
Make some cute scrunchies – 6 variations to fit every style and taste