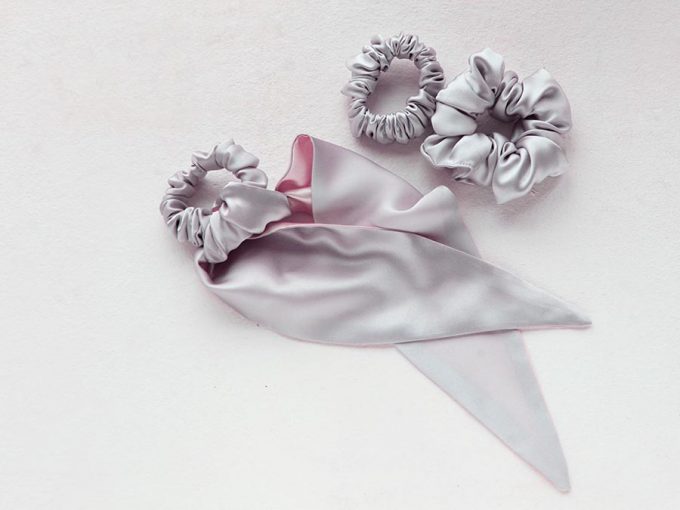 DIY How to Make a Scrunchie + 6 Variations to Wow Everyone
While for some of you those DIY scrunchies are the current trend, for some of us these are a blast from the past!
Even though the '90s were well over 30 years ago, the remnants of that unique pop culture are still alive and kicking. Especially when it comes to fashion. When I look at some of my old stuff from the late '90s that survived to this date, I can't help but not notice that similar things are what's "in" recently.
Like these scrunchies for example. Wearing one of them nowadays would definitely strike the mark in a fashion sense. Honestly, it's not surprising, considering how practical and cute they are and how they fit with almost any clothing combination. That is why I just love making all kinds of scrunchies whenever I can. Not to mention how fun and easy they are to make. I'll start out by showing you how to make a basic scunchie, then I'll show you six different upgrades.
How to sew scrunchies or hair ties with a clean look:
Supplies to sew scrunchies
This project is a real treat for all sewing enthusiasts. It's very simple and quick, and it costs close to nothing to make. That means you don't need much stuff for it. You will need:
one strip of fabric – 22″ x 4″ for a regular scrunchie, 18″ x 3.5″ for a mini scrunchie
1/4″ elastic – 8-9″ long
matching thread
pins
a safety pin (or tube turner)
a rotary cutter and a cutting mat, or scissors if you prefer using them for cutting,
an iron and its board
a sewing machine.
No drawing or designing is necessary, the pattern for the scrunchie is a simple rectangle, so measure and cut away.
How to sew a scrunchie – step by step:
Choose the fabric
Before you start making your scrunchie, obviously you need to decide which fabric you will be using. The final look of your new hair accessory will be slightly different with different fabrics. Because of this, some scrunchies tend to look better when they are made from a specific type of fabric. For example, I prefer my scrunchies in their basic forms, and those tend to look best when I make them from stretch fabric. Models with short or medium ears are also like this.
Scrunchies that have large accessories like ears or bows end up the best when you use drapes to make them. Any kind of fabric that lay in that characteristic way like drapes is ideal for these types of scrunchies.
Now that you know everything you need to as far as preparations go, you can move on to the creation process of the 90's style hairband.
Cut the fabric
Use the pattern you downloaded and printed out and place it on top of your fabric. The fabric must be folded in half first and the short edge of the pattern needs to be aligned with the fold of the fabric. Pin the pattern in place and start cutting around it.
Put the second pattern on top of your fabric, pin it, and cut out two pieces for your scrunchie. These will become the front and the back of the scrunchie.
2. Start stitching
Take the parts for the bunny tails and put them on each other so that the right sides are facing each other. Use a three-eighths-inch seam allowance and sew all around the fabric, along the straightest edge. Backstitch at the beginning and the end of a seam to reinforce it. Don't forget to leave a small opening of about one inch so that you can flip the piece inside out through it.
Trim any excess fabric close to the seams to achieve a more professional look. Once you've done so, flip the piece inside out.  Apply some glue to the edges of the opening and pinch them together until they stick. Leave it to dry a bit on the air. Then fold the fabric in half lengthwise like a hot-dog and pin everything in place. Sew all around about inch and a half away from the edge, using a three-eighths seam allowance. Leave another inch and a half at the end unsewn so that the seams don't come apart later on. Reinforce all stitching with a backstitch.
Push the fabric inside itself to line up the unsewn edges with each other. Basically, just scrunch it up and wrinkle it a bit. Now the right sides should be facing each other, so if they do, pin them in place and sew along that short edge. Flip the whole thing inside out by pinching it and pulling it through.
3. Add the elastic and finalize the scrunchie
If your hair is a bit wild and heavy like mine, use a half-inch elastic. A quarter-inch one won't be able to keep it in check, that one is more suitable for lighter hair. Cut the elastic down to eight and a half inches and pull it through the scrunchie. You can do this by pinning its one end with a safety pin and then putting it through the hairband. Overlap the ends of the elastic and stitch them to each other with a zig-zag stitch.
Use the glue to close the seam opening by applying a bit of it on the edge and pinching it a bit before you let it dry. Tie the tail around the hairband in a knot, I like to put mine where the glued section is. That's it, your scrunchie is ready for action now!
DIY Scrunchie Variations
Another neat thing about these scrunchies is the fact that they are easily customizable. With just a few alterations in the creation process, you can make entirely different variations of hair ties. Take a look at these eight cute versions of scrunchies and try making all of them by yourself.
This one is made almost exactly like the one we just covered in this tutorial. The only difference is in the size of the fabric you will be using, as for the mini scrunchie you will need 18″ x 3.5″ strip of fabric. Also, you don't make the bunny tails, just leave the scrunchie as it is. You don't need glue either, just stitch instead of using the glue.
Scrunchie from two fabrics
For this type of scrunchie you will have to cut two smaller pieces of different fabric and stitch them together right sides facing each other. The fabric pieces should be about wide two inches and a quarter, and eighteen inches long. Press the seams open after sewing and proceed until the end as if it were the basic scrunchie.
Scrunchie with lace / ribbon / white fabric on the edge
Take a nineteen-inch lace and put it inside the scrunchie fabric before you fold it right sides on each other. Let it extend about one inch on each end of the scrunchie. If the lace curls, you can keep it in check by applying a baste stitch on one end. Then continue normally and stitch the seam. Keep the seam on one side, not in the center. Turn the whole thing inside out and add elastic like you would for the basic model. When folding the raw edges in, fold tuck in the lace as well. Stitch everything and you're done.
Scrunchie with white fabric utilizes the same process the one for the lace variation. The only difference is the white fabric you stitch onto the edge.
Make a basic scrunchie first. Then download this pattern. Cut two pieces of fabric using the pattern and stitch them together, right sides facing each other. Leave a two-inch opening to turn the thing through it. Clip the corners twice, the second time at an angle. Turn the bow inside out, press it and stitch the opening shut. Tie the bow around your scrunchie.
Scrunchie with short or long bunny ears
This variation is practically identical to the one this article was about. The only difference is in the ears. Instead of making bunny tails, you make bunny ears, which is basically the same thing just a tad different in shape and size. Scrunchie with long bunny ears is identical to the short bunny tails kind but you just make the ears longer. Surprising, right?
Use the pattern to cut out a long or short tail for the scrunchie and sew it exactly as you would sew the scrunchie minus the elastic. Tie it around the scrunchie and you are done!
There you have it – making a scrunchie in 7 different ways. There is no reason why not to sew yourself some to match your outfits and sew some for your besties as well. Scrunchies make fantastic gifts!
Now show me the scrunchies you made. Make sure you follow me on Pinterest, tag me and share your makes!