2
Gifts for Sewers – 25+ Ideas to Fit Every Budget
Let's face it – buying thoughtful gifts for sewers is not an easy task. Just imagine all the running around hunting for the best present in crowded malls and craft stores. Spending hours searching online isn't more fruitful either. It's exhausting just to think about it. So do your friends and family a favor and send them this link.
With 30+ gift ideas for sewers on this list I promise that there is something to fit every budget!
These handy sewing tools will help you (or your friend) speed up the whole process and the sewing projects will turn out even better than before!
Sewing clothes can be an expensive and time-intensive hobby. Most people who don't sew just don't realize how many hours are involved. And it is not only the actual sewing. It is not just sitting down on the sewing machine and pressing down the pedal turning fabrics into garments. There is a ton of labor involved in marking, cutting, pinning, ironing and all of them have to be done with precision and care. This is where tools can help a lot in speeding up the process because quality tools make a world of a difference in how easy and quickly a project comes to be.
Enjoy this list of my favorite tools and gift ideas for sewers. Surprise your beloved sewists with the gift they deserve or treat yourself with something new!
30+ Gift Ideas for Sewers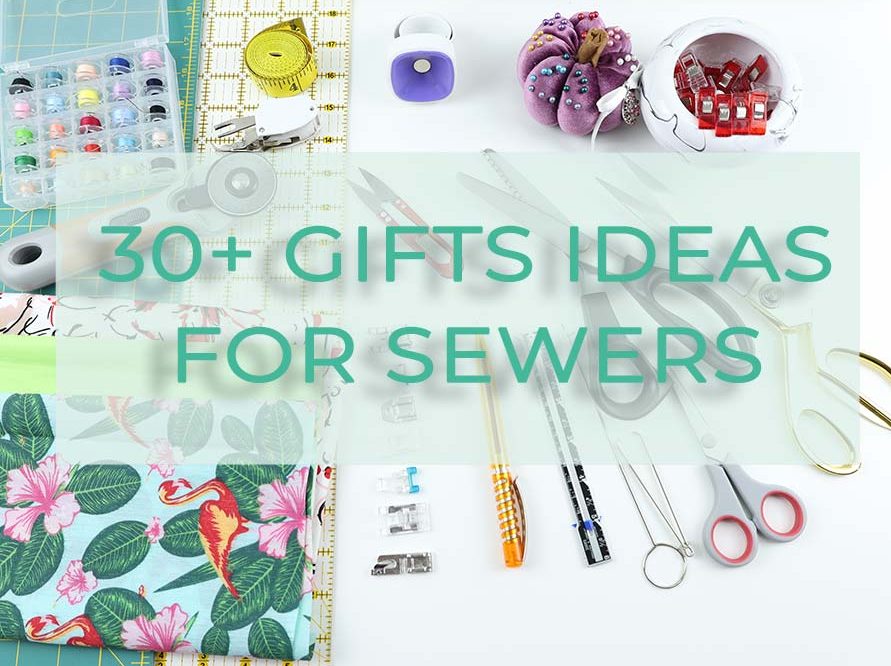 A close second, with a more affordable price tag here Steamfast-Travel
No products found.
GIFTS FOR SEWERS: Big stuff
The list will not be complete without mentioning the actual workhorses – the machines. If money is not an issue and you want to see a big smile on your sewing friend's face, get them one of these (or treat yourself *Wink Wink*):
Sewing machine – entry level one or an upgrade to the current workhorse. You can't go wrong with a Janome. This one is my current favorite
Quilting machine – home models. This Juki is my favorite as it's fast at 1000+ stitches per second and has large harp space to fit bigger quilts
Serger – either entry level or a professional serger are great gift idea for those sewists who handle knit fabrics or make clothes
No products found.
Finding good tools and notions (or gifts for sewers) is not an easy task. It takes quite a lot of time, money and effort involved to find which are great and which never see the light of the day and just gather dust at the bottom of the drawers. I hope this gift guide helped you pick something for your sewing buddy or yourself. Who knows you may sew gifts for them too!
Which one of these you liked most? What do you need to get? Did I miss something cool? Share in the comments below