4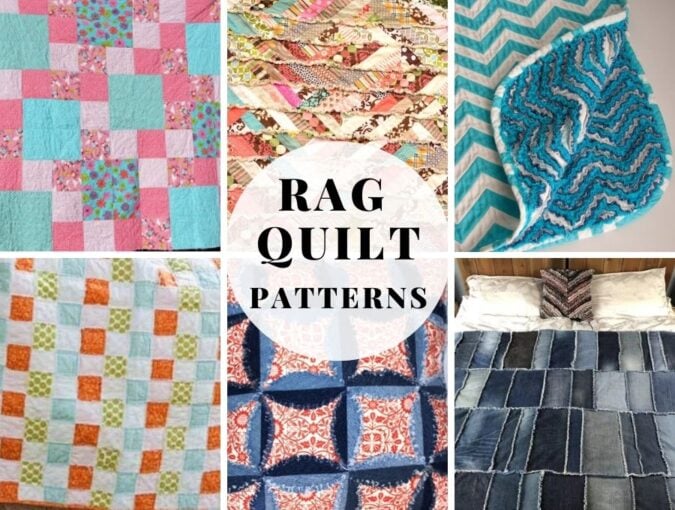 13+ Rag Quilt Patterns – Beautiful, Easy and FREE
Rag quilt patterns are one of the quickest and easiest quilting projects you can make. They have distinctive, soft vintage look thanks to the frayed seams. These projects are suitable for everyone, from beginner quilters to seasoned quilters. Use these free rag quilt patterns to make adorable cuddly quilts with deep texture of the top.
Unlike traditional quilts, rag quilts are made with exposed seams that are visible on the top of the quilt. The frayed characteristic look of rag quilts is achieved by clipping the seams allowances and washing and drying the quilt. Few more runs in the washer and dryer let the edges fray further and create soft lines between the patchwork. It looks beautiful and makes great gifts for babies, friends and family. It's a great way to use the small offcuts of fabric in your stash, personalize your bedroom and use your creativity to sew one of a kind quilt.
13+ Adorable Rag quilt patterns
The easiest beginner friendly rag quilt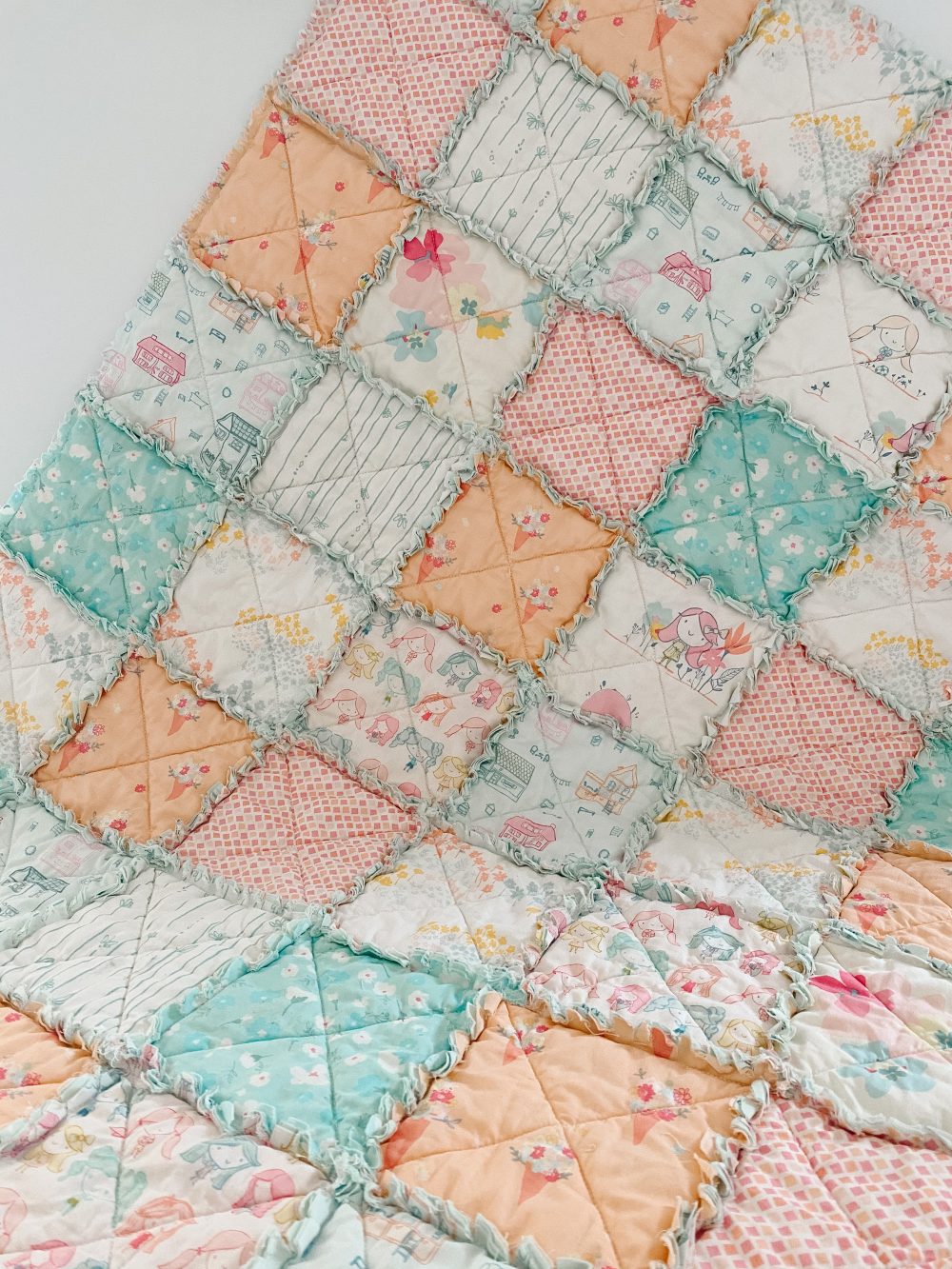 Make a beautiful checkered rag fast and easy with this rag pattern. This rag utilizes soft, yet bright colors in a lovely way to produce a rag that is adorable enough to give as a present for babies. The rag consists of joined squares of different colors that have frayed edges between each other, which give it a particularly special look.
Basketweave Rag Quilt pattern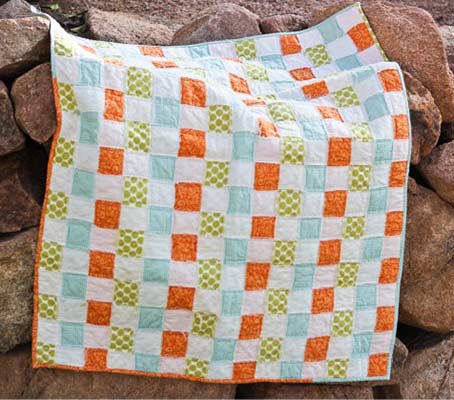 Next up is the basketweave quilt pattern. This rectangular quilt has a fun checkered pattern that's unique, the basketweave. This means the rag consists of four-color squared joined together. One of those colors is white, and those squares act as separators between the other squares that alternate in color one after the other.
Chevron rag quilt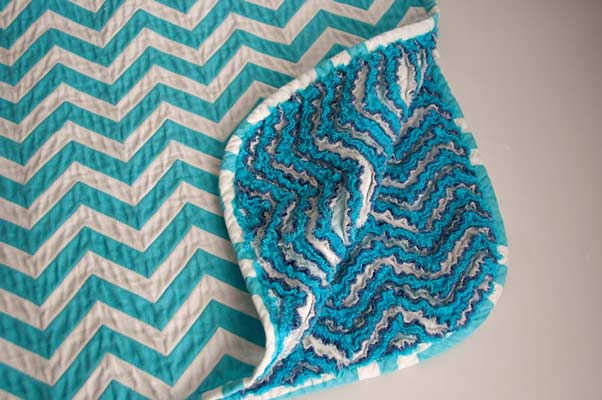 One of the more dynamic designs for quilts is the chevron stripes, and here comes a pattern that will help you make a rag with them. The rag is rectangular but with curved edges and two-toned chevron stripes. This one is a bit more like a blanket instead of a rag, so you can use it as if it were a mini blanket.
Stripe rag quilt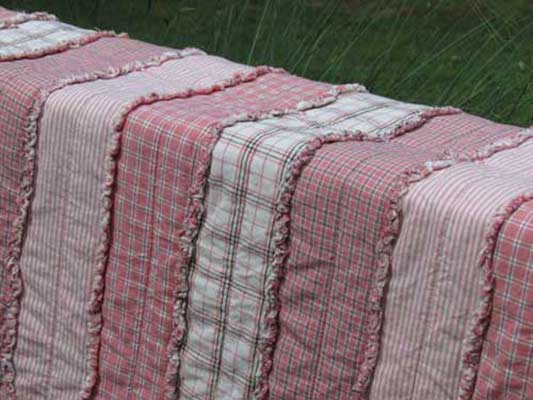 Freshen up your bed with new quilted sheets that you can make with the help of this stripes rag quilt! The quilt is rectangular, with horizontal stripes in four alternating colors. Wonderful, frayed edges are between each stripe, which gives the quilt a bit of a rustic look.
Ruffled flower rag quilt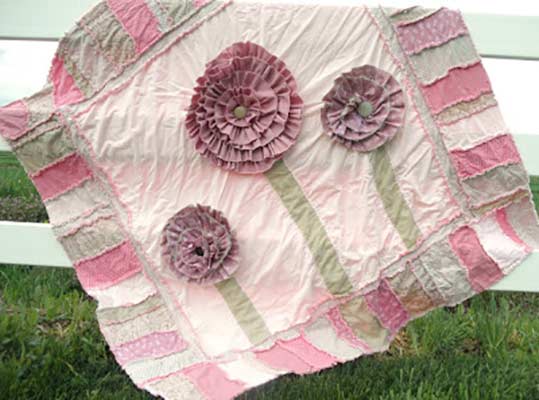 Flowers are always nice to see, so why wouldn't you want them on a quilt? This ruffled flower rag pattern brings a flower field right to your home! It's rectangular, with curved corners, a wide frame made of vertical lines in four alternating colors, and three beautiful ruffled flowers at the middle of the quilt.
Layer cake rag quilt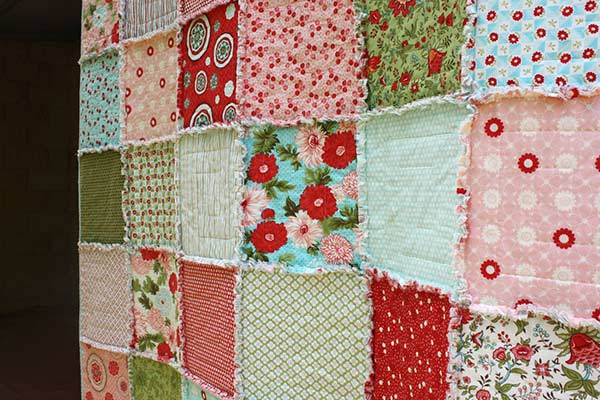 Here comes a pattern that's extremely quick to finish and easy to make, the layer cake rag. It's a rectangular quilt with curved corners that consists of sandwich quilts joined together, with frayed edges between them. The sandwiches are various in color and are arranged in a 6 x 7 grid.
floating squares rag quilt pattern
If you like peculiar yet beautiful designs, you might just like this floating squares rag pattern. It has an unusual, interesting checkered design. Most of the squares are identical in size, with a couple of large ones randomly arranged around the quilt. The six colors in play, with the asymmetrical style, give this quilt a special appeal that's hard to resist.
Team spirit rag quilt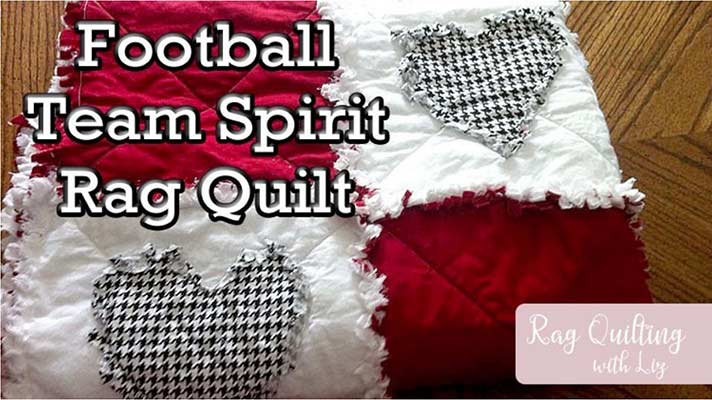 Enjoy watching football games at the stadium without your legs freezing with the help of this team spirit rag pattern. This quilt is rectangular and large enough to cover your lap as you're sitting. It's made of two-toned squares with frayed edges between them and heart shapes stitched onto them. You can also make other shapes if you aren't a fan of hearts.
Chevron Rag quilt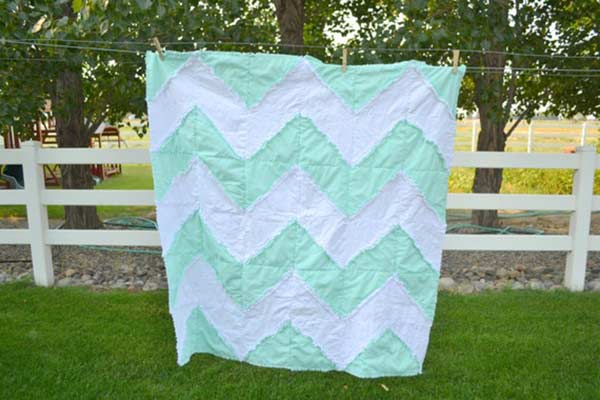 Here's another beautiful chevron stripes rag quilt that looks great as a cover for your bed. Unlike the first chevron stripes pattern on our list, this one has large stripes that are a bit easier to make. The borders between them are frayed, giving the quilt a bit of depth and making the stripes more pronounced.
Denim rag quilt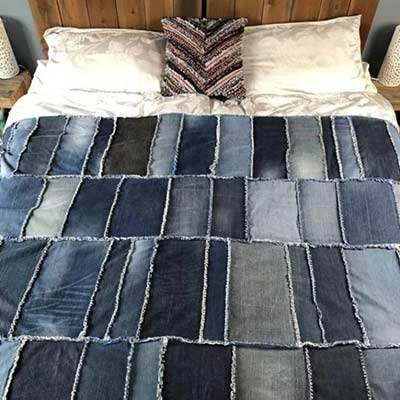 Put your old jeans to good use with this jeans rag quilt pattern. Cut up the jeans into wide and narrow rectangles and join them together to form a creative upcycled quilt that's ideal for beds or couches. Just like the rest of the patterns so far, this one also features frayed edges between the rectangle sandwiches.
Log cabin rag quilt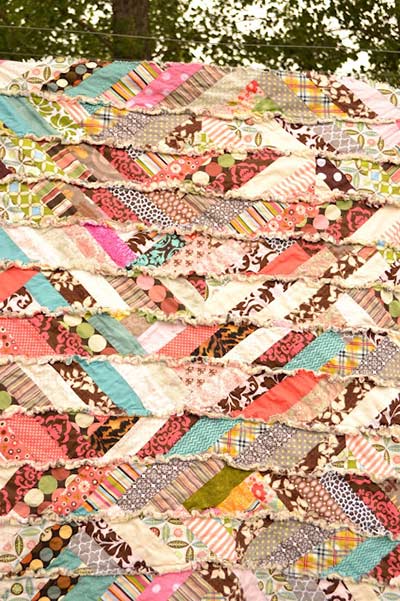 Make yourself a colorful quilt with this log cabin rag pattern! The rectangular quilt is made of a bunch of colorful diagonal stripes. The stripes are set so that some of them go from left to right, while others go from right to the left, forming large diamond shapes together. Frayed edges separate the diagonal stripes into wide horizontal lines, giving the log cabin design a unique twist.
Baby rag quilt with hearts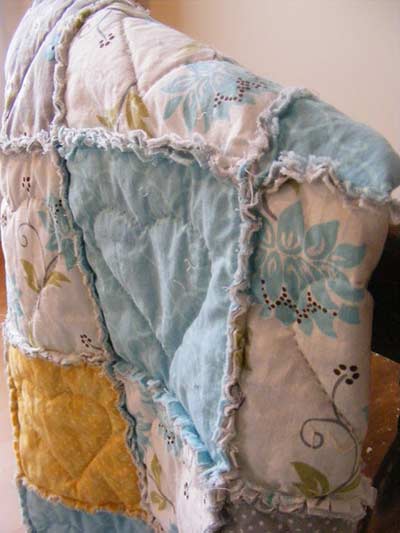 Create the perfect baby shower gift with this baby rag hearts pattern. The quilt is rectangular, with basketweave design of sandwich pieces with frayed edges. Its size is ideal for a baby crib, and it has subtle, adorable hearts stitched over each square.
Cathedral window rag quilt or pillow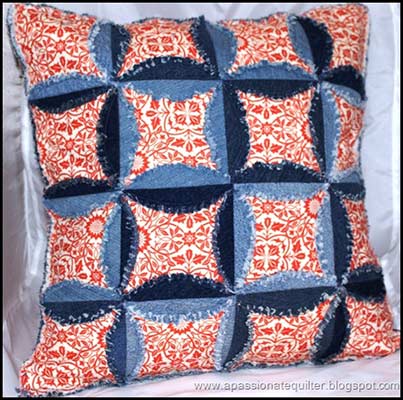 The final pattern on our list is a special two-in-one jeans pillow or rag quilt. It's fairly different from the other patterns so far because it's not made of rectangular nor square quilt pieces, but circles instead. The two-toned contrasting circles overlap each other slightly to form squares. They also have shapes like squares with stretched corners stitched onto them, giving them a peculiar, interesting look.
If you like the look of these rag quilt patterns, it's time to pull some fabrics out of your stash and quilt something beautiful. I can't wait to see what you made using those rag quilt pattern layouts.
Those were all of the patterns we have prepared for you this time, we hope you liked them! Share your thoughts with us in the comments, we'd love to know your favorites and how they turned out for you. If you wish to stay up to date with the upcoming posts on our site, go ahead and subscribe to our mailing list and we'll keep you informed about new posts you might like. Enjoy your new quilts!
OTHER QUILTS: