3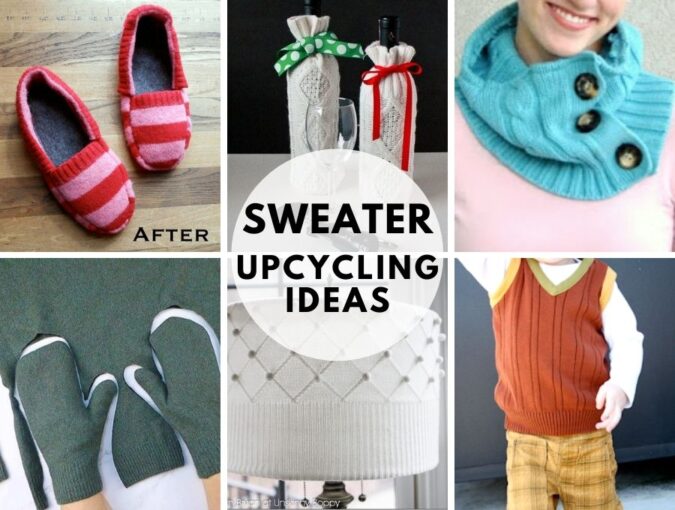 Repurpose or Upcycle Old Sweaters
Who knew that there are so many creative ways to upcycle sweaters? From creative home décor to accessories and pet beds, you can make a ton of things you can DIY reusing sweaters. No need to toss your favorite old sweaters when you can breathe new life into their cozy warmth. So if you don't want to say goodbye to that old sweater but are not sure what to do with it, here's a handy list of sweater projects to help get your creative juices flowing.
Upcycle Sweaters into Accessories
Cardigan cowl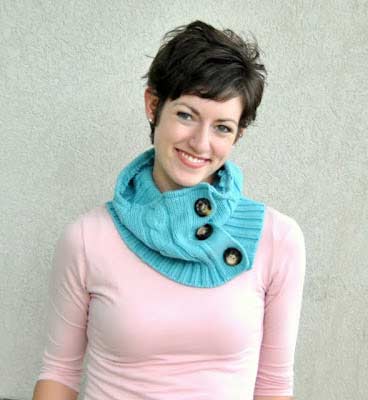 Transform your old sweater into two brand new accessories, a cowl and a pair of nice boot socks! The cowl is one of the longer kinds and covers your shoulders as well, which makes it perfect for windy cold days. Its row of buttons adds a sophisticated touch to it so it goes well with classier outfits as well.
by MaybeMatilda
Make a pair of warm mittens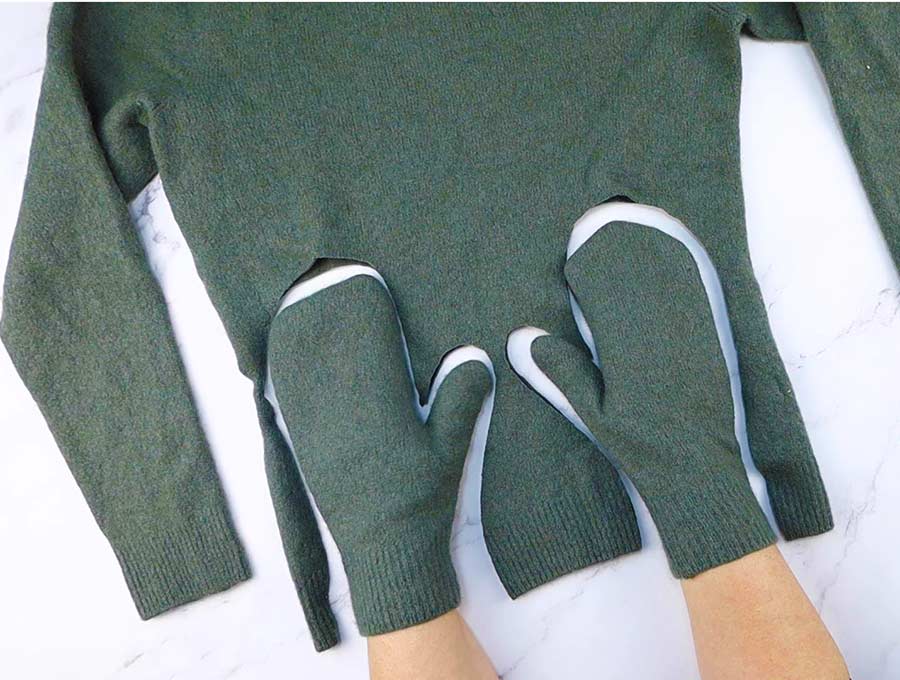 Make a pair of cozy and warm mittens for the upcoming winter out of your worn-out sweater! These mittens are straightforward and simple, yet stylish and fashionable. They have one wide section for your fingers and a separate one for your thumb, like any other mittens. Feel free to stitch on some applique over them for your custom touch!
by HelloSewing
Sweater hat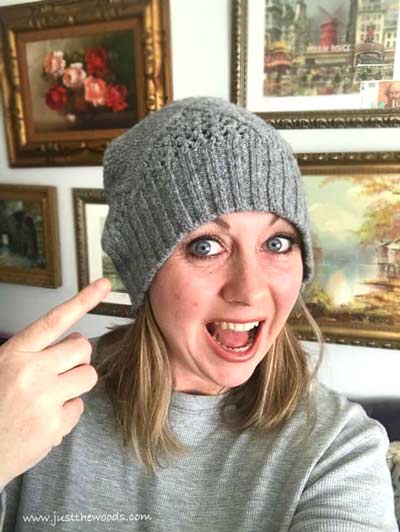 You don't have to knit yourself a winter hat if you have a sweater waiting to be upcycled. Here's a hat you can make without even using a sewing machine! All you need are scissors and a needle and a thread and you'll get your snug beanie hat in minutes.
Sweater boots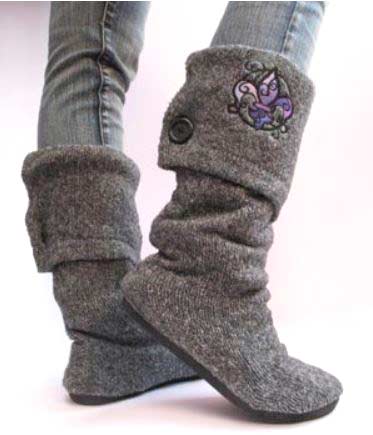 Did you know you can make boots out of a sweater and a pair of flat shoes? That's right, and they look lovely! These boots are medium height, with a stylish flipped cuff that you can decorate with a button or even some kind of embroidery pattern.
by Urbanthreads
Cozy Slippers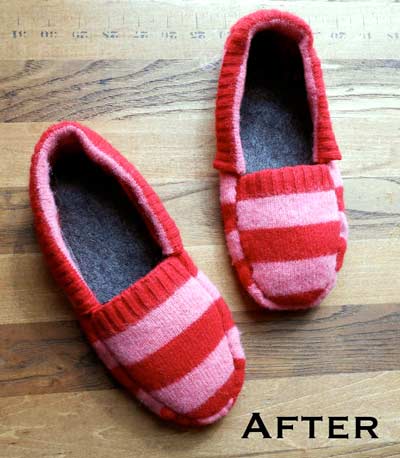 If you like wearing comfortable slippers around the house, you'll love these warm slip-ons you can make with ease. They look adorable, a bit like those traditional Chinese slippers, just from knit fabric. In other words, they're warm ballet flats.
by Wecanredoit
Knit coffee cozy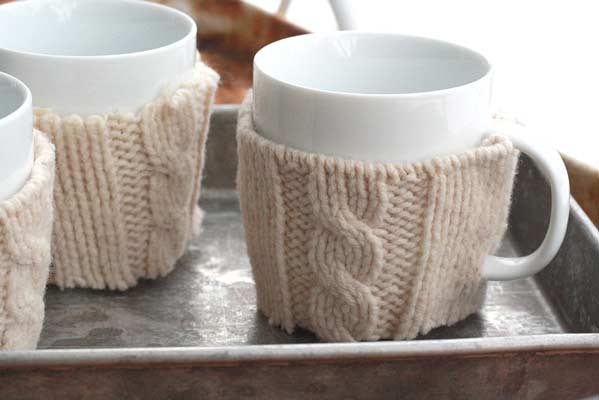 Everyone needs a mug warmer during winter, especially if you can make it yourself and repurpose an old sweater in the process. This warmer will fit snuggly around your favorite mug and keep your hot cocoa from cooling off too fast. It'll also keep your hands burn-free even if your grab the mug with both palms.
by Wenderly
Fingerless gloves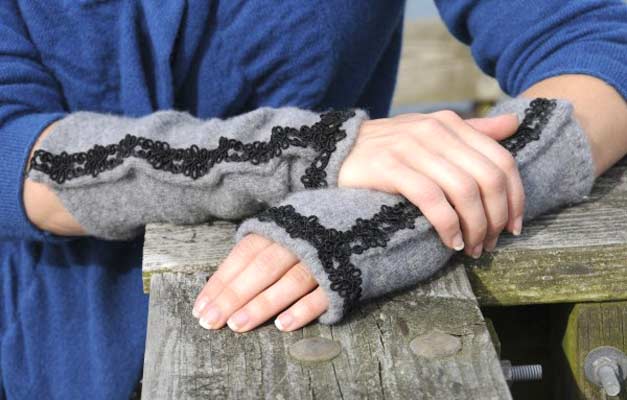 Sometimes, you can't wear normal gloves because they affect the sensation and dexterity of your fingers. In such situations, you should wear fingerless gloves! These ones are a great choice, they cover most of your forearms and the back of your hands, keeping them nice and warm.
Leg warmers or Boot toppers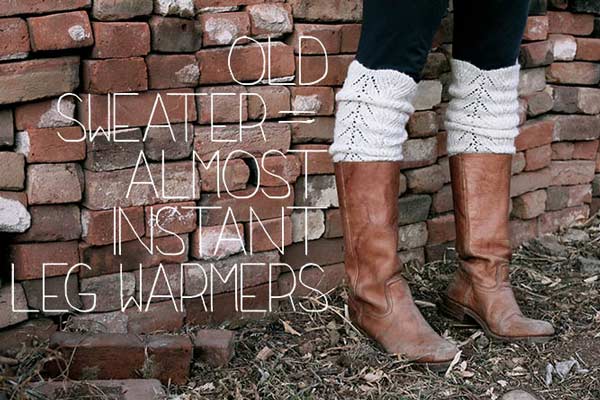 Leg warmers aren't just for ballet dancers you know. When winter comes, they're a great thing to have around. Here's a quick project that'll help you upcycle a sweater into a pair of leg warmers that look great on you regardless of the boots or pants you're wearing.
Hand warmers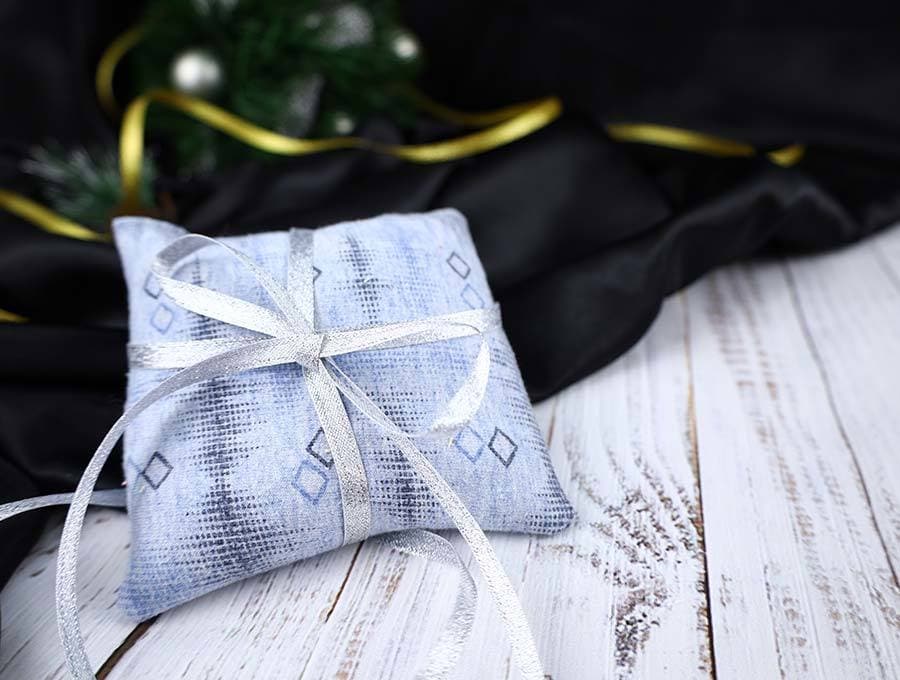 If winter gloves don't do the trick of keeping your hands warm enough, you should make yourself these hand warmers. Pop them into the microwave to heat them up and then keep them in your pockets to make a mini sauna for your hands! These warmers come in various shapes, from stars to hearts and more.
by HelloSewing
Winter Wine Bottle Wrap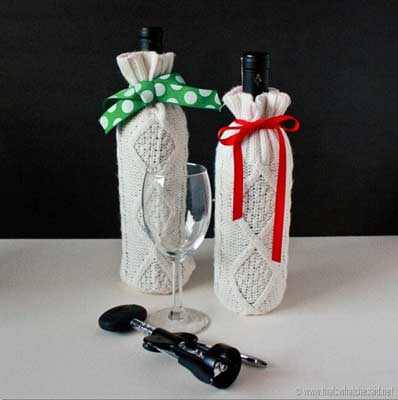 During the holiday season, we all visit a bunch of people and usually bring wine as a gift. If you have an old sweater laying around somewhere, you can make that gift much better. Instead of putting the bottle in a gift wrap, make this wine bottle sleeve and use that! It looks much classier and it will make the gift more thoughtful.
Lampshade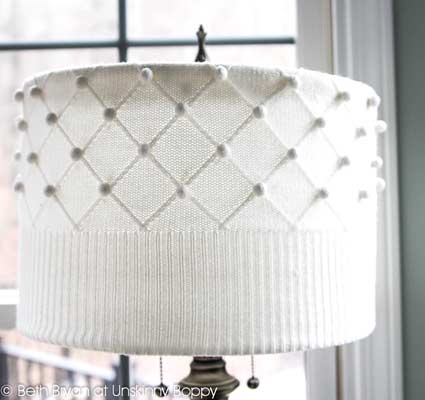 That old sweater of yours is actually a potential lampshade. And an elegant one too! This kind of lampshade isn't great just because it's sustainable, it also does a splendid job of dosing the light just right, it makes the lamp shine the ideal way, not too dim nor too bright.
by BethBryan
Earwarmer
For all of you, long-haired folk who struggle with winter hats comes this project. A warmer headband that will keep your ears from freezing without messing your hair up! This ear warmer is great for winter, but also windy autumn.
by HelloSewing
Upcycle a Sweater into HOME Décor
Sweater pumpkins
Turn the sleeves of your old sweater into adorable plush pumpkins! These pumpkins are wonderful as decorations during Thanksgiving and Halloween, but you can use them all year round because they're so cute.
Sweater blanket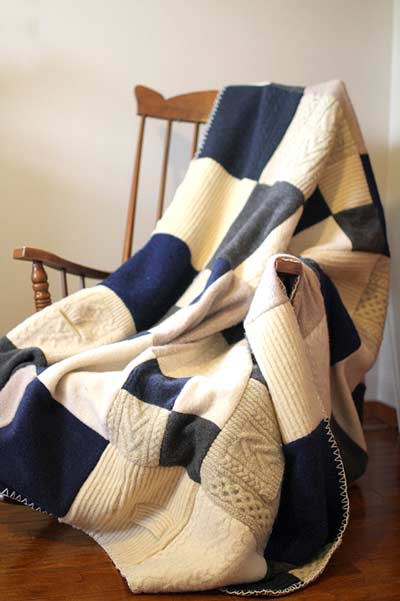 Make yourself a lovely warm blanket out of a few sweaters you don't need anymore. This blanket consists of multiple square knit fabric pieces joined together similar to patchwork quilting, just a lot simpler. Add some applique or embroidery details to give it that final stylish touch.
Plant pot cover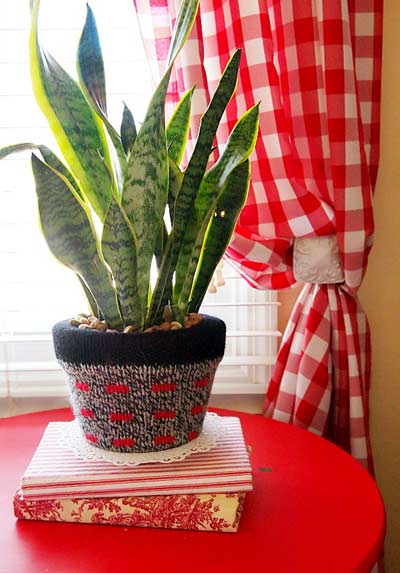 Give your plants a cute new outfit with these pot cozies! It's a great way to use up the fabric you have left from an old sweater and freshen up your interior a bit. The plants will look a lot more beautiful with cozies over their pots as if they're wearing sweaters of their own!
Snowman winter decoration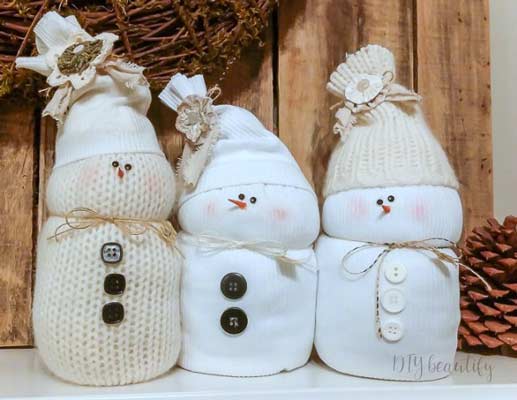 Snowmen are adorable, but unfortunately, they don't have a long life expectancy. Unlike these sweater snowmen, they will stick around for as long as you need them! They look just like real ones but smaller and they're from knit fabric.
by diybeautify
Make a throw pillow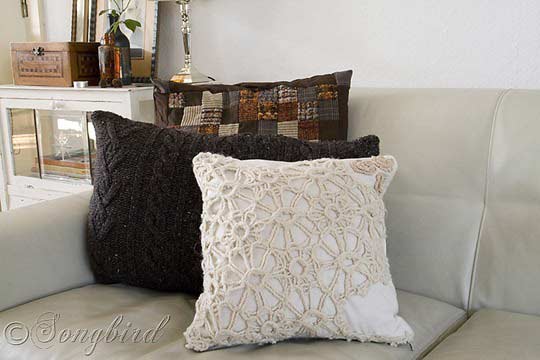 Update your living room decor with brand new pillows made of old sweaters! These pillows are simple and basic, but since they are made from knit fabric, they have a specific sophisticated appeal. When you set them on the sofa, they'll instantly up the elegance and class of the entire room.
by songbirdblog
Cozy Christmas Gift Wrap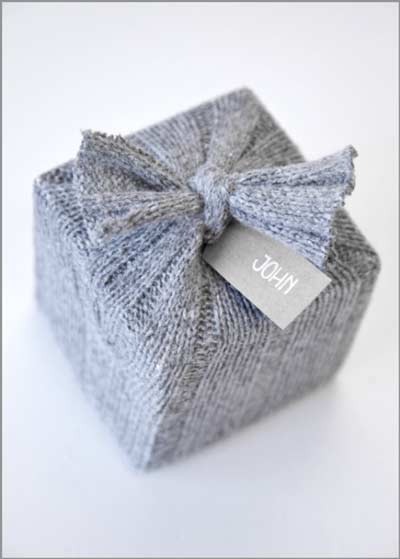 Here's a project that's sustainable all the way through. It helps you repurpose a sweater instead of throwing it away and keeps you from buying paper gift wraps! These gift wraps aren't just environmentally friendly though, they also look classy and beautiful. You can make them so that they cover the whole gift or as a wrap that covers a section of the box.
Repurpose Sweaters into Cozy Stuff for your Pets
Dog (or cat) sweater
Upcycle your old sweater into a new one for your little companion instead of tossing it into the trash. This sweater will cover your dog's, or cat's back and stomach well and keep them nice and warm even in the snow. And they'll look unbelievably fashionable wearing it.
by Wa'Ou on YT
Cat or dog bed
Don't buy those expensive pet beds when you can turn a sweater into one! Just fill the sweater with foam and do some hand sewing, and you'll get a beautiful oval pet bed with a thick rim around it. Your cats or dogs will love it for sure.
by tuja wellness on YT
Recycle Old Sweaters into New Clothes
Sweater skirt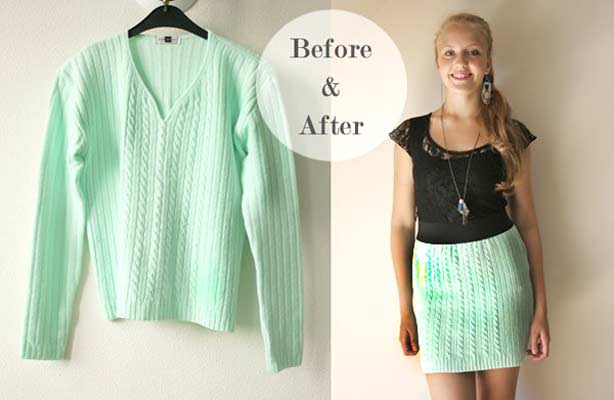 Bored of that old sweater? Time to transform it into a skirt! This mini skirt is adorable, classy, and attractive at the same time. It reaches just above your knees and thanks to the nature of the sweater fabric, gives your figure a flattering look.
by MerricksArt
Girl's Sweater dress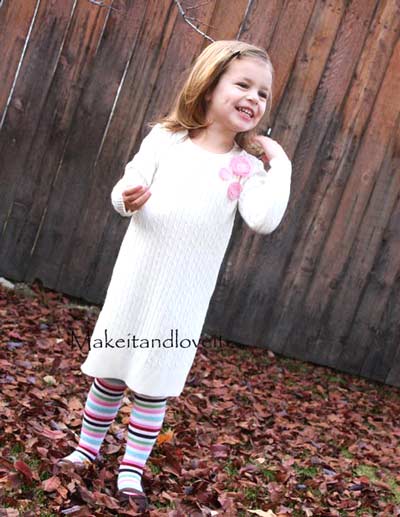 Here's a special project for your little princess, a girl's skirt made out of a sweater! When you finish upcycling your sweater, you'll get a lovely above-the-ankle-length skirt with long sleeves that will look adorable on your little girl.
by MakeitLoveit
Boy's sweater vest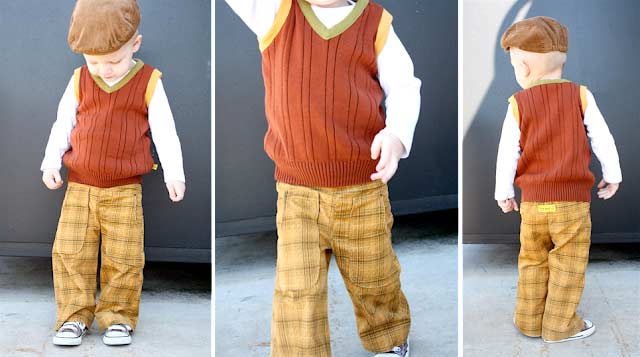 As a cherry on top comes a vest for your little gentleman. This boy's sweater vest will turn your kid into a proper Ivy league student or an English sir as soon as you put it on him. Pair it up with a flat cap and checkered pants for the full set!
by MadeEveryday
These sweater crafts are so cute, aren't they? Now you have a bunch of ideas for using up those old sweaters you have around.  Do you feel inspired to repurpose sweaters? Tell me, which sweater upcycle is your favorite? Let us know in the comments below. And don't forget to subscribe to our mailing list to receive notifications when we post new fun tutorials!
RELATED:
Upcycle jeans – 20+ genius ideas how to reuse old denim jeans