6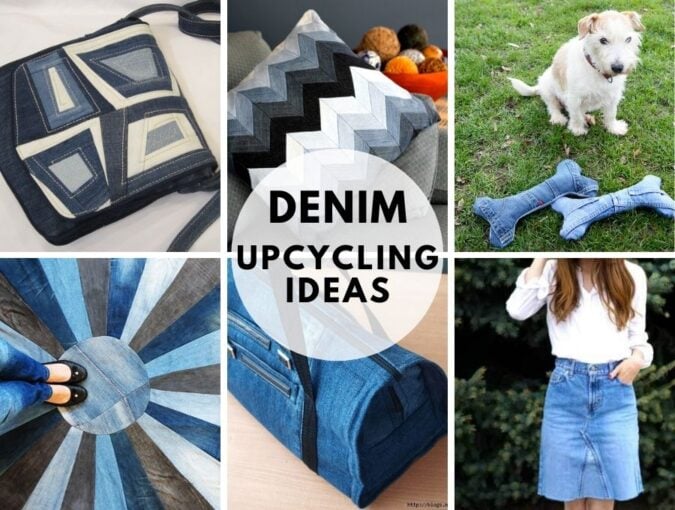 Upcycling Denim – Ideas for Reusing Old Jeans
Do you love a good upcycle? I have stacks and stacks of old t-shirts and old jeans in all sizes and colors I just can't bear to part with. But what to do with old jeans? Apart from cutting the legs to make shorts and potholders, what else can you do? I've spend last two days browsing the internet for ideas to bring you the best denim upcycling crafts and ideas. From a simple DIY dog toy to a full blow denim patchwork quilt and everything in between. I'll keep this post frequently updated, so make sure to circle back from time to time to find fresh denim upcycle ideas.
Learn how to transform old jeans into something fresh and new. Just see all the cool things you can make out of old jeans below
What to do with old jeans?
Denim throw pillows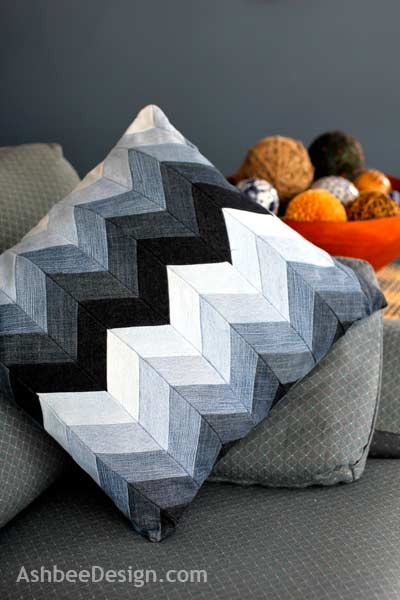 Repurpose old jeans you won't wear anymore into a beautiful piece of home decor, the couch pillows! These pillows rock the fashionable chevron stripes wonderfully, and if you use jeans in different colors or bleach the fabric bits you get from them, you can achieve a neat gradient color effect. That will add a special dose of style to your couch and the entire living room!
by Ashbeedesign
Upcycled denim rug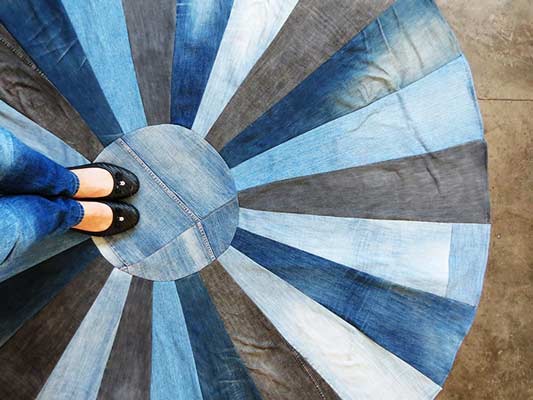 Need a rug and you happen to have a few worn-out jeans you didn't know what to do with? Here's a solution, just make a denim rug out of them! This round rug will look especially lovely if you use jeans that are different in color. It will look like denim sunshine with light rays extending from it!
by OhOhdeco
Handbag out of old jeans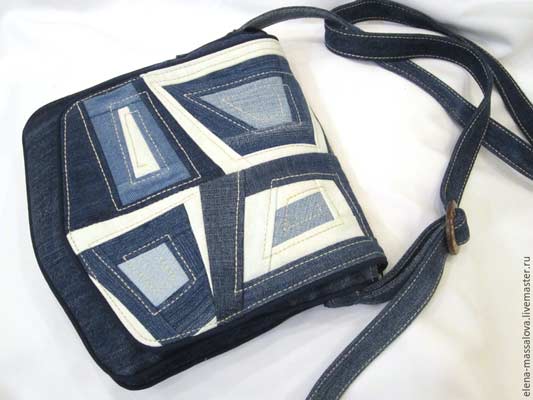 The bad thing about most handbags nowadays is that they aren't exactly durable. Unlike this denim one, this one will last you through the zombie apocalypse if the need occurs! But durability isn't its only asset. The roomy, boxy interior, a long shoulder strap, and dazzling spiral exterior design make it irresistible for all handbag lovers.
by HandMadiya
Weekend bag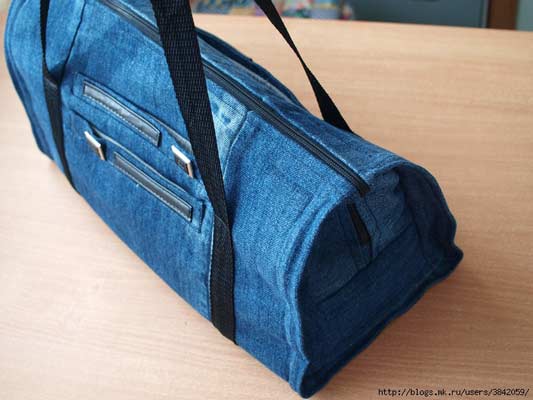 Here's another denim bag, but completely different from the previous one. This one is a unisex gym-style bag that you can use for anything from packing lunch for work to carrying those spare clothes for a weekend getaway. Make it smaller or bigger depending on what you need it for.
by Lika35 on LiveInternet
Sofa Organiser from Old Jeans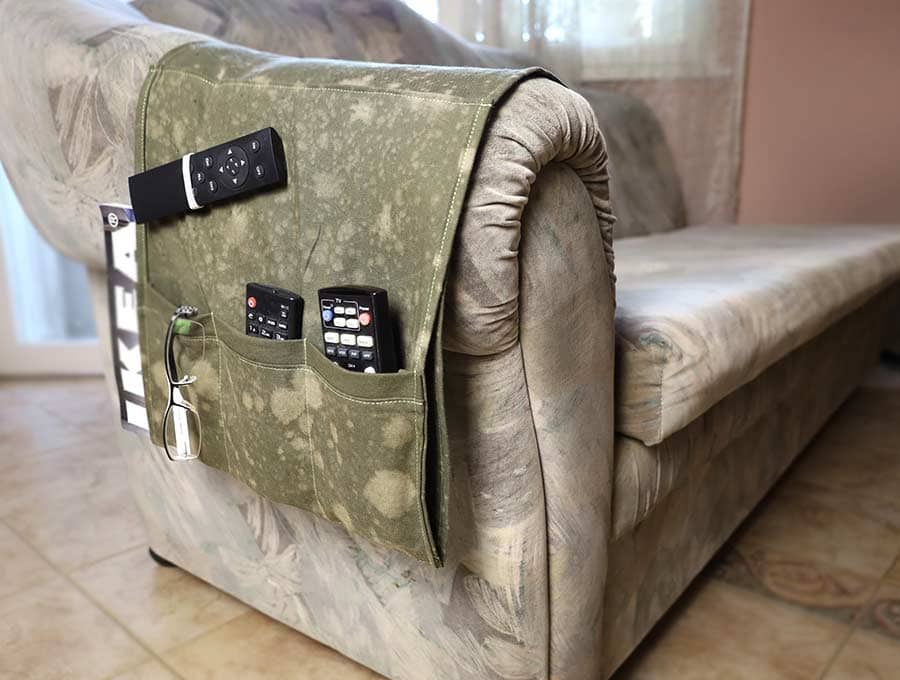 Keep all those couch necessities like remote controls or magazines within reach as you rest with this handy sofa organizer! It's a cover for your couch side that has as many pockets as you need that can store remotes, glasses, or even a bottle of your favorite root beer. Upcycling denim and having a super handy organizer – this is a win-win project.
by HelloSewing
DIY Jeans to skirt refashion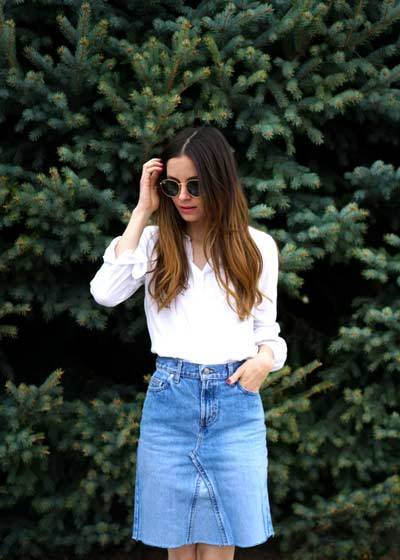 When you get tired of a pair of jeans you used to love, it's time to give them a new life. By turning them into a gorgeous denim skirt! Here's a DIY mini skirt that reaches just above your knees and has practical pockets at the back that you can whip up in no time.
DIY denim feathers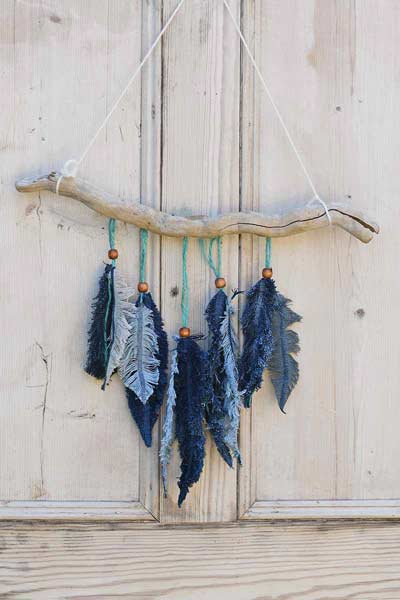 The straps and scraps you have leftover from your denim projects aren't ready to go into the trash just yet. Not when you can make them into awesome feather wall decor! All you need is the scraps, a bit of thread, and a thick branch or something similar to act as a base and you'll get a sweet native American style decoration!
Hand warmers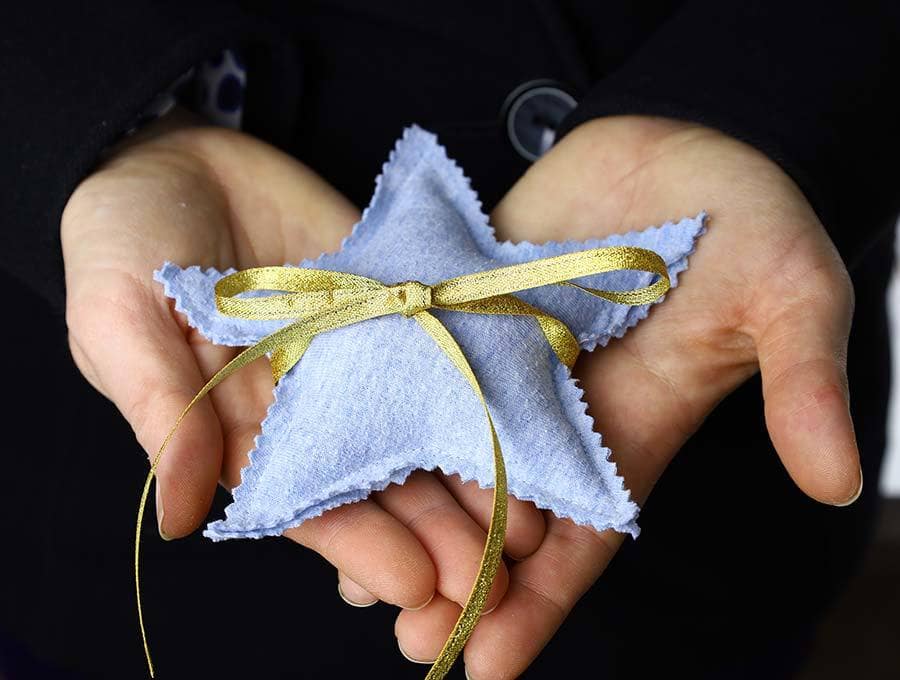 Say goodbye to cold hands in the winter with these denim hand warmers! You can make a bunch of these guys with little fabric so it's ideal for using up the denim leftovers you have around. Sew them in the shapes you prefer, from hearts, over squares, to stars! Fill them with raw rice and heat them up in the microwave to warm your hands in a jiffy!
by HelloSewing
Denim stuffed animal
These denim stuffed animals will steal the hearts of kids and adults alike! Not only are they great for using up the jeans you won't be wearing anymore, but they also make adorable thoughtful gifts. These animals come in over thirty different variants, so feel free to make as many you can and complete the animal kingdom of plush!
Reversible Hen saddle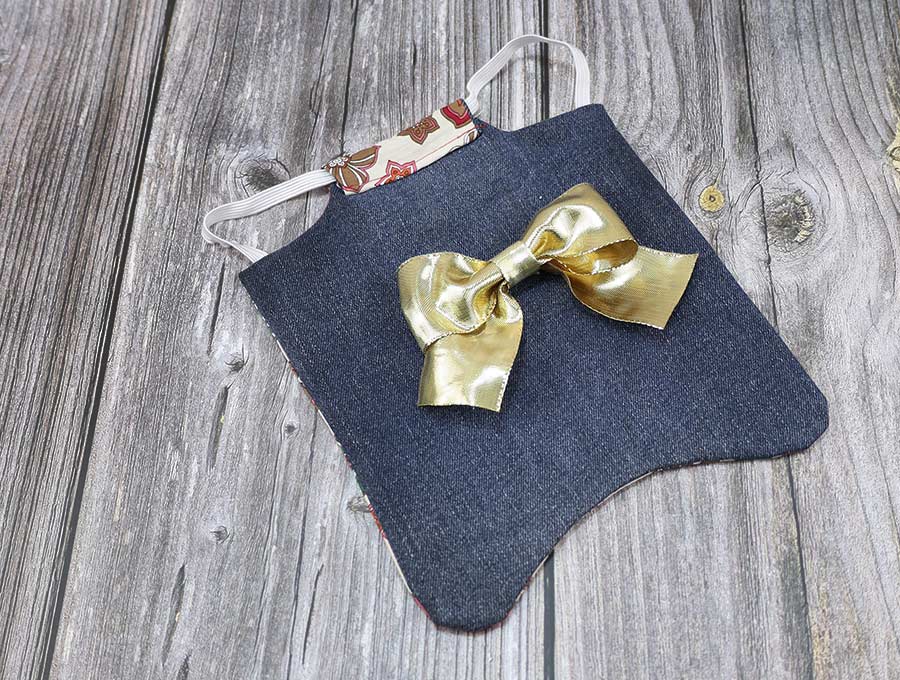 For all of you, farmers out there who have chickens, here's a handy denim upcycling project, the hen apron! It's a basic apron adjusted to chicken size and shape. It's rectangular with two loops for the wings to go through. With this on their backs, your chickens won't feel if they peck each other and they'll be easier to see so you won't have a hard time looking for them if they stray a bit.
by HelloSewing
Denim dog bone toy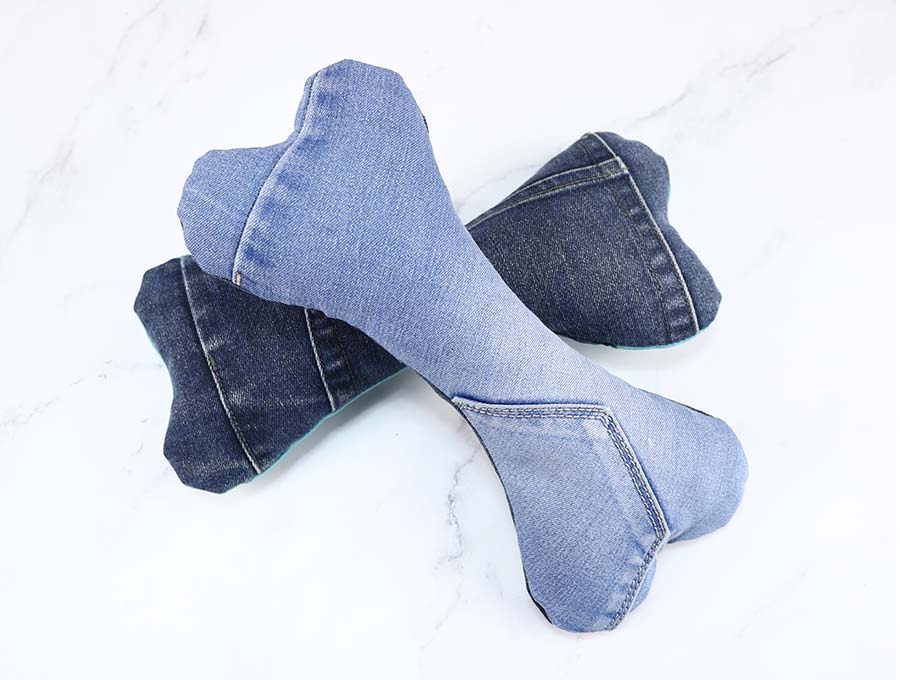 Don't waste money on those expensive dog toys when you can make them yourself with a bit of denim and stuffing! These bone-shaped plush toys from denim are ideal for your dog to chew and throw around for fun. They're durable and tough as well, so don't worry whether or not they'll tear easily.
by HelloSewing
DIY Upcycled denim backpack
Turn a pair of your worn-out jeans into a cute denim backpack! It's rectangular with a large main pocket with a zipper and an outer, smaller pocket at the middle of the backpack. It's great for your kids to carry to school or field trips!
Upcycled Jeans Owl Doorstop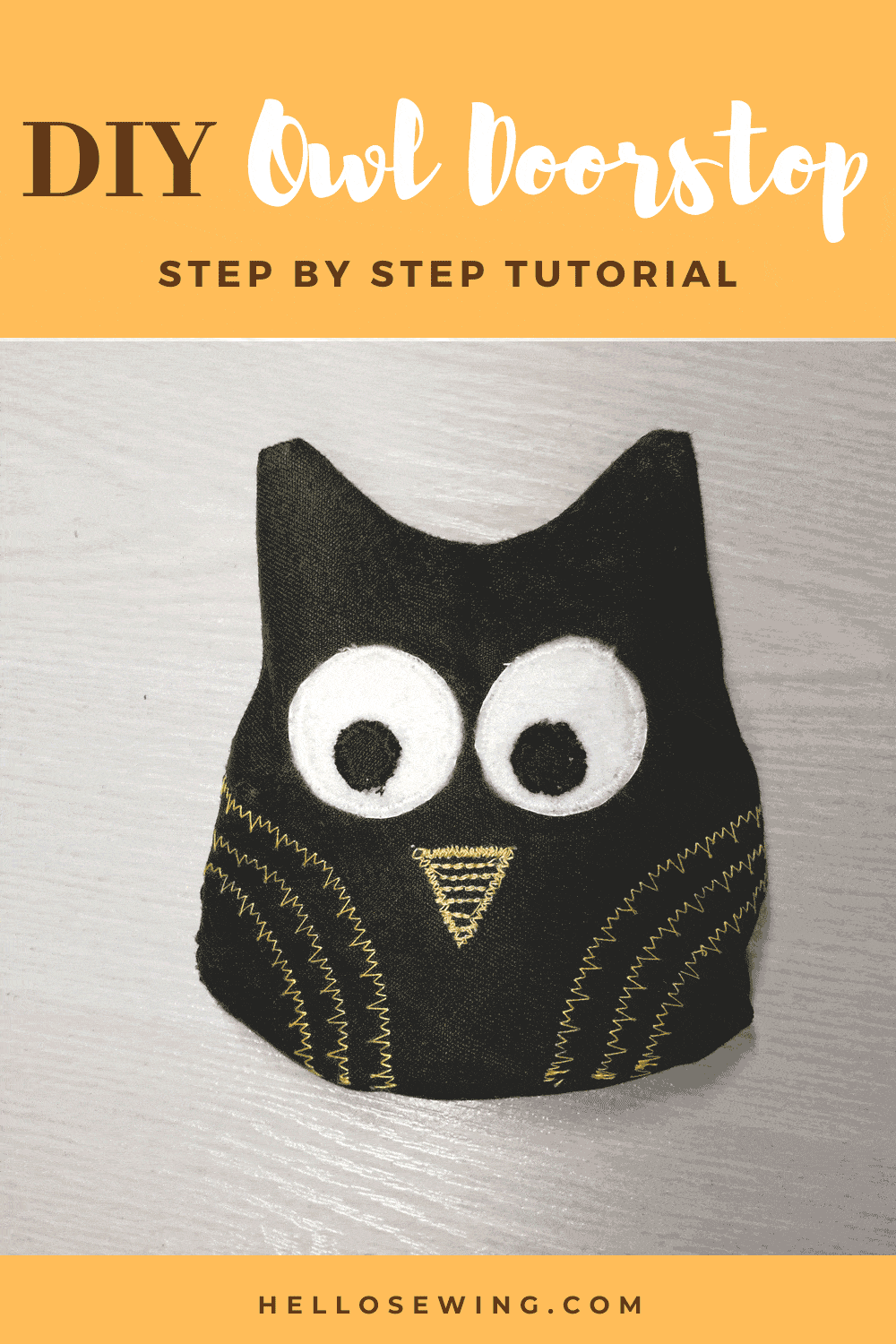 Keep those doors around the house open or stop their doorknobs from damaging the wall with this lovely owl doorstop. This owl is about the size of a basketball, with adorable ears, eyes, a beak, and even cute tiny wings.
by HelloSewing
DIY Denim Bookmark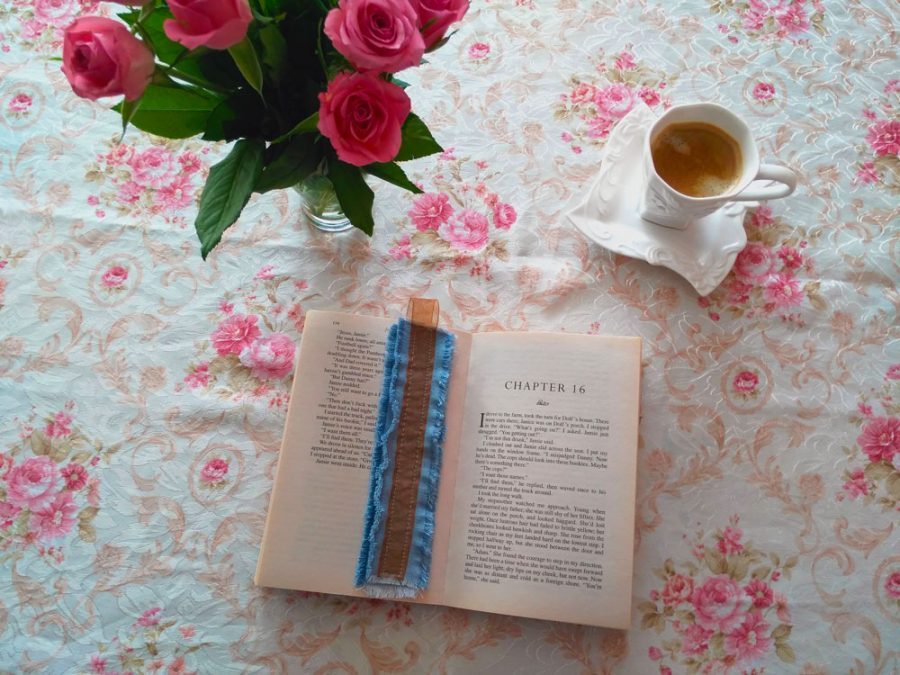 You can never have enough bookmarks, especially if you are a reading enthusiast. This project will allow you to use up the scraps of denim and make them into simple, but nonetheless beautiful bookmarks that will last a long time. They are great as presents too!
by HelloSewing
Denim sewing apron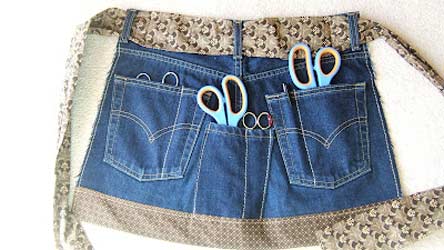 Sewing can and usually does get messy, so you end up with a bunch of thread and fabric bits all over your lap. Here's a denim apron that'll help you take care of that problem and stay clean and tidy after sewing sessions! It goes over your waist and has a lot of practical pockets for all the sewing necessities you use while working on a project!
Denim patchwork quilt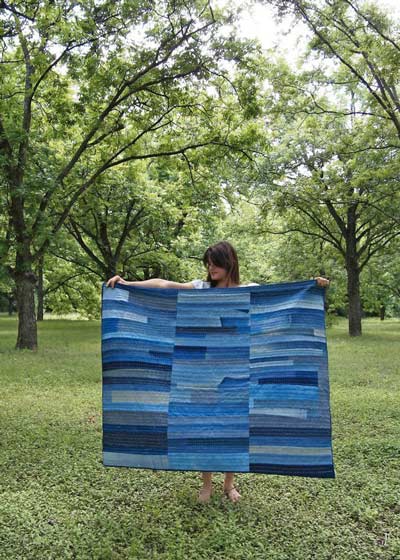 Train your patchwork and quilting skills by sewing this lovely quilt! The colorful patchwork pattern will pique the interests of all your house guests who lay their eyes on this quilt. No one will even know it's made of old jeans!
by MollyMakes for GatheredHow
I hope you liked these denim upcycling ideas. Now it's your turn! Tell me, how do you repurpose old jeans? Which is your favorite old jeans upcycle? Make sure to share these denim upcycling projects with your sewing friends who wonder what to do with old jeans I'm sure everyone will appreciate a good upcycle of their pile!
RELATED:
Upcycle old sweaters – 25+ Ideas to Breathe new life in your old favorite sweater