26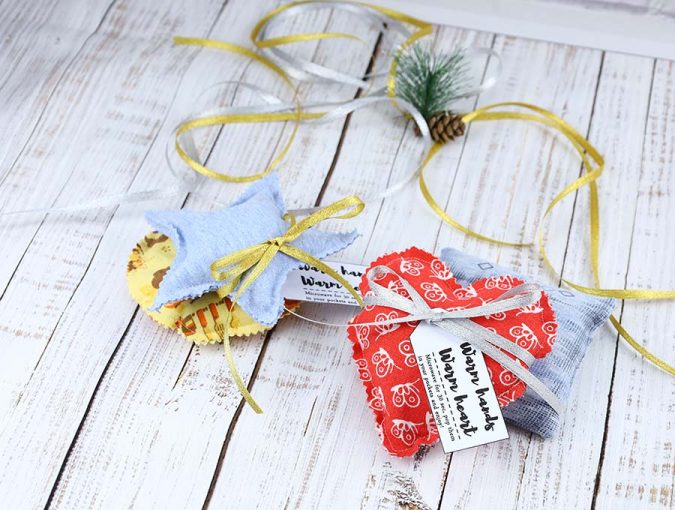 4 DIY Hand Warmers – How to Make + Free Pattern
My hands are always icy cold and I'm always looking for ways to keep myself warm during winter. So I have these DIY hand warmers handy. When I need to head out all I need to do it pop them in the microwave for 30 sec or less and pop them in my pockets.
I wanted to make few of these handmade hand warmers to give as gifts this year, so I created 4 shapes you can choose from. Let me show you how to make hand warmers from little scraps of fabric in just few minutes!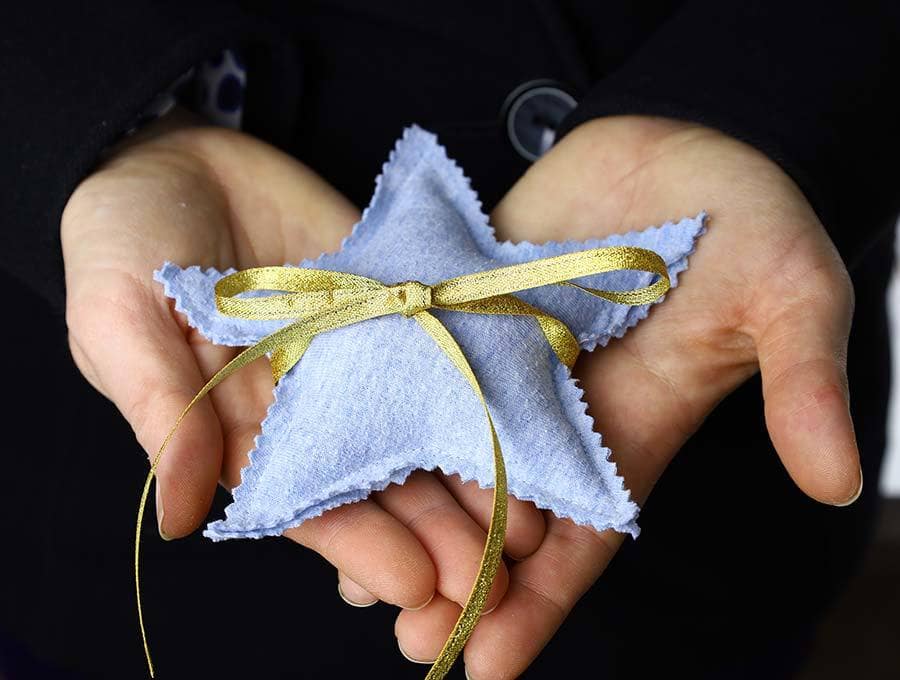 Below you will find my step by step hand warmers tutorial with VIDEO instructions for all the visual learners.
We occasionally link to goods offered by vendors to help the reader find relevant products. Some of the links may be affiliate meaning we earn a small commission if an item is purchased.
How to make hand warmers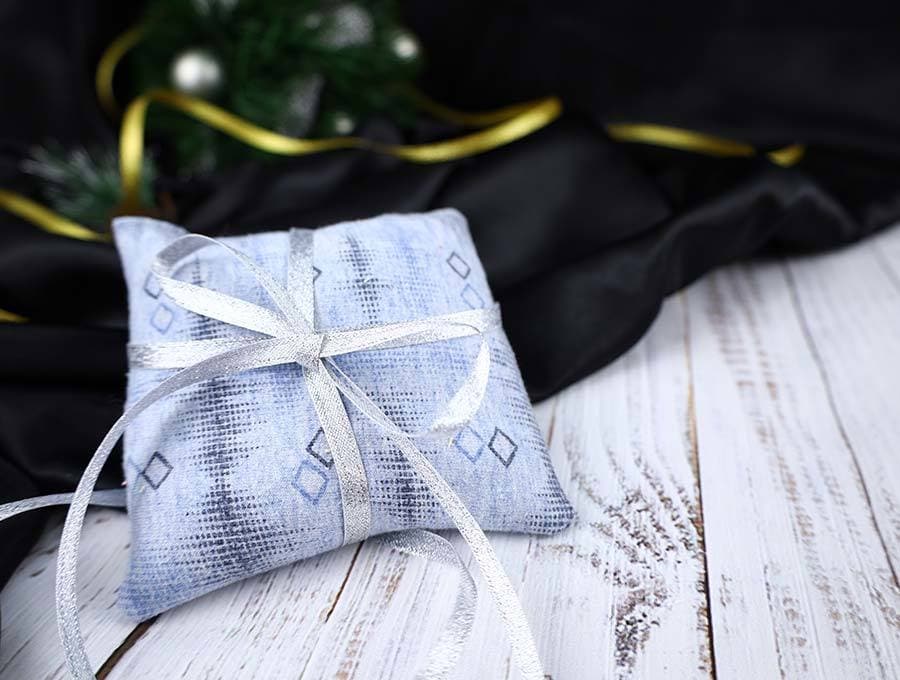 Supplies and tools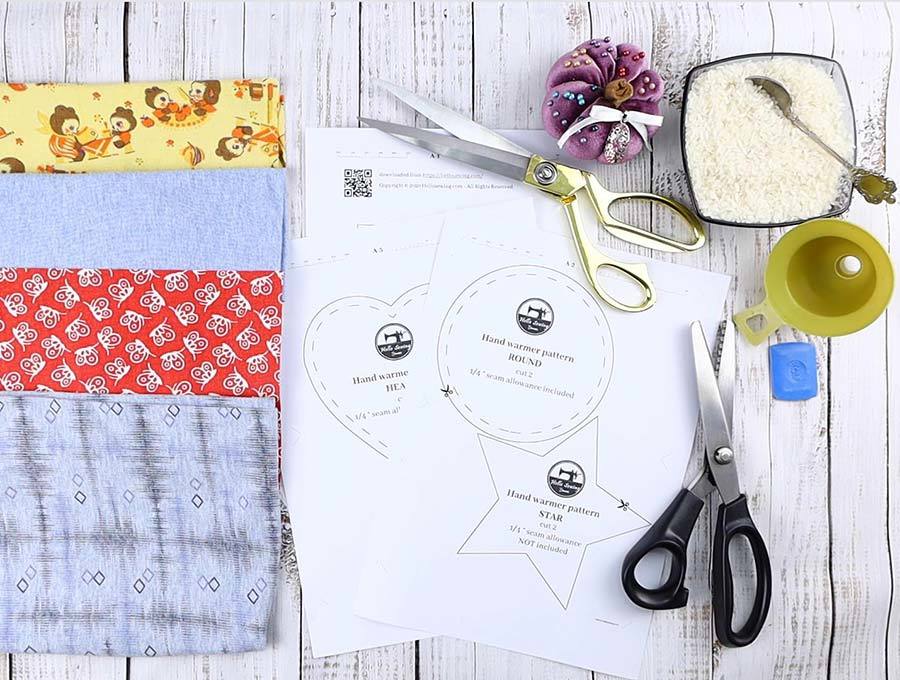 Notes: Make sure that you are using 100% cotton – that includes the fabric and the thread and never heat them for more than 30 sec or without supervision!
DOWNLOAD: DIY hand warmers pattern (Free PDF file)
Follow us for free patterns & tutorials!
How To Sew Hand Warmers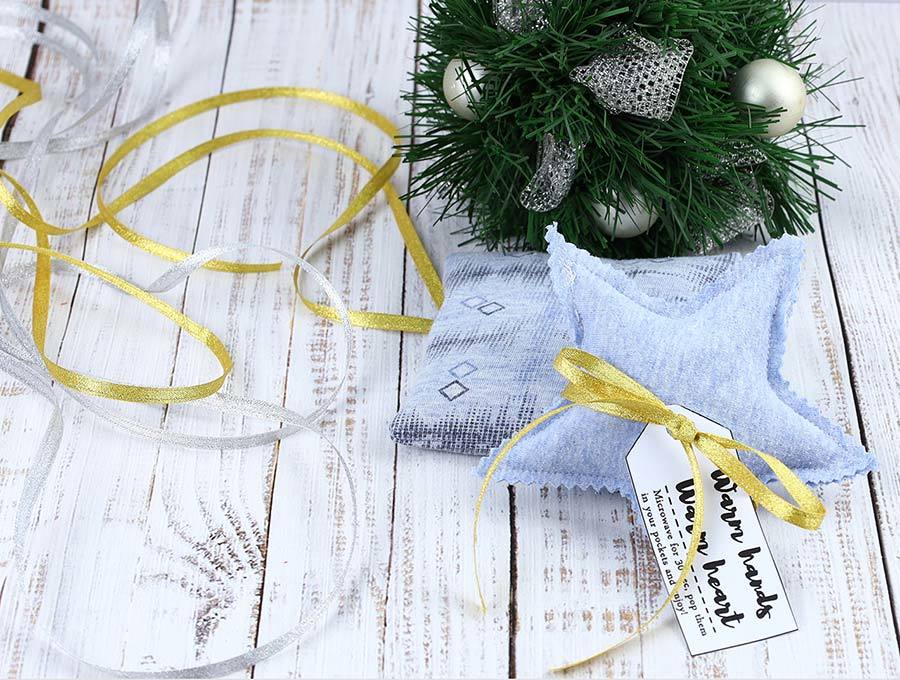 Watch the diy hand warmer video first and then follow the written step by step instructions below.
Please enjoy and don't forget to Like and SUBSCRIBE over on YouTube to be kept up to date with new videos as they come out.
HOMEMADE HAND WARMERS VIDEO TUTORIAL
INSTRUCTIONS:
STEP 1: Download and print the hand warmers pattern
Download and print at 100% (no scale). Print the pattern pages you need e.g. if you need the SQUARE hand warmer just print page #1. Round and Star are on page #2 and the HEART is on page #3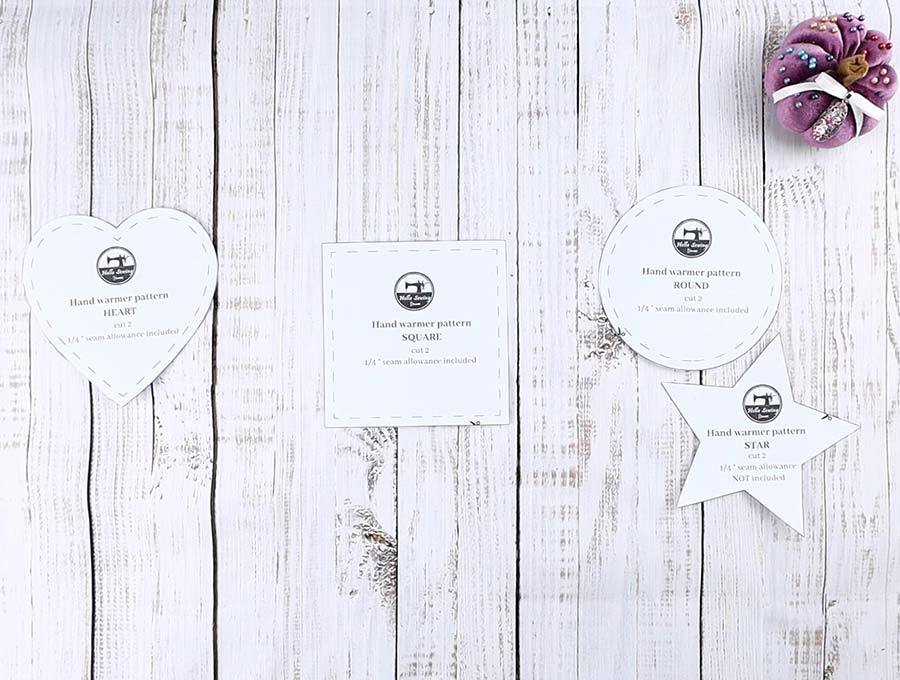 STEP 2: Cut fabric
Cut out 2 fabric pieces for each hand warmer.
Decide whether you want to leave the edges raw (flannel doesn't fray and it sews up faster) or not (slower but neater).
If you'll leave the edges raw, you can use pinking shears to cut the fabric. I'll show you both ways.
HEART, ROUND and STAR have raw edges, SQUARE does not.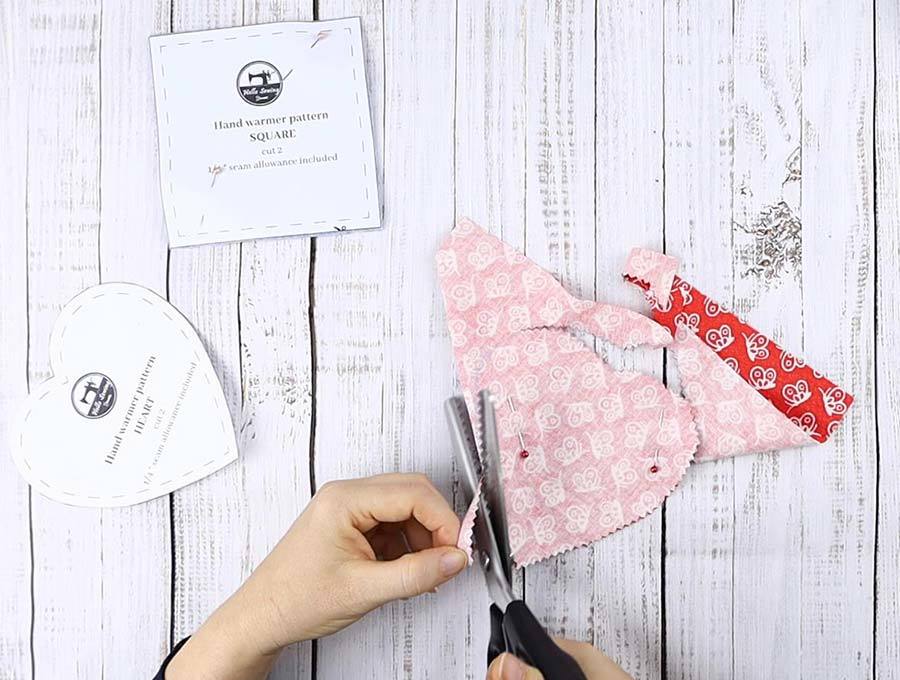 STEP 3: Pin
Pin the fabric pieces together and leave a 1/4 inch gap for filling the hand warmer with rice.
– pin WRONG sides together to make them faster (STAR, HEART and ROUND)
– OR –
-pin RIGHT sides together for NO raw edges (SQUARE)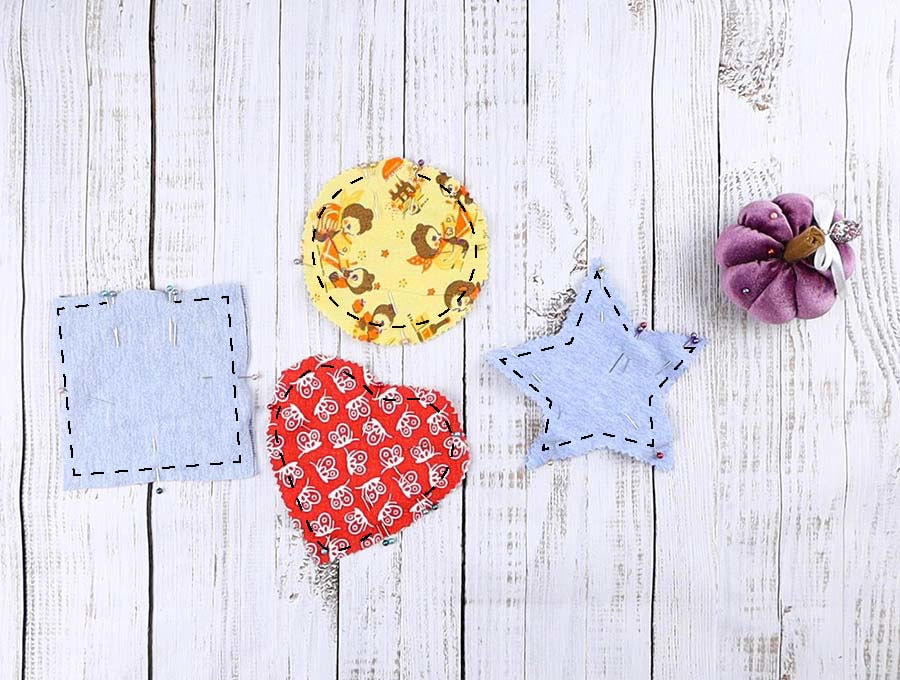 STEP 4: Stitch
Sew around using a 1/4 seam allowance.
STEP 5: (OPTIONAL) Turn inside out
ONLY if you pinned RIGHT sides together
Clip the corners and turn the square inside out. Push out the corners using something pointy like your scissors or a pencil.
STEP 6: Fill
Fill with about 3/4 cup of uncooked rice. Use a small funnel to make the process easier.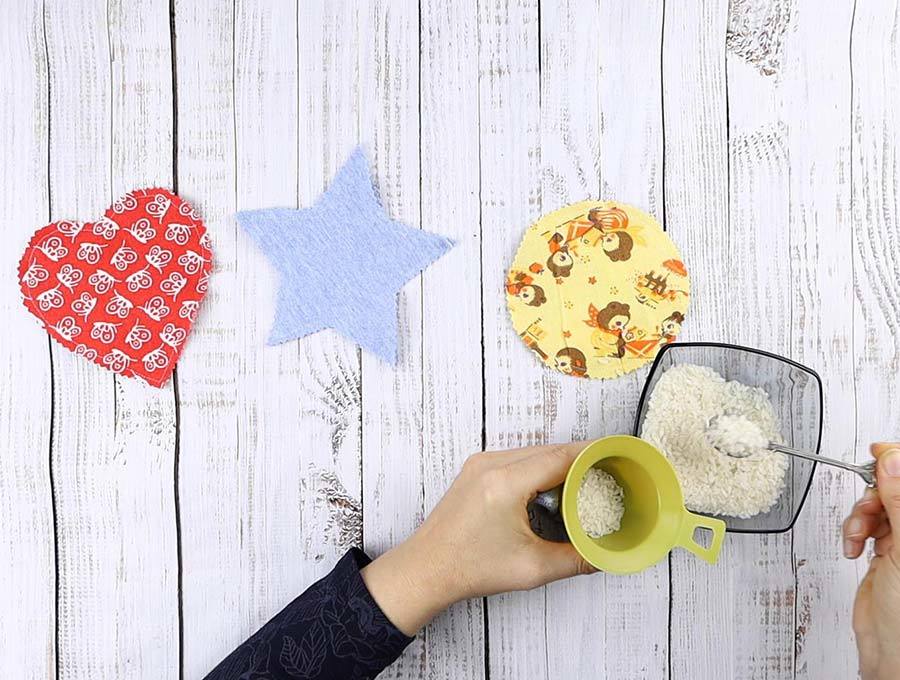 TIP: If you don't have a small funnel, you can make one out of paper. Here's what it looks like: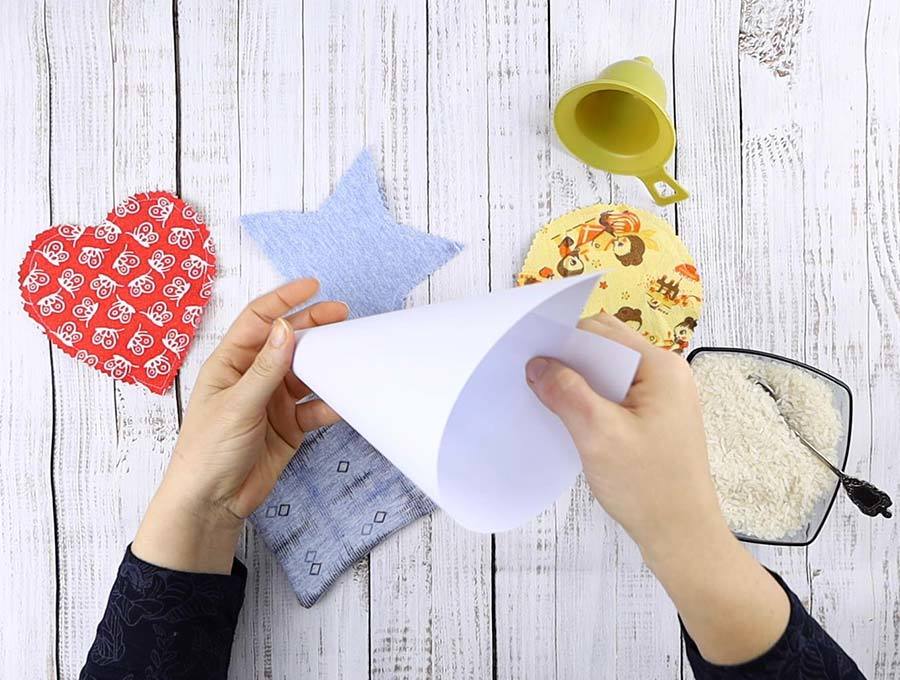 STEP 7: Pin
Pin the gap using a couple of pins. Be careful not to spill the rice.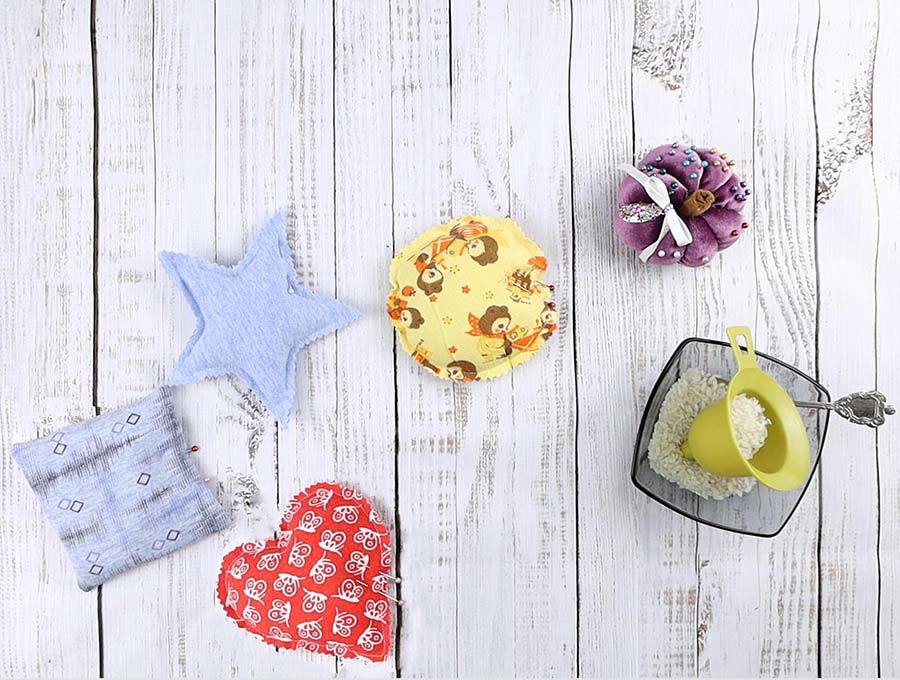 STEP 8: Stitch
Push the rice as far from the opening as possible. I'd like to use a pin or two to keep the rice in place and to make machine stitching the gap easier.
If you prefer, you can close the gap shut by hand. Use whip stitch or ladder stitch.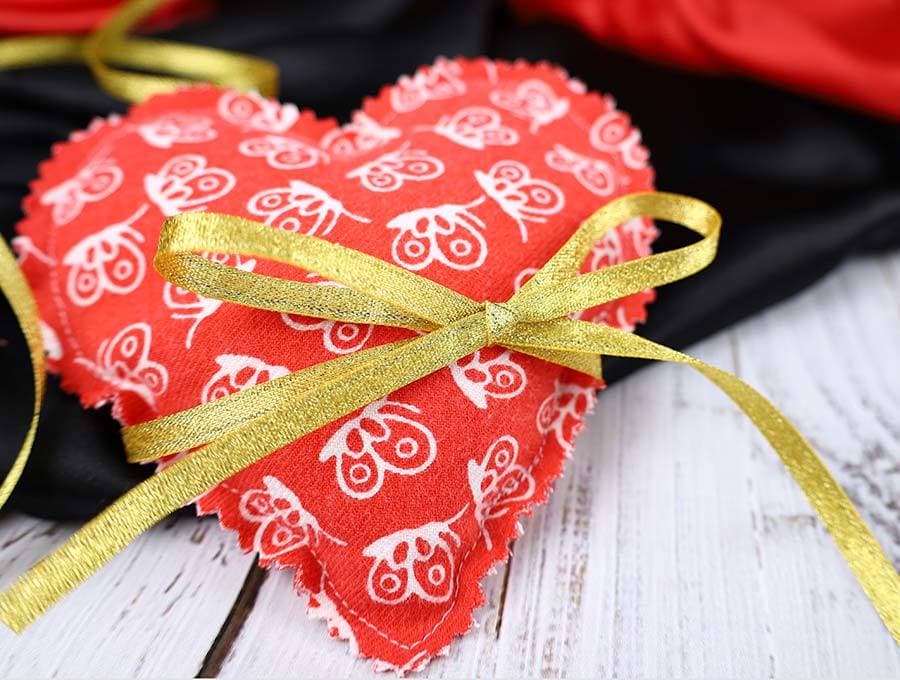 That's it your DIY hand warmer ready! Pop it in the microwave for half a minute on high and enjoy!
STEP 9: (OPTIONAL) Tie a ribbon
Take two of the hand warmers and tie them with a golden or silver ribbon. Make a little bow to turn these cute handmade hand warmers into a practical gift. Great for a stocking stuffer or as a token of appreciation for the neighbors.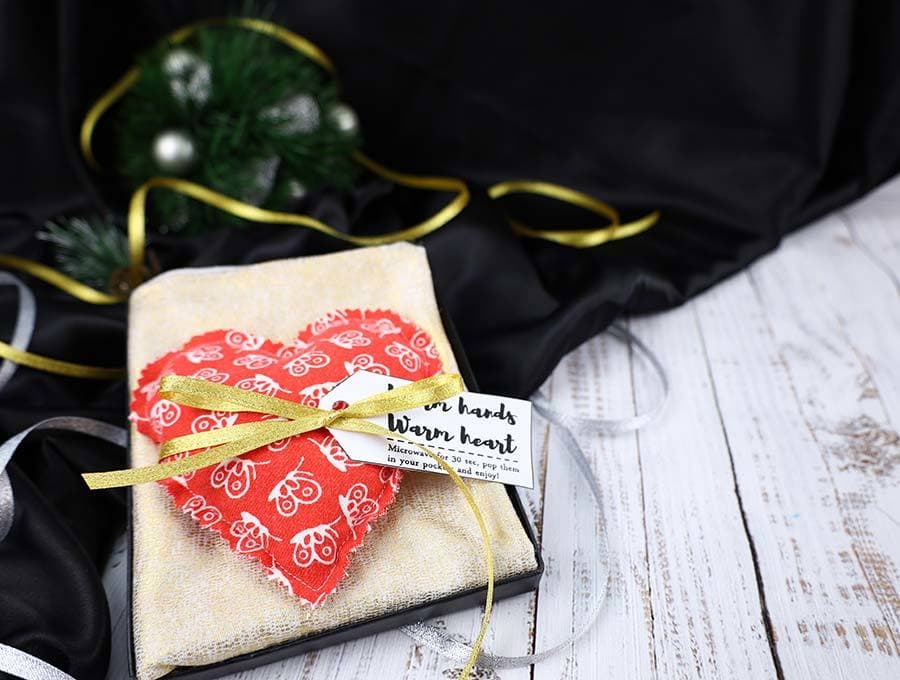 How to use hand warmers:
Store them in a handy basket near the microwave or the door
Pop them in the microwave, turn it on high and heat for 25-30 seconds.
Let them cool for a few moments
Shake them a bit to distribute the heat evenly
Pop them in your pockets and enjoy

Do you like this? Pin for later:
[***pin img****]
Wanna be friends? Click HERE and follow me on Pinterest
RELATED: