18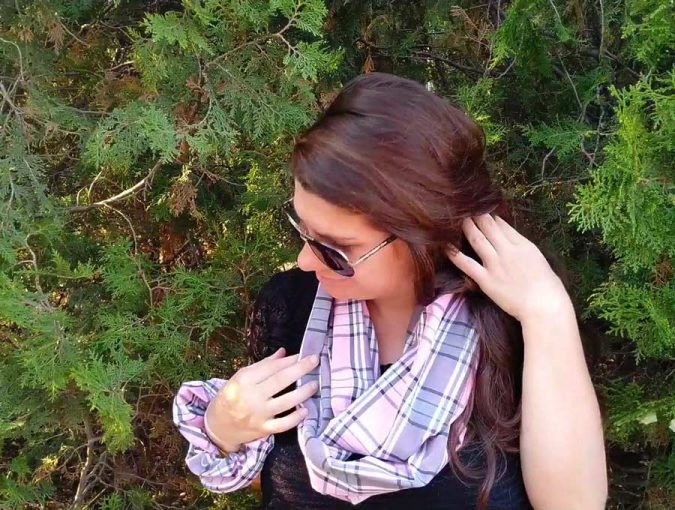 How to Sew an Infinity Scarf (VIDEO + Written Tutorial)
Thanos may have his infinity stones but we have our infinity scarfs! An infinity scarf doesn't give you superpowers, but it is stylish, creative, and fun to make. That's what we care about the most, right?
This DIY infinity scarf is the perfect fashion accessory and will keep you warm during the colder months. Since those are upon us, now is the best time for you to learn how to sew an infinity scarf.
It doesn't matter if you're an experienced sewing veteran or a beginner enthusiast. All you have to do is follow the instructions in our infinity scarf tutorial and you'll have it finished in less than fifteen minutes. These turn out so beautiful and are so easy to make, that you can whip up some in no time to give your friends or family as gifts! If you make a matching scrunchie, you will have a complete gift set!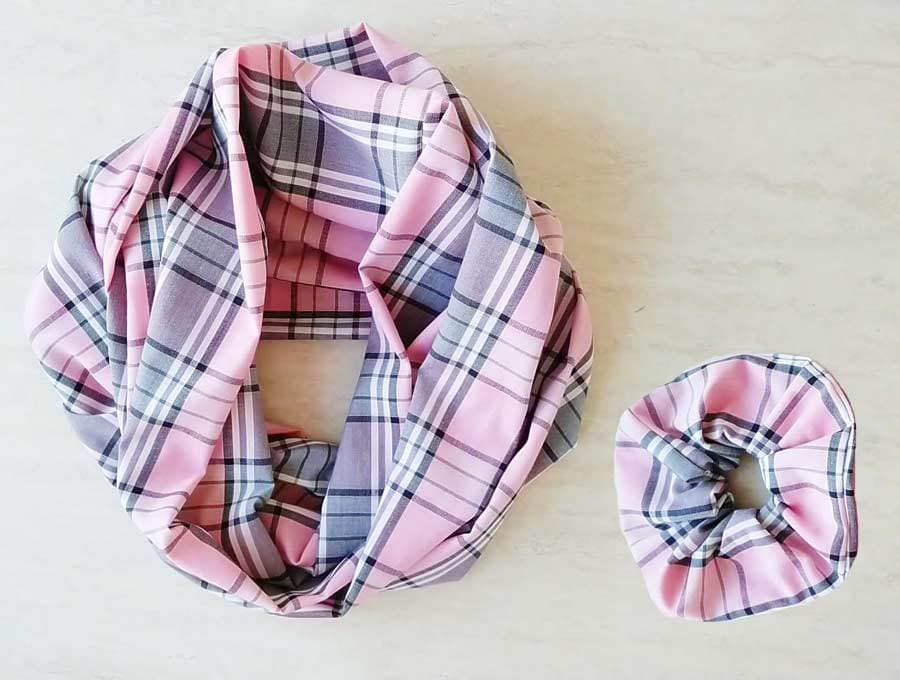 Below you will find my step by step how to sew an infinity scarf written tutorial with VIDEO instructions for all the visual learners.
We occasionally link to goods offered by vendors to help the reader find relevant products. Some of the links may be affiliate meaning we earn a small commission if an item is purchased.
How to make an Infinity Scarf
Supplies and tools
You don't need a lot of supplies for this project because it's a simple one. Here's what you should prepare before you start working: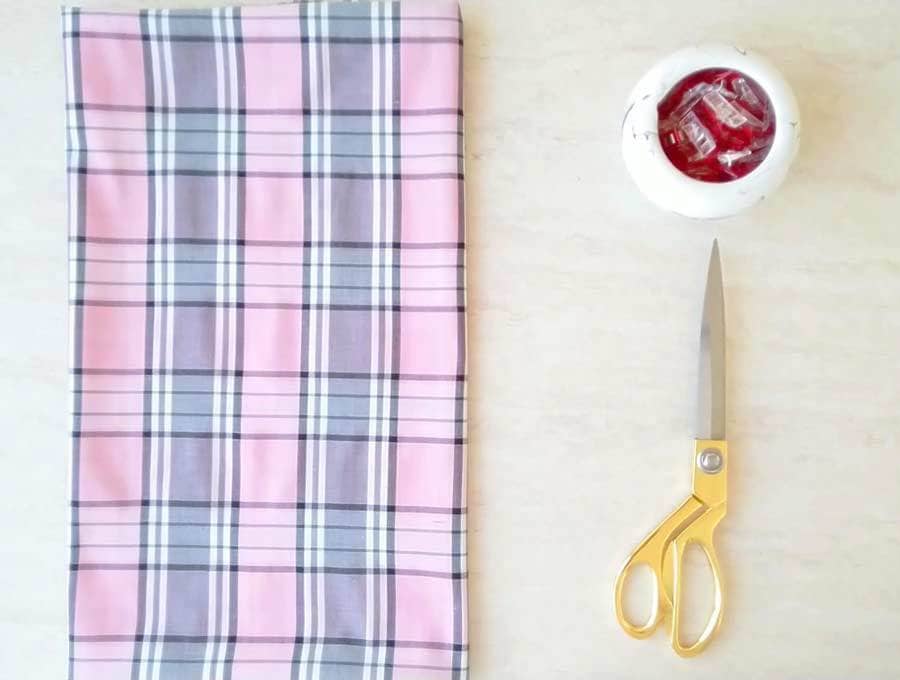 When you get all that ready, you can move on to the next step of this tutorial.
Follow us for free patterns & tutorials!
How To Sew an Infinity Scarf
Watch the diy infinity scarves video first and then follow the written step by step instructions below.
Please enjoy and don't forget to Like and SUBSCRIBE over on YouTube to be kept up to date with new videos as they come out.
DIY Infinity Scarf VIDEO TUTORIAL
INSTRUCTIONS:
STEP 1: Cut out the fabric
Start by washing the fabric thoroughly and ironing it well. This will keep the infinity scarf from deforming after you wash it for the first time.
Just cut the fabric into a 2yd x 22 inches piece. This will yield 2 scarves out of 2 yard fabric provided it's at least 44 inches wide. If you want to squeeze your scarf out of a single yard of fabric, cut two pieces 36 x 22 inches big and stitch them together by the two short edges.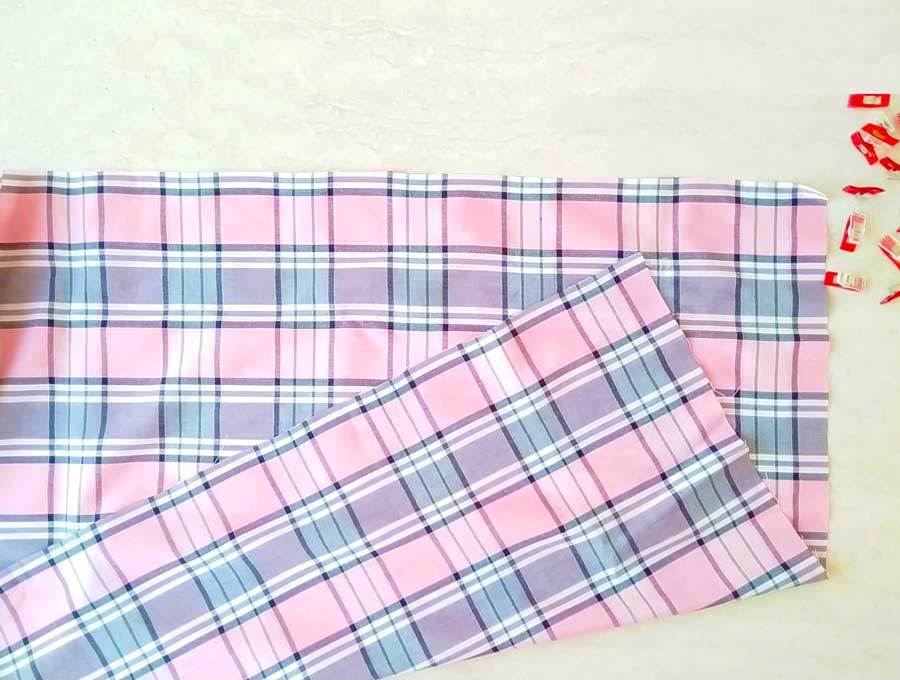 STEP 2:

Fold and pin
Lay the fabric strip on your workspace right side up.
Fold it lengthwise along its entire length. Make sure that the right sides go together when you fold the fabric. Align the edges and secure everything in place with pins or clips.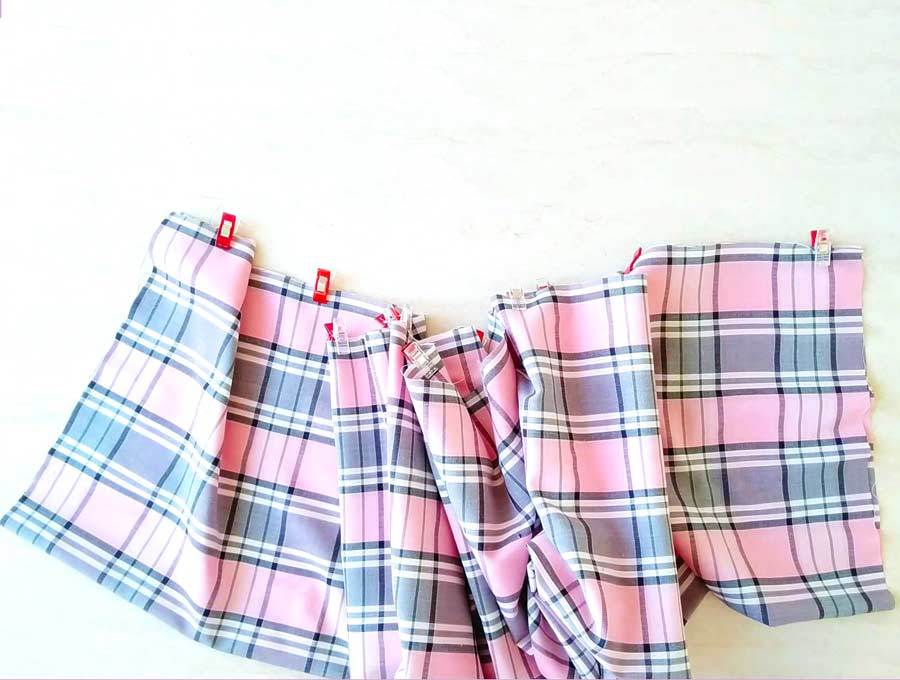 STEP 3: Sew the tube
Make a stitch along the long raw edge using either 3/8 or 1/2 inch seam allowance. You will get a fabric tube after this.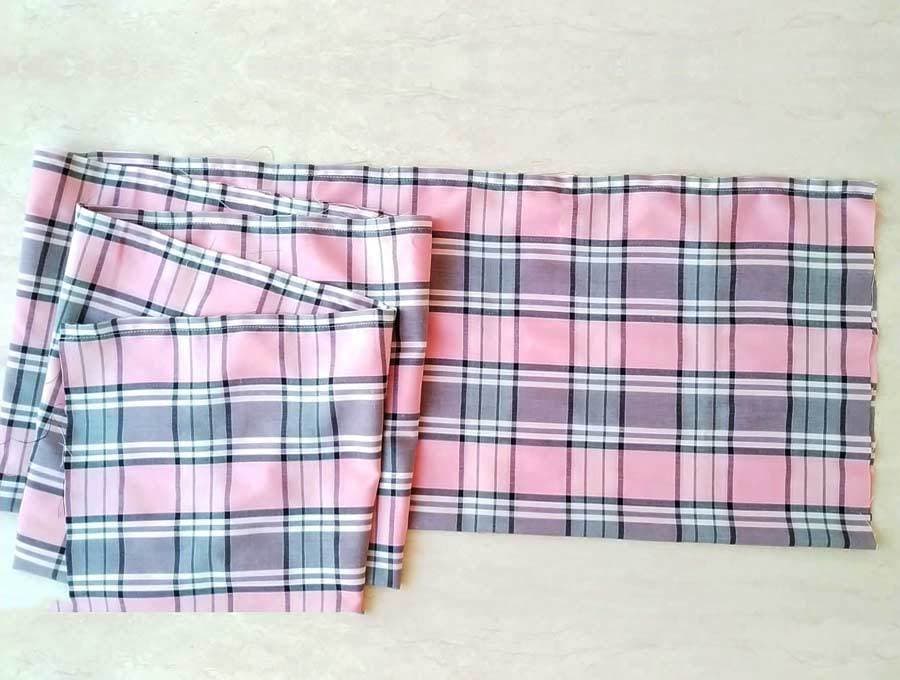 STEP 4: Turn halfway around
Now you will need to turn the entire thing inside-out but just halfway.
The easiest method to do this is to grab one of the raw edges and then thread it through the tube. Stop when you align the inner raw edges with the outer raw edges. Make sure the side seams are also lined up. Pin and make sure to leave a 2 inch gap for turning inside out later. I'd like to mark this gap somehow, either using double pins or by using a disappearing marking pen.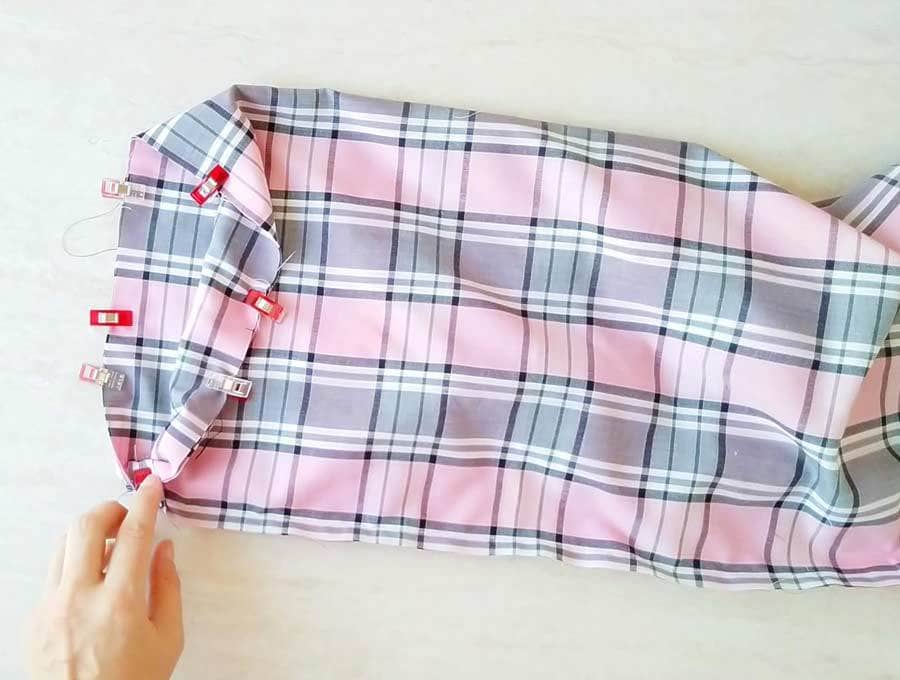 STEP 5: Sew the short side
Check if everything is nice and flat on the inside of the scarf and if it is, sew around the outer edges of the opening using the same seam allowance. Back-stitch at the beginning and end of the seam.
Leave a gap unstitched so that you can turn the scarf inside out.
STEP 8: Turn the whole infinity scarf around
Turn the scarf right side out through the opening you left earlier.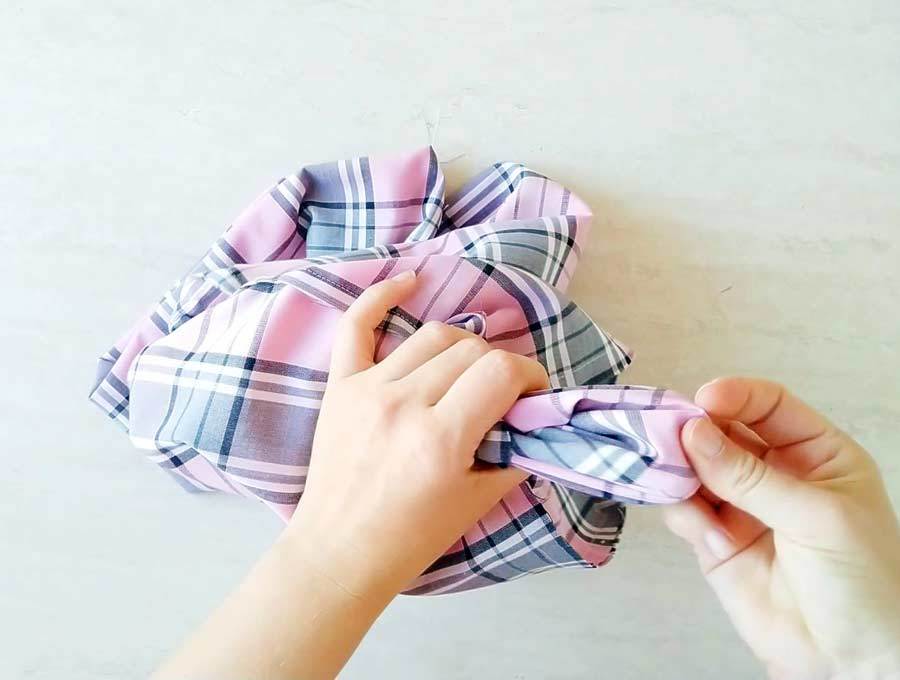 STEP 9: Stitch the gap
All that remains is to stitch the opening shut.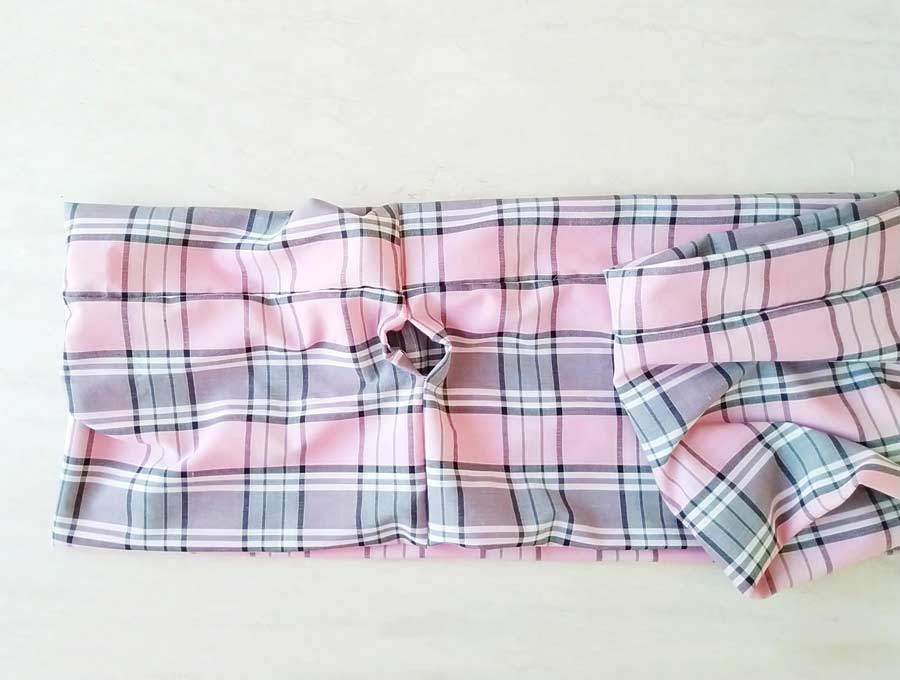 You can do that by hand or with a sewing machine. If you use the machine, you will finish faster. If you sew it by hand, the stitch won't be visible.
To finish the scarf by hand, sew the opening shut with a ladder stitch.
To finish it with a sewing machine, fold the edges on the opening inwards a bit and press them. Use pins or clips to keep everything secure. Then just make a straight stitch across the opening.
That's it, now you know how to sew an infinity scarf!
I hope you enjoyed the tutorial and that you found it useful. Try making a DIY infinity scarf and let us know how it turned out. We'd love to hear your feedback! If you have some suggestions for improving this project, share them with everyone in the comment section below. Have fun wearing your new fashion accessory!
P.S. Do you have a stubborn kid who refuses to wear scarves? Whip up a matching one for his favorite plushie and see the magic happens 🙂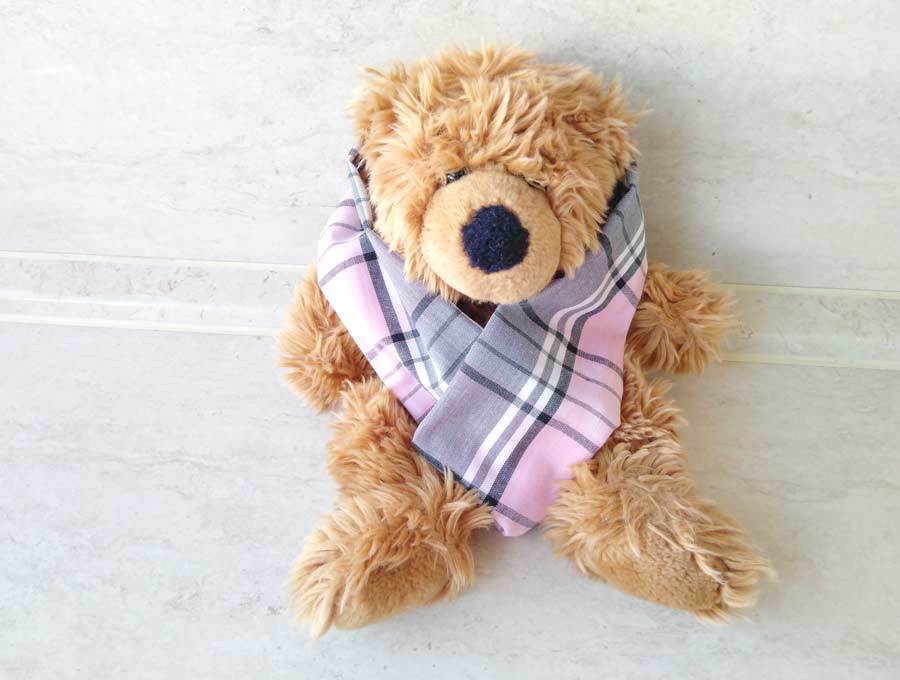 Do you like this? Pin for later: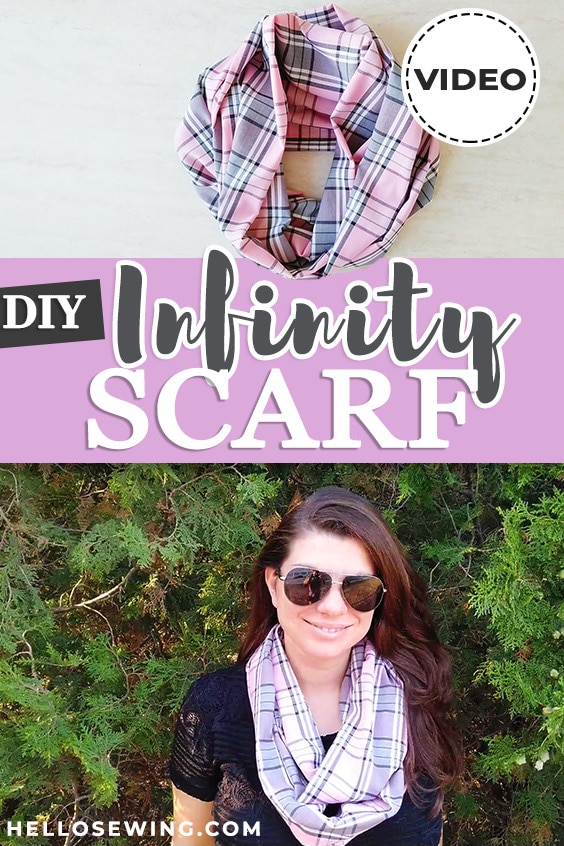 Wanna be friends? Click HERE and follow me on Pinterest
RELATED:
Other gifts to sew: