2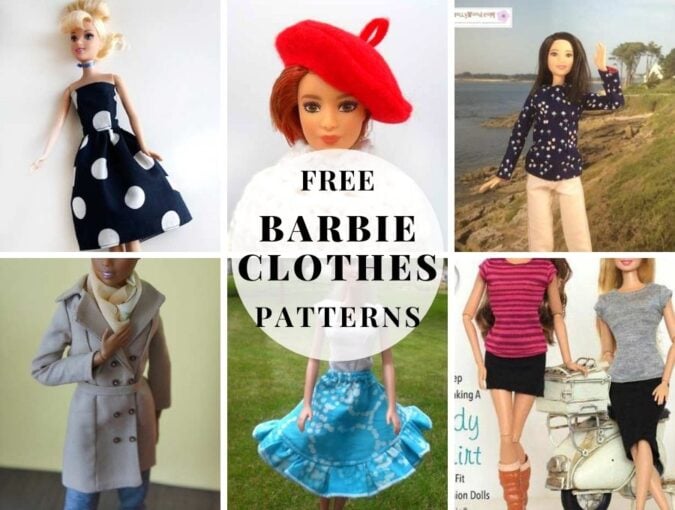 11+ Free Barbie Clothes Patterns to Dress Up Your Fashion Doll
A girl can never have too many clothes, especially when they're as cute as these outfits! Barbie is no exception, but filling her closet might be quite expensive. But if you can sew, you can make the fashion doll a bunch of outfits quite inexpensive. Here is the ultimate collection of my all-time favorites Barbie clothes patterns just for you:
Barbie dress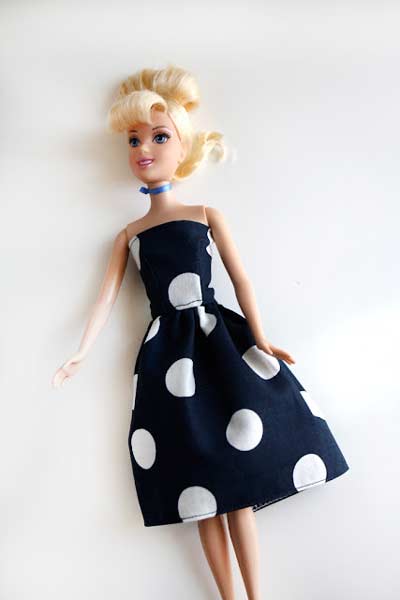 Use those fabric bits you have leftover from your other projects and make a present for your little princess in the form of a Barbie dress! It's a miniature version of a midi dress with no sleeves. You can add the shoulder straps if you wish, or even a cute ribbon belt to complete the look.
Halter top dress for Barbie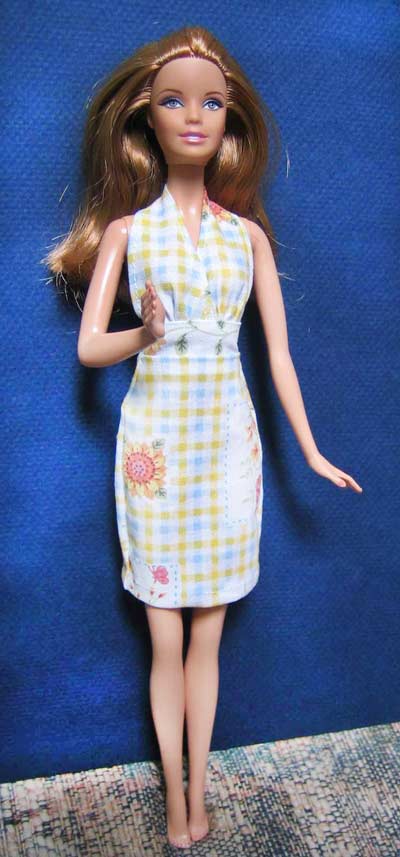 Here's another stylish dress for your girl's Barbie doll, but this one is a bit more fashionable than the previous one. It's a dress with a wrap-style halter that will make Ken's jaw drop like a ripe apple from a tree! You can make it as long or short as you'd like, so feel free to choose the option you prefer.
By JanelWasHere
Barbie beret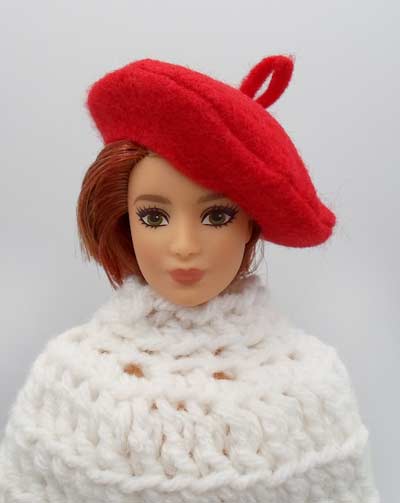 I'm thrilled to show you the mini version of my French beret. Lynn did a great job making this stinkin' cute Barbie beret hat.
Give your Barbie doll that chic fashionable look with this adorable beret. It's just like a real beret, but it's sized down to fit the popular blond friend of little girls all around the world. Your daughter will love this creative and unique addition to her Barbie's wardrobe.
Barbie prom dresses
If you want to give your Barbie doll a complete wardrobe set for classy events or prom, these five different barbie dresses patterns might be just what you were looking for. The set is made of a classy long dress with a hip-height side slit, an over-one-shoulder midi dress, an elegant mermaid style sleeveless long dress, an attractive halter neck mini dress, and an adorable tube top midi dress with a long see-through tulle bottom section.
by Mia on YT
Circle skirt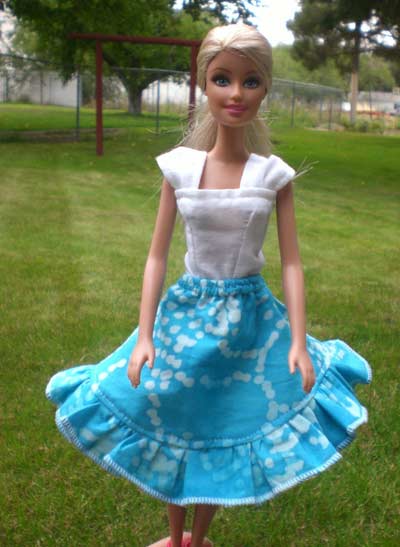 If your Barbie already has a beautiful top, you should make her this gorgeous skirt to complete a nice outfit. It's a midi skirt with an elastic waistband and wonderful ruffle addition that you'd gladly wear if it weren't miniature but full size!
Trendy t-shirt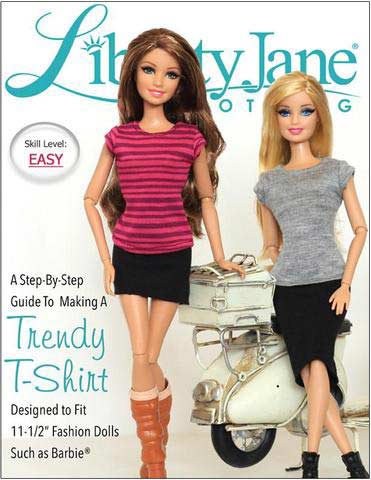 Barbie likes casual clothing too, she's not only into classy or cute wardrobe pieces! Yes, casual clothes look great on her, just take a look at this T-shirt. It's a basic T-shirt that goes perfectly together with pants, skirts, or any other kind of bottom Barbie likes to wear.
By PixieFairie
Top and pants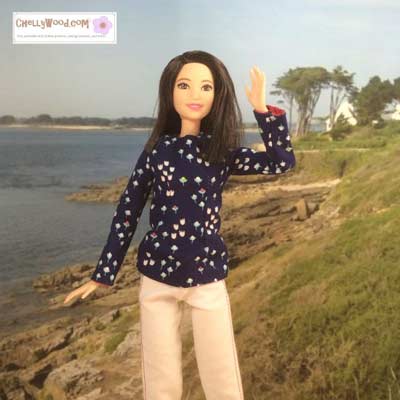 Another casual yet stylish combination for your Barbie, a set of pants and a long sleeve shirt or T-shirt! The pants pattern allows you to make anything from track pants to jeans, while the shirt pattern gives you a choice between long sleeves or short sleeves casual top.
By ChellyWood
Coat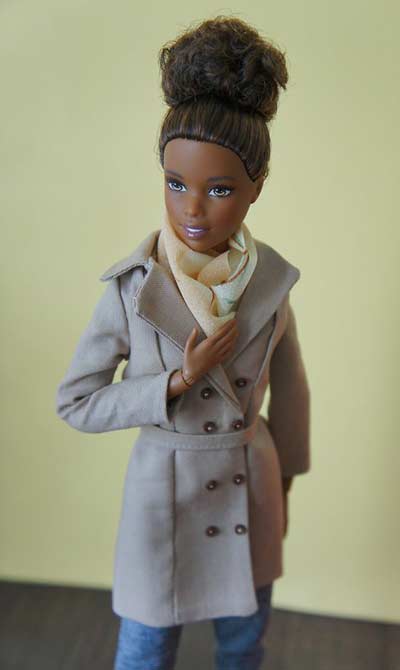 Get your Barbie ready for cold autumn or winter with this fashionable coat! This particular pattern will help you make a lovely double-breasted trench coat that you can complete with a nice belt or leave it as it is, it's your call.
Chefs hat and apron
It's a little-known fact that Barbie loves baking. But she hates getting her clothes stained while she does it. So make her this chef hat and apron! The apron covers her waist and legs, while the hat keeps her hair from falling into the dough.
Fashion apron for Barbie
If you don't like the short kind of aprons like the previous one on our list and you prefer long aprons, here's something for you. This over-the-neck apron will keep your Barbie's top safe from cooking or baking stains, in style! It has two practical pockets and you can add tulle to its bottom section if you want some extra chic.
By BrassyApple
Mermaid costume for barbie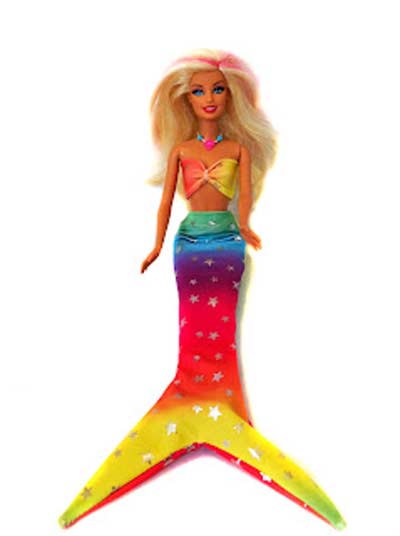 Turn your Barbie doll into a mermaid doll with this adorable mermaid tail swimsuit! Forget about buying those special editions that have fins that break easily, just sew this outfit and put it on a regular Barbie. The mermaid tail comes with a matching twisted bikini top that will turn the famous blonde into a princess of the seas just like that.
by SewSpoiled
Shoes for barbie
Not even Barbie can always wear heels, sometimes she'd rather put on something comfier. These All-stars kind of shoes are ideal for those occasions! A bit of glue, fabric, a popsicle stick, and a bit of thread is all you need to make these stylish shoes for the popular doll.
by Caseirices Kids on YT
That's it for our list of free patterns for Barbie doll clothing. We hope you liked them and were able to whip them up with ease! There are more articles like this coming up, and not just for dolls, so stay tuned. Subscribe to our mailing list and you'll be notified as soon as they're up and ready. Until then, have fun sewing doll clothes!