2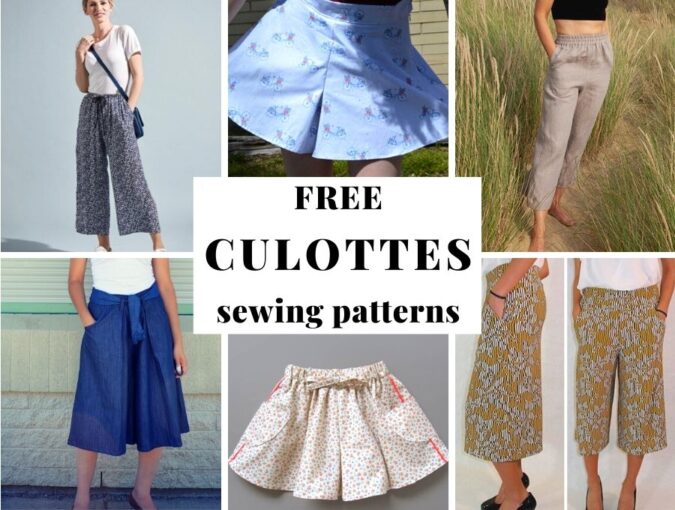 10+ Free Culottes Sewing Patterns for Women
Culottes – the perfect combination between a skirt and pants. I scoured the Internet to bring you the best free culottes sewing patterns that I could find. Enjoy!
Culottes Sewing Patterns for Beginner Sewists
Maple culottes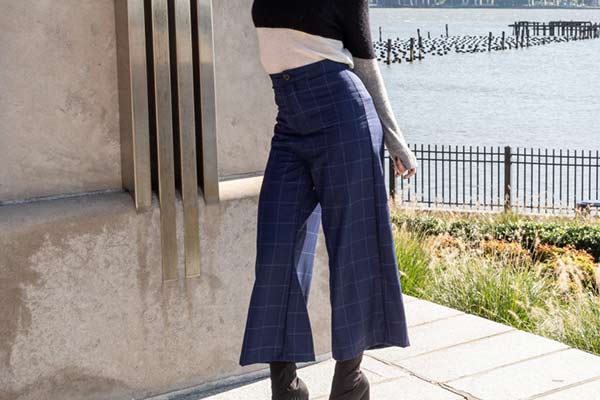 Enjoy a great deal of comfort and an equal amount of style with these beautiful high-waisted lined culottes that reach just over your mid-calves and act as a splendid bottom for the transitional periods. They have a zipper closure with a button-up waistband with one button and no belt loops.
Sizes: 2-30
by Moodfabrics
Cass – Elasticated waist culottes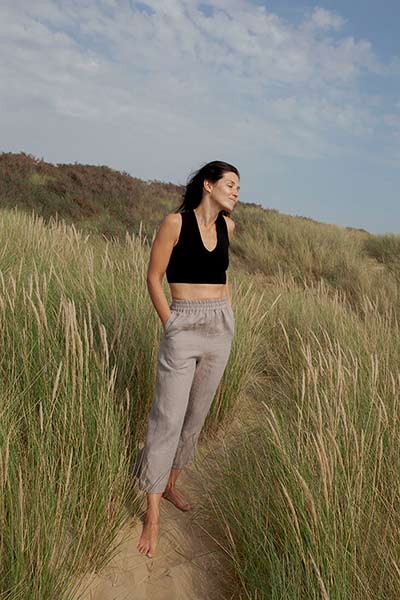 If you prefer leisure bottoms like sweatpants and track pants, these culottes will suit your style, with their baggy shape, high waist with an elastic waistband, and leg sleeves that reach above your ankles. The culottes also have two practical side pockets for your wallet, smartphone, and everything else you might need.
sizes: 0/2 to 12/14, 16/18 to 28/30
Wanda- Elasticated waist culottes with a string tie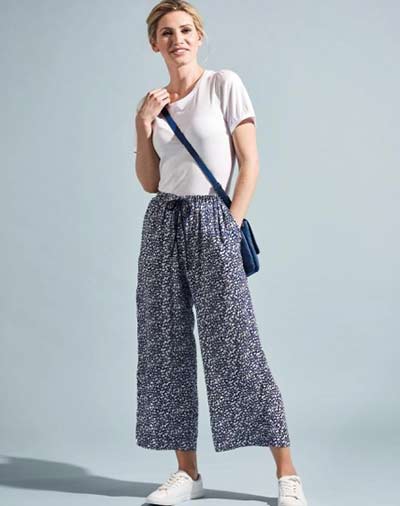 Fashion yourself a pair of culottes you can wear all day long whatever you do, thanks to their wide legs, breezy fit, light lining, and some pockets that can keep your essentials nearby. The waistband is fitted with a cord so that you can tighten or loosen it as much as you wish.
Sizes: 8-24
by Sewmag
Wallace culottes with fabric belt
below-knee, flared and pleated culottes with rounded hip front pockets and side zipper.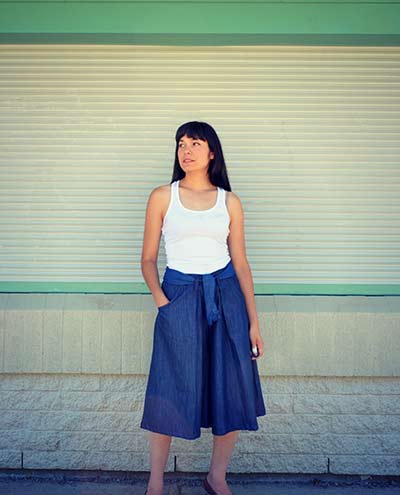 Three-quarter length pants can be quite stylish, as these lovely culottes demonstrate with their pleated legs that just cover your knees, a creative fabric belt, and rounded front pockets. To make the process of putting them on and off easier, the culottes have a handy side zipper that's barely noticeable while you wear them.
Sizes: 4-22
Summer culottes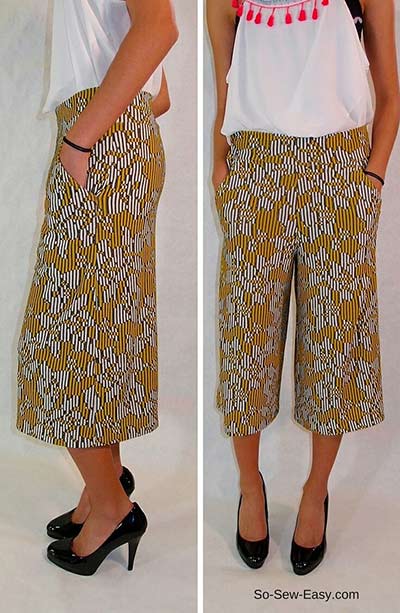 Here's a customizable pattern that lets you make a pair of short or regular length culottes, with or without front pockets. The waistband is soft and won't produce bulk nor will it feel uncomfortable. This pattern is designed only for knit fabrics, so if you use a different kind the result will most likely be off.
Sizes: 6-22
by So-sew-easy
Rachel – Elastic waist culottes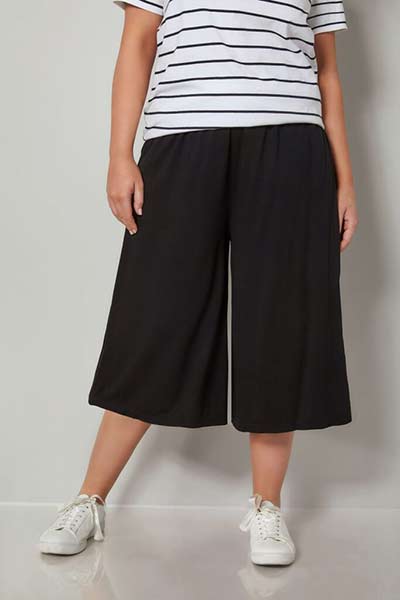 Fool everyone into thinking you're wearing a skirt when you're wearing these beautiful culottes that come in three different lengths, short, medium, and long. The design is simple, they have inseam pockets and an elastic waistband, with the characteristic flared legs.
Sizes: XXS to 5XL
by Tianascloset
Make culottes from scratch
Learn how to draft a pattern for wide leg culottes, starting from a basic skirt pattern. For a more fitted version start from the basic pants pattern instead and make the palazzo pants.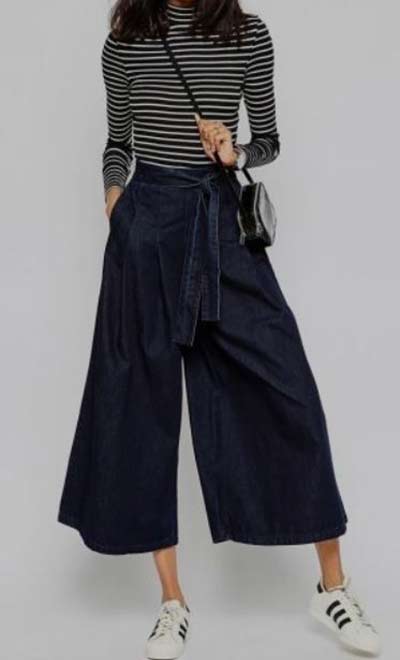 Transform a basic skirt pattern into a pattern for stylish culottes with a frontal zipper closure waistband and a pocket that has a smaller interior pocket. There's a button on the waistband to keep it securely closed and snug in position without the need for a belt.
Bicycle culottes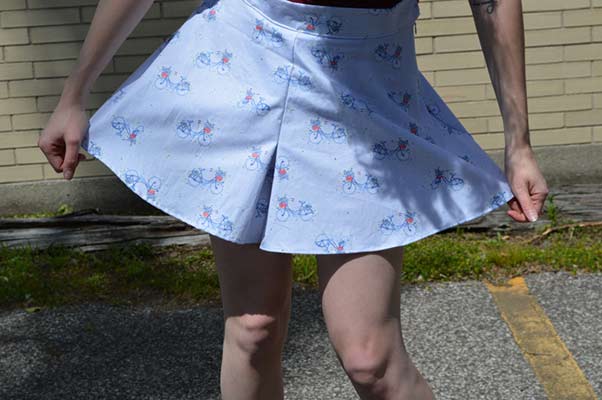 Enjoy the commodity of shorts with the look and style of a skirt thanks to these adorable mini culottes that reach to your mid-thighs and have a lovely legs shape that makes it seem as if they have pleats. They feature a simple waistband that has a button-up closure and is easy to sew.
by Moodfabrics
Misusu sewing pattern
how to draft a simple base culottes pattern using your own measurements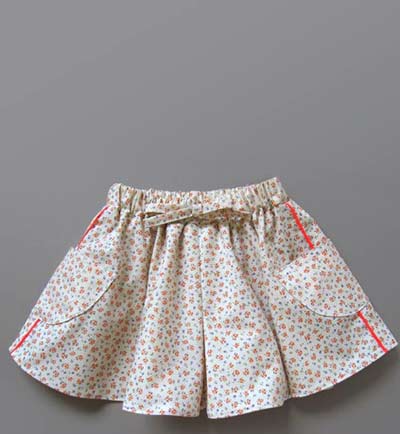 Make a custom pattern for gorgeous mini culottes that have an elastic waistband, two curved pockets at the front, and colorful bias tape lines on the side seams. The waistband is fitted with a drawstring for tightening or loosening the waist that you can tie into a cute bow tie at the front as a decoration.
by Misusu
You're all set with these great patterns of characteristic 15th-century bottoms that have survived for so long in the world of fashion simply because they're chic and creative. Do you have a favorite culottes patterns already? Share your thoughts with everyone in the comments below. And be sure to subscribe to our mailing list so that you can be notified when new posts get published on the website. Have fun sewing and wearing your new French bottoms!