2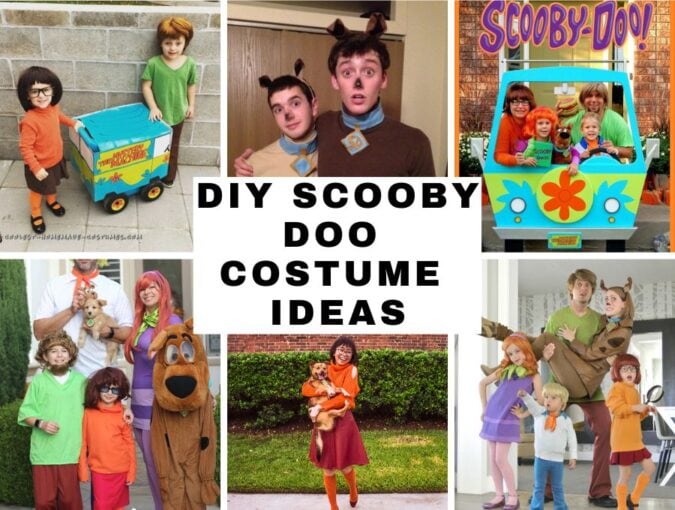 12+ DIY Scooby Doo Costume Ideas / How to Make a Scooby Doo Costume in the Last Minute
If you want to dress up like Scooby-Doo or his gang members for an upcoming party or for a cosplay, we have a lot of ideas for you. Some of them are dirt cheap, some are super quick, but all of these DIY Scooby doo costume ideas are super cool and fun to make. Scroll on and be ready to be inspired to dress like Scooby Doo, Shaggy, Fred, Velma, or Daphne. No matter whether you want a quick project to make for the kids or you want to dress the whole family, we have a suitable tutorial just for you.
Scooby doo gang costume for a family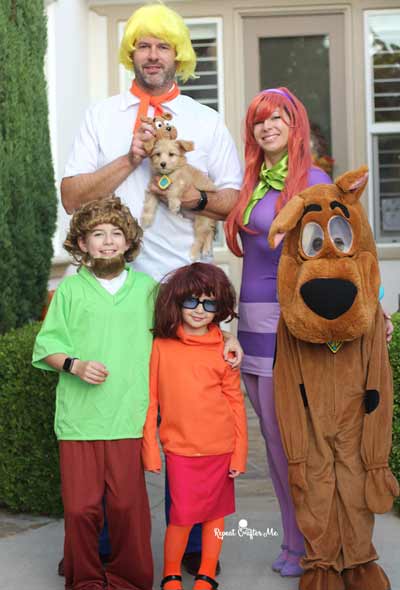 Become the family that solves spooky mysteries in your neighborhood with this fresh idea that will show you how to transform you and your significant other into Fred and Daphne, while your kids become Shaggy, Velma, and even Scooby Doo, with the magic of sewing a stuffed costume.
DIY scooby doo costumes for a family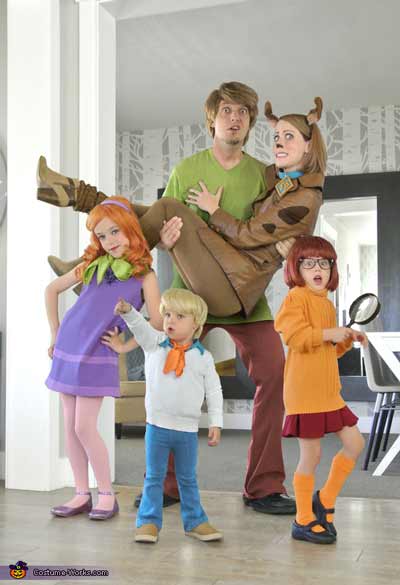 Get ready to uncover the real criminal behind a scary mask as you turn into Scooby with a fashionable jacket and pants, complete with some face paint and dog ears, your husband into Shaggy, and your kids into the most adorable versions of Velma, Fred, and Daphne.
DIY Scooby doo dog and owner costumes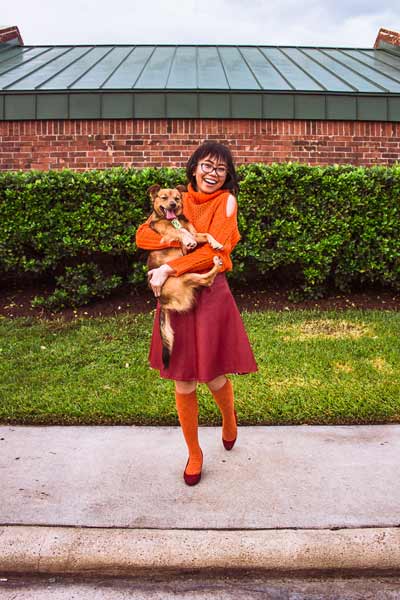 Take your dog out for a walk in style on Halloween with the help of this idea that shows you how to sport a Scooby-Doo tie for your four-legged pal, and an awesome Velma costume for yourself, consisting of a cute crimson skirt, long orange socks, a loose orange sweater with open shoulders, and the unavoidable geek glasses as the finishing touch.
by Reesarei
Scooby-Doo Costume Tutorial – Coolest Costume
Coolest Scooby Doo Family Costume with Hand Built Mystery Machine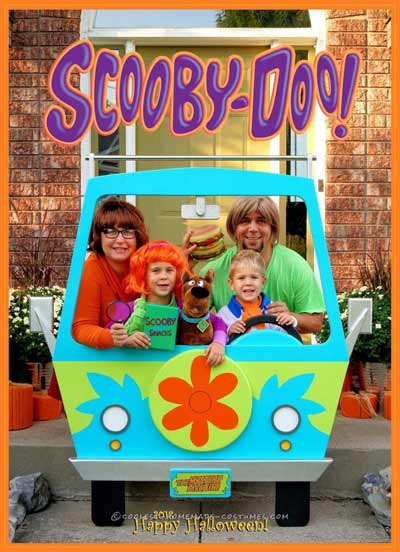 Here's a costume set with Fred and Daphne outfits for your kids, Velma and Shaggy for you, parents, a stuffed Scooby-Doo toy and a large stuffed hamburger as props, and the best part of them all, a wicked Mystery Machine cutout that will fit all of you for amazing family photos you'll treasure forever.
DIY Scooby Doo Group Costume for adults
You and your friends can finally go and catch some masked criminals who pretend to be monsters with this set that consists of a red pleated skirt, an orange long-sleeve sweater with orange socks for Velma, baggy brown trousers, and a green t-shirt for Shaggy, jeans, a long-sleeved sweater, and a blue collar with an orange ascot for Fred, and a purple dress with purple stockings, as well as a green bow for Daphne!
DIY Scooby-Doo & Shaggy Couples Costumes
Also show how to do Scooby doo ears and collar
This one is for the lovely couples who are fans of the show, a two-outfit set made up of a Shaggy combination of brown slacks and a bright green t-shirt, and a female Scooby combination of brown pants, a brown sweater with felt spots, the famous Scooby collar, and doggie ears to top it off.
Scooby Doo Dog Costume
Here comes one of the simplest, but also the most adorable ideas on our list, a minimalistic Scooby costume for your dog in the form of a plain dog collar, decorated with a diamond-shaped pendant with the initials SD on it, just like the one Scooby wears on the show.
DIY Scooby doo and shaggy haloween costume under $5
For a boy and  a dog
This one is a life-saver if you need a last-minute Halloween costume for your kid and dog, and you're on a budget, as this lovely homemade Scooby doo costume idea costs about five dollars and takes about half an hour to make, consisting of a green t-shirt and a turquoise candy bag with Scooby Snacks logo on it for the kid, with a collar that has a cardboard Scooby dog tag for the doggie.
Velma Dinkley from Scooby doo costume tutorial
Here comes an idea that will show you how to transform yourself into Velma with large glasses with a thick frame, an orange sweater with a cowl collar, a cute red pleated mini skirt, and those unavoidable long orange socks, with the addition of a bag of Scooby Snacks as an optional costume prop.
No-Sew DIY Daphne Costume
For those of you who are willing to put a bit of additional effort into your homemade Scooby doo inspired costume, this Daphne outfit idea will teach you how to whip up your Daphne skirt, complete with the pink stripes at its bottom section and cuffs, then refurbish and color the shoes you already have to look like the real deal, and finish the costume with a ginger wig, purple stockings, a green scarf, and a plastic purple hairband.
Shaggy and Velma – DIY Scooby doo Costumes for kids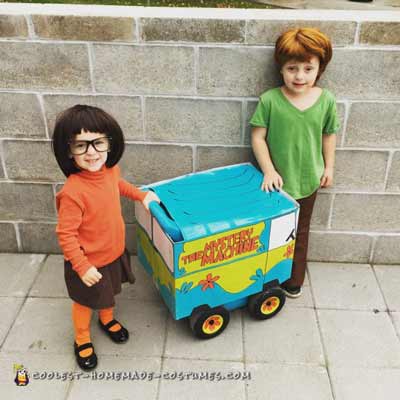 Make miniature versions of Shaggy and Velma with nerdy glasses, a red skirt, an orange sweater and socks for the girl, a green t-shirt and brown pants for the boy, and a cool small Mystery Machine on wheels that opens up and can hold the candy they get during trick-or-treating.
Last minute Scooby Doo costume DIY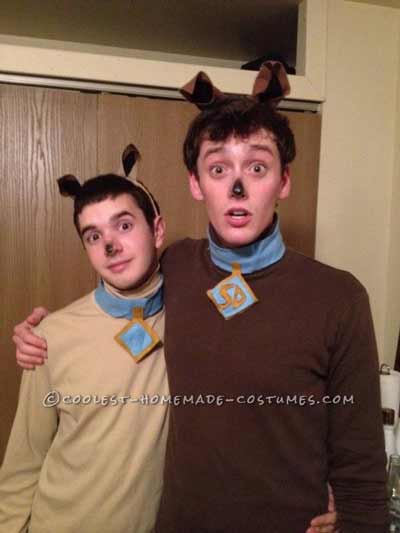 In case you're in a hurry but in desperate need of a fun costume, here's something for you, an idea that will help you make a Scooby collar with a pendant that bears his initials, dog ears that are slightly folded just like Scooby's, and a snout made with a bit of makeup.
I hope you enjoyed my collection of DIY Scooby doo costumes – no matter whether you want to dress up your whole family, a group of adults or just the kids, we have you covered. Pop up in the comments down below and let me know which of these lovely homemade Scooby doo costume ideas you'd like to make.
No matter who will be wearing some of these costumes, they'll surely be the ones with the most nostalgic and the coolest costume at the party, in the neighborhood, or at the school costume competition. Be sure to make at least a couple of the costumes that you fancy, then tell us which one turned out the best in the comment section. Don't forget that you can subscribe to the mailing list at any time and stay up-to-date with new stuff on this website. Have fun with your awesome costume on Halloween!