151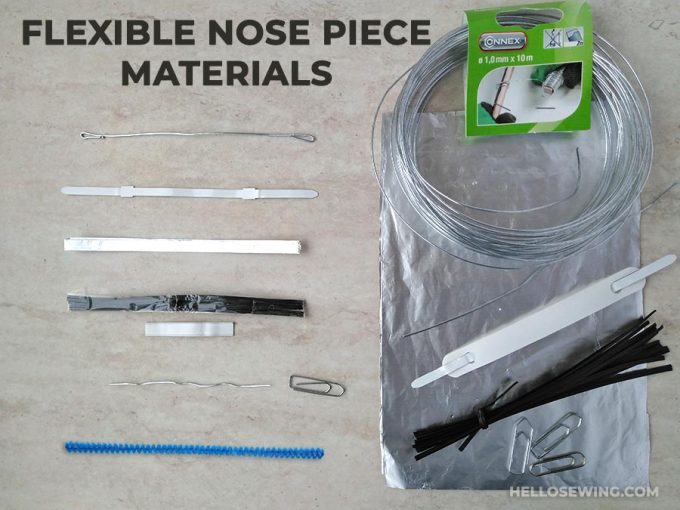 Flexible Nose Wire Piece Materials for a DIY Face Mask
You can improve your face mask seal by adding bendable nose wire to your fabric face mask. You can fit a small metal strip/wire at the top — so that the metal can be molded over the nose and fit individual face shape better. The nose wire material should be both durable and flexible, and we found a number of options you can use no matter which face mask you are making. So far I've seen three distinct variations of face masks:
1. regular face masks with elastic ear loop;
2. face masks with adjustable fabric ties (can fit over N95 respirators)
3. contoured/fitted masks with pockets for removable filters
Our free fitted face mask pattern allows for an easy fitting of a nose wire and many of our readers asked what they can use as a bendable nose wire for their face masks, so I wanted to quickly cover the options.
We occasionally link to goods offered by vendors to help the reader find relevant products. Some of the links may be affiliate in nature meaning we earn a small commission if an item is purchased. Read full disclosure here
Nose Wire for Face mask Ideas – VIDEO
Check out our selection of the top nose wire piece materials in this short video, then read below to find more about each of the options.
If you enjoyed the video, subscribe over at Youtube for our weekly sewing videos
How to make a Flexible Nose Wire for Face Mask
There are a number of ways to make the bendable nose wire piece for the face mask. Let's cover the best ones: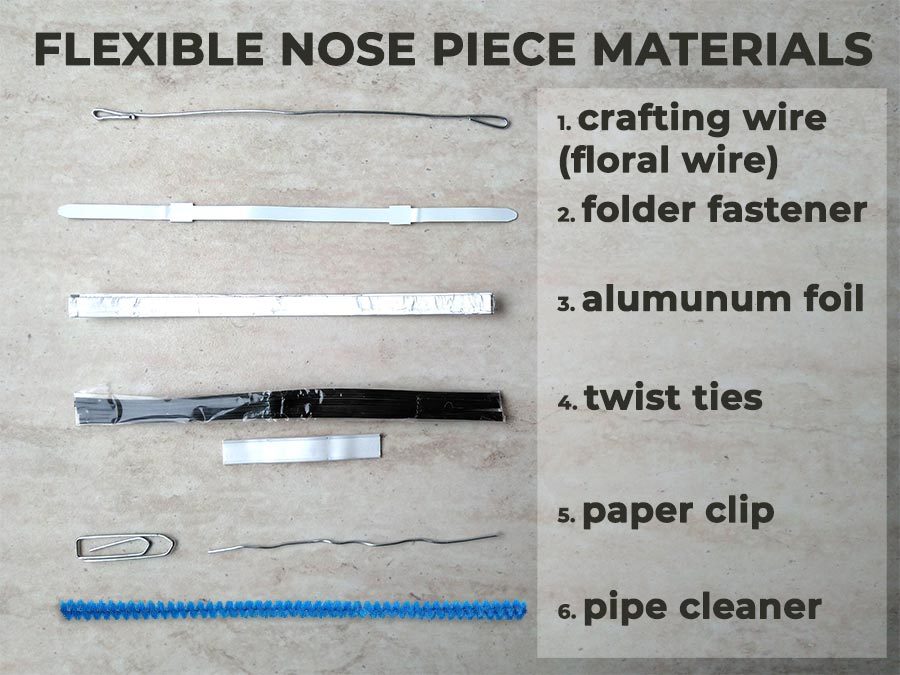 Why use a nose bridge wire? Using a thin and flexible metal strip is critical to custom-fit the top of a mask to a your face, to make them more effective, less likely to slip off, less likely to fog your glasses, and more comfortable to wear.
1. Crafting wire
Using a wire cutter cut 7 inches of  thin crafting wire or  floral wire. Curl in the ends of the wire to prevent the edges from piercing through your fabric. Curl either side about half an inch inwards.
2. Aluminum can
Cut into strips and folded over, so that there are no sharp pieces that can rip through fabric. To get a 3/4″ wide nose piece cut a piece of the aluminum can 4″ long and 1 1/2″ wide. Fold both ends to the middle, then fold in half.  Your aluminum nose wire is ready.
Now we all crafters have the perfect excuse to order more beer and soda, don't we 🙂
3. Folder fastener
Prong fasteners such as those from office files are just the right length.
TIP: If there any sharp parts, you might want to cut them and / or curl them inwards. I prefer using mini wire cutters and bent nose pliers over larger multi-purpose pliers, but according to my husband you can and should use whatever you already have at home. 
4. Aluminum foil
Cut a piece of No products found. 8″ long  x 6″ wide. Fold over in half width-wise 5 times. You can even sew through it with the sewing machine. No aluminum foil? Use thick tin foil from a baking dish or a disposable cookie sheet instead.
5. Twist ties
Use twist ties from bread loafs, gift bags, or trash bags. While you can use a single twist tie, it won't be durable enough and won't mold very well over your nose. I suggest two or three twist ties together. The resulting nose piece is both flexible and durable.
You can either sew the ties in the mask, or make a removable nose piece and slide it through a channel 3/8 inch away from the top stitch of the mask.
TIPS:
If you are taping your twist ties together, slide them through a channel and don't sew them in as clear tape won't withstand washing.
Don't use paper twist ties, as the paper washes away during hot water washing and the sharp ends of the tie will show.
6. Paper clip
Unfold the paper clip and straighten it. It doesn't have to be perfectly straight.
The resulting nose wire measures about 3.5 inches in length if you use a small/regular paper clip, and almost twice as long if you use a jumbo paper clip. Curl the edges just a little bit so it does not stick through the fabric.
TIP: While you can use the regular sized paper clip, the resulting nose piece is rather small (about 2.5-3 inches) and I recommend only using it for a child sized mask or if the other options are not available.
7. Pipe cleaner
Use a 12 inch pipe cleaner, fold it in half and twist together. The resulting nose wire measures about 6 inches in length.
TIP: Only use pipe cleaner if your nose piece is removable, as face masks are to be washed in higher temperatures and pipe cleaner wire may rust.
8. Aluminum nose bridge strips
I recently saw that some aluminum nose bridge strips such as these pop over on amazon and they look like a good option.
OTHERS:
Promising ideas from our readers:
9. Metal zip ties
You can easily trim these metal zip ties to length with wire cutters. Each one is ~12″ long and you can make two or three nose wires out of a single zip tire. 
8. Aluminum cups from tea lights
Cut the outer rim straight down to the circular bottom of the cup and then cut straight across the bottom. Cut around the circular bottom of the cut until you just have the rim left. Then, fold into thirds so there are no rough edges and trim to the length you need
10. Coffee bag closures
These seem to be a popular option to use as nose wire for diy face masks. One coffee tie makes two nose wire pieces
11. Christmas ornament hanger
12. Heavy-duty waxed thread
How Long Should the Flexible Nose Piece Be?
After testing a lot of nose bridge wire options, we found that the nose bridge made of 6″ long craft wire was the most comfortable to wear and provided the best fit for an adult sized mask. Of course, depending on the mask of your choice and your personal preference, you may want to make it a bit shorter.
Not sure which face mask is the right fit for you?
Check out our FREE face mask tutorials:

New to sewing? Check out few tools/supplies that can help make sewing easier and faster


Pin for later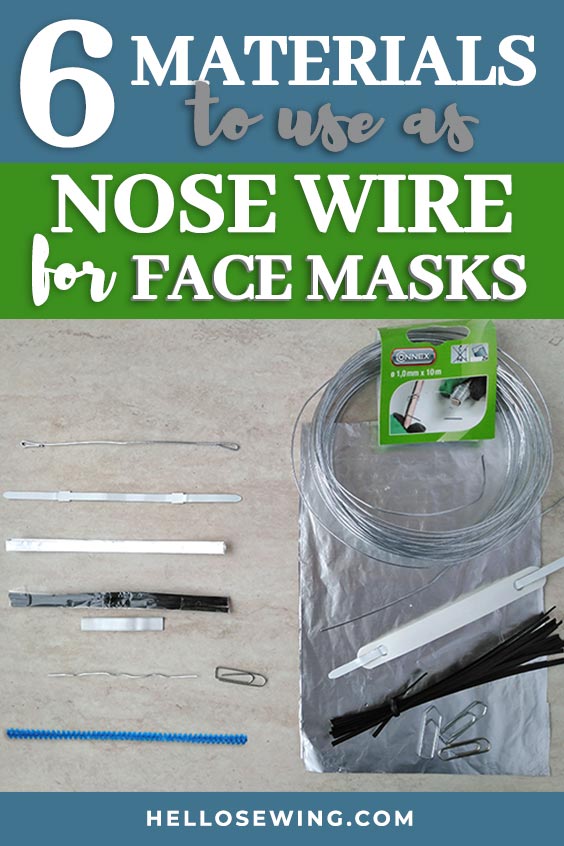 TELL US: What did you use to make a flexible nose bridge? Do you have any other ideas for the nose stay?
Do you have an idea for an improvement? Leave a comment below – we'd love to hear what you used as nose bridge wire!
Sharing is caring! If you find our nose wire for face mask article useful please share with your friends on social media