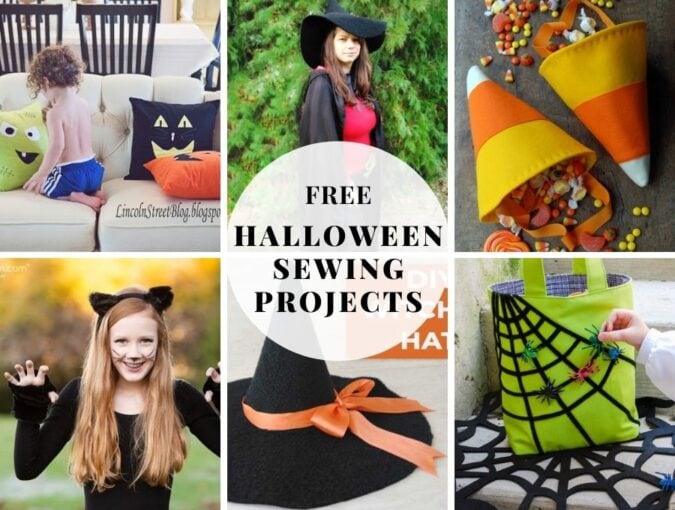 20+ Halloween Sewing Projects You Can Make Today
Are you ready for some spooky, not so spooky or cute Halloween themed projects? If you need some super easy Halloween ideas to sew in the very last minute, this list if just for you! From terrifying homemade decorations to spooky DIY costumes and creepy Halloween treat bags you can easily DIY yourself there is something for everyone. Be spooktacular with your Halloween sewing projects!
20+ Halloween Sewing Patterns
All of these Halloween sewing patterns and tutorials are free to download and use. Enjoy!
HALLOWEEN COSTUMES
Cat costume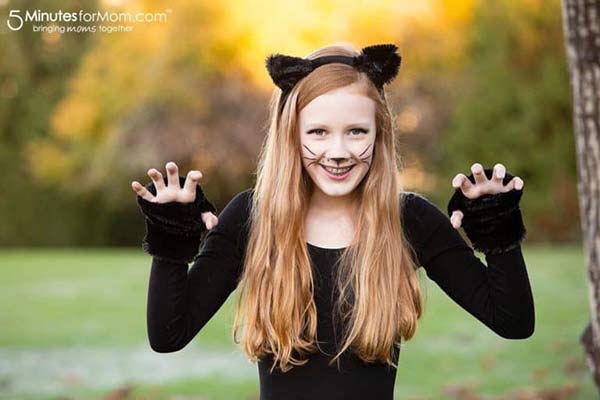 For all those cat lovers out there comes this cat costume! Your little girl will look adorable with this black skirt, fingerless gloves, leg warmers, and most importantly, cat ears and tail! Even though this costume consists of all those parts, it's still quick and easy to sew. Oh and don't forget to paint those whiskers onto the cat girl's face for a full package!
Ghost costume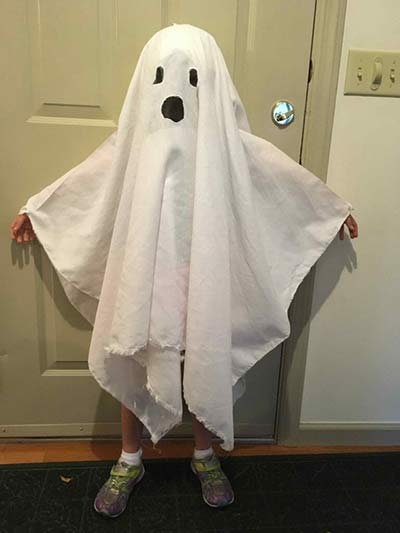 No Halloween is complete without some spooky ghosts! This ghost costume might seem like plain bedsheets with holes for eyes but there's more to it than just that. It's made to fit properly and as such will make your kid who's wearing it a real scary visitor from the afterlife!
Skeleton tee costume
Another crucial part of Halloween is skeletons! This full-body suit will turn your little one into a terrifying sight in the dark. With a dark color base and bright bones over it, this costume makes its wearer look as if they're a walking skeleton with no flesh whatsoever!
by Goodwill Industries International on YT
Witch hat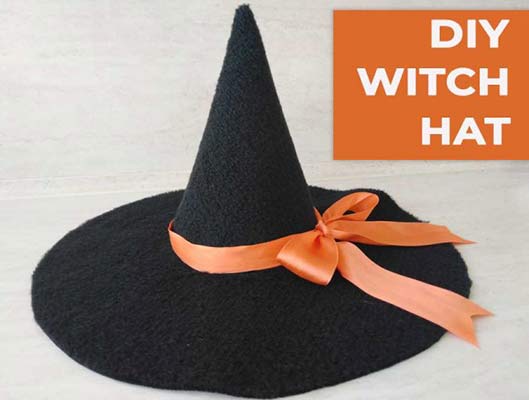 A witch costume is one of those you can whip up in a flash because all you need for it is a good witch hat and any kind of dark clothes. This witch hat is easy and fast to sew, more so since it comes with a pattern and instructions on how to make one for your size.
by HelloSewing
Cloak with lined hood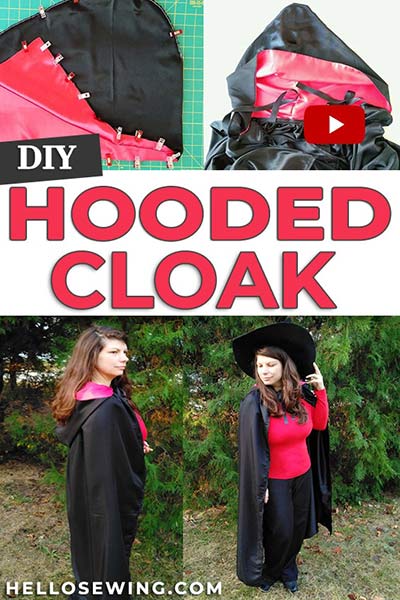 The most versatile costume of all time is the hooded cloak like this one. It can complete costumes of all kinds, from elves and vampires to Little Red Riding Hood and Gandalf. The best part about it is its simplicity, you can finish it in no time and head on to help those dwarves and Hobbits with haste!
by HelloSewing
Pillowcase pumpkin dress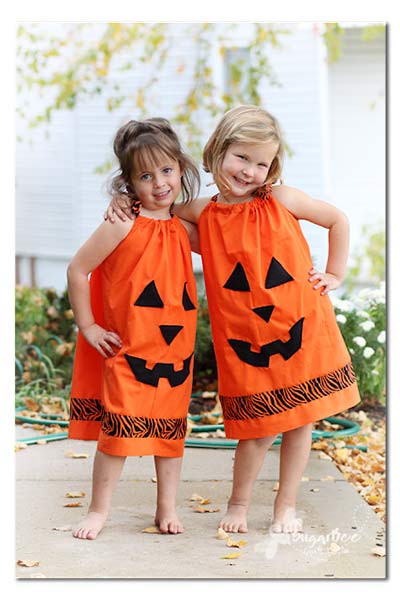 Dresses that look like the famous Halloween pumpkins? How adorable is that? Your girl will beat the competition in cuteness with this bright orange sleeveless dress that's decorated with a carved pumpkin face pattern.
TRICK OR TREAT BAG PATTERNS
Candy corn treat or treat bag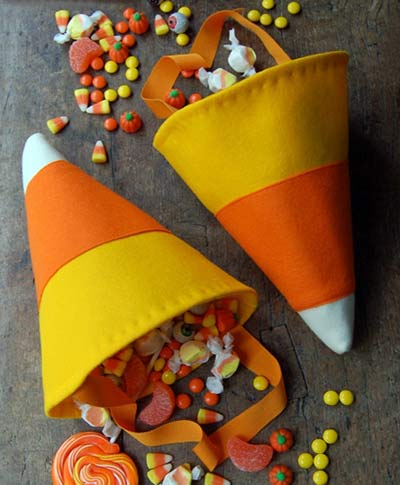 Candy corn is one of the most popular Halloween candies and because of that, a lot of people give them out as treats. If you need an easy treat bag to add to your list of Halloween sewing projects, make this one. It's a lovely bag that will keep all those corn safe for when the trick or treating is over and the feasting on the gathered treasures begins. It's a come-shaped bag split horizontally in three with different colors.
by PurlSoho
Easy treat bag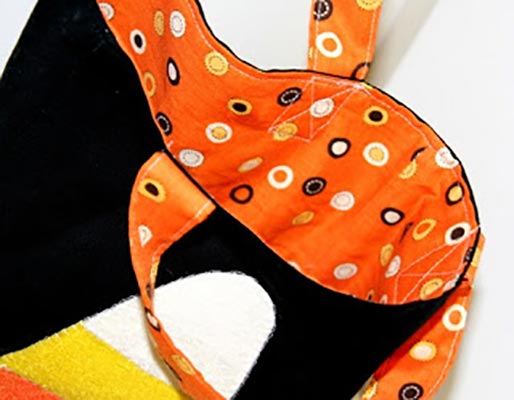 The next bag is a simple tote bag but in those characteristic orange and black Halloween colors. It has a dark face and an orange lining, together with orange handles and a bit of applique you can customize to your taste.
Sticky spiderwebs bag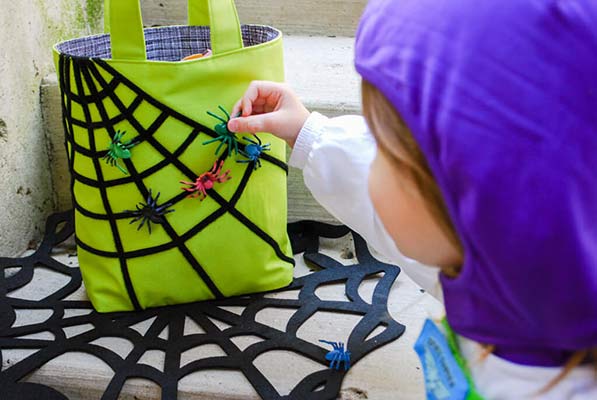 For those who prefer a bit spooking bags, this spiderweb bag will do the trick. The contrasting face and lining look beautiful, while the web and the spiders on it give it a touch of horror! The flat bag comes in handy for arranging the candies and avoiding shaking those soda cans.
Black cat treat bag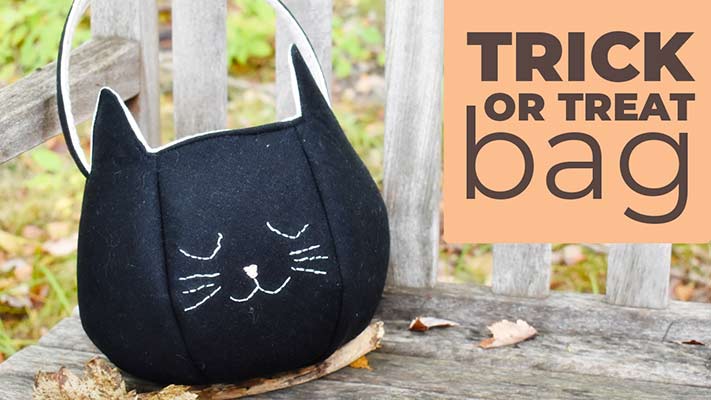 You can't take your kitty trick or treating but you can take a kitty bag instead! Here's a pattern that'll help you make a bag that looks like a face of a sleeping cat fast and easy! The bag is round with a flat bottom and it's small so it won't be a bother to carry around.
Easy felt bags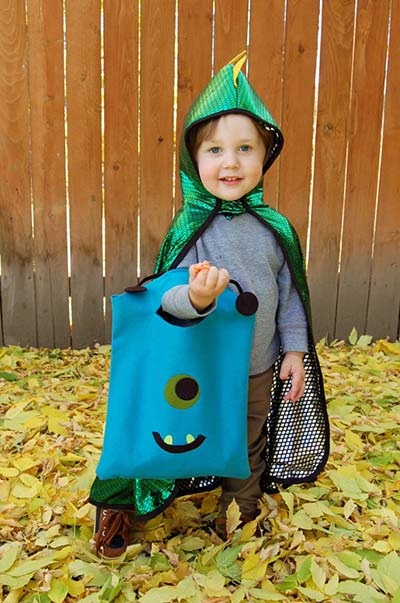 Have a monster carry your kid's Halloween candies for them with this monster-shaped bag! It's a lot like a tote bag but it has a friendly one-eyed face with a smile and a pair of antennas above the handles. Your kid will love it and they'll probably want to bring use it even when it's not Halloween!
by PiperGirl
Simple tote treat bag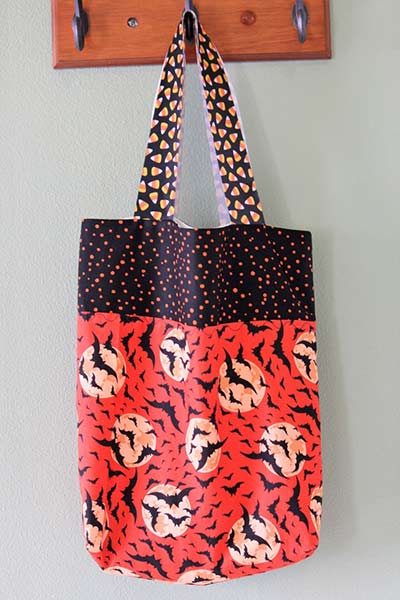 The last Halloween bag on this list is the most common one that never fails you down. A tote bag! This one combines three different color fabrics, one for the handles, one for the top section of the bag, and one for the bottom section. But you have to give it that spooky vibe, so be sure to use fabrics that are in the appropriate spirit!
HALLOWEEN HOME DÉCOR
You've been booed printable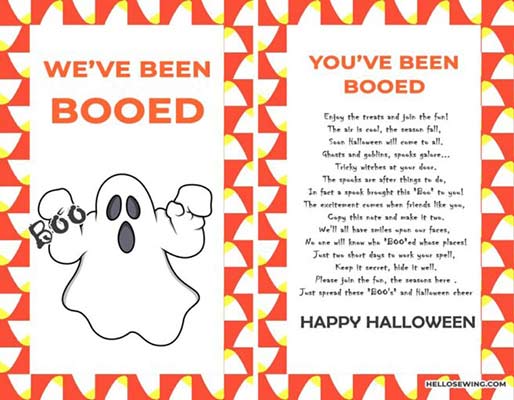 Bring back a wonderful tradition of gifting presents to people on Halloween with this printable! The free printable contains cards for booing someone, which means anonymously giving them a present. It also has cards for letting people know you've been booed, as well as a set of instructions for the friendly game.
by HelloSewing
Cat pillow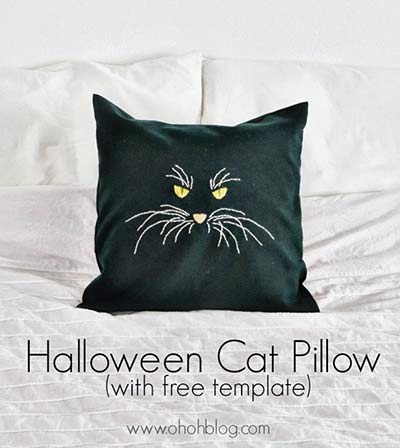 Cute cat face on a pillow? Sign me up! This pillow will add a bit of humor to your living room and make your friends want one too! It's a regular pillow but it has subtle cat ears and an adorable grumpy cat face on its front. Don't worry, it won't scratch.
Bat pillow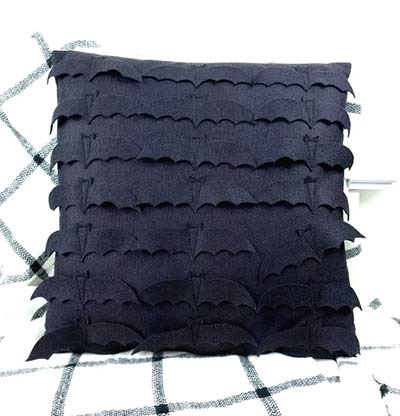 A certain millionaire called Bruce Wayne would love this pillow for some reason, no one knows why though. It's a pillow with a bunch of bats! Spooky! Don't worry, they won't bite, they're just soft and comfortable. Just make a normal pillow, attach the bats, and voila!
Halloween face pillows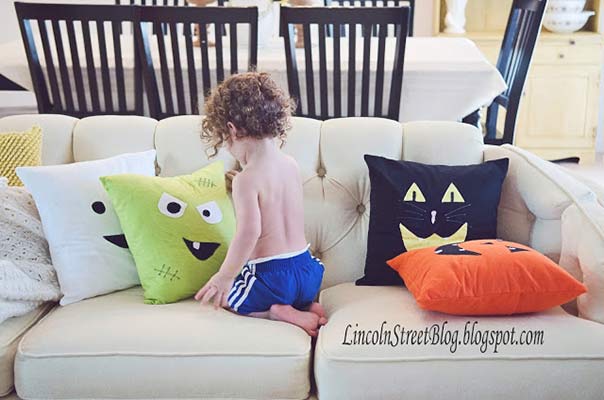 Here are more pillows for your Halloween living room, this time, goofy ones! The project will help you make a couple of pillows with different faces. From carved pumpkin face, over silly ones, to bat faces, just choose your favorite or make them all!
by Eighteen25
Stuffed fabric Pumpkins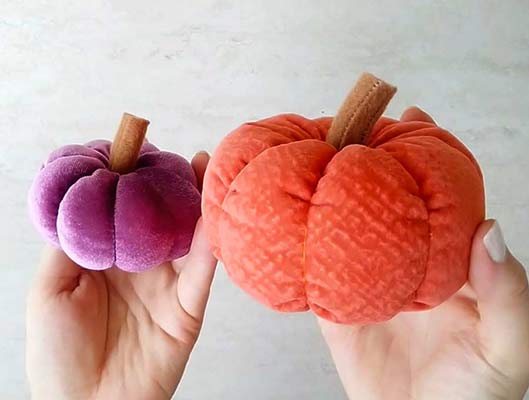 Pumpkins everywhere, even in your house! Now that's a proper Halloween. These fabric pumpkins come in a few different sizes and they take little time to finish. They also beat the real ones as decorations because they last way longer. Just don't carve them.
by HelloSewing
Halloween quilt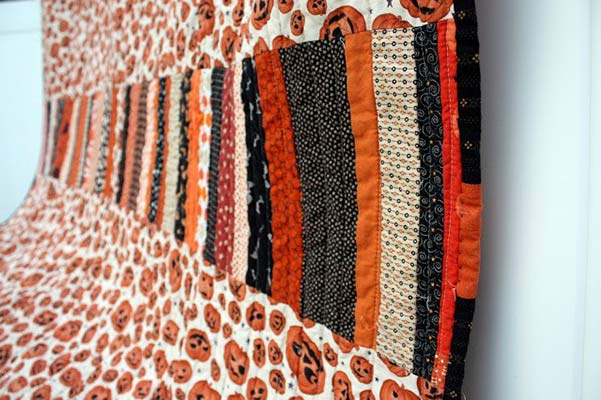 Here's a treat for all quilting enthusiasts, a Halloween quilt! It combines the homely charisma of quilts and that special Halloween spirit into one with a mild and pleasant combination of orange, brown, red, and black colors. Not to mention how comfortable it is!
The 20 Minute Halloween Table Runner Tutorial
Get your dinner table ready for a Halloween feast with this table runner. The rectangular table runner is bright orange on one side and a combination of dark, purple, and orange vertical stripes on the other side. Use orange or black plates for maximum effect.
Halloween Hexagon Table Topper
Take your table from boring to beautiful!
If you have a round table or you don't like rectangular table runners, here's a hexagonal one. It's vivid and cheerful thanks to the mixture of bright colors, which makes it the kids' favorite dining room decoration. Set it onto the dinner table and turn it into proper Halloween furniture in a flash.
by ScrappyPatch on YT
What do you think of our Halloween sewing projects list? Was it as fun and spooky as you like it? Did you find the Halloween Sewing Ideas and Halloween sewing patterns you were searching for? Share your thoughts with us in the comment section below. After that, subscribe so that we can notify you when new projects get posted on our website. Have fun trick or treating!