5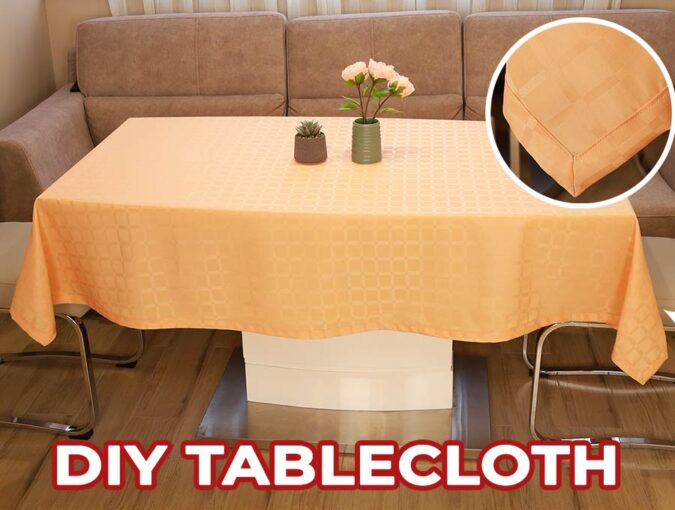 How to Make a Tablecloth to Fit ANY Table Shape or Size
It's so exciting to learn how to make a tablecloth to fit any shape and size table. Once you know how, there are no limitations as you can head out to your favorite fabric store or shop for fabric online, instead of being confined to the few pre-made tablecloths available. Having designer fabrics at your fingertips means you're ready to sew them into table coverings that will awe your guests and family. We offer step-by-step instructions on how to make round, square, rectangular and oval tablecloths – and how to scale them to fit any size table. You might not want to stop there but turn your skills into a business with made-to-order tablecloths.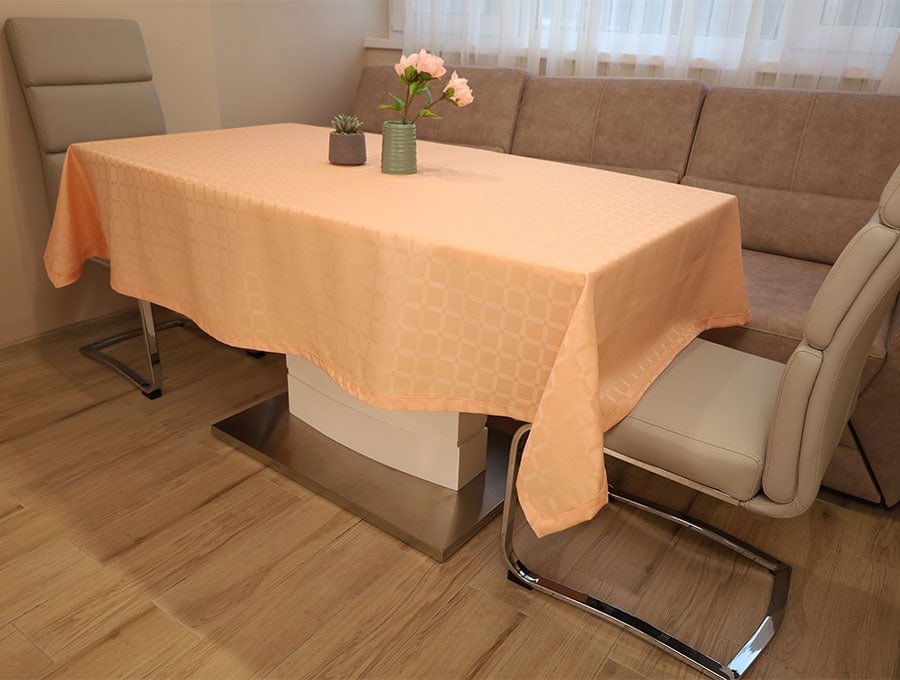 Once I learned to sew tablecloths there was no stopping – every event had to have a cloth: Valentine's, Easter, Christmas, burgundy or black for formal dinners, bright stripes for outdoor lunches, lace-trimmed  for high teas, and then there were the cloths for daily use printed with lemons, or cherries or watercolor-style florals. Being able to make your own designer style tablecloths means lifting the décor of a room with up-to-the-minute fabric patterns and colors. Professional decorators use cushions and tablecloths as the most inexpensive and impactful way of changing the mood of a room. Follow our step-by-step instructions to learn how easy it is to produce designer style tablecloths for any shape of table.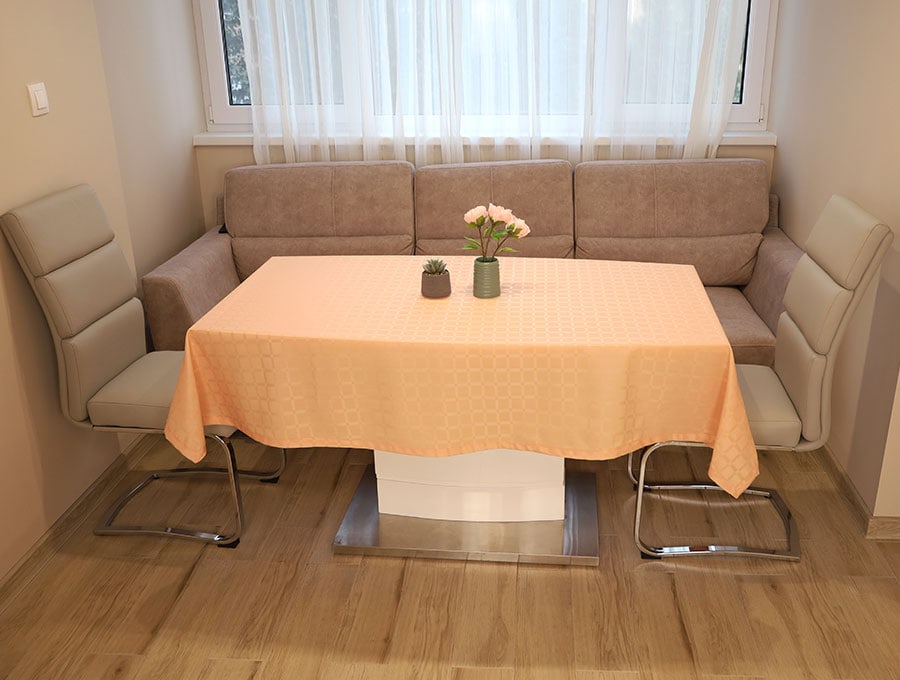 Below you will find my step by step written tutorial with VIDEO instructions for all the visual learners.
We occasionally link to goods offered by vendors to help the reader find relevant products. Some of the links may be affiliate meaning we earn a small commission if an item is purchased.
Best fabric for tablecloths
Most fabrics will work except for shiny synthetics. Having said that, for a kid's party one-off you may want to go for a shiny rainbow color – there really are no limits.
A huge variety of patterns in cotton, and cotton polyester are available to suit every possible taste If it's linen plain colors would probably be more elegant. The Pantone color for 2022 is Very Peri – a delightful periwinkle blue that has tones of violet.
This would work well with white dinnerware, silver cutlery, and vases with white flowers spilling from them for a dinner setting to impress.
Canvas will be hardwearing for day-to-day use. Whatever you choose, make sure it washes well, does not stain easily and is relatively crease free. I'll never forget reading about how the staff had to do a final iron of the large cloths for state banquets at Buckingham Palace when the cloths were already on the tables, to ensure there wasn't a wrinkle in sight.
For outdoor summer luncheons, light and bright stripes, like blue on white and fresh green on white, work well. Natural fabrics and tones are always good, whether used indoors or out, while a touch of lace or a Liberty print will add some old school charm to tea parties.
I made a tablecloth is an embossed black velvet that always draws comments as it is just so different. To enhance the cloth for special occasions, like Valentine's Day dinner parties I have small strings of battery-operated fairy lights spilling from crystal vases with deep red roses. So, you see the choice of fabrics is very wide.
Measuring your table
First measure the length and breadth of the table if it is square or rectangular.
If it circular measure the diameter of the table.
For an oval table measure the widest point and the full length.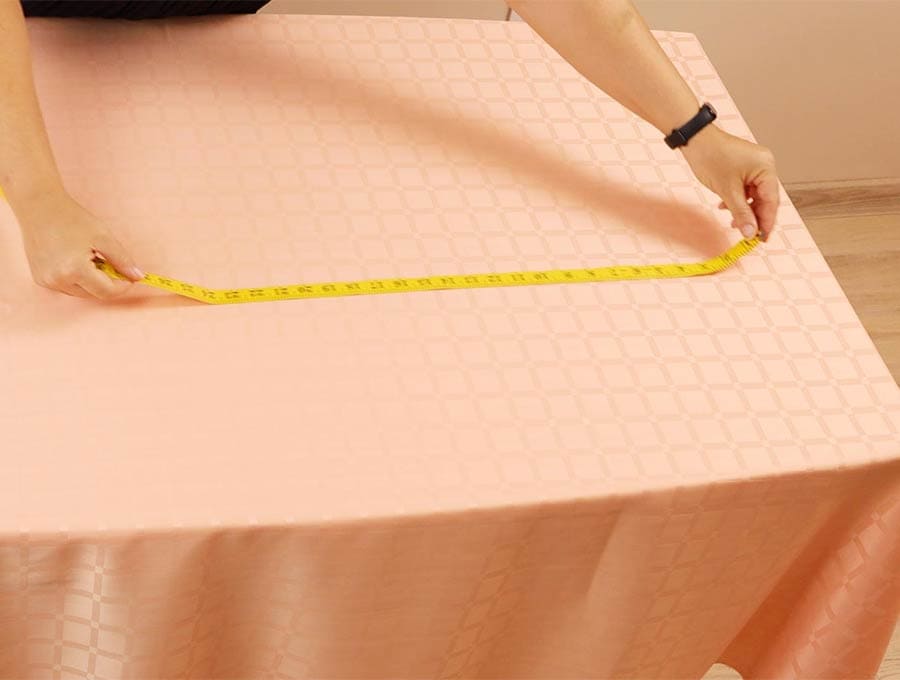 Next is to calculate the drop you want, meaning the amount of fabric that overhangs the edge of the table.  The universal standard is around 10 to 12 inches (25 to 30 cm), which means it doesn't quite reach the seat of the chair, making it easy to sit down and get up from the table without dragging the cloth with you. Just check the measurement from your table top to the seat of your chairs as it may vary from the standard.
Deciding on drop length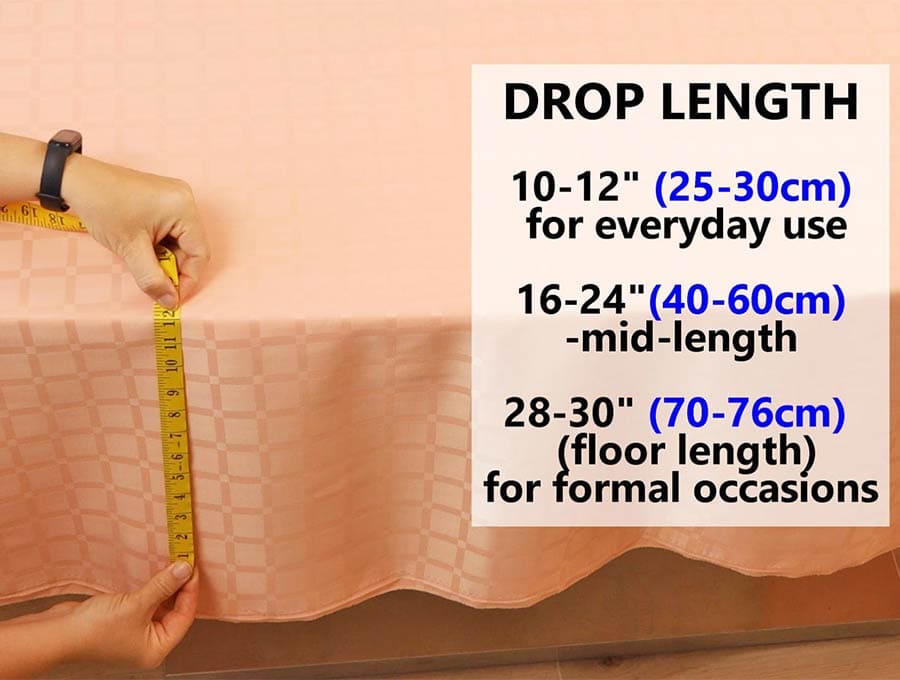 For smaller circular tables a drop that goes right to the floor is elegant. If using it as a dining table it works well for adults – young kids tend to get their legs tangled in the drop and can risk pulling stuff off the table, or they find it great fun to hide under the table playing peek a boo from under the drop.
Generally the shorter drop is more practical for daily use. For dinner parties a longer drop is used and if going really formal the drop would go right to the floor, but if you have been to weddings recently you'll understand how challenging getting seated and vacating  chairs from tables draped with floor length cloths can be.
Calculating the amount of fabric needed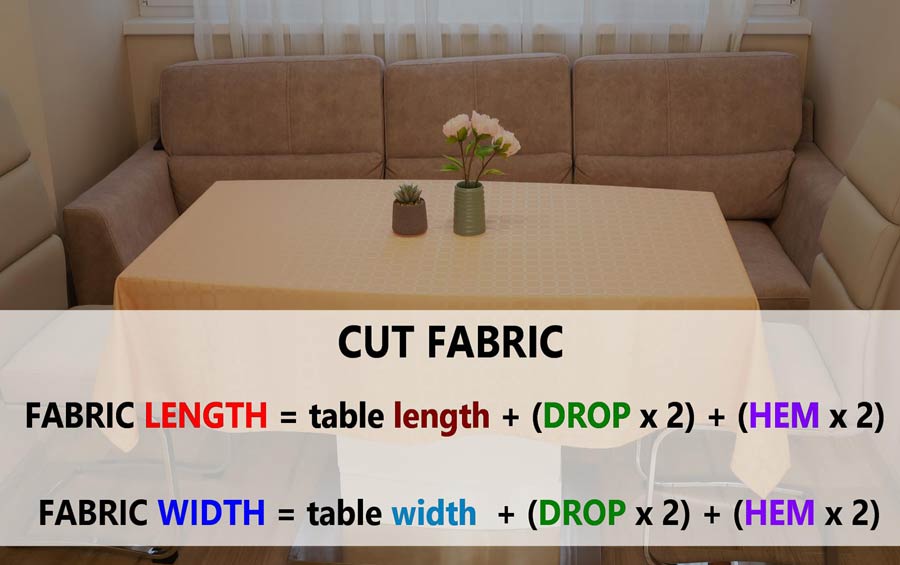 This will involve a little math and it is easiest presented in diagram form.
Rectangular table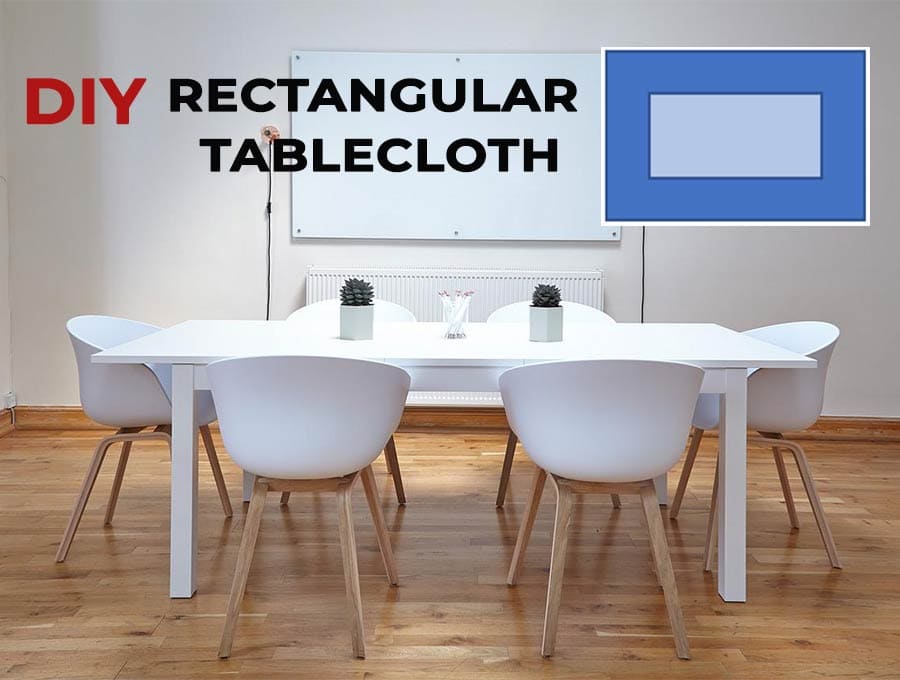 For the rectangular table above measure length and width – as an example L = 60 inches and W = 36. Add a 10 inch drop to each of the 4 sides, plus a 1 inch seam allowance
Fabric length will be 60 + (10 x 2) + 2 = 82 inches
Fabric width will be 36 + (10 x 2) + 2 = 58 inches
When you shop you'll need a fabric that is 60 inches wide, or you will have to join if you choose a narrower width of fabric.
Square table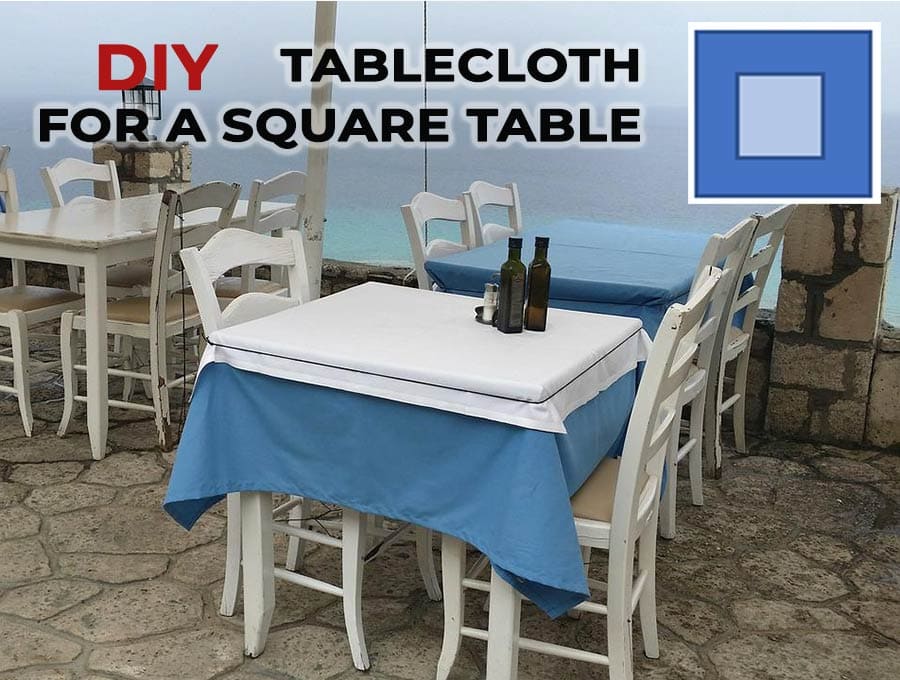 For the square table above the length and breadth will be the same some let's say it is 36 inches. So as an example L = 36, W=36 Add the 10 inch drop for each side plus an inch seam allowance for each side.
Fabric length will be 36 + (10 x 2) + 2 = 58 inches
Fabric width will be 36 + (10 x 2) + 2 = 58 inches
Round table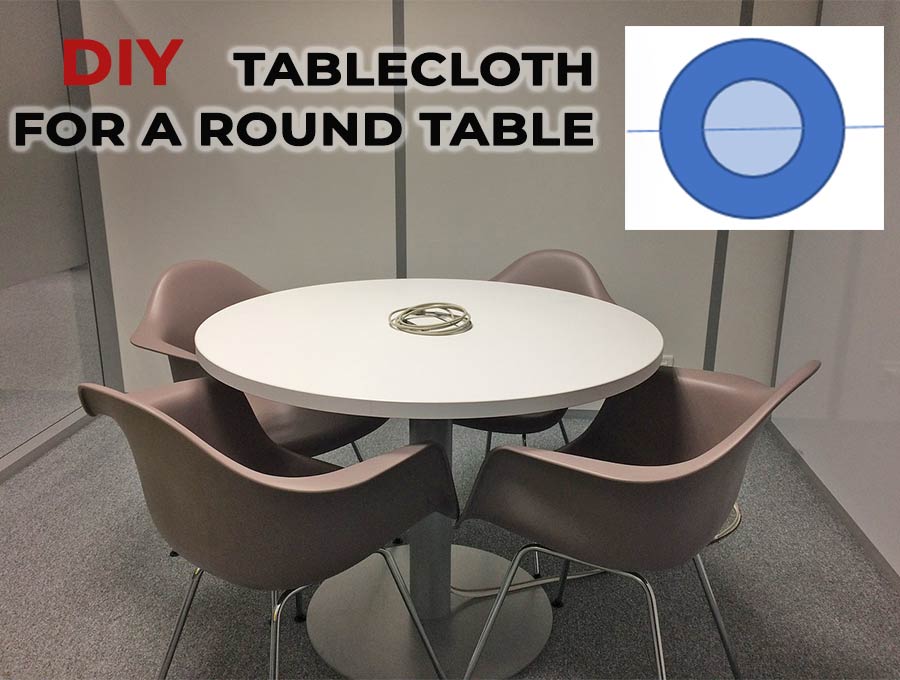 For a round table measure the diameter – let's say it is 38 inches.
So you will need 38 inches for length and width plus the drop you choose x 2 and a one inch seam allowance x 2.
Fabric length will be 38 + (drop length x 2) + 2 = 60 inches (assuming the drop length is 10)
Fabric width will be 38 + (drop length x 2) + 2 = 60 inches (assuming the drop length is 10)
Later you will cut off the corners and shape to the circle but you'll need a 60-inch wide fabric and a length of 60 inches.
Oval table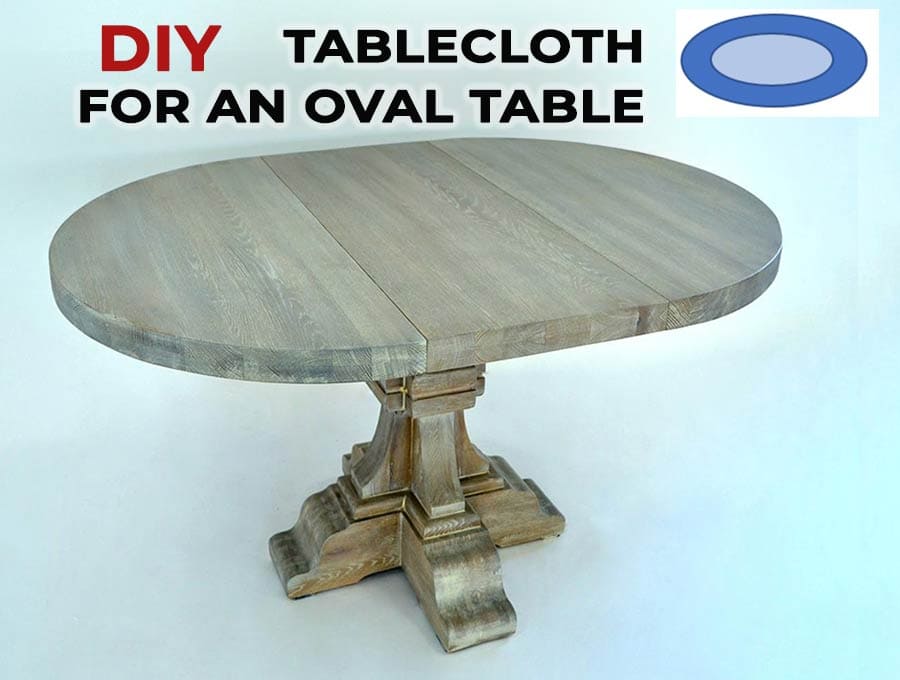 For an oval table calculate as you would for a rectangular table after measuring the furthest points of the length, and the widest point across the table.
As an example L = 66 inches and W = 36. Add a 10 inch drop to each of the 4 sides, plus a 1 inch seam allowance
Fabric length will be 66 + (10 x 2) + 2 = 88 inches
Fabric width will be 36 + (10 x 2) + 2 = 58 inches
You can either choose to leave the cloth as a rectangle in which case the points will hang down further at the corners, or you can choose to lay your fabric over the table, wrong side up and mark where it meets the edges of the table with a fabric pen, then add the drop and seam allowance measurements, measuring accurately all round from your marked oval. The same will apply to an oblong table where the ends have been rounded off.
Tips for joining panels of fabric
Tip 1 When calculating the amount of fabric needed if you need to join widths to get the required size, then allow an extra 2 inches for each join.
Tip 2 A seam down the center of the tablecloth will be noticeable and look unprofessional, so, if you need to join do it towards the sides so the center panel is clear. This will normally be needed on circular or big rectangular tables. Place the seams as you see in the diagram below.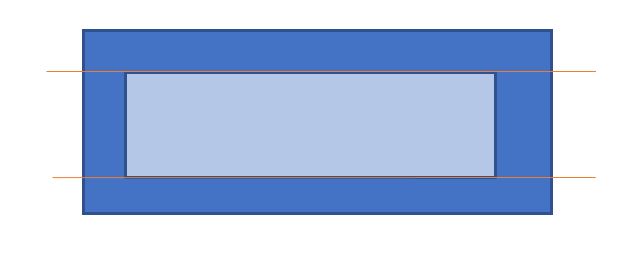 How to make a tablecloth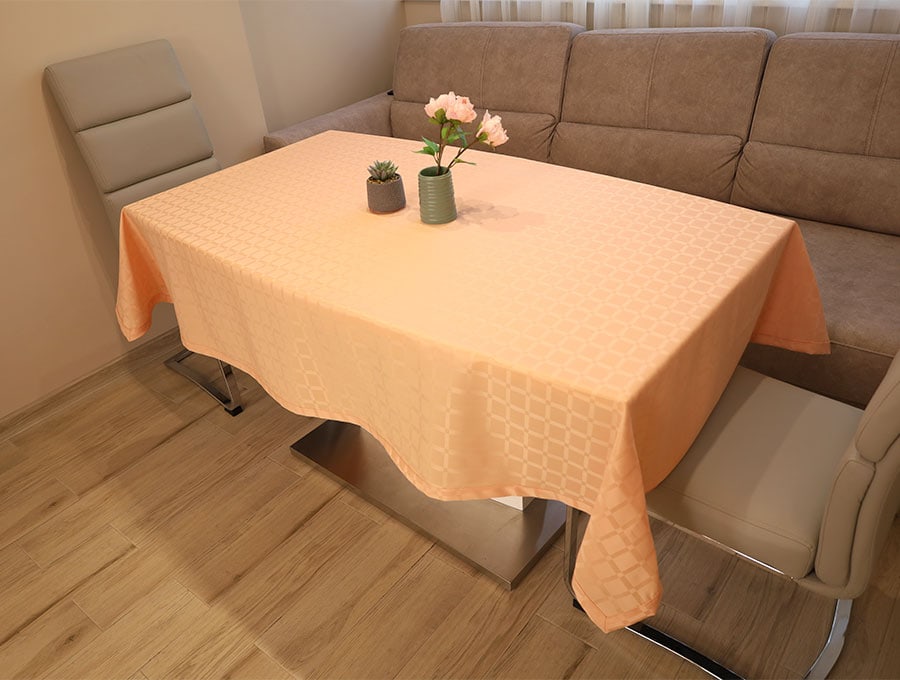 DIY Tablecloth Supplies and tools
Follow us for free patterns & tutorials!
How to Sew a Tablecloth
Watch the diy tablecloth video first and then follow the written step by step instructions below.
Please enjoy and don't forget to Like and SUBSCRIBE over on YouTube to be kept up to date with new videos as they come out.
DIY Tablecloth VIDEO TUTORIAL
INSTRUCTIONS:
Sewing rectangular and square table cloths
Step 1
Cut your fabric to the correct size for the table.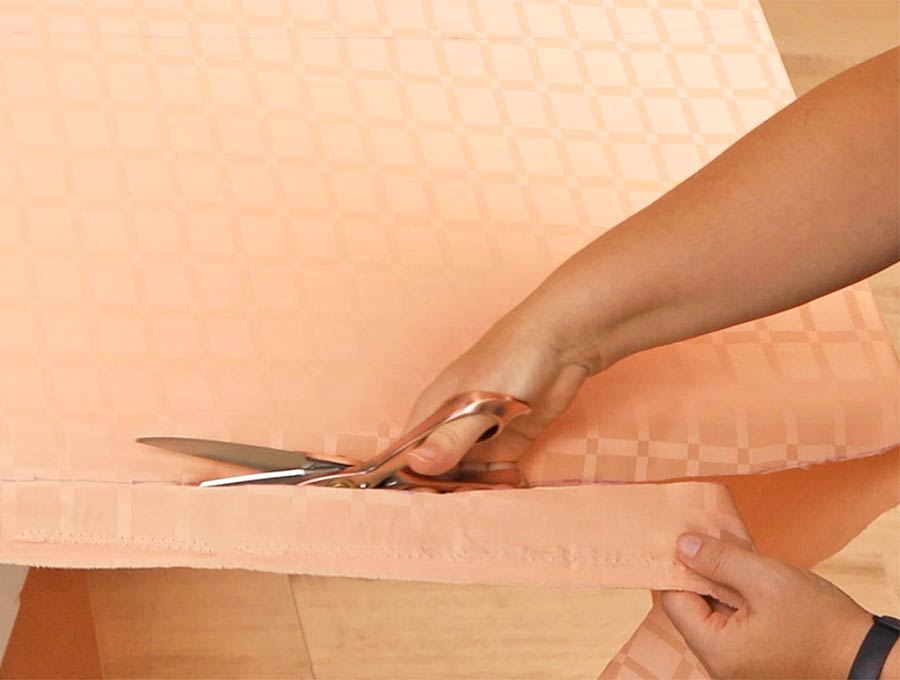 Step 2 (OPTIONAL)
If panels need to be pieced together, place the panels with right side facing right side and seam on the wrong side.  It shouldn't be necessary to cut off the selvage. If it is serge the edges.
Open and press seams flat before proceeding with the hemming of the cloth.
Step 3
On the two long sides of a rectangular, or any two opposite sides of a  square table cloth create a rolled hem by turning the edge over ½ inch (1cm), then ½ inch (1cm) again or however wide you want your hem to be.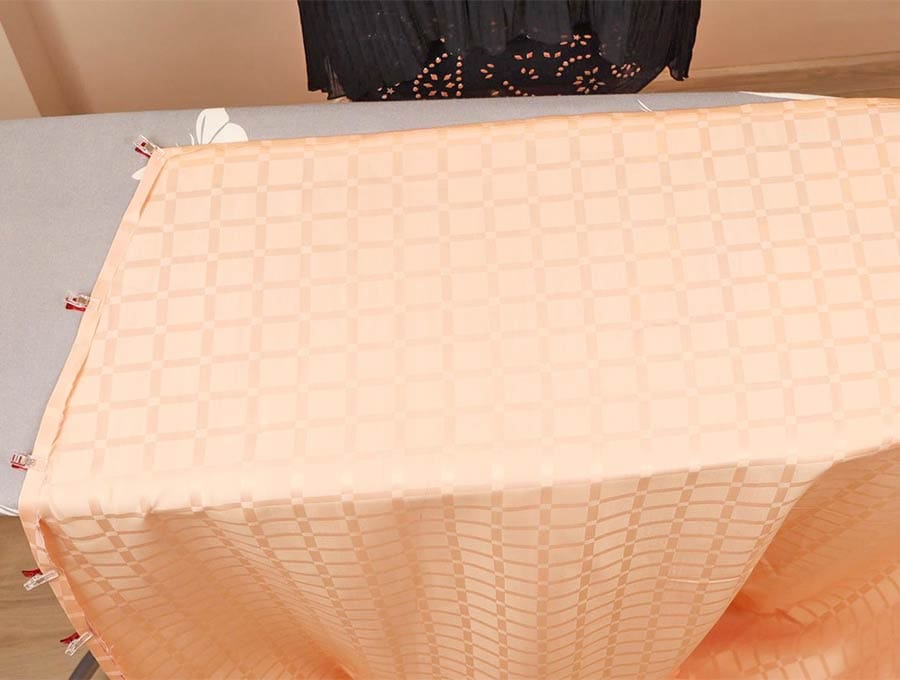 Use a gauge to make sure the hem measures the same all round, and pin. You may want to press the seam in place before sewing.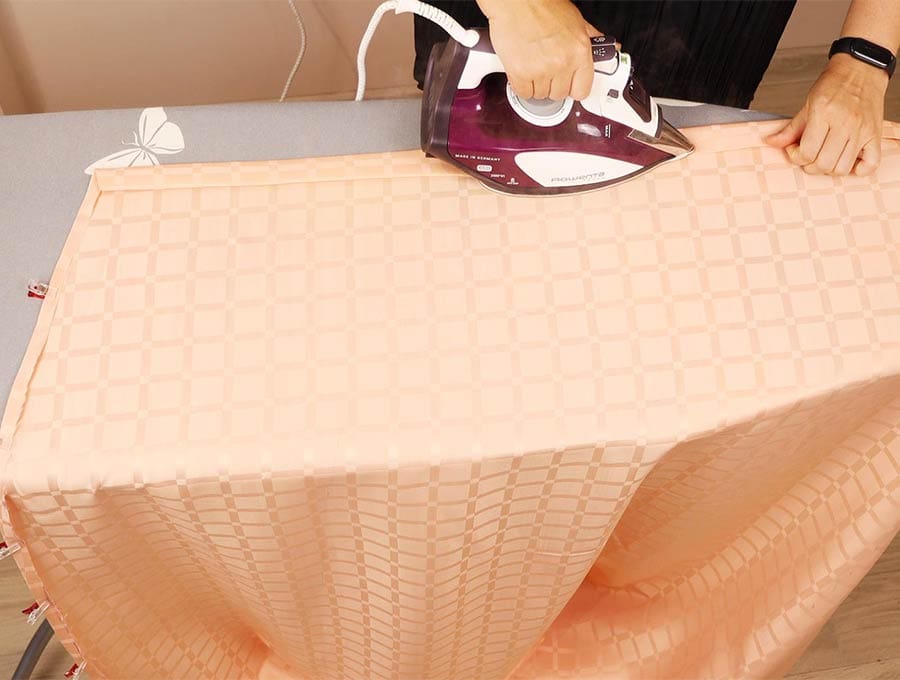 Step 5
Stitch down the two opposite side seams of the tablecloth stitching 1/8 inch from the rolled edge, back tacking at start and finish and trimming off excess threads.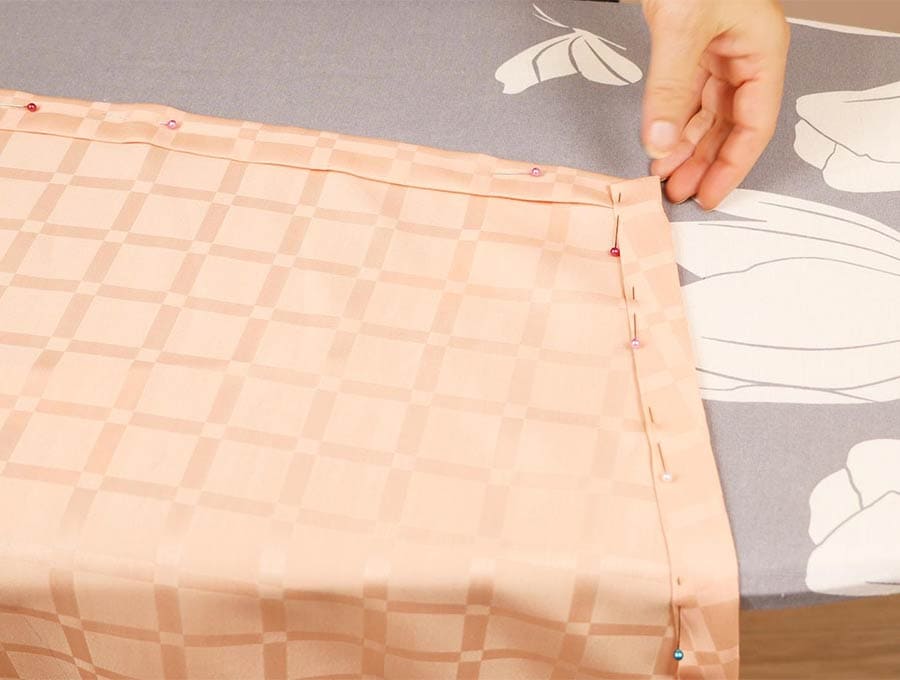 Step 6
To fold over the ends snip off a little on the 4 corners to reduce bulk then fold over once, then again and pin into place. Press the corners making sure they are neat and square.
Step 7
Starting with one corner place the fabric that runs parallel to the long side under the foot of the sewing machine ¼ inch from the end and right near the edge of the fabric. Back tack  to the corner, then stitch forward to edge of the seam. Leaving the needle down, lift the pressure foot and swing the fabric 90 degrees so you are stitching along the shorter end. When you come to the end of that side, at the edge of the fabric, lift the pressure foot, leaving the needle in the machine and swing 90 degrees to finish off the corner with a back tack. If this is not done the seam tends to unravel at the corners after a few washes and spins, resulting in a tatty looking cloth. Some people stitch an X over the corners to keep them in place.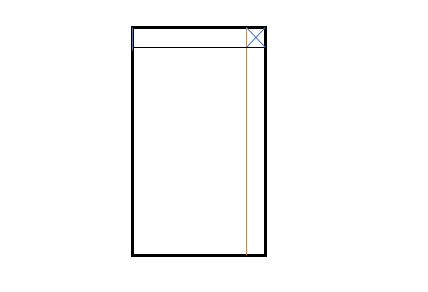 Sewing the hem on an oval or circular tablecloth
Getting the hem to lie flat is a little tricky on a circular cloth – you don't want to end up with extra pleats in the fabric and it puckering. The good part is once you start you just keep going as there are no corners to worry about.
Using a serger (overlocker)
Step 1
If you have a serger with a differential feed then set it to 2 and serge around the edge of the entire circular cloth. It will create a small gather which will naturally pull the edges under. If doing an oval cloth only serge around the ends that are shaped.
Step 2
Do the double rolled hem with your machine as the serger will have naturally pulled up the extra fabric so you won't have pleating forming on the circle.
Using a sewing machine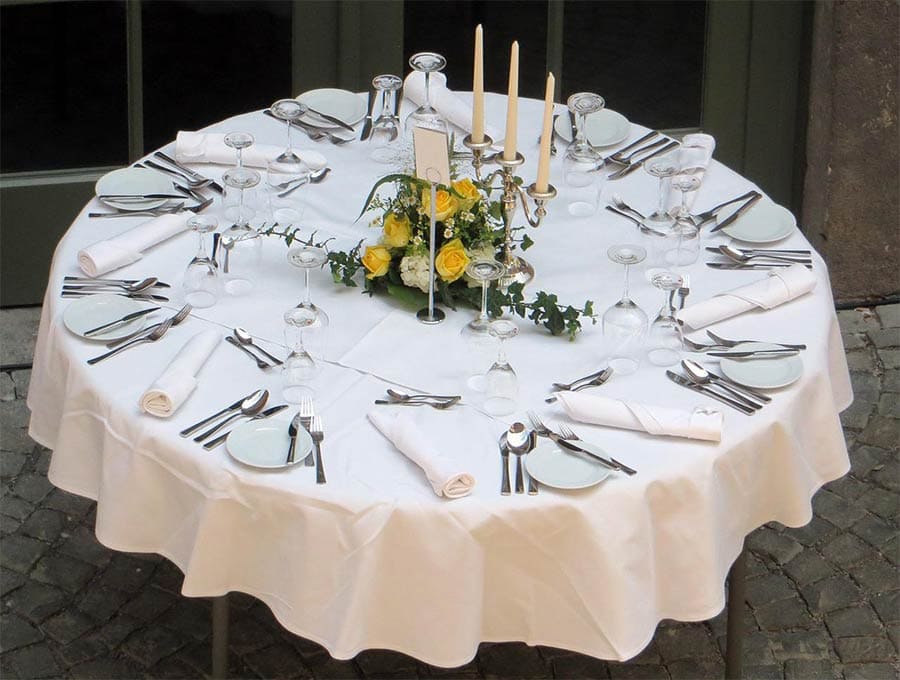 Step 1
Set the machine to a gentle gather if you have this option on your machine. If not simply set the stitch length to 4 and stitch around the circular cloth ¼ inch from the edge. If it's an oval cloth only stitch around the curved section of the oval.
Step 2
Gently pull the threads up to take up the extra fabric and make it tuck under.
Step 3
Stitch the double-rolled ½ inch hem, back tacking at the finish.
Step 4
Press and remove excess threads.
All that is left now is to use your DIY tablecloths – because once you have made one you'll be inspired to make more. They make very good presents too. If you enjoyed making tablecloths to suit any shape and size of table according to our easy instructions, then do subscribe to have more sewing ideas delivered straight to your inbox.
Do you like this? Pin for later:
Wanna be friends? Click HERE and follow me on Pinterest
RELATED:
A beautiful set of placemats to instantly level up any table
It's so easy to sew up table runners – with more than 25 different ones you will never run out of ideas
Quilted placemats for those who need something more elaborate
Best fabric to make placemats and napkins