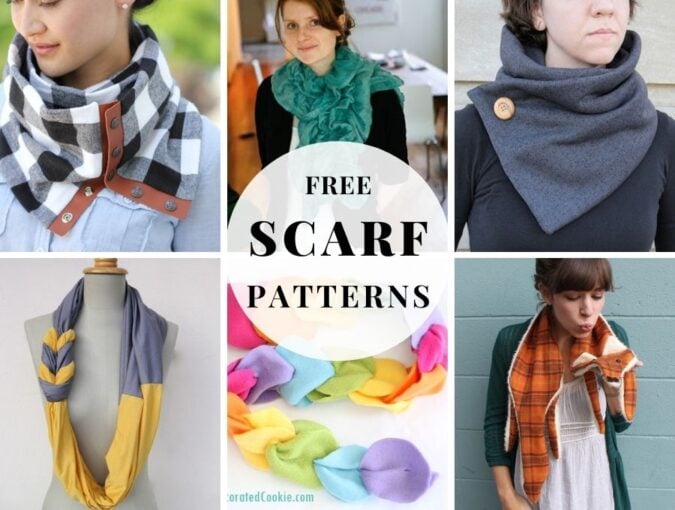 20+ Free Scarf Sewing Patterns for Adults and Kids
Warm and cuddly or soft and chick, choose the one that suits you best. I've assembled a collection of free scarf sewing patterns and tutorials to help you get ready for winter or fall. If you are looking for the perfect scarf color, shape or size or you want ideas how to customize a scarf, you are in the right place. You'll find plenty of scarf patterns that will suit almost every taste, style and skill level. From simple and easy scarf patterns to more elaborate designs offering something unique in terms of finishing or design, to a few ideas for your pets. Some require no pattern at all since all that is required is to measure and cut your fabric!
20+ Scarf Sewing Patterns for Adults and Kids
Cute infinity scarf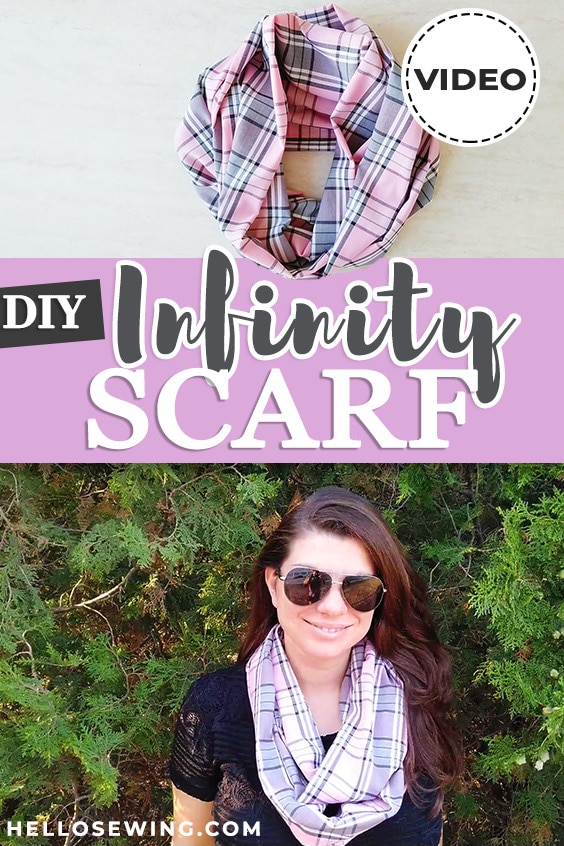 Starting off this list is a scarf that's gained in popularity recently, the infinity scarf. As its name suggests, it's a scarf that doesn't have ends. It's round and you pull it over your head instead of wrapping it around your face like the regular kind. It's a quick and easy project that you should try out if you'd like a new scarf in your wardrobe.
by HelloSewing
Felt Rainbow scarf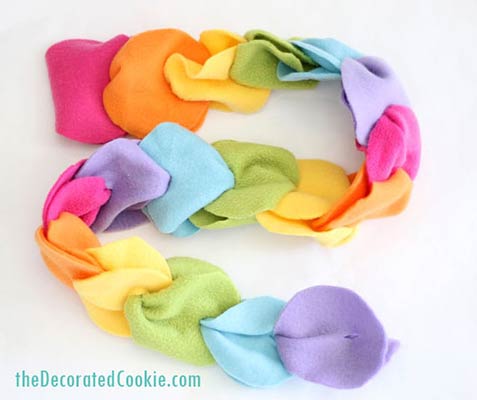 This rainbow scarf will show the world that you have a bright and cheerful personality and that you're a delightful person! It's a scarf made of multiple rainbow-colored pieces of felt joined together. Not only does it look lovely, but it's also nice and soft since it's made from felt.
DIY neck warmer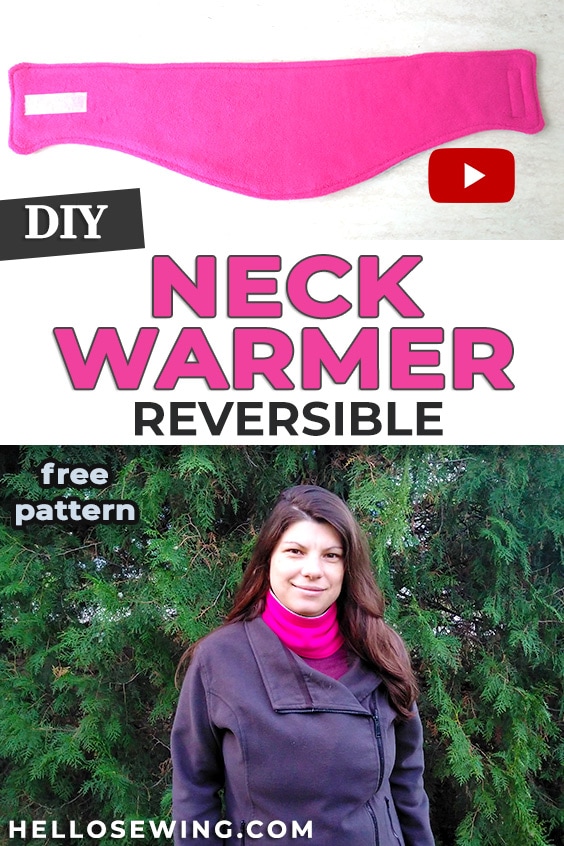 Here's something for all of you who don't like traditional scarfs but still want to keep your necks safe from the winter cold, a neck warmer! This neat accessory made from felt will wrap around your neck snuggly and keep you warm and comfortable even when it's freezing outside. It has a velcro strap that keeps it from opening up, so you don't need to worry about the wind or anything else that could make it undone.
by HelloSewing
Snap scarf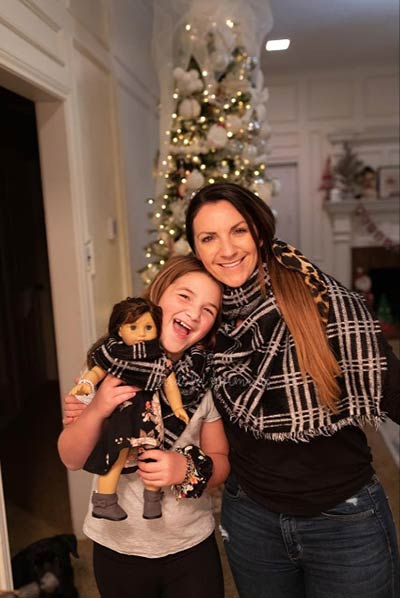 Make scarfs for your entire family, your kid's dolls included, with this snap-on scarf project. It's a snap-on scarf that comes in three sizes, adult, kids, and doll size. Unlike the regular scarfs, this snap-on variant covers you more and as its name implies, doesn't need to be wrapped or tied because it has snaps that you just join together when you put it on.
Hooded scarf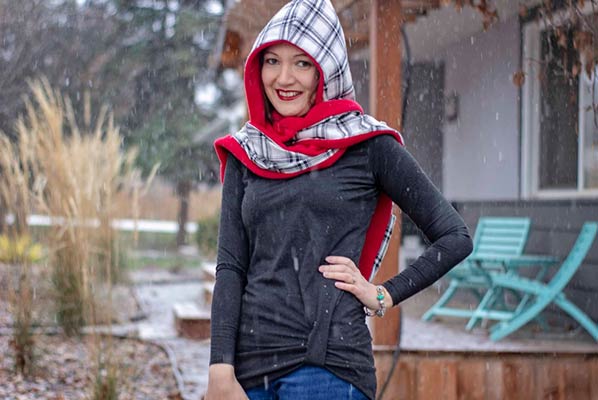 Another creative and practical accessory on our list, the hooded scarf! This scarf won't just keep your face and neck warm, but also your entire head. On top of that, it has nice pockets at its ends so that you can put your hands in them and keep them from freezing. Like the rest on this list, this one comes in both kids and adult sizes.
Leather and flannel scarf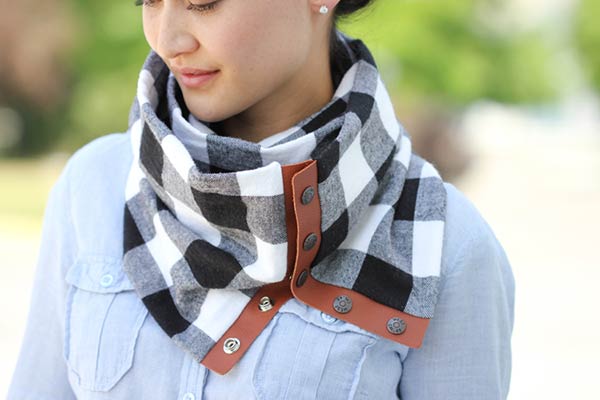 Now it's time for a particularly stylish project, the flannel and leather scarf. This one is a tad less effective in keeping you warm, but it does a good job nonetheless, so it's better for when it's windy outside instead of freezing, It's a snap-on scarf that has a leather section where the snaps come, with a flannel main body.
by Deliacreates
No sew blanket scarf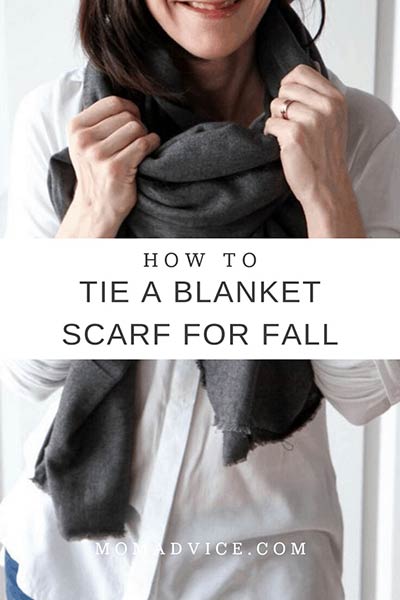 Turn a plain blanket into a lovely scarf with this blanket scarf project. The greatest thing about this one is that it's a no-sew project. This makes it an ideal choice for when you don't have your sewing kit around, like when you're on a skiing vacation in a cozy cabin and you forgot to bring your scarf!
by Momadvice
Scarf face mask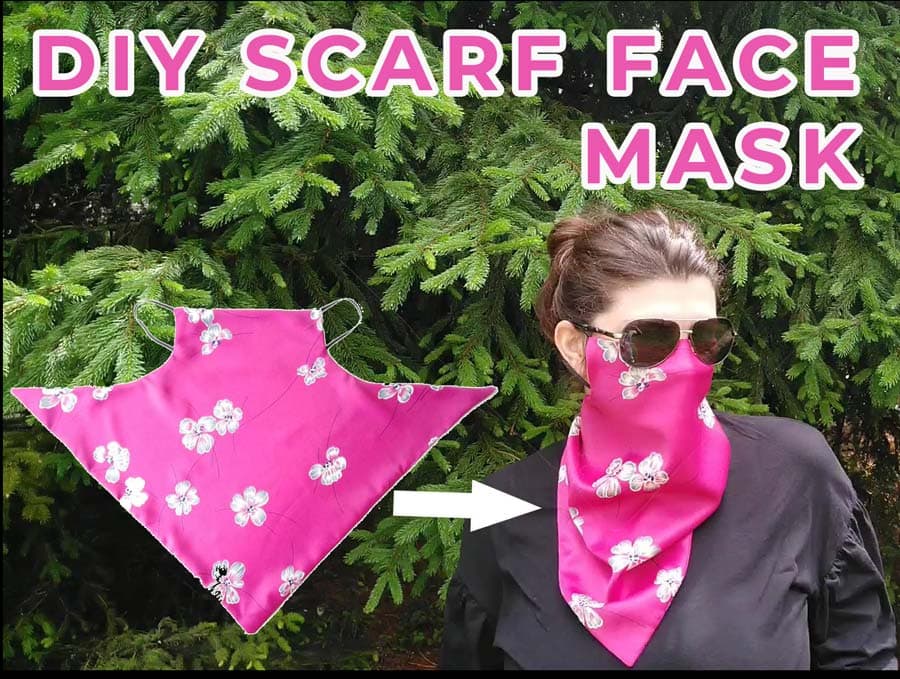 When you need to carry both a face mask and a scarf, things tend to get a bit uncomfortable. To avoid that, you can go ahead and make this scarf face mask combo! It will keep you warm and protect you from the wind, as well as act as a normal fabric face mask so that you don't have to struggle with a bulky mask under the scarf.
by HelloSewing
A gaiter scarf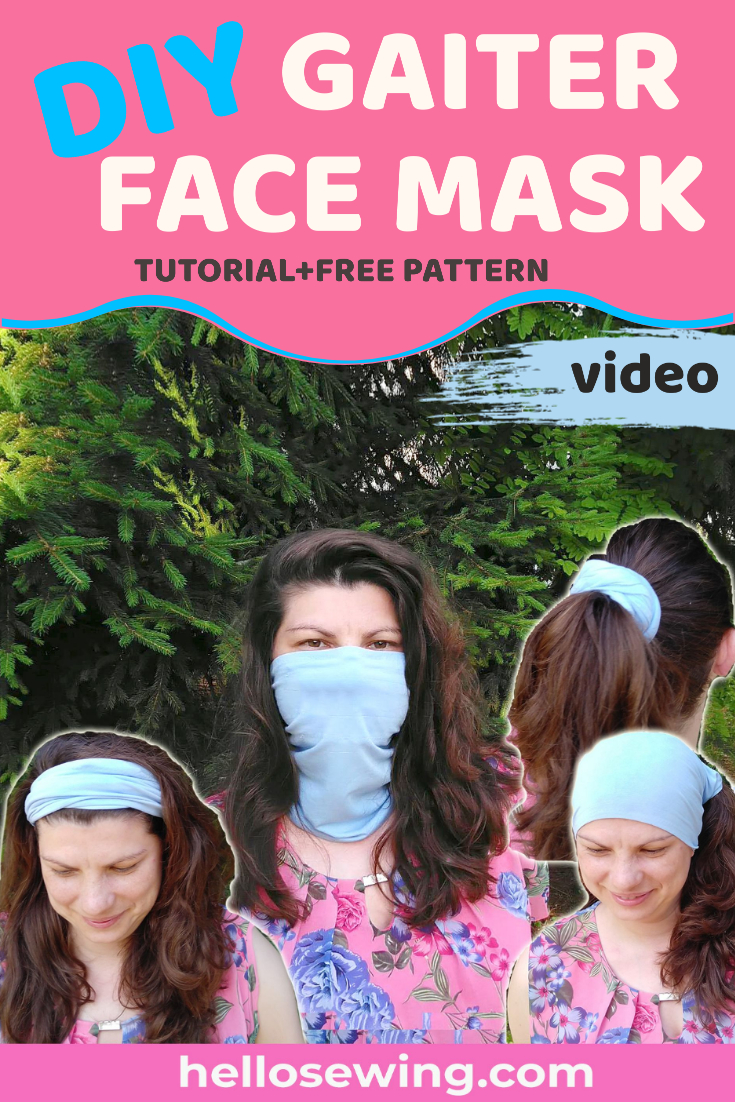 For all of you who love multifunctional accessories, here comes a 14 in 1 gaiter scarf! It's a scarf that you can wear over your face like a gaiter, around your head like a bandana, use it to tie your ponytail,  wear it like a headband or use it in a number of different ways. You get fourteen accessories for the workload of one!
by HelloSewing
Braided scarf out of tshirts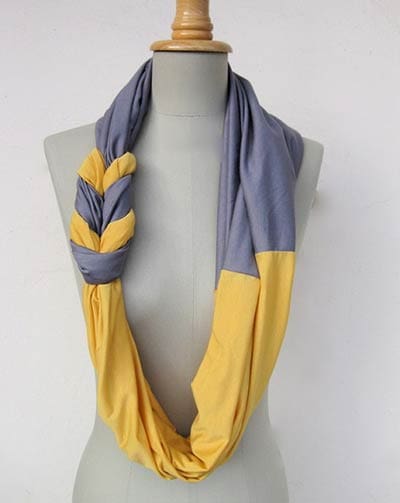 Repurpose some t-shirts you won't use anymore into a beautiful scarf. This pattern will help you sew an infinity scarf out of two t-shirts that has a wonderful braided section on one side. It will look so unique and stylish, no one will be able to guess it's an upcycling project. Use t-shirts in contrasting colors to make the scarf even better.
by Alldaychic
Antropologie inspired scarf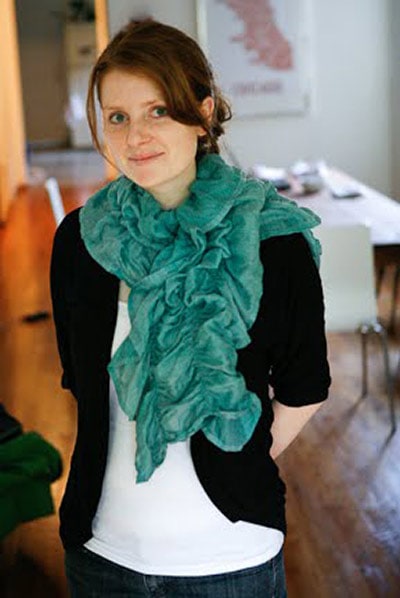 Make yourself a classy and creative scarf for spring or autumn with this antropologie scarf pattern. This one is lightweight and thin, so it's perfect for those transitional periods between seasons. It's a bulky scarf with lots of ruffles that looks beautiful in any color.
Turn a sweatshirt into a cowl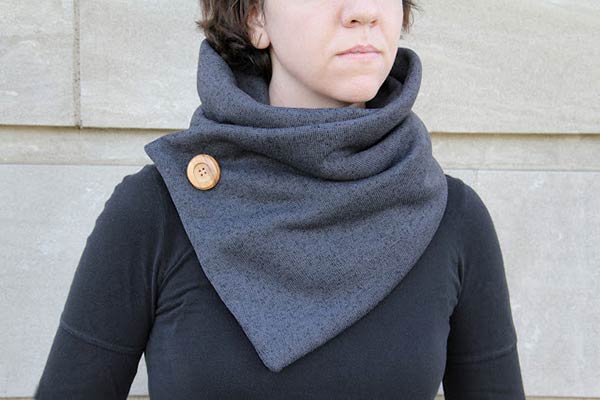 Here comes an elegant cowl that you can make without doing any knitting at all! This pattern lets you upcycle an old sweater into a brand new cowl that looks like it cost you a fair amount in some high-end store. It has a large button on one corner as a decorative touch and a few hidden snaps that keep it wrapped snuggly around your neck.
Fringe scarf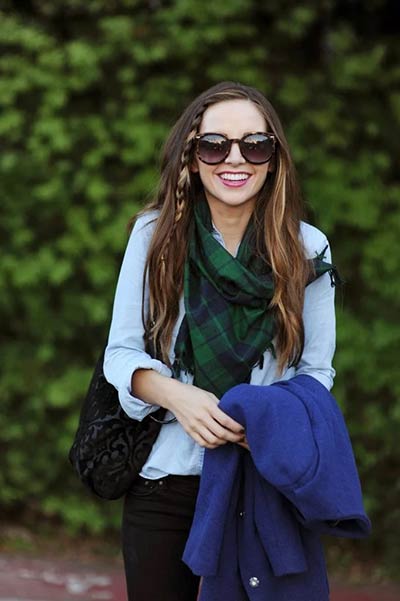 Time for another stylish scarf for you to wear when it's not cold, a fringe scarf! As its name states, its most prominent feature is the fringed edges that give it that youthful charm and look. If you're short on time but want to make a chic new scarf, this is your best choice because it's extremely simple and fast to whip up.
by Merricksart
Reversible keyhole scarf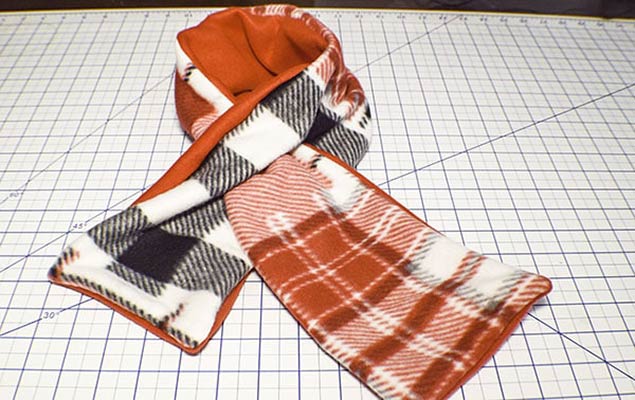 Get prepared for the cold days of the year with this warm keyhole scarf! No need to tie this scarf around your neck because it has an opening through which you pull its end and voila, it's secured all nicely and comfortably. Another important thing about it is that it's reversible. You'll get two scarves at once when you make it!
Shirred scarf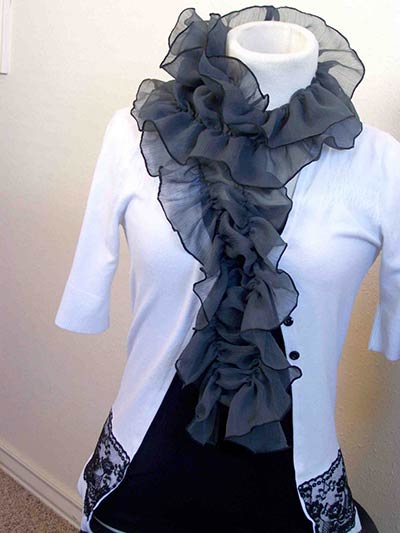 Here's a slightly different scarf from the ones we had so far, a shirred scarf! It's another one for those warmer days of the year, thin and fluffy at the same time. Its interesting appearance resembles those long jellyfish, thanks to its shape and the ruffles on it. It goes great with elegant outfit combinations!
Kitchen towel scarf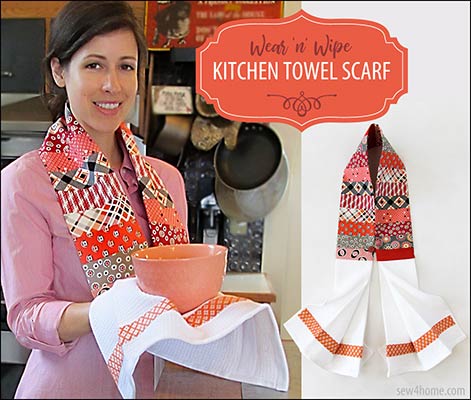 A scarf that's not for the outside? That's right, it's a kitchen scarf! A brilliant design that will make your work in the kitchen a bit easier. It has kitchen towel ends for you to wipe your hands onto, and a cotton middle section so that you can hang it around your neck. Now you'll always have a towel nearby!
by Sew4home
Fox scarf pattern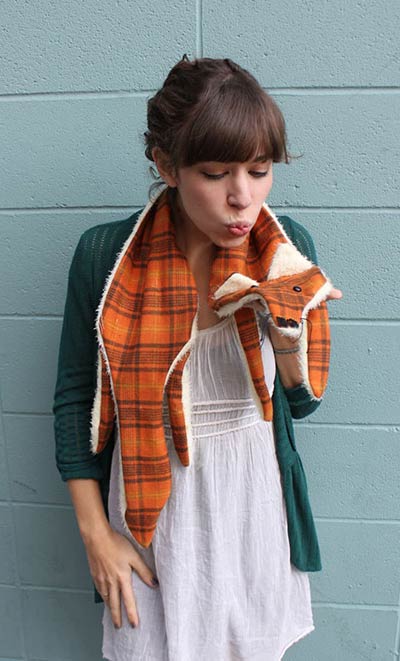 You don't need fox fur to be able to wear a fox scarf when you can sew a fox-shaped scarf! This adorable scarf has everything as a real fox, the cute snout and whiskers, little eyes and ears, even legs and a tail! The pattern is customizable, which makes it possible to change it into a bear or a monkey scarf if you prefer those options.
Cat scarf pattern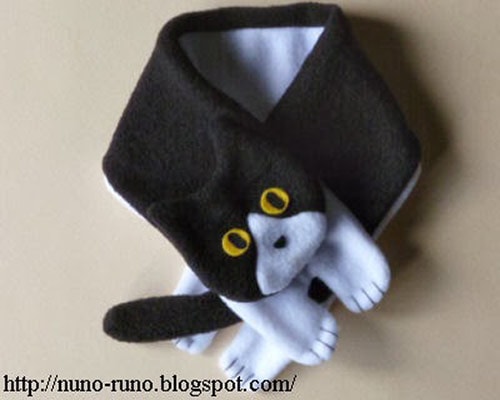 Here's a surprise for the cat lovers reading this, a cat scarf! It's similar to the previous one, with a few slight differences. This scarf wraps around your neck, unlike the fox one that just hangs around it. The cat has legs and a tail, as well as a cute face with whiskers, a nose, ears, and open or closed eyes.
by Nuno-runo
Pet scarf patterns
Easy pet over the collar bandana
Your pets can feel cold during the winter too, so why not make a little scarf for them as well? This triangular scarf will fit your cat or dog and cover their necks and backs well. It looks adorable on them, and it proves that our furry friends can be stylish too!
Bandana with ties
The last scarf on our list is another one for the pets. It's much like the previous version, but it's more like a bandana. It's lined, large, and triangular with long ends that you tie together when you wrap the accessory around your four-legged companion. It makes them look like tiny scouts, how adorable is that?
Now you're officially equipped with enough scarf patterns for the whole year round, both for you and your family members. You even have some for your pets! We'd love to hear which ones are your favorites, so feel free to leave your thoughts in the comments below. And don't forget to check out our other projects, we have a lot more in store for you!