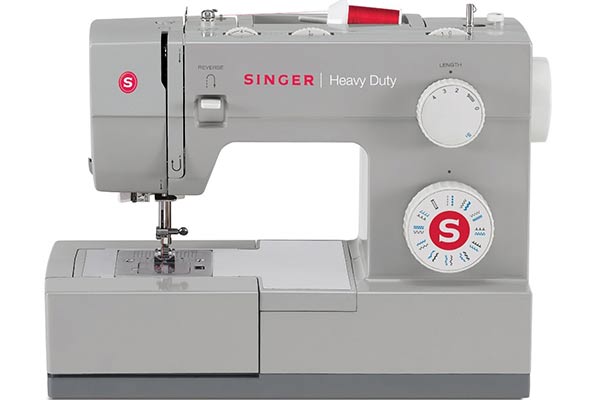 Singer 4423 Review – a Reliable Workhorse
Denim and other hard materials can turn out to be a seamstresses nightmare at times. You either don't have the appropriate sewing machine or you don't believe that the one you have is capable of doing the work without messing it up.
If only there was a simple, yet capable, affordable, yet trustworthy machine out there for you… Oh no, wait, there is! Singer 4423 is all of those things and maybe even a few things more on top of that.
Singer 4423 heavy duty sewing machine can sew almost any kind of material with ease. But despite that, it's quite easy to use which means it provides a great number of options for both experienced users and beginners as well.
We occasionally link to goods offered by vendors to help the reader find relevant products. Some of the links may be affiliate in nature meaning we earn a small commission if an item is purchased. Read my full disclosure here
Features of the Singer 4423 Sewing Machine
As mentioned before, the 4423 is a multi purpose machine and it doesn't have any troubles working with basically any fabric. However, if you intend to do a certain specific type of work with it, such as quilting, you will need to buy some additional tools like an optional foot presser used for quilting. If you wish to work with denim, you'll need to purchase additional Singer 2026 Needle, size 16 or 18 depending on the weight of the fabric. Having said all that, let's take a look at what this Singer sewing machine offers exactly.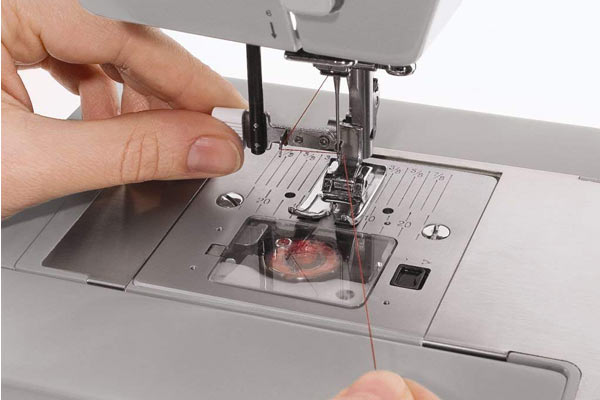 Less is more and this machine proves that rule! It's nothing like those fancy models that have a million and a half stitches for you to choose. "Oh yeah I think I'll go with the number seven hundred thousand and thenty two today." With only 23 stitches you can easily commence, conduct and finish up the work you have in mind when it comes to sewing. Sew for yourself or for your customers, it doesn't matter because you have everything you need here, not a thing less and not a thing more.
Feel free to adjust the width or length of a stitch as you please, this baby lets you do things however you'd like to.
Where do you think you're going, lightweight fabrics? You won't get away from me anymore, not with this presser foot which can hold you down exactly as needed!
The bedplate must feel like a waterslide to a piece of fabric because it sure slides swiftly over it.
Top Drop In Bobbin is way too cool because it's so easy to thread and the position is great too, you can see it clearly at all times which means you won't get caught mid-work without a thread anymore.
Redefine the meaning of easy sewing even of heavy fabrics with an automated buttonhole and a drop feed. Will you do any kind of work or does the machine work by itself?
Avoid that pesky eye strain with the help of a clearly marked and easy to use automated mechanism for needle threading. Yeah that's right, the threading is automated as well. Seriously, is this a machine or a robot that works for you?
If you feel the need for speed, forget about street racing in fast cars. This bad boy will show you what fast is and you won't have to worry about the police being all over you. Blast away with 1100 stitches per minute and leave a dust cloud behind you. The motor is a beast as well so it has no trouble piercing hard materials.
If your kid decides he's Spiderman again and starts jumping around the house and "accidentally" roundhouse kicks your machine, worry not! The metal frame will teach him a lesson not to do that again and protect your sewing machine as well!
Free arm, reverse stitching, variable needle positions and more features that make your work that much simpler. Because having a machine that basically does all the work isn't simple enough according to Singer.
Great support with Singer Assistant App. Just don't hook it up with the machine or it may wander off somewhere and pursue its dreams.
25 year warranty for some parts, 90 days warranty for the entire machine.
The manufacturer is pretty generous with this sewing machine and gives you quite some additional accessories in the original packaging. The mentioned accessories are an all purpose foot, zipper foot, buttonhole foot, button sewing foot, seam ripper/lint brush, quilting guide, various needles, multiple bobbins, a screwdriver, auxiliary spool pin, spool pin felt, all of which are conveniently located and stored in the accessory tray. A soft dust cover is also included in the packaging. No more dust wiping when you come back home from a vacation! Well not from your sewing machine at least. If there only was a house interior and exterior dust cover…
Great For Everyone
Whether you have a daughter, sister, granddaughter, mother, or even a brother or a son who'd like to start sewing, this machine is the perfect choice for them. On top of that, it doesn't matter if you have a lot of experience with sewing or if you're a complete amateur, you'll surely be happy with this sewing machine.
The part about it finding its place amongst the male audience is no joke either! Despite it being a sewing machine, something that is usually mostly used by the ladies, the Singer 4423 gives off both manly vibes due to its power and robustness but at the same time it gives of a sensation of elegance and class thanks to its precision and finesse while sewing.
This 4423 sewing machine is also very forgiving and due to that quality it could prove itself as a great choice for beginners, as mentioned before. When choosing a starter machine for a beginner, whether it's for you or for someone you love, you should keep these few things in mind. Beginners don't really know the fact that not all sewing machines can sew every type of fabric. Naturally, they also don't know that you need specific foot pressers and needles for specific type of work. Because of this, beginners may end up ruining the material or causing their machine to malfunction simply do to them attempting to perform a type of work their sewing machine just can't do. But with this Singer heavy duty sewing machine 4432 you don't need to worry about that! You can give it to a complete amateur and he or she will get accustomed to it very quickly, without ruining any machine parts or fabrics at all. It really is great for everyone!
Simplicity Is The Key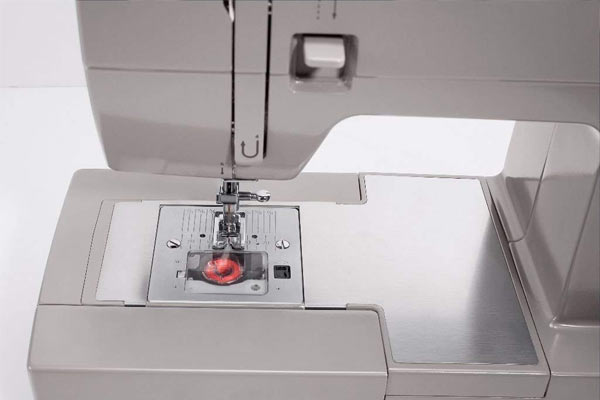 We've already mentioned how the Singer 4423 is great for both the beginners and experienced sewing machine users but let's take a moment and point out just how easily you can buy, set up, learn to use and use this durable sewing machine.
For starters, 4423 model is very affordable. This is particularly important for everyone outside of the United States because it means less money for the import tax and customs tax.
This sewing machine also comes fully assembled inside the packaging. You won't need to waste time putting it all together. If you're a beginner, you won't need to waste money on paying someone to assemble it for you.
And the most important thing when talking about Singer 4423 sewing machine's simplicity is this great little thing called Singer Sewing Assistant App. The manufacturer provides this app for both Android and IOS phones. With it you can watch walkthroughs, instructional videos, find out how to set up your sewing machine and much more. So you don't need to worry even if you never had any previous contact with sewing machines and their usage. The app will help you ease into it and get accustomed with them in no time!
Minor Downsides
Sadly, there's no such thing as perfection and the 4423 machine is no exception to that rule. The number of stitches isn't very high when compared to other models. Despite the plentiful accessories which come with it, you do need to purchase additional parts like needles or foot pressers for certain projects. Some customers also complained about the bobbin thread causing troubles sometimes as well as overall tension being too loose. Some of them also complained about the needle dial malfunctioning and the stitch selector not working.
So the machine does cause some troubles occasionally but it still proved itself as an ideal choice for a lot of people. Having said that, you could probably avoid any potential problems by properly using this machine and conducting some occasional maintenance.
Takeaway
Sure you could find a way better or a way cheaper heavy duty model with a wide range of sewing capabilities that is capable of working with both light and heavy fabrics. But this ratio of price and quality is certainly among the best out there. The Singer 4423 offers a lot, and for a fairly small price. On top of that, this durable sewing machine is an ideal choice for beginners which makes it a great present for someone who loves sewing. But it's also good for experienced folk due to its capabilities and power, as well as speed.
Fair amount of complimentary accessories and an amazing support are just the icing on the cake. I know I'd buy this beauty without a second thought.

Useful resources:
<ul> <li><a href="http://www.singerco.com/uploads/download/a719909a6ca001462cb1c2536a04506fa9ff327c.pdf" target="_blank">User manual</a> – Singer 4423 Heavy Duty Instruction manual (PDF)</li></ul>