3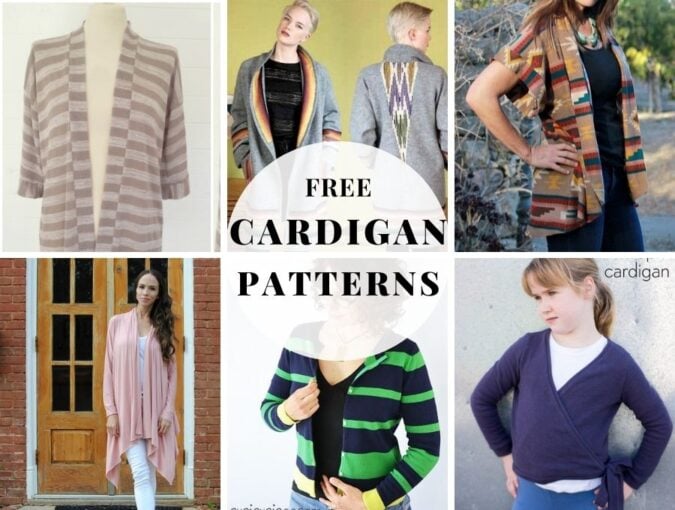 15+ Cardigan Sewing Patterns and Free Tutorials
Cardigans are cute, cozy and go well with everything! Keep one in your car, one in your wardrobe and possibly one by the door to grab on your way out. They're so nice to have on hand for any weather. You can basically wear them all year round!
Check out this list of fabulous cardigan sewing patterns that I prepared for you. You will find tons of free cardigan patterns to sew, as well as a few paid ones. You will find cardigans for all sewing abilities and cozy, stylish designs for men, women, and kids. As always, to get a tutorial or pattern, click the link under the image to get to the designer's site.
Free Women's cardigan sewing patterns
DIY cardigan without a pattern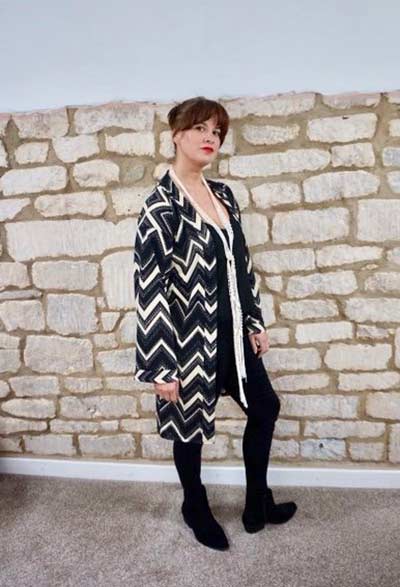 Hitting off this list is a beautiful long cardigan that you can wear almost the whole year-round. You sew it out of rectangular fabric pieces, so it's one of the easiest projects in this category. The buttonless cardigan reaches over your knees, it has cuffs, a band around the opening edges, and optional pockets.
Sizes 6 to 22
Turn a sweater into a cardigan (Refashion)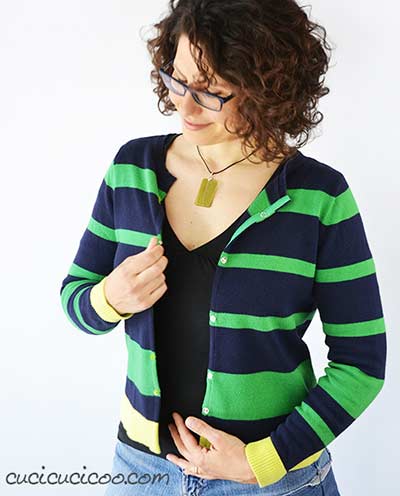 Got a sweater you'd like to upgrade or change up a bit? This pattern will help you turn it into a cardigan quickly and easily. It will take only around ten minutes of your time and when you finish, you'll have a lovely cardigan with buttons or snaps that you can wear open or closed.
by Cucicucicoo
Cardigan coat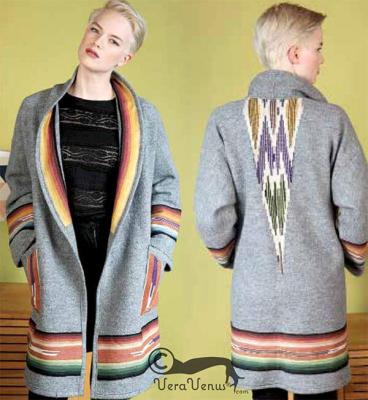 Here comes a cardigan pattern for a colder weather periods, the cardigan coat. This stylish combo is medium length, reaching above your knees, has wide pockets, and a large shawl collar that you can raise up to cover your neck if you feel chilly. Experiment with different fabrics to get creative results.
by Veravenus (web archive page, as the site is no longer live)
Cocoon cardigan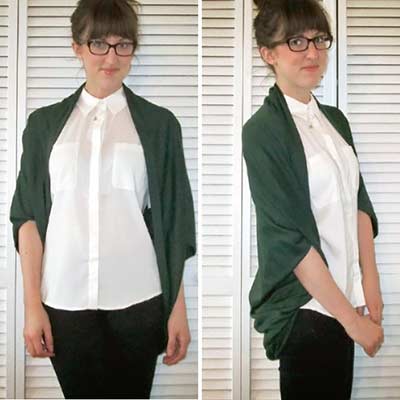 Coming up next is the cocoon cardigan pattern. This one flaunts a chic figure in a particularly elegant manner. It's a lot more open than the cardigans we had so far on the list, with characteristic buttonless opening edges that curve to the back as they near the bottom hem. The sleeves are 3/4 length and wide, similar to those of a kimono.
Scarf neck cardigan
an open front layering cardigan in sizes S through 2XL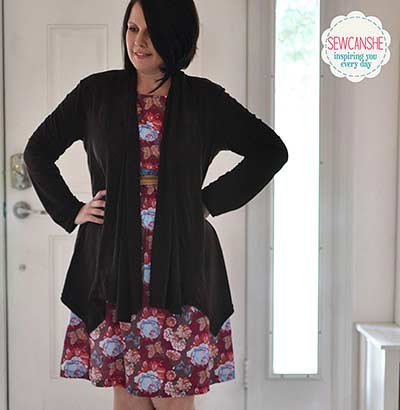 For all you ladies who like wearing scarves with your cardigans, here comes a fusion of the two, the scarf cardigan. The name explains most of the story behind this pattern, it's a cardigan that has a scarf attached all around the opening like a bias tape. The bottom hem is pointy and the sleeves come in full and half-length options.
Shawl collar cardigan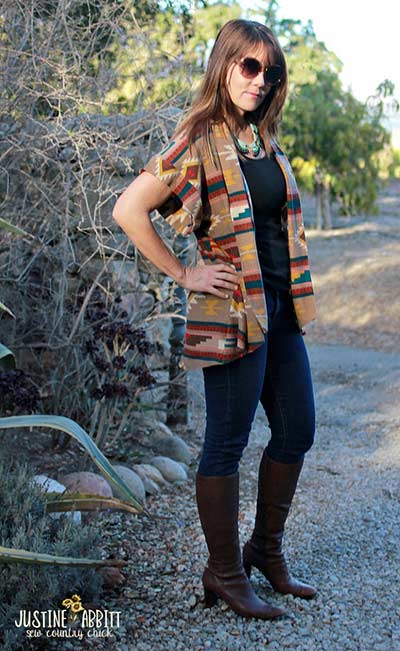 The next pattern is another cardigan with a shawl collar that looks absolutely stylish. It has an opening that slightly curves to the back and a bottom hem that isn't straight but instead has downward-pointing triangles at the hips. The sleeves are wide just like those of a kimono and they come in long, medium, and short lengths.
DIY kimono cardigan sewing pattern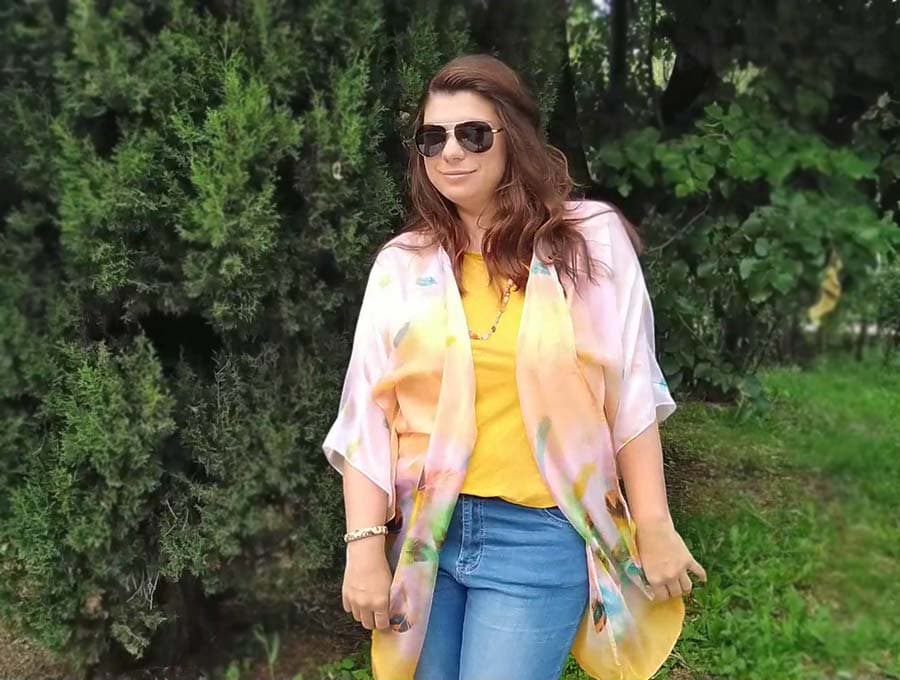 Since we're mentioning kimonos, why not mention a cardigan-style kimono since we're already at it? Here's a kimono pattern that will help you make yourself a breezy summer kimono! The best part is its simplicity, all you need is a scarf and a bit of sewing magic and it'll be ready in no time! The kimono has 3/4 length wide sleeves and a straight bottom hem that reaches to your mid-thighs.
by Hellosewing
Boyfriend cardigan DIY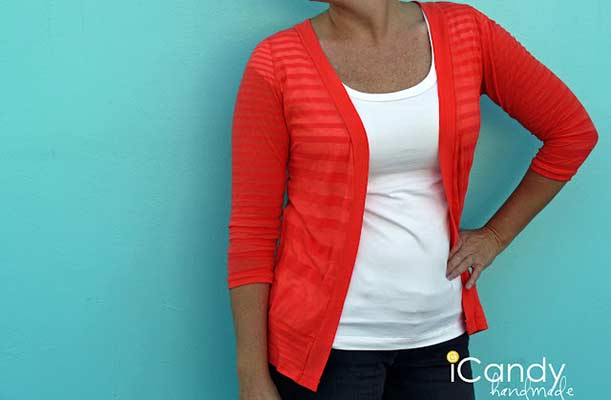 Here comes a lightweight knit cardigan that's ideal for summer or spring, the boyfriend cardigan. The sleeves on this one are snug and 3/4 length, while the front hem has a creased edge all around. The bottom hem is flat, and there are no buttons on the cardigan.
Knit kimono cardi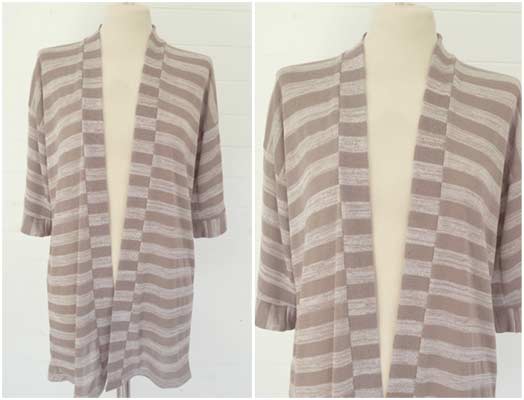 You probably thought we were done with kimonos but here comes a surprise! It's another kimono cardigan! This one is made of knit fabric and is long enough to reach your mid-thighs. The sleeves are different from the previous kimono cardigan we mentioned, as they aren't wide, but they have fairly wide cuffs. It also has a wide bias going all around the opening.
by Makery
DIY cardigan wrap pattern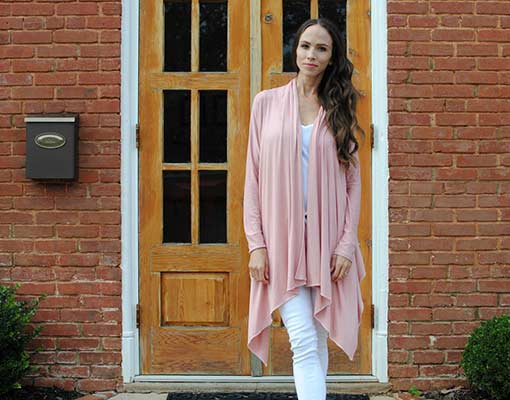 Who doesn't love wrap-style cardigans? This one is an elegant and beautiful long sleeve wrap cardigan that you can wear most of the year. When you wear it open, it has pretty ruffles all over and downward pointing triangles below the hips. And when you wrap it around behind the neck, the bottom hemline is straight and the wrapped bit looks a lot like a stylish scarf.
by Brother-usa
Slouchy cardi pattern
The last pattern in this section of the list is a casual winter slouchy cardigan. It has long sleeves with wide snug cuffs, diagonal pockets, and a backward curving opening with a folded edge going all around. It's long enough to cover your hips and the opening doesn't have any buttons.
Kids cardigan sewing patterns
Ballet wrap cardigan for kids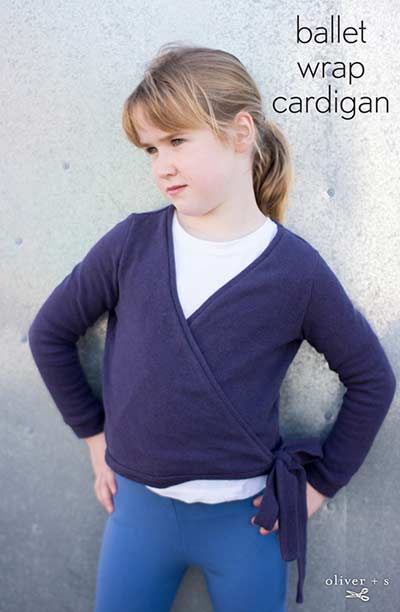 Make your little princess a cute new wrap cardigan with this ballet cardigan pattern. It's a long-sleeved cardigan that you can wrap around like a kimono and tie up with ribbons at the side. The bottom hem is made so that it's flat when the cardigan is wrapped.
by OliverandS
Men's sweater to boy's cardigan (Refashion)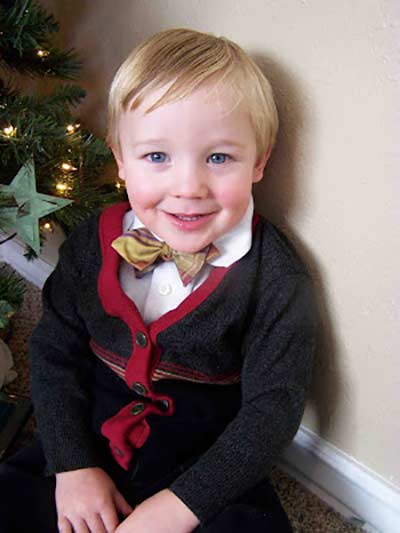 Now that your daughter has a cardigan, here's one for her brother too. This pattern is an upcycling kind because it helps you repurpose an old sweater and turn it into a new cardigan. The end product has long sleeves and an opening with buttons that forms a nice V-neck when you close it up,
Men's cardigan patterns
Classic cardigans for men need to be fitted. A lot of time and effort goes into making these patterns and although I wanted to include a few free cardigan patterns for men, I was not able to find any. So I'll include the best paid men's cardigan patterns that I found.
Men's classic cardigan sewing pattern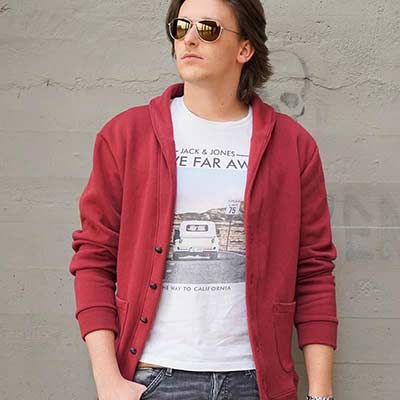 sizes: 2XS to 4 XL
It just wouldn't be fair to skip your husband after everyone got their cardigan. Here's a pattern for a classic men's cardigan that he'll love. The cardigan in question is a stylish one that looks a lot like a suit jacket. It has long sleeves, a shawl collar, pockets, and buttons at the opening. It goes great with any kind of shirt underneath.
by Wardrobebyme
Men's Straight fit cardigan pattern to sew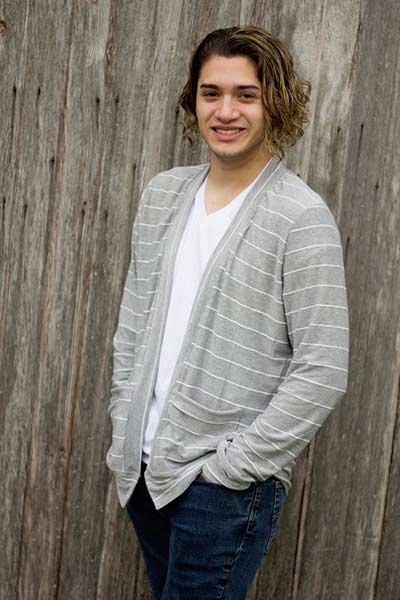 sizes: XS to 5XL
The second pattern for all the guys out there and the last one on our list is a straight fit cardigan. It's long-sleeved, straight, buttonless, and its length reaches just over the belt. You can choose to make it with or without the pockets. This is proper casual menswear that's comfortable and stylish.
by Ellieandmac
With all these cardigan patterns at your disposal, you'll be set for the entire year as far as this kind of clothing goes. Let us know which ones you decided to make and how they turned out! Use the comment section below, we love hearing your feedback. And don't forget to subscribe to our mailing list so that we can let you know when we post new stuff you'd like!
RELATED:
Slipper patterns = Make a pair of cozy slippers to keep your feet warm!
Sherpa fleece blanket to cuddle up with a cup of hot coffee or tea
Fleece mittens with faux fur cuffs and lining
Brilliant sweater upcycles – from lampshades to wine bottle bags, from hats to pet beds and everything in between. Repurpose or upcycle sweaters with these cool ideas