4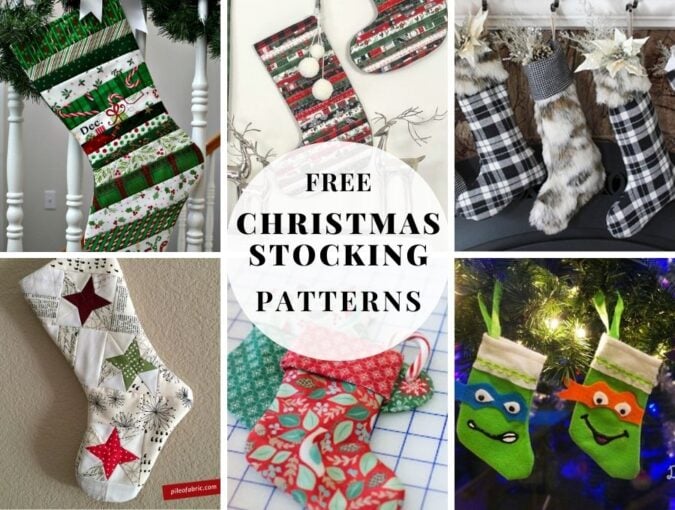 Christmas Stocking Patterns – DIY Personalized Stockings for Your Entire Family!
Spruce up your holiday decorations with these beautiful DIY Christmas stockings. Spread joy and smiles during the season with bunch of handmade Christmas stockings. We all have different skills, taste and home décor, so I scoured the web to bring you the most adorable free Christmas stocking patterns and I'm sure there will be something for everyone. There are stockings you can sew with or without a cuff, quilted stockings, no-sew stockings and even stockings for your pets! Break out your needle and thread – or your sewing machine and sew up these stunning handmade Christmas stockings to surprise the children or your relatives who haven't visited in a while with personalized stockings. Create a timeless stocking design that you can use year after year.
Free Christmas stocking patterns to sew
Fur and flannel stockings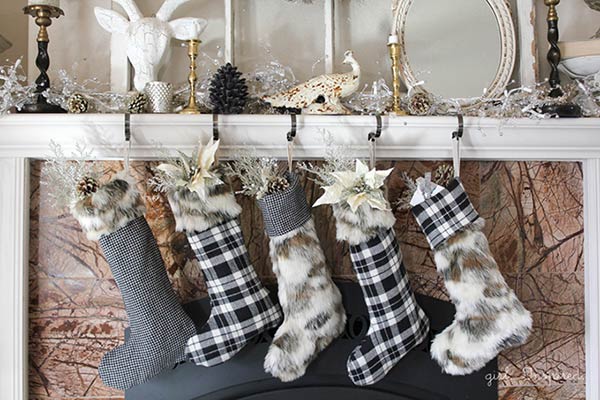 Get ready for Santa's presents with this fur and flannel Christmas stocking. The combination of those two materials gives this stocking a creative and unique look that'll make Santa give you more presents than he planned. Choose between two variants, fur body and flannel cuffs, or flannel body and fur cuffs.
by GirlInspired
Christmas stockings with felt appliques and fun embellishments
Let your imagination run wild as you embellish this Christmas stocking with everything you got! This stocking is basic as far as its shape goes, but a lot more thanks to the embellishments on it. Feel free to use yarn, cotton balls, glitter, all kinds of cutouts, and anything else you can think of to decorate it!
Easy Christmas stockings with cuff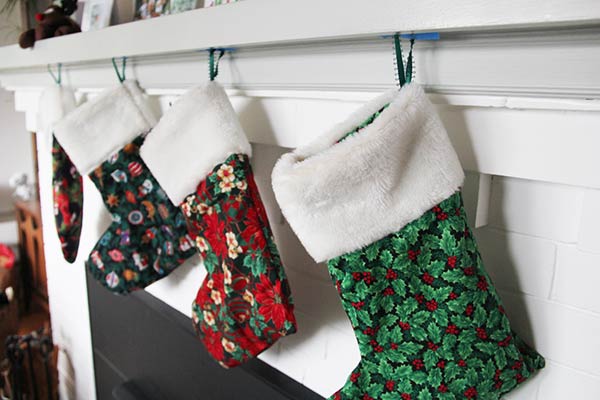 You can never go wrong with traditional-style Christmas stockings like these. The red floral pattern fabric or green mistletoe pattern fabric for the body and faux fur for the cuffs are the main characteristics of these stockings. Don't think you can't use different fabrics though, try out whatever you desire!
Free felt Christmas stocking patterns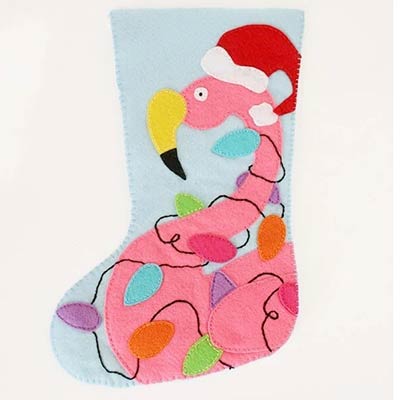 If you're lucky enough to spend Christmas in a warm sunny place or you just want to feel as if you're there, this stocking is for you. The flannel stocking has an adorable flamingo with a Santa hat that will bring the Bahamas straight to your living room
Felt stockings that the kids can sew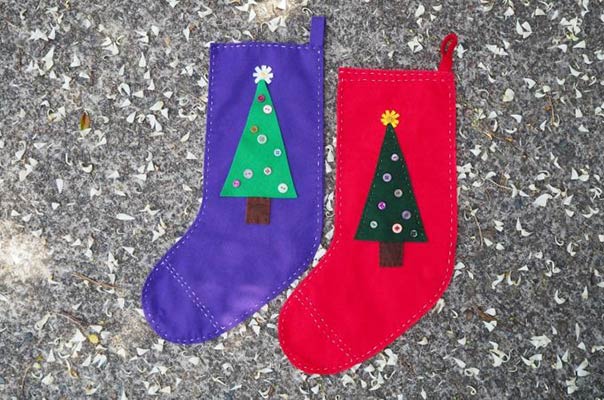 Christmas is all about spending time together with your loved ones, and so is this project! It's a Christmas stocking that you can sew together with your kid. It's a simple project that is easy and quick to finish so it's suitable for complete beginners such as children. After you sew it, you can have fun decorating it in any way you like!
by Sewasoftie
Felt Elf Christmas stockings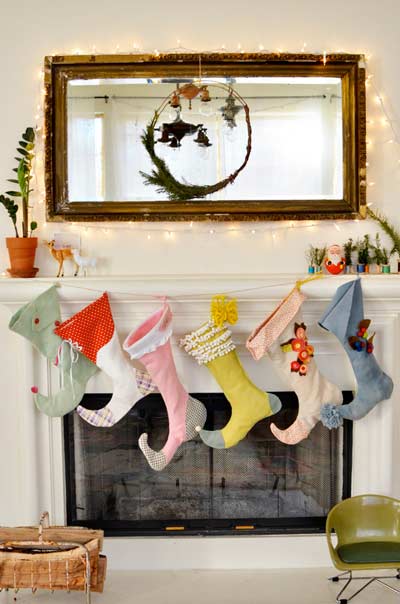 For all those who want that extra magical Christmas stocking, here comes an elf stocking! The characteristic pointy heel and fingers with a wide hem give this stocking a special charm that's hard to resist. Thanks to the downloadable pattern, sewing this elf footwear becomes a breeze.
by Mycakies
Simple stockings with Printable stocking pattern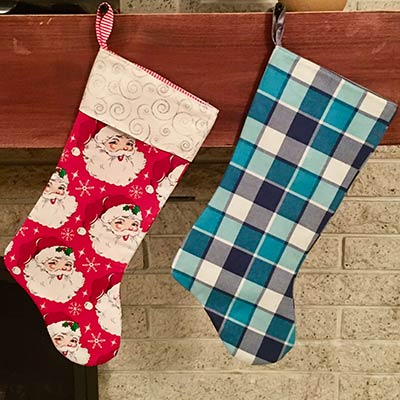 Another basic but beautiful stocking for you to whip up in a jiffy is this printable Christmas stocking. It comes in two sizes and two variants, one with a cuff and one without it. Try out all the options and see which one you like the most!
Felt stockings with Embroidery and pompoms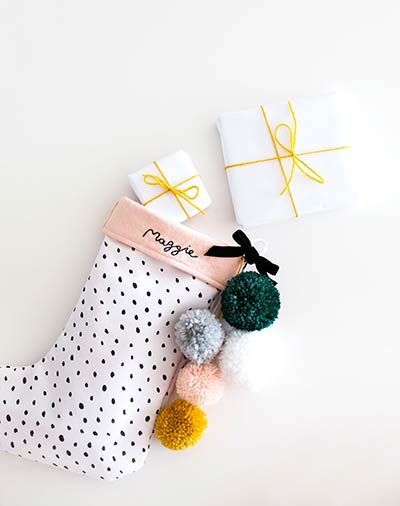 Here's one stocking that's a bit different than the ones before it. Not only is it more classy due to its two-toned appearance and pompoms, but it also has a wonderful cuff with an embroidered name of the person it belongs to! Talk about luxury.
Transform felt stockings into these fun characters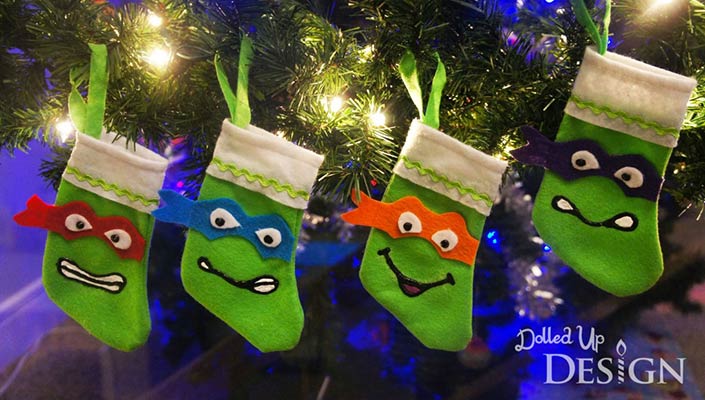 Take the matching Christmas stockings game up a level with these awesome character stocking sets! Have your family members own a Teenage Mutant Ninja Turtle each, or make Disney characters stockings for the entire household. Whichever set you choose, everyone will be happy because they'll all have matching stockings!
White Christmas stockings with faux fur cuff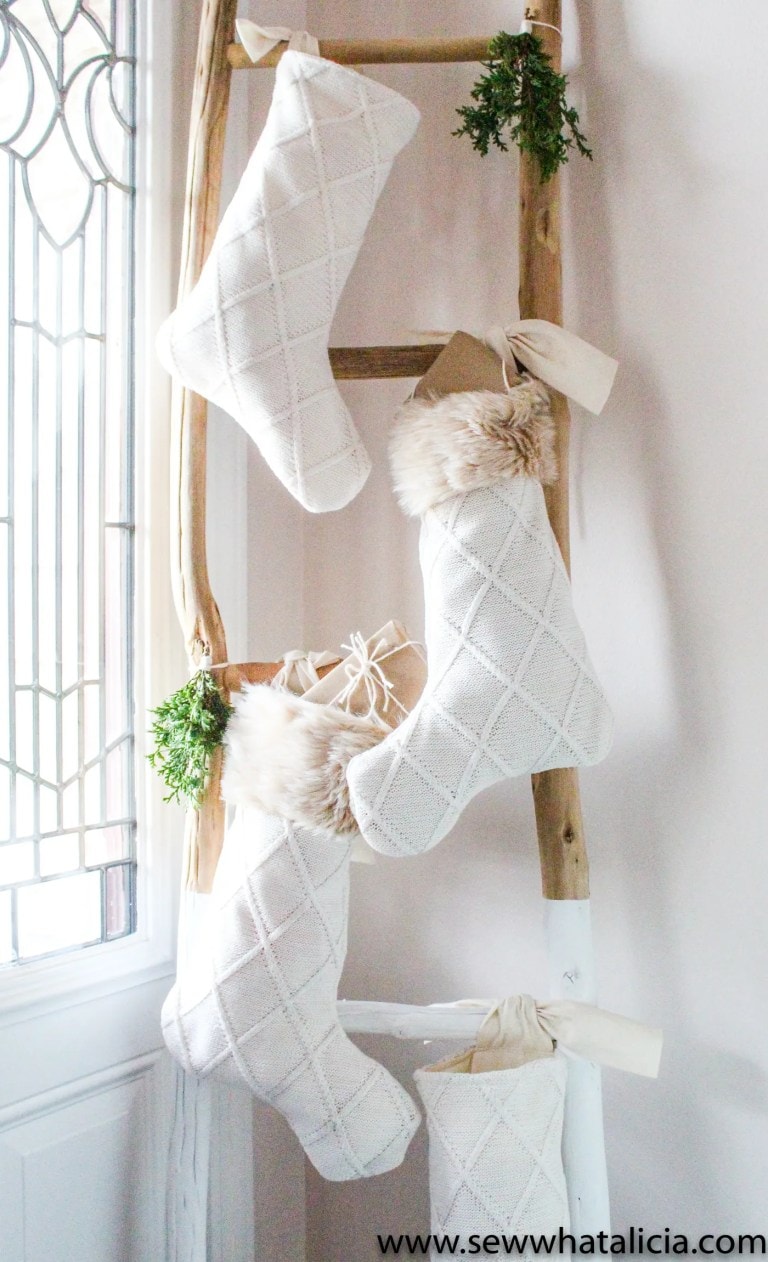 Bring a dash of the snowy feeling right next to your fireplace with a pure white Christmas stocking. This muslin stocking with a faux fur cuff looks so beautiful, you'll wonder if it's faux or real polar bear fur. Unlike most of the stockings on our list, this one has no embellishments or fabric patterns.
Mini Christmas stocking patterns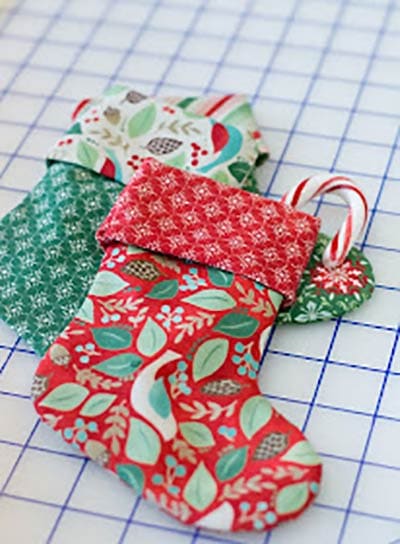 Those of you who aren't all that into sweets should use a mini stocking just because you can. That's not a joke, here's a mini Christmas tree stocking project. They are roughly a third of the size of a normal stocking, but they are the whole package as well, they even have tiny cuffs!
Advent calendar out of mini Christmas stockings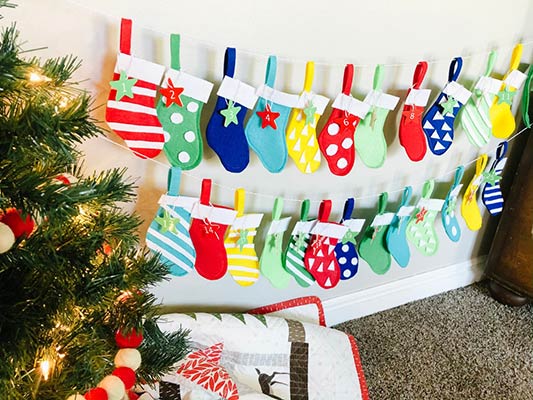 Do you know what's better than one mini Christmas stocking? A bunch of them joined together in a row like a bunting! This one enjoys a great reputation among kids because it's so colorful and interesting being so tiny individually yet large joined together like that. They love taking candy out of each one.
by MySewbliss
Farmhouse Christmas Stocking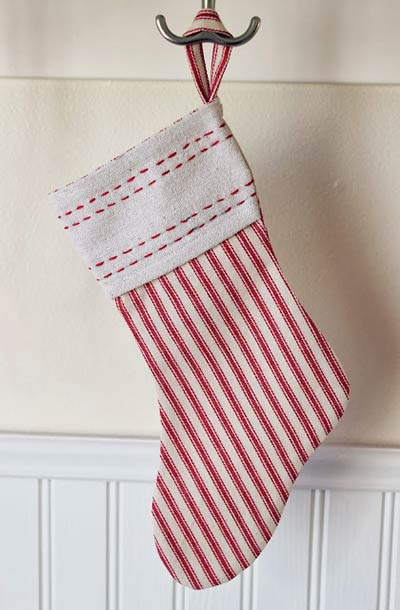 The heartwarming ambient of a farmhouse is combined with the jolly Christmas spirit in this lovely stocking. The base of the stocking is striped vertically, giving it that specific farmhouse-style look. Another notable feature is the cuff that has two pairs of horizontal embroidery stitches as a decorative touch.
Paw prints Christmas stocking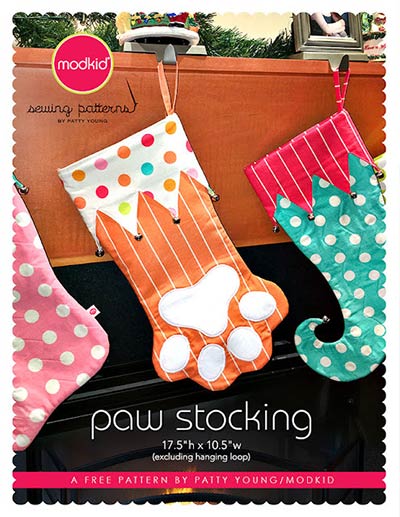 Cat and dog people will love this one because it's a paw-shaped stocking! Instead of going with the usual boot shape, you just sew a form of cute, soft paw! It comes with those little cushions they have that are so fun to touch on our pets. The cuff is also a bit different since it's not straight rectangular but jagged like you see on jester boots.
Stuffed animal Christmas stocking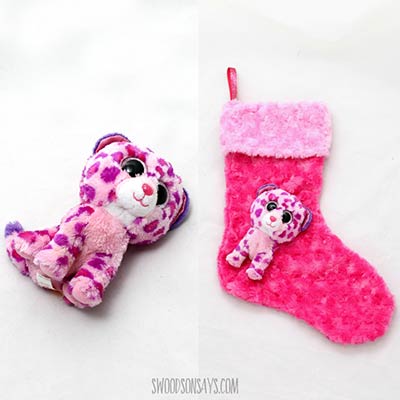 If someone in your house adores stuffed toys, you have to make this Christmas stocking for them. It's a fluffy stocking with a cuff and a little plush toy attached to it right above the heel. Even though it's fairly easy to make, it's bound to be the most adorable stocking on your fireplace and probably your entire neighborhood.
Quilted Christmas Stocking patterns:
Quilted Christmas stocking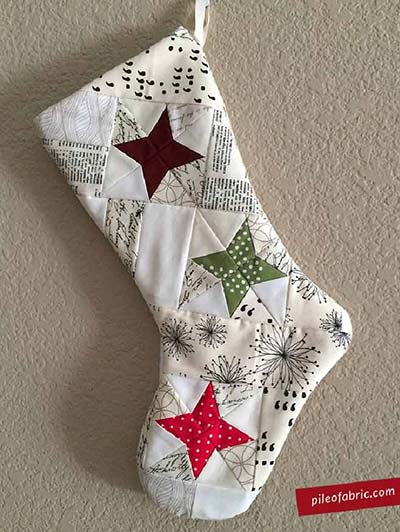 The first one among the quilted Christmas stockings on our list is this celestial stocking! It's a treat for all those space explorers who got a holiday leave from the USS Enterprise. This stocking doesn't have a cuff and it takes a bit of skill to complete but it's well worth it because it looks wonderful with all those star shapes on it.
by Pileofabric
Jelly roll Christmas stocking pattern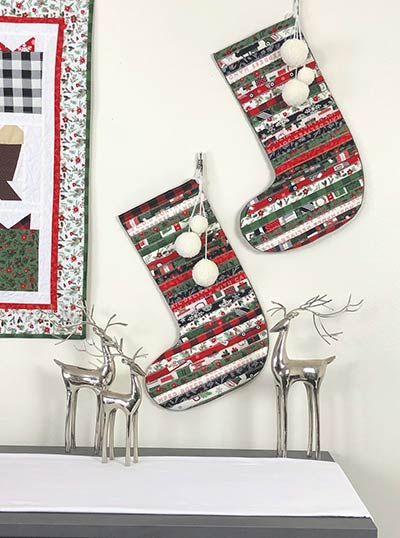 Jelly rolls are so fun to quilt because you can use them to make such beautiful quilts, like this stocking! It's a rounded type of stocking without a cuff. Since you'll be using the jelly roll, you'll finish this one much faster than most of the other quilting projects.
Patchwork Christmas stocking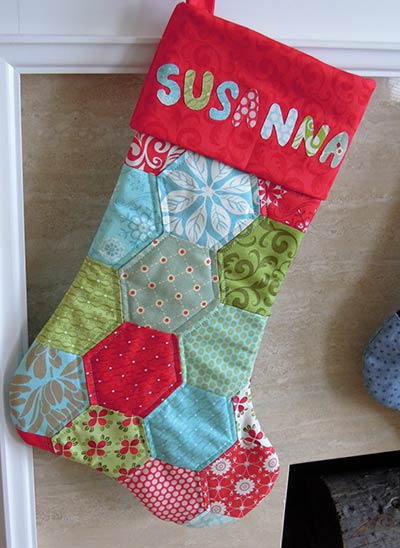 Patchwork quilts look amazing if done properly, as this Christmas stocking proves. Patch up a bunch of hexagons together for the base and then stitch your name in colorful letters onto the cuff so that Santa knows who he's giving those presents to.
Scrappy spiral stocking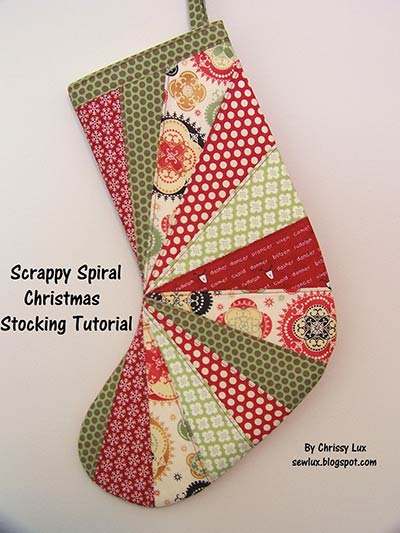 Try not to get dizzy as you make this interesting spiral stocking. Well, you won't actually get dizzy since the spiral is more of a sunshine rays kind of spiral instead of the hypnotic one. This one is round like the jelly roll stocking and it's a great way to creatively use up your scraps.
by Sewlux
Quilt as you go Christmas Stocking tutorial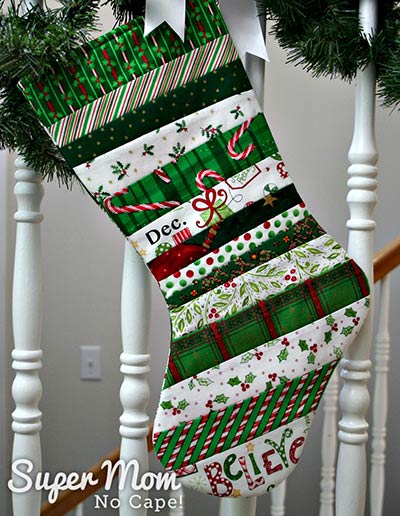 If you know and love to quilt-as-you-go, here's a Christmas stocking you'll probably like a lot. The green, white, and red combination of colors will make you feel as if you're in Santa's village as a guest. This stocking doesn't have a cuff.
Hand Quilted stocking in two sizes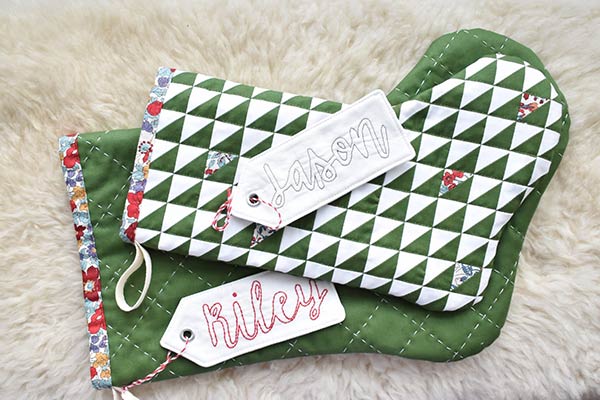 Here's a Christmas stocking tutorial that comes in two sizes. It doesn't have a cuff but it has a narrow strip at the opening that's a bit like a faux cuff. You can whip up a name tag that goes with it so that everyone knows which stocking is whose.
NO sew Christmas Stockings
DIY no sew stenciled stockings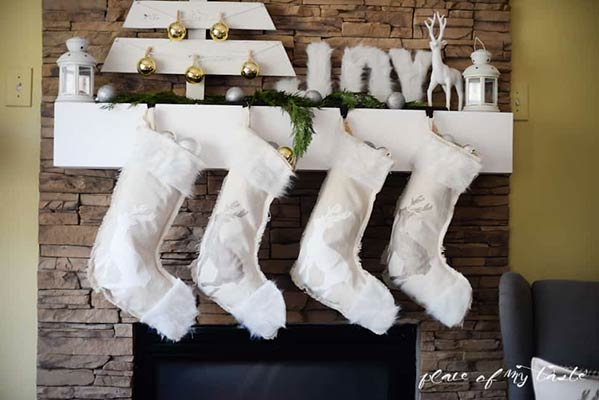 If you don't have your sewing machine or your sewing kit around, all is not lost, you can still make Christmas stockings. This one requires just your creativity, scissors, fabric, and faux fur. The final result is a stocking with a fur cuff and a gorgeous deer on the base that looks as if it was sewn together by a professional.
DIY boho stockings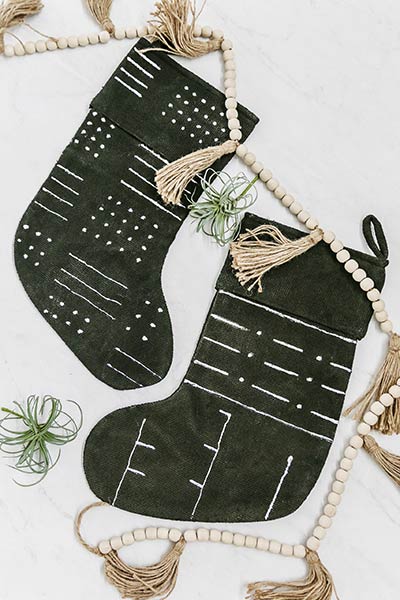 Didn't manage to make the Christmas stockings in time and you need a quick solution? Try out this boho Christmas stocking project! Take a burlap stocking, paint it over and let it dry, then draw some motifs over it with fabric paint. Problem solved!
I hope you found a handmade Christmas stocking pattern that is perfect for you home! No matter whether you decided to make these DIY Christmas stockings the central décor point or a part of the holiday décor that will blend seamlessly with your design, these will surely bring smiles to many faces.
Now that you've found inspiration on this list of ours, you're ready to make Christmas stockings for your household and your friends and family to surprise them. We'd love to know which ones are your favorites so go ahead and let us know in the comments below. If you want to get informed when we publish new content, subscribe to our mailing list. Have a jolly Christmas!
RELATED CHRISTMAS DECOR:
Christmas Stocking Patterns – DIY Personalized Stockings for Your Entire Family (and your pet!)
25+ Christmas tree skirt patterns to suit every taste and style
Christmas tree napkins for a dinner in style
Make a stunning table runner
Christmas stocking wine dispenser – a fun host gift. It will surely pump up any party – fill it with juice or soda for kids, or wine for adults
Is your Elf on the Shelf returning soon? Make it few of these easy adorable outfits