2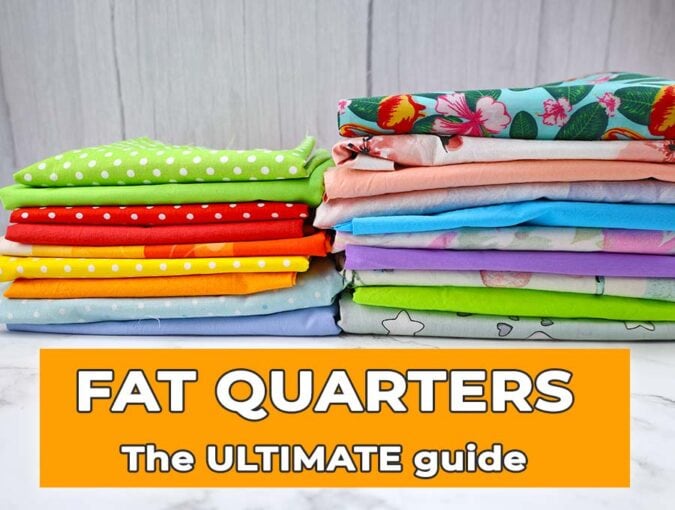 Fat Quarter Sizes – The Ultimate Guide
The term 'fat quarter' does seem a rather strange one, but once you read this article it will all make perfect sense. I'll show you what is a fat quarter, how big is a fat quarter and give you a handy dimensions chart. A fat quarter refers cutting along the length of a piece of fabric that is 36 or 44 inches wide – so if it is on a roll it will be rolled out and ½ a yard (18 inches) will be cut from the roll. Often quilting fabric is not on a roll but folded in half along its width onto a flattish cardboard inner.  Whichever way the fabric comes, folded or on a roll it will still be rolled out and ½ a yard will be cut. Then the ½ yard will be folded in half along the middle of the long piece, placing selvage to selvage, and cut to create two fat quarters which will each measure 18" x 18" (if cut from a 36-inch-wide fabric) or 18"x 22" (if cut from a fabric width of 44 inches).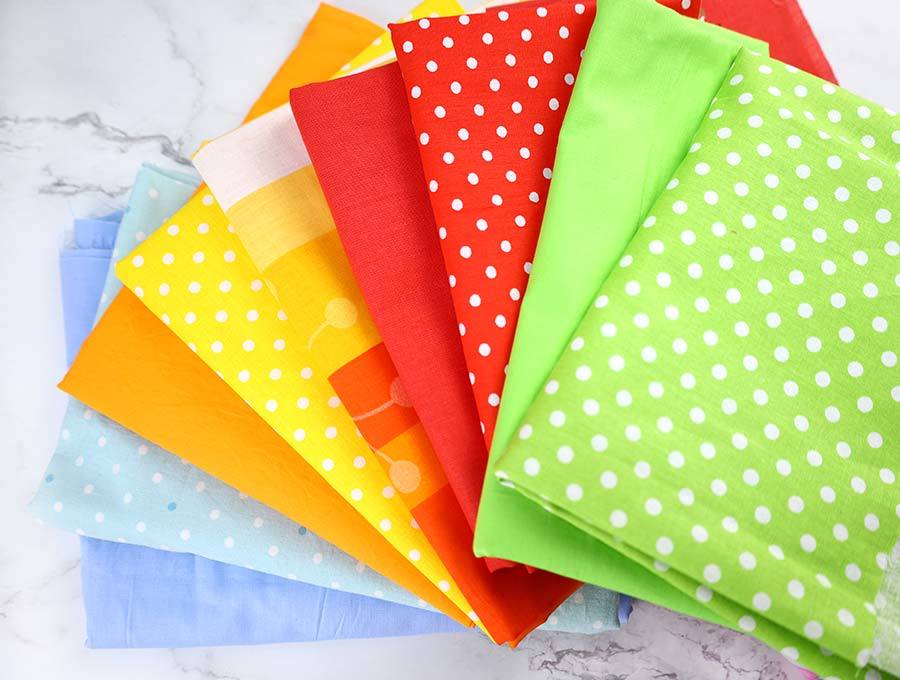 If the fabric if pre-folded then you simply cut along the line of the fold to create two fat quarters. The selvage will be at the bottom of the rectangle shown here
How Does a Regular Quarter Yard of Fabric Compare to a Fat Quarter?
A regular quarter and a fat quarter contain the same amount of fabric, providing the width of the material is the same – fabric can come in 36" and 44" inch widths, or even wider. It is just that the proportion is different. The fat quarter suits quilters better for cutting squares whereas the regular quarter is probably better if cutting long strips then stitching them along the length, and cutting them afterwards to create patchwork pieces.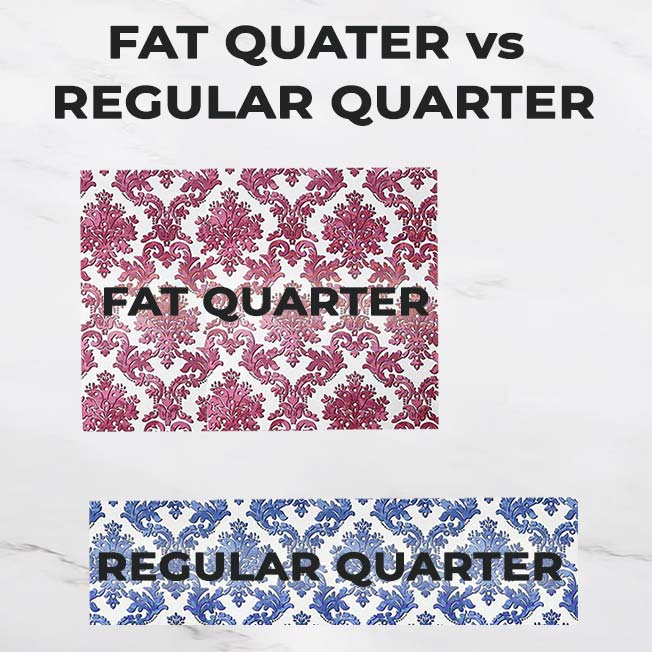 Diagram: Regular quarter 9 x 44" vs a Fat quarter 18 x 22″
The selvage of the fat quarter is at the bottom, while the selvage of a regular quarter will be on both short ends
How many fat quarters in a yard?
You will be able to cut four fat quarters from a yard of fabric as you will be cutting two ½ yards from the cloth, then cutting each ½ yard in half again, once you have folded the longer rectangle in half.  The proportion is a slightly elongated rectangle, or square, which may change according to the width the fabric.
So, if cutting from a 36" width fabric your fat quarters will be 18" x 18", creating a square with equal sides.  If the fabric is 44" wide the fat quarter will be 18" x 22" as shown in the diagram above, creating a rectangle.
For regular quarters you will simply cut four pieces each ¼ yard in width from the fabric, with the selvage at the top and the bottom. Each regular quarter will be a long and skinny rectangle.
What are Fat Quarters Used For?
Fat quarters are used by quilters as they need to cut various size squares, depending on the design they have chosen. Quilter prefer fat quarters as they give them more alternatives than the regular quarter with its narrow width.
Fat quarters can also be used for applique and provide more versatility than the regular quarter which is long and skinny and may not fit certain applique shapes and may also result in wastage when cutting applique pieces.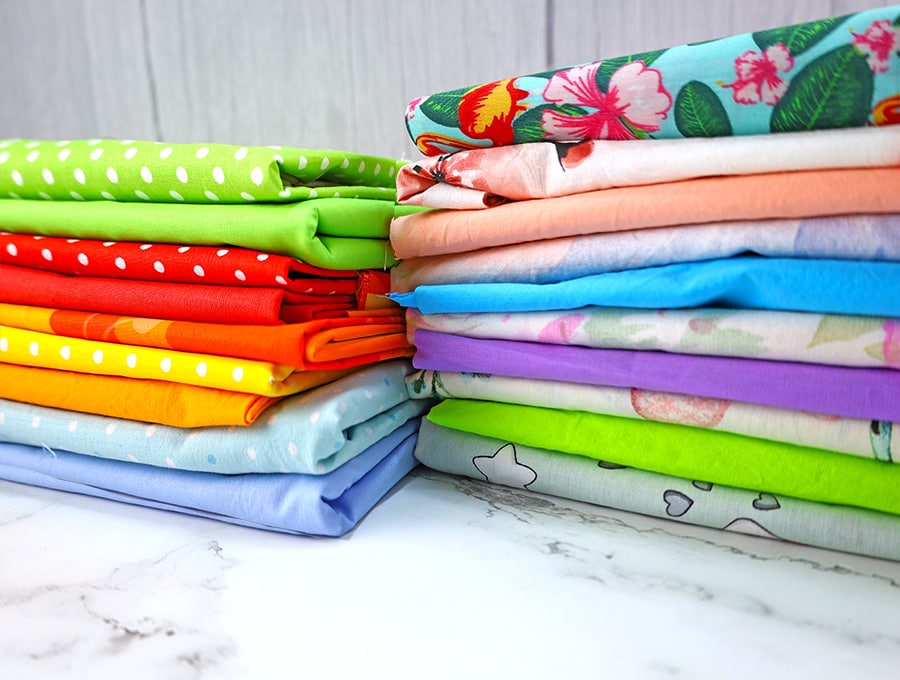 Quilters prefer fat quarters because many quilt patterns will guide them on how many fat quarters are needed for the design, then they can go out and purchase the ready cut fat quarters from haberdashery shops.
Quilters can place various colors and patterns next to each other to compare tones and how well they work together when the fat quarters are precut. It is far more awkward to try and haul down a few bolts of fabric and compare them. For this reason, popular quilting fabric is pre-cut into fat quarters by staff at fabric shops to make it easy for quilters to select their fabric.
It also makes calculating costs for a quilt easier as fat quarters are individually priced rather than having to calculate costs per running ½ yard, as you can't buy single fat quarters of a bolt of fabric – the minimum length cut will be ½ a yard giving a quilter two fat quarters from a particular color or pattern of fabric which they may not need.
Often quilters will stock up on precut fat quarters for future projects, buying when there are sales on or when particularly attractive fabric becomes available.
Many other sewing projects, aside from quilting, call for 1/4 a yard of fabric, so it is always worthwhile to stock up on fat quarters when they are on sale. Check out these Ingenious Fat Quarter Sewing Projects – you will find anything from fabric baskets to home decoration to wearable accessories and hats.
How to Cut a Fat Quarter
Take a bolt of fabric and roll it out until you have about a yard and a half on the cutting table – this gives you some wiggle room with your scissors so you are not cutting right up against the roll of fabric, and allows for folding the fabric over to get a straight cut. Measure ½ yard – that is 18 inches from the top of the fabric across the selvage and 18 inches across the bottom selvedge. If the fabric is folded on a bolt, then measure the top and bottom.
Fold the fabric across to make sure the top and bottom line up with the fabric that remains on the bolt.
Once you are sure you have a piece measuring 18 inches across the top and bottom, then cut along the fold. Once you have your half yard of fabric cut, then roll the uncut fabric onto the bolt and put it away so you have a clear working space. Fold your ½ yard selvage to selvage, lining up the corners so they meet and cut along the fold. You now have two fat quarters. It is even easier if the fabric comes ready folded onto the bolt because you will have a crease line to guide your cut.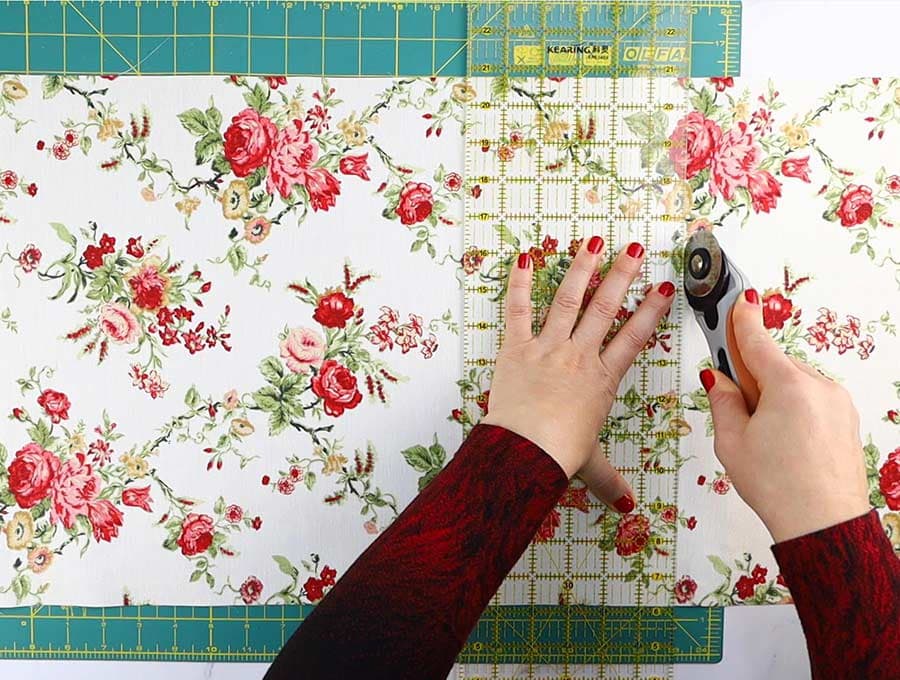 Where to Buy Fat Quarters
Fat quarters can be purchased at most fabric supply shops, alternatively you can go online and buy from fatquartershop.com or from fabric.com. What I love about fabric.com is the fact that they will pre-match beautiful designs into bundles that fit a theme – you can get Indonesian Batik inspired bundles of fat quarters that work well together, or various bundles of Exclusive Liberty prints, Kaufman Holiday Flourish bundles – perfect for those festive season projects, or even really bright Kona cotton bundles in clear plain colors that will make any design pop. https://www.fabric.com/quilting-fabric-precut-fabric-and-quilt-kits-pre-cuts-fat-quarters.aspx
Fat Quarter Sub Cuts
Before cutting you may want to wash your fat quarters to ensure they do not shrink once you have created your quilt. If the fabric is advertised a pre-shrunk then this will not be necessary. Check for frayed edges and cut off the selvage before cutting your smaller pieces. There is nothing worse than starting to piece a design and realizing you have little holes where the fabric was fastened to the loom!
For cutting, a rotary cutter is recommended, as well as a quilting ruler to ensure your pieces are equal.
The fat quarter can be cut into smaller pieces ready to piece together in a quilt and there are various standard sizes into which a fat quarter can be cut. You can choose 5" or 4" inch blocks, or go down to 3" or even 2 ½ inch blocks. The smaller the blocks the less wastage there will be on your fat quarter, however if you are cutting large blocks, like 6" ones you can use the extra bits from the fat quarter for smaller 3" or 2 ½" blocks to use on another project.
What Is a Fat Eighth?
A fat eighth is half a fat quarter – so if the fat quarter was cut from 36" wide fabric it will produce a piece that is 18" x18" and will be cut in half, simply fold top to bottom to create a square that is 9" x 18" and cut.
If the fat quarter was cut from 44" fabric then you will take the 18" x 22" rectangle and fold it downwards towards the selvage and cut to create a fat eighth that is 9" x 22". This differs in proportion from a regular eighth which is when you take the 9" x 36"  or  9" x 44" regular quarter and cut it in half by folding it lengthwise to create a really long skinny rectangle that is 4 ½" by 36 or 44 inches, depending on the width of the fabric you originally started with.
How to Plan a Quilt with Fat Quarters
If you are making a quilt for a queen size you will need a minimum 35 fat quarters, possibly more if it is extra length.
A double bed will take 30 fat quarters.
For a twin bed you'll need 24.
A throw will take 12.
Now these are minimum numbers as they do not consider selvages which may need to be removed and designs that maybe don't use the full fat quarter in a certain color. Always be generous when you buy as you can always use the small pieces left over for other projects like quilted cushion covers or crib covers.
When stores have sales on bundles of fat quarters it is worthwhile stocking up as it will cost far less than buying individually. If you are a keen quilter you can always mix and match from various fat quarters you have stashed in your sewing cupboard, to create new designs.
Warning: Buying fat quarters can be addictive!
Pin it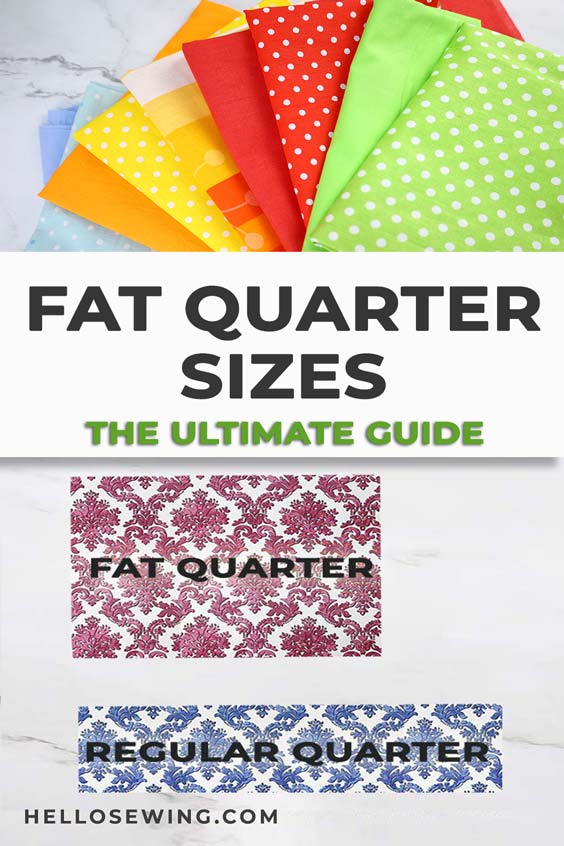 RELATED:
Ingenious Fat Quarter Sewing Projects